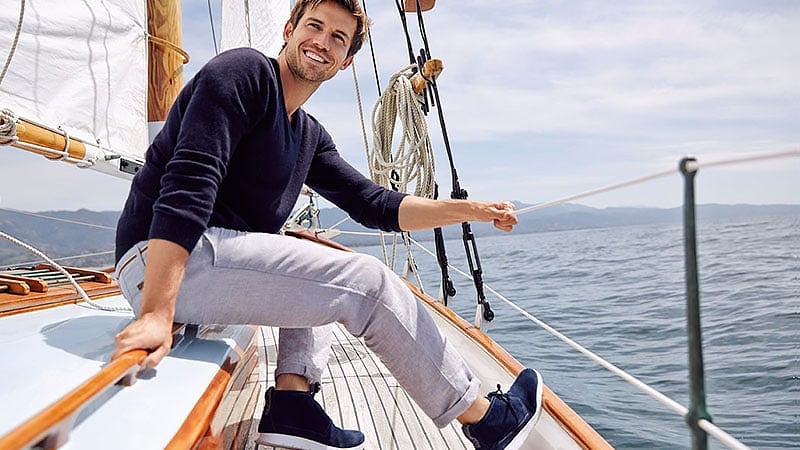 No gent's collection of shoes is complete without at least one pair of chukka boots. The classic footwear style is a staple for any closet and offers a unique aesthetic that other shoes cannot. Ideal for casual outfits yet easily dressed up for smart ensembles, these must-have boots are versatile and fashionable. So, if you don't own a pair, it's time to invest. Once you've found the right option, all you need to know is how to wear them for a sharp and stylish look. Luckily, we can help with that and show you how to wear chukka boots the right way.
What are Chukka Boots?
Chukka boots are a classic style of footwear. They are thought to have received their name from the game of polo, in which a chukka is a period, and became extremely popular after being worn by the Duke of Windsor in 1924. Chukka boots are an ankle-length type of boot that typically feature two or three eyelets and thin laces. They are often made from leather or suede and most commonly feature a brown hue.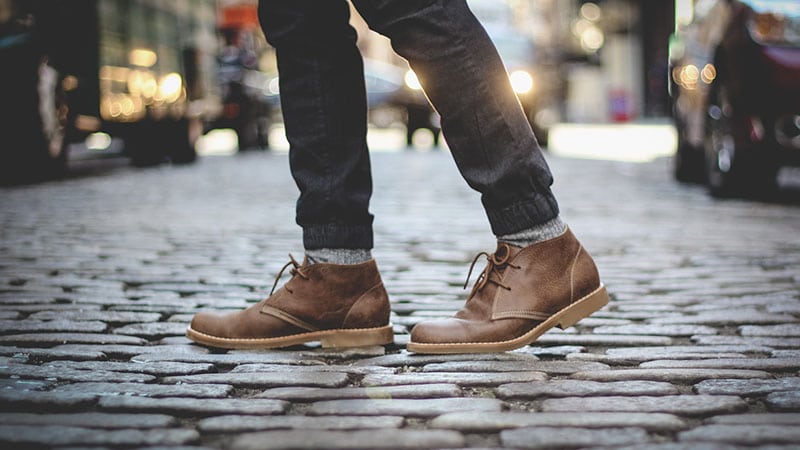 Chukka Boots vs Desert Boots
Many gents are confused about the difference between chukka boots and desert boots, and it's easy to see why. The two footwear styles appear incredibly similar and are closely linked. Desert boots are a particular type of chukka boot, which serves as a broader category of shoes. The main way to identify the difference is in the sole. Desert boots, which are based on the boots worn in desert campaigns by British soldiers, typically feature a crepe rubber sole. They also tend to be more casual in material and construction than other chukka boots.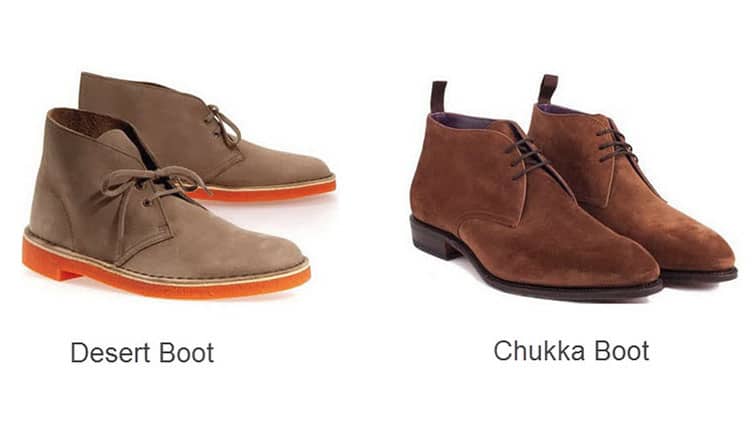 When to Wear Chukka Boots
Casual Occasions
Rocking your chukkas for a casual look is easy. These cool boots are great shoes to wear with jeans and can match a range of tops and jackets. For an impressive ensemble, try pairing your boots with blue jeans, a white button-down, and a denim jacket. Just remember to select a relaxed style of chukka boots, such as a suede design in a brown hue, for the perfect finishing touch.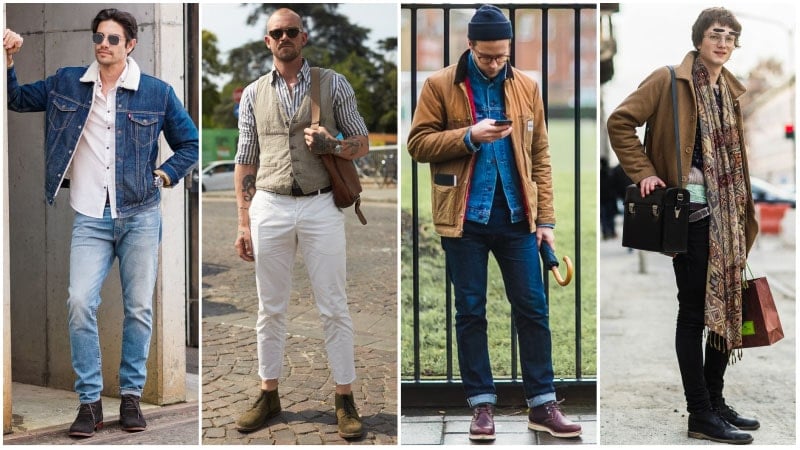 Smart Casual Occasions
Due to their classic shape, chukkas can also make an excellent option for smart casual outfits. If you want to rock your boots in such a way, you should select a pair in black. Doing so will achieve a sophisticated appearance and make them easier to partner with elegant pieces. To complete the look, try pairing your chukkas with black jeans, a crew-neck T-shirt, and a blazer or chinos, and a casual shirt.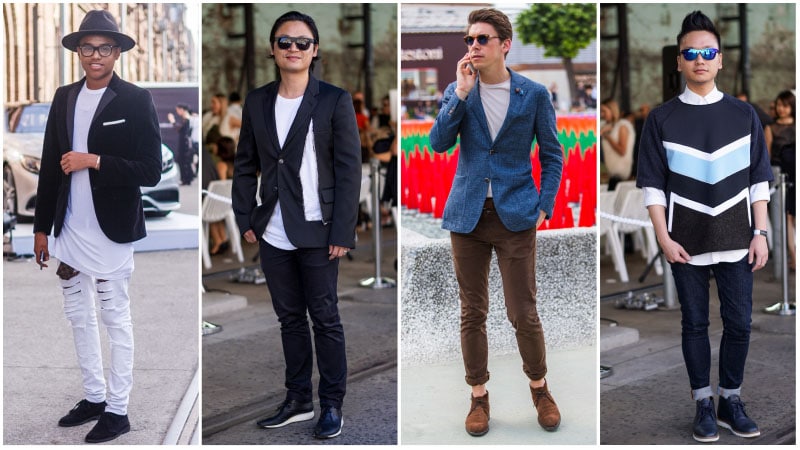 Business Casual Occasions
Don't just save your chukka boots for weekends and evenings out. These timeless shoes can also work perfectly for business casual looks. To nail the style, just select a pair in a dark hue and partner them with garments that are smart and sharp. A pair of trousers or chinos, a white cotton shirt, and a cashmere sweater or blazer make the perfect choices to bring chukka boots into the office.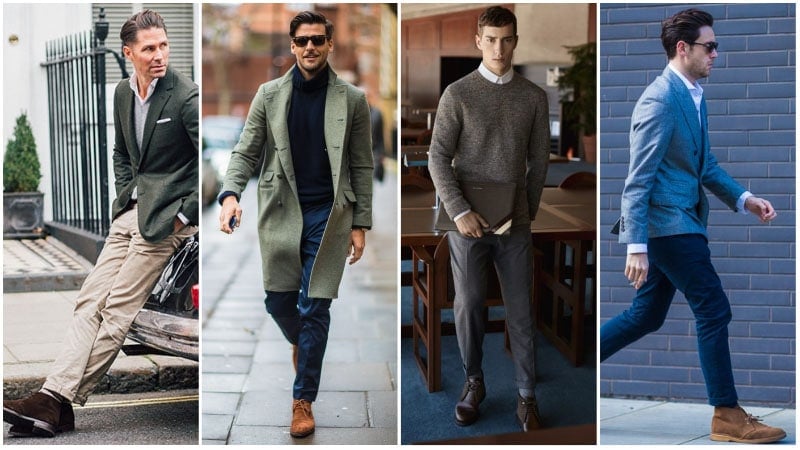 Best Chukka Boots for Men
Leather Chukka Boots
Investing in a pair of leather chukka boots is always a good idea. Leather chukkas are more durable than suede styles and will show less wear, meaning that they'll last longer. On top of that, leather boots are also versatile and can easily work for both casual and more formal outfits. Just remember to choose a neutral shade, such as brown or black, to ensure that your chukkas are stylish and can suit any occasion.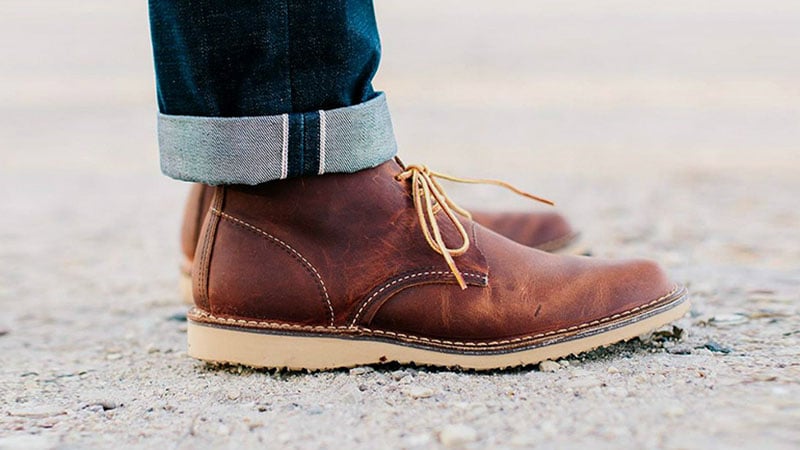 Suede Chukka Boots
Suede chukka boots are seriously stylish and essential for any modern gent. These well-loved shoes are ideal for infusing casual outfits with a smart style as well as keeping feet comfortable and fashionable. To make sure your suede chukkas suit a range of outfits, just select a shade that's easy to match. Black, brown, sand, navy, and grey all make excellent and versatile choices. Also, ensure that you know how to care for your suede boots properly to see that you get your money's worth.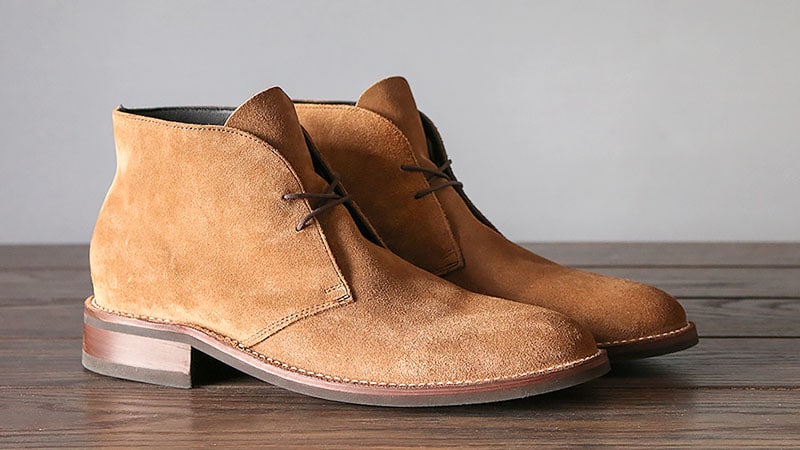 How to Clean Suede Chukka Boots
There's not much point in buying a great pair of suede chukka boots if you don't know how to keep them clean. To ensure your chukkas last a long time, clean them regularly by first stuffing them with newspaper. Then, brush off any loose dirt and gently rub any marks with a suede eraser or nail brush. Finally, re-brush your boots to raise the nap and spray with a suede protector.
RELATED: How to Clean Suede Shoes
How to Buy Chukka Boots
When you're looking to purchase a pair of chukka boots, it's important to consider both the style and the fit. To select an ideal pair, choose chukka boots that just cover your ankle and feature a close fit. When it comes to style, select either a suede design for a casual appearance or a leather option for a more formal look. Likewise, chukkas that are light in color or that feature a rubber sole will also appear more relaxed than those with a dark hue and leather sole.
How to Wear Chukka Boots
Select light and suede chukka boots or desert boots for a casual appearance.
Choose leather chukkas in dark shades for more formal outfits.
Partner chukka boots with jeans and a t-shirt or button-down for a casual look.
Wear chukka boots with black jeans, a T-shirt, and a blazer for a smart casual style.
To wear chukkas to the office, partner them with trousers, a cotton shirt, and a cashmere sweater.
Keep suede chukka boots looking neat by using a suede protector and brushing off any dirt or marks.
FAQs
What are chukka boots good for?
Chukka boots are a casual footwear style that is an excellent alternative to styles such as Chelsea boots, loafers, or sneakers. They look best paired with long trousers and can be worn casually, smart-casually, or even in some office settings.
Can chukka boots be worn in the summer?
Chukka boots can be worn in summer, especially if you've chosen a lighter colored style in a suede finish. They let you mix it up from wearing sneakers casually or dress shoes for more formal affairs. While they look eternally great with jeans, trousers, or chinos, if you're bold enough, you can match them with some smart tailored shorts and a simple t-shirt if you want to free the knee in the hotter months.
Are chukka boots good for walking?
Similar to other casual boot styles, chukkas are great for around town walking and sightseeing. However, they're not suited for more active situations such as hiking. If you're looking for a very comfortable chukka, ensure the fit is good, and opt for a rubber sole rather than leather. This will give you more cushioning throughout the day and reduce fatigue in your feet.
Can you wear chukka boots with dress pants?
You can get away with chukkas and dress pants in the office, but choose a different option for very formal occasions. To wear chukkas with dress pants, choose a dark hue and pair it with a crisp white shirt and cashmere sweater or blazer. It'll transform your corporate look from stuffy to rugged in no time.
Why is it called a chukka?
It's not 100% certain, but chukka boots most likely got their name from polo. The boots look similar to the jodhpur boots worn by polo players, and in the game, a chukka is a seven-and-a-half-minute period of play.
Are chukka boots supposed to be loose?
Chukka boots should fit firmly yet comfortably through the foot, just like any other shoe. However, the style's design means that the ankle will sit looser than other types of boots like Chelsea or lace-up designs.
SUBSCRIBE TO OUR NEWSLETTER
Subscribe to our mailing list and get interesting stuff and updates to your email inbox.