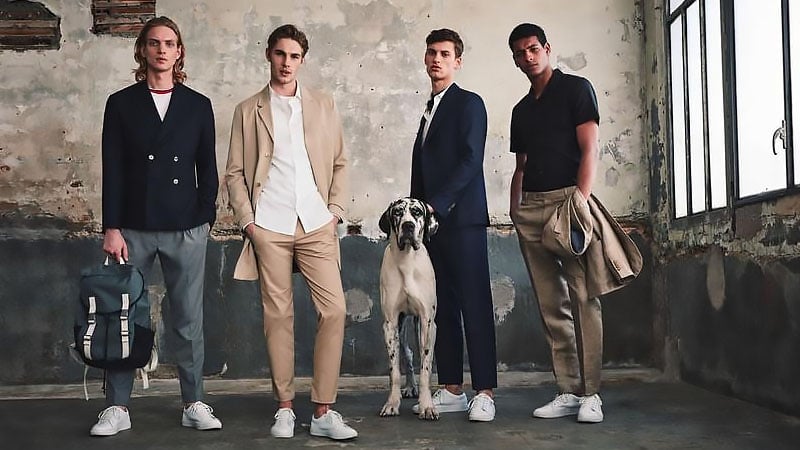 From chinos to tracksuit bottoms, there are many styles of trousers that suit a range of occasions and create a pleasant change from regular denim. Whether you're heading to the office or going on a first date, you need to know what pants to wear and how to style them. Here are some of the most common trouser styles that you should consider for your wardrobe.
1. Chinos
If you look at your wardrobe and are unsure of what to go for, why not try some chinos? They're relaxed, easy to style, and look great with anything. For the days when it's too hot to wear heavy trousers or suit pants, these provide a breezy and classic alternative without looking too casual. If you're heading out to an event that requires you to dress up a bit, opt for darker colors like navy, charcoal, or black. However, if you plan to hang out with friends or go to the pub, a pair of burgundy, cream, or green is a great option to flatter many outfits.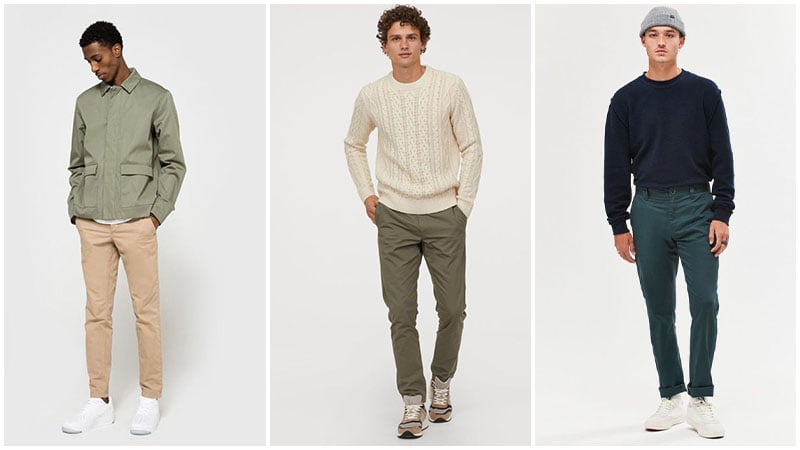 2. Cords
Bring back the classics in a super suave pair of cords. Corduroy made the rounds in the '70s, and still offer a sleek alternative to regular trousers. The fabric is easy to recognize – strands of yarn are twisted or woven together. These pants are best suited to colder weather, as they will heat up and keep your legs toasty. If you're ready to make an entrance and do the classic design proud, opt to style these bottoms with a button-down, jumper, or blazer. These also look fantastic in a casual setting, so why not rock them along with a T-shirt, loose sweatshirt, and sneakers?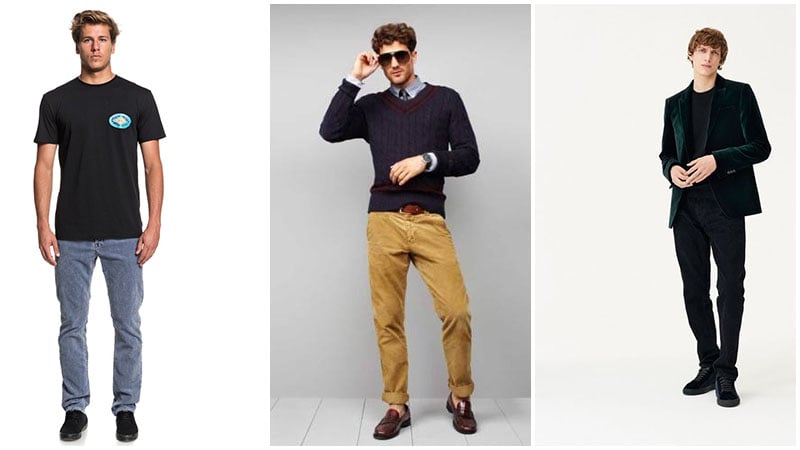 3. Drawstring Trousers
Avoid discomfort throughout the day in a pair of drawstring pants. Whether they are trouser material or something lightweight like joggers, these are the perfect blend of comfort and style. It's an ideal option for the days when you want to look well put together without the commitment. Hide the securing tie by pairing them with a button-down shirt or a sweatshirt, but if you're not afraid to show it off, rock them with a roll neck or a basic T-shirt, and you'll reach peak luxury. The beauty behind these bottoms is the versatility behind them – you can wear them in a laidback setting or something more smart casual.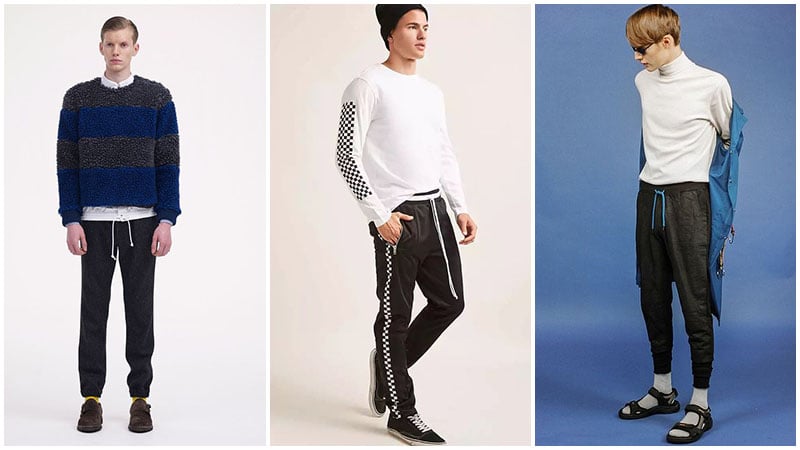 4. Slim-Fit Trousers
Get the feel of a skinny jean but in a smarter form with these slim-fit trousers. Whether it's a suit or separates, they're the ultimate way to spice up a classic outfit. Dark colors such as black, charcoal, or navy are a traditional option if you're headed to the office or a semi-formal event, but don't be afraid to step outside of the box in something lighter or in a bold shade. The key with these pants is not to make them too tight – you'll want to be able to move around and maintain your dignity while looking like the freshest guy in the room.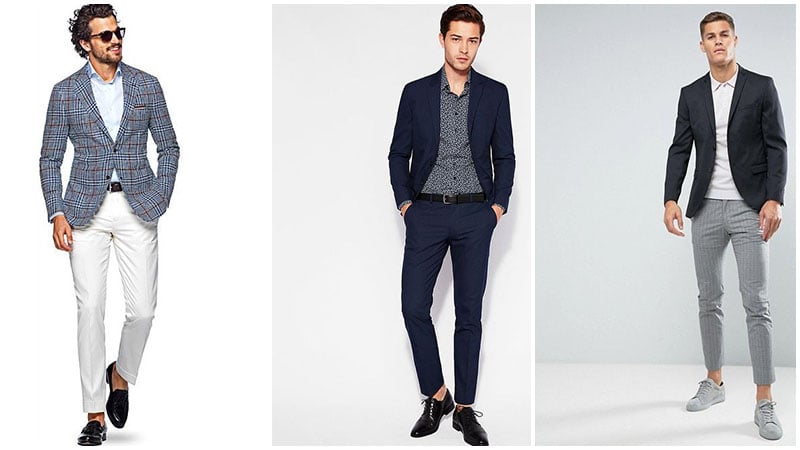 5. Wool Trousers
If you're looking for an easy pair of pants to style with anything, say goodbye to your jeans and say hello to wool trousers. This classic style looks great in all settings, from the office to a party in the countryside. For a traditional look a la Pitti Uomo, complete this style with smart dress shoes like Brogues or Oxfords, a button-down, cable knit jumper, or blazer. If you're ready to keep things casual, opt for a set of sneakers, a roll neck or sweatshirt, and a jacket, and you'll have eyes on you everywhere you go.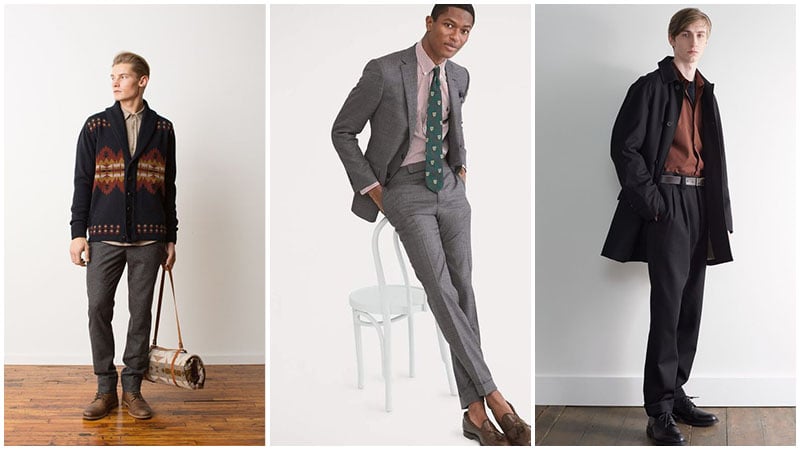 6. Relaxed Fit Trousers
For the man who is not a fan of the skinny leg trend, why not opt for relaxed trousers? Dating back to the '50s this legwear made the rounds through decades and has proven to stand the test of time. The length of these bottoms can be hard to perfect, so make sure you don't make them too long or too short. They should sit just at the feet, with a single fold. If they're too long, roll them up once or twice, or tailor them, so they hit the right spot. When styling these pants, you have the freedom to wear whatever suits you. They provide a great foundation to create an outfit, from a sweater to a shirt and tie, you'll want to wear these every day.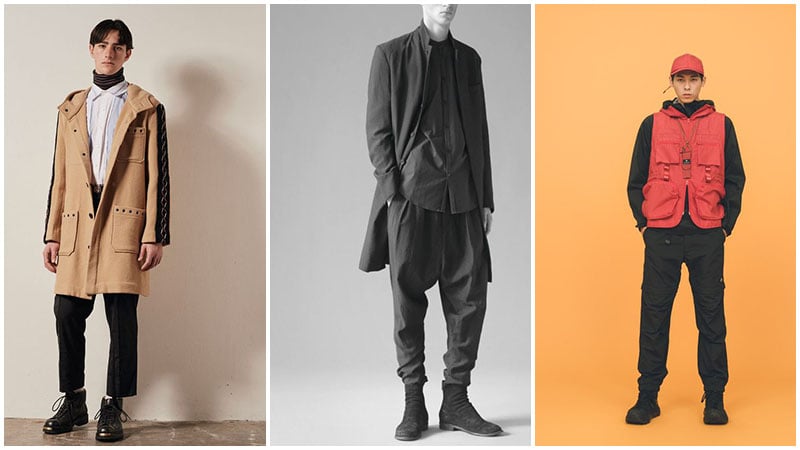 7. Joggers/Sweatpants
Athleisure isn't just for Insta-bloggers, it's an extremely comfy and stylish alternative to casual dressing. Slimline joggers provide the perfect hybrid between tracksuit bottoms and standard work trouser, so you'll be sitting in pure luxury without feeling like a slob. Rock this style with a longline sweater or T-shirt for the ultimate laid-back feel. For the days when you're feeling snazzy, slip into an office shirt with white sneakers. Watch the compliments fly in as you sit in absolute bliss.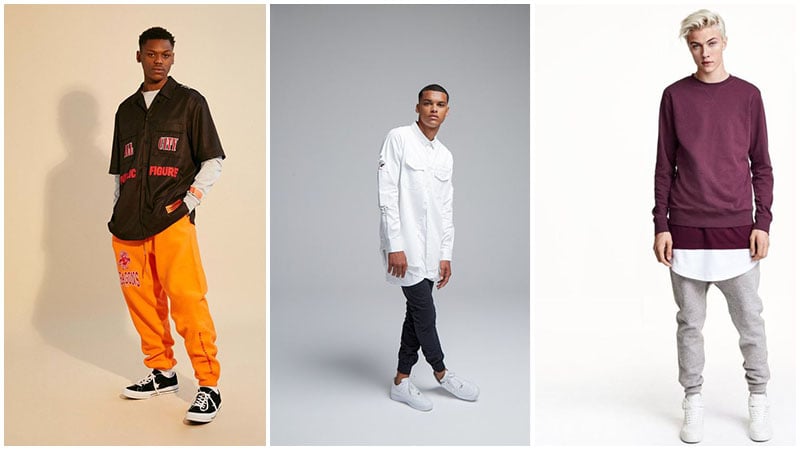 8. Cropped Trousers
Do you have a pair of funky socks that you've been aching to show off, or you feel like your ankles don't get enough air? Then, cropped trousers are the perfect fit for you. This style is a smart way to spice up a formal outfit and provides an easy slice of style. Choose to wear them just above the ankle or rolled up, and you'll have an easy way to add some pizzazz to your wardrobe. Once again, these offer versatility, so you can rock them with almost anything. A T-shirt and leather jacket instantly create a biker feel. In contrast, office-friendly vibes would call for a shirt or roll neck and a blazer.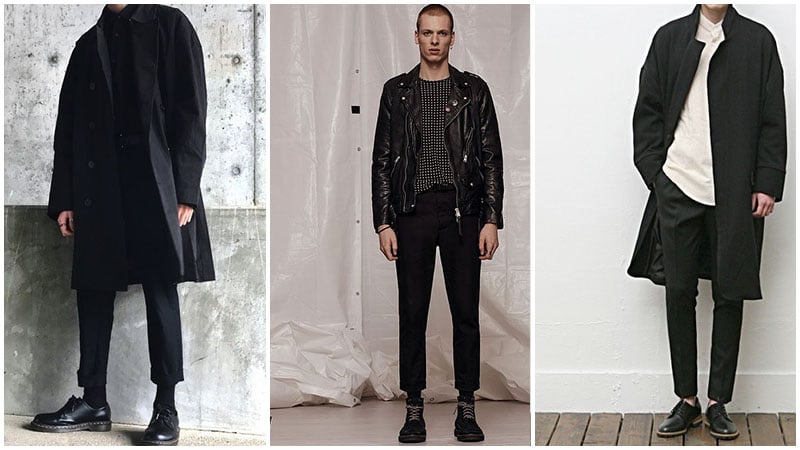 9. Cargo Pants
No longer a fashion faux-pas, cargo pants have come back in a streamlined and stylish way. If you're trying to avoid the fisherman aesthetic, opt for a pair that don't have large pockets on the side, but offer a slimline leg instead. Head towards neutral shades such as camel or sand for a classic feel, or go for something dark to adapt them with the rest of your wardrobe. For those who are channeling their inner Kanye, choose something oversized with large pockets, in pink or red shades. This style looks great with sweaters, hoodies, and button-downs, so why not mix things up a bit?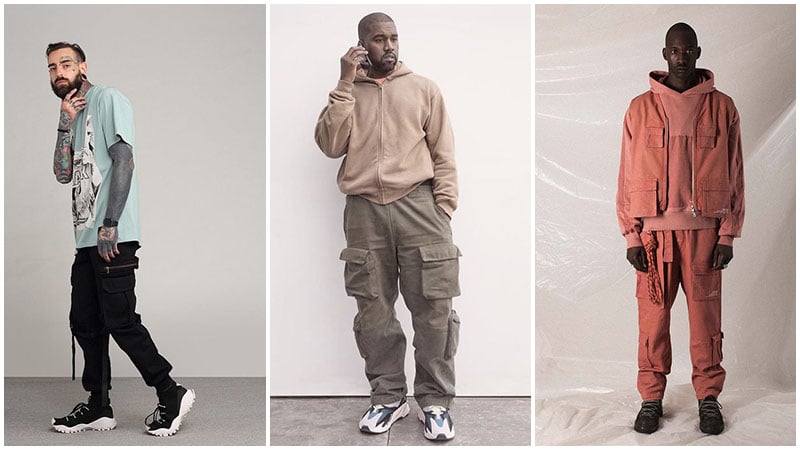 10. High-Waisted Trousers
If you fish through your grandfather's closet, you're likely to find a pair of these classic trousers. High in the waist and classic in design, there are a few ways you can wear this style. Roll necks, crewneck shirts, and semi formal blazers are the perfect way to modernize this vintage cut. Hark back to the era of Marlon Brando and stick to a plain grey or white T-shirt, dress shoes, and a smile, and you'll have the eyes of everyone anywhere you go. Just be sure the length sits at or below the ankle. Otherwise, you'll look like you've just given yourself a wedgie.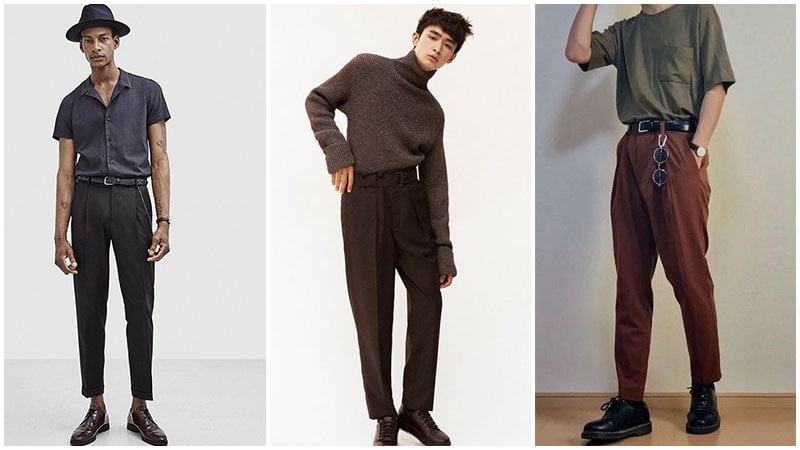 11. Pleated Trousers
Sticking to the classic route, pleated trousers are another versatile and timeless pair of pants to have in your wardrobe. This small detail can change the outfit you're wearing and is a vintage must-have for every man. Amp up the aesthetic by pairing this style with a Cuban collar shirt, white T-shirt, or a classic button-down that's rolled at the sleeves. Sneakers and dress shoes are the best options for this outfit, and try a lightweight blazer to complete the ensemble.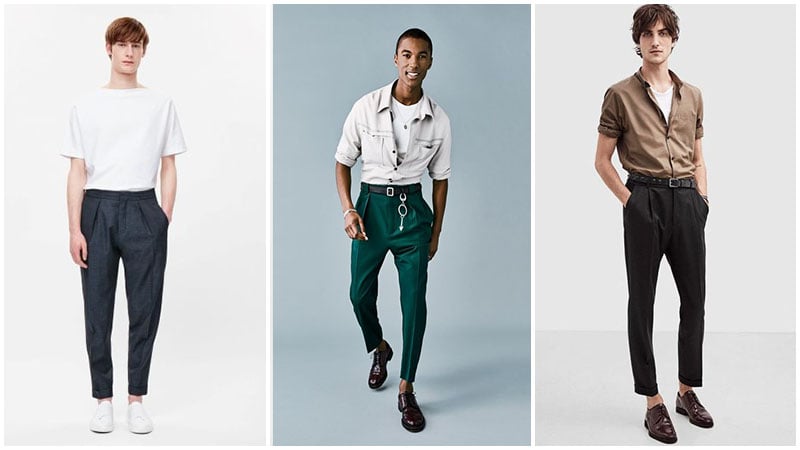 12. Tracksuit Bottoms
Forget what Karl Lagerfeld said, tracksuit bottoms are a staple to have in any man's wardrobe. Comfy and on-trend, there's nothing that sweatpants can't do. Rock this style with athletic wear for a traditional sporty look, or challenge the norms with a button-down and smart sneakers for a put-together ensemble. Gone are the days of basic designs, you can now wear luxury workout gear and look like a million dollars.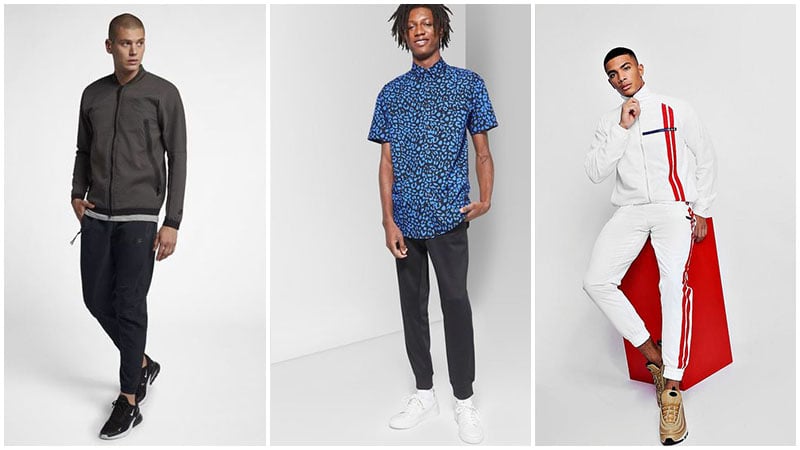 Type of Pants FAQs
How many types of trousers are there?
Depending on the definition, there are between 12 and 16 different types of trousers based on factors such as the material used, design elements, fit, and occasion. Most men will be familiar with classics like jeans, chinos, and sweatpants, as well as the many variations on dress pants.
Who makes the best men's dress pants?
The best dress pants are made-to-measure by a professional tailor – and perhaps the most famous are from Savile Row in London's Mayfair district.
What are the most comfortable men's pants?
The most comfortable men's pants are those with a looser fit, soft material, and adjustable or elasticated waistband. Think drawstring pants, joggers, and track pants.
What is the difference between trousers and chinos?
The term 'trousers' can refer to any type of men's pants. However, many brands – particularly in the US – define 'trousers' more narrowly, using the term to mean more formal tailored pants. Chinos are a specific type of slim-fit trouser made from cotton twill material, with concealed pockets and stitching. They are designed to create a smart-casual appearance.
Are dress pants and slacks the same?
It depends who you ask. Many use the terms 'slacks' and 'dress pants' interchangeably. However, others use 'dress pants' to exclusively refer to formal trousers. Slacks have a business-casual feel and can be paired with a variety of different shirts and shoes, while dress pants are almost always worn with dress shoes and a button-down shirt.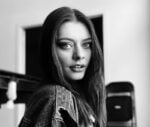 Alexandra Feiam is an experienced fashion writer who holds a degree in journalism. She has an impressive portfolio and expertise working as the Editor at Power Retail and Commercial Content Editor at Newscorp. Ally has been writing for The TrendSpotter since 2018, and her work has been featured in notable publications such as The Herald Sun, Arirang TV South Korea, Kidspot, The House of Wellness, and The Daily Telegraph.
SUBSCRIBE TO OUR NEWSLETTER
Subscribe to our mailing list and get interesting stuff and updates to your email inbox.