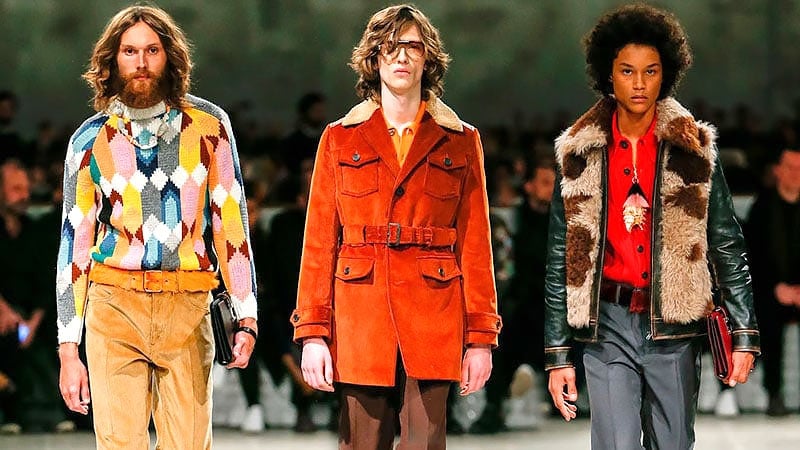 When you need to change up your look and give your style a refresh, turning to the past can help. Taking inspiration from a specific decade or time and incorporating it into your modern look can give it a unique and exciting appearance. In particular, channeling a '70s style can provide you with an awesome retro aesthetic that's completely on-trend right now. Thankfully, nailing the look is easier than ever with our guide to 70s fashion for men.
RELATED: 80s Fashion for men
70s Fashion
In the 1970s, fashion was all about individuality and expression. As such, many traditional fashion rules were broken and unique and androgynous looks reigned supreme. Key styles for the decade included hippie, peacock revolution, glam rock, and disco looks. Thanks to an influx of cheap clothing in the market, gents could easily showcase which group they belonged to or switch between them all.
What Did People Wear in the 70s?
In the '70s, people often wore bold and daring outfits. While there were a variety of different looks for the decade, most of them incorporated eye-catching colors and patterns, a silhouette that was tight up top and loose down the bottom, and interesting textures, such as satin, suede, and corduroy. Essential items for the decade included bell-bottom and wide-leg pants, platform shoes, vests, long collared shirts, tight tees, turtleneck sweaters, and leisure suits amongst many others.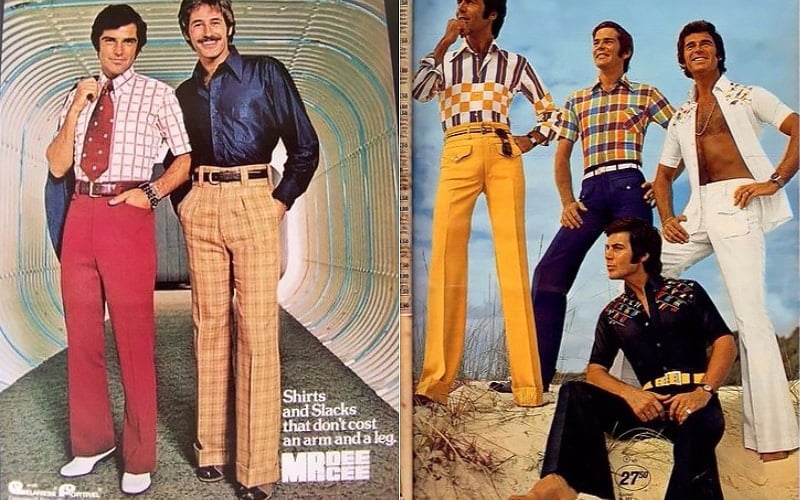 Early 1970s Style
During the beginning of the 1970s, there were several main fashion groups for men. However, many overlapped in style. For example, while gents could either be part of the hippie subculture or peacock revolution, it was likely that they'd wear bright colors and bell-bottoms no matter which category they were in.
Hippie
When we think of the '70s, the hippie style instantly comes to mind. As it was one of the first and most significant styles of the decade, it's easy to see why. Although the look began developing in the late '60s, it peaked in the early '70s, making items, such as bell-bottoms, tie-dye tops, headbands, embroidered folk designs, and flowing scarves mainstream fashion. To rock the look today, try incorporating one authentic hippie-era piece into your outfit or a few hippie-inspired modern designs.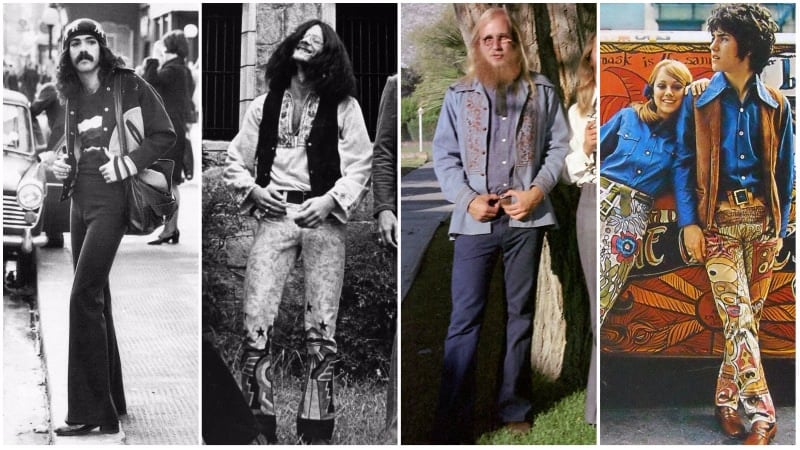 SHOP THE LOOK
Peacock Revolution
Thanks to well-paid jobs and booming businesses, the seventies saw young men begin dressing in more unconventional ways. These unique outfits often included bright colors and, as such, the style was dubbed the peacock revolution. As well as their bold use of color, peacock looks usually included satin shirts, ruffles, tunics, turtlenecks, Cuban heeled boots, bell-bottoms, and braided belts. Suits also featured bright colors and unusual styles. In particular, double-breasted designs in corduroy and crushed velvet were popular.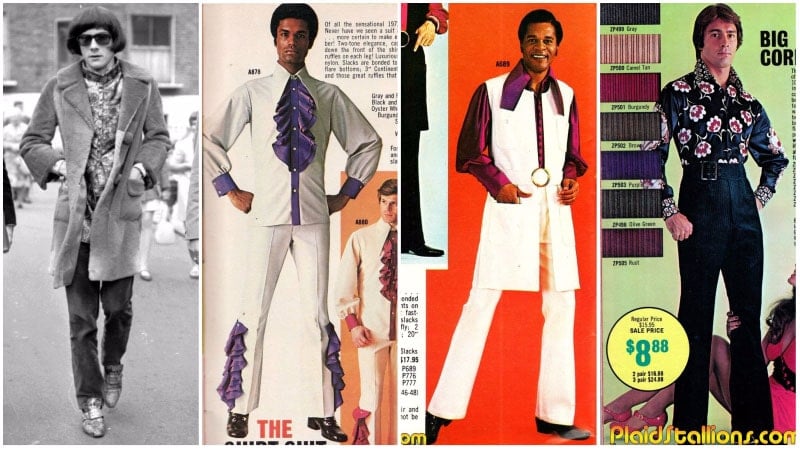 SHOP THE LOOK
Bright Colours
Color played an essential role in the '70s fashion. Even simple styles from the decade were made to look bold with bright colors. These striking hues, which included yellow, orange, blue, pink, red, purple and green were utilized across almost all fashion groups. By incorporating bright colors in their outfits, gents were simultaneously able to stand out and fit in.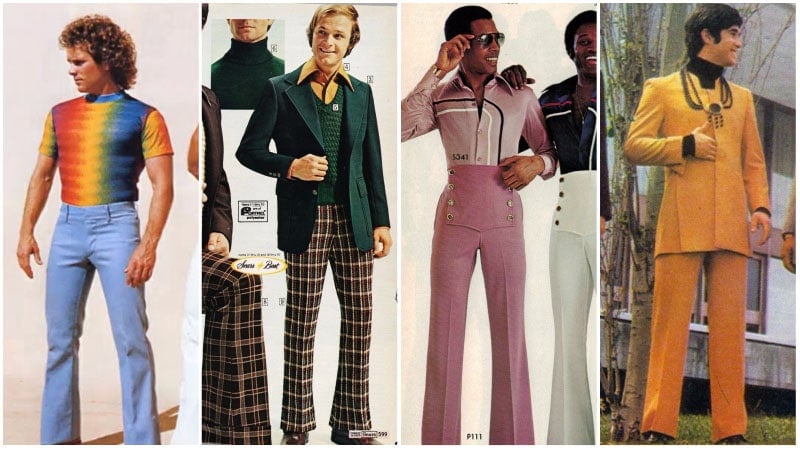 SHOP THE LOOK
Mid 1970s Style
During the mid-1970s, rock styles rose to popularity. Of course, this wasn't the same rock look we know today. The seventies rock style was much more glamorous than today and incorporated many traditionally feminine elements as well as eye-catching designs. To wear the look in a modern way, be sure to tone it down by selecting just one or two glam rock accent pieces.
Rock
While punk looks featured in the late '70s, the middle of the decade saw gents adopt a glam rock style. This androgynous trend was particularly popular in Britain, where young men idolized flamboyant musicians, such as David Bowie and Freddie Mercury. The look included several key styles, such as velvet sports coats, shawl-collar tuxedo jackets, frilly and satin shirts, black or tan leather jackets, silk scarves and ascots, oversized collars, and platform shoes.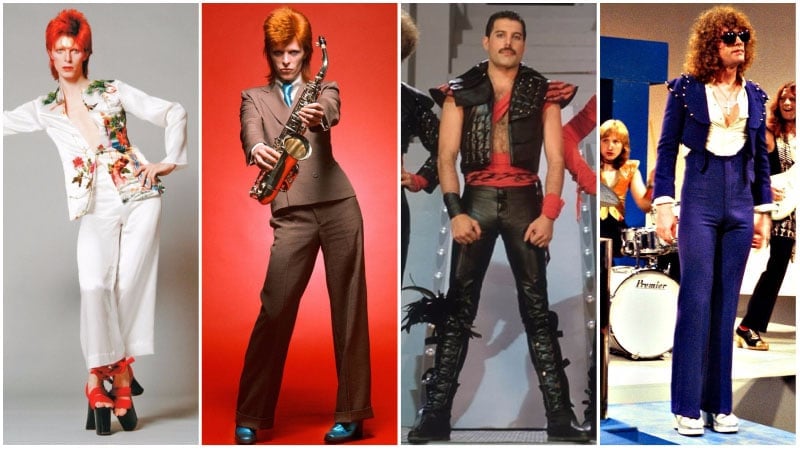 SHOP THE LOOK
Late 1970s Style
When the seventies moved into its later years, hippy styles faded out, and disco came in. Brought on by a wave of new music and inspired by stylish celebrities who spent their nights at Studio 54, '70s disco fashion was glamorous and exciting.
70s Disco Fashion (Studio 54 Fashion)
70s disco fashion, which has been immortalized by John Travolta in Saturday Night Fever, often featured three-piece suits in a range of colors with wide lapels, wide-leg or flared pants, and high-rise waistcoats. Other notable elements included aviator sunglasses and specs, wide and bold neckties, and long, pointed shirt collars. As this look can be hard to pull off today, it's best to simply pay homage to the trend by incorporating subtle elements from it into your look.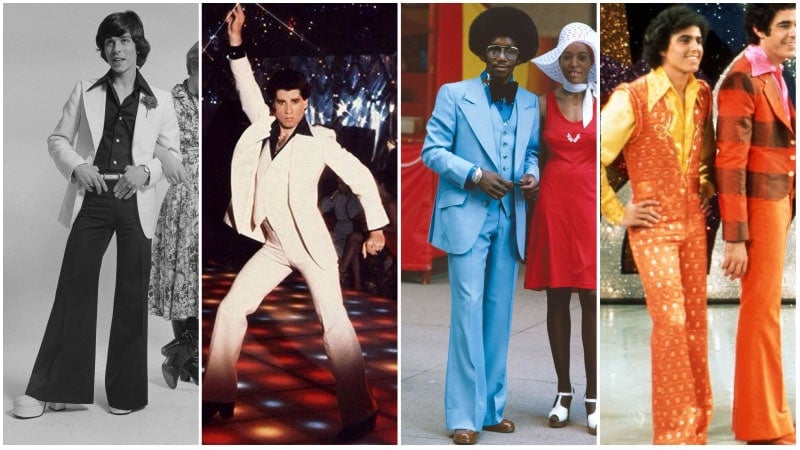 SHOP THE LOOK
70s Fashion Shoes
'70s shoes varied a lot throughout the decade. However, one style was consistently popular: platform boots. These boots, which featured a height-boosting sole and heels, were worn by almost everyone. Other popular footwear styles of the decade included oxford shoes, Birkenstocks, cowboy boots, and Cuban heels.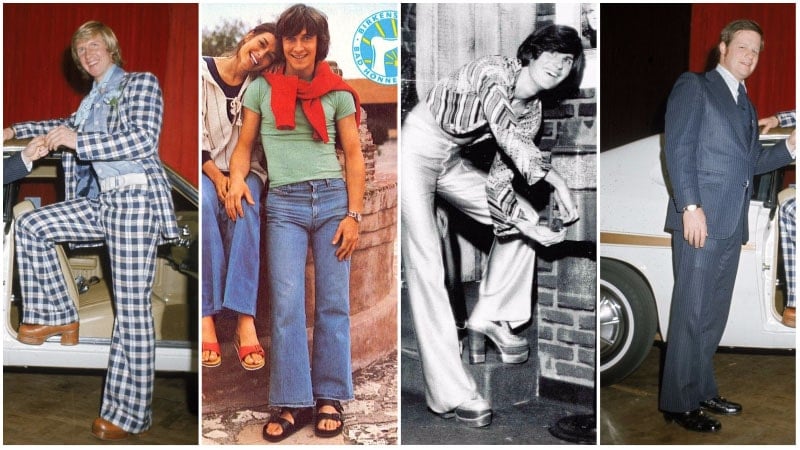 70s Accessories
As the fashion of the time, '70s accessories were bold and unique. Some of the most popular items included were wide ties, satin scarves, thick and woven belts with big buckles, headbands, and handmade jewelry.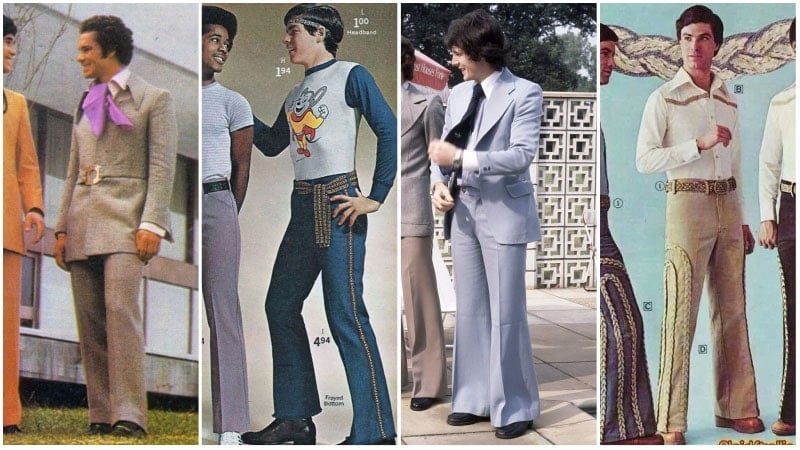 SHOP THE LOOK
70s Hairstyles
Early '70s hairstyles for men saw a continuation of some of the most popular looks from the '60s, such as the pompadour. It also saw a lot of long hairstyles, particularly on those who were part of the hippie subculture. Sideburns were grown longer during the '70s and partnered with a variety of haircuts, including mod styles and more traditional side-parted looks. Volume was heavily desired during this time and, as such, afro and perm styles were also favored. During the late 1970s, many gents decided to cut off their long longs and opt instead for shorter cuts, including crew cuts, buzz cuts, and shag styles.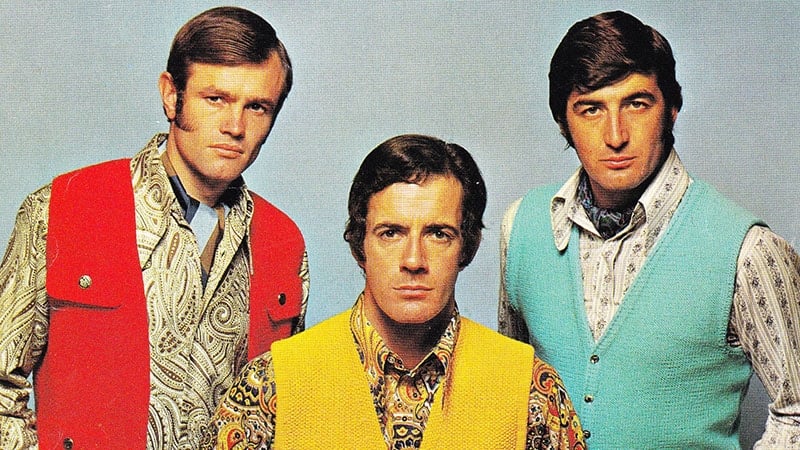 How to get the 70s Style
Select the '70s style you're going to channel, such as hippie or disco.
Mix essential '70s items into your modern wardrobe for an awesome retro look.
Choose bright colors and add patterns.
Stick to a slim silhouette on top and a looser look down the bottom.
Complete your look with appropriate accessories, such as a satin scarf or wide belt.
FAQs
What should a man wear to a 70s party?
The first step to choosing an outfit for a 70's party is to decide what theme you want. It could be hippie, peacock, or bright colors from the early 70s, rock from the mid-70s, or disco from the late 70s. The common element between all of these is bright colors, bold patterns, and lots of texture. Try bell-bottom trousers, platform shoes, a turtleneck or collared shirt, and a vest.
How do you do a 70s aesthetic?
A 70s aesthetic is big on bright color, bold patterns, and lots of texture. There was also a focus on tights tops with flared bottoms. Pick a style and select clothes that fit that theme, such as bell bottoms, ruffled satin shirts, and Cuban heels for the peacock look. Alternatively, keep it simple with a form-fitting t-shirt and flared trousers in a bright color combination.
What patterns were popular in the 1970s?
Some of the most popular patterns of the 1970s were tie-dye, paisley, floral, stripes, and checkered.
What colors were popular in the 70s?
Every color of the rainbow was popular in the 70s. Yellow, orange, blue, pink, red, purple, green – they were all embraced with equal vigor across the decade and styles.  
SUBSCRIBE TO OUR NEWSLETTER
Subscribe to our mailing list and get interesting stuff and updates to your email inbox.