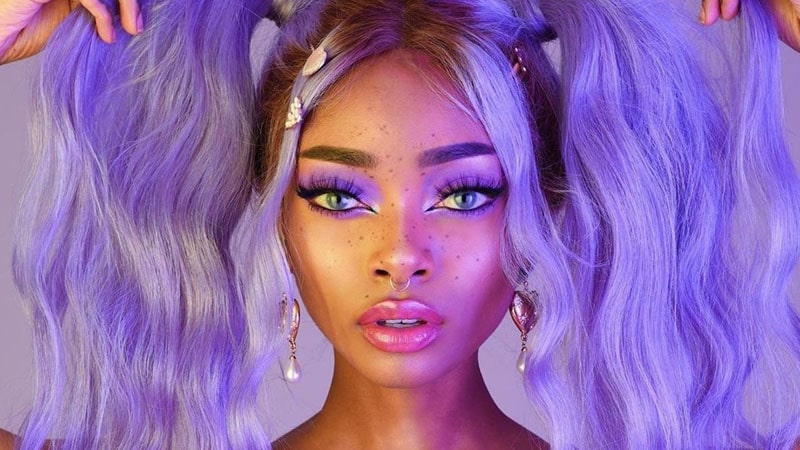 Lavender hair is dreamy and pretty and is worn by women who are not afraid to express themselves and have some fun with their appearance. Lavender is a light shade of purple and can be adapted to suit various hair textures and types and paired with different colors. There is something for everyone, from those who want something simple and easy to wear, like lavender highlights or pastel hues, to rich, vibrant colors. If you have light hair, then dying your locks is incredibly easy, and there are many techniques to choose from, but that is not to say that women with darker hair cannot experiment with this hue, too. In addition to looking good, lavender can also represent youthfulness and femininity and is an excellent way to show the world your playful side. Keep reading to find out everything you need to know about this gorgeous look.
RELATED: 40 Fun Purple Hair Color Ideas to Try in 2022
1. Pastel Lavender
Pastel lavender is a gorgeous color to try out if you want a pretty and feminine change. The appeal of pastel shades is that they are soft, making them easy to wear; the light purple shade looks perfect on women with fair skin tones. There are some things to consider before taking the plunge and dying your hair pastel lavender, though. This includes that it will fade fast, and you need light hair as a base color. This makes it an appealing option for women with naturally blonde hair, but you can also achieve the look with darker locks by bleaching your hair first. Work with your colorist to ensure you create the hair color of your dreams with minimal damage.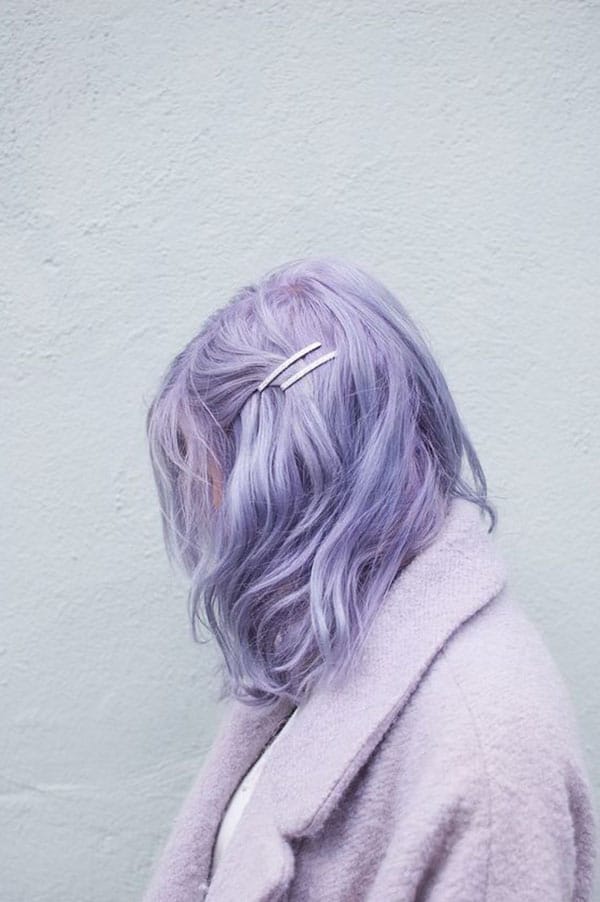 2. Dark Lavender
Dark lavender is an excellent way to try out the trend without it being too dramatic and noticeable. It allows you to have fun and create an interesting look without too much hassle, time, and effort. There are many ways to experiment with the color, whether you choose to dye your entire head with a darker shade or add a few streaks to brighten up your naturally dark hair. This is a fantastic option if you do not want to bleach your locks and instead want a more subtle approach to the lavender hair trend. The color will blend nicely with brown or black hair.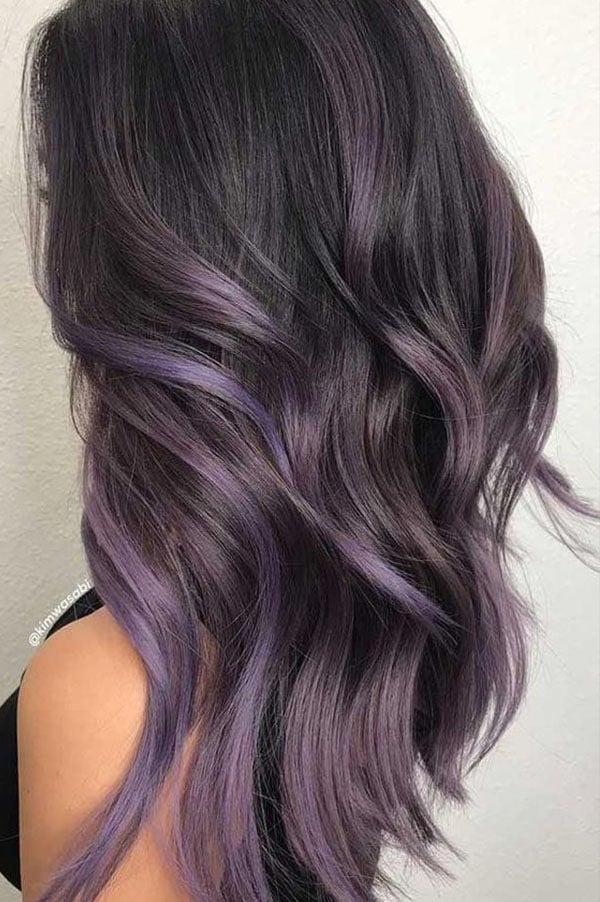 3. Blue Lavender
Lavender is a dreamy shade of light purple with such a feminine and pretty feel to it, which is why it is not surprising that it has become one of the hottest hair trends around. That said, if you don't want to commit to just one color, then why not try two? Blue hair with lavender pair well because the hues are similar, so they do not clash or create a dramatic contrast. This allows you to blend them nicely, and there are many techniques to choose from, including an ombre approach. This can be a fantastic way to express yourself and your personality and allows you to have fun with your hair.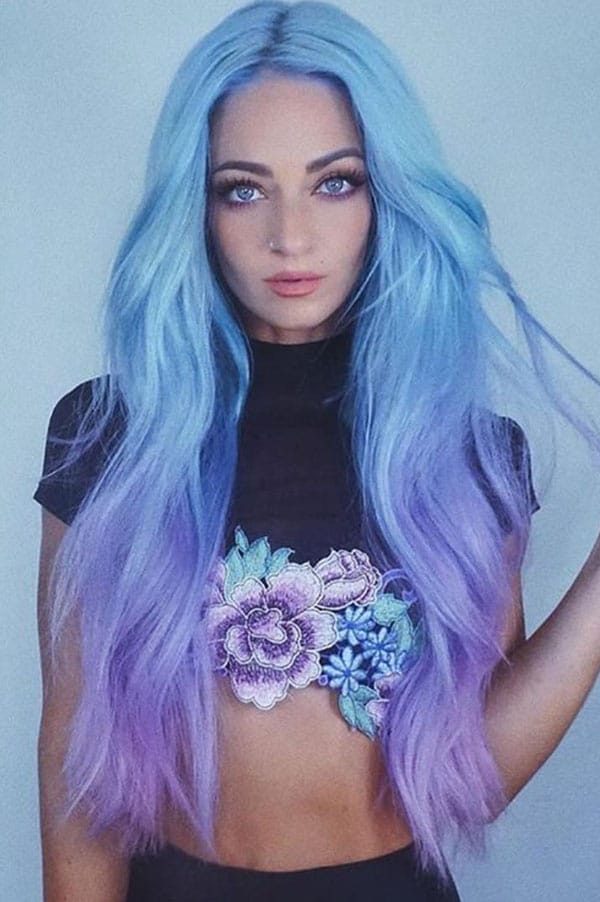 4. Lilac Lavender
If you want to change up your look, you can do so with lilac lavender hair. It is a pretty shade that can add youthfulness to your appearance and bring you happiness. This color does take some serious confidence to pull off, and it will get you noticed, but there is also a softness about it, as it is not as intense as neon or electric colors. Many people favor bold hair during the summer months. Lilac lavender is incredibly versatile and looks good any time of the year, including winter, because of the coolness of the shade. You can add this color in highlights on platinum or blonde hair for a more subtle approach or opt for a dipped effect.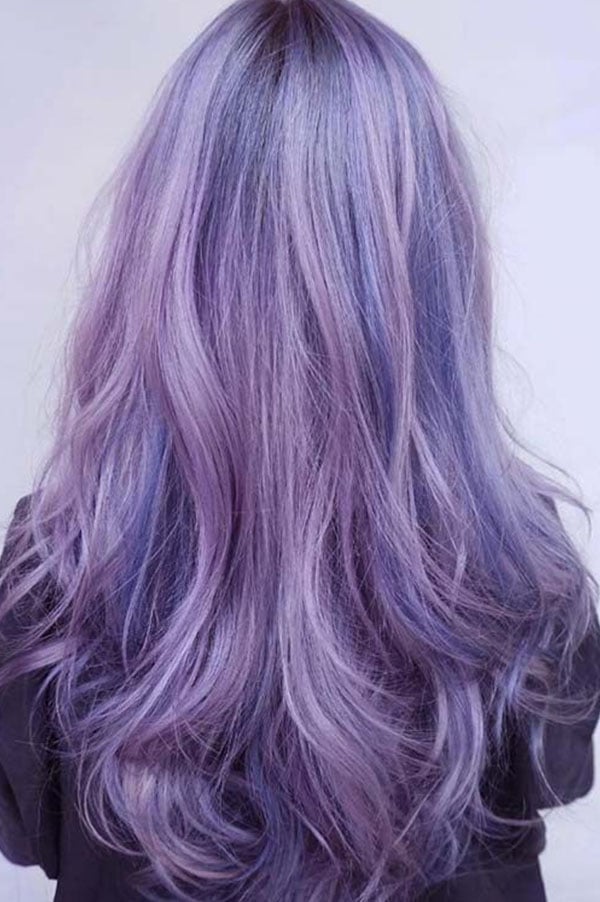 5. Purple Lavender
Opting for a more rich shade, like purple lavender, can help you make a statement with your hair. The color is much brighter than the pastel hues you can pick and has a luxurious appearance. This is a beautiful look for a woman who wants to stand out from the crowd, express her personality, and have some fun. Rocking purple hair with lavender is a way to tell the world you are not one to conform and prefer to take risks.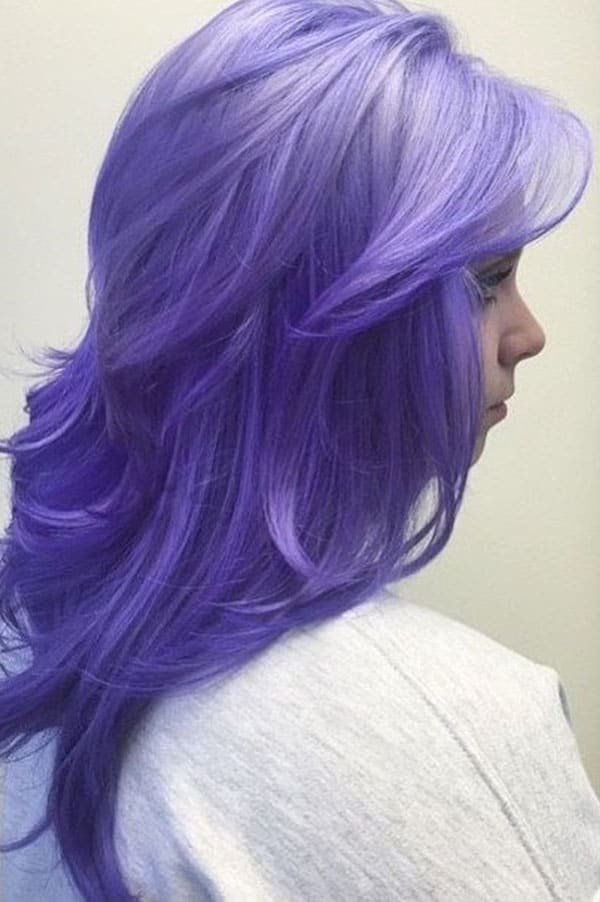 6. Pink Lavender
Many shades work well with lavender, but one of the most flattering is pink. Mixing these two hues creates a brilliant and gorgeous appearance. The colors are also complimentary, so you can make an ombre effect or opt for a pink base with lavender highlights. A split-dyed look is great for those who are more daring. Medium and neutral complexions will look gorgeous with this shade, but it will suit most skin tones because it is an incredibly versatile pairing. Just remember not to wash your hair too often to help preserve the color for as long as possible. Unleash the mermaid within you and embrace this stunning pink hair with lavender highlights.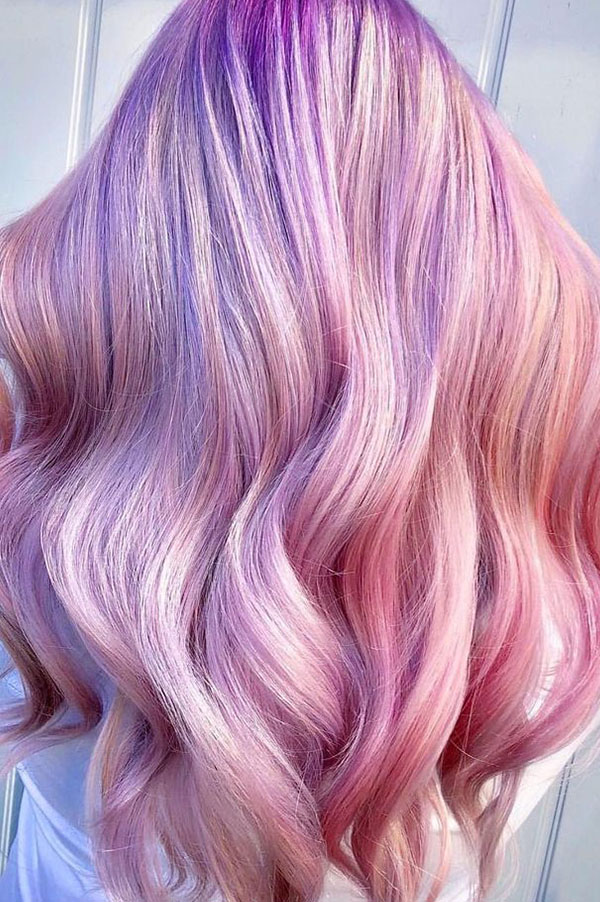 7. Strawberry Blonde and Lavender
Dying your hair a bright color is a great way to draw attention to your face and highlight your features. For those who want to change their appearance and make a statement, there is no better way to do this than opting for two contrasting hues. Strawberry blonde and lavender look great together, and there is a wide range of ways to try it out. For those who want a more subtle approach, you can opt for a few lavender highlights throughout your hair; they will complement the light red and warm blonde shades of your natural locks. For those who prefer a more dramatic approach, you can frame your face with lavender highlights. Or try out the split dye technique. The pairing will suit women with light skin and light eyes, but that is not to say that other complexions cannot rock this coloring.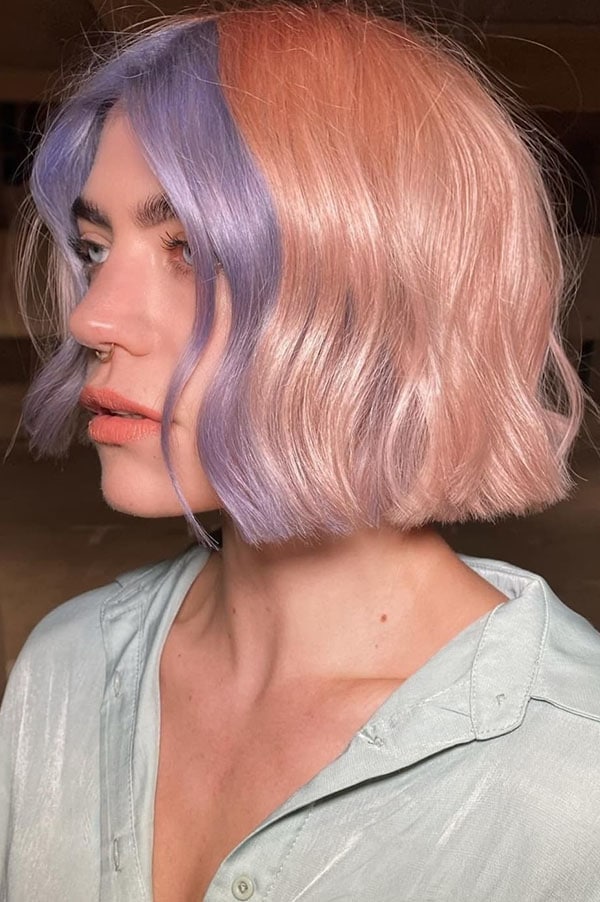 8. Electric Lavender
If you are a woman who likes to stand out from the crowd, then look no further than electric lavender hair. The fantastic thing about this color is that it is bright and unmissable. This makes it a great way to express yourself and shows that you have a playful personality and are not afraid to experiment and have fun with your appearance. You need a lot of confidence to pull off this color, but that is the beauty of it; not just anyone can rock it. For a matchy-matchy appearance, you can opt for a similar shade of lipstick or eyeliner, which will complement your hair.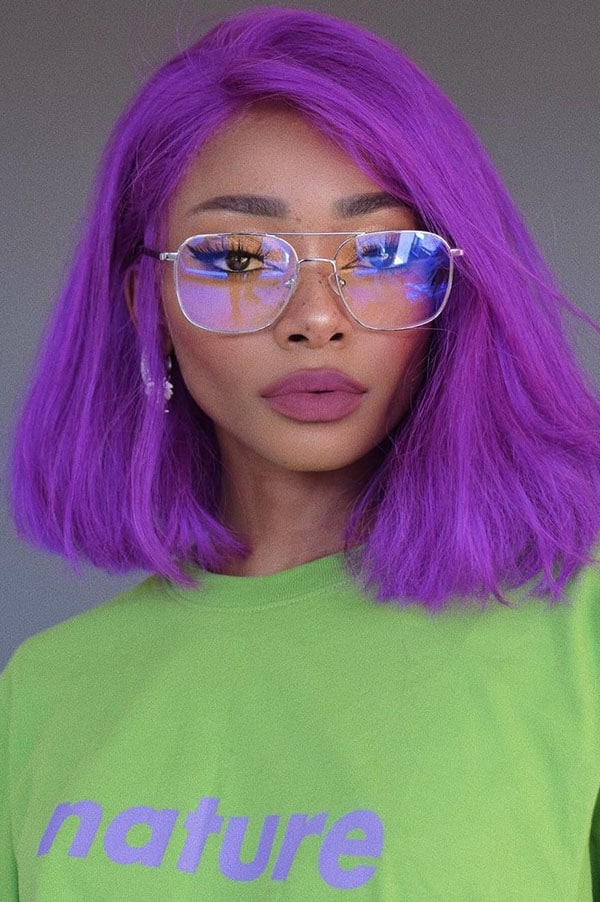 9. Blonde Lavender Hair
If you have naturally blonde hair, that is excellent news when coloring your locks in bright shades. The light base works well with bold colors, including lavender, and it makes dying your hair very simple as you can eliminate the bleaching process. You can keep your hair mostly blonde for a subtle option and add a few lavender highlights throughout. Or, you could ask your colorist to create a blended look for a dreamy and soft appearance. There are many ways to rock this pretty hue, which can be incredibly flattering, especially when choosing a cut that can help shape your face.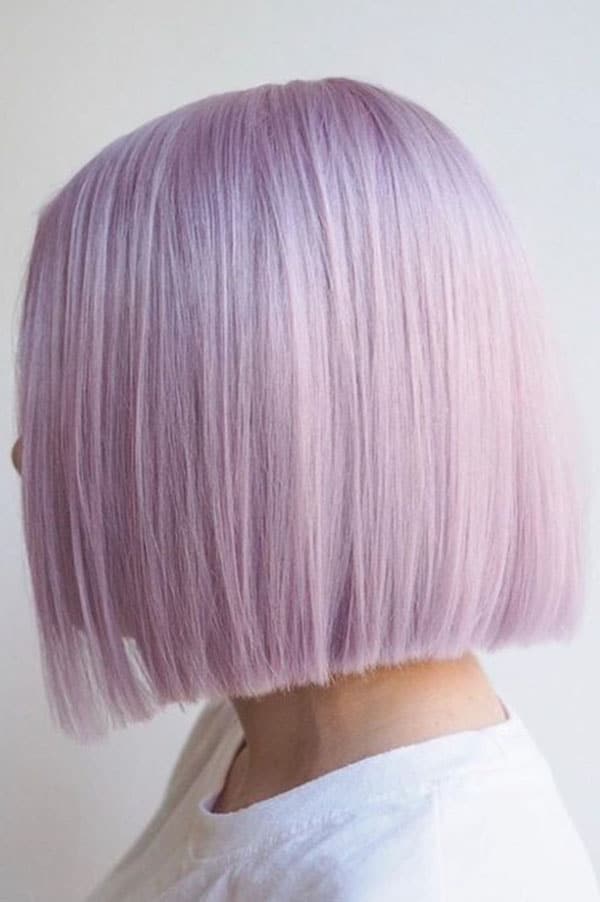 10. Lavender and Brown Hair
For women with naturally dark hair, one major con of dying with bright colors is that you have to bleach it first. But that is not always the case, and lavender can look fantastic on brown hair. It creates a much more subtle approach than opting for an entire head of lavender locks and is easier to wear. You can color your hair for a faded and natural option. Or, if you want a more vibrant effect, bleach your hair strands first before applying the lavender. You can work with your colorist to help you achieve the look that will best suit your hair type and texture and cause minimal damage.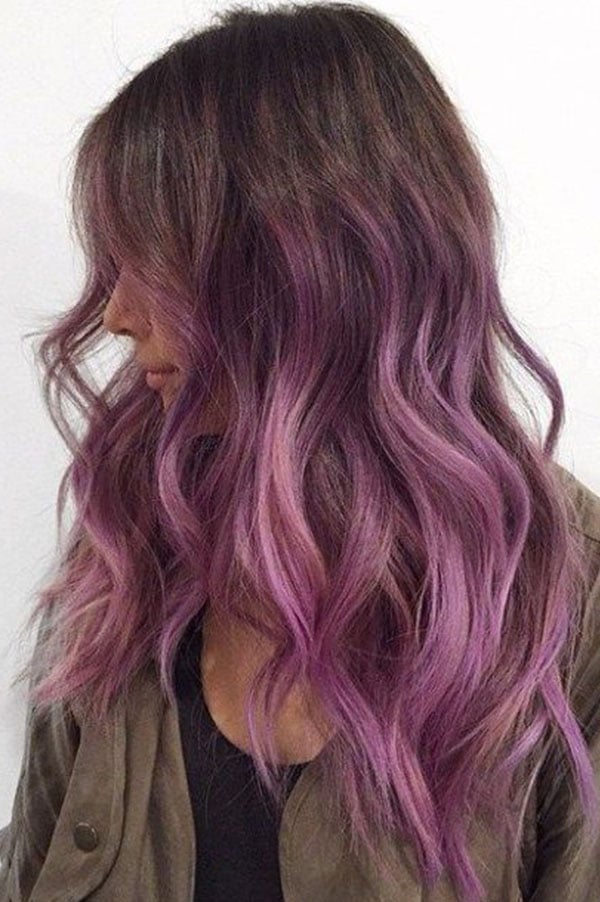 11. Lavender and Platinum Blonde Hair
Platinum blonde hair is high-maintenance and costly, but it looks so good. It is one of those colors that can highlight your face and make you feel glamorous and sophisticated. So, what better hue to pair it with than a light shade of lavender. If you have already dyed your hair platinum, the good news is that it will be easy to add lavender color to it; the addition can create an interesting contrast that highlights your texture and creates movement. It may also be a smart way to retouch your regrowth. You can opt to cover your roots with the purple hue and keep the rest of your locks the icy white tone. With so much choice, it is really up to you.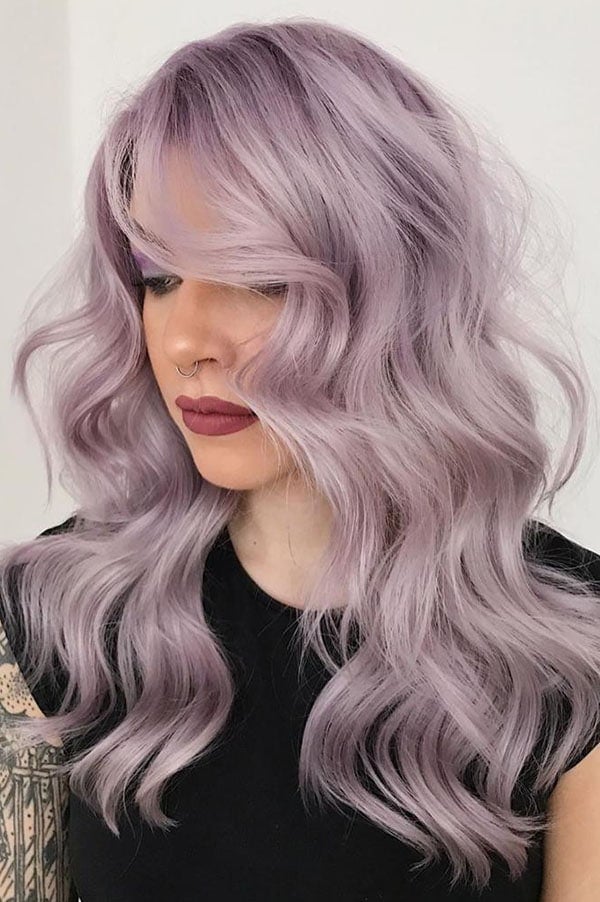 12. Smokey Lavender
Lavender hair is excellent for women of all ages who are not afraid to take a risk, but if you want a versatile hue that's easier to wear, smokey lavender is what you need. The silvery tones make it seem more sophisticated and cool and can suit all hair colors and types. It also has a more mature feel, as the color is not as bright and girly. Brunettes can try out the smokey shade over their natural hair for a more faded and subtle approach.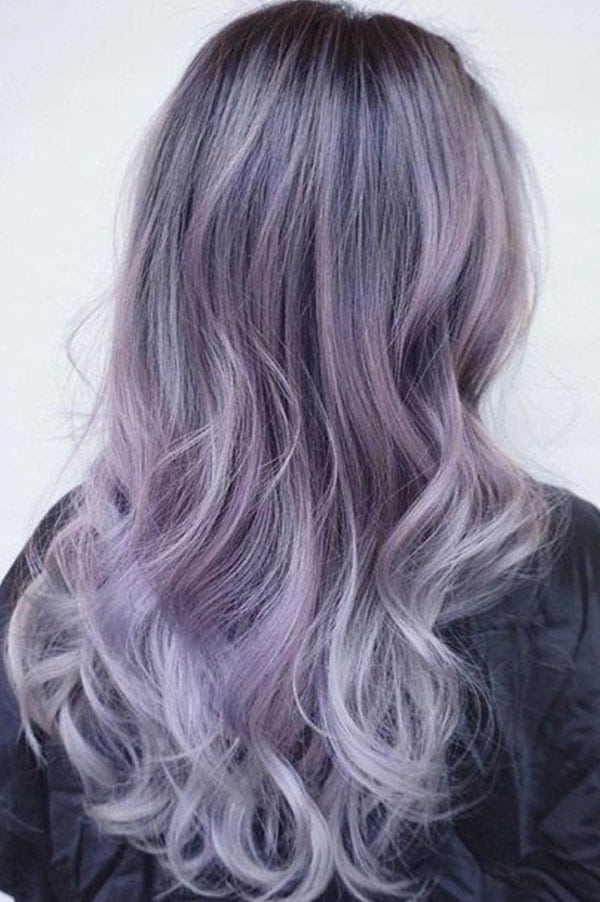 13. Silver and Ashy Lavender Hair
Silver and ashy lavender hair is a mixture of cool tones that creates an icy appearance. This color will look fantastic on those with fair skin and cool undertones and is a popular way to try out purple dye without it being too dramatic. The color can be hard to maintain, and it may fade fast. You will likely find that all the effort is worth it because there is something incredibly sexy about this color combination. It may also be a welcome option for those starting to gray and could potentially disguise any signs of aging. How you choose to create your look is entirely up to you, whether you add a few highlights or dye just your roots or tips. Alternatively, you can cover your whole head for a more statement approach; there are many reasons to love this look.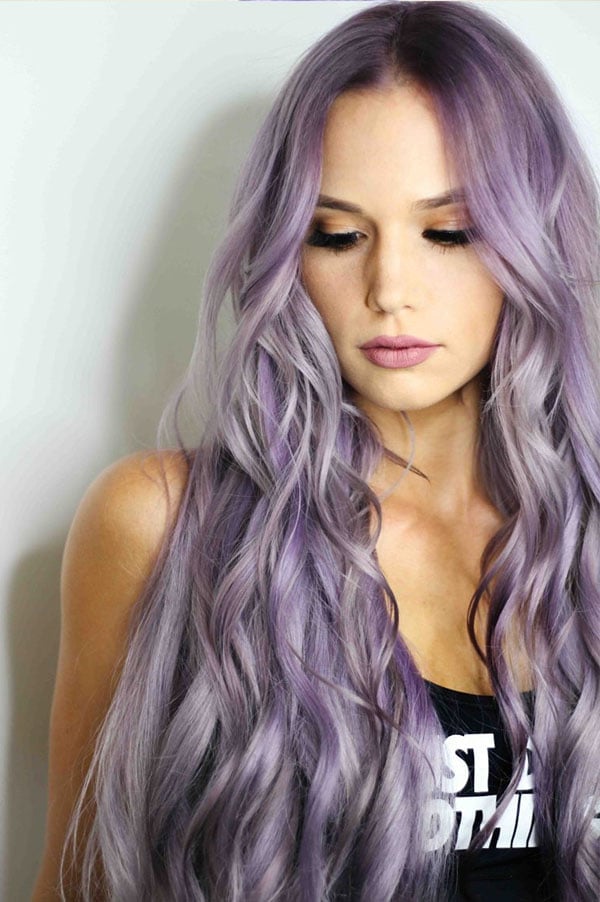 14. Metallic Lavender Hair
Metallic lavender hair can be a more refined approach to trying out the bright hair color trend. The reason is that the grayish, dusty tones that metallic colors produce are easier to pull off. This is a fantastic option if you want your hair to catch the light and look glossy while doing it. Plus, it is a lot more versatile than you may think, suiting various skin tones. It can be applied to hair of all lengths, textures, and types for a cool and modern appearance.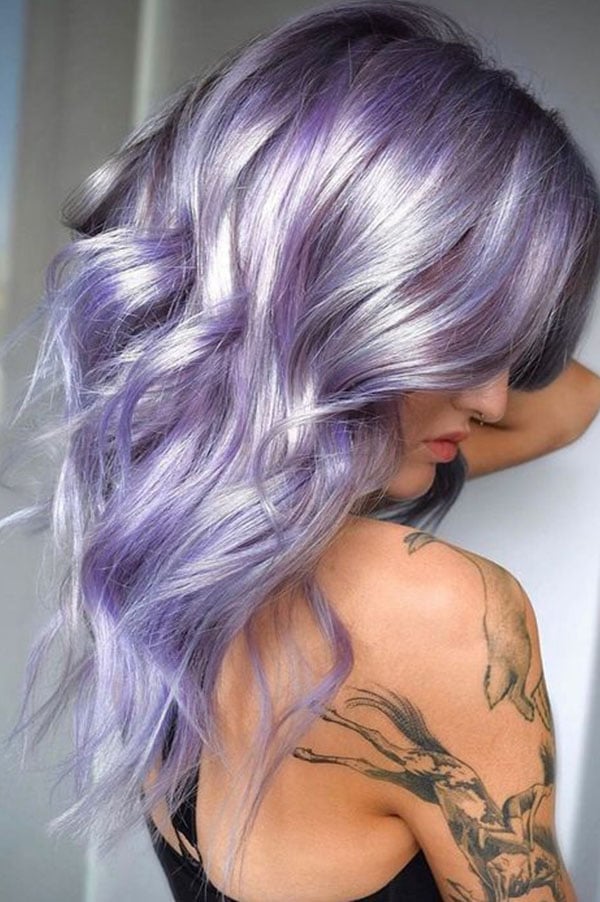 15. Curly Lavender Hair
The fantastic thing about coloring your curly hair a gorgeous lavender hue is that it can highlight your natural texture. Curly hair is incredibly versatile and can be styled and colored in many ways. That said, if you are looking for a modern and fun option, this hue can make you appear more youthful and trendy. However, it is worth noting that you may need to bleach your hair beforehand to achieve a vibrant shade of lavender. If this is the case, it is best to work with a professional who can help minimize the damage and keep your hair from getting dry or frizzy.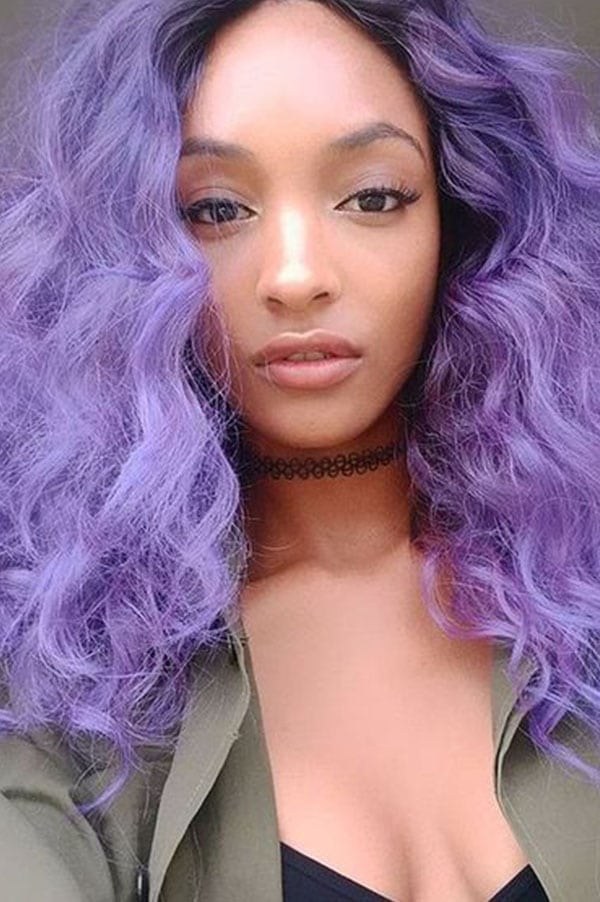 16. Straight Lavender Hair
There is absolutely nothing boring about straight hair, especially not when you add vivid color to it. Straight hair can be versatile and stylish, and opting to dye it lavender creates a youthful and playful appearance. You can adapt the tone from lighter or darker and more vibrant hues to best match your complexion. It is a fantastic way to add movement and dimension to your locks and, depending on the technique you choose when coloring it, can also highlight your features and draw attention to your face.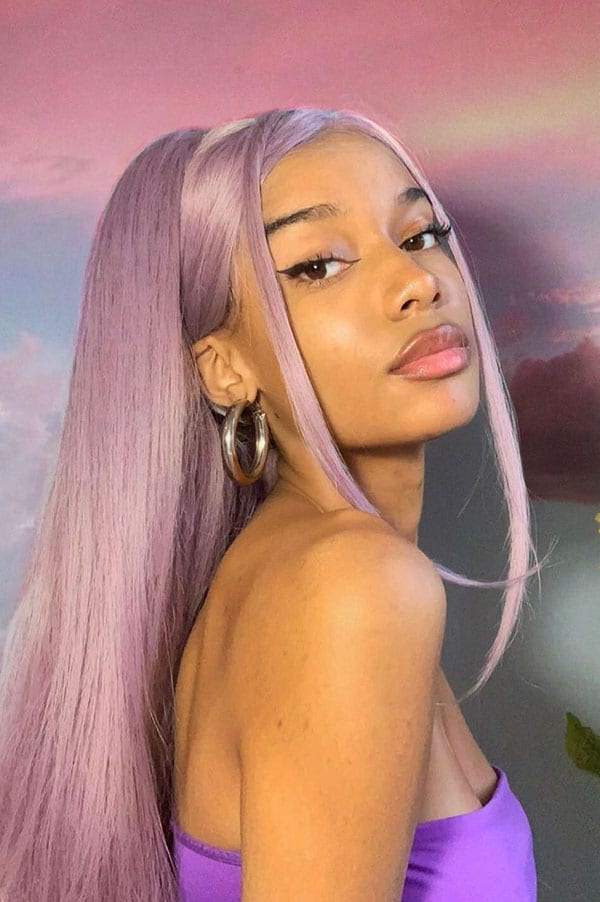 17. Lavender Roots
It is not just dip-dyed hair that makes a statement but also focusing on the roots. Lavender roots create a very interesting appearance and, depending on the color of your natural hair, can produce a dramatic contrast. Lavender shades tend to work best with light blonde hair and can be a way to disguise any regrowth. That said, you can work with your colorist to create a subtle change if you have dark hair, giving it a lift and a modern twist. There are many options to experiment with, so think about what will suit your personality best, and go for that.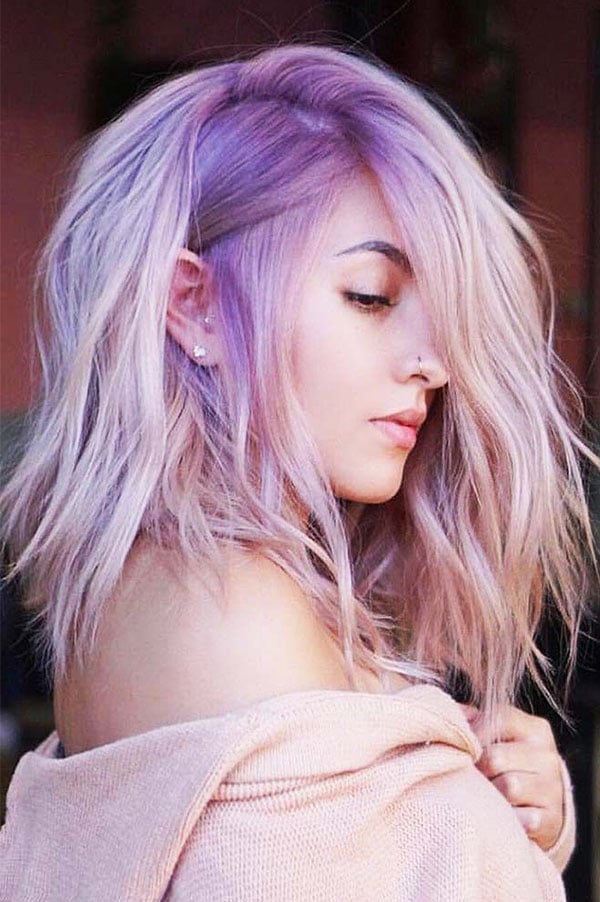 18. Lavender Ends
If you love the lavender hair dye trend but are not ready to fully commit to it, then a great option is to opt to dye just the ends of your hair. Lavender ends involve dipping only the end of your hair into the dye, a gorgeous and easy-to-wear alternative to dying the whole head. This approach can be easily adapted. You can choose how far up you want to color, just a little bit on the very end or further up the shaft. It can also work well with various hair colors and textures. Although the lighter your natural shade, the more vibrant your look will be.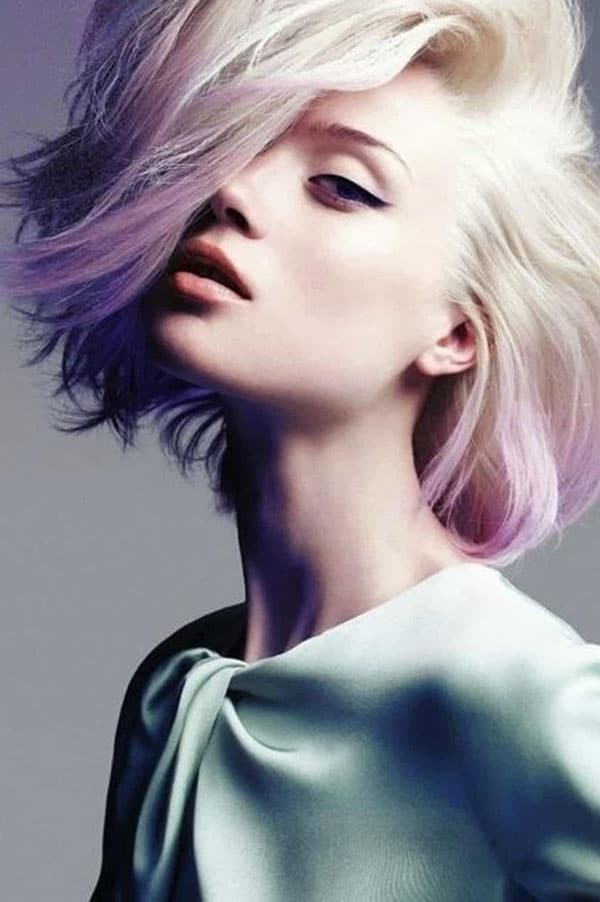 19. Lavender Pixie Cut
A pixie cut is a fantastic short hairstyle that comes with several benefits. It requires little maintenance, and you do not need to use as much product as you would with longer hair. It can also create an edgy and cool appearance and is fantastic for women who color their hair in bright shades. This cut is surprisingly versatile and flattering for women of all ages. Plus, it can be adapted to suit most face shapes.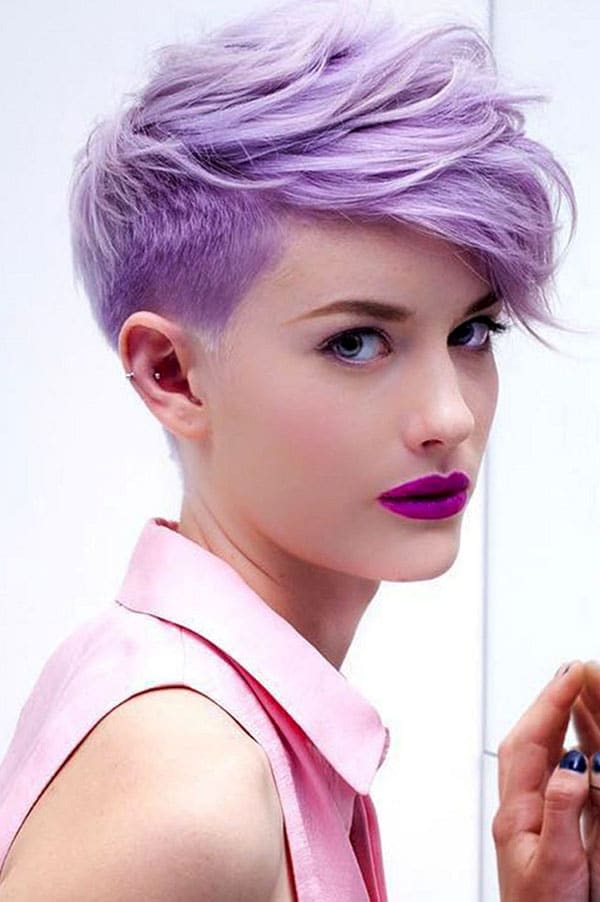 20. Lavender Face-Framing Streaks
You do not need to dye your entire head a lavender hue to make a statement, and this can be achieved with just a few strands. Choosing to strategically dye streaks on either side of your face can help frame it and highlight your features. This is incredibly flattering and can achieve a more balanced appearance. Or it could complement your eye color. If you have dark hair, the sharp contrast between the streaks and your natural hue can make your face appear slimmer and more youthful, whereas lighter hair can have a less dramatic look.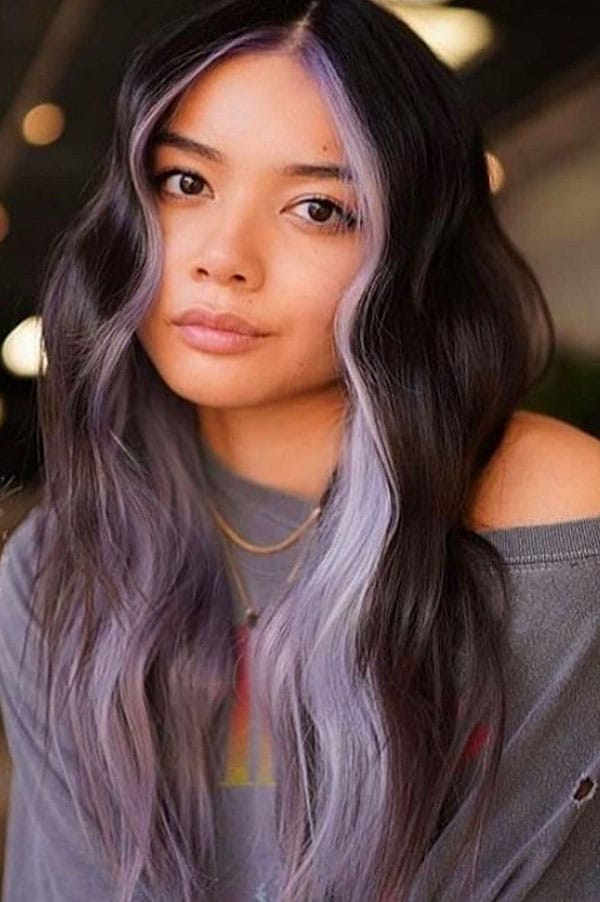 21. Wavy Lavender Hair
Lavender looks fantastic on naturally wavy hair because of the volume that this texture has. You can create beautiful, glamorous locks that frame your face and highlight your features. Or you can look as though you are a mermaid with effortless beachy waves. Wavy hair is incredibly versatile, and you can experiment with varying shades of lavender and different techniques to achieve something that best suits your personality. For a bold look, pair your locks with red lipstick and black winged eyeliner.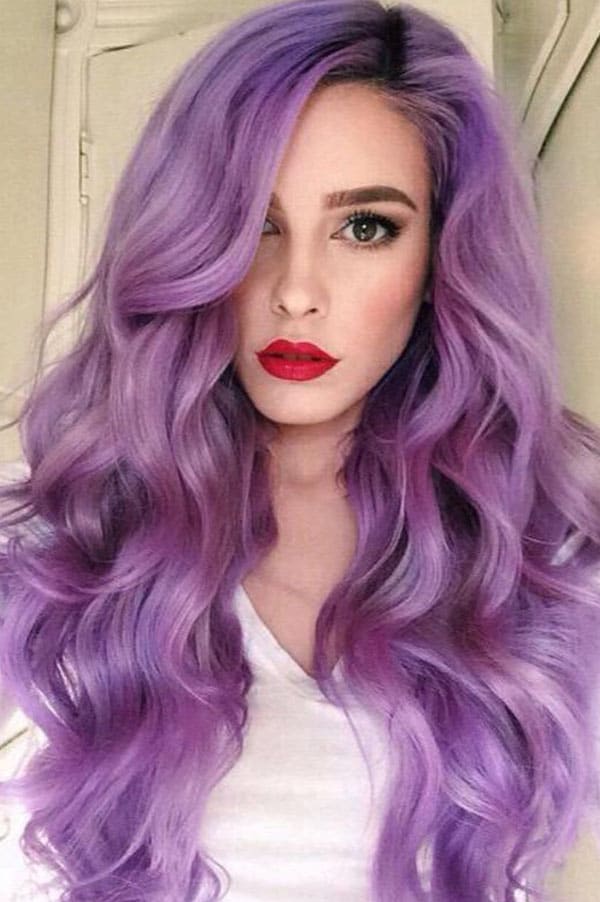 22. Lavender Bangs
Lavender bangs can transform your face and help balance proportions. They can also add dimension, highlight your features, and create a very flattering appearance. It is versatile and can help you achieve a glamorous look with volume or an effortlessly chic vibe. But perhaps the best part is that bangs lend themselves well to color, including lavender, because this makes them even more noticeable and fun. You can choose just a few streaks on either side of your face to help frame it or dye your entire fringe. This depends on how dramatic you want your look to be and what will suit your style best.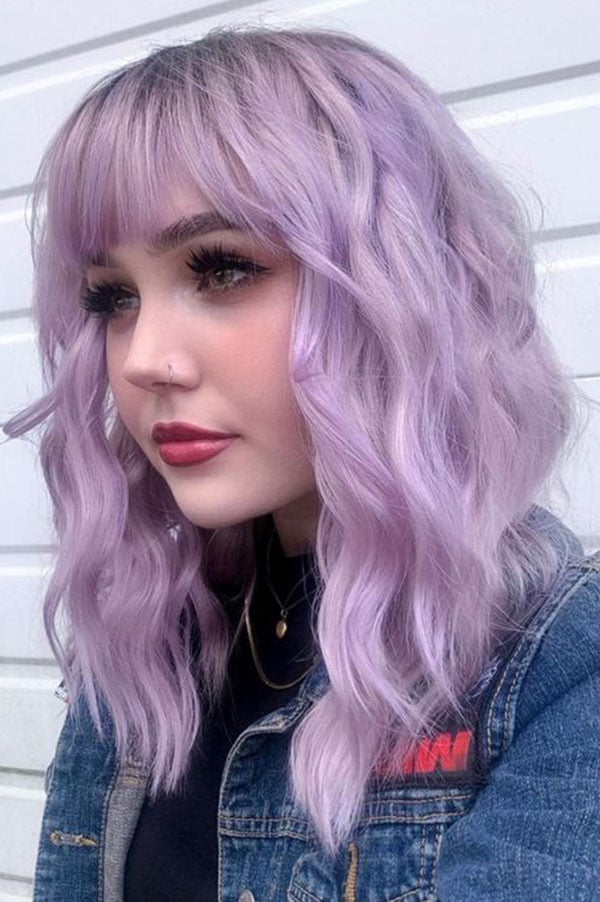 23. Lavender Braids
Braids look dreamy, but they are also a fantastic way to reduce styling time and protect your hair. If you have your hair in a braided look, it can help keep it tame and reduce the chance of tangles and knots. It can also prevent friction, especially when you sleep, and this lowers the risk of breakage. The great thing about braided hair is that there are many styles, from dutch braids to fishtails. They also tend to look great with a pop of color, making your appearance even more exciting and fun.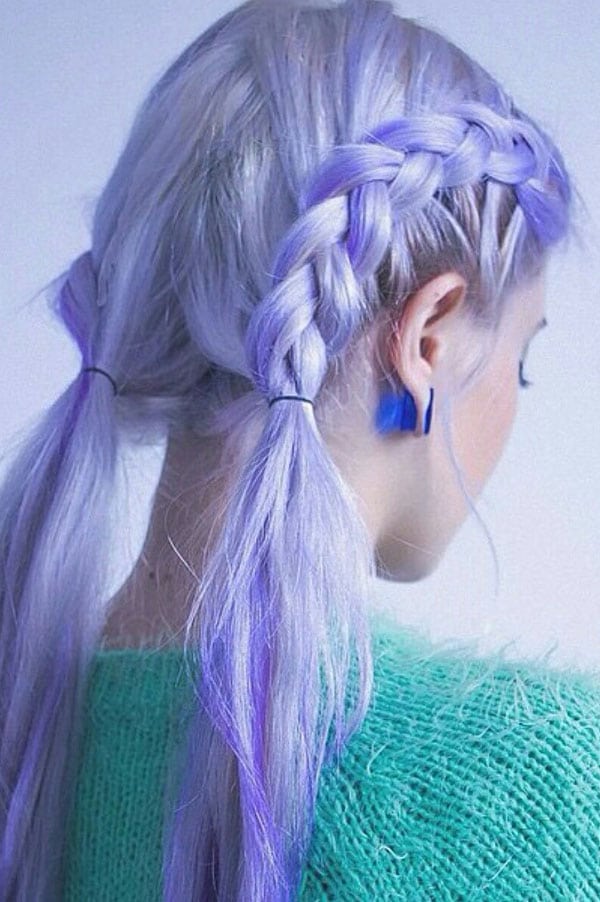 24. Smokey Lavender Ombre
Smokey lavender is a shade that is edgy and cool. The gray tones make it a fantastic option for someone who prefers more natural-looking hair but still wants to experiment with color. The hue looks good on most skin tones and suits various hair lengths, textures, and types. It can be applied in many ways, but one of the most natural options is to choose ombre hair. Ombre means shaded and is a technique that blends two colors, usually one light and the other slightly darker. This can help achieve a very gradual change and looks pretty.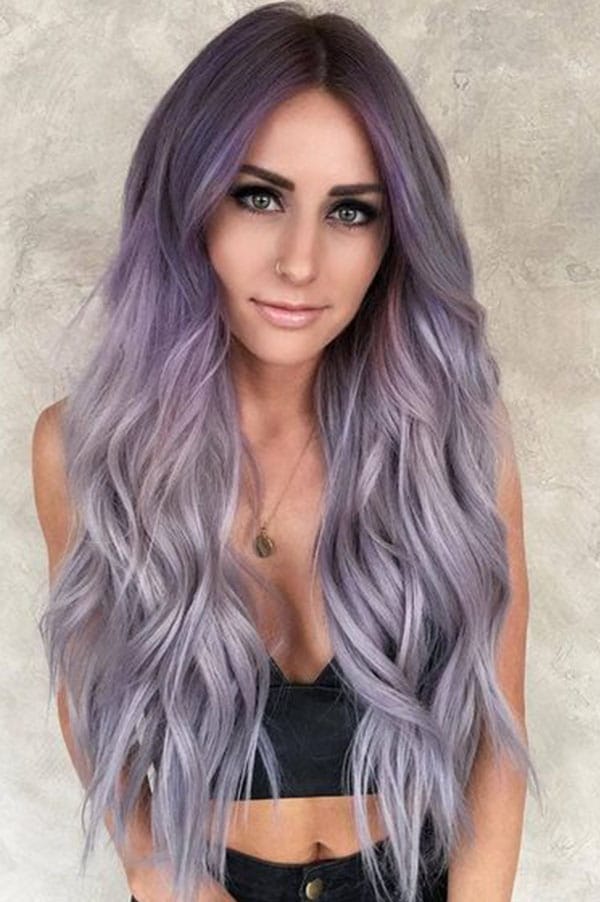 25. Lavender Kanekalon Braids
Braided hair can benefit from color, and if you want locks that turn heads, you can opt for lavender kanekalon braids. The beauty of this high-quality synthetic hair is that it lends itself well to various colors. The hair is fantastic for adding length and can be a protective style for your locks. It also has excellent movement and looks very natural. You can purchase it in different shades, but if you want to dye your own, you can do this with acrylic ink, rubbing alcohol, and a spray bottle.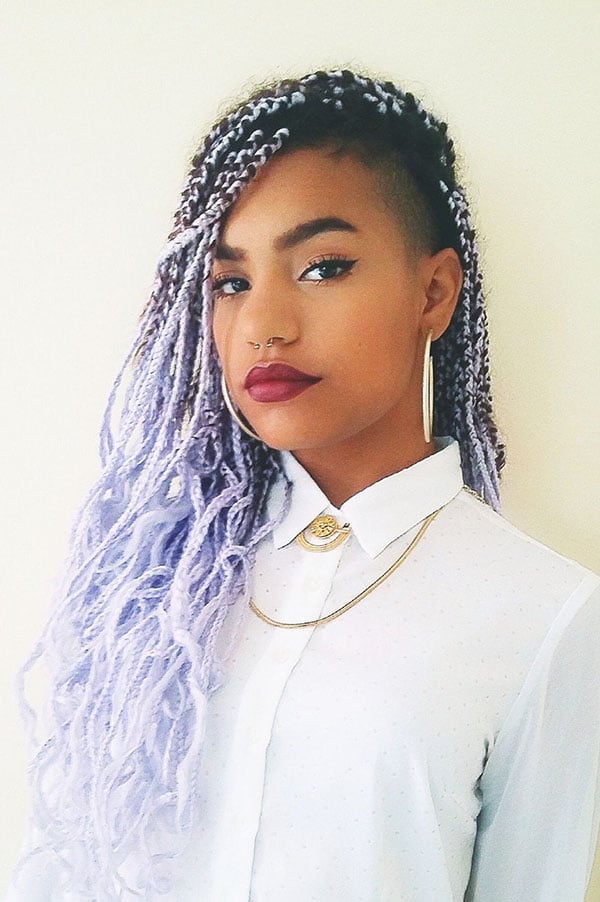 Lavender Hair FAQs
What is the best lavender hair dye?
There are many lavender hair dyes to choose from, including permanent and semi-permanent options. Some of the best products on the market include Schwarzkopf Live Ultra Brights Pretty Pastel Lilac Hair Dye, Lime Crime Unicorn Hair Tint Sext, L'Oréal Elvive Colour Protect Anti-Brassiness Purple Mask, and Manic Panic Silver Stiletto Gray Hair Dye - Icy Silver Shade with Lavender Tint.
How do you get lilac hair color?
If you want to get lilac hair, it is best to start with a light base color. This makes it a very simple process for those with naturally light hair, while those with darker hair may need to bleach their locks. There are also more subtle approaches to dying your hair this pretty hue, including opting to dye only the tips or adding streaks.
What does lavender hair color mean?
Lavender hair is dreamy and pretty and is worn by women who are not afraid to express themselves and have some fun with their appearance. Lavender is a light shade of purple and can represent youthfulness and femininity. Purple often symbolizes sophistication, luxury, and royalty.
What color will cover lavender hair?
If you are tired of your lavender hair, you have two options; you can dye it a darker shade or bleach it and try again with a lighter color. The first choice is much less damaging to your hair, as bleach can be incredibly drying. Black hair dye will cover the most vibrant shades.
What colors go with lavender?
When coloring your hair, you can pair lavender with pink and blue shades for a pretty and contrasting appearance, or you can wear it with natural colors such as black, brown, and blonde. When it comes to clothing, neutral shades like gray, white, and creams work well with this cool color.
What colors make lavender?
Lavender is a light shade of purple, so if you mix purple and white paint, you can achieve lavender. If you are using hair dye, the brand you purchase it from, or the salon you go to, will have this color ready for you.
SUBSCRIBE TO OUR NEWSLETTER
Subscribe to our mailing list and get interesting stuff and updates to your email inbox.