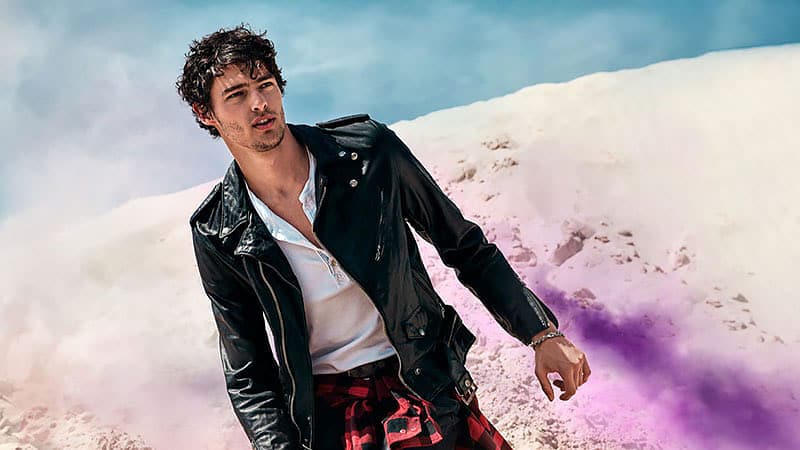 When it comes to fashion, we often look to the past for inspiration and ideas. This season, the decade that has captured the attention of designers and stylish gents worldwide is the '90s. The '90s, which was known for its relaxed and easygoing sense of style, produced plenty of awesome trends, many of which have already made a comeback. In this article, we look at some of those trends and show you how to rock them today. Here's your ultimate guide to '90s fashion for men.
RELATED: What to Wear to a 90s Party
90s Outfits
Turtlenecks
Turtleneck sweaters were a preppier alternative to some of the tougher trends of the decade. Boy band members perfected the look, which came in two styles. There were the thick and cozy sweaters for sensitive gents and the dark, fitted, and ribbed designs for those strong yet intellectual types.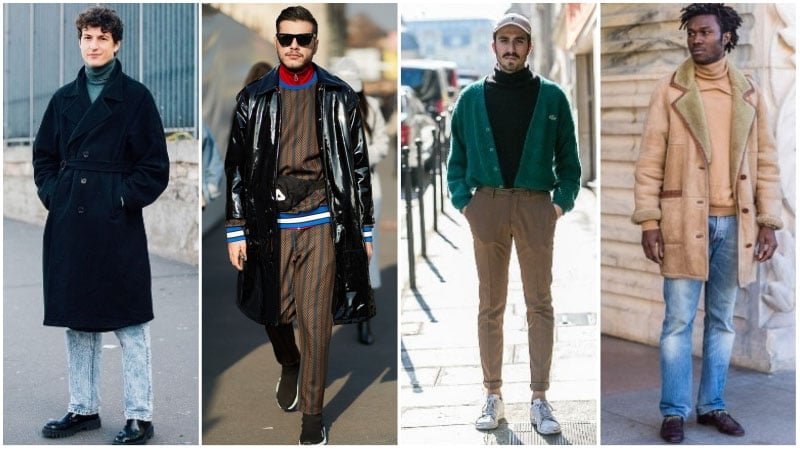 GET THE LOOK
Snapback
Hip-hop style entered the mainstream in the '90s, and with it came snapback hats. The look, which began with rappers, soon seemed to be worn by men worldwide. Today, these flat-brimmed caps typically feature logos and can still look cool. But remember to wear them forwards or backward instead of to the side.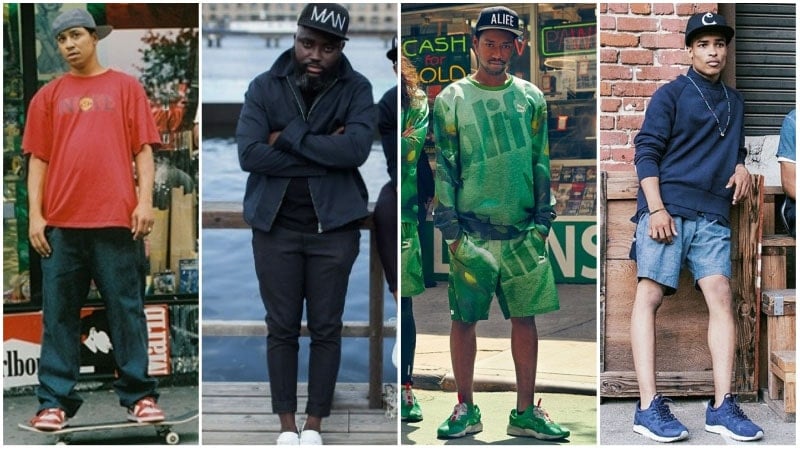 GET THE LOOK
Overalls
Overalls were huge in the '90s, especially when worn with one strap hanging down. In fact, everyone from Will Smith to the members of NSYNC rocked this look. Today, you can style your dungarees as you fit, but note that you'll need plenty of confidence to pull them off.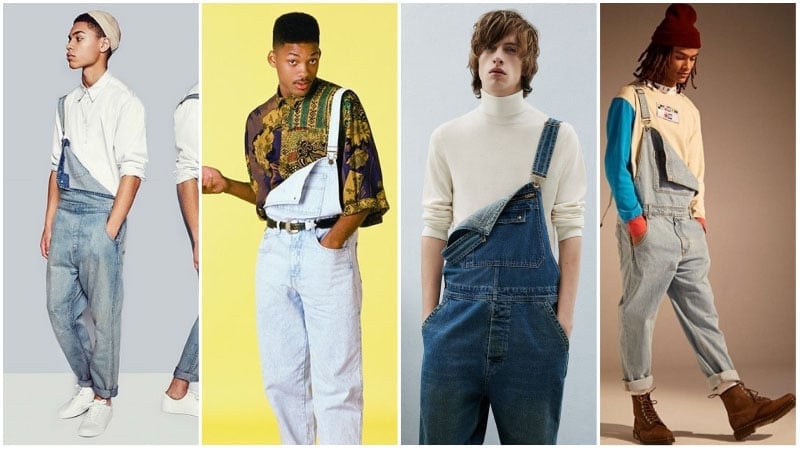 GET THE LOOK
Biker Jackets
Leather biker jackets were the epitome of edgy style in the 1990s. Worn as an anti-fashion statement, many men donned these tough jackets, including those who had never even been on a motorbike.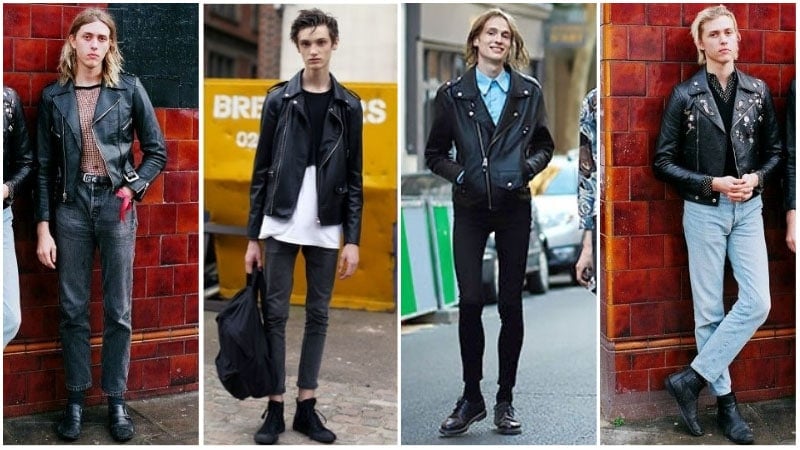 GET THE LOOK
Bandanas
Throughout the '90s, many different subcultures wore bandanas. Most famously, they were worn by rappers to represent their gang affiliation. However, the masses soon picked up this look and worn simply as an on-trend accessory.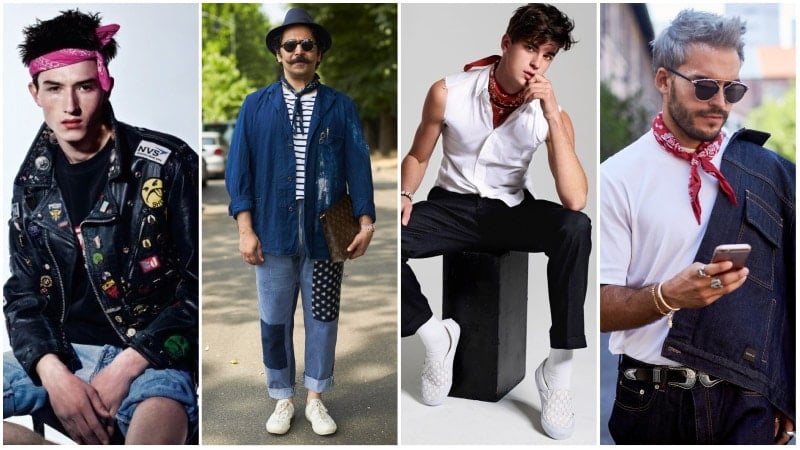 GET THE LOOK
Cargo Pants
Cargo pants had their moment of cool in the '90s. With so many pockets you could carry your wallet, Gameboy, and even a pager, these pants were practical and fashionable. While originally worn oversized and baggy, today's cargo pants look best with a slim or tapered fit.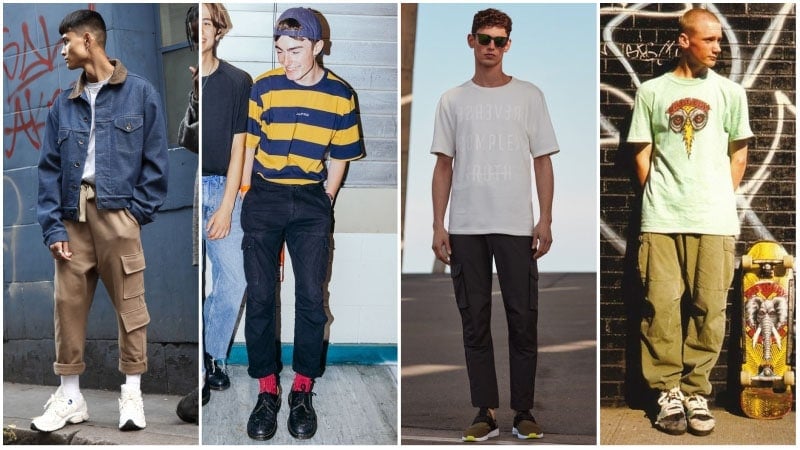 GET THE LOOK
Baggy Jeans
When it came to jeans in the '90s, the rule was; the baggier, the better. These supersized pants were a must-have of the day and quintessential to any streetwear look. They were also worn low on the hips and often accompanied by a chain with a Velcro wallet attached to the end.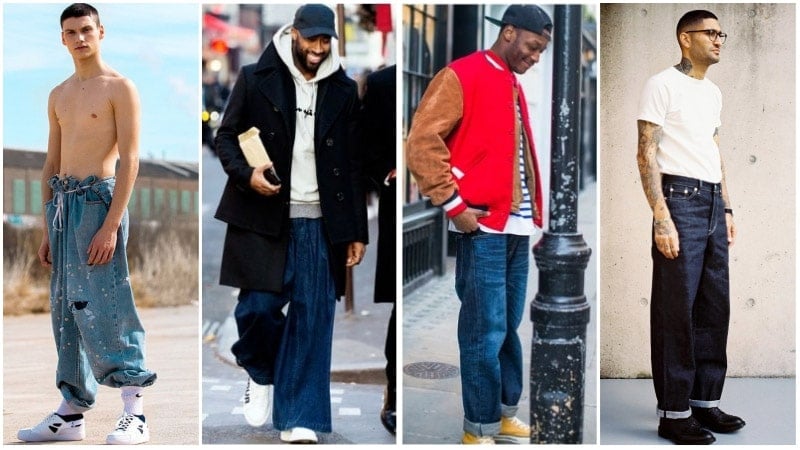 GET THE LOOK
Windbreakers
Windbreakers were massive in the '90s are have made an epic return in recent seasons. These lightweight, wind-resistant jackets are perfect for projecting a retro sporty style, especially when worn in bold block colors.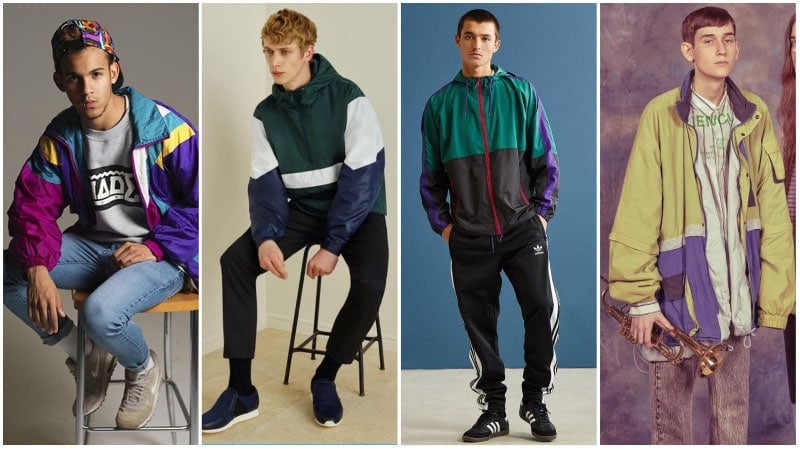 GET THE LOOK
Ripped Jeans
Grunge was a significant part of '90s fashion, and nothing said grunge quite like ripped jeans. Many young gents wore these torn denim designs to convey the rebellious spirit of the era. Although ripped jeans aren't overly rebellious today, they can still add a subtle edge to any casual look.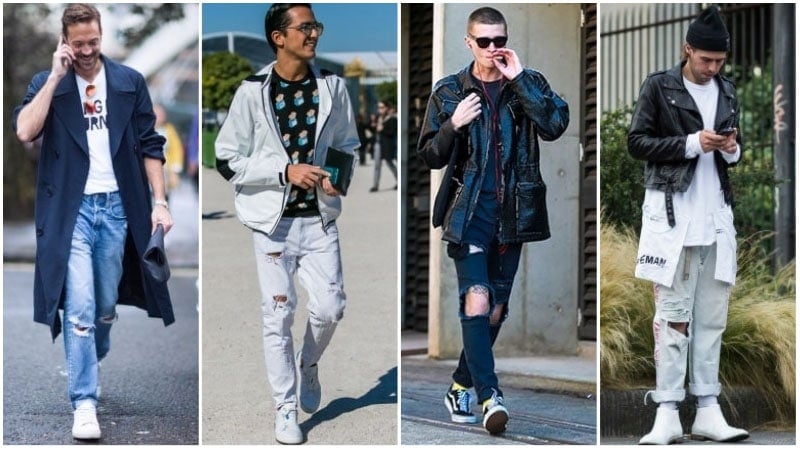 SHOP THE LOOK
Bucket Hats
Like snapback caps, the trend of bucket hats began with rappers. But, by the decade's end, every teenager had one in his wardrobe. Today, bucket hats, just like bum bags, have made a surprising resurgence and are now on-trend once again.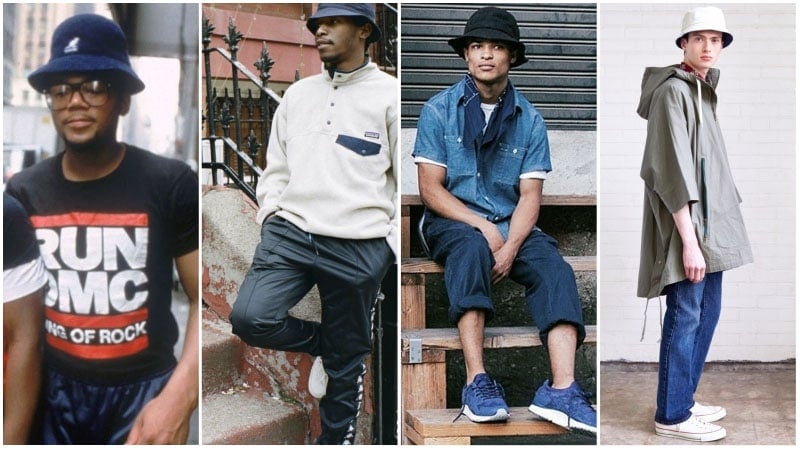 GET THE LOOK
Graphic Tees
The '90s skate culture introduced a wave of graphic tees to mainstream fashion. These t-shirts were typically black or white crew necks with a colorful placement print at the front. These prints could be anything but often showcased skate labels or popular bands.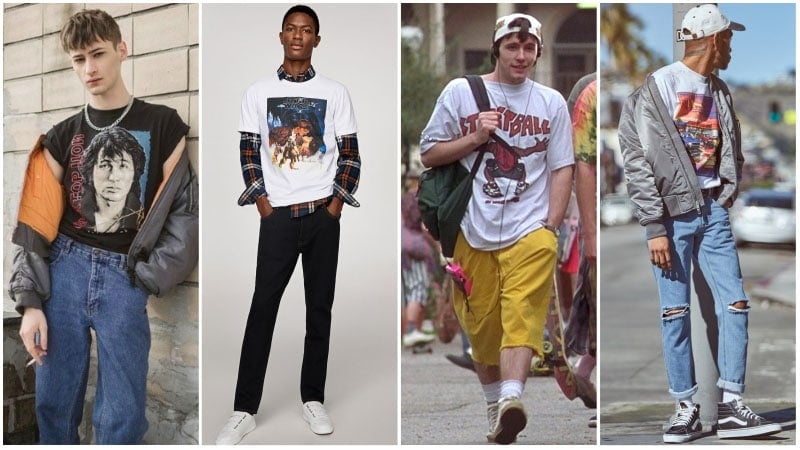 GET THE LOOK
Combat Boots
Heavy-duty, lace-up combat boots, such as the iconic Dr Martens designs, were popular in the '90s grunge sub-culture before going more mainstream. To wear them today, consider partnering a pair with ripped jeans and a flannel shirt for a tough throwback style.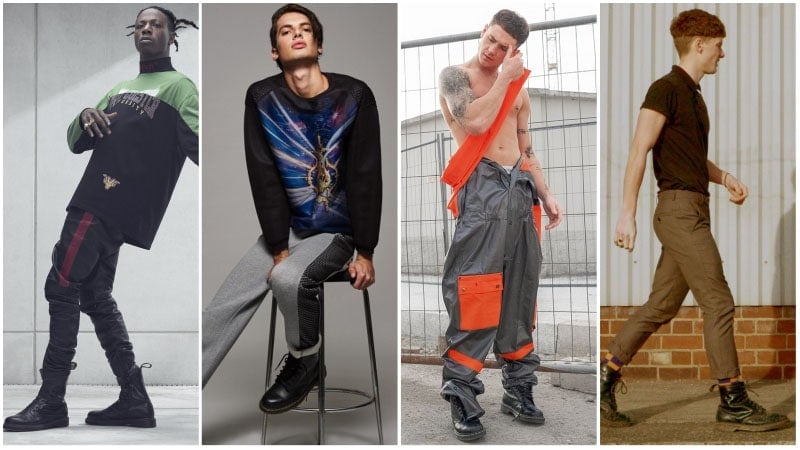 GET THE LOOK
Oversized Flannel Shirts
Oversized flannel shirts were part of the uniform for many grunge-loving, Kurt Cobain-aspiring '90s gents. Worn either tied around the waist or open with a plain or graphic T-shirt underneath, these large shirts projected a "too cool to care" appearance.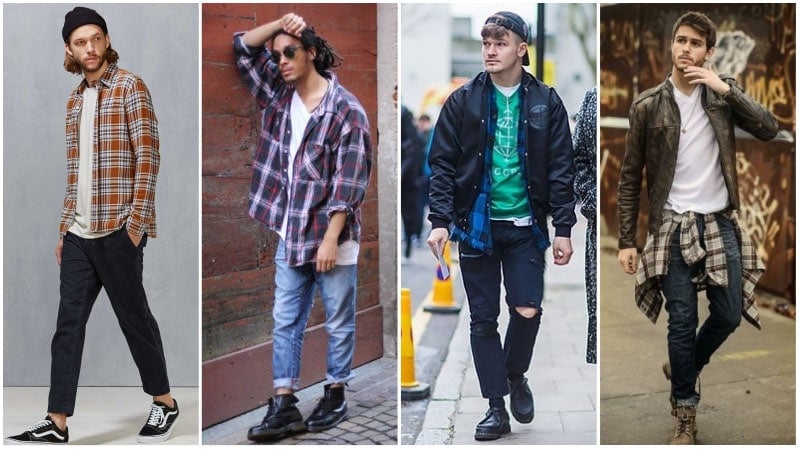 GET THE LOOK
90s Hairstyles
Bowl Cut
Bowl cuts were one of the most popular hairstyles of the '90s, and they can look surprisingly great today, especially on gents with an edgy attitude. To rock the style, visit a barber and ask for a choppy version. Don't have your mum place a bowl on your head and cut around it.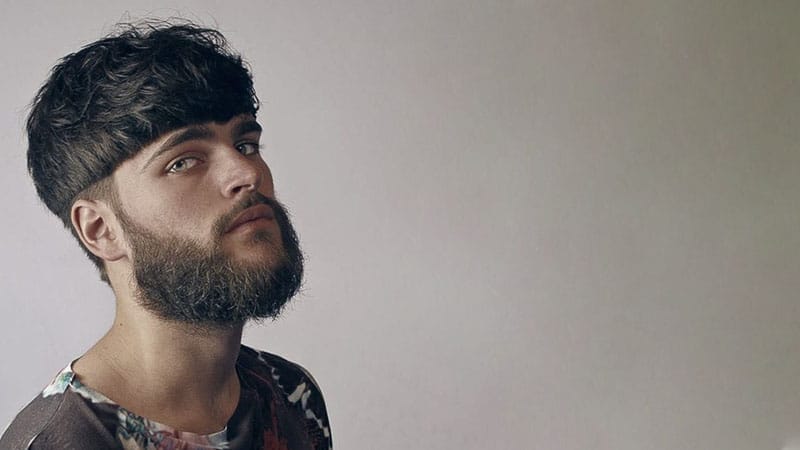 Middle Part
The middle part was a big deal for gents back in the day. It was worn with both medium and long hair lengths with strands left to flop around the face loosely. To rock the look now, be sure to boost the volume of your locks to keep your hair from sitting flat.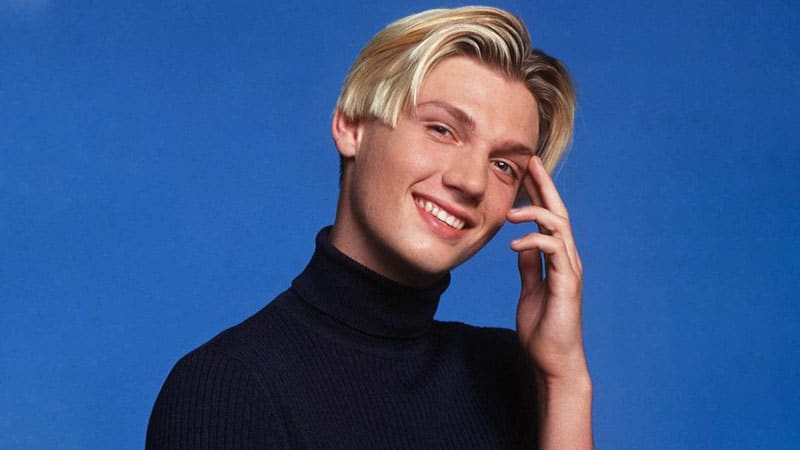 Spiky Hair
Long before pomade became everyone's go-to styling product, gel ruled the '90s. This strong-hold hair product was used without reserve to create bold, spiky hairstyles. If you're interested in rocking a spiky look today, remember to go easier on the hair product and add more texture/movement to your look.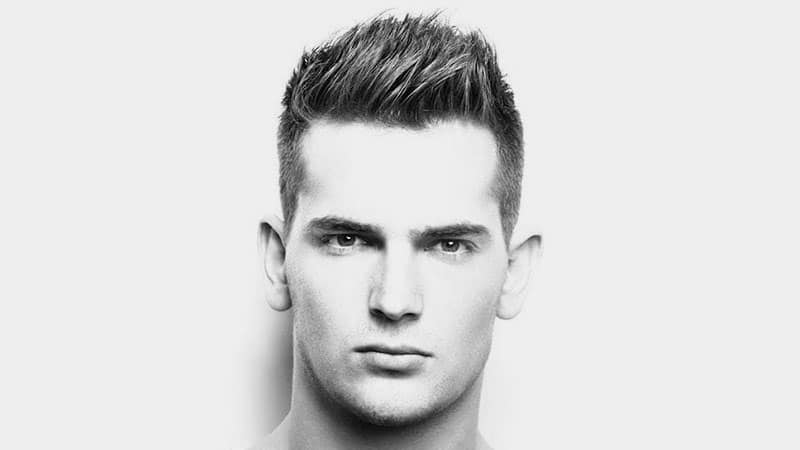 Cornrows
Cornrows may have originated in African culture, but the '90s saw everyone embrace the look, even Justin Timberlake. Today, however, the braided hairstyle is best left to those who wear it best.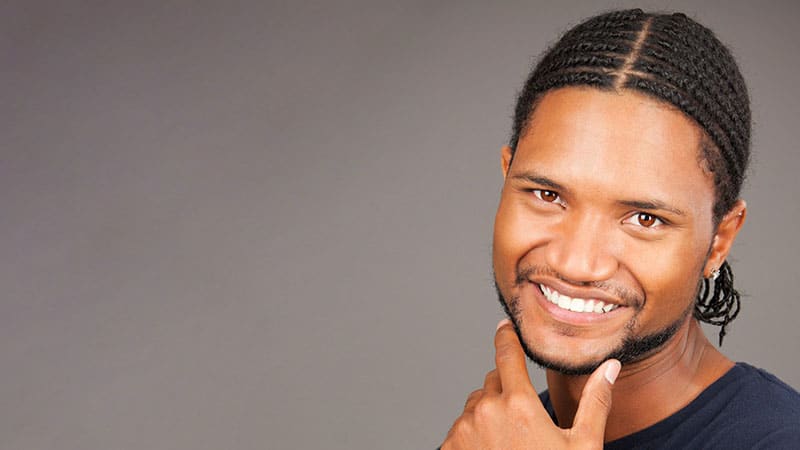 Flat Top
The flat top was a favorite hairstyle for gents with Afro-textured hair in the '90s. The style, which was worn high and cut flat on top, achieved a unique yet seriously cool look. Today, with the right kind of attitude, this cut can still create an utterly impressive appearance.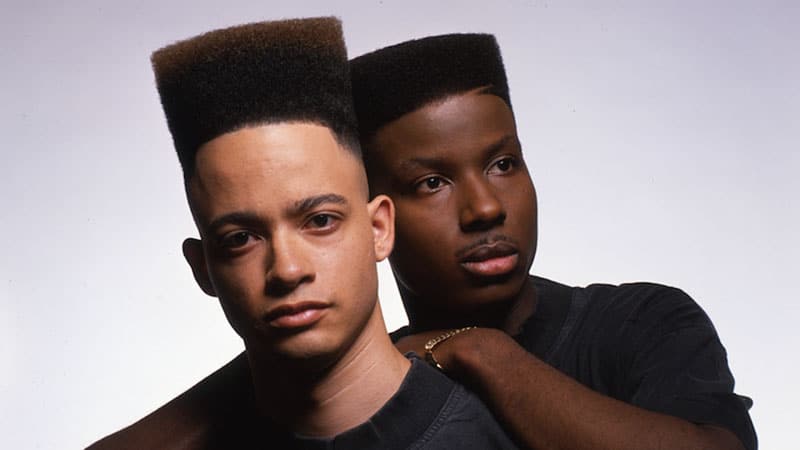 Bleached Tips
Spiky hair was massive in the '90s, and what better way to show off your defined points than with a bit of bleach? Bleached hair or frosted tips were a seriously popular look for gents back then. Today, if you want to relive this hairstyle, be sure to opt for platinum blonde over yellow shades and start your tips close to your roots for a slightly "grown out" appearance.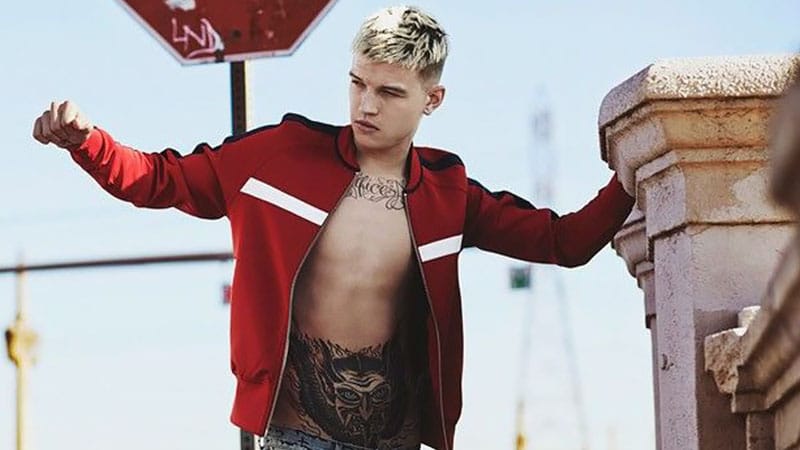 Long Hair
Long and luscious locks were also popular in the '90s. During the decade, many gents grew their manes long and wild, especially those interested in the grunge culture. After letting it grow long, they wore their hair naturally. It was the perfect style for headbanging in a mosh pit.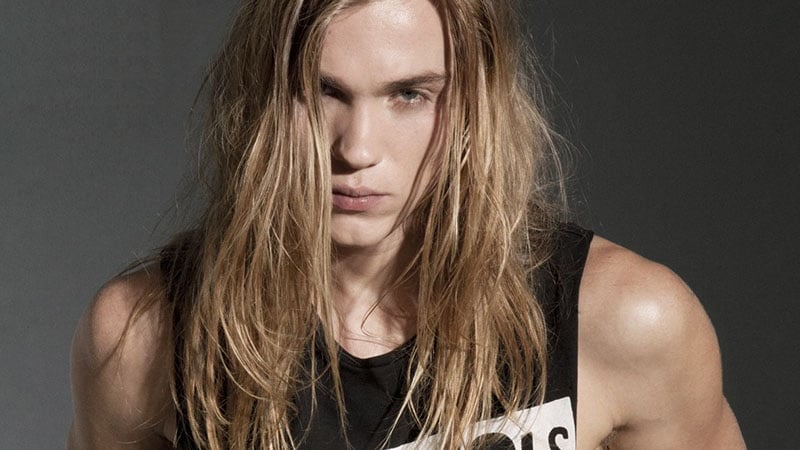 90s Fashion for Men FAQs
What did they wear in the 90's?
In the '90s, fashion moved away from the excess of the '80s and toward a more relaxed, rebellious, and minimalistic mood. The decade saw the birth of grunge as well as a rise in streetwear, sneaker culture, and early athleisure. Musicians such as Kurt Cobain, Tupac, and even Justin Timberlake became style icons to many. Silhouettes were loose and oversized, and casual dressing dominated the era.
What do you wear to a 90s party?
The '90s style is all about laid back styling and classic tailoring. For a decade-themed party, opt for a turtleneck, baggy jeans, and an oversized windbreaker. Sneakers and combat boots are the perfect footwear for the occasion, and you can complete the look with a bucket hat. For your hair, opt for a middle part or add some spikes to the tips.
What did rappers wear in the 90s?
In the '90s, rappers such as Tupac, Biggy Smalls, and Run-DMC were some of the biggest names in the game. Their style was distinctive and set a precedence around the world. Some of the iconic outfits worn included oversized basketball jerseys, graphic tees, and ripped jeans. Add a pair of Nike Total Air Pillar or Air Jordans for the finishing touch.
How do you look like you're from the 90s?
There are very distinctive styles from the '90s which are coming back into fashion. For a classic aesthetic, opt for a turtleneck, biker jacket, and combat boots - for a more casual approach, try a denim jacket or a windbreaker. For accessories, you can't go wrong with a snapback or a bucket hat. This time was very relaxed and headed towards a rebellious mood. Streetwear began to take over, and silhouettes were loose and baggy.
SUBSCRIBE TO OUR NEWSLETTER
Subscribe to our mailing list and get interesting stuff and updates to your email inbox.