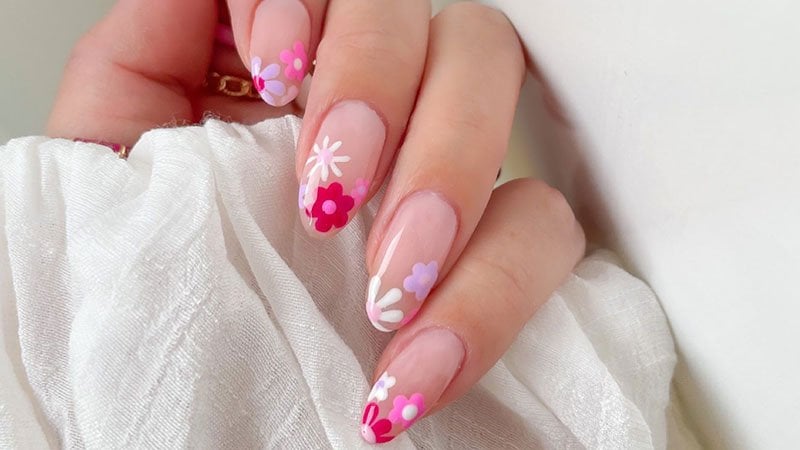 Nail art is fun and expressive, and there is a look to suit every occasion. From bold and bright to simple and minimalistic, not all designs require hours of skill to complete. Sometimes the best looks are the effortlessly chic ones. If you've been thinking of creating your own nail art, saving you time and money, and letting your creative juices flow, this is the perfect opportunity to get inspired. We have rounded up the best easy nail designs that can be created by beginners or pros, and there is something to complement all nail shapes and lengths.
1. Easy Trendy Nail Design
If you want a manicure designed to stand out but is also effortless to create, you need to try this easy trendy nail design. The key is to keep things simple, focusing on a modern color palette but choosing a different shade for each fingernail. This makes the nail art feel fresh and exciting but takes little skill to create. You can select endless color combinations, but a mix of nude, red, and pale purple is appealing; it is best not to select more than three colors as this can feel too busy. The hues complement each other while also creating enough of a contrast that each fingernail is noticeably different.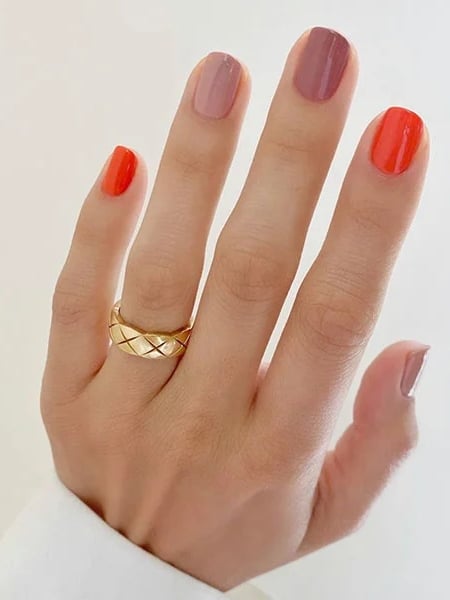 2. Cute Easy Nail Design
Cute nail art feels girly and is often fun and expressive. It is a way to show your playful side and embrace designs that will bring a smile to your face. Or a way to experiment with different color combinations. Depending on your preference, there are many things to choose from, from simple butterfly nail stickers to rainbow designs or pretty pastels. You can also opt for a black base color, adding different color dots to the nail for a striking and chic look. Deciding to keep your nail design easy and effortless to create is a wonderful choice if you want a manicure that will suit all settings because the artwork doesn't feel overly bright or bold. It is also possible to do this look from the comfort of your own home, saving you time and money.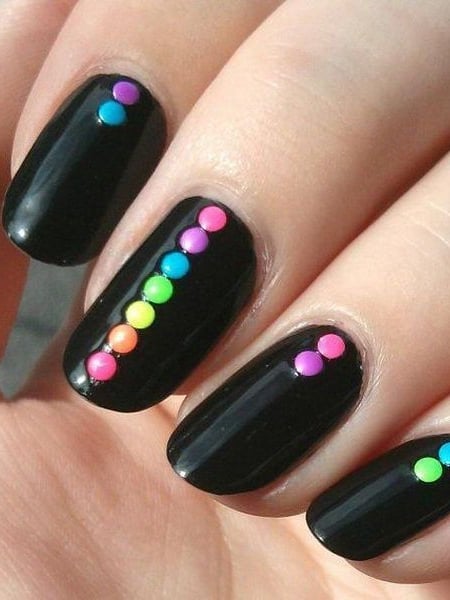 3. Easy Nail Design for Beginners
If you want to create your own nail art, it is best to start with simple and easy designs. You do not want to tackle overly complicated designs that would take years to master, as this will put you off from creating your artwork, and you will feel disappointed with the results. For beginners, one of the easiest ways to achieve nail art that feels fun and will draw attention to your hands is with a modern color palette. You can paint your fingernails a different color, foregoing nail art entirely, or focus the colors on only the tips for a modern approach to the French tip manicure. If you love the idea of nail designs, then try out polka dots, abstract squiggles and lines, and flower artwork.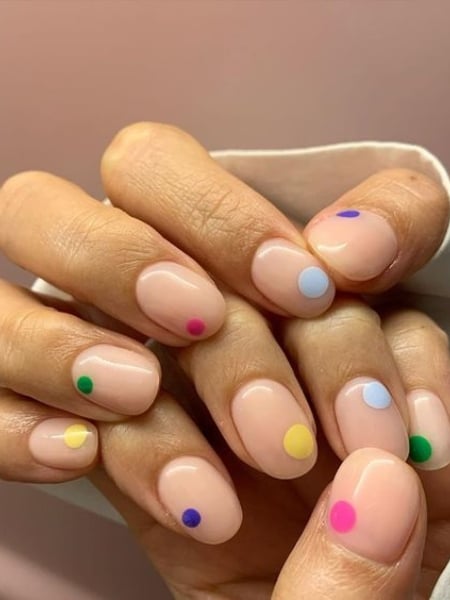 4. Easy Nail Design for Short Nails
Keeping your nails short is an excellent choice because they are durable, practical, and will not be prone to breakage. There are definite pros to long nails as they look feminine and can make a statement, but short nails are great for everyday and will not restrict you with your activities. Short nails are ideal with easy nail designs; more complicated artwork may require longer nails as there is more space for creativity. A simple manicure can be achieved by painting the nails black and nude; this is an effortlessly chic combination and will suit all skin tones. You can add a few black dots or interesting lines on the nude nails for a modern touch.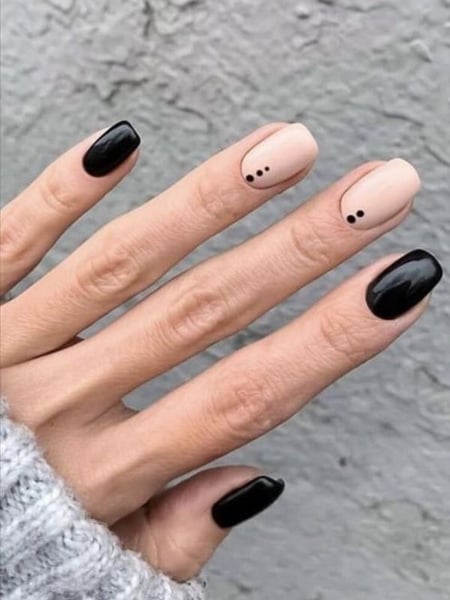 5. Easy Flower Nail Design
Flower nail designs are some of the most popular choices for manicures because they are pretty and feminine. There are multiple flowers to choose from, and you can opt for detailed artwork or focus on the simplicity of the flower, like a daisy. This option can be created in your chosen colors, letting you pick your favorite shade or try out multiple hues at once, depending on how bold and bright you want your manicure to be. In addition to looking great, flowers are also symbolic, representing beauty and growth. This could be a great way to make a subtle statement about your thoughts and feelings with your nail art.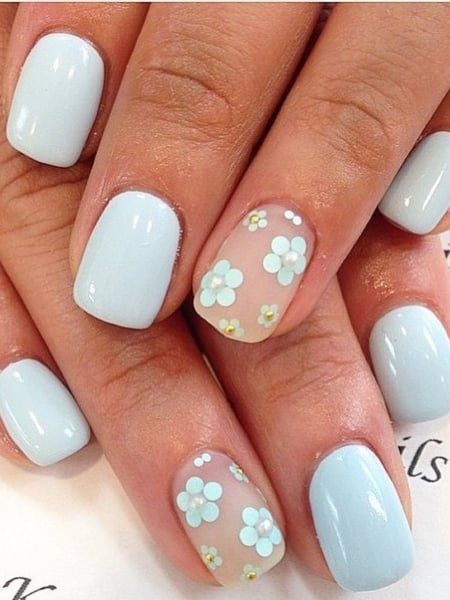 6. Easy Hawaiian Nail Design
When people think of Hawaii, they often associate the United States state with good weather and great memories. Many people focus on palm trees or the hibiscus flower; the Yellow hibiscus is Hawaii's national flower. The flower represents happiness and good luck. You can create your artwork in the color combination of your choosing, whether this is warm hues like yellow and orange to cool blues and whites. It is also best to opt for the artwork on a feature nail, making the process easier to create and less time-consuming. If you feel that creating a hibiscus flower is above your skill level, you can also add nail stickers to complete the look. Simple, gorgeous, and expressive, what more could you want from your manicure?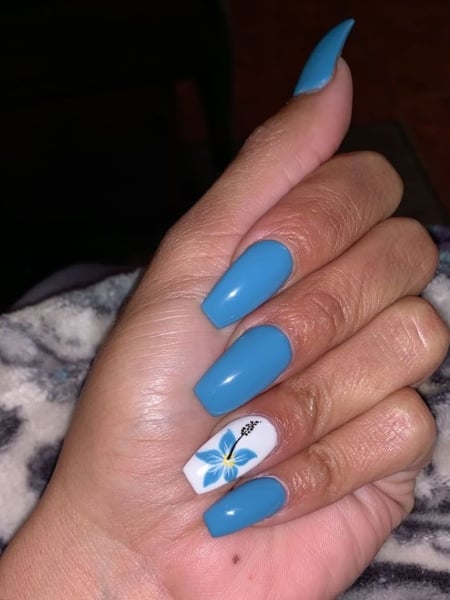 7. Easy Black and White Nail Design
The most classic combination is black and white. The pairing looks excellent for clothing, accessories, and nail art. Even the most simple designs appear striking and cool when created in black and white, and this is a wonderful way to get creative; your manicure could be of checks, line art, abstract designs, or as easy as painting one fingernail with a white polish and the next with a black hue. There is something that can be created with each skill level. The great thing about this color combination is that it matches everything, so you are not restricted with what you wear. If you want nail art that is versatile and chic, then this is the option for you.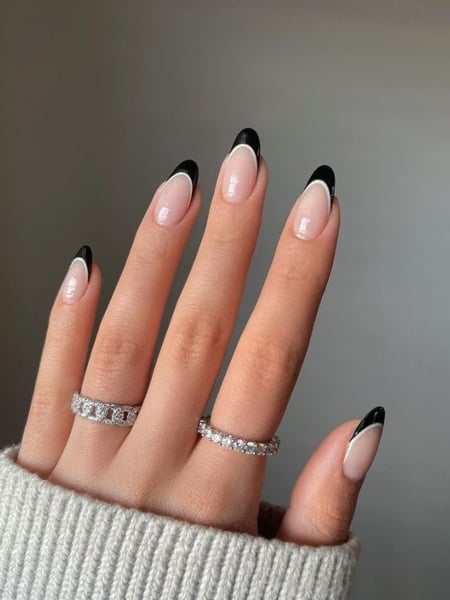 8. Easy Black Nail Design
Black nails are sophisticated and chic and lend themselves well to various settings. You can try out an easy design like polka dots or simple line art, or try a modern approach to the French tip manicure by painting the base of the nail with black polish and the tips with white. Sometimes the simplest look is also the chicest, and opting to paint each nail with a solid coat of black polish is a great way to draw attention to your fingernail shape and length. With long nails, it can look feminine, and with short nails, the black polish can feel rebellious and edgy.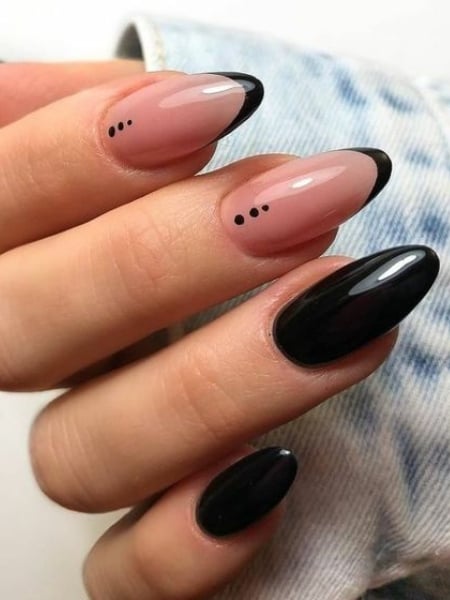 9. Easy Disney Nail Design
Disney has inspired many nail art designs with various color combinations and imagery. As an easy approach, you can choose to simplify the Disney artwork by opting for a more abstract approach; for example, for 101 Dalmations, you can opt for a Dalmation print or a red, black, and white color scheme. For Frozen, you can try out snowflakes, and for Mickey Mouse, you can recreate the famous black silhouette of the mouse ears. You can also add nail stickers, saving you the time and hassle of having to create the Disney characters yourself. These nail designs can work with nails of all shapes and lengths, depending on how bold you want your manicure to be.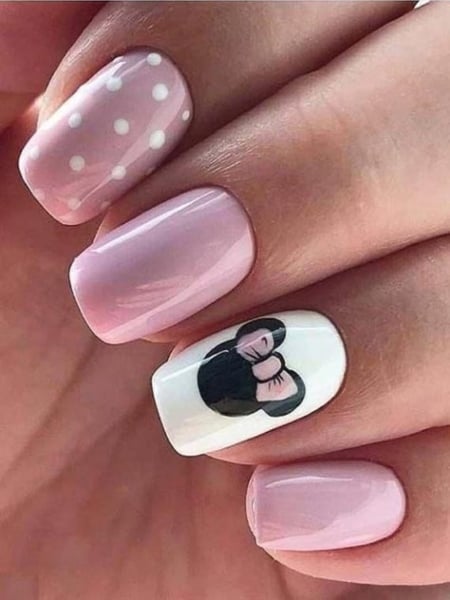 10. Easy Gel Nail Design for Beginners
There are many pros to gel nails, including that they are versatile, durable, and long-lasting. They also lend themselves well to a range of nail art options and have a more natural appearance than acrylics. When deciding on your design, you want to consider your skill level. If you are a beginner, just trying out nail art designs, you want to keep it simple for an effortlessly chic look. There are many options to choose from; you can choose to paint your nails with varying shades of your favorite colors, or you can experiment with different textures. For example, one nail is glitter while the rest of your polish is matte.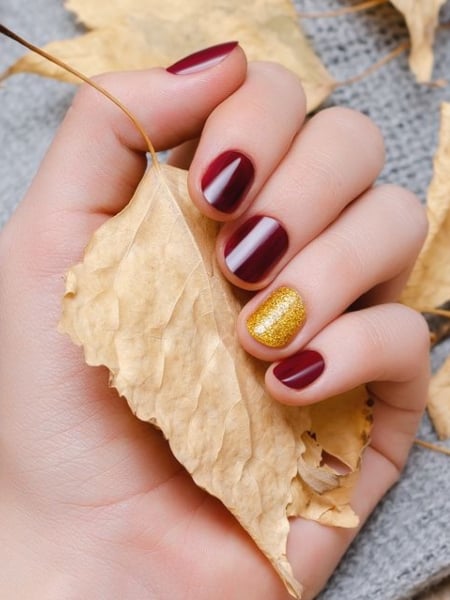 11. Easy Nail Design for Spring
Spring is a time for new beginnings, life, and color. It is a season that is often marked by pastel hues and is a great time to experiment with different combinations of soft, muted colors. The beauty of spring nail art is that you can do various things with this theme. A great idea would be to paint each fingernail with a different pastel shade. Or you could focus the colors on the tips only. Flowers also look fantastic for spring, and painting a simple daisy on a feature nail will give your manicure a cute finish.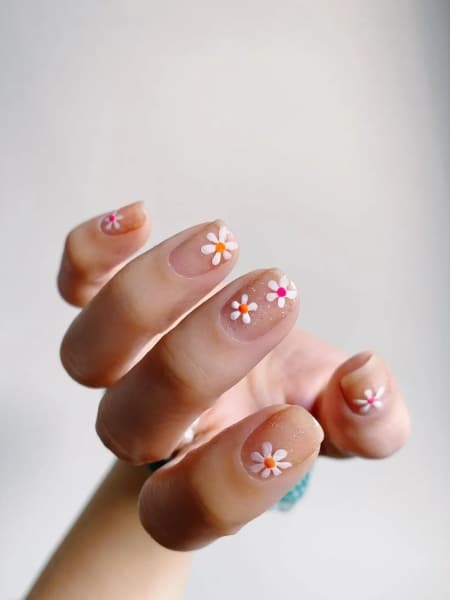 12. Easy Nail Design for Autumn
Autumn is a time for change and is marked by rich, warm colors. Dark reds, burnt oranges, greens, and browns are great options, and you can create an easy look by opting for a manicure that includes all these shades; it is effortless to do but still striking and will draw attention to your fingernails. Depending on your skill level, you may also wish to add imagery of leaves or flowers for a more detailed finish. Abstract artwork is also appealing and a great way to let your creativity shine; you can choose squiggles, lines, and other shapes and experiment with the placement of the designs to give them a modern finish.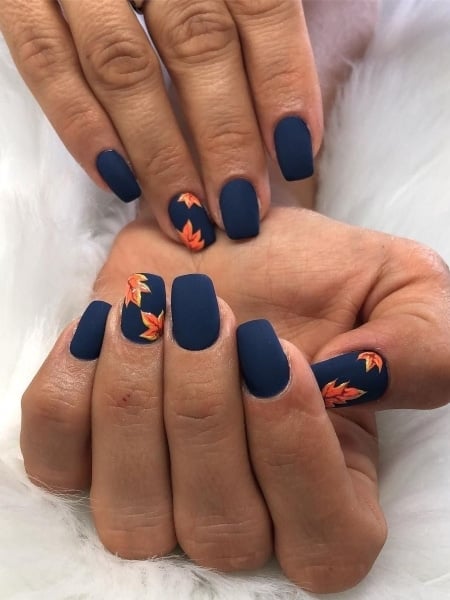 13. Easy Summer Nail Design
Whether you want to show off at a music festival or just want a cute look for lounging around the pool, summer is a season that is associated with sunshine, happiness, and fun. These ideas can translate to your nail art, letting you opt for something bright, bold, and expressive. This could be anything from an interesting combination of clashing colors to ice-cream nail art. If you want an easy look, it is best to focus the detail on only one finger, letting you spend your time getting it right. Summer nail designs can be worn with nails of all shapes and lengths, letting you get creative and get into the vacation mood.
14. Easy Winter Nail Design
Winter is a season where darker colors are often favored. This makes your nail art feel moody and mature, lending itself to more formal settings. Winter nails feel sophisticated and effortlessly cool, using hues like dark blue, black, and white and incorporating them in various ways. This could be by painting each nail with a different shade or by opting for a unique approach to the French tip manicure. You can also try a frosty look by adding snowflakes to your design or embracing the sparkle with metallic glitter polish. Your winter manicure will work with all nail shapes and lengths, and with easy and simple designs, you have even more versatility; this is because you do not need the space that length provides.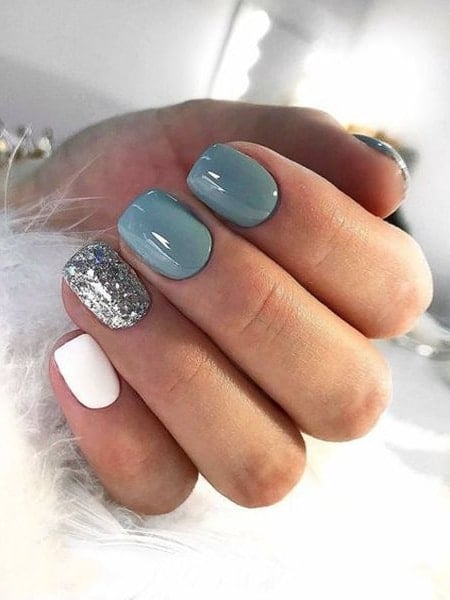 15. Easy Christmas Nails
Christmas is one of the most joyous times of the year and a holiday to celebrate family, love, and togetherness. It has also served as inspiration for nail art, and creating a holiday-themed manicure is a fantastic way to get you into the festive spirit. Whether you love candy canes and a red and white color scheme or prefer a frosty look of cool blue tones and snowflakes, there are Christmas nail designs to suit every skill level. You may also wish to experiment with different textures, and this is the perfect time to try glitter polish. To ease into a sparkly look, you can also focus the glitter on a feature nail.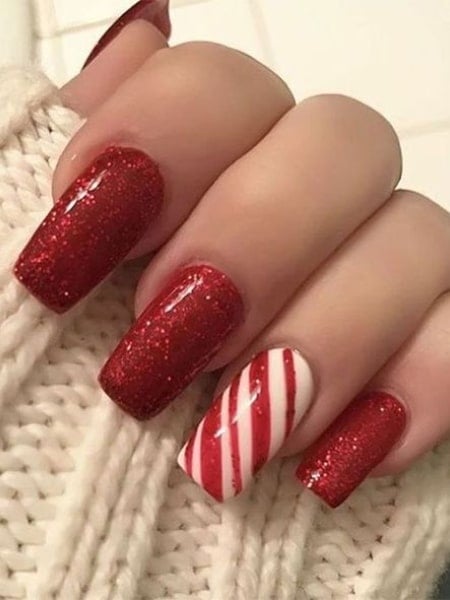 16. Easy Easter Nail Design
Easter is a great time to get creative with your manicure. Depending on your skill level, you can include simple or detailed artwork, but try easter eggs or a basic silhouette of a bunny for an easy look. There are no restrictions on the colors you can and cannot use, but pastels are a popular choice for Easter. The muted, soft colors are incredibly easy to wear and exceptionally versatile. You can stick to a single shade or mix and match several, depending on your preference. Add the designs to every fingernail at different angles, or focus on only one nail for a more minimalistic approach.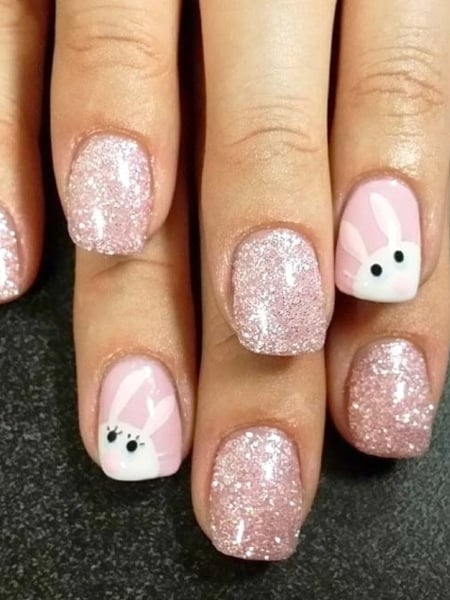 17. Easy Valentine's Nail Design
What better way to celebrate the love in your life than with Valentine's Day nail designs? This is the perfect time to mix your favorite shades of pink and red for a cute and girly manicure. Or try to create tiny heart shapes, angels, and interesting shapes and patterns. There are so many things to do under this theme that your creativity is your only limit. If pretty pastels and classic color palettes are not your likings, opt for something bold and colorful. The fantastic thing about these nail designs is that they are not restricted to the holiday and can be worn year-round. You can also find a design to suit your skill level.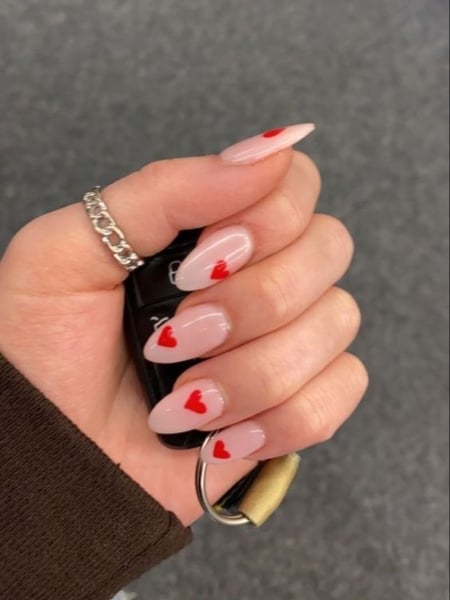 18. Easy Halloween Nail Design
One of the most fun and creative holidays is Halloween. It is a fantastic time to express yourself and show the world your playful side. Halloween nail designs are a great way to show off your personality without having to dress up in a costume, and this can be anything from horror-themed artwork to simple designs like pumpkins and spiders. Consider keeping it simple for nails that are easy to create and can be completed quickly and effortlessly. This could mean focusing the nail art on only one nail and painting the rest of your fingernails with your chosen color scheme. Or you can create a more abstract appearance by blending black and orange, the classic Halloween colors.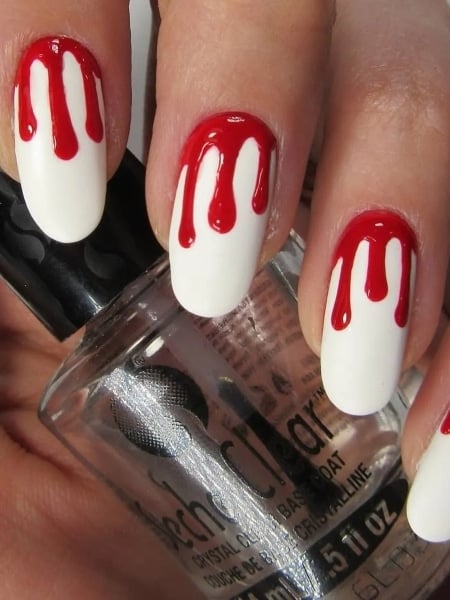 19. Easy Thanksgiving Nail Design
Holiday-themed nail art is always a great idea. It is a fun way to celebrate an occasion, and because most of us have time off during this period, it lets you try out manicures that you may not usually wear in your day-to-day life. Thanksgiving is a time spent with friends and family to reflect and be thankful for the blessings in your life. This can be reflected in various ways, but if you like quirky nail art, you may wish to include an image of a turkey. Or, you can opt for something completely different, creating nail art based on the colors of the season; oranges, browns, and dark reds. An abstract approach to Thanksgiving nail designs can be incredibly versatile.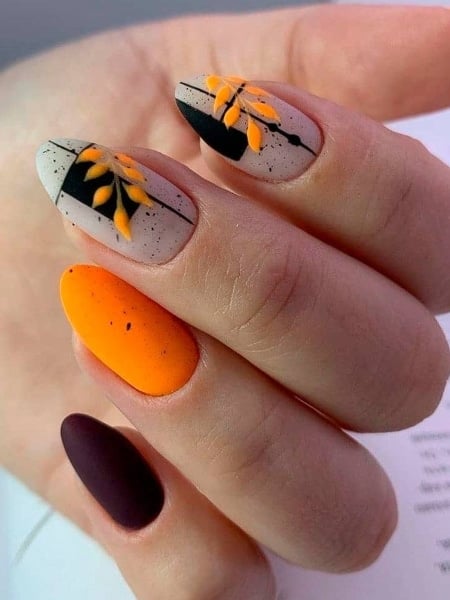 20. Easy Anime Nail Design
Nail art is a great way to share the things you love, including your hobbies and interests. If you are a fan of anime, the Japanese style of animation, then you may want to include your favorite characters in your nail art. This can be complicated and time-consuming, so purchasing already-made nail stickers would be a welcome option. Alternatively, you can use the color scheme from the show or logos or names that are easier to create. What you choose is up to you, making your manicure unique and cool.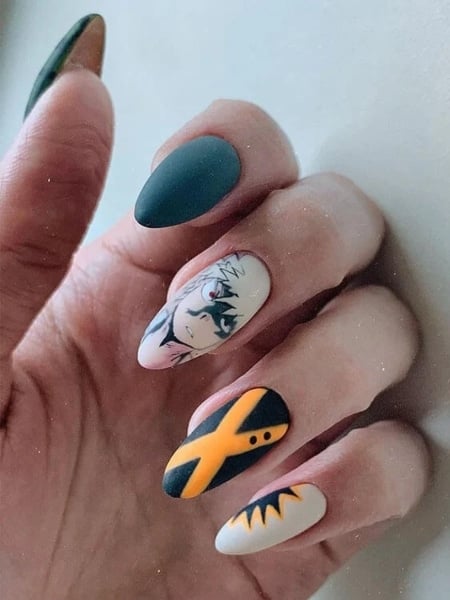 21. Easy Coffin Nail Design
Coffin nails are a shape that is tapered but square on the top. It is a popular choice among celebrities and style icons because of its versatility but also because coffin nails demand attention. They can be created long or short but are most eye-catching when kept long. The shape can also elongate the fingers and make them look slimmer. When it comes to nail design, the choice is yours. An easy option is a look that requires little skill or time to complete, making it perfect for beginners or pros. This can be painting the nails with your favorite color or creating minimalist artwork that highlights the shape of the nail; the choice is yours!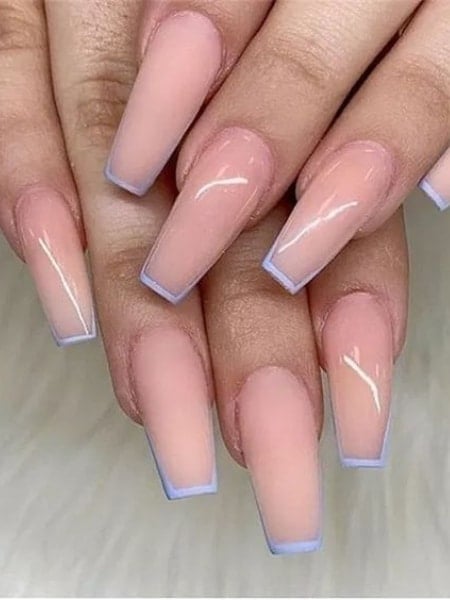 22. Easy Almond Shape Nail Design
Almond nails are appealing in shape because they are flattering and feminine. The shape is defined by the rounded appearance, with a wide base and pointy tip, like the shape of an almond nut. It is great for elongating the fingers and making them look slimmer. Almond nails can be created on all lengths, but short nails will be easier to maintain and less prone to breakage. If you are looking for an excellent style for your next easy manicure, this is it.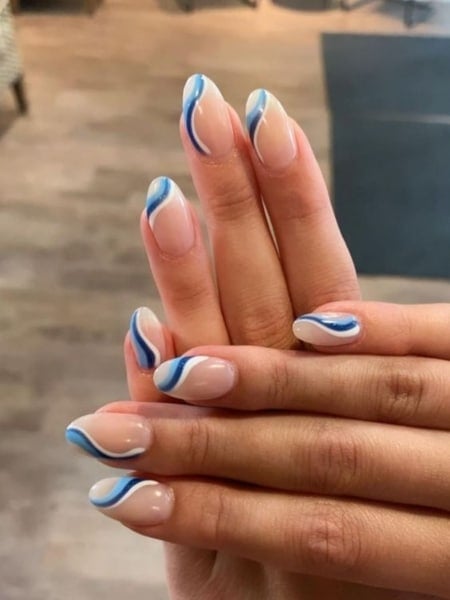 23. Easy Square Shape Nail Design
Square nails are easy to create and versatile. The square tip and straight corners define them. The shape complements long or short nails and is simple and low-maintenance. The appeal of square nails is that they are one of the easiest shapes to create yourself, making them the perfect option for a beginner. You can try out multiple options for your nail art, letting you experiment with different color combinations or keeping it simple with a nude or light pink lacquer. You can also highlight the shape by focusing on a modern French manicure or trying out interesting patterns and abstract shapes.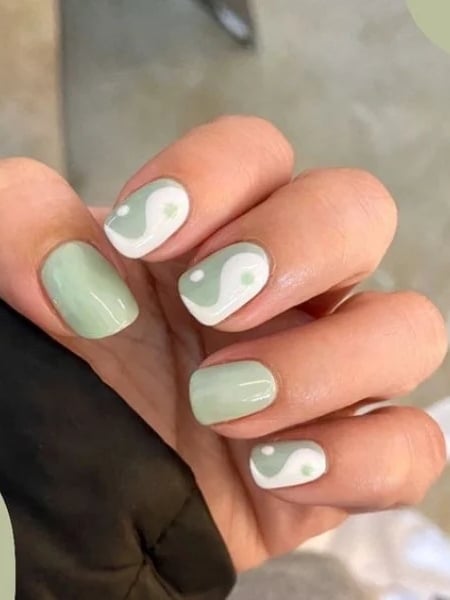 24. Easy Dip Nail Design
Dip nails are a great option for someone who wants strong, durable nails. They are created by dipping the nails into a colored powder. This results in a long-lasting manicure that is unlikely to chip. It can be created in various lengths and shapes. You want to keep your nail art simple for an easy and effortlessly cool approach. This can be achieved in multiple ways, depending on your preference. Abstract patterns and shapes are easy to do and can be attempted by all skill levels. You can also experiment with different colors.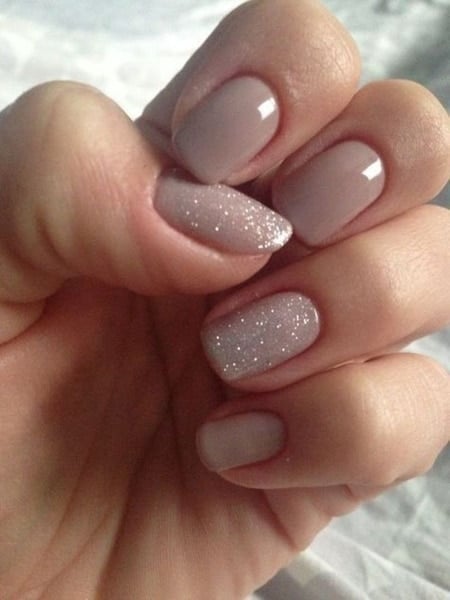 25. Easy Nautical Nail Design
Nautical designs are interesting and cool. They involve several themes, from sailors and objects used for navigation to the sea, vessels, and anchors. This is also a symbolic theme, often representing good luck, direction, and hope; the meaning changes slightly on the objects you choose. One of the simplest designs involves the anchor, which you will find is easy to get right after a little practice. Or, you can ditch the designs entirely, opting for a nautical color scheme of navy and white. The choice is yours, so have fun with your manicure.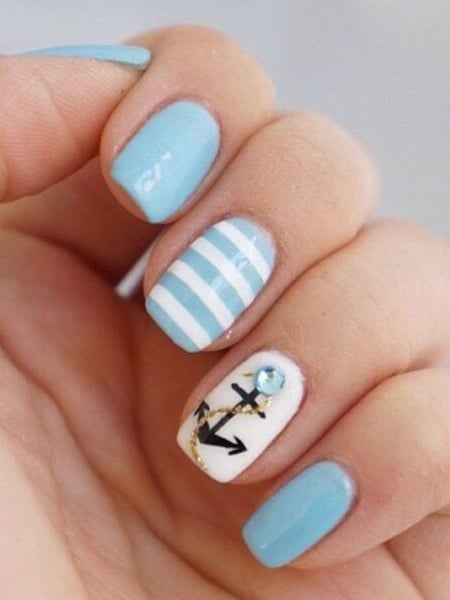 26. Easy Butterfly Nail Design
Butterfly nail art is one of the best ways to add some color to your appearance. Your nails are a great way to experiment with different color combinations that you may feel are too daring to wear normally. Butterflies lend themselves well to most colors and can be added to the nail in various ways; a butterfly wing or an image of a butterfly. This option is also symbolic. The winged insects are associated with beauty, growth, and transformation and could be a way to remind yourself of all that you have accomplished. And the good things that lie ahead. You can experiment with the placement of your butterflies, making them look as though they are fluttering across the nail. Or keep it simple by focusing the designs on only a feature nail.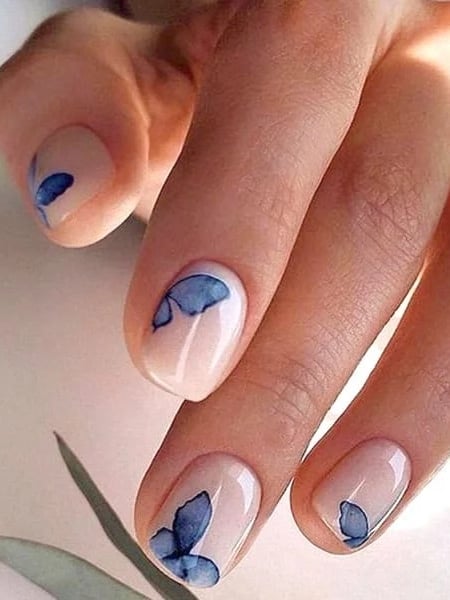 27. Easy Clouds Nail Design
Having wispy little white puffs on your nails can make the dreamiest manicure. Cloud nails are easy to create and can be done in various color combinations. For the classic approach, stick to a baby blue background to represent the sky, or you can introduce your favorite color into the design, whether that is a soft shade of pastel pink or bold orange. In addition to looking cute, clouds are also symbolic, representing good times ahead, hope, and dreams. They can also be paired with little rainbows or angels but if you prefer a minimalistic approach that is effortless to create, then stick to just the clouds.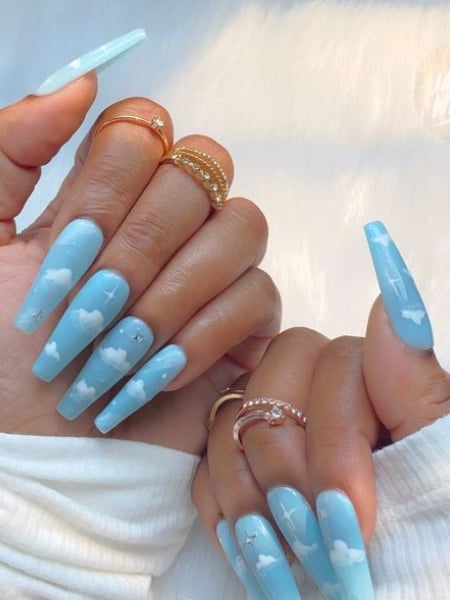 28. Easy Nail Design with Rhinestones
Rhinestones are a great addition to nail art and give your manicure some sparkle. There are many different color rhinestones to choose from, letting you mix and match them to create a bold and bright look, or you can keep it simple with clear rhinestones. Experiment with different placements, trying out rhinestones in the middle of the nail or at the base. You also do not need to add them to each fingernail and can focus this detailing on a feature nail. This is an excellent way to draw attention to one nail in particular and show off your jewelry; it's a perfect opportunity to highlight your engagement or wedding ring.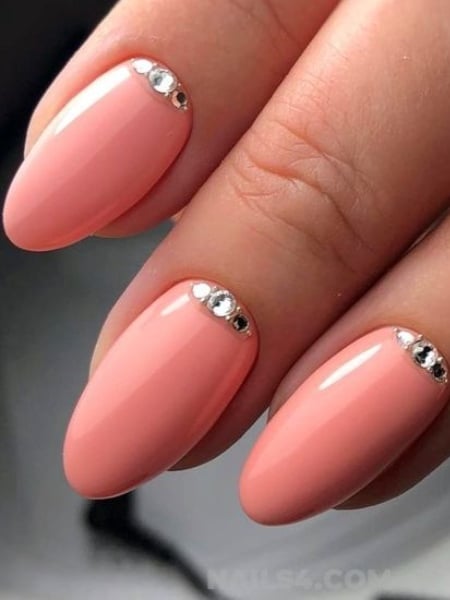 29. Easy Nail Art Without Tools
You do not need tools to create nail art if you are opting for looks that are simple and easy to make. But you can still experiment with colors and designs, for example, painting your nails various shades or creating a paint-splattered effect by dropping nail polish droplets directly from the bottle onto the fingernail. You may also wish to try different textures with matte polish giving you a flat and smooth finish, while glitter polish can make the nail appear more textured.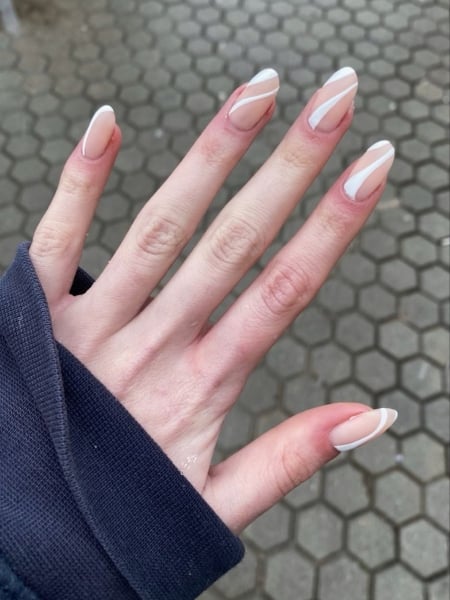 30. Cool Easy Nail Design
Cool names have an effortlessly chic feel. Your design will depend on your skill level, but the simplest approach is often best. You can focus the artwork on the tip of your nail with multiple colors for a modern French manicure, or you can try out flames or paint drips. Nail art is also an excellent opportunity to experiment with colors, letting you mix and match your favorite shades. You can opt for clashing colors or saturated hues like fluorescents for a bold look. Try out abstract patterns and shapes and include them at unusual angles for an effortlessly cool finish.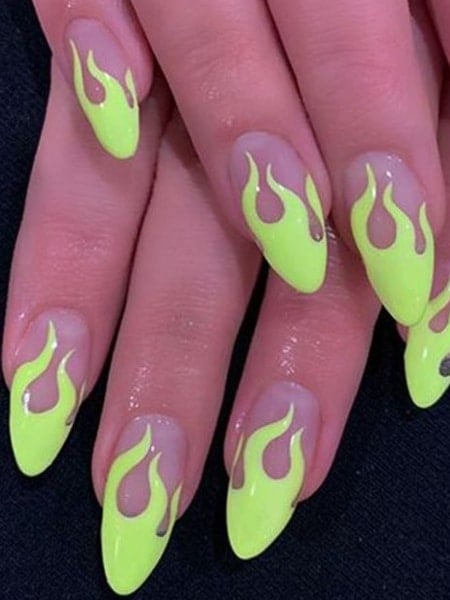 31. Easy Black and Red Nail Art
Red nails demand attention. It is a bold and bright color and is associated with passion and seduction. As gorgeous as the color is, it can be daunting to wear, which is why many women choose to pair it with other hues to tone it down. A classic and versatile pairing is red and black. The combination is reminiscent of the soles of Louboutin shoes, and you can create nail art to reflect this. Or you could opt for a modern approach to French tip manicure, keeping black as the base color and painting the tips red. However you choose to incorporate these hues, you are guaranteed to get an eye-catching design that will draw attention to your hands.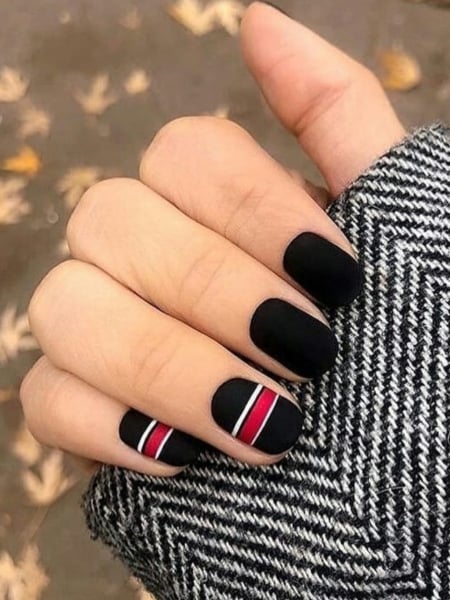 32. Fun and Easy Daisy Designs
Daisy designs are gorgeous and easy to create. The flower has a simple shape, making it ideal for nail art, and it can be achieved with little skill. To let the bloom become the focus of your manicure, you can pair it with a soft, muted color. Pastels are always a great choice because they are versatile, easy to wear, and universally flattering, complementing all skin tones. These flowers will look great on all nail shapes and lengths. In addition to looking fantastic, daisies are also symbolic. They represent innocence and happiness.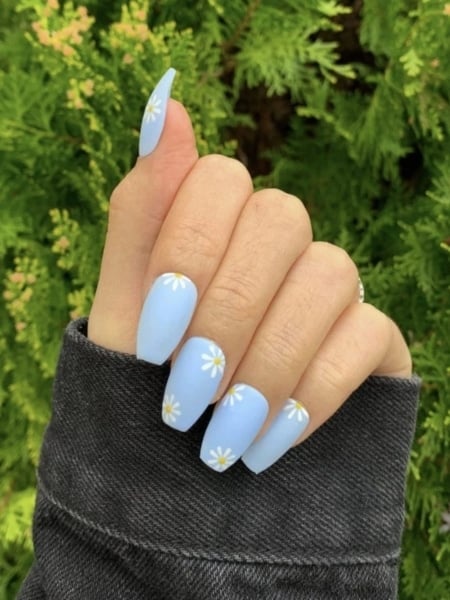 33. Easy Pastel Manicure
Pastels are soft, muted tones that remain popular year after year. Pastels are loved for nail art because they are universally flattering, complementing all skin tones. There are also several shades to choose from, which can be worn on their own or mixed and matched to create a pretty and colorful manicure. You cannot go wrong with pastel nail art. Your look can be simple and straightforward, with a different color pastel for each fingernail, or you can focus it on the tips only to highlight your nail shape. Or you can experiment with different designs, from flowers to heart shapes; there is something to suit every preference and skill level.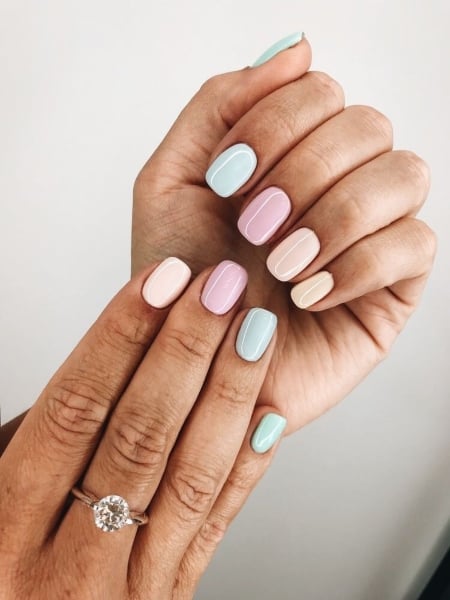 34. Easy Modern French Manicure
The classic French tip manicure is appealing because it is effortlessly chic. It lends itself well to various settings, and the classic light pink and white combination is incredibly flattering. This is an excellent choice for all occasions, but it can feel dated, so the modern approach is appealing. This look is just as easy to create, but instead of the traditional color pairing, you can mix and match with bold, bright hues of your choosing. For example, red tips on a black base or green tips on a purple base. You can decide which colors you want to use depending on how bold your nail art is. This is also a fantastic option to highlight your nail shape.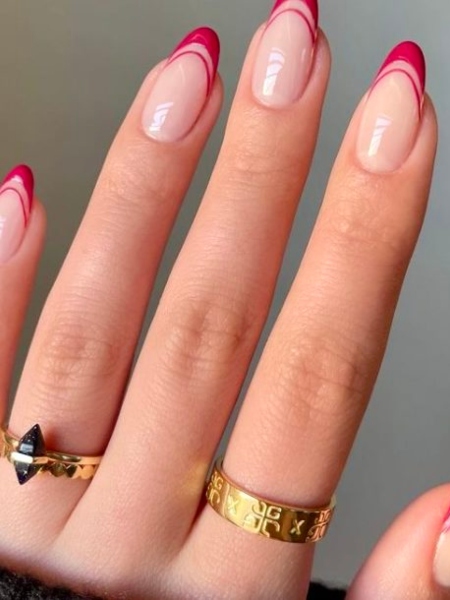 35. Easy Colorful Polka Dot Artwork
Polka dots can be created in multiple colors and different sizes. You can keep your designs simple by focusing the polka dots on only one fingernail for a feature effect. Or you can get creative with the pairing, trying out different angles and using clashing colors to create an interesting contrast. The great thing about polka dots is that they are incredibly versatile and will work with all nail lengths and shapes. They are also easy to do, making this an appealing option for anyone who wants a quick and easy manicure.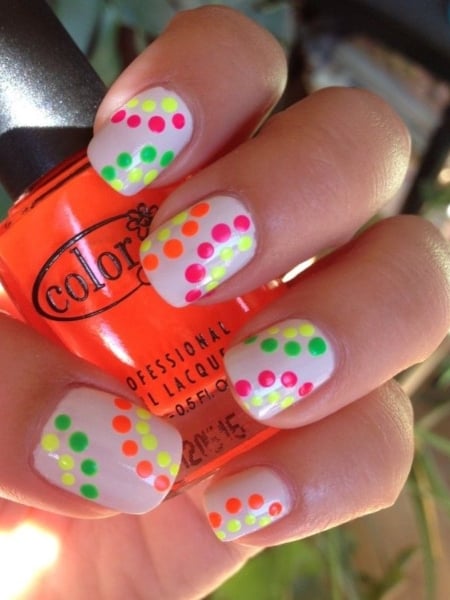 36. Chic Easy Checkered Nail Designs
Checkered nails are another effortlessly cool option for your next manicure. They can be created in the colors of your choosing, letting you mix and match your favorite shades; choose a different combination for each fingernail for an eye-catching finish. Checks are also incredibly versatile and can have a modern or retro appearance, depending on the colors you choose to create them in. It is a fun way to transform short nails or highlight the shape of long nails, and they can be done with little effort.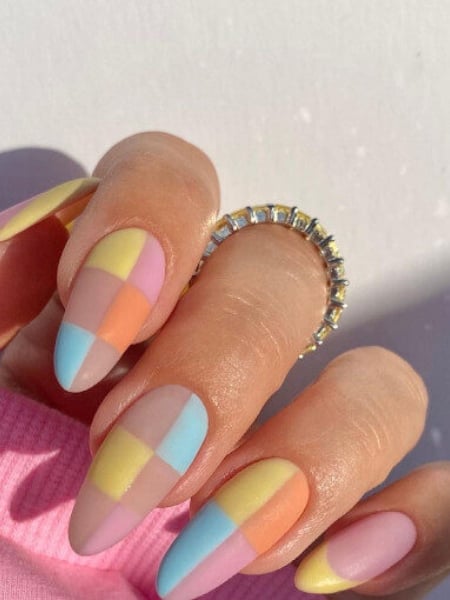 37. Easy Happy Smiley Face Nail Design
What better way to bring a smile to your face than with smiley face nail designs? This manicure is all about positivity and hope and can help remind you to look on the bright side of life. There are several ways to create this look, but yellow is a color that is associated with optimism and will be a great addition to your design. Or, if you want something more daring, you can paint a smiley face over multiple base colors; choose a different shade for each fingernail. You can also get creative with the placement of the smiley faces, opting to create them at varying angles. Or, for a minimalistic approach, pick a feature nail.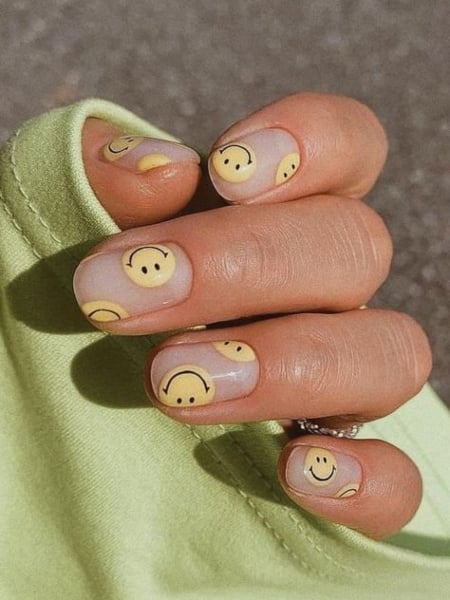 38. Easy Line Nail Art
Line art is simple to create but is also expressive and fun. There are several ways to do it, and because the look requires less precision, this gives you more room for creativity. It is also appealing if you are just trying to create your own designs. There are varying levels of difficulty, depending on what image you wish to achieve; the outline of a woman's body will take more time and effort than an abstract design consisting of lines of different sizes and lengths. You can also experiment with colors, choosing to add multiple to one fingernail. Or keep it simple with solid, neutral hues; this can be easier to wear and will lend itself well to most occasions.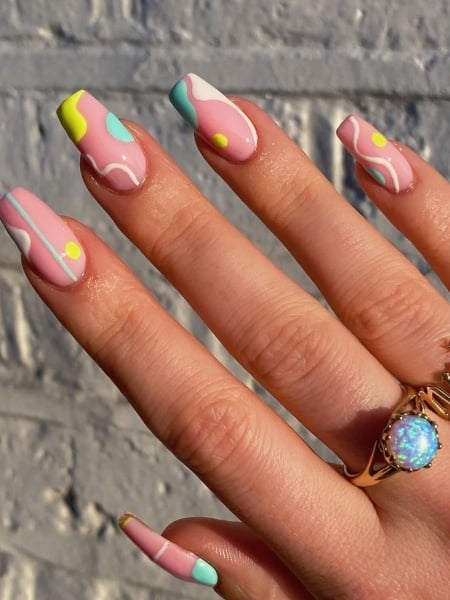 39. Feature Nail with Color Combination
Nail art is a wonderful way to get creative, but opting for bright colors and bold designs on every fingernail is not always the most practical and easy-to-wear option. A fantastic alternative is to focus on just one or two nails, which we will refer to as the feature nail. This is an excellent way to tone down your chosen look while still creating a manicure that feels fresh and modern. It will also let you save time; the focus is on the feature nail, with the rest of the nails painted in a solid block of color. You can also use this as an opportunity to draw attention to a special piece of jewelry like an engagement ring.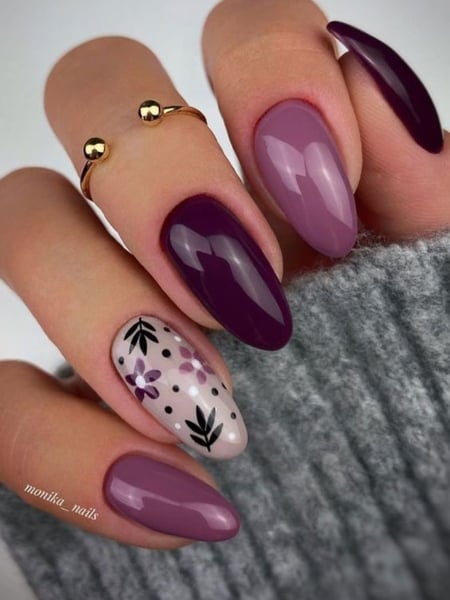 40. Easy Chessboard Nail Designs
The chessboard pattern is black and white checks on vertical rows. When trying out this look for your nail art, you do not need to create 64 squares in eight vertical rows but rather be inspired by the pattern to make the monochromatic look of your dreams. The idea is simple, but the result is effective and will demand attention, highlighting your nail shape and length. Admittedly, it can be challenging to make the checkered print appear perfectly aligned, but the beauty of nail designs is that they do not need to be perfect, and you can adapt the look to suit your skill level and preference.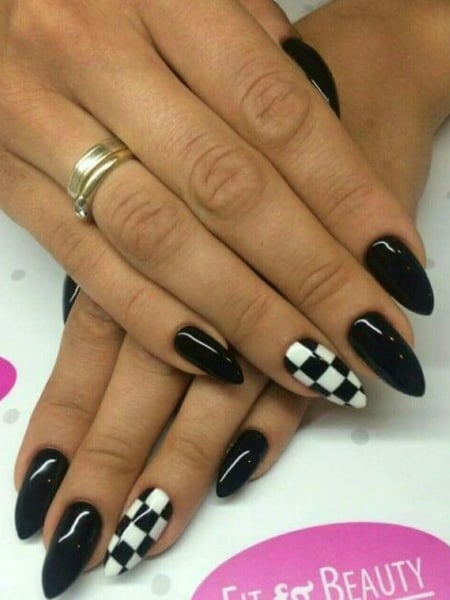 41. Easy Yellow Nail Art
There are few colors as warm and inviting as yellow. It is a hue associated with happiness, optimism, and joy, and these qualities can be reflected in your manicure. You do not need to opt for detailed nail art for your design to bring a smile to your face, and it can be as simple as painting each fingernail in a solid block of color. Or you can add smiley faces over a yellow base color or try out checkered prints with yellow and white. You could even let your creative juices flow with abstract designs and squiggles.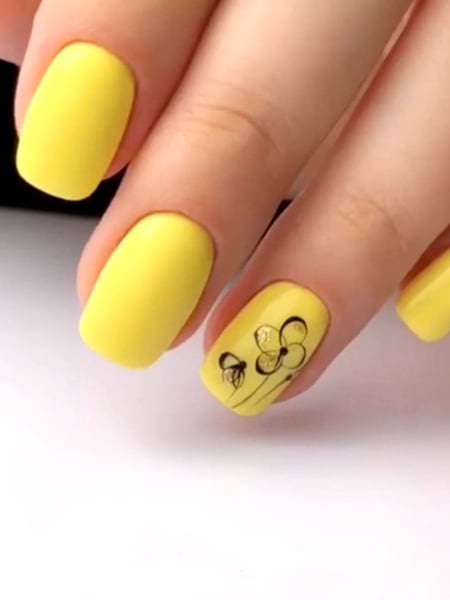 42. Bold Red Nail Designs
If you love nail art that is striking and demands attention, then red is the color for you! There are multiple shades of red to choose from, but vibrant red will instantly draw attention to your hands. It is a great way to highlight your nail shape and length and make even the most simple manicure appear interesting. Red does take some confidence to pull off, and you can pair it with other colors to tone down the look. Or you can embrace the vibrancy of a manicure that is associated with passion and seduction. You can also match your nails to your lipstick shade.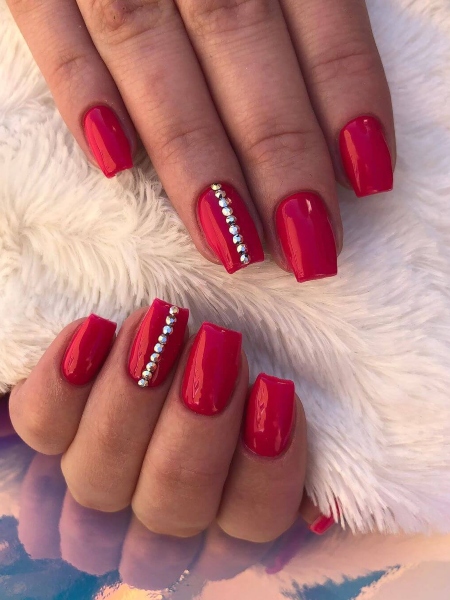 43. Easy Pretty Swirls Manicure
Some designs require patience and precision to create, but the appeal of swirls is that they do not have to look a certain way. This gives you the freedom to create them as you wish; they can be big or small, thick or thin, and placed at varying angles on the nail. You can experiment with color combinations, depending on your preference. You could try brown and yellow or green and purple for a contrasting and retro feel.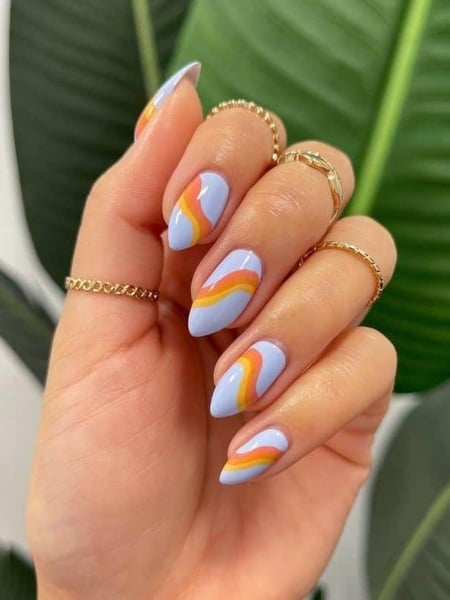 44. Simple and Colorful Rainbow Nail Art
Rainbow nails are bright, fun, and symbolic. Adding a rainbow to your fingernail can make you think of dreams, hopes, and goals. This means that you can be reminded of what makes you happy every time you look down at your hands. Or, if you have been going through a challenging time in your life, it could bring you solace to know that there is a rainbow after every storm. The color combination is also striking, giving you colorful nail designs that will draw attention to your nail shape and length. Long nails work best for this look as there is more space on the tip to create the rainbow arch.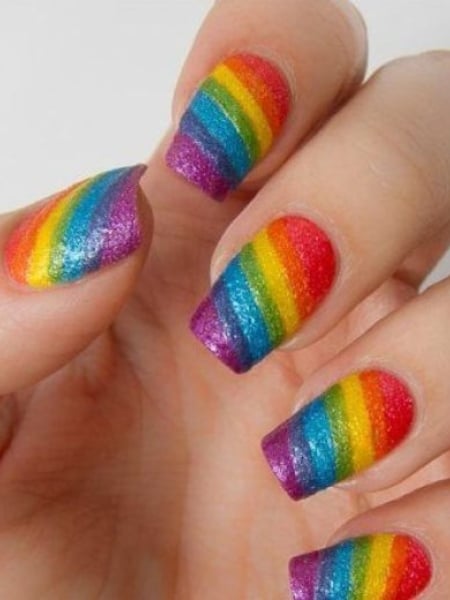 45. Easy Color Block Nail Designs
Color blocking refers to using bright blocks of colors. The term is commonly used in fashion, but the same concept can apply to your nail art. It is a fantastic way to experiment with different colors, which can be complementary or clashing, depending on how daring you want your manicure to be. The great thing about color blocking is that it is easy to create yourself. You can add the colors in various ways, including using one shade for the base coat, another for the tip, and then adding a solid line in the middle of the nail. Have fun and find a look that best suits your preference and nail shape.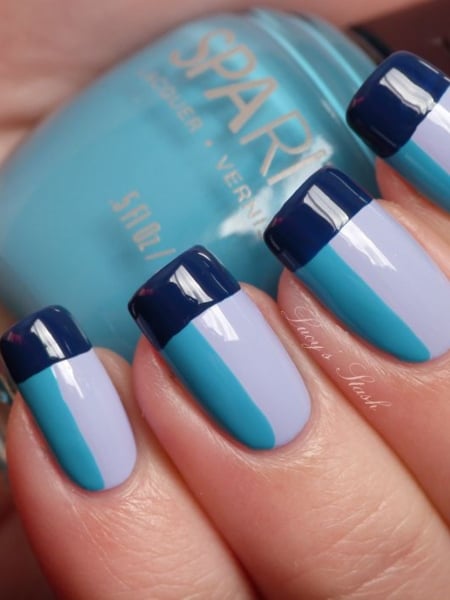 46. Bold and Easy Heart Nails
Hearts are a universal symbol of love and will make a welcome addition to any manicure. The appeal of heart designs is that they can be easy to create and can be completed in the colors of your choosing. The classic combinations of pink, white, and red are appealing because they are timeless and versatile. But you can also opt for something more modern, introducing green, yellow, and orange to your nails. You can create a bold and bright look with multiple small, colorful hearts on one fingernail or opt for only one tiny heart. This manicure is ideal for Valentine's Day or to honor those you love. Alternatively, it can be worn every day to remind yourself what is important in your life.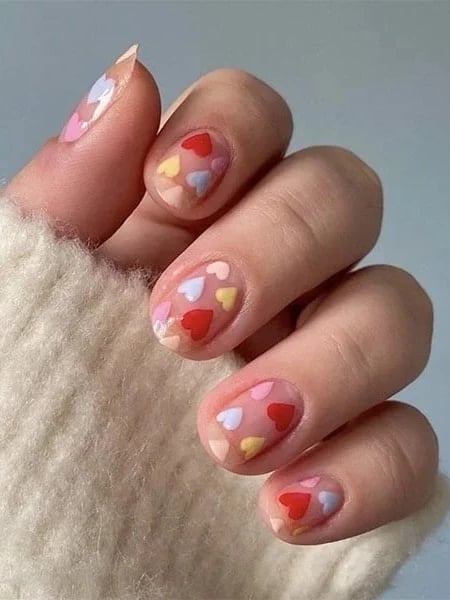 47. Easy Shades of Green Nails
Painting each fingernail with a different shade of green is a guaranteed way to get your hands noticed. And yet this is such an effortless design that it can be achieved quickly and with little skill. Paint each fingernail a green hue, starting from dark and gradually getting lighter. Or you can opt for a swirl pattern for a statement and wearable look that will highlight your nail shape and length at the same time. Green is also symbolic, representing growth, life, and new beginnings. The green nails can reflect this.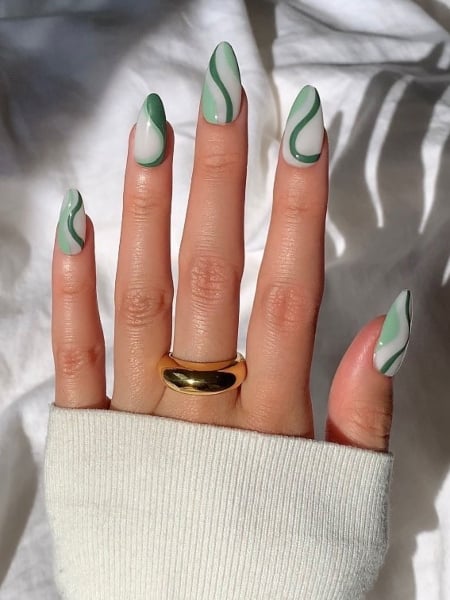 48. Easy Minimalistic Nail Designs
If you prefer a minimalistic aesthetic, there is no need to try out bold colors or detailed nail art. Sometimes, the simplest approach is the most effective, which is a gorgeous option for every day. Simple does not mean boring, though, and there is a wide range of ways to get creative with your manicure, from line art to polka dots. The fun comes in experimenting with the colors and the placement. Instead of opting for multiple colors that clash, stick to a maximum of two complementary hues. This will make your nail art feel even more wearable.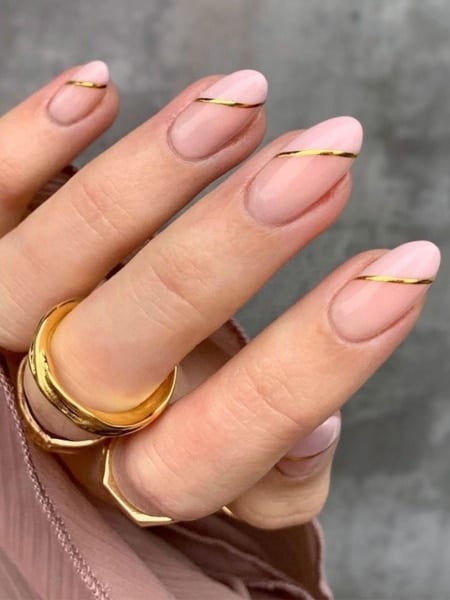 49. Easy Strawberry Nail Art
Fruity nail designs are a favorite for the summer months. They can make you think of vacations, warm weather, and good memories. There are many fruits to choose from, but some shapes can be challenging to create as a beginner. Try strawberry nail art if you want something simple but super cute. The idea is to transform your entire fingernail, or at least the tip, into a strawberry; this is easier to do than you may think. This manicure works best with nails that are medium length and rounded to replicate the shape of the strawberry.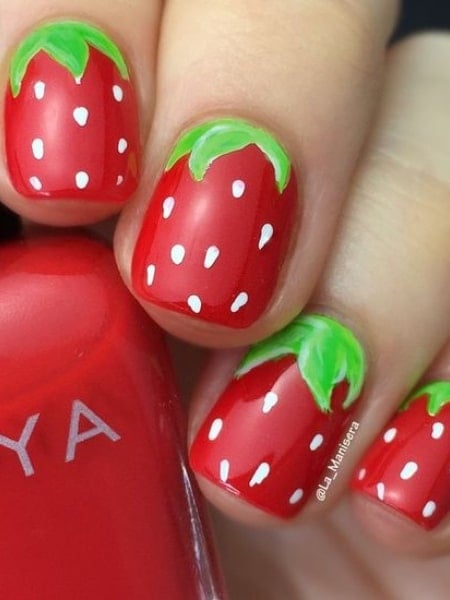 50. Easy Nude Nails
Nude is one of the simplest and easiest to wear colors. There are varying shades, which look great on all skin tones and are incredibly flattering and versatile. You can combine shades of nude nails for a simple but striking manicure. Or you can opt to paint them all the same color for a more uniform appearance. If you are looking for effortlessly chic nails, nude hues will help you achieve this. Plus, they are perfect for all occasions. You can paint each fingernail with a nude base coat and add your chosen artwork over it for those who want something more detailed. This could include a simple flower design or heart shape.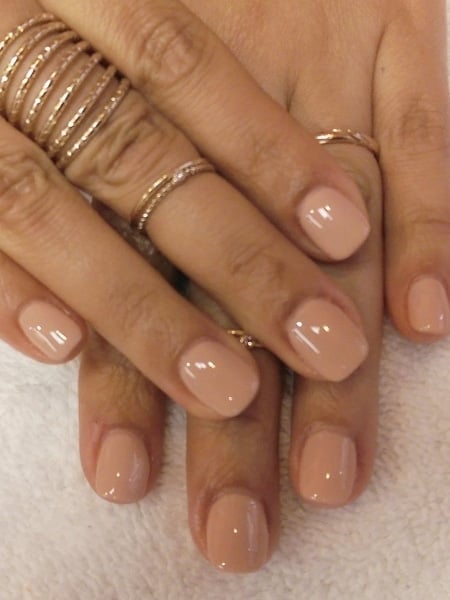 Easy Nail Designs FAQs
What are the 5 basic nail designs?
The five basic nail shapes include round, oval, square, squoval, and pointed.
How do you do easy nail art for beginners?
Nail art can be quick and easy to create. The key would be to focus on the simplicity of your chosen look, avoiding anything that is overly detailed or precise. It is good for beginners to experiment with different color combinations, from complementary hues to clashing ones. There are multiple ways to add color to the nails in an effortlessly chic way, including color blocking or a modern approach to French tips. You can also try lines, dots, and abstract shapes, which can be created in varying sizes and colors; this is a great way to get creative.
What are some designs for nails?
The right design for your nails depends on your preference and your nail shape and length. Those who love detailed artwork, tie-dye tips, marbled effects, and mix and match designs are fantastic. However, simple designs are just as effective, with nude nails enjoying the spotlight. You can also try shades of green, flower nail designs, or Disney. Seasonal art for summer, autumn, winter, and spring, and those inspired by holidays like Christmas or Valentine's Day, are also appealing.
What is the nail trend for 2023?
There are several exciting nail trends in the forecast, including fun colors like electric blue, greens, and bold pinks. Simple and effortless nail art is also having its moment, with nude nails being a popular and versatile choice.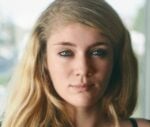 Cailyn Cox holds a degree in journalism and has been working with The Trend Spotter as a writer for over ten years. She has worked with some of the most prestigious women's and men's lifestyle publications. For her, writing is not just a job; it's a passion, which is why each article she writes is approached with such enthusiasm and dedication. She has extensive knowledge of hairstyles, tattoos, and beauty and has made a career out of creating informative articles that appeal to women and men of all ages.
SUBSCRIBE TO OUR NEWSLETTER
Subscribe to our mailing list and get interesting stuff and updates to your email inbox.