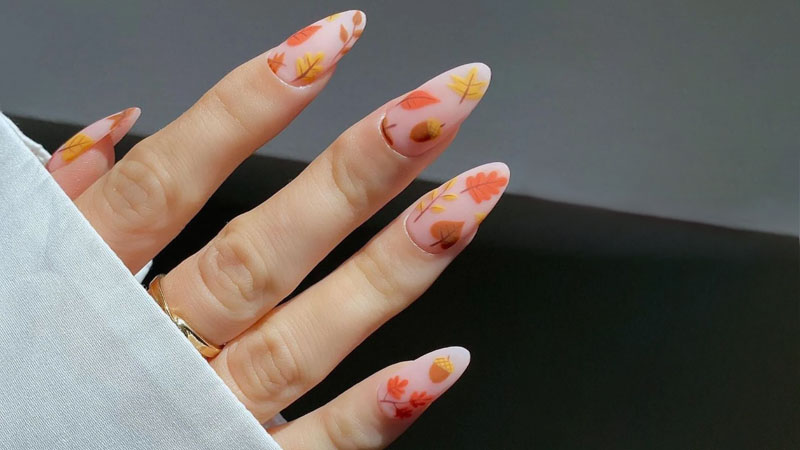 Thanksgiving Day is celebrated by families across America and Canada and marks one of the most special times of the year. The origins of Thanksgiving can be traced back to 1621 when a feast was shared between the Pilgrims and the Native American Wampanoag people. For this reason, it is a holiday often celebrated to show the importance of connectedness, family, and peace. It is also an opportunity to give thanks for the blessings in your life. The spirit of Thanksgiving can be channeled through your nail art, with turkey or pumpkin-inspired imagery. Or you can opt for something less obvious and embrace the brilliant colors of the Fall-Winter season for a bold and eye-catching manicure. If you have been looking for inspiration, you came to the right place, and these are the cutest looks to try this year.
1. Acrylic Thanksgiving Nails
Thanksgiving is a special holiday and if you want cute or stylish nails that reflect the theme, acrylics could be a perfect choice. Acrylic nails are created with an artificial nail that is placed over a natural nail. They are strong, durable, and long-lasting and can be easily molded into the shape and length you desire. Acrylics are also the ideal base for nail art, letting you get creative with your designs.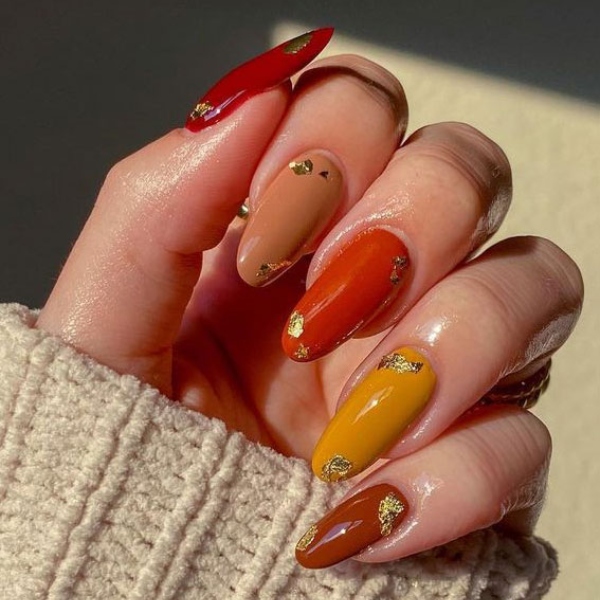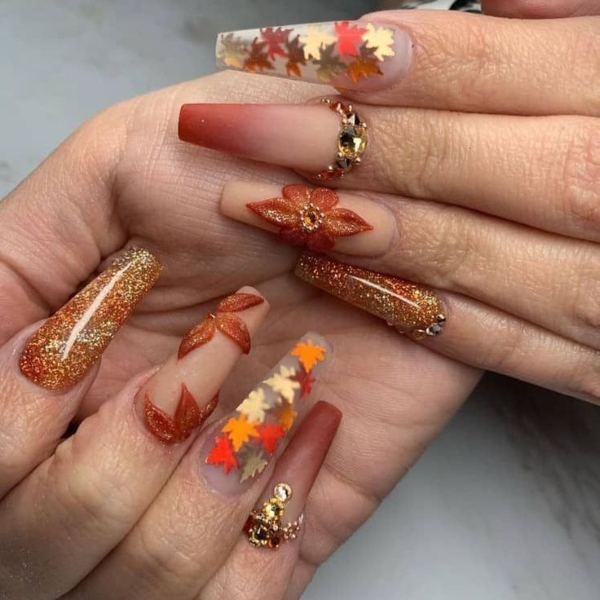 2. Gel Thanksgiving Nails
Gel nails are an excellent alternative to acrylics and are created by adding special nail polish to your fingernails. This polish will harden under a UV or LED lamp, making it chip-resistant and long-lasting. Gel nails look more natural than acrylics and can be sturdy. There are multiple colors to choose from including dark reds, browns, and oranges for a brilliant Fall-inspired Thanksgiving look.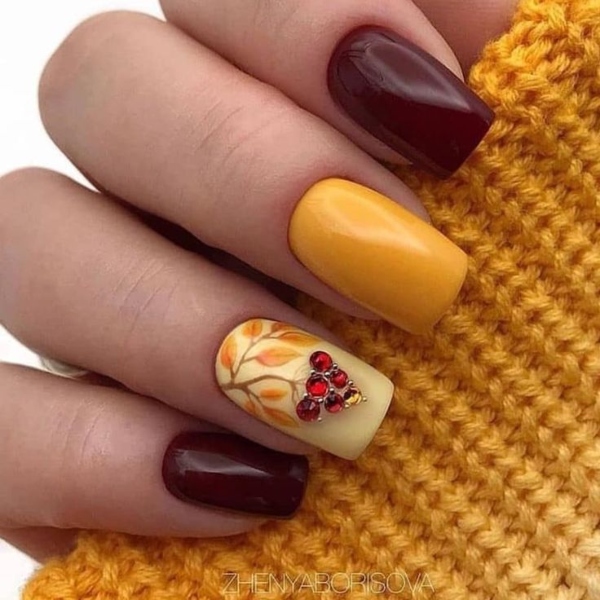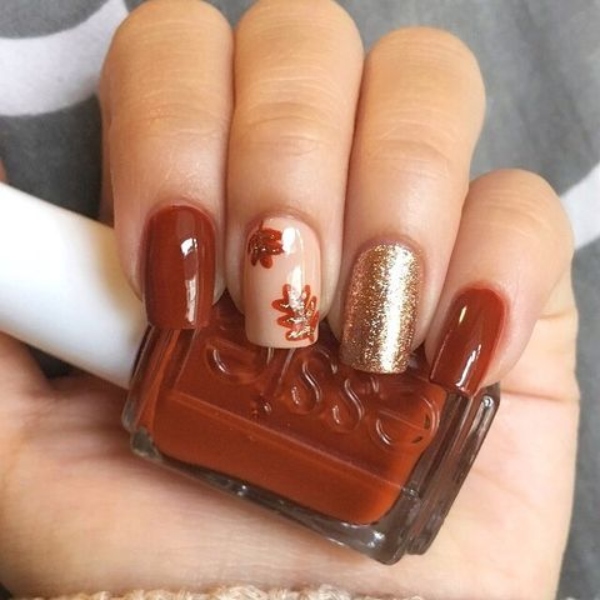 3. Thanksgiving Dip Nails
There are multiple options to choose from when it comes to creating the perfect Thanksgiving manicure. This includes SNS nails, which are also referred to as dip nails, and are created through a process that involves dipping your natural nail into a special powder and adding a sealant over it. There are multiple colors to choose from, making it easy to find the option that best suits your preference. The appeal of dip nails is that they are chip-resistant, long-lasting, and durable.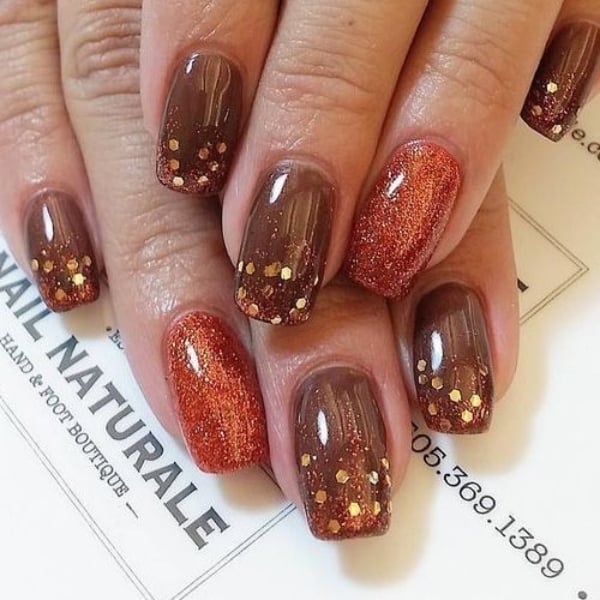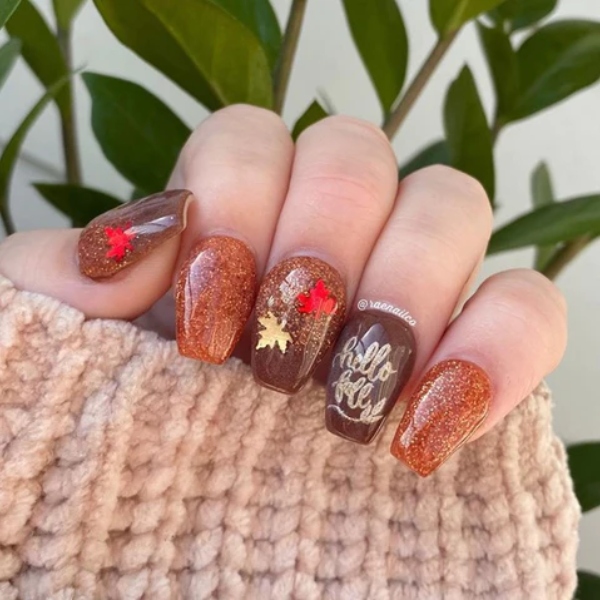 4. Thanksgiving Coffin Nails
Coffin nails are undeniably one of the hottest shapes to choose right now. Defined by the tapered sides and square top, these nails are given their name because they resemble a coffin. They are incredibly stylish and can be flattering on the finger, elongating it. They look great when worn long to show off the shape.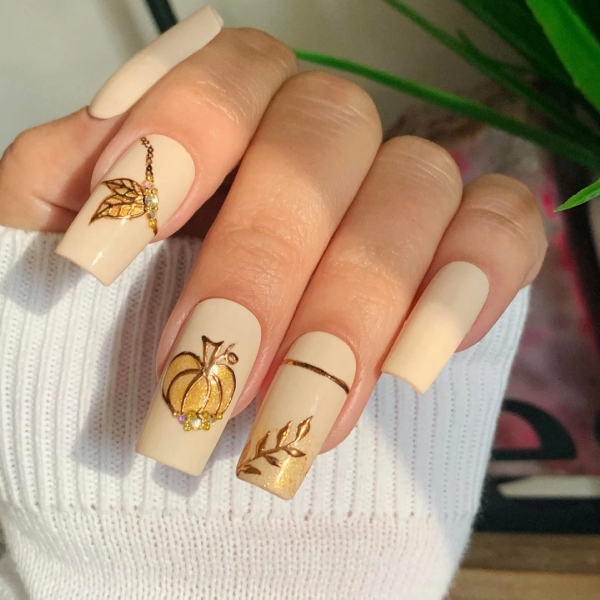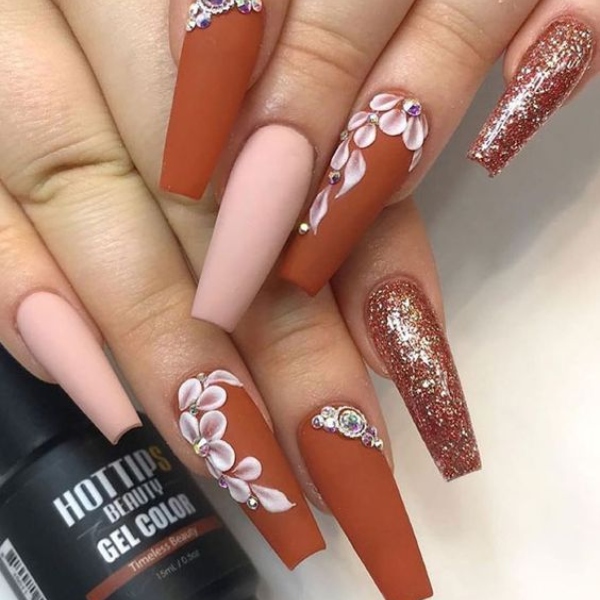 5. Thanksgiving Press on Nails
The appeal of press-on nails is their simplicity and this is a manicure that is easy to do yourself. Press-on nails are artificial nails that are attached to the surface of the natural nail using glue. They can be shaped to suit your preference and cut to your desired length. You can paint over the press-on, or purchase products that come already painted or with designs like ombre or French tips, to give you an effortlessly chic finish.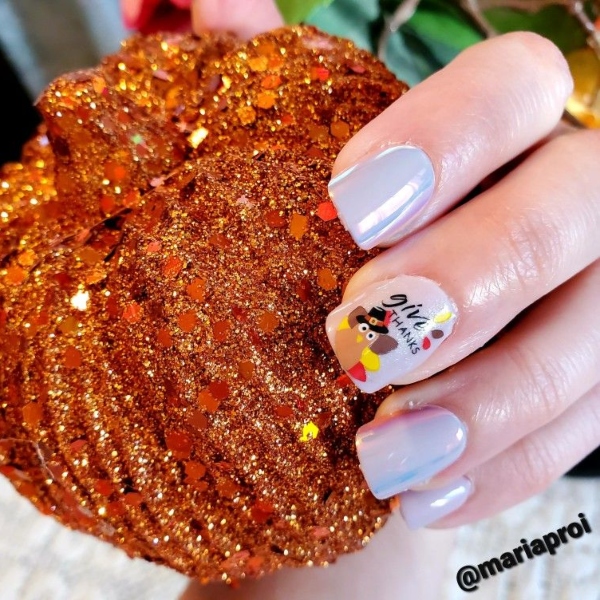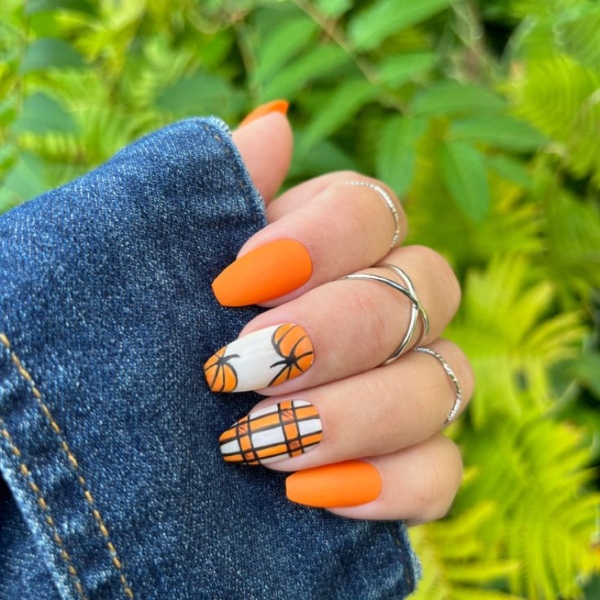 6. Ombre Thanksgiving Nails
The ombre nail effect is one of the most sought-after because it is beautiful and classy. These nails are created by gradually combining two or more colors to create a brilliant, gradient effect. The base of the nail is often the darkest, and the color will lighten toward the tip, but you can experiment with different options and colors to find the look that appeals to you most. Ombre looks great on all nail shapes but will have the best effect on long nails.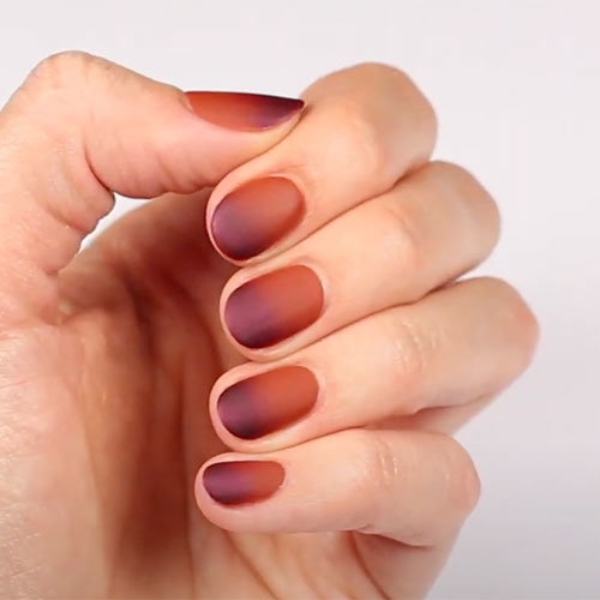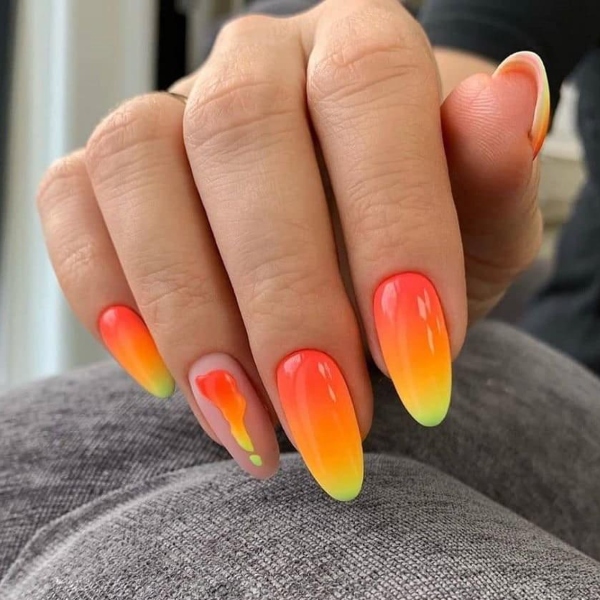 7. Thanksgiving Stiletto Nails
Stiletto nails make a statement. Their heavily pointed tip and smooth sides make this a shape that stands out and will instantly draw attention to your hands. It is incredibly flattering and feminine and is often worn long, giving you the space you need to get creative with your nail art. Thanksgiving nails can be the color of your choosing or could include nail art that is symbolic of your feast or shows your gratitude.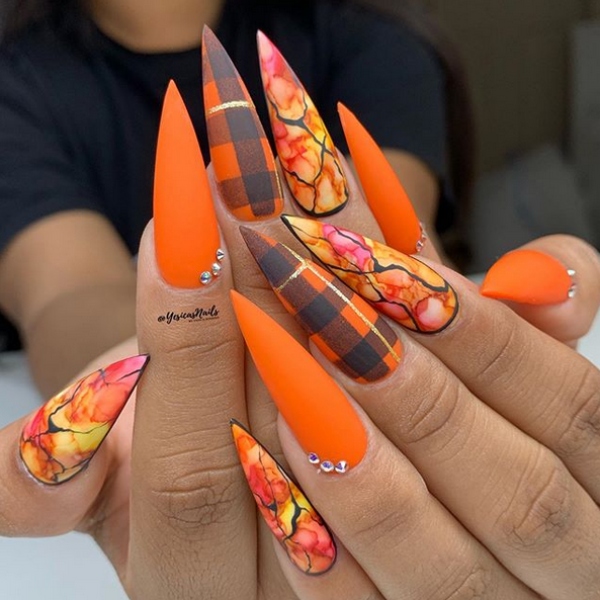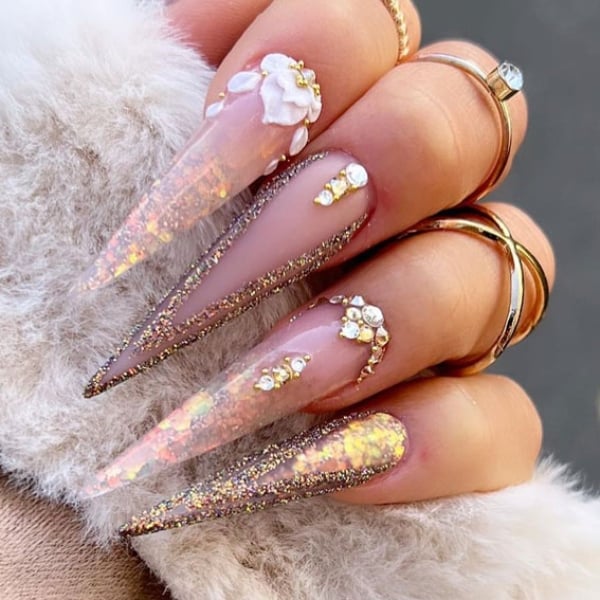 8. Orange Thanksgiving Nails
Orange is a bright, warm color associated with optimism and happiness and you can channel these qualities with your next manicure. There are various shades of orange to choose from, depending on your skin tone. You do not need detailed nail art or multiple colors for this manicure, and the beauty is in the simplicity. Your orange nails can highlight your nail shape and length and will be great when paired with chunky knits and textured garments.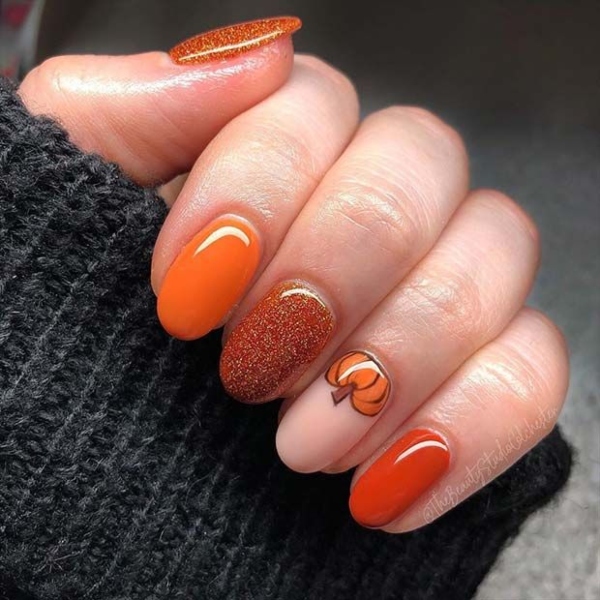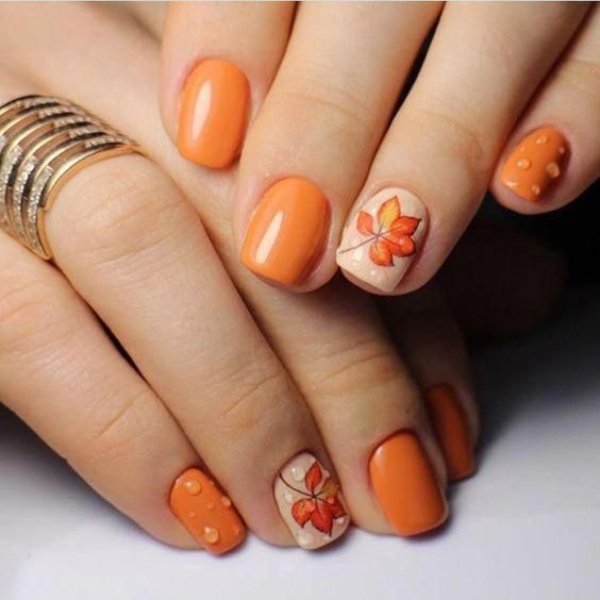 9. Orange and Red Thanksgiving Nails
There are few color combinations as striking as orange and red, and this is an excellent look for your Thanksgiving nail art. How you add the colors is entirely up to you. It can include detailed patterns, or be as simple as a modern approach to French tips, with orange as the base color and red at the tips. Or try a brilliant ombre effect for a stylish yet sophisticated manicure.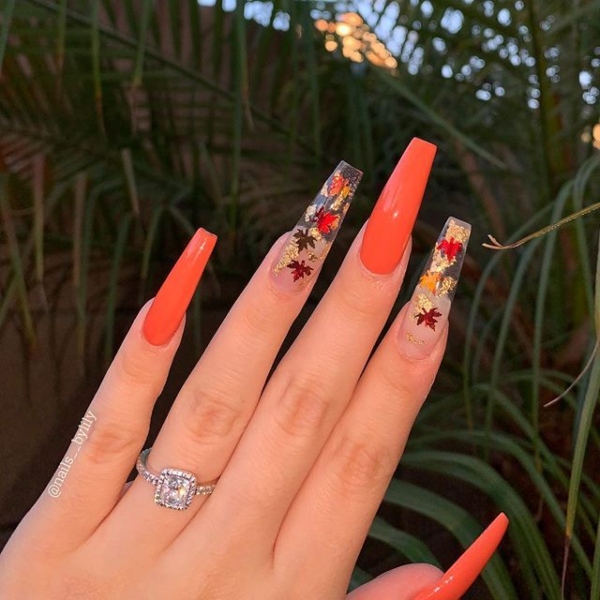 10. Turkey Thanksgiving Nails
If you are looking for inspiration for your nails this Thanksgiving, look no further than a Turkey design. This can make for cute and symbolic nail art, as the turkey represents the success of the harvest. It is also associated with gratitude and generosity, qualities that are celebrated on this holiday, and will make a powerful, yet playful statement when a turkey design is incorporated into your nail design.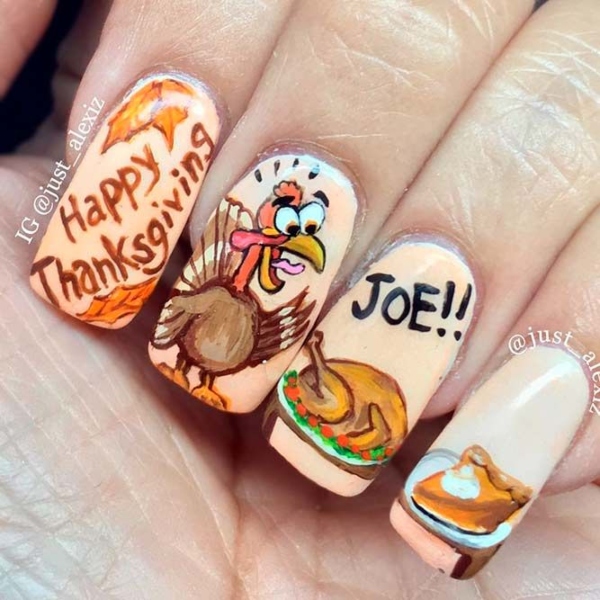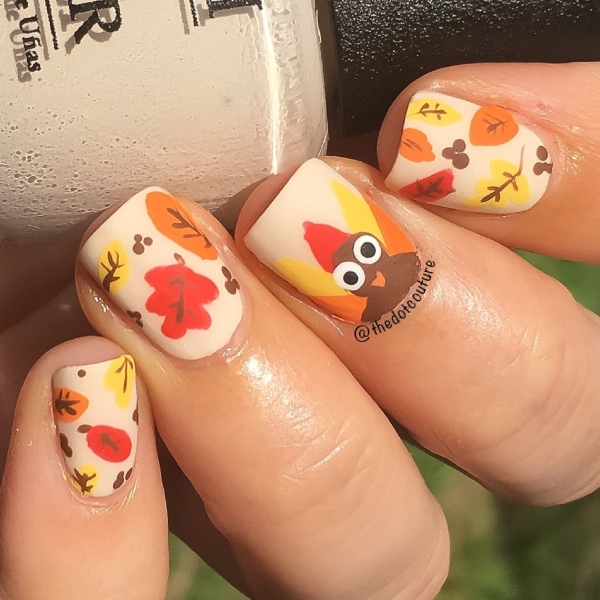 11. Modern French Tips Thanksgiving Nails
The classic French tip manicure is defined by the white layer of polish on the tips and a clear or light pink base coat. However, if you want something bright and modern, this look can be recreated in the colors of your choosing, including brilliant hues of red, orange, yellow, and brown. The simplicity of the French tips makes it an excellent option for all nail shapes and it is incredibly flattering, drawing the eye upward and elongating the finger.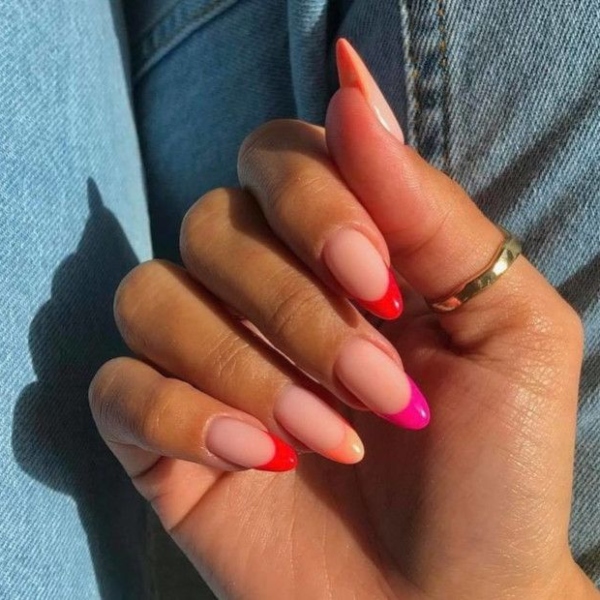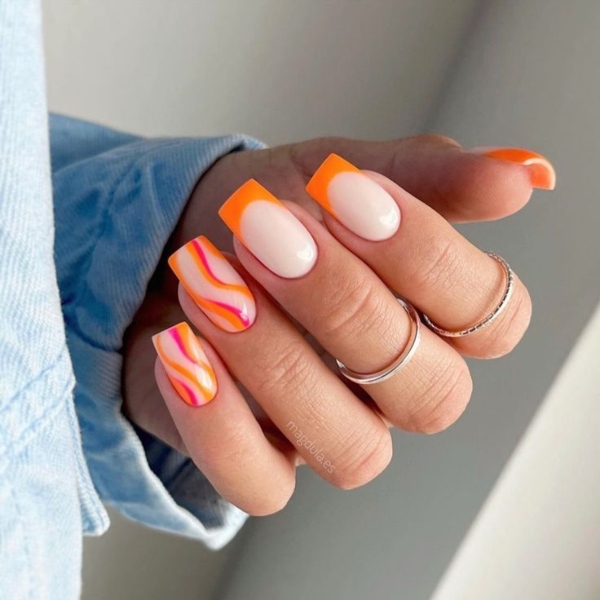 12. Thanksgiving Almond Nails
Almond nails are an excellent shape for Thanksgiving and are a combination of classic meets stylish. The shape is defined by its tapered sides, wide base, and round tip. It is incredibly versatile and looks great when worn long or short. It is also a shape that is more durable and less prone to breakage than many of the other shapes and is great for women of all ages.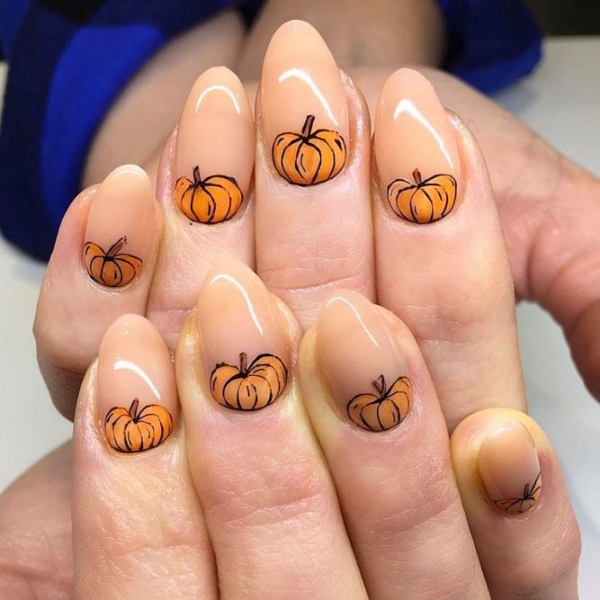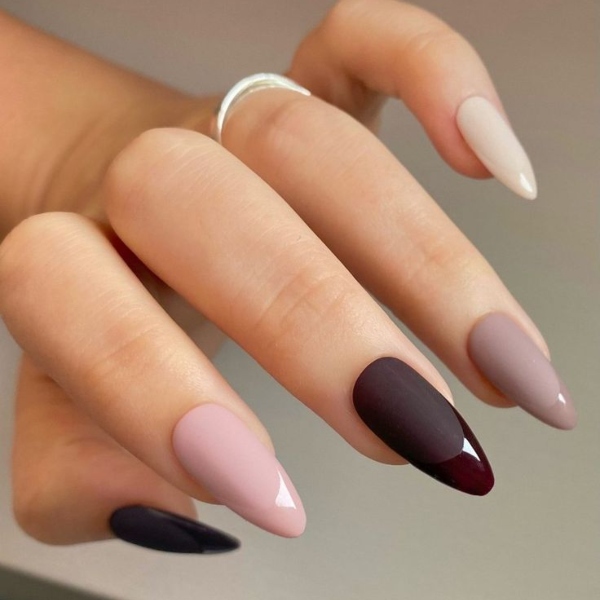 13. Pumpkin Thanksgiving Nails
Pumpkin nails for Thanksgiving are cute and cheerful and are a great way to experiment with color. The shape of a pumpkin is easy to create, making this the perfect look, even for beginner nail enthusiasts. On Thanksgiving, the pumpkin is also symbolic and is often served as part of the meal. It is an autumn harvest vegetable and could be a symbol of abundance and good fortune.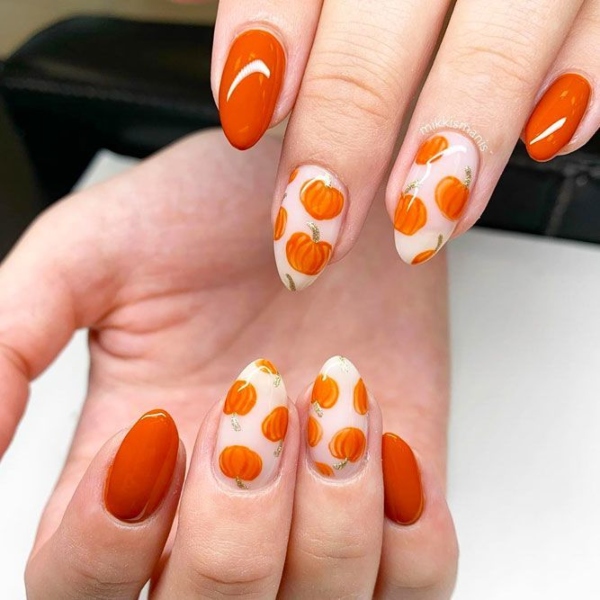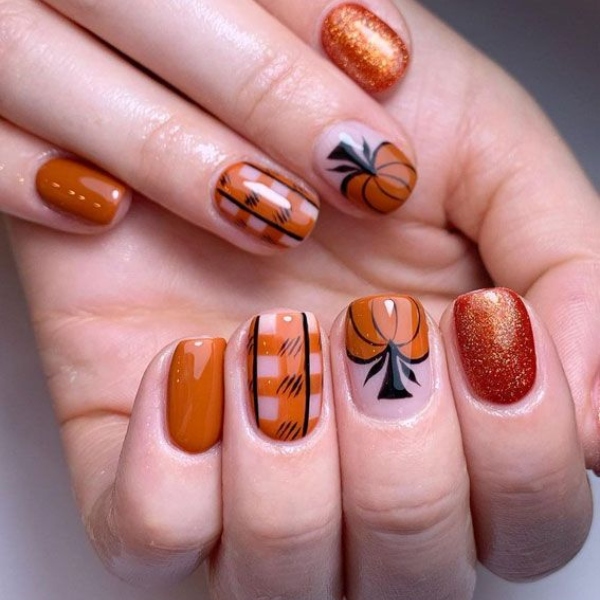 14. Tartan Thanksgiving Nails
If you have been looking for a great time to try out a new print, the time is now. Tartan is a crisscrossed, horizontal and vertical pattern and is created in multiple colors. For Thanksgiving, you can try out warm hues like orange, red, and brown. You can focus the print on a feature nail, or add it to each fingernail for a statement effect.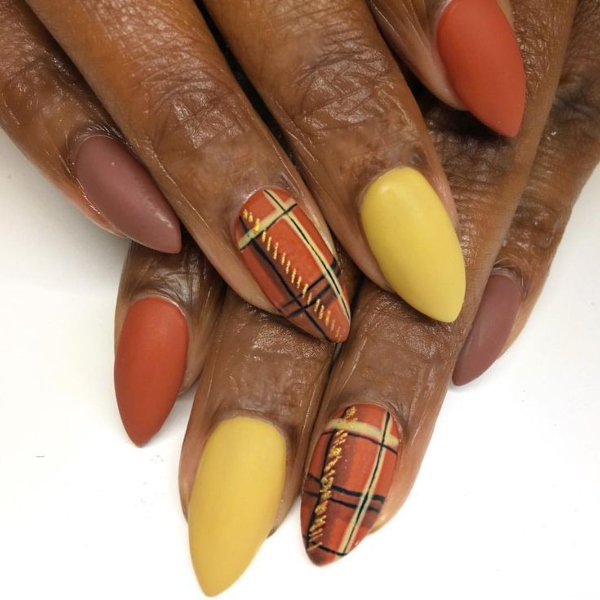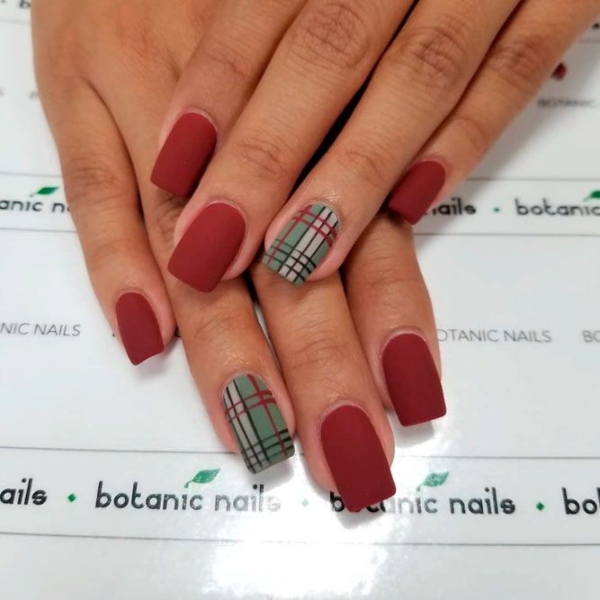 15. Shades of Brown Thanksgiving Nails
Brown is an excellent color for the Fall season and there are various shades to choose from, some rich and dark, others light. This makes it easy to find the perfect hue to complement your skin tone, or you can choose several shades of brown, starting from darker to lightest, for a gradient effect. For a more detailed finish, you can add Thanksgiving-inspired nail art over a brown base coat.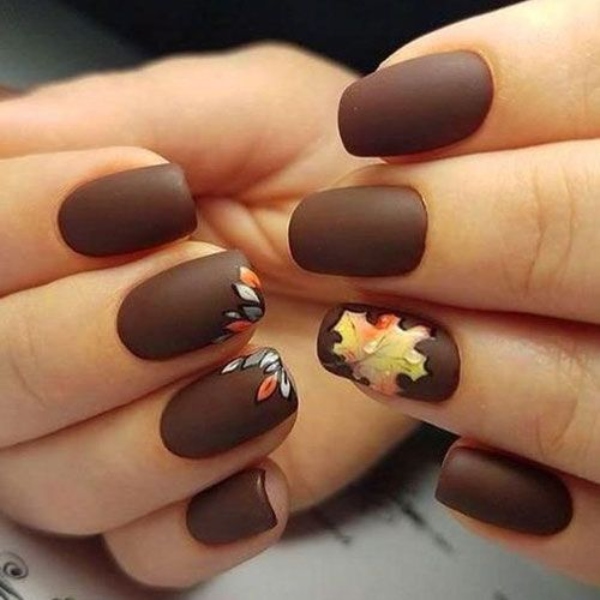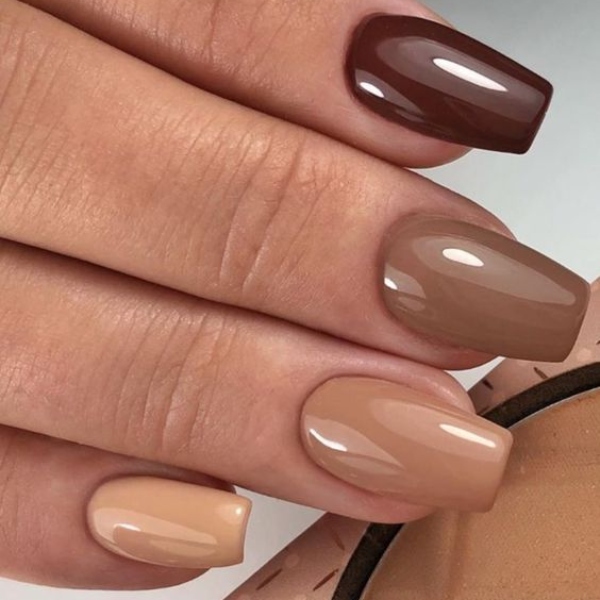 16. Food-Inspired Thanksgiving Nails
Thanksgiving day is celebrated by many families across the United States and Canada to give thanks for the harvest and blessings of the past year. The meaning associated with Thanksgiving can be different for each person, but most mark this holiday with a feast. Food including pumpkins, corn, turkeys, and cranberries plays an important part, and you can reflect this with your manicure.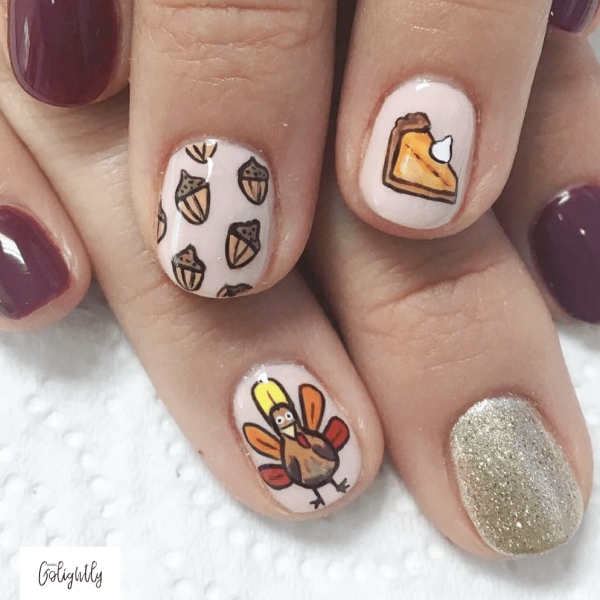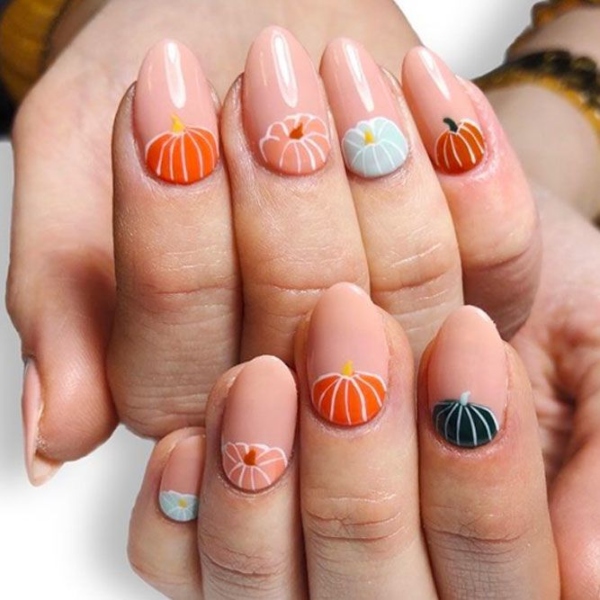 17. Glitter Thanksgiving Nails
There is no better time to embrace the sparkle than on a special event, and Thanksgiving is one of the most important holidays of the year. Glitter nails are an excellent way to experiment with different textures. When added stylishly, they can also highlight your nail shape and draw attention to your hands. There are many glitter shades to choose from, but sticking to classic metallics, like silver or gold, will have the best results.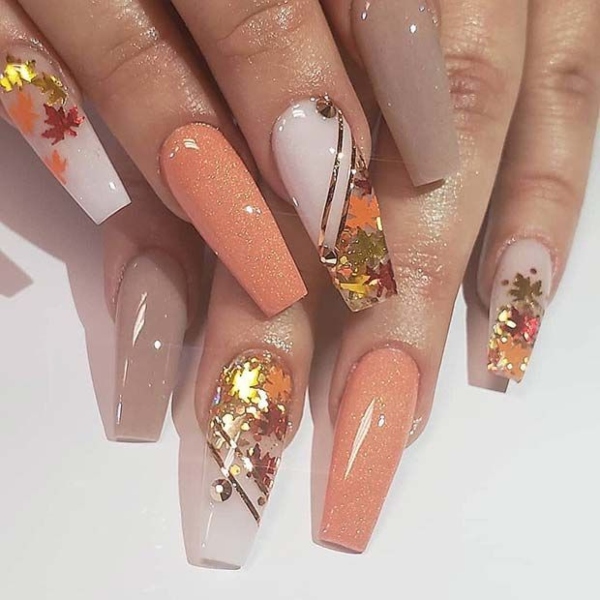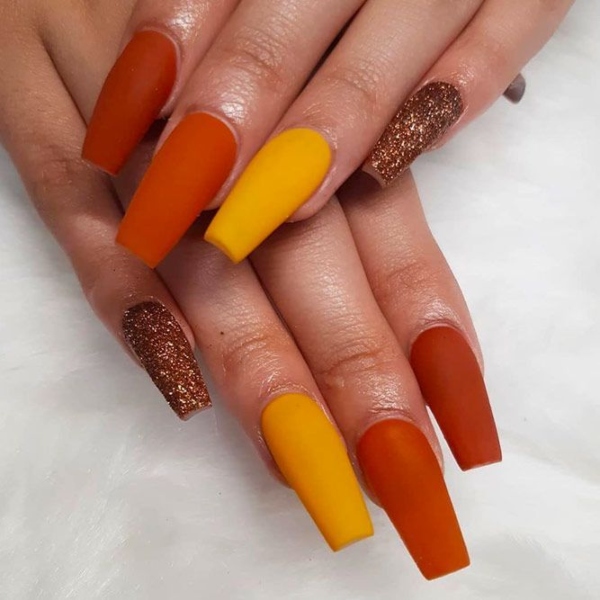 18. 3D Nail Designs for Thanksgiving
Your nail art can be as simple or detailed as you wish, and if you are someone who was born to stand out from the crowd, what better way to do it than with bold nail art? 3D nails can be created in the design of your choosing and added to all nail shapes and lengths (although the best result is with long nails as there is more space to get creative). This could include different-sized gems glued onto the nails, or you could experiment with textures like lace; the choice is yours.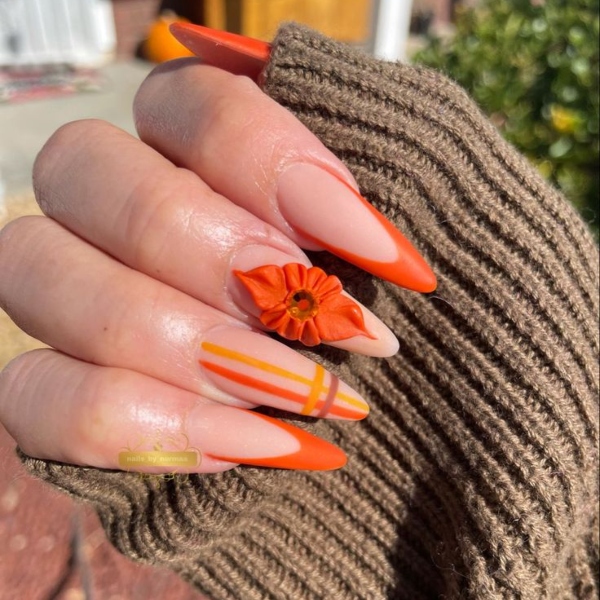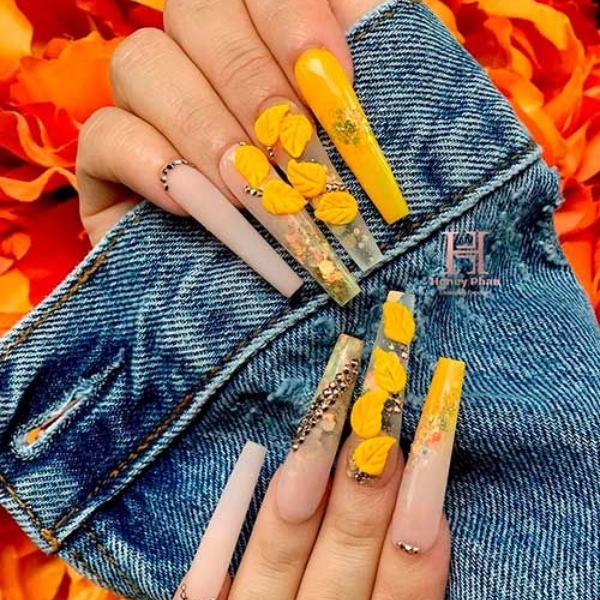 19. Geometric Thanksgiving Nail Art
Geometric nail art is becoming incredibly popular because it is modern and fun. It is also associated with tranquility and balance and can be calming to look at. Your design can be as simple or as detailed as you wish and is created by using shapes and lines to create a brilliant pattern. You transform your whole fingernail or focus the geometric element on the tip only. Experiment with different colors and negative spacing for a chic finish.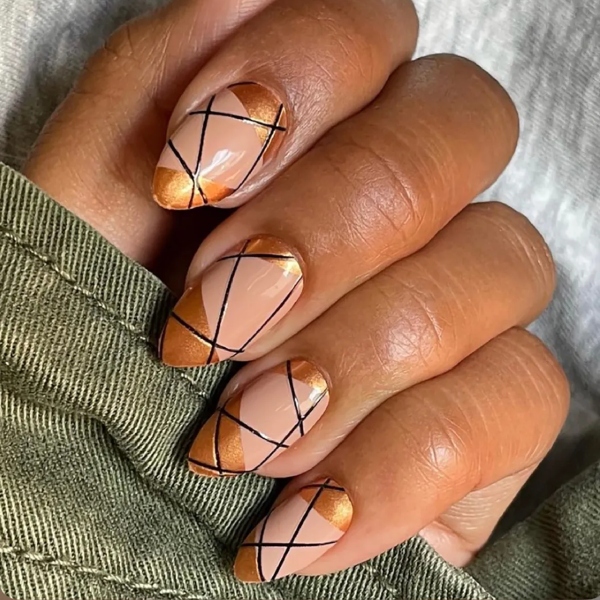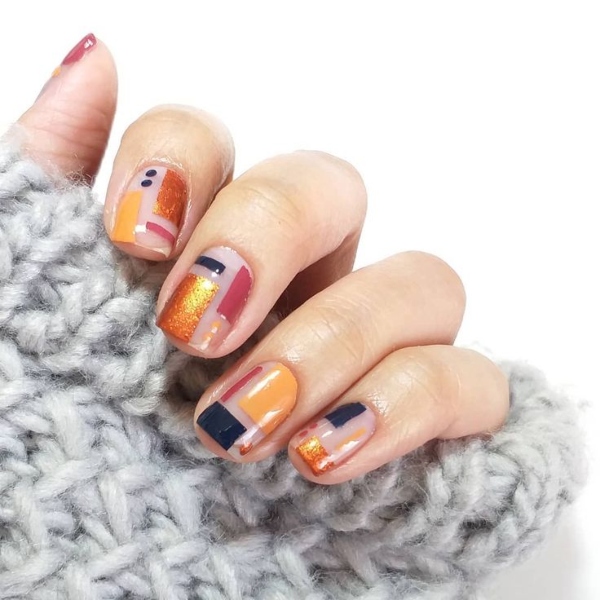 20. Short Thanksgiving Nails
Thanksgiving nail designs can be detailed or symbolic or be created with your favorite Fall colors. This means there is a look to suit every preference, nail shape, and length. Short nails look best with simple nail art or bold color and are appealing because they are low-maintenance and strong. They will not restrict you with your activities and look neat and clean, which lends itself well to all settings, including a corporate environment.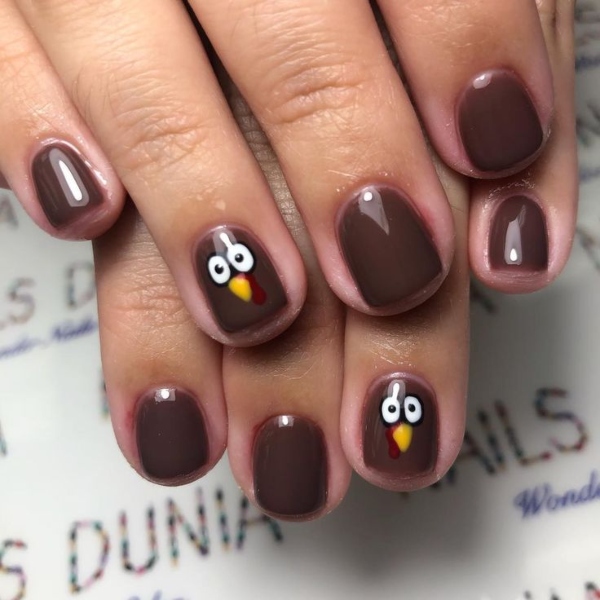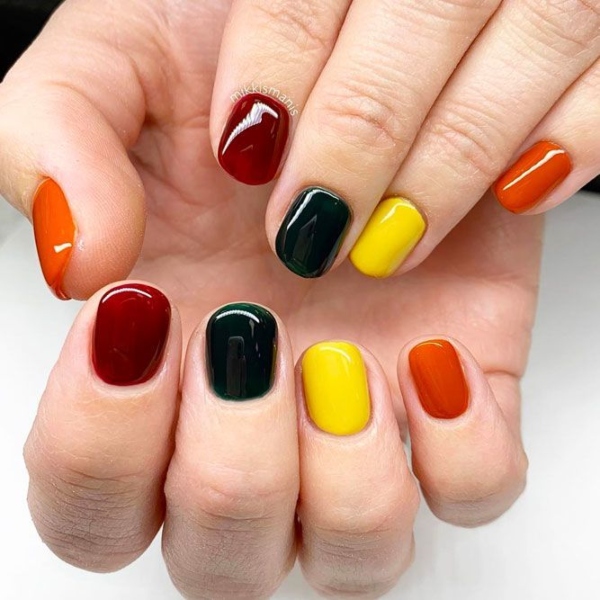 21. Colorful Leaf Thanksgiving Nails
The Thanksgiving celebration marks the beginning of the Fall-Winter season and is a time when there are brilliant colors to be found in nature. You can let the colors of leaves and the symbolism associated with them, including fertility, abundance, and rebirth, create beautiful and meaningful nail art. Combine your favorite hues and paint delicate leaf artwork over it for an unforgettable manicure.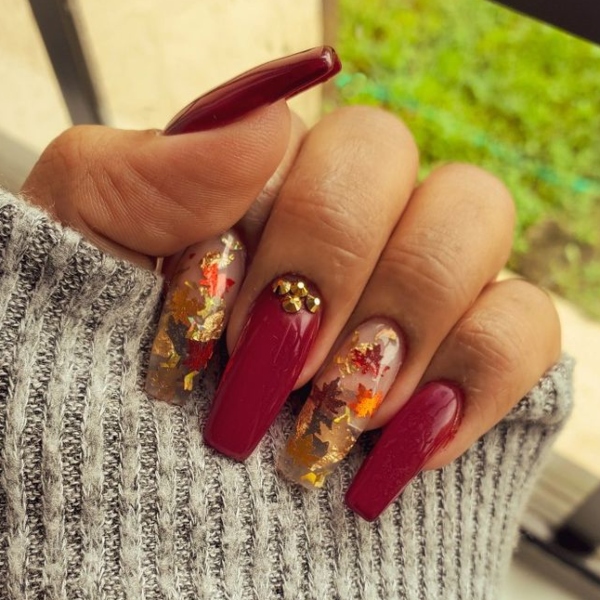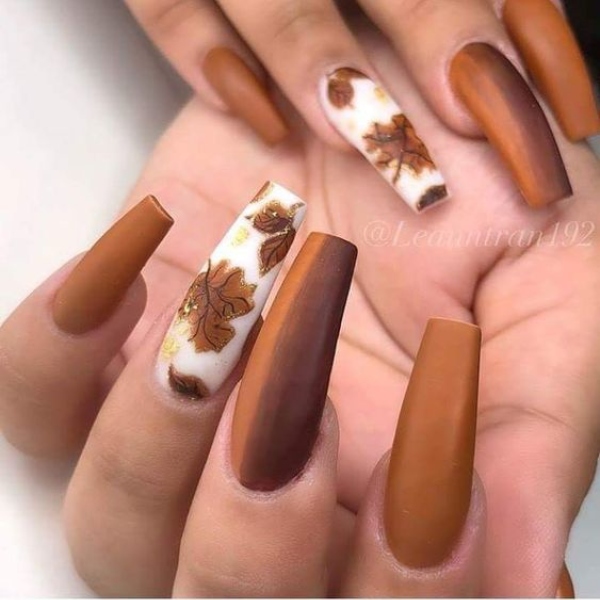 22. Gold Thanksgiving Nails
Gold nails represent wealth and abundance and this symbolism is fitting for a Thanksgiving-inspired manicure. The color is also appealing because it will create a luxurious finish and is incredibly easy to wear, mixing and matching well with everything. Whether you opt for solid gold nails or add the color more subtly, playing with negative spacing or adding it to the tips, there is a look to suit every preference.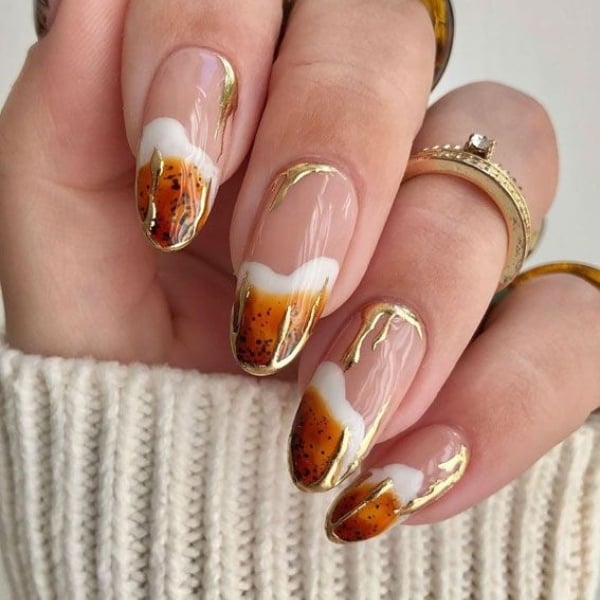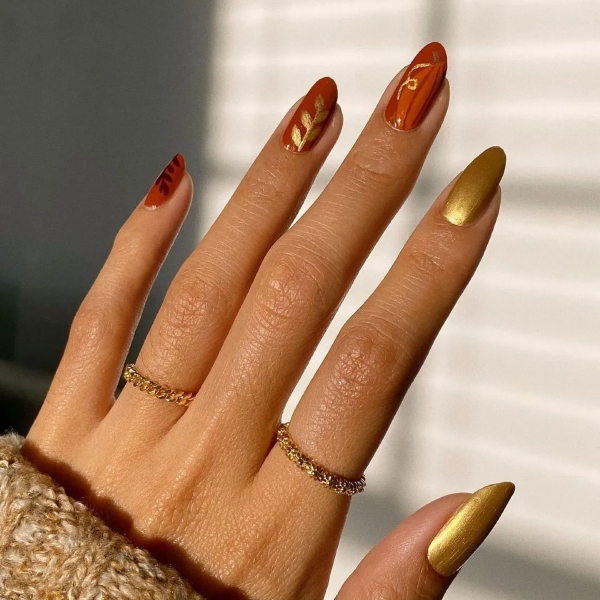 23. Matte Colors Thanksgiving Nail Design
Give your nails a more textured finish by using matte nail polish. This lacquer is appealing because it creates a smooth, flat finish which contrasts with the standard glossy effect. There are various colors to choose from and ways to add matte polish to your nails, including combining matte and glossy for a contrasting finish. You can also add Thanksgiving-inspired artwork over the base goat for a more detailed design.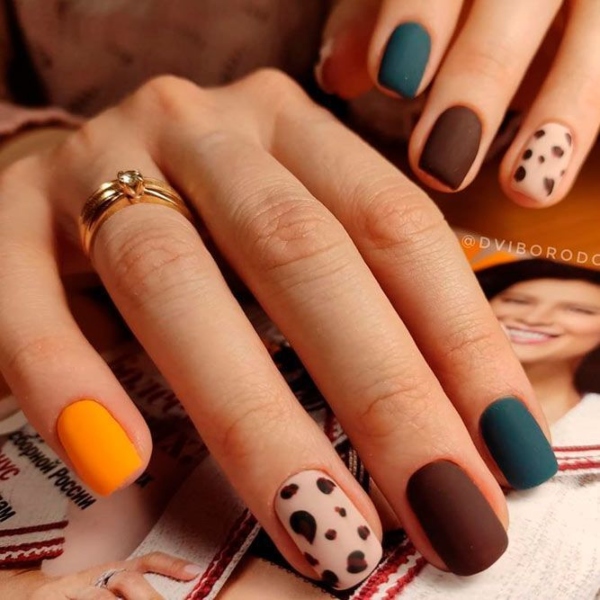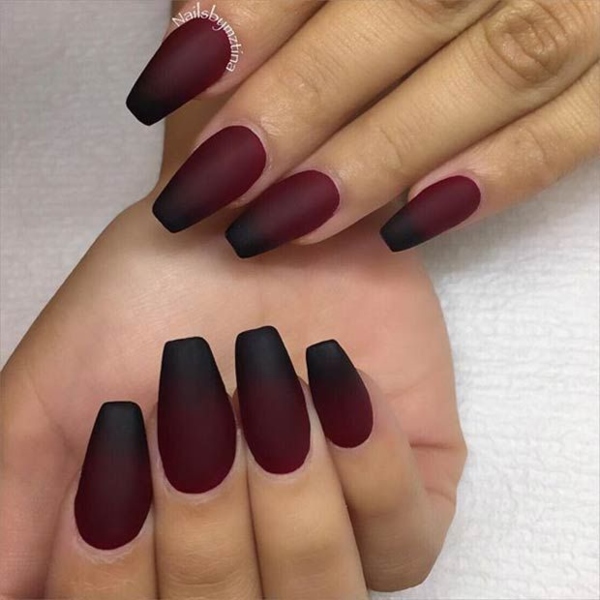 24. Dark Red Thanksgiving Nails
Dark red is an excellent color for your manicure this year. The color is a brownish-red hue and is easier to wear than brighter, more saturated reds. This is a hue that complements most people and looks gorgeous when paired with navy and gold, which will give you versatility with your nail art and with what you wear.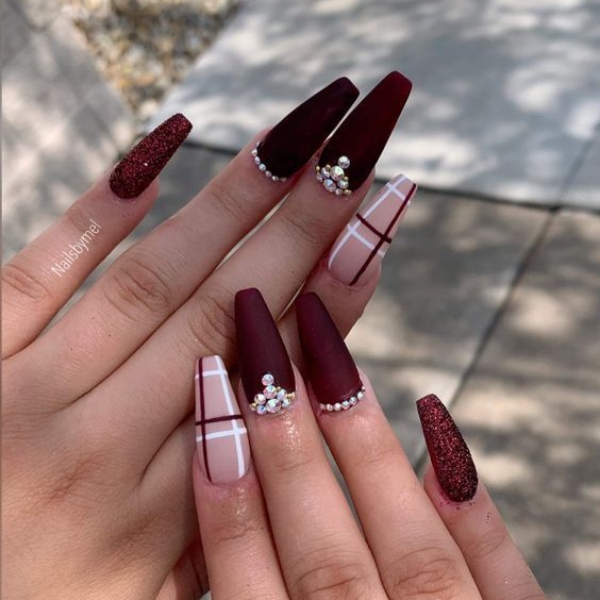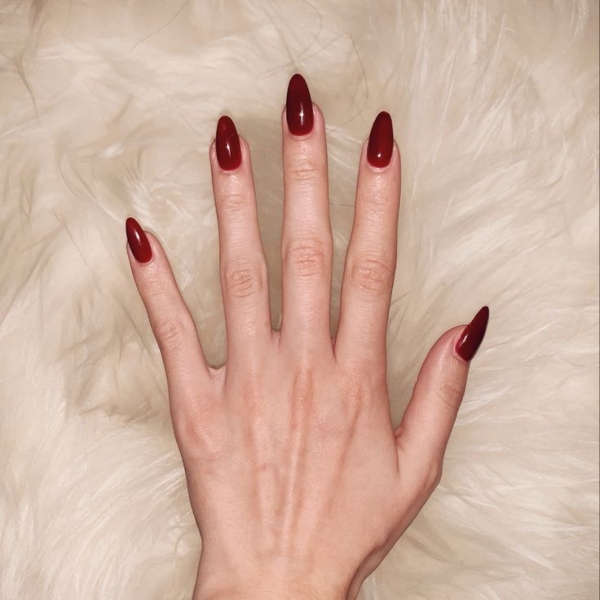 25. Feature Nail Thanksgiving Art
Thanksgiving is a holiday that many families look forward to each year. It can also be a time to reflect on your own life and take a moment to embrace all the good in it. If you want nail art that motivates or inspires you, you can carry on this theme of gratitude, or you could choose colors that bring you joy. Instead of creating detailed designs on each nail, focus on a feature nail instead. This will create a more subtle finish and will highlight a special piece of jewelry, like a wedding or promise ring.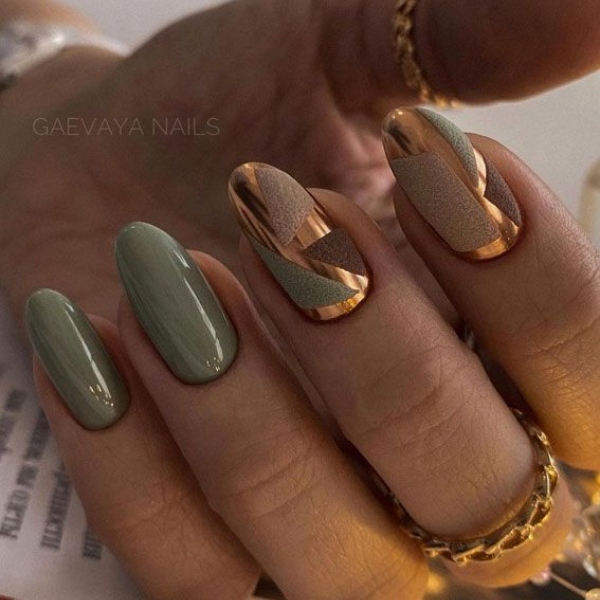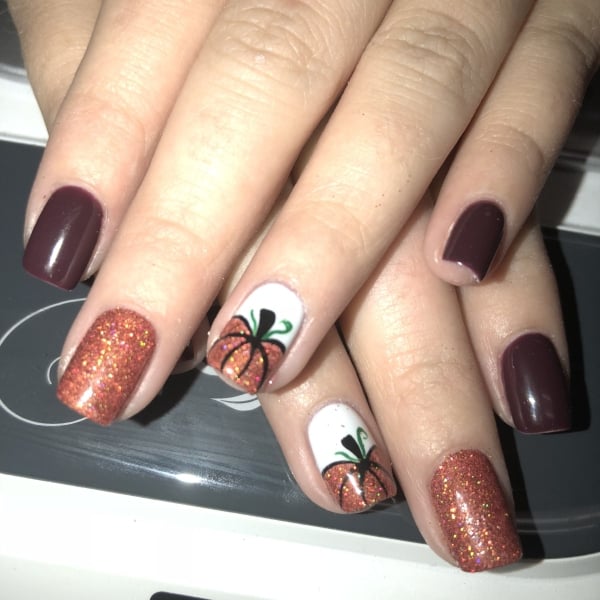 Thanksgiving Nails FAQs
What nail color is good for Thanksgiving?
Thanksgiving is the beginning of the Fall-Winter season and colors that are great for your nails are shades of brown, red, orange, and yellow. You can also add gold details, white, nude, and green. Mix and match your favorite hues, or stick to one for a simple finish.
What is a fun nail design for thanksgiving?
Thanksgiving is a holiday to celebrate gratitude and be thankful for the blessings in your life. It is often marked by a feast and gathering of family members and friends, and a fun interpretation of your nail art could include images of turkey or pumpkins. There are many ways to experiment with nail art to create the perfect manicure for you, whether it is bright, created with a mixture of clashing colors, or simple and subtle. You can also choose different nail shapes, with daring options like stiletto and coffin nails helping you create a fun, playful manicure.
SUBSCRIBE TO OUR NEWSLETTER
Subscribe to our mailing list and get interesting stuff and updates to your email inbox.