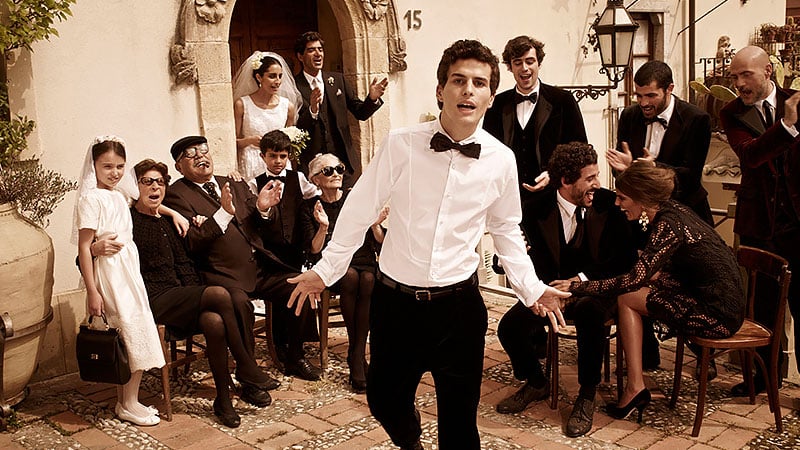 Weddings can be a whole lot of fun, but thinking about what to wear to them can be a pain, particularly when there are dress codes involved. The same questions of "Which suit will look best?", "Do I need a tie?" and "What will the other gents be wearing?" inevitably pop up every time. Then there's the challenge of dressing appropriately without looking like a clone of every other man invited. Lucky for you, we're here to help. So, if you want to nail the dress code, know exactly where to inject some personal style, and look suave as hell, here's your new go-to guide.
Formal / Black Tie Wedding Attire
Black tie and formal dress codes are strictly reserved for social occasions that call for a high level of dress. Therefore, if you're invited to a wedding with this code on the invitation, be sure to dress to the nines. Keep it suave, sophisticated, and simple with spot-on tailoring to nail this type of attire.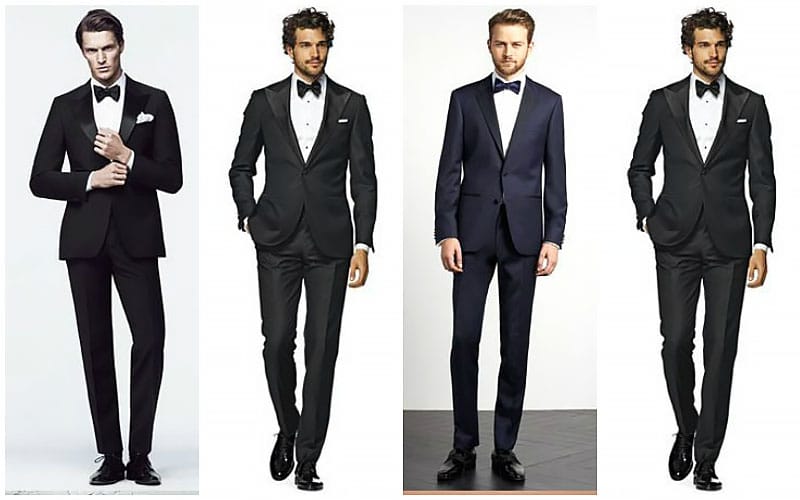 Black Tie Wedding Suits
For a black tie wedding, a black tuxedo is the most appropriate option. Your suit should be well-tailored and fitted for a classic and sleek look. Aim to keep the overall appearance simple by opting for a single-breasted style with a sharp, minimalistic appeal. Also, remember that a slim cut tends to be the most flattering and will keep your style suitably modern. As for the lapel, peak or shawl styles are best. If you're looking for a way to stand out from the crowd, try a midnight blue tux.
TOP BUYS
Black Tie Wedding Shirts
When it comes to your shirt, keep it simple and classic for a black tie wedding. A sharp, white, dress shirt featuring a turndown or wing collar is the ideal choice. Opt for one in a high-quality fabric to ensure your look appears formal and polished. Keep the overall style clean and timeless by avoiding any loud design details. Now, simply finish off your minimalist look with a superbly dapper, black bowtie.
TOP BUYS
Black Tie Wedding Shoes
Shoes for a formal or black tie wedding need to be sophisticated. Be sure to keep yours suitably stylish with a pair of patent, leather dress shoes. Of course, black is the only reasonable choice to go with this dress code as all others would, unfortunately, appear underdressed. Ensure the shape is appropriately suave by choosing a classic style with a narrowed, round toe. Also, be positive that your shoes are well polished, unscuffed, and clean before wearing them.
TOP BUYS
Cocktail Wedding Attire
Cocktail attire demands a look that bridges the gap between casual evening wear and formal wear. It's also a chance to experiment a little more with your outfit and add a touch of personal style. Mixing clean and classic pieces with more contemporary styles and design details is a great way to pull off this look. In the end, your outfit should give a nod to traditional styles while staying lively with modern details.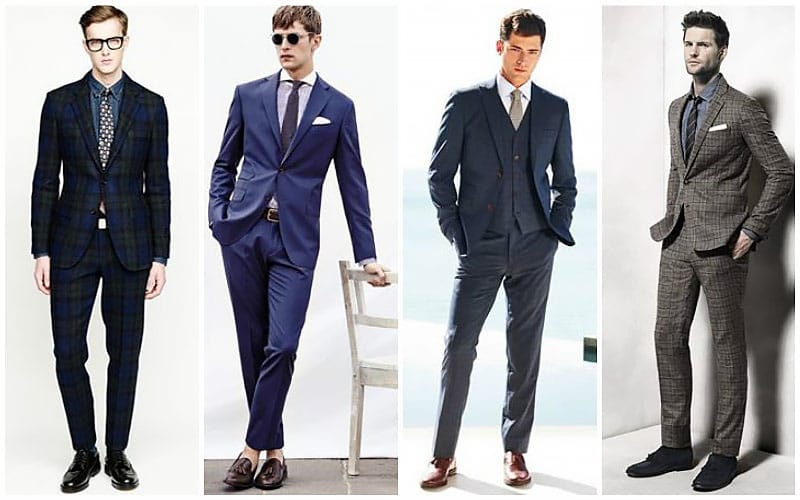 Cocktail Attire Wedding Suits
When it comes to suits for a cocktail wedding, opt for a well-tailored, semi-formal two-piece. Darker suits in navy, cobalt and dark grey are a classic option for cocktail attire. Keep the cut close to the body, but not too tight, for a modern look. Also, keeping your suit mostly classic, add contemporary and stylish touches, such as a patterned pocket square or slim tie. For those of a more adventurous disposition, a windowpane or check suit can also work well.
TOP BUYS
Cocktail Attire Wedding Shirts
When choosing a shirt for a wedding with a cocktail dress code, be sure to select a fitted dress shirt. To play it safe, select either a white or powder blue shirt. If you're looking for something a little more unique, however, add interest in the form of color, pattern or fabric. Anything from a dusky pink hue to a bold check and even a unique texture can all elevate your look past the regular. Just make sure that your shirt compliments your suit, rather than clashing with it.
TOP BUYS
Cocktail Attire Wedding Shoes
Choosing the right shoes is essential to creating a sharp and stylish cocktail look. While you may feel tempted just to pull out a pair of plain, black dress shoes, try to choose something a little less stuffy. A classic Oxford with a rounded toe is generally the shoe of choice for cocktail weddings and is a fine one at that. Alternatively, a stylish and formal loafer or double monk can make a trend-worthy choice.
TOP BUYS
Semi-Formal Wedding Attire
Sitting somewhere amidst the worlds of formal and cocktail attire is the somewhat ambiguous semi-formal dress code. Not quite as done-up as formal attire, and not quite as contemporary as cocktail attire, semi-formal can be a hard dress code to pin down. The helpful part is, unlike strict dress codes, semi-formal is less restrictive and more open to interpretation. All you need to do is aim for a sharp and classic look that you're comfortable hitting the dancefloor in.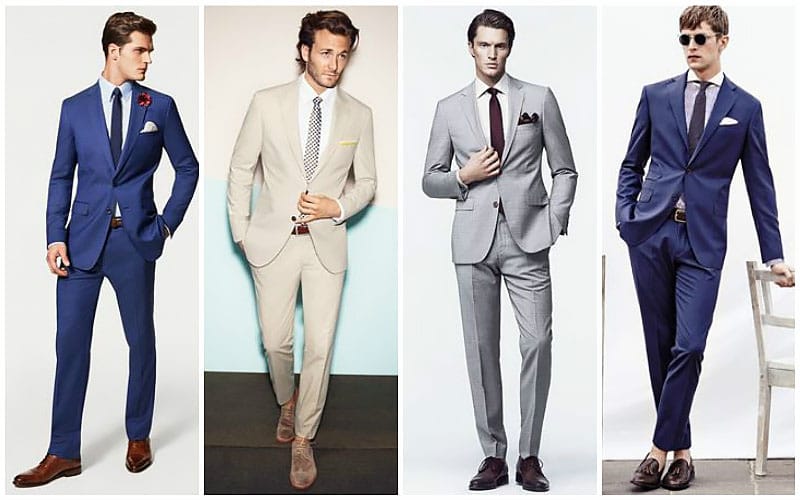 Semi-Formal Wedding Suits
Formal dressing is about the overall look. Cocktail dressing is about the details. As for semi-formal dressing, well that's all about the suit. Choosing a great suit that's exceptionally tailored will go a long way to helping you pull off a sensational semi-formal look. When it comes to color, opt for more subdued tones. Understated neutrals and washed-out hues will do the trick for daytime weddings while turning up the intensity to something darker works for evening receptions
TOP BUYS
Semi-Formal Wedding Shirts
Choosing a shirt for a semi-formal wedding needn't be a difficult task. In fact, it should be quite simple. A classic fitted dress shirt in a subdued, block color is your guideline to follow. White will offer gents a more formal look, while soft blues and greys tend to appear more relaxed. No matter which color you pick, be sure the shirt looks minimal and sharp. As to whether you should wear a tie or not, the choice is yours.
TOP BUYS
Semi-Formal Wedding Shoes
The right pair of shoes will pull your semi-formal outfit together flawlessly, so make sure you put thought into your footwear. A dapper pair of brogues, Oxfords or loafers will suit well and elevate your look past those of other guests. Take your style up a notch by dabbling in suede or velvet.
TOP BUYS
Smart Casual Wedding Attire
While you won't often see "casual" on a wedding invite, you may see "smart casual". A favorite for a beach wedding, a smart casual dress code invites guests to wear something they're comfortable in while keeping things slightly elevated. The challenge is to find a good balance between "casual" and "smart" styles of dress. Think about deconstructed versions of formal wear and mixing tailored pieces with more relaxed styles to pull off this code.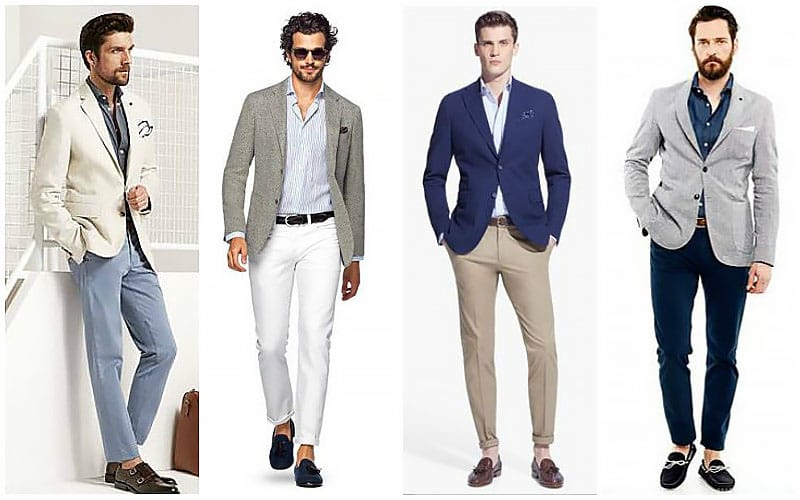 Smart Causal Wedding Blazers
For a smart casual wedding, a suit really isn't necessary. If you do choose to wear one, however, make sure that it's casual. A great lightweight fabric or loosely structured style will achieve this with ease. An ideal alternative to the suit, however, is a blazer and trousers. While you may be tempted to wear jeans, we recommend a stylish pair of chinos instead. As for your blazer, keep it simple and easy going.
TOP BUYS
Smart Casual Wedding Shirts
While you may not need a suit for a smart casual wedding, you will need a button-up shirt. In general, T-shirts are too casual for weddings, so steer clear and opt for something more sophisticated. Keep your shirt classic with traditional colors and patterns in order to elevate your style. Where the "casual" can come in is in the fabric. Lightweight fabrics have a more unstructured appearance and will help your outfit look just the right amount of relaxed.
TOP BUYS
Smart Casual Wedding Shoes
To finish off your smart casual look, pick out a pair of polished casual shoes. Choose between styles such as loafers, driving shoes, and monk strap shoes to find your ideal footwear. Colors in brown and navy will give your style the perfect relaxed look while remaining sophisticated. Likewise, leather and suede styles will appear more appropriately casual compared to patent leather styles.
TOP BUYS
What to Wear to a Wedding
Always check the dress code
Opt for lighter colors for daytime weddings and darker hues for evening events
Most dress codes, other than smart casual, will call for a suit
Good tailoring and well-fitting pieces are essential to looking polished
Always remember to finish off your look with the right shoes
Add fun touches of personal style to your outfit, particularly for cocktail attire
It's better to be overdressed than underdressed, but it's also important to feel comfortable
Wedding Attire for Men FAQs
What should I wear to a wedding as a guest?
What you wear as a guest to a wedding will depend on the dress code. A black-tie event is the most formal and requires a tuxedo, generally in black, with a white shirt, Oxfords, and a bow tie. At cocktail events, you'll still need a suit, but you can have a bit more fun with details and patterns – it's a more contemporary feel. Semi-formal can be ambiguous, but a suit and tie are still required. For daytime events, choose a lighter shade, and go dark for evening occasions. Finally, smart casual requires you to wear long trousers, a button-up shirt, and a blazer. You don't necessarily need a tie, and you can wear more casual shoes such as loafers.
What colors are you not supposed to wear to a wedding?
While there are plenty of rules for women about what colors are a faux pas, there are fewer issues for men. If you know what the bridal party is wearing, avoid that, and the same goes for white. Otherwise, men's suits are generally pretty limited to black, navy, charcoal, and grey – so there's not a lot of wiggle room. Avoid extravagant patterns and colors, as you don't want to distract from the happy couple – it is their day, after all.
What shouldn't you wear to a wedding?
At an absolute minimum, you should be wearing chinos or trousers, a button-up shirt, and dress shoes. Avoid wearing jeans, t-shirts, open shoes, dirty shoes, offensive slogans, or any outfit that will detract from the bride and groom. You want to present yourself nicely, mainly because there's going to be at least one group photo, and you don't want to be the one looking like a slob. It's always better to be overdressed than underdressed.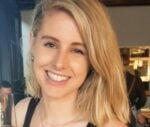 Taylah Brewer holds a bachelor's degree in fashion and business and is a skilled writer with several years of experience in the world of online content creation and copywriting. She is passionate about fashion, beauty, and all things lifestyle-related and has been writing for The Trend Spotter since 2016. She currently works as the Head of Digital & Ecommerce at White & Co.
SUBSCRIBE TO OUR NEWSLETTER
Subscribe to our mailing list and get interesting stuff and updates to your email inbox.