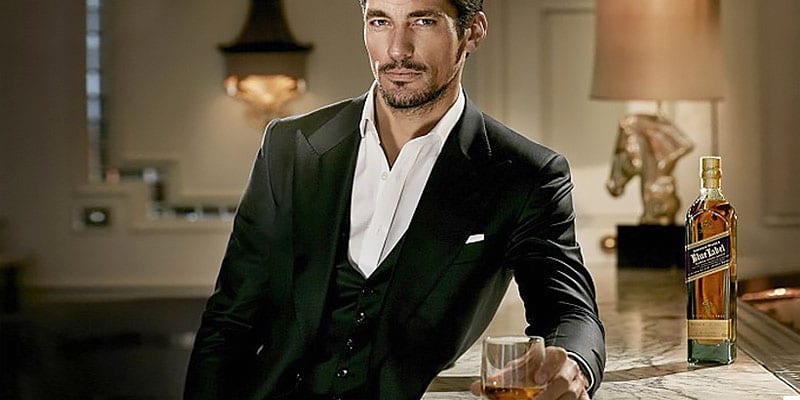 What is Cocktail Attire?
Conceived in the twenties and thirties, cocktail attire emerged as the dress code that stipulated quasi-formal apparel for events. At the intersection of effortless day looks and formal evening traditionalism, cocktail attire is a dress code which is easily perfected by incorporating clean and classic pieces. This attire should always be balanced, offering a refined nod to the past but also portraying a contemporary sartorial story. Maintaining a balance between formal and casual aesthetics should not prove too difficult and the staples needed for cocktail attire are adaptable and can be worn countlessly.
Cocktail attire should not be overly formal like the black tie dress code, yet you should opt for a more polished and sophisticated look. The trick to perfecting this dress code brief is to juggle traditionalist aesthetic with fitted, youthful silhouette. Pay tribute to the classic undertones of traditional cocktail attire but incorporate the lively youth of modernised fit and newer prints and fabrics. From darker suiting to leather Oxfords and everything in between, here is our ultimate guide to styling cocktail attire seamlessly.
Related: Men's Guide to Dressing Formal Wear
Related: Men's Guide to Wearing Semi-Formal Attire
Related: Men's Guide to Dressing Business Casual
Suiting & Blazers
A wonderfully tailored suit that's easily adaptable or semi-formal blazers and trousers will complement cocktail looks. Darker suits are the traditional choice when it comes to the cocktail attire, so keep things classic with dusky navies, subdued cobalt and muted greys. Stick to tailored suits that are fitted, but not too tight. Keep blazers figure hugging, fresh and modern and alter pants to just skim the top of the footwear. Paying tribute to transitional day to night looks, keep cocktail attire adaptable with basic suits. Build up the look with pocket squares and inventive accessories, ensuring they enhance the classicism of your fitted silhouettes.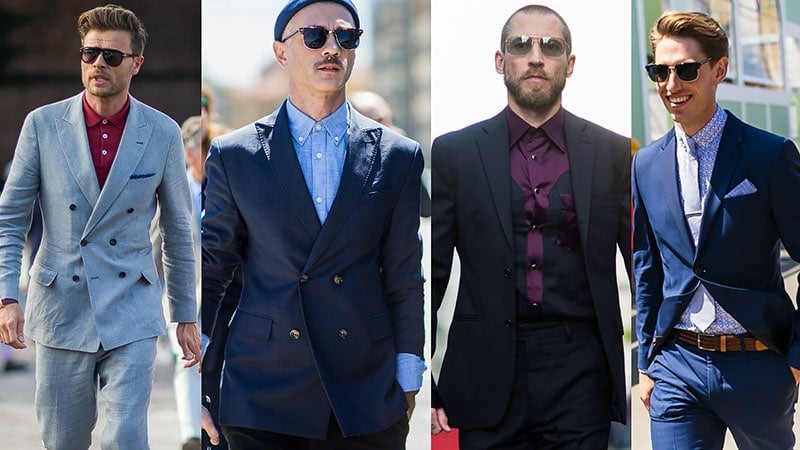 Recommended Cocktail Attire Suits
Recommended Cocktail Attire Blazers
Shirts
Fitted dress shirts are in order for cool cocktail attire, and are classic and safe in whites or powder blues. That being said, a modern or brighter patterned button down shirts can give a new edge to cocktail attire, provided they are not too over the top. Do not fear an introduction of bold patterned shirts for a traditionalist look with a twist. Build on the colour of your suit with complementary shades that will look presentable and well put together.
Related: What Shirts to Wear with a Grey Suit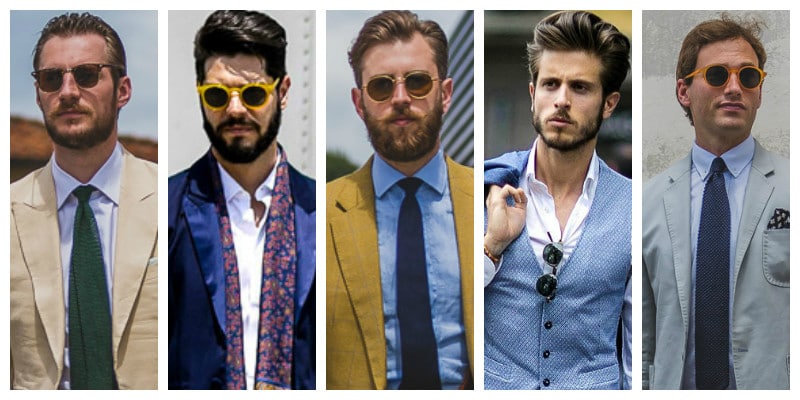 Recommended Cocktail Attire Shirts
Shoes
As with all menswear, great shoes ultimately ground cocktail looks and should not be overlooked or underestimated. A traditional round toe leather Oxford is timeless and generally the shoe of choice for cocktail attire looks. Go for this style in authentic leathers and switch things up with different textures like brogue punch holes. Loafers can also be considered if the event is less formal but keep them relatively classic with colours in brown, navy and black.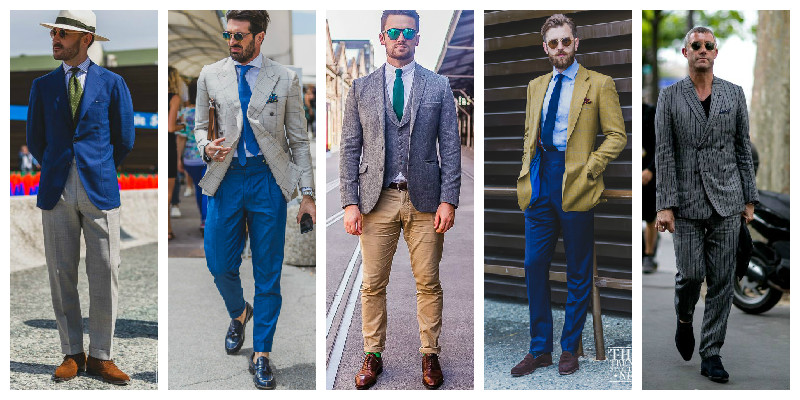 Recommended Cocktail Attire Shoes
Ties
For quasi-formal occasions, no tie with a few buttons undone is a relaxed, favourable look that transitions excellently well from day to night. This approach is undeniably popular, given it lends a desired effortlessness to cocktail looks. That being said, a slim tie can add dimension to cocktail attire. Try incorporating textured ties, like crocheted or silky versions but with more modern shaping. Do not fear a dash of colour with brighter hues of blues, reds and greens for a youthfulness that is not distasteful or gaudy.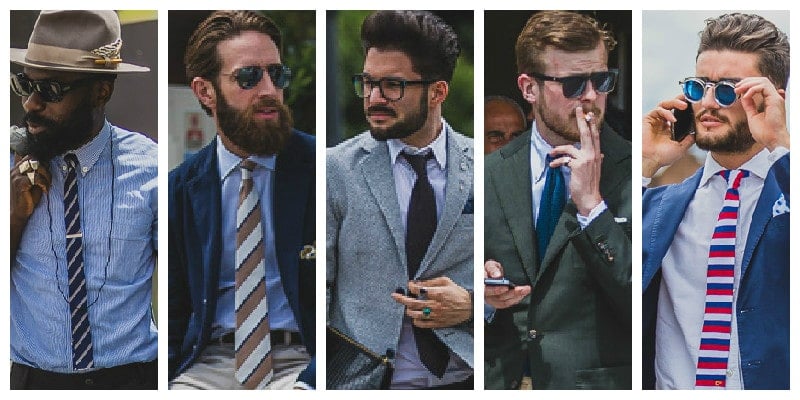 Recommended Cocktail Attire Ties
Pocket Squares
For a classic look that never ages, pocket squares will add depth to cocktail attire, maintaining a gentleman-like sensibility. Consider it an excellent opportunity for personal touches to cocktail looks, so be creative and find interesting colours and prints. Great for that finishing touch to a well-tailored look, a pocket square will ensure a polished and sleek refinement to any look, reaffirming personal style.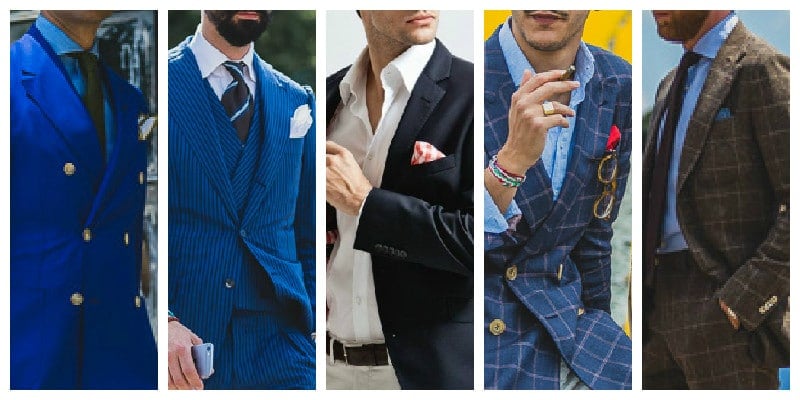 Recommended Cocktail Attire Pocket Squares
Belts
When deciding on an appropriate belt for a cocktail attire look, stick to the classics. Invest in more expensive pieces that are not overly convoluted and will last for many years and countless occasions. Go for basic shapes in good-quality materials for a look that registers classic, and incorporate belts in unexpected materials for a more contemporary look. Leather and suede are a safe choice and won't date, meaning they can be worn for years.
Related: How To Choose and Wear the Perfect Belt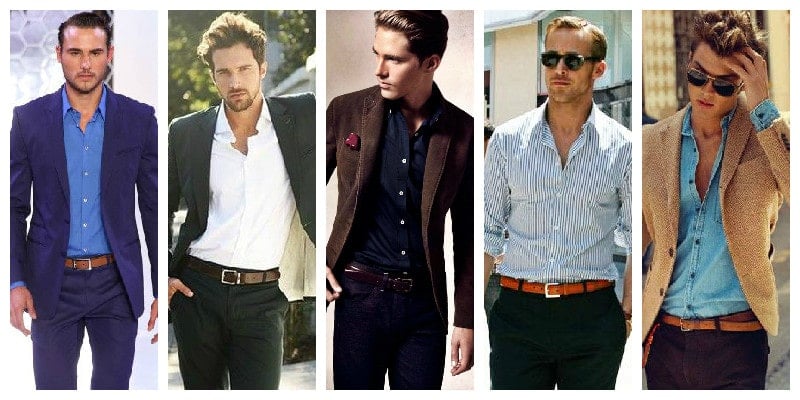 Recommended Cocktail Attire Belts
Fragrance & Cologne
Not to be forgotten as a pivotal component to noticeable cocktail looks is a great fragrance and cologne. Cocktail attire needs a great smelling accompaniment, and going for a clean, yet memorable scent will add depth to your quasi-formal looks. Keep things simple with minimalist scents that will provide a fresh edge to looks or accompany looks with stronger, potent scents for a grounding element to more basic or traditionalist cocktail attire.