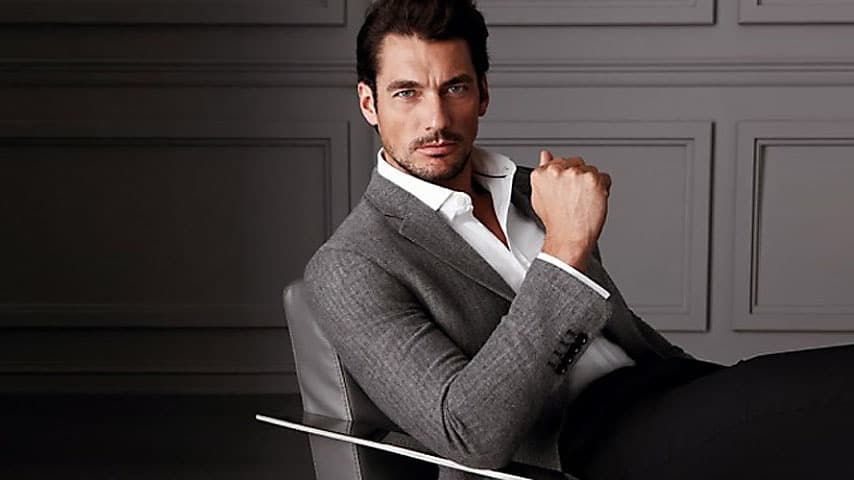 For men, cocktail attire isn't just throwing on any old suit – it's the perfect blend of style and sophistication. Cocktail attire dress code allows you have more room for personality than a classic formal dress code would allow. Whether it's a dressy event after work or a wedding reception, it's important to choose the right outfit that dominates the crowd. Opt for a tailored, fitted suit for the perfect balance of formality and flair. And don't be afraid to inject a pop of personality through accessories, like a colorful pocket square or patterned tie. With your sartorial game on point and a perfect drink in hand, you'll be the life of the party with this guide to cocktail attire for men.
What is Cocktail Attire for Men?
Cocktail attire is a dress code for men that can be interpreted in various ways. While some consider it formal, others perceive it as less dressy. Just like smart casual attire for men, there are countless ways to style it based on the occasion and season. It's generally recommended to enjoy the process of putting together a cocktail outfit. Cocktail attire is appropriate for occasions such as work events, cocktail parties, wedding receptions, dates, and celebrations. Prior to selecting your preferred cocktail outfit, make sure to verify the dress code mentioned in the invitation.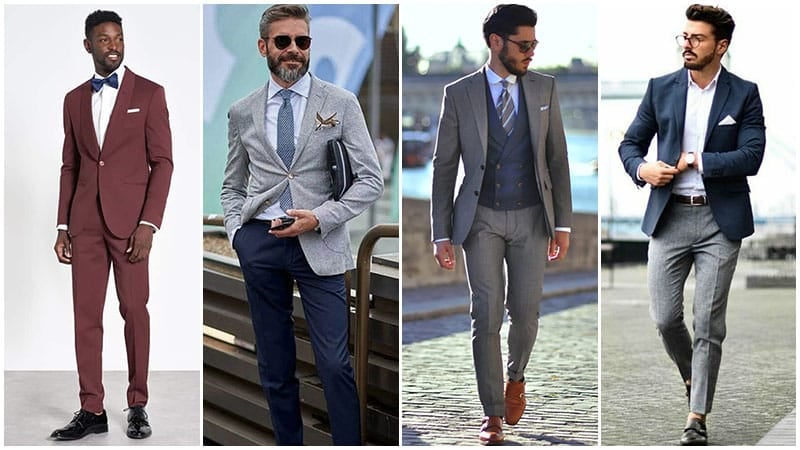 Men's Cocktail Attire Key Items
Men's Cocktail Attire Suiting
Cocktail attire can be enhanced with a well-fitting suit or semi-formal blazers and trousers. Opt for darker suits like dusky navies, subdued cobalt, and muted greys for a traditional choice. Make sure the suits are tailored but not overly tight. Blazers should have a figure-hugging and modern fit, while pants should skim the top of the footwear. To create a transitional day-to-night look, consider basic suits and add pocket squares and unique accessories that enhance the classic appeal of your fitted silhouettes.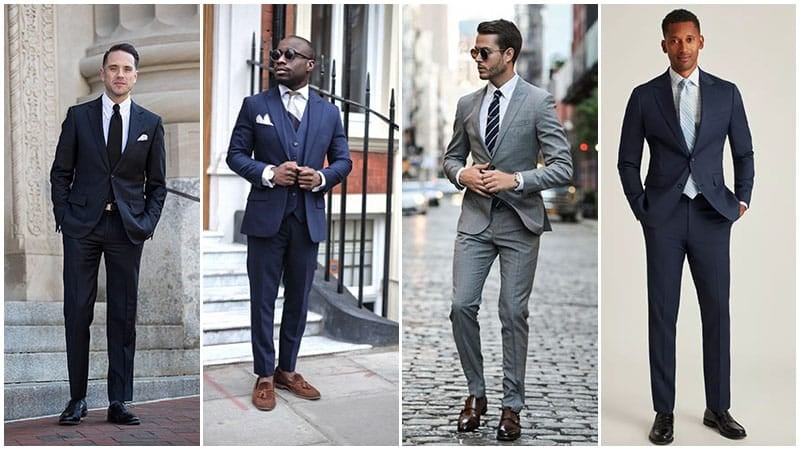 GET THE LOOK
Men's Cocktail Attire Blazers
Blazers are a versatile choice for a cocktail party, and there are multiple ways to style them appropriately. When attending an office party, it is advisable to stick to a dark-colored blazer, such as charcoal, navy, or black. However, if the occasion permits, you can experiment with brighter colors like cobalt or cream, which work especially well in warmer conditions or outdoor events. For a unique spin on the classic outfit, consider opting for a blazer made with patterned or textured fabric.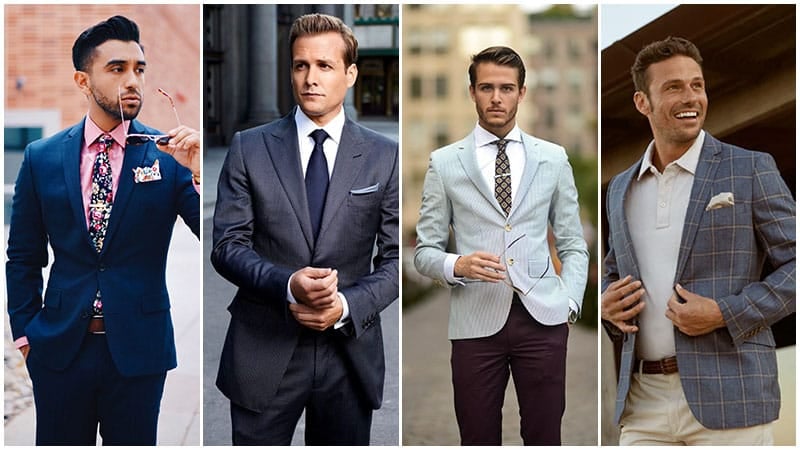 GET THE LOOK
Men's Cocktail Attire Shirts
The primary objective of wearing cocktail attire is to appear well-groomed and polished. This entails wearing a button-down oxford shirt that is neatly pressed and presentable. While white is the most common color for this dress code, it should not be mistaken as dull. By opting for a pointed and structured collar, you can add a touch of flair and pair it with a wide range of colorful accessories like a tie or a stylish blazer. Alternatively, you can explore other options like a T-shirt, but bear in mind that certain guidelines apply – to elevate its formality, pairing it with a dinner jacket such as a blazer is a must.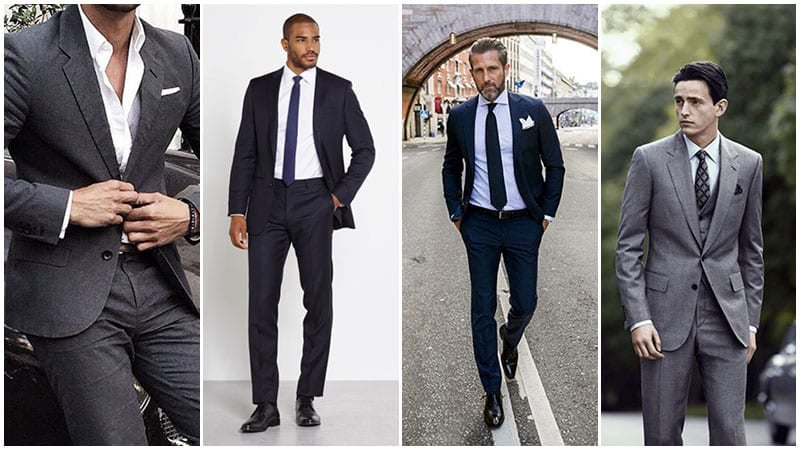 GET THE LOOK
Men's Cocktail Attire Pants
You can lean into safe territory with your pants choice for cocktail attire. Usually, it would be best if you tried a pair of well-fitted trousers – dark colors like charcoal, black, and navy are the best bet, as they match almost anything. Avoid wearing jeans or casual trousers as they will be too laid back for the event you're attending.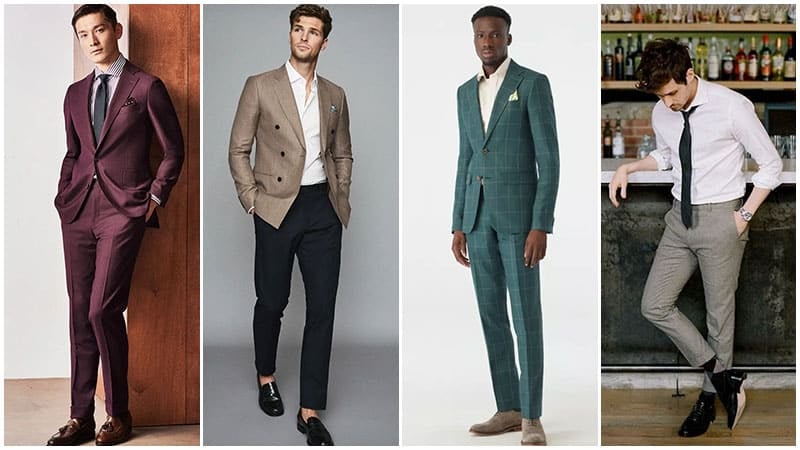 GET THE LOOK
Men's Cocktail Attire Shoes
Great shoes are an essential element in cocktail looks for men. They provide the foundation and should not be disregarded or underestimated. A classic round-toe leather Oxford shoe is a timeless choice for cocktail attire. Opt for authentic leather and add variety with different textures, such as brogue punch holes. For a less formal event, you can also consider loafers in brown, navy, or black colors, but keep them relatively classic.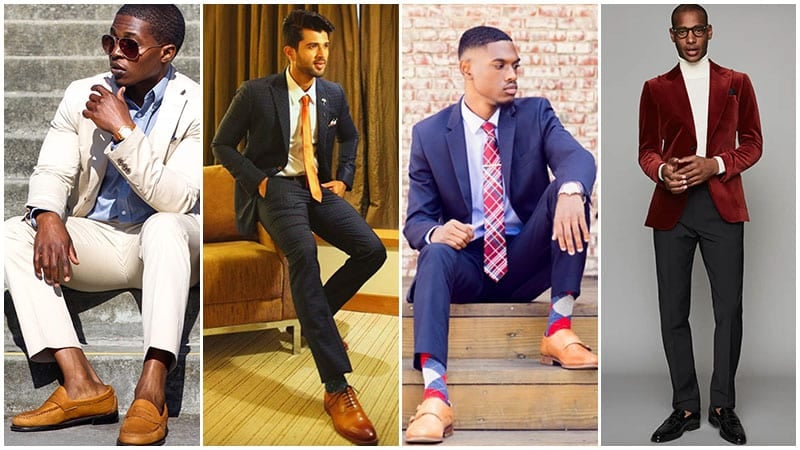 GET THE LOOK
Men's Cocktail Attire Ties
For semi-formal cocktail attire events, a relaxed and stylish look can be achieved by leaving a few buttons undone without wearing a tie. This approach is highly popular as it effortlessly transitions from day to night, adding a touch of sophistication to cocktail attire. Consider incorporating textured ties, such as crocheted or silky versions with modern shaping, to add depth. Don't hesitate to experiment with brighter hues of blues, reds, and greens for a youthful yet tasteful look.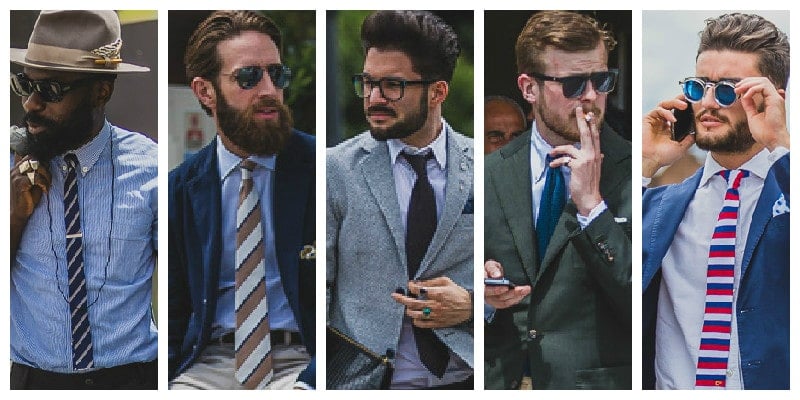 GET THE LOOK
Men's Cocktail Attire Pocket Squares
Pocket squares are a timeless accessory that adds depth to cocktail attire, exuding a refined sensibility. They offer an excellent opportunity to infuse personal touches into cocktail looks. Get creative and explore a range of colors and prints. A pocket square serves as the perfect finishing touch to a well-tailored outfit, enhancing its overall polish and sleek refinement while reaffirming personal style.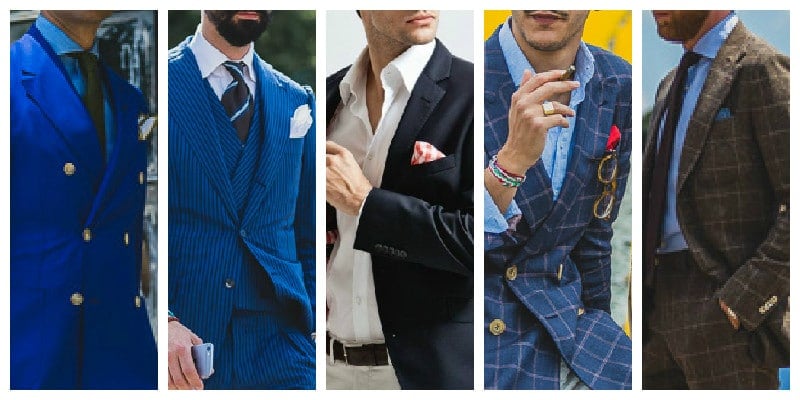 GET THE LOOK
Men's Cocktail Attire Belts
When choosing a belt to complement a cocktail attire look, it is advisable to opt for timeless designs. Prioritize investing in higher-quality pieces that are not overly intricate and will stand the test of time. Opt for simple shapes crafted from durable materials for a classic aesthetic. For a more modern spin, consider incorporating belts made from unconventional materials. Leather and suede are reliable choices that won't go out of style, ensuring their longevity in your wardrobe.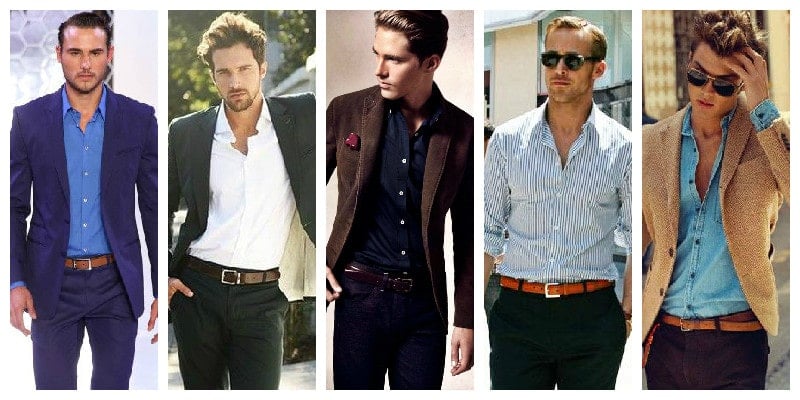 GET THE LOOK
Fragrance & Cologne
Cologne is an important element in completing a noticeable cocktail look. It adds depth to your quasi-formal attire and complements your overall style. For a fresh and minimalistic approach, opt for simple scents that provide a refreshing touch. Alternatively, stronger and more potent colognes for men can add a grounding element to your basic or traditionalist cocktail attire.
TOP BUYS
Men's Cocktail Attire Occasions
Formal Cocktail Attire For Men
The most dressed-up edition of this cocktail attire dress code is formal attire. This means you will steer clear of casual pieces such as T-shirts and roll necks and instead lean into more dignified pieces such as a button-down shirt and a suit. Stick to dark shades like black, charcoal, and navy – however, you can try out other hues like green and burgundy if you want to mix it up a bit. Stick to clean and tidy accessories, such as a tie and dress shoes.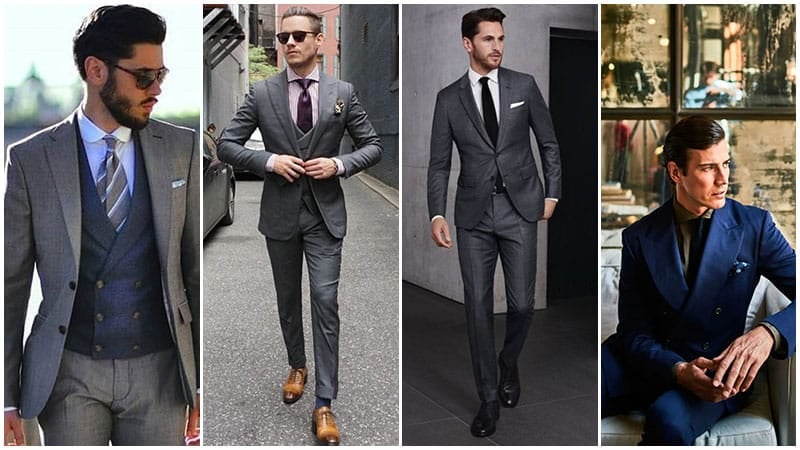 Casual Cocktail Attire Men
While it may seem counterintuitive to dress in a casual cocktail way, there are great ways you can make it work for your event. Unlike formal occasions, you can try out more laidback pieces such as a textured blazer, T-shirts, and turtlenecks here. However, just because an event is more casual doesn't mean you can whip out the denim and sneakers. Always ensure you look clean and tidy and avoid clothes you would wear to the pub.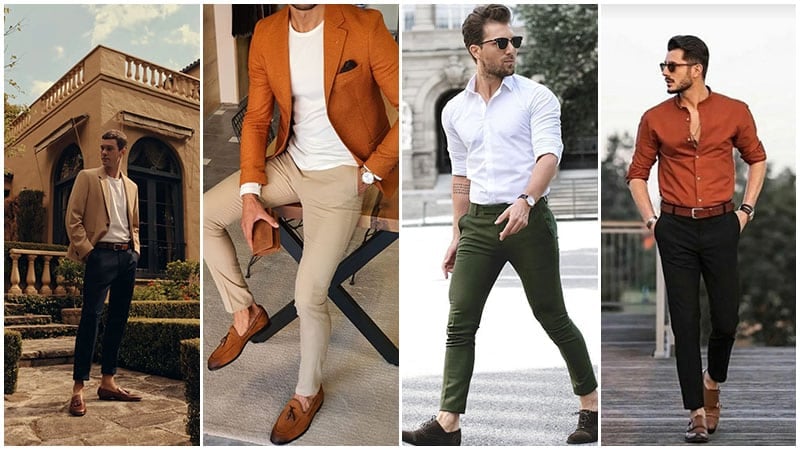 Summer Cocktail Attire For Men
When the sun is out, cocktail attire may seem like a difficult task to complete. However, you can swap out the basics for a more heat-friendly feel without looking underdressed. Start with the basics – a button-down shirt in a light color with a blazer and trousers. Instead of dark shades, opt for lighter options such as cream, blue or gray. You can also try out different fabrics like linens, which still give off a dressed-up feel without overheating. Steer clear from wearing casual elements, such as jeans, sneakers, or shorts – remember, it's about looking presentable and put-together.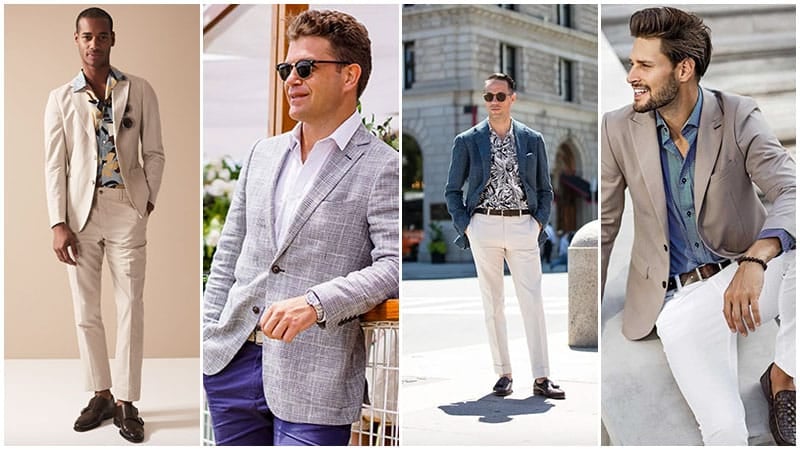 Winter Cocktail Attire Men
Dressing for colder months may come more easily to some, but it still requires some guidance. Begin with a crisp button-down or a roll neck sweater – while black remains the preferred choice, you can experiment with deeper other hues like charcoal or maroon. Next, opt for a more substantial blazer like wool or tweed – once again, darker colors such as green, navy, and black are in vogue. Instead of classic Oxford shoes, consider swapping them for a pair of cozy Chelsea boots to keep your ankles warm. Complete the ensemble with a stylish scarf or a well-knotted tie, and you'll be ready for any occasion.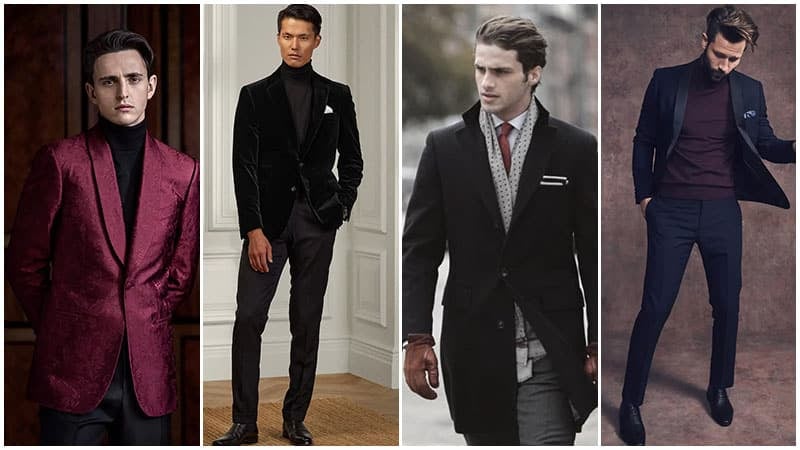 Wedding Cocktail Attire Men
Cocktail attire is typically expected for weddings. It's important to check the dress code mentioned in the event invitation before selecting your outfit. Generally, opt for well-presented and neat clothing. This can include a suit and tie or a dark blazer and trousers paired with a button-down shirt and dress shoes. Avoid wearing casual items like T-shirts or roll neck sweaters, as they might be considered too informal for such occasions.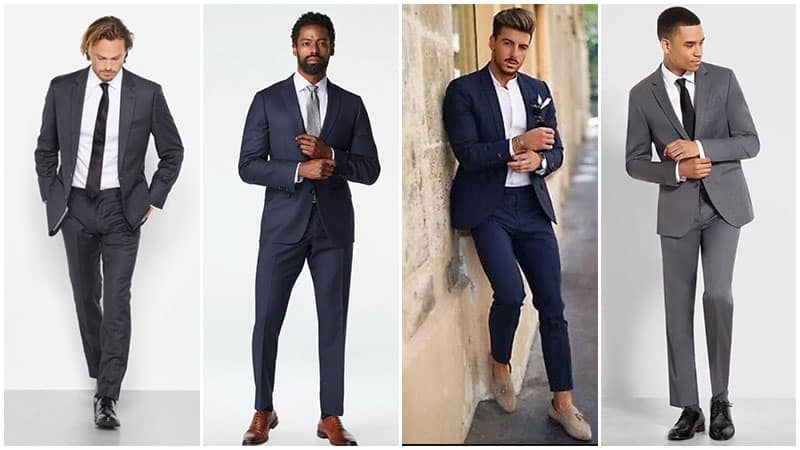 Beach Cocktail Attire For Men
When heading to the beach, it's best to keep your attire light and comfortable. However, beach cocktail attire still has some guidelines that are worth considering. Stick to classic pieces like a white button-down shirt and a suit. Instead of opting for dark colors, choose lighter shades such as cream and stone. This will help you stay cool while still looking stylish for smart occasions. You can skip the tie, but avoid wearing excessive accessories to ensure you blend in. Once you arrive at the event, feel free to remove your blazer and roll up your sleeves. Remember to tuck your shirt into your pants and avoid wearing sandals.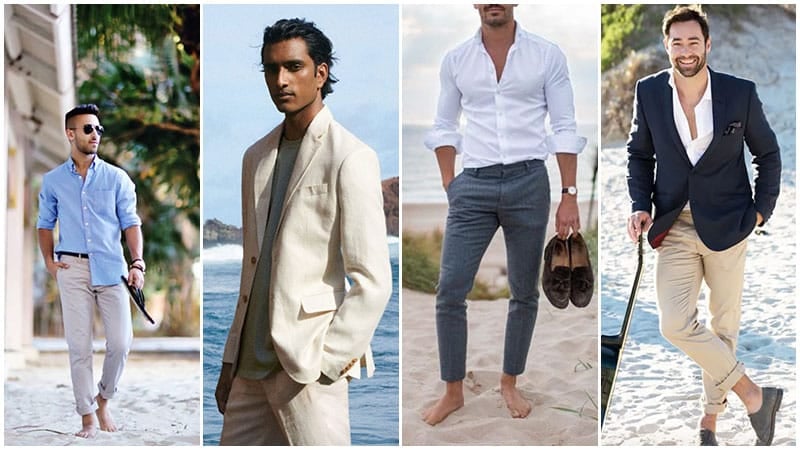 Dos And Don't Of Cocktail Attire
Do: Stick to clean and tidy pieces, such as a white button-down and dark suit.
Do: Have fun with textures and colors if the event calls for it.
Do: Ensure your clothes are well-fitted and tailored to your body.
Do: Double-check the dress code before you commit to an outfit.
Don't: Wear sneakers or jeans – leave that for the pub!
Don't: Out-dress the guest of honor – stick to classic pieces, so you don't overdo it
Don't: Wear a printed T-shirt for more casual events. If you want to keep it laidback, stick to block styles in either black, white, or gray.
Don't: Wear a tuxedo strictly limited to black tie events.
Top Tips For Dressing Cocktail Attire
Always check the invitation and destination before you begin – a work event can have a very different dress code than a beach wedding.
Make sure the suit or blazer you are wearing is slim fit and tailored to your body.
Stick to neutral colors, but don't be afraid to play around with modern hues like charcoal and gray for an updated version of the classic dark suit.
For casual events, try out shirt alternatives such as T-shirts and roll necks with a well-tailored blazer.
You can't go wrong with a tie. This will bring all of the key elements together and can instantly enhance the formality of an outfit.
Rely on the basics – you don't need to wear a tuxedo to look put together. Instead, opt for a well-fitting suit with clean key pieces for a timeless feel.
Cocktail Attire for Men FAQs
What is cocktail attire for men?
Cocktail attire is a semi-formal style of dress for both men and women. Conceived in the '20s and '30s, this dress code has since become a regular stipulation for many evening social functions. Today, dressing for cocktail attire requires a blend of formality and modernity. So, while a suit is a general requirement, choosing one that is contemporary and fashionable is the trick to pulling off this code in style. As such, an event featuring this attire is the perfect chance to dress up and look sleek while embracing your unique style.
Do I need to wear a tuxedo jacket with cocktail attire?
A tuxedo is too formal for a cocktail event. Wear a tailored suit or blazer with a pair of fitted or tailored trousers instead.
What color suit should I wear to a cocktail event?
Select a tailored suit featuring a dark hue, such as navy, subdued cobalt, or the muted grey.
What shirt should I wear to a cocktail event?
Opt for a fitted shirt in a classic color for a smart style or a bold print for a fashion-forward appearance.
SUBSCRIBE TO OUR NEWSLETTER
Subscribe to our mailing list and get interesting stuff and updates to your email inbox.