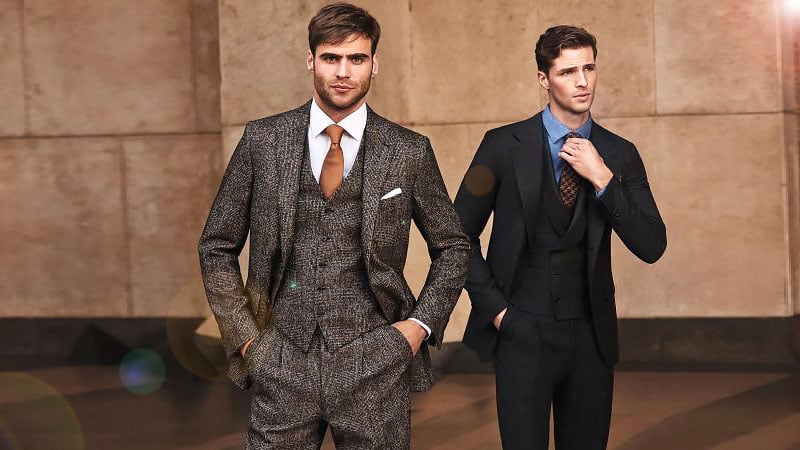 The holiday season is always packed with parties, and looking your best is essential. Whether you're attending your company's big bash or having drinks with your colleagues, dressing the right way is a must. This could be your shot to make a lasting impression on your boss or impress your workmates. But what to wear? The trick to nailing that Christmas party dress code is knowing where to infuse some of your personal style while still looking sophisticated. This guide will show you how to master the art of dressing for Christmas party attire.
Men's Christmas Party Outfits
Smart Casual Christmas Party
For a smart casual Christmas party, you have the opportunity to combine a laidback style with a touch of professionalism. Opt for relaxed trousers paired with an unbuttoned shirt. If the weather allows, roll up your sleeves and choose lighter shades such as pale blue, beige, or white. To create a seamless look for the colder winter season, add a sleek blazer and swap out dress shoes for sneakers to maintain a more relaxed vibe. Whether you're attending a dinner party or hitting the dance floor, you'll be able to celebrate the year's end in a stylish manner.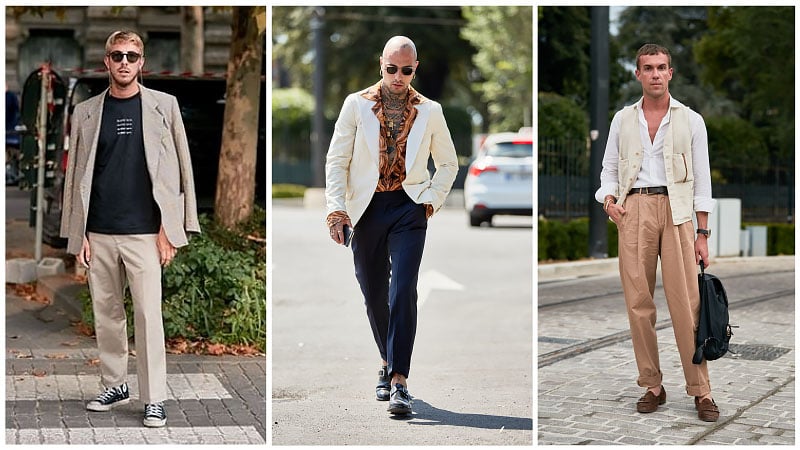 GET THE LOOK
Casual Christmas Party
Enjoy a wonderful evening with your colleagues at the Christmas party, dressed in a relaxed, casual outfit. This is the perfect occasion to wear jeans, a comfortable T-shirt, and cool sneakers without worrying about being underdressed. If you're headed to a club or bar for the evening, choose a pair of dark pants and a long shirt. Complete your look by wearing loafers for comfort, and feel free to mix and match colors to add a touch of festive cheer.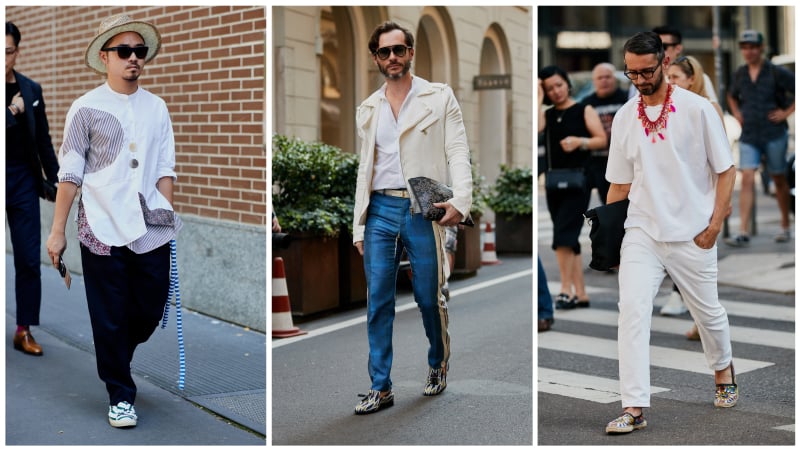 GET THE LOOK
Semi-Formal Christmas Party
Don't worry if the Christmas party invitation specifies a "semi-formal" dress code. Mastering this sleek and stylish attire is a breeze when you have the right pieces. Opt for a suit in navy, brown, cream, light blue, or grey suit for daytime events. If a suit isn't your style, go for separates such as trousers, a blazer, and a dress shirt paired with dress shoes. You can take it easy and skip the tie for a more relaxed celebration of the festive season.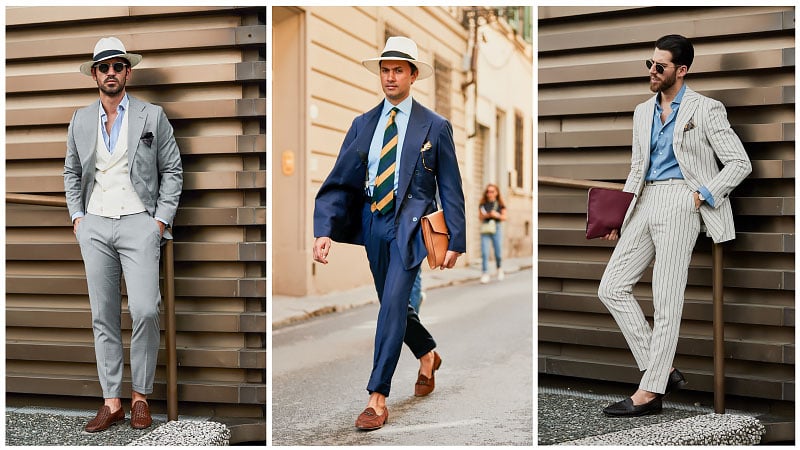 GET THE LOOK
Black Tie Formal Christmas Party
If you have received an invitation indicating a "formal" or "black tie" dress code, you must get ready for an elegant evening. Typically, these occasions call for a tuxedo, a well-fitted dress shirt, and impeccable tailoring. Take your pick between a shawl or peak lapel to accentuate your shoulders, and opt for darker shades to match the event. Complete your look with a bow tie and pocket square for the perfect final touch. Don't be afraid to experiment with luxurious fabrics like velvet and silk to make a lasting impression.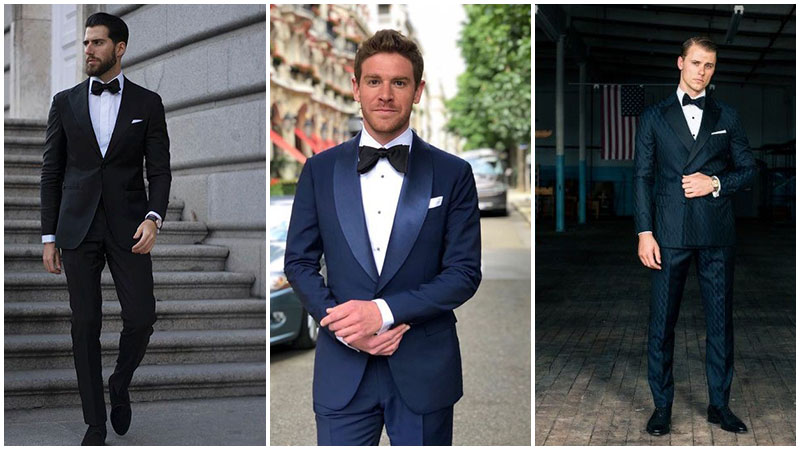 GET THE LOOK
Cocktail Attire Christmas Party
The cocktail attire dress code balances elegance and relaxation, creating a modern yet formal look. Don't worry if you've been invited with this dress code – a sleek suit in shades of navy, cobalt, or grey will do the trick. Feel free to get creative with accessories like a pocket square tie and ditch the tie to add personality to your ensemble.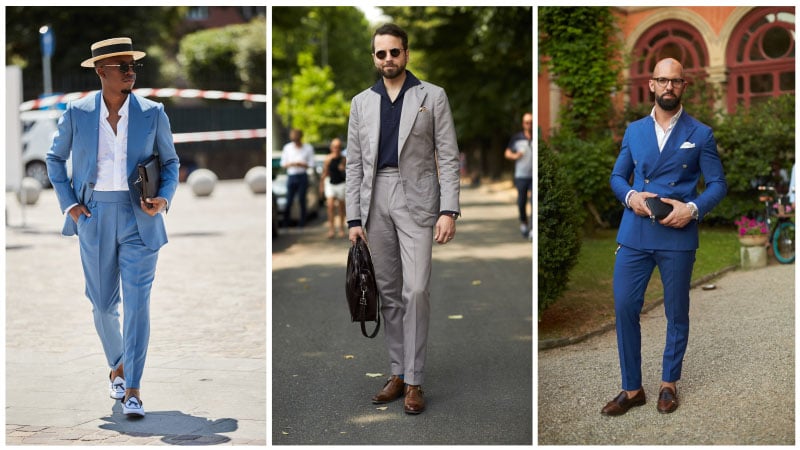 GET THE LOOK
Business Casual Christmas Party
A business casual party offers flexibility in clothing choices, as the dress code is not too strict. Opt for a button-down shirt and a suit for a professional yet relaxed look. If you prefer not to wear a full suit, consider swapping trousers for chinos and adding a blazer. Complete the outfit with comfortable dress shoes to ensure style and comfort throughout the evening.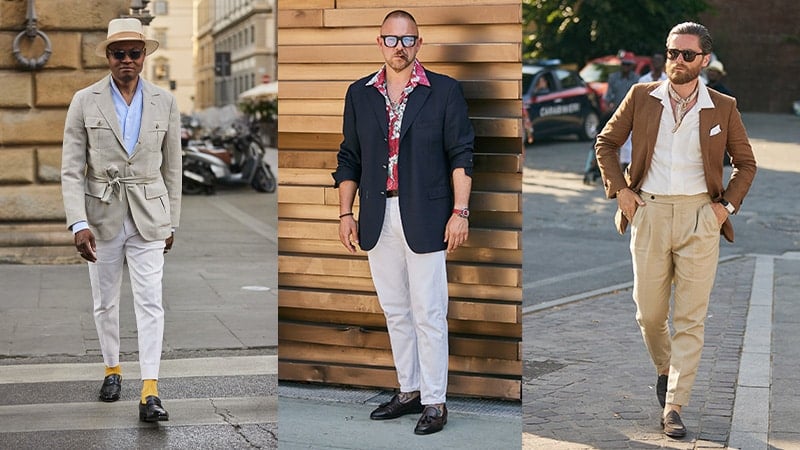 GET THE LOOK
Winter Christmas Party
Get into the holiday spirit by dressing for a stylish white Christmas. Stay cozy and chic by choosing the right attire according to the dress code. Keep warm with a wool overcoat and a scarf, or opt for a more formal look with suit trousers and a dress shirt. For casual parties, add a rollneck and a blazer for a festive yet relaxed vibe. Consider shades of grey, brown, or blue to complete your celebratory ensemble.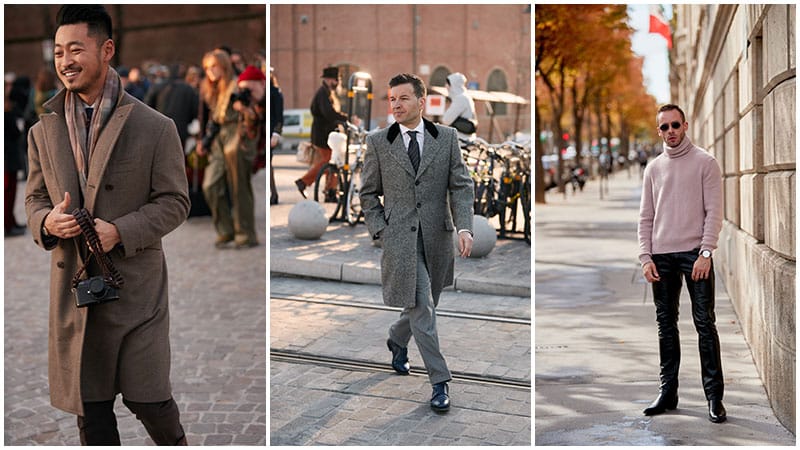 Summer Christmas Party
If you're celebrating a summer Christmas party, opt for light and breathable fabrics like linen or cotton. Choose colors such as white, beige, blue, green, and red for a festive look. You can mix and match by wearing a light blazer with darker chinos or pairing a patterned shirt with plain trousers for maximum impact. Regarding shoes, consider brogues, boat shoes, or loafers to add a touch of sophistication without appearing too formal.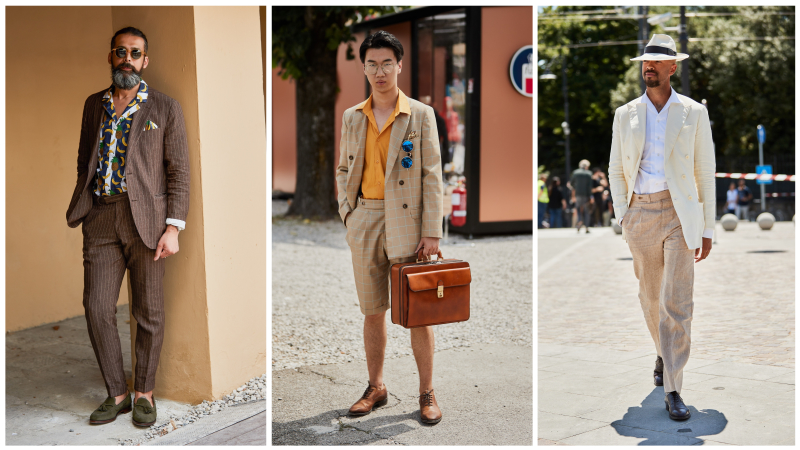 What to Wear to a Christmas Party Tips
If in doubt, you can't go wrong with a well-tailored suit.
Swap out a button-down for a T-shirt or casual shirt if you're going to an informal event.
Darker shades work best for formal occasions – stick to lighter ones for a day event or in warmer climates.
Polish an outfit by adding cool accessories such as sunglasses, bag, belt, pocket square, or tie.
Men's Christmas Party Attire FAQs
What do guys wear to a Christmas party?
How you dress for a Christmas party of course depends on the type of event. Refer to the dress code, if supplied – a black-tie party calls for a tuxedo, while casual means jeans and a T-shirt. Next, it's important to dress appropriately for the season and time of day or night. Lighter clothes are best for summer Christmas parties and daytime events, while darker outfits suit evening and winter Christmas parties. Finally, add a festive element with a luxurious accessory – think your best shades, a silk pocket square or scarf, a ring or chain, or a sharp hat.
What do you wear to a Christmas party at someone's house?
A Christmas party at a house is more casual than other types of festive events, so you can wear a more relaxed combination like jeans and a T-shirt or button-down, or a roll-neck. However, as it is a special occasion, it's important to dress add a festive touch. Stylish details like sleek sneakers, loafers, or boots will elevate your look, as will a tailored summer jacket or winter coat. Ask the host if there are any special additions to the dress code too, such as a Christmas jumper. Steer clear of a cheap novelty jumper and opt for a timeless option such as a Fair Isle sweater in burgundy or navy.
Can you wear jeans to a Christmas party?
As a rule, jeans are too casual for most Christmas parties – unless you're headed to a friend's home or clubbing. Generally, trousers are preferred for smart-casual Christmas 'dos, while office and cocktail parties call for a suit – though you can skip the tie. 
What do you wear to a church Christmas party?
Church Christmas parties generally fall into the 'smart casual' spectrum of the festive dress code. While it's important to look your best – this is a church event, after all, so leave your jeans at home – it's not a strictly formal event. If the party involves activities such as scavenger hunts, games, or dancing, don't wear anything too restrictive. Plus, as the party is for all ages and members of the church community, it will likely take place during the day, so bear that in mind when you plan your outfit. 
What are good colors to wear for Christmas?
When dressing up for Christmas, the color scheme is very important, as you don't want to end up looking like a holly bush or candy cane. Choose more wearable tones of the classic Christmas colors, such as burgundy or forest green, and pair one piece in that color with neutrals so that it stands out. Alternatively, you can add subtle Christmas flair through patterns instead of solid colors – think a tartan pocket square – or richly-toned accessories like a gold tie clip.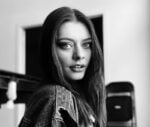 Alexandra Feiam is an experienced fashion writer who holds a degree in journalism. She has an impressive portfolio and expertise working as the Editor at Power Retail and Commercial Content Editor at Newscorp. Ally has been writing for The TrendSpotter since 2018, and her work has been featured in notable publications such as The Herald Sun, Arirang TV South Korea, Kidspot, The House of Wellness, and The Daily Telegraph.
SUBSCRIBE TO OUR NEWSLETTER
Subscribe to our mailing list and get interesting stuff and updates to your email inbox.