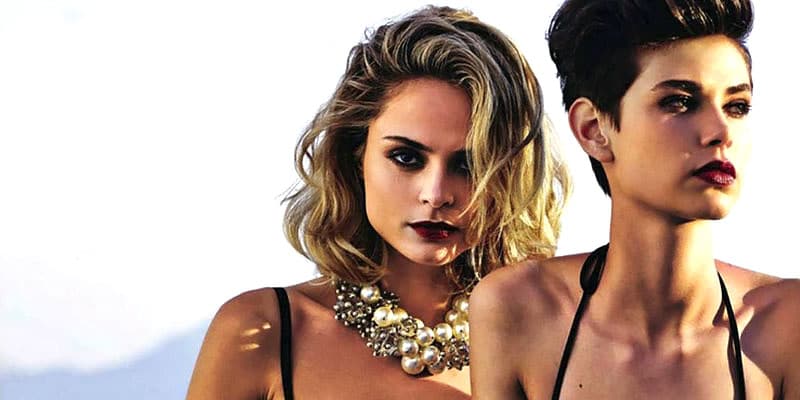 Whether you've only just mustered up the courage to chop your hair off or have been sporting a short style for a long time, we will show you a variety of ways to style short hair. Inspired by six famous faces, we have the advice you need to style everything from a pixie cut to bohemian waves.
RELATED: 30 Best Short Hairstyles & Haircuts for Women
1. Pixie Cut
Pixie's might seem like a one-trick pony, but this dramatic cut is versatile if you know what to do with it. Scarlett Johansson is currently rocking a razor undercut pixie, and it seems that with every red carpet appearance she finds a new way to style it. Two of her favorite styles are voluminous and side-swept. For a fun night out with the girls start with a volume spray such as KMS Add Volume Root and Body Lift Spray and run various sections through a thick barreled curling iron. Alternate the direction of the iron to help create height and texture.
2. Blunt Cut
If you want a high fashion look, then ask your hairdresser to give you a blunt bob like Jourdan Dunn. The supermodel's sharp cut sits above her collarbone and includes angled layers. To play down the sharp angle, opt for ombre which will soften the effect. To get Jourdan's textured style, curl hair away from the face and rub Redken's Powder Grip into your roots to lift the hair for a teased look. In contrast, this cut also works with glossy, straight hair which shows off the dramatic angle.
3. Old Hollywood
When Taylor Swift cut her hair, it marked the start of a new era. While she continues to maintain her Old Hollywood style, she is continually reinventing past looks and showcasing them in modern ways. Taylor is also a fan of the fringe, and these two hairstyles feature different ways to wear bangs. To achieve either of these styles, we recommend curling the hair and pinning each curl to set. Once the hair has cooled, un-pin and comb through each curl to loosen the wave. For her formal look, curl the fringe, tuck the hair behind one ear and spray with Kerastase Laque Couture to hold it in place.
4. Bohemian
No one does short beach waves like Ashley Benson; she knows how to change her style while still keeping with her bead-hair comfort zone. While both looks below feature bohemian waves, one also features braids and a faux shave. When creating the relaxed curl that both these looks require, be sure to leave the ends out when curling with the Remington Curling Iron. Brush the curls once you've finished to turn them into soft waves. The idea with both these styles is not to be too fussy over details because in order for this look to be edgy you have to take a no-fuss approach.
5. Straight Hair
For a sophisticated look, nothing beats slick, dead straight hair. Australian Rose Byrne is a fan and often plays around with variations of the style. Starting with a crisp center or side part, comb gel through damp hair and blow-dry. Then use the Ghd Styler and run it through the hair getting as close as you can to the roots. If your hair is naturally straight, then bend the ends under with a round brush when blow-drying.
6. Lob
If your hair has been short for a while, it's only natural to want longer locks. However, to gain that length, we must endure through the awkward middle phase. Nowadays we refer to this length as the lob, and stars such as Elizabeth Olsen have made it their signature style. Elizabeth prefers a deep side part no matter whether she's wearing shaggy waves or a curly updo to create an effortless finish. Use a double-barrelled iron, work the hair in different directions before applying Paul Mitchell's Spray Wax into the hair for texture and shine.
FAQs
How can I style my short hair fast?
Styling your short hair fast will depend on the cut you have. If you have a pixie cut, run some matte pomade through it for a casual, tousled look. For a longer bob, use a flat iron to create curls through the top section, then a texturizing spray before finger brushing through to create casual movement. Of course, quick up-dos such as a low bun, ponytail, braided side, or half-up are fast, low-maintenance options as well.
What is the best styling product for short hair?   
Texturizing products such as sea salt spray, matte pomade, or dry shampoo paste are all great for creating grip and hold, as well as movement. Try R+Co Badlands, Short Sexy Hair Slept In Texture Creme, and Eleven Sea Salt Texture Spray.
What is the best hairstyle for short hair?
The best hairstyle for short hair will depend a lot on the shape of your faces. Pixie cuts and bobs are both great styles that suit most faces shapes. They're also versatile so that the look can be tailored to you, and they're easy to wear and maintain. Plus, both have multiple ways they can be styled, making them perfect for all occasions.
Will I look fatter with short hair?
Short hair won't make you look fatter, but you do need to choose the right style for your face shape. Pixie cuts can be adapted for pretty much anyone. However, women with heart, oval, round, and triangle faces will have the most choice for styles that work with their shape. When it comes to bobs, again, they suit most faces, but round and square ones will find the extra length in a long bob will work better.  
SUBSCRIBE TO OUR NEWSLETTER
Subscribe to our mailing list and get interesting stuff and updates to your email inbox.