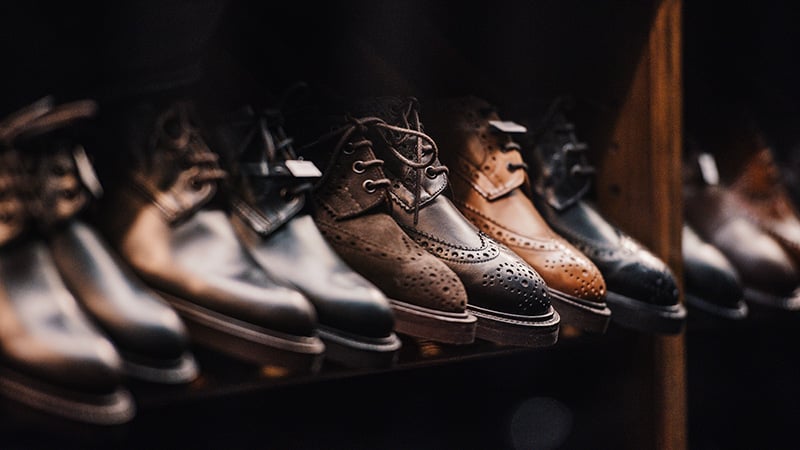 When the temperature starts to drop, and the weather gets chilly, there's one thing you need to ensure – that you're warm, stylish, and comfortable. That's where boots come into play. From the construction site to the office, an outdoor wedding, and catch-up with friends at a bar, there are endless places to wear boots, and each has its own history. In this guide, we have compiled a list of all the different types of boots for men and how to style them for any occasion.
1. Chelsea Boots
Chelsea boots are an incredibly popular choice of footwear for men. Stylish and versatile, they sit close to the ankle and feature an elastic on the side for flexibility. There are many ways to style Chelsea boots, and because they're a staple piece for guys, you can wear them almost anywhere. For casual settings, try wearing them with a pair of jeans or chinos – add a basic T-shirt or sweater if you want to dress it up. For a more formal event, swap out a T-shirt for a button-down or roll-neck in the cold months. A blazer in a checked pattern or solid shade will upgrade the overall look, and the boots will add the perfect finishing touch. For the right fit, ensure your trousers hit the ankle, and opt for neutral shades like black or brown to match myriad outfits.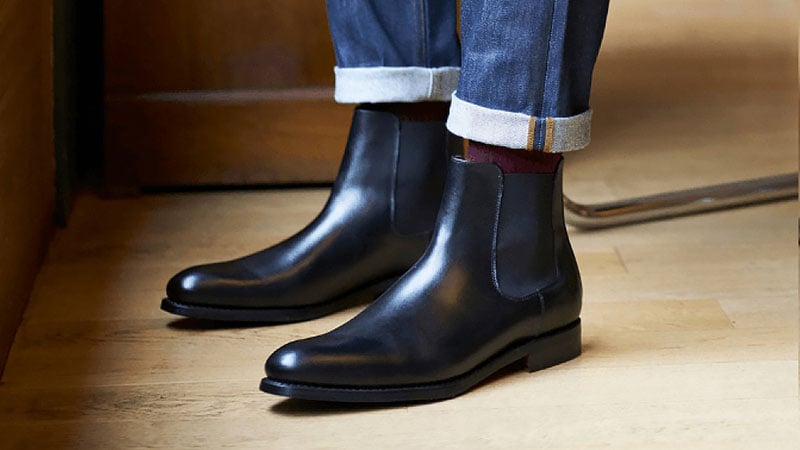 2. Chukka Boots
The Chukka boot has been a part of men's fashion since WWII and is an easy choice to wear with almost any outfit. They're usually made from leather or suede, featuring two sets of eyelets and open laces. While traditionally, they have a leather sole, you can also find some with rubber or wedge bottoms, which are perfect for a more casual setting. When styling the look, try it with jeans and a T-shirt – this is perfect for every day and is comfortable enough to wear to work or a gathering. If you require them for a more formal setting, swap them out for a suit – darker shoe shades are your best option, as you can swap out different fabric shades without clashing or appearing too brash.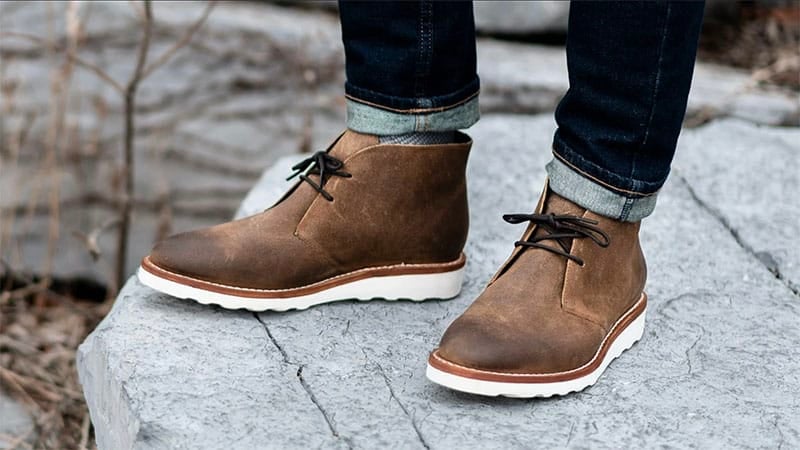 3. Desert Boots
If you're looking for footwear that will stand the test of time, desert boots are the best option. Not only are they durable and hardwearing, but they're also stylish and timeless in design, so you can wear them almost anywhere. With a leather inner lining, they prevent sweating and are esper comfortable under your feet. Some may confuse the design with the Chukka boot, and while they offer a few similarities in silhouette, the desert boot will typically have a thicker sole so that you can do more hardcore walking in them. Much like its Chukka counterpart, you can style this footwear almost any way you like. From formal suits to a pair of chinos and hoodies, these are the shoes you can wear day in and day out without any hassles.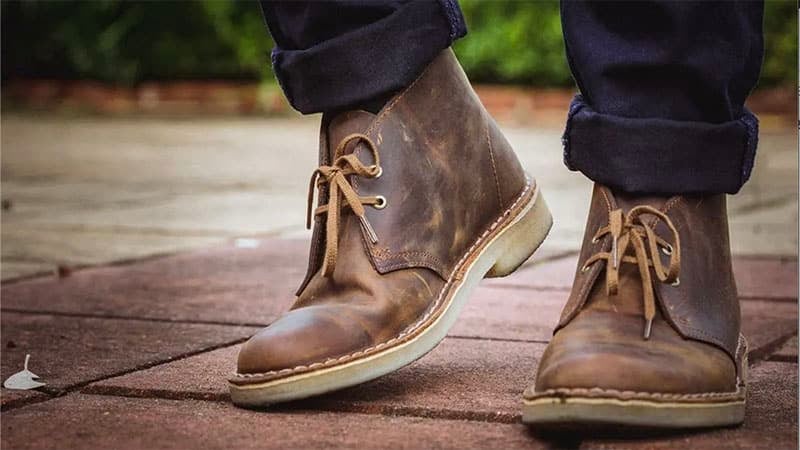 4. Dress Boot
When the time comes for your to dress to the nines, turn to these dress shoes. There are many different styles of footwear that you can wear to a smart casual, semi-formal, or black tie event, but the most common include Balmoral, Oxford, or Derby boots – they're simple in design but present a sophisticated edge over others. If you don't want to go for fussy laces or intricate brogue designs, try out a Desert boot or Chukka boot, which is plain in design but still packs a serious punch. These look great with suits or formal trousers, chinos, and even jeans. However, if you want to dress them up more, opt for a classic button-up shirt, smart blazer, or a sweater to tie them all together.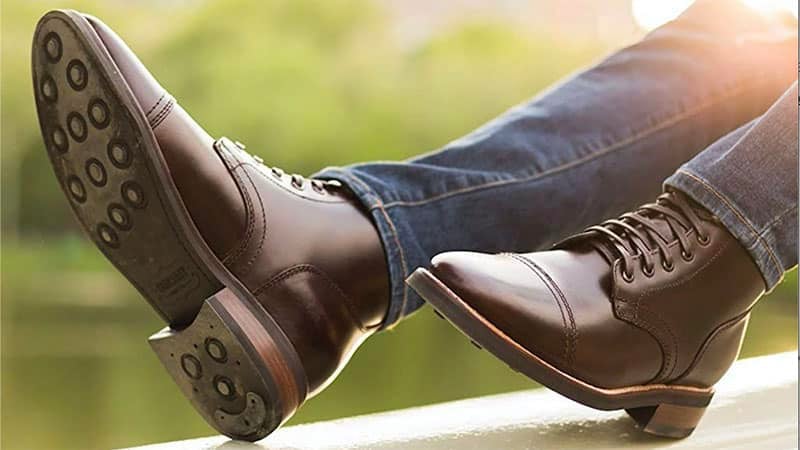 5. Service Boots
As the name suggests, the Service boot has been around since the First World War. Made for the toughest conditions, they provide solid protection for the feet but also look classic enough to wear almost anywhere. A typical Service boot features a low block heel, capped toe, leather build, and ankle height. Thanks to their high-quality construction, they'll also last you the test of time. Before you purchase this boot, ensure you've chosen a color that you will wear often. You can choose myriad options, and they all work well with any outfit – black is the most common choice, but you can also select brown, burgundy, or cream if you want something for every season.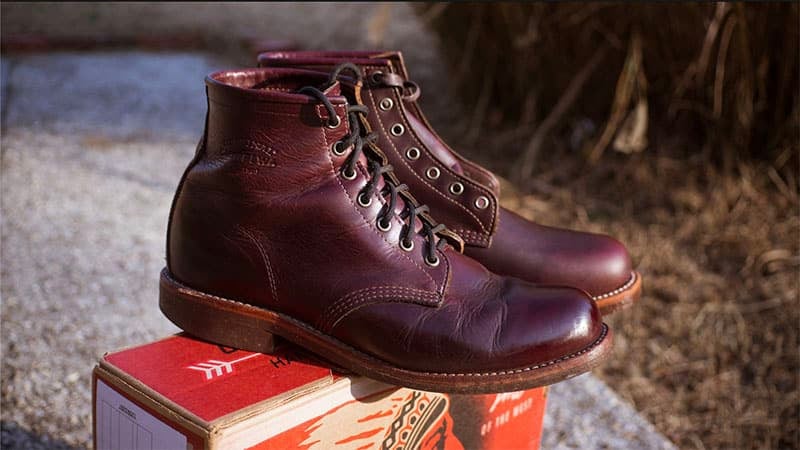 6. Hiking Boots
When it's time to explore nature and reconnect with the earth, you can't go past a pair of hiking boots. Built to withstand the harshest conditions, they offer protection for the feet and support for every step. It's important that you do your research before committing to purchase these, as every brand offers its own benefits. Make sure you have a good grip on the sole so you don't slip. Ensure they're waterproof and offer breathable fabric to prevent sweating. A lightweight shoe with a thinner sole and fabric is ideal for summer hikes, whereas winter weather calls for insulated and heavier footwear.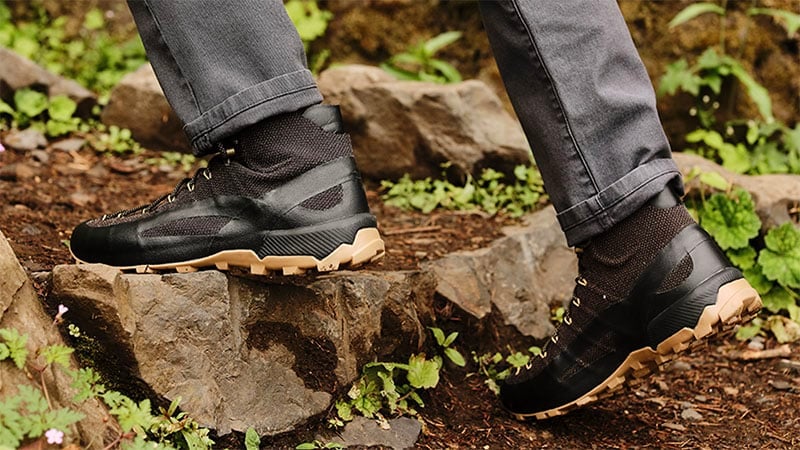 7. Derby Boots
For occasions when you need to dress formally but require a show with a sturdy feel, the Derby boot is ideal for you. Providing the elements of a sophisticated show with the added benefits of comfort and warmth, they are perfect for suits and smart casual settings where other footwear may not be appropriate. This shoe has a long history, going all the way back to the mid-19th century when it was used as hunting attire. As such, they offer enough protection to walk around in but still have enough refinement to wear with your best suit, blazer, and trousers.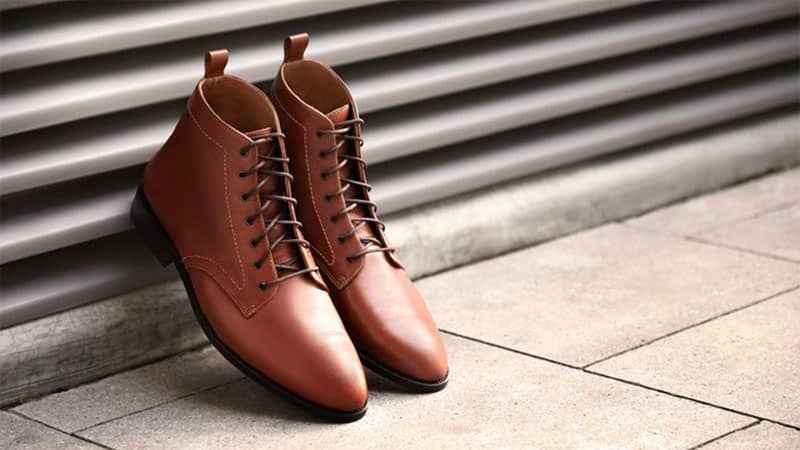 8. Oxford Boots
Similar to the Derby boot, Oxford boots have been a staple piece of footwear for men for centuries. Dating back to the 18th century, this silhouette is the epitome of menswear shoes. While the two are very similar, the main difference between Oxford and Derby boots is in the lacing – while Derby has open lacing, the Oxford is closed and therefore better for more formal settings. This dress boot looks great with suits and smart casual attire, such as chinos, trousers, and button-down shirts. Opt for darker colors when picking a pair, as you can wear them with a far wider spectrum of shades.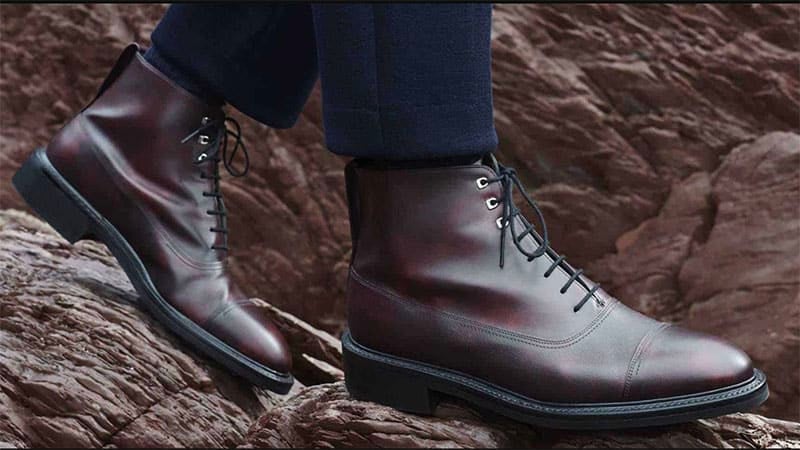 9. Work Boots
When it's time to get the hard work done, you can't go past a pair of boots like these. Tough and hardwearing, work boots will stand the test of time and protect your feet from rough conditions. Whether you are on the construction site, heading to the warehouse, or doing some gardening in your backyard, they will keep your feet safe from falling items, wet weather, and extreme conditions. For those on the lookout for a pair of durable boots, opt for the standout brands like Timberland, Hard Yakka, or anything with a high-cut leather ankle, steel toe cap, rubber sole, and extra ankle support.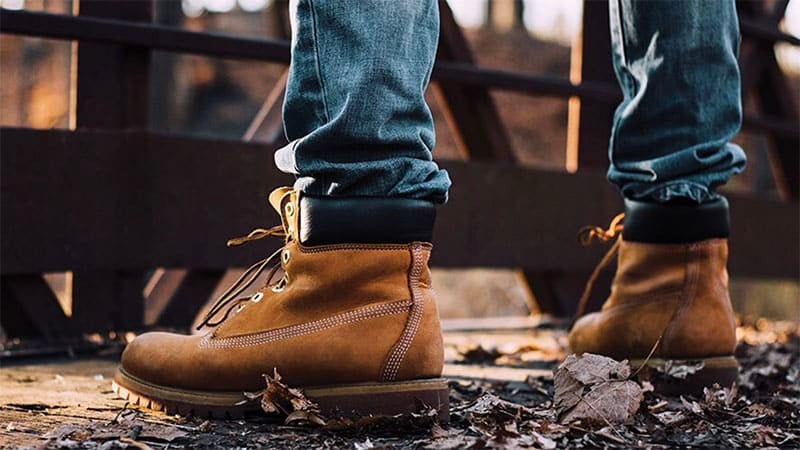 10. Cowboy Boots
Dating back to the 16th century, the cowboy boot is an integral part of the equestrian lifestyle in the Americas. However, in the last century, this style has become more of a fashion statement than just practical footwear. With its recognizable pointed toe, high stacked heel, and longline silhouette, you can find these boots made from exotic skins like alligator, snake, or ostrich. However, you will find the most traditional construction today is leather, often embellished designs. Without any laces, they're excellent choices for riding – but you don't have to wear them for horseback adventures exclusively. They also prevent dirt and dust from hitting your skin, and they look great with jeans or trousers for a smart casual look.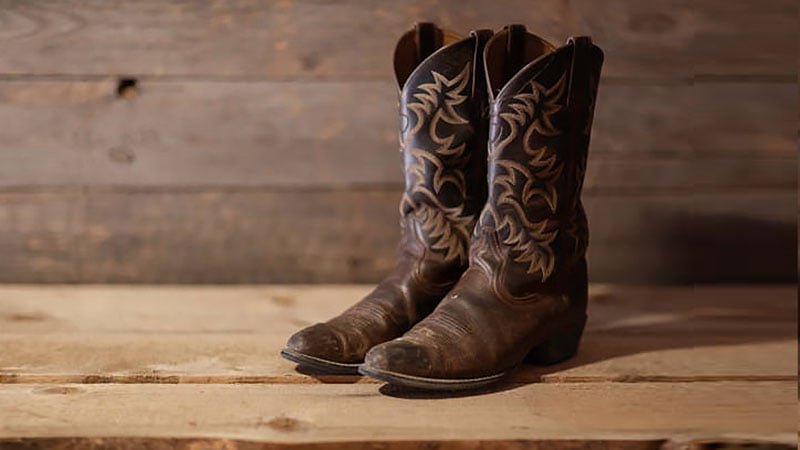 11. Moc Toe Boots
A Moc Toe boot, formally known as a mocassin boot, has a long history in the United States. Inspired by the footwear worn by Native Americans, they offer the protection of a traditional boot but feature a stitch across the toe box area, combining two strips of fabric a la a mocassin shoe. With white rubber soles, they make for excellent work boots and can withstand plenty of tough terrain before requiring attention. But thanks to their timeless silhouette, you can also dress them up by pairing them with chinos or jeans. Traditionally, however, you will find these on construction sites, on farms, and in working conditions as they can protect feet from wet weather and other extreme conditions.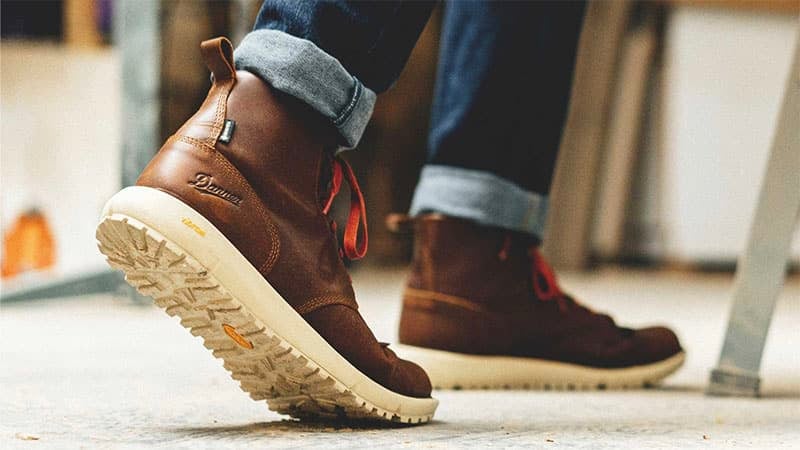 12. Jodhpur Boots
As the name suggests, the Jodhpur boot is made for riding. Dating back to the '20s, this footwear was favored by the polo riders in India and is actually named after the second largest city in the Indian state of Rajasthan. They traditionally feature a rounded toe and low leather heel, but what sets them apart from others is the angle strap that wraps around the front and back of the ankle. This allows them to sit close to the foot, offering protection against the elements. Now you will find people wearing them to more formal events, and they make for excellent smart casual footwear. Wear them with suit trousers, chinos, or jeans – they are a great alternative to traditional riding boots and look fantastic in various shades like brown suede or leather.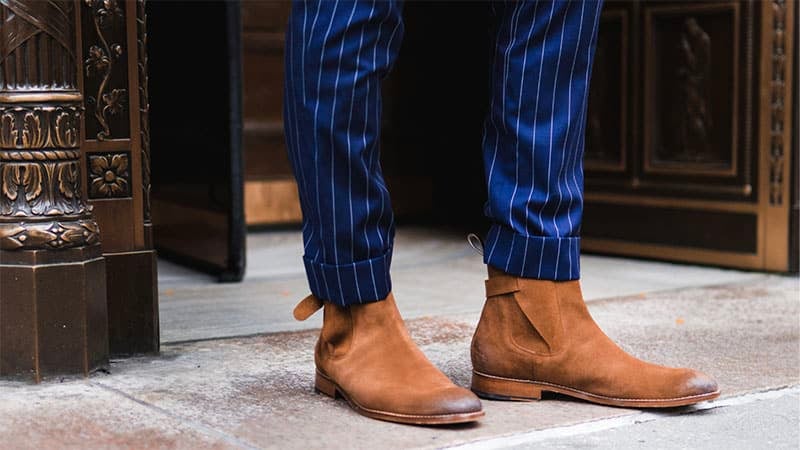 13. Combat Boots
Made to withstand the harshest conditions on the battlefield, combat boots aren't made for light use. They were originally designed for combat (as the name suggests), so they are crafted to weather the most extreme conditions for long periods of time. While they take a long time to break in, high-quality combat boots will stand the test of time. To ensure you have a great pair, make sure they offer support and stability to your ankles and have a firm grip underfoot. During the punk movement of the '70s and '80s, this footwear became less of a military requirement and linked closer to the rejection of mainstream fashion and traditional society. Today you can wear these boots with almost anything, but they tend to fit in with casual settings. So steer clear from wearing these to a formal event.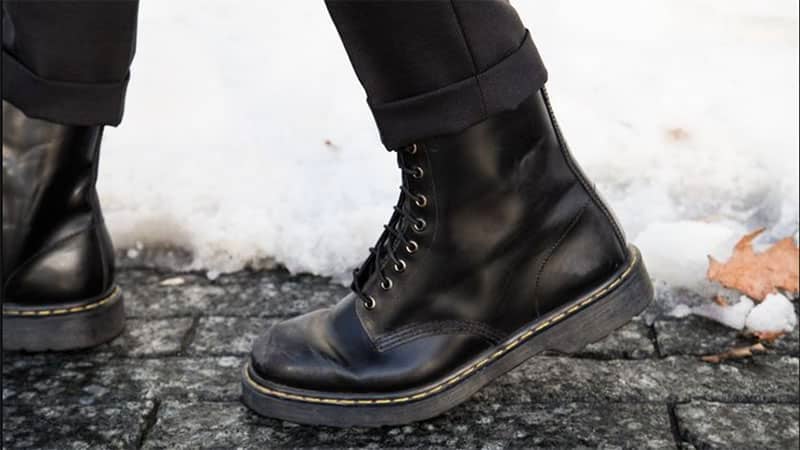 14. Duck Boots
When you're planning to explore rugged, wild, and wet weather, you can't go past the duck boot. Originating in 1912 by Leon Leonwood Bean, the founder of L.L.Bean, they are unlike any other outdoor shoe. The top half appears as any other outdoor boot would, with leather construction and laces, but the bottom half is where things get interesting. A rubber toe with a design that resembles a pair of duck feet, they offer extra grip and resilience against the wettest activities. For extra warmth and protection, wear thick socks and tuck your trousers in to prevent any water from seeping through.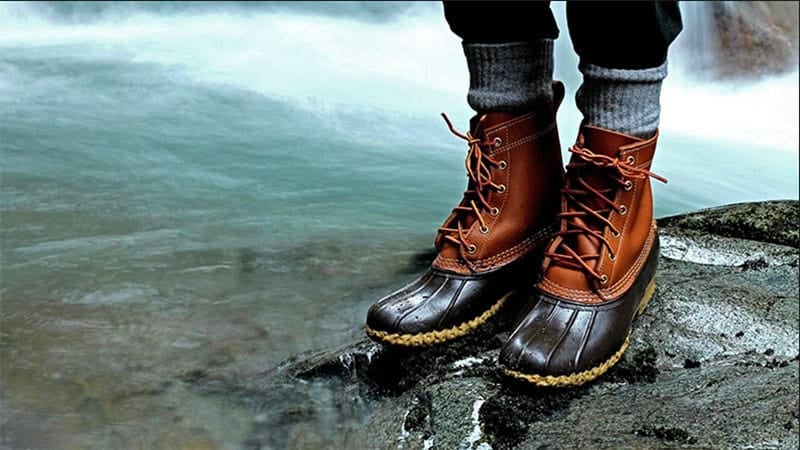 15. Engineer Boots
A boot that has a long history with American culture, the Engineer boot is one of the more popular work shoes today. They are recognizable thanks to the low heel and knee-high silhouette, with a distinctive buckle o the top and bottom of the shoe. Historically, they were intended for firemen following WWII, but they soon became popular with motorcycle riders and teens in the '50s. James Dean famously wore a pair in the 1955 film Rebel Without A Cause. They soon became associated with the punk and skinhead movement in the '70s. Today, you can find them in a range of different shades and materials, such as leather in brown or black – the latter is the traditional shade, but both offer versatility for daily wear.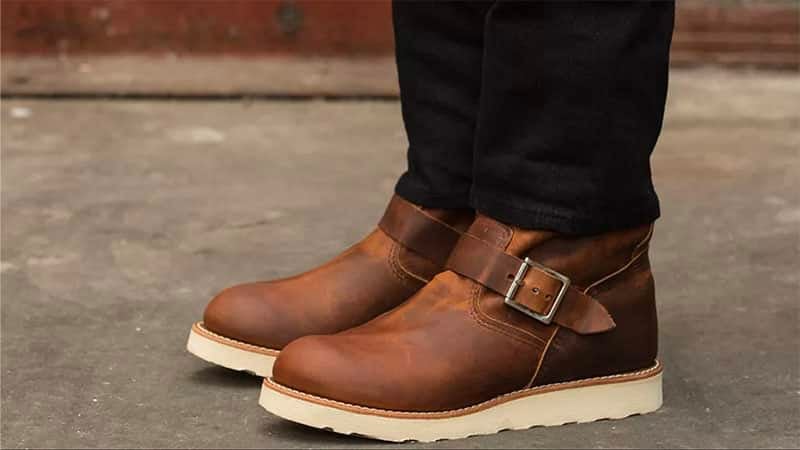 16. Balmoral Boots
For centuries, the Balmoral boot has provided men with sophisticated and tough foot protection. Adapted from the Oxford shoe, this footwear is very similar to the traditional English design with closed lacing and a formal silhouette. Traditionally, gentlemen would opt for this type of boot during colder months without deviating from their sophisticated dress style, so they're a great choice for formal dressing when temperatures drop. While the original design was constructed from leather, modern adaptations include two-tone shades, with tweed or tartan on the top half. Wear them with suits during black-tie events – if you're going to a work event or a smart casual occasion, opt for trousers or chinos with a button-down shirt and blazer.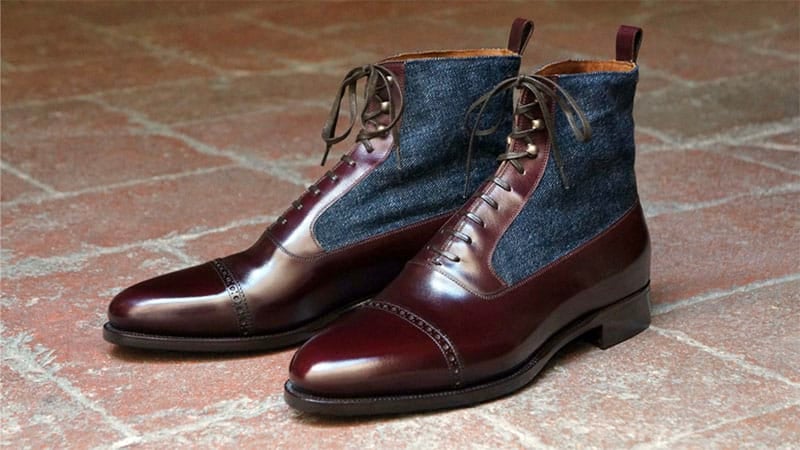 17. Mukluk Boots
If you're walking through the tundra, you must protect your feet beyond a classic pair of shoes. That's where Mukluk boots come into play. These shoes don't mess around, offering superior protection from the elements and keeping your bottom half snug and comfortable for days of adventure. Originating in Canada, they're traditionally made from seal and caribou skin – they are an intrinsic part of Inuit history, keeping feet dry and safe from the ice, snow, and harsh conditions. While today they're made from leather and sheepskin, they still provide excellent defense from icy winds and tough terrain.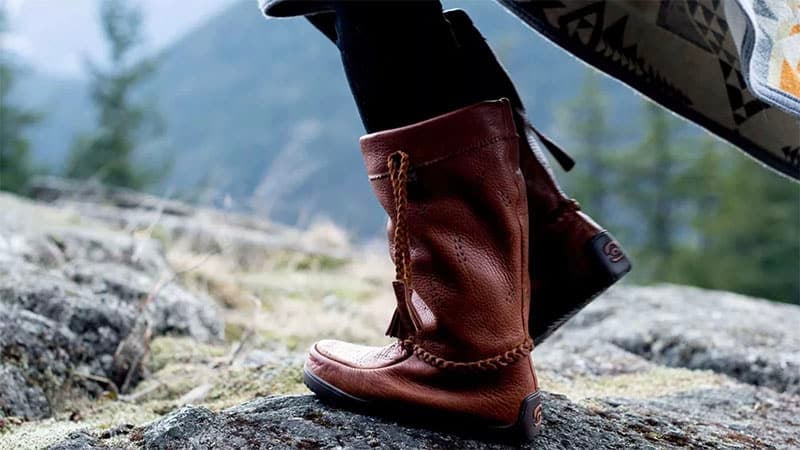 18. Timberland Boots
Perhaps one of the most recognizable boots in the game, Timberland's iconic yellow work boot has been around since the '70s, but it was thanks to the hip hop scene in the '90s that it became a fashion staple worldwide. Think Biggie Smalls' '97 tack Hypnotize with the lyric: "Timbs for my hooligans in Brooklyn". Today you will find them worn by everyone, from the construction site to the corner store or fashion show. Their leather padding, upper, and honey lug sole make it durable enough to wear for years at a time, and the four rows of stitching are as strong as they are stylish. Typically you will find people wearing Timberland boots with denim or chinos for a more smart casual feel, but you will also see tradies rocking them with shorts during hotter months.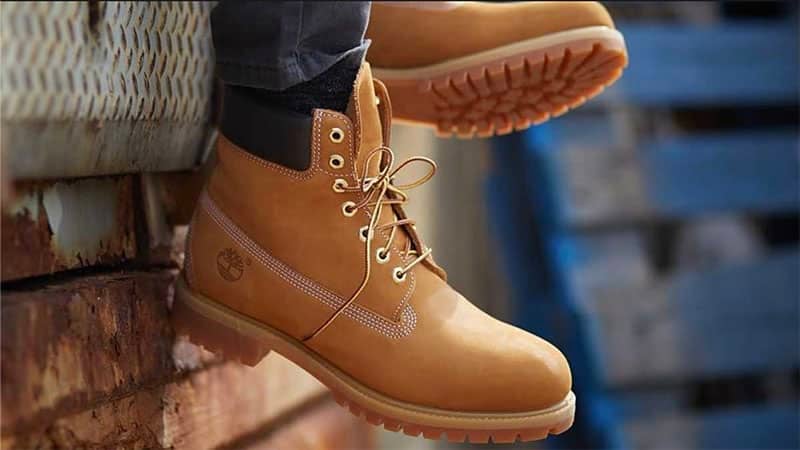 19. Ugg Boots
The humble UGG boot has divided people for decades. These sheepskin boots are comfortable and sturdy enough to wear for years, but their chunky and shapeless design has garnered some pushback since first launching in 1981. The Australian boot, called Ugg for being 'ugly', is the ideal shoe to wear in the house during cold months, outside in harsh conditions, or for an ironic fashion statement. While you can wear thee outside thanks to their durable rubber sole, they are not waterproof, so steer clear from elements such as heavy rain or snow so you can keep them longer.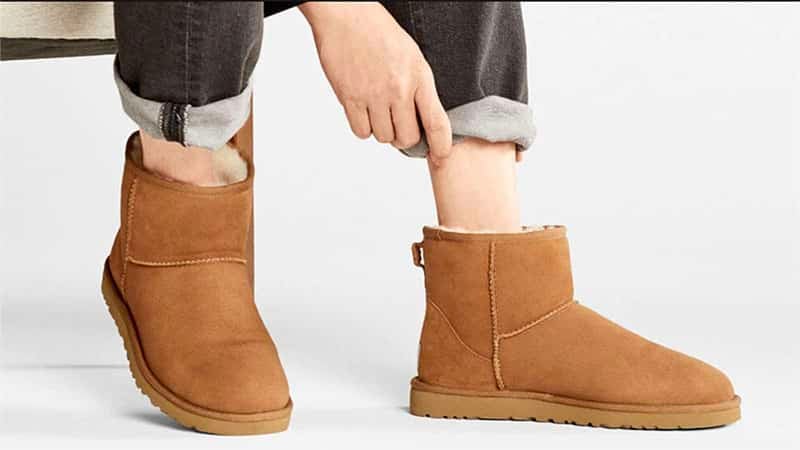 20. Waterproof Boots
From a hike in the rain to a stroll through a muddy riverbed, every adventurer needs a pair of waterproof boots. Unlike other outdoor footwear, this offers protection from wet elements and will keep your feet dry. Note there is also a difference between waterproof and water-resistant – the latter can be heated using almost any materials, whereas the former requires a bit of extra protection. Waterproof boots are often crafted from rubber, nylon, or neoprene – however, you can find shoes made from sturdy leather that is resistant and repel water. Be sure to find a pair that offers plenty of grips, such as rubber soles – this will prevent you from slipping over s you jump from rocks or move through slippery terrain.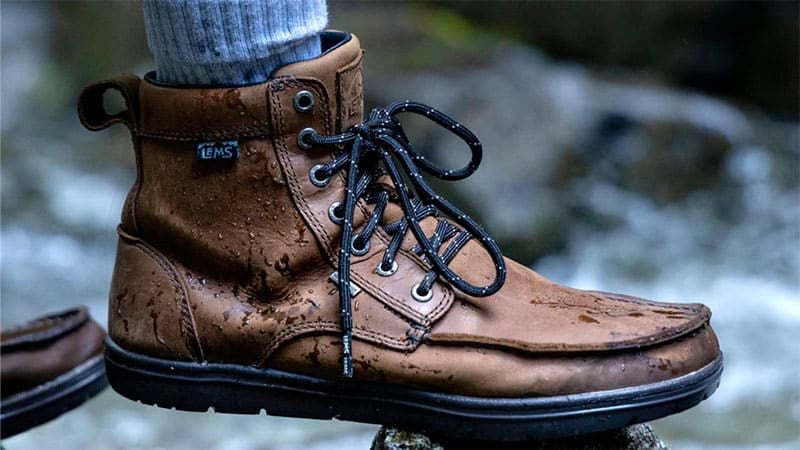 21. Riding Boots
With a long history, riding boots are an essential tool for equestrians worldwide. Like cowboy boots, they are often longer in length, reaching upwards towards the knees. English riding boots often feature a larger heel to help create grip on the stirrup, but a modern adaptation of this footwear will lower the heel for a more aesthetically pleasing design. Hunting boots, which fall under the same category, are usually black with a rolled tan cuff at the top. Typically, men will tuck their trousers or jodhpurs into the boots to stop any mud or dirt from splattering the fabric. However, you can also find shorter options, which are more often called jodhpur boots or paddock boots.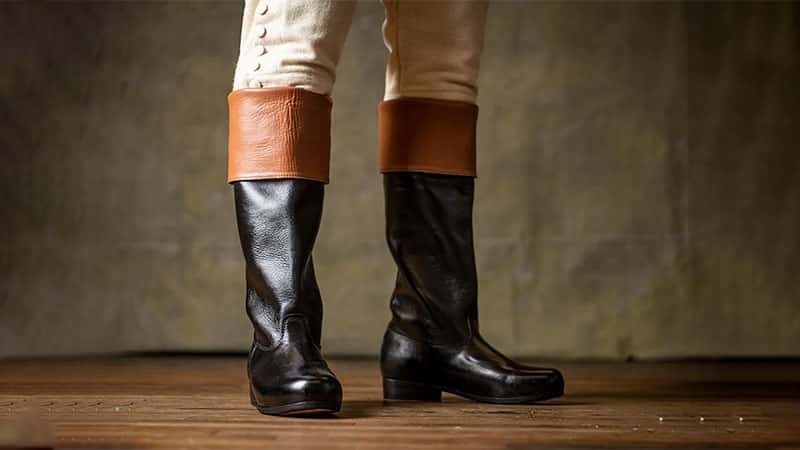 22. Motorcycle Boots
When it comes to riding a motorcycle, you need to protect your feet as much as you need to keep your body covered. Traditionally, wearing leather is the best option for your ride – this is the same with footwear. Motorcycle boots will usually hit above the ankle and below the knee – this is for a few reasons. Not only do they safeguard your limbs against potential harm, but they also will stay in one place and not slip downwards, causing distractions or discomfort. What's more, you can easily tuck your jeans or trousers into them, which will prevent any loose fabric from catching inside the mechanics, which can do serious damage to you and your bike.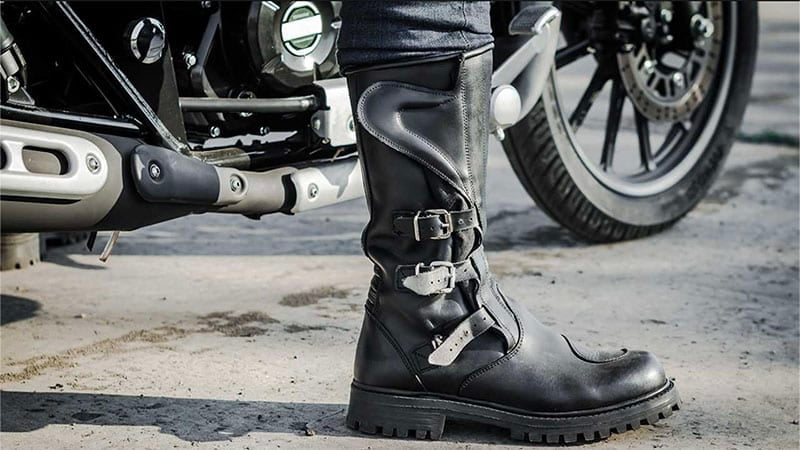 Type of Boots FAQs
How many types of boots are there?
There are many different types of men's boots in the world. While there are traditional styles of work, dress, and outdoor and casual boots, these are simply the umbrellas that other designs fall into. Breaking them down further, you will find designs suited for construction, wet weather, horseback riding, formal events, and everyday wear. These include duck boots, Balmoral boots, Timberlands, and many others. 
What is popular for men's boots?
Currently, the most popular men's boots are ones you can wear with almost any kind of outfit. These are typically styles that hit at the ankles and feature laces or a plain leather upper, such as Chelsea, Desert, or Oxford boots. The beauty behind these styles is their versatility - you can wear them with jeans and a T-shirt, a work button-down, chinos, or even a suit for more formal settings.  
How do you pick men's boots?
If you will be at a work event, dinner, or party and need to dress in a smart casual manner, opt for a classic ankle boot such as the Balmoral, Oxford, or Jodhpur boot - these are classic in design and traditionally intended for more formal attire such as suits or tailored trousers. For a more casual setting, you can't go past Chelsea, Timberlands, or Chukka boots, as they work well with denim or chinos and casual T-shirts or sweaters. Moc Toe, Service, and other tough boots are best for working outdoors in tough settings.
What are different styles of boots called?
There are many different types of boots, but the most popular choices are Chelsea and Desert boots, as they look great with numerous occasions and outfits. Other boot styles include work boots from Timberland and Hard Yakka, wet weather, and outdoor such as duck and Mukluk boots. Riding boots such as cowboy boots have since transformed into fashionable pieces of footwear, along with Engineer boots and combat boots. 
SUBSCRIBE TO OUR NEWSLETTER
Subscribe to our mailing list and get interesting stuff and updates to your email inbox.