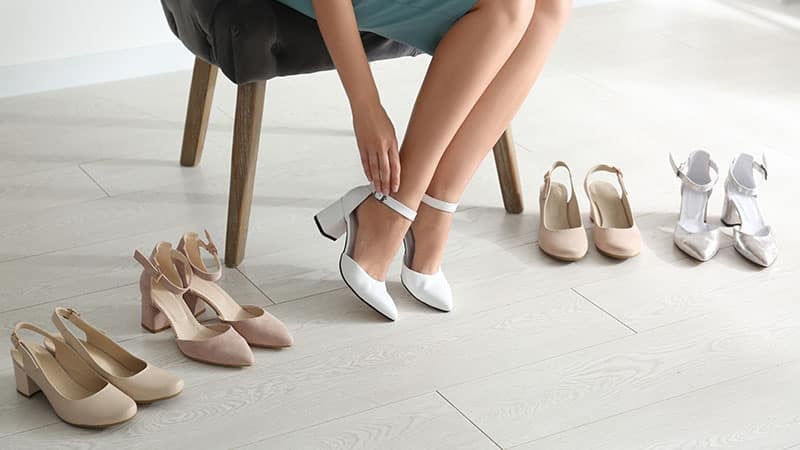 Elevate your outfit with a pair of stylish dress shoes that not only look great but feel comfortable. With features like extra padding, soft leather, arch support, and supportive straps, these shoes won't give you achy toes or legs, even after a long day. Whether you're shopping for a corporate wardrobe, are heading off on vacation and want a pair of versatile kicks, or have a special occasion coming up, you don't need to pick between comfort and style.
Comfortable Dress Shoes for Women
1. Trotters Honesty Women's Flat
If you're looking for a chic twist on a classic ballet flat, look no further than Trotters' Honesty design. With a mid-foot opening, bow detail, and choice of black, nude, and silver, it's an incredibly stylish dress shoe. Soft uppers mold to your feet, as does the contoured footbed, which can make way for inserts. Meanwhile, the heel counter prevents overpronation, the arch support balances flat feet, and the non-marking outsoles offer excellent traction. Plus, being a slip-on style, they're easy to take on and off. Wear them with cigarette pants and a crop for a casual weekend look, or pick a pencil skirt and tee for an easy office vibe.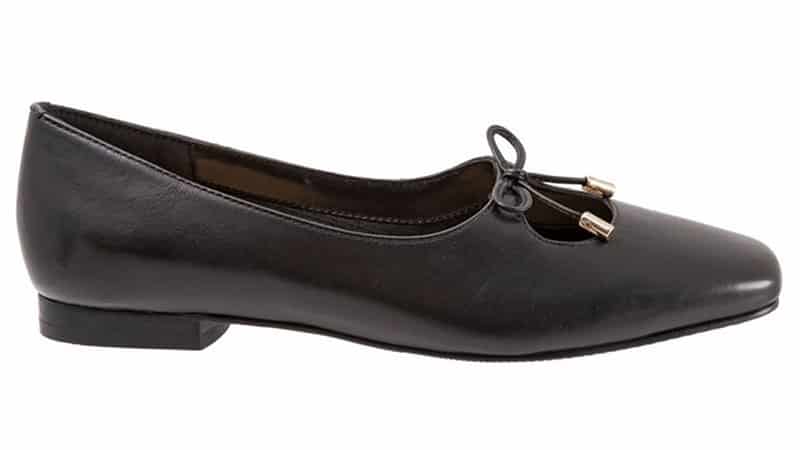 2. Cobb Hill Kailyn Asym Women's Mary Jane
Cobb Hill's Kailyn Asym is a Mary Jane with a twist. This modern design adds interest with crossed patterned straps and heel cup. Anchoring at two points along the arch, the straps provide excellent support yet are flexible to fit most arches and feet shapes. A short, block heel elongates the leg, while the flexible soles are cushioned and comfortable. Finally, a breathable structure helps prevent odor and keep your feet cool, while the arch support and contoured (removable) footbed help maintain the correct shape for your foot. It's an excellent style for office wear or traveling in style and comes in black, tan, and navy.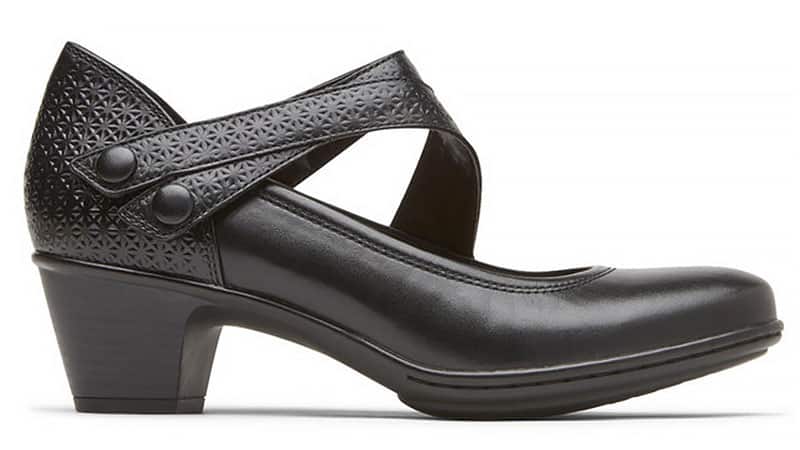 3. Trotters Kiera Women's Dress Shoe
A classic black pump is a wardrobe staple. It's a style that matches almost everything and can be worn at work, for drinks with friends, or on a date. However, they don't have to be uncomfortable. Trotters' Keira style is the best of both worlds. The modest two-inch heels provide a little lift without putting too much pressure on the balls of your feet. Contoured footbeds, arch support, and cushioned heels add support and comfort. The soft uppers mold to your feet, while the anti-microbial lining keeps them fresh. Plus, if you have orthotics, you don't have to give up the heel dream — the footbed can be removed to accommodate custom-made inserts.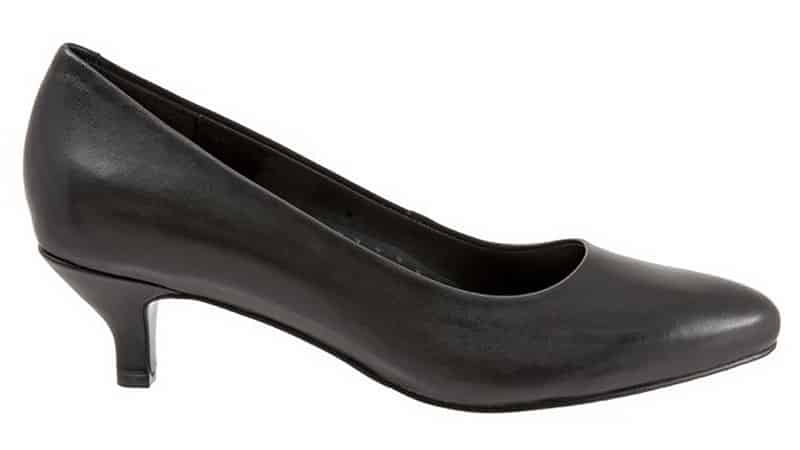 4. Ros Hommerson Kitty Women's Pump
If you're looking for something a little more elegant that can take you from day to night, then the Ros Hommerson Kitty Women's Pump is a fabulous option. It has a slightly higher heel for extra sexiness, while the glitter mesh exteriors add sparkle to your ensemble. However, you don't have to compromise on comfort. It's also heavily cushioned with gel-like padding, arch support, and soft uppers. You can even wear these with orthotics. The breathability keeps your feet cool and odor free, while the rubber outsoles provide quality traction even if it's raining. Throw these on with a little back dress for date night, or rock a power suit for a corporate conference dinner.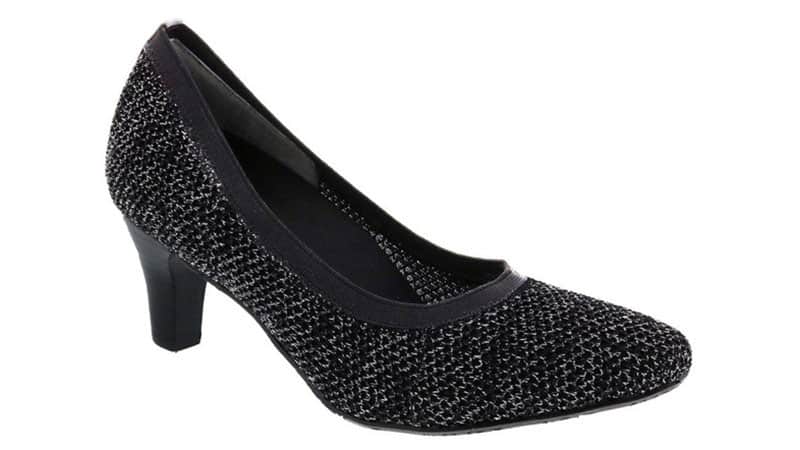 5. Trotters Larissa Women's Sandal
Get your toes out for summer with Trotters' Larissa sandals. This comfortable women's dress shoe is an excellent alternative to the closed-in pump styles that often come to mind and is well suited to the warmer months. Match it with your favorite sun dress, a cute skirt, and blouse, or cuffed jeans and a tank. When it comes to comfort, the block heel helps keep you balanced and steady on your feet. Then, the straps hold you in well while the cushioned soles help absorb the impact of each step. It's the ideal addition to a warm climate wardrobe and great for beachy vacations.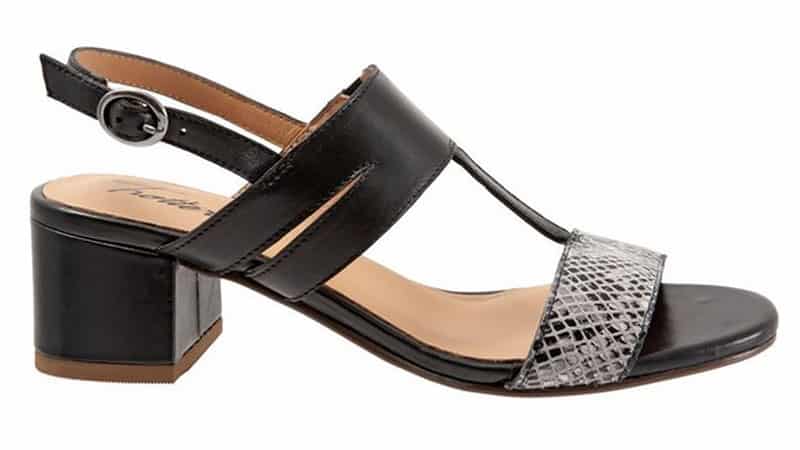 6. Dansko Fawna Women's Mary Jane
Dansko's Fawna Mary Jane is likely to become your favorite daily wear. This cute but comfortable dress shoe will have you looking stylish but feeling great, even if you're doing a lot of standing or walking. It's a simple design with a few subtle details to keep things interesting. Rubber outsoles offer traction even in the wet, while the removable footbed can make room for orthotics when required. The fabric lining keeps your feet cool, while a steel shank provides quality back and arch support while reinforcing the shoe. Finally, the adjustable straps mean no matter the shape of your arch, you'll have a secure fit.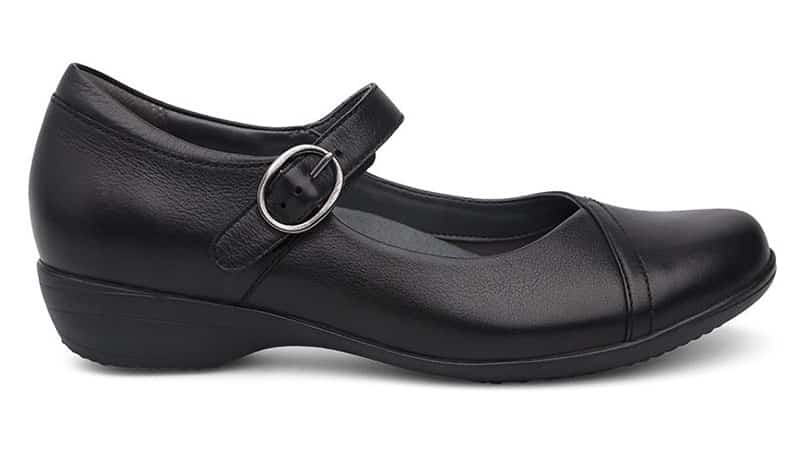 7. Trotters Monarch Women's Casual Shoe
Keep it simple with the Trotters' Monarch dress shoes for women. This classic design could have easily stepped off a 1940s silver screen for all its practical yet elegant style. The low block heel gives you a little height boost, while the round front keeps the pressure off your toes. When it comes to features, it has elastic goring on the vamp for additional comfort and adjustability, as well as an anti-microbial lining to keep you feeling fresh. The rubberized soles are grippy and flexible, while the footbed can be replaced with custom orthotics if required. Pair this with a pleated skirt and blouse for the office, or rock them casually on the weekend with a pair of jeans and an effortless tee.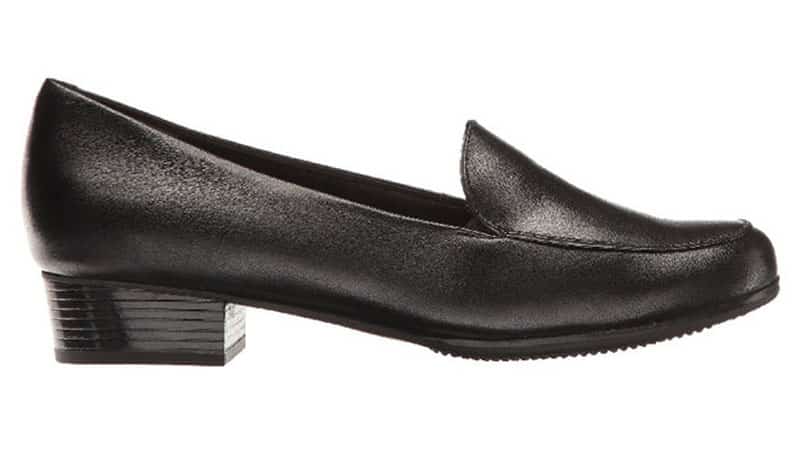 8. Drew Summer Women's Dress Shoe
Enjoy all-day comfort and style when rocking the Drew Summer dress shoes. This simple yet stylish design has a heel just short of two inches for the ideal amount of lift. It can accommodate custom orthotics and has extra support with a firm heel counter and steel shank for arch support. The broad toe box with added depth won't press on your toes and comes in a range of widths. Finally, the lightweight rubber outsoles offer not only traction but also shock absorption for every step you take.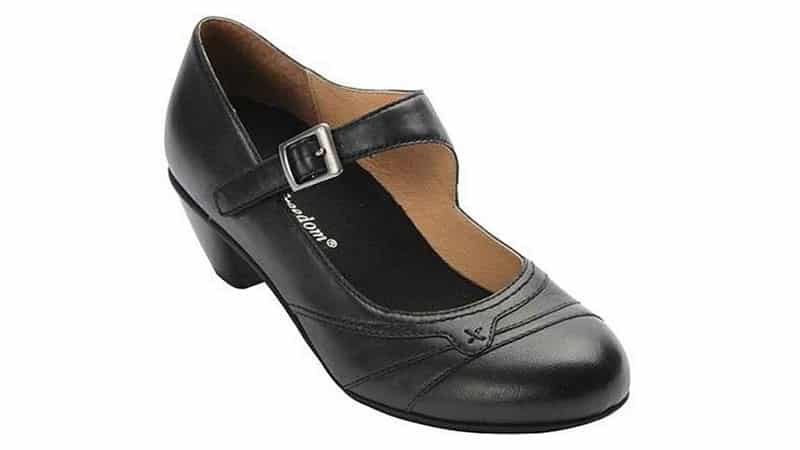 9. Trotters Dea Women's Dress Shoe
Slingback dress shoes are an excellent halfway point between sandals and pumps. The Dea design from Trotters is perfect for the office, traveling, or weekend brunch with the girls. The small, black heel is easy to walk in, while the adjustable back strap ensures a secure fit. Enjoy added support with a steel shank and extra padding in the sock lining. Stay odor-free with an anti-microbial lining that helps absorb sweat and moisture. Plus, there are multiple color options to pick from to match your style. Choose black, black patent crocodile, navy, nude, or a black and nude combo.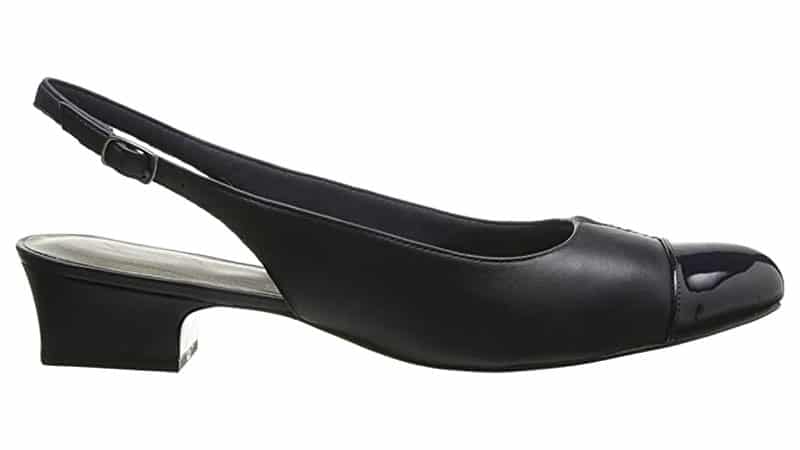 10. Softwalk Whitby Women's Dress Shoe
If you're looking for a bit more of a masculine vibe with your dress shoes, the Softwalk Whitby is an excellent option. Pairing perfectly with trousers and a blazer, jeans and a blouse, or even a tennis skirt and cardigan, it's a stylish and flexible wardrobe addition. This design comes in black, tan, and a lovely dark red. It offers arch support, gel-like cushioning in the contoured footbed, and cushioned heels. Meanwhile, soft uppers, padded collar and tongue, and round toe box ensure you don't need to worry about blisters. Finally, shock-absorbing features also mean you can walk all day and still protect your feet.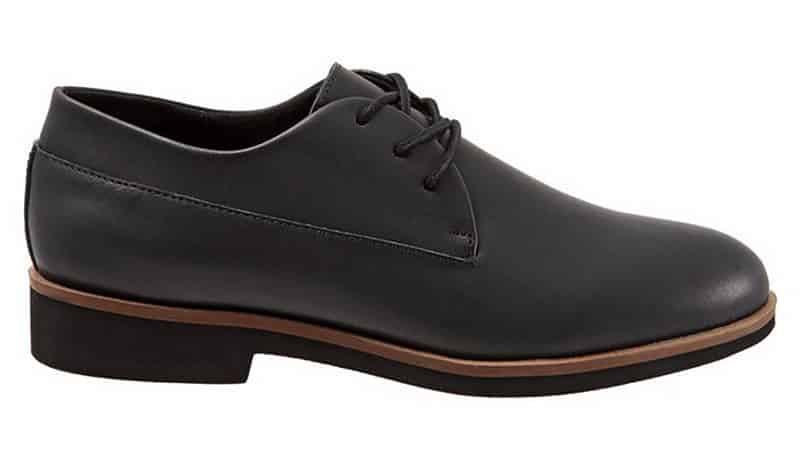 11. Propet Mary Jane Women's Mary Jane Shoe
A Mary Jane-style shoe is a wonderful wardrobe addition. It's a classic design that adds extra support through your foot thanks to the strap across the arch. This flat style from Propet is super comfortable and an excellent dress shoe for women who spend a lot of time on their feet. Using luxury leather, it looks and feels good. Plus, the footbed can be removed to add prescription orthotics. Match it with a pair of tights, a plaid skirt, a white button-down, and a woolen coat for the ultimate dark academia aesthetic.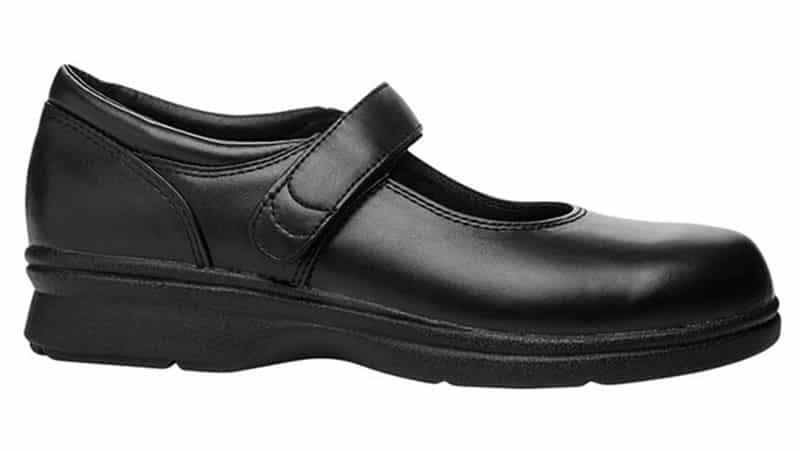 12. Dr. Scholl's Boots
Cold climates and the winter months call for warm feet. As such, a pair of toasty boots is a brilliant choice for staying snug at the office or on the weekend. This Chelsea boot design from Dr. Scholls is super comfortable and stylishly simple. It slips on with ease and has elastic panels for flexibility. Inside, you'll find quality cushioning so you can walk all day while on vacation, running errands, or at work. A two-inch block heel elevates the look without throwing you off balance. Choose from classic black or beige microsuede, and rock it with jeans, your favorite leather jacket, and a warm scarf or snood.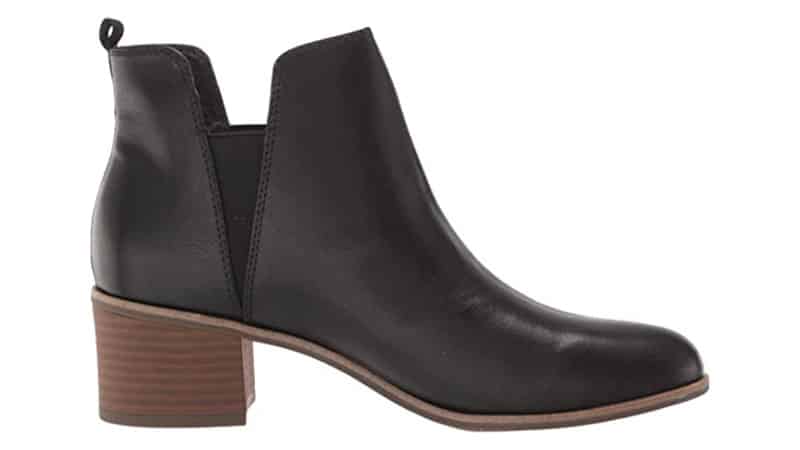 How to Choose Comfortable Dress Shoes
There are a few factors to consider when purchasing comfortable dress shoes. Of course, you want them to look nice and to feel beautiful wearing them. However, for true comfort, you'll also need to consider other elements like style, occasion, size, materials, and arch support (which is especially important if you already have issues such as bunions or plantar fasciitis).
Pick The Right Style
Choosing comfortable dress shoes is about more than just the looks — choosing the right style is essential. Enclosed shoes like pumps are good if you need all-around support, while the strap on Mary Janes holds you in even more. If your balance is an issue, flats or block heels will be much more stable than stilettos. Of course, oxfords, loafers, and boots offer full foot support, but sandals might be a better choice if you find your feet overheat and sweat easily.
Check Your Leathers
Leather shoes are great because they are breathable and will mold your foot shape over time. The better quality of the leather, the better the feel will be. However, the price will also go up. If you are looking for leather shoes, make sure to check that both the lining and the outers are leather — some manufacturers will sometimes opt to use synthetic materials on one of the layers, which can affect how a shoe wears. A leather shoe can also look much nicer than alternatives because they develop a beautiful patina over time as you wear them, adding elegance and character to a shoe.
Don't Ignore Arch Support
Arch support in shoes is a major contributing factor to comfort levels. As such, don't ignore this feature. Adequate arch support can help with conditions such as flat feet, overpronation, and plantar fasciitis. Good arch support also keeps your legs, hips, and back aligned, which can lead to pain and fatigue when misaligned — especially if you spend a lot of time on your feet. If you do already have foot issues, you might have prescription orthotics. Many shoes designed for comfort have insoles or arch support that you can remove and use your own custom-made inserts instead for an even better fit.
Know Your Shoe Size
Shoe sizes vary from country to country, with different labeling systems in place in the United States, Europe, Asia, and Australia. Knowing the conversion between the sizing is important, so you always get the correct fit. If you're shopping online, it's also a good idea to check the sizing charts and read reviews or product descriptions to see if individual styles run large or small. Finally, some shoe designs come in different widths so that you can tailor the fit even better. Don't be afraid to trace your foot on a piece of paper and measure the width and length so you can choose the best fit.
Keep Your Intended Event in Mind
Picking the right shoe for the right event is essential. A pair of killer heels are fine if you work behind a desk all day. However, if you're on vacation, you don't want to walk for miles in high shoes and ruin your fun with sore feet. The same goes for shoes that pinch or rub, don't provide the proper support, or don't fit your feet particularly well. In addition to keeping the event in mind, you'll also have to consider how you get there. Walking and taking public transport will likely mean you'll need to consider a more practical option than if you're getting dropped right outside the venue.
Comfortable Dress Shoes for Different Foot Types and Foot Problems
Feet come in all shapes and sizes, which can make buying the perfect shoes a little challenging. Additionally, there are some common foot problems that can add extra complexity to the decision. This can include flat feet or high arches, wide feet, or painful conditions such as plantar fasciitis, heel spurs, bunions, and back pain. However, once you pick the right shoes, you'll be very comfortable and can even eliminate some of the problems or at least their symptoms.
Dress Shoes for Flat Feet
Flat feet is a condition where your arch either collapses or rolls in completely, so the whole sole of your foot touches the ground. This can occur with age, unsupportive footwear choices, wearing high heels, or it can be hereditary. It's not necessarily an issue itself, but it can put extra pressure on your ankle joints and cause pain throughout your legs and body from compensating for an altered walking pattern. Supportive gym shoes are generally the best option for flat feet. However, when it comes to dress shoes, look for quality support through the arch, heel, and sole. Wedges are a great alternative to heels that help distribute your weight more evenly. Finally, arch support insoles are also a good option.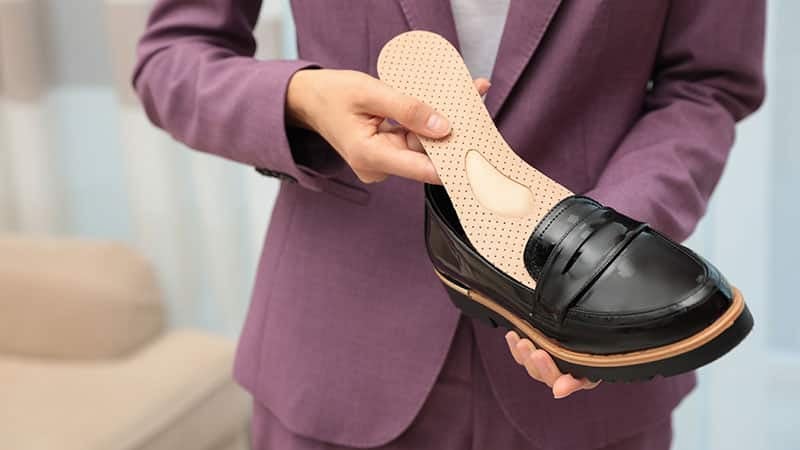 Dress Shoes for Plantar Fasciitis
Your plantar fascia is a ligament that runs along the bottom of the foot from the toes to the heels. When this is damaged or strained, it can cause stabbing pain in the heel, known as plantar fasciitis. The best way to combat the symptoms of this condition is with shoes that have good heel and arch support. As such, look for padded footbeds with built-in arch support or styles where you can add your own. Closed-in heels are also better, so avoid styles such as sandals for long periods. Additionally, look for reinforcement through the midsole (such as with a shank) for stability, and secure closure, such as straps or laces to hold your foot in place.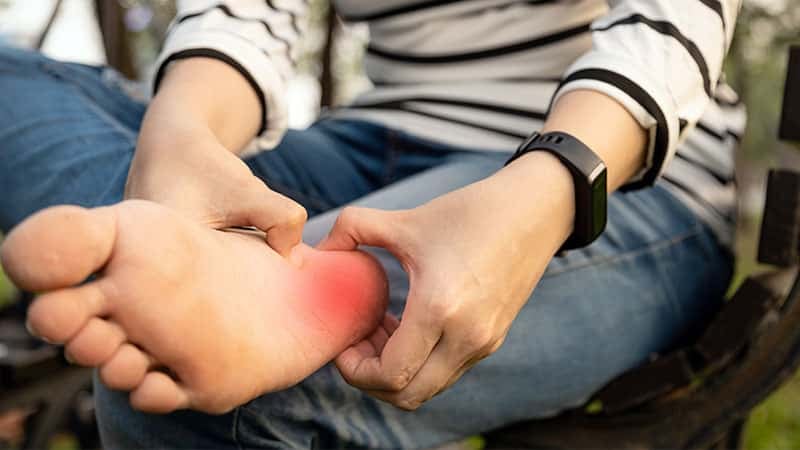 Dress Shoes for High Arches
On the opposite end of the scale to flat feet is high arches. People with high arches tend to put more pressure on the outside edge of their foot and are more prone to rolling an ankle. Without the proper shoes, they can also develop knee and hip problems. When shopping for dress shoes for high arches, look for soft insoles and supportive midsoles. High arches also generally need a little more room through the midfoot, so look for a more spacious design or something adjustable such as laces or buckles. Finally, sufficient space in the toe box is also essential for ensuring your toes have room to move.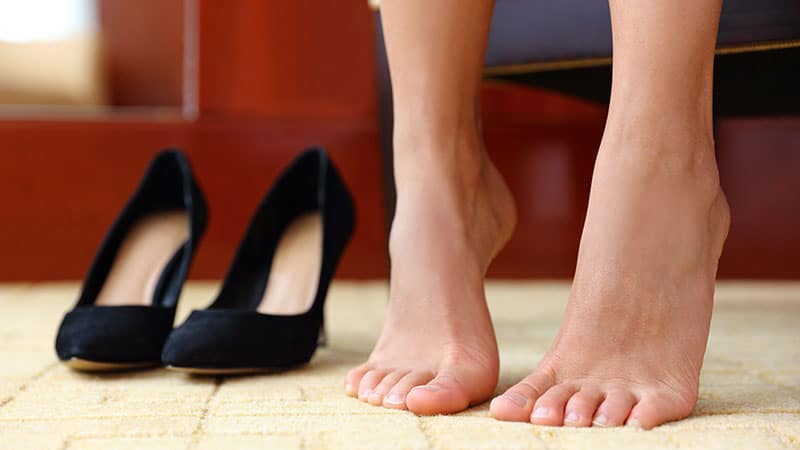 Dress Shoes for Back Pain
While there are many potential causes of back pain, wearing the wrong kind of shoes can be one of them or can exacerbate the issue. Generally, the more supportive your shoe is, the less likely it will contribute to back pain. Look for secure, fully enclosed styles so you don't need to "grip" with your feet and that provide proper foot alignment. You'll also want good shock absorption and strategic cushioning, especially if you spend a lot of time on your feet. Play around with the heights of the heel drop, too, as different sizes can feel better or worse for different individuals. You'll want to avoid high heels, strappy shoes, slides, and flip-flops.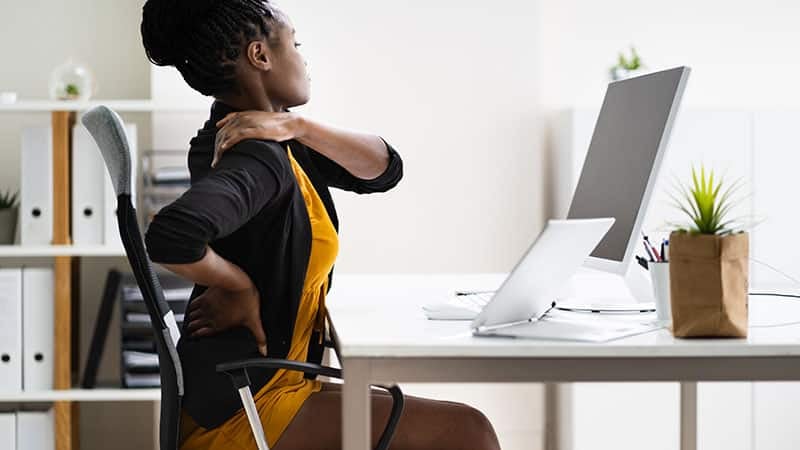 Dress Shoes for Bunions
Bunions are a bony deformation of the big toe joint and cause the big toe to point towards the outside of your foot. It can be caused by many things, including ill-fitting shoes, genetics, arthritis, and your foot's biomechanics. They can be swollen, painful, and limit your movement. Plus, it makes buying shoes tricky! When shopping, you'll need to look for the right-sized shoes – don't go too small. Most people have one foot bigger than the other, so shop for the larger foot and add an insole for the smaller one. See if you can get a wider-fit shoe as well to accommodate your forefoot more comfortably. Arch support can help, as can avoiding high heels. Finally, try shoes on at the end of the day when your feet are likely to be more swollen.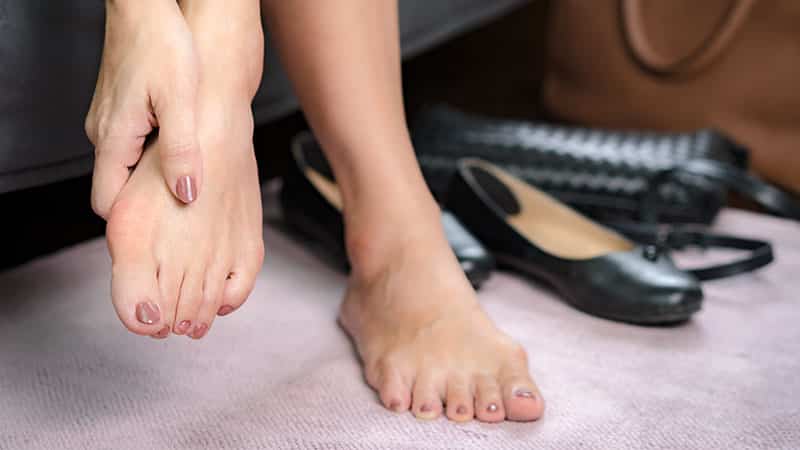 Dress Shoes for Heel Spurs
In addition to plantar fasciitis, heel spurs are among the most common causes of heel pain. These are abnormal bony growths that develop on the heel bone. They can be the result of injury, inflammation, or overuse. One of the main factors to look for when buying dress shoes for heel spurs is adequate padding, primarily through the heel. This will lessen the impact of each step and help alleviate pain. If you're struggling to find a good option, you can also buy padded heel cups to place in your shoes for extra cushioning. Finally, good arch support in your shoes will also help keep your foot aligned correctly.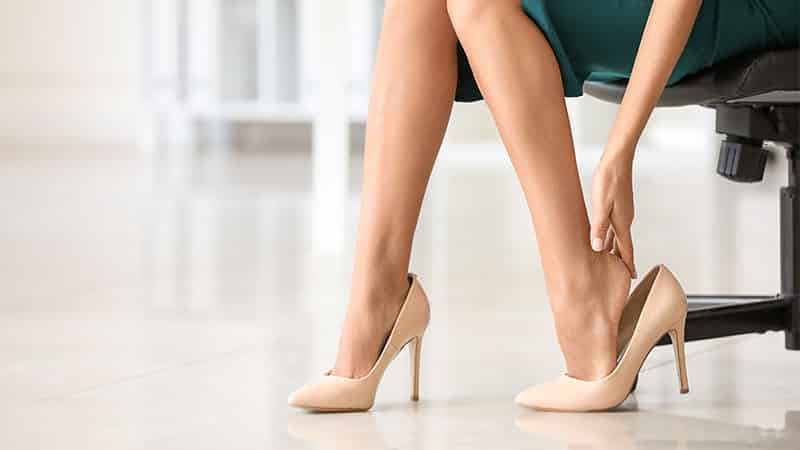 Dress Shoes for Wide Feet
Just like people come in all shapes and sizes, so do feet. As such, some people have wider feet than others. Plus, your feet can widen over time thanks to genetics, pregnancy, weight gain, age, or medical conditions, so needing a wider-fitting shoe can be common. Generally, the standard width fitting for women's shoes is a B, which translates to "medium." However, some brands offer different width sizing that can go up to a 9 Extra Wide. If you're unsure what width fits you best, trace your foot on a piece of paper and measure the widest part, then compare it to a size chart for each brand (there's no singular convention for width sizing, unfortunately). Ensuring your shoe fits correctly will help you avoid other issues like bunions.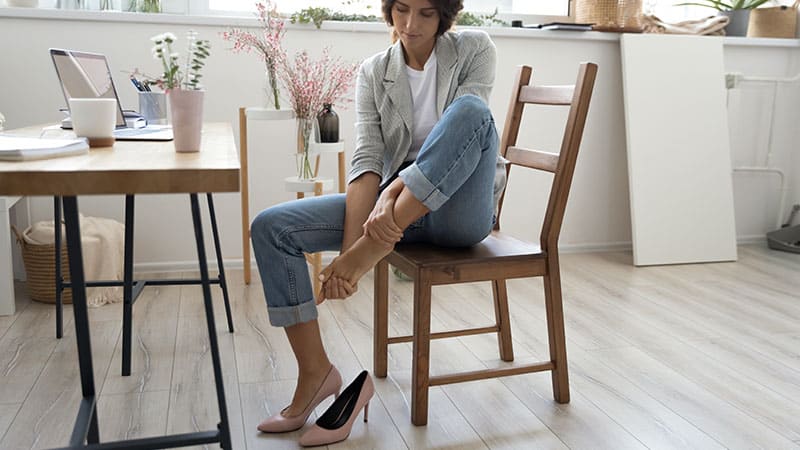 Comfortable Dress Shoes for Women FAQs
What dress shoe style is comfiest?
There is nothing more important than a pair of shoes that fit, and comfort should be your priority so you can successfully focus on the task at hand and not your aching feet. If you are not a fan of high heels, don't force yourself into them. A few options for women's dress shoes include mules with a heel, heels with an ankle strap, a pair of classic pumps, or pretty slides, all of which are classic and chic.
How can I make dress shoes more comfortable?
Choosing the right style for your needs when shopping is also crucial, as you'll be comfy from the get-go. However, for shoes that you already own, you can make them more comfortable by adding arch support with prescription orthotics or heel cushioning with a heel cup. 
Are dress shoes good for walking all day?
It really depends on the kind of walking you do. If you're not covering a significant distance and it's more just standing around at your job, then a supportive and cushioned pair of dress shoes can be ok. However, if you're covering a long distance, walking at a pace, or exploring different terrain, then specifically designed walking shoes will be a better option. 
Which brand has most comfortable dress shoes?
Trotters, Softwalk, and Dansko are brands that offer some of the most comfortable (and stylish) dress shoes. 
SUBSCRIBE TO OUR NEWSLETTER
Subscribe to our mailing list and get interesting stuff and updates to your email inbox.