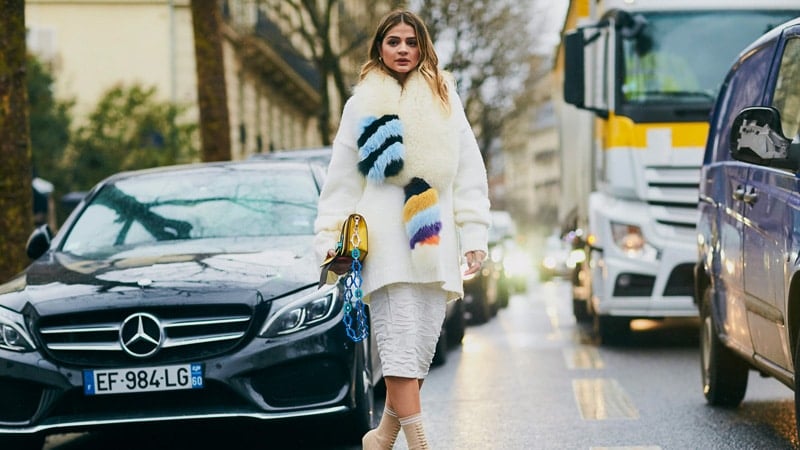 In the year of 1954, Christian Dior revolutionised women's fashion with the creation of the world's first pencil skirt. In a stroke of rare, fashion magic, he managed to not only invent an entirely new form but to introduce a garment that would flatter any woman's body. Taking the emphasis up to the hips and the natural, beautiful curves of females everywhere, the pencil skirt has since been determined as the most flattering skirt on the market. If you think a pencil skirt is only to be worn in a corporate setting, think again. From screen sirens and glamour girls to high-powered businesswomen and laidback vintage lovers, the past 70 years have proved that anyone can embrace this timeless style. Whether you opt for statement-making florals or shimmering sequins, sultry leather or luxurious lace, there is a vast range of exciting ways to bring this trend into the 21st century. Therefore, if you're loving the pencil skirt but don't know where to start, we're here to uncover the most stylish ways to wear this iconic piece.
Pencil Skirt Outfits
Holding the status of a staple piece since the 1950's, the pencil skirt has undergone multiple style evolutions. As a result, while the narrow, figure-hugging shape has remained the same, the ways in which it can be worn have expanded exponentially. Whether you're seeking to channel the look of a sultry Hollywood siren, a powerful businesswoman, or a high fashion mogul, the pencil skirt is your new secret weapon. Dress it up or down for the office, the streets, or a night on the town. To accentuate your figure from the waist to the floor, pair a pencil skirt with some knockout heels. For petite ladies wanting to join in on the trend, opt for a skirt that falls on or just above the knees. This will ensure your natural shape is highlighted while creating an illusion of height. From there, the possibilities for outfits are endless. Looking for an effortlessly cool casual outfit? Pair your denim pencil skirt with a colourful crop top and some vintage shades. Need a look to take you from the office to the bar? Simply throw on a tight black pencil skirt and slippery satin blouse. Finally, add some red lippy at sunset to take this look from day to night. So ladies, prepare your closets with a few different pencil skirt styles then let the sartorial experimentation begin.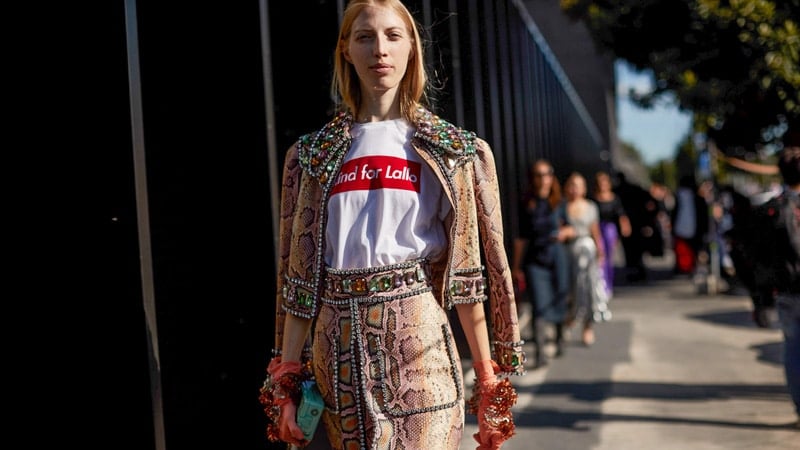 Denim Pencil Skirt
For women who bow down to vintage-loving muses such as Alexa Chung and Chloe Sevigny, the denim pencil skirt is a must-have. Chic, laidback and effortlessly cool, this denim dream is the perfect addition to any summer wardrobe. When styling this piece, forget the old fashion rules your mother taught you. Want to rock the double denim? We love it. Thinking about pairing your casual denim skirt with some classy stilettos? You're on your way to being snapped by street style paparazzi. Experiment with vintage pieces for a truly unique outfit. Finally, add a pair of simple heels to elongate the legs and elevate this look.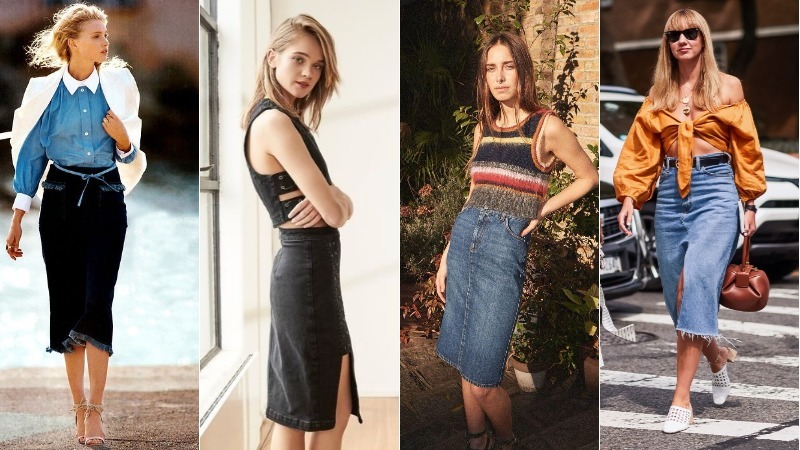 SHOP THE LOOK
Leather Pencil Skirt
Looking for a sultry, sophisticated and downright powerful addition to your wardrobe? A leather pencil skirt ticks all these boxes and more. This bold look oozes confidence, making it a winner in almost any occasion. So, while the leather pencil skirt may not be appropriate beach attire, we guarantee it's success in the office, on the streets, or on a night out. To balance the statement piece and ensure your look remains sophisticated, choose tops with high necklines and long sleeves. Additionally, play with shape and texture up top while keeping colours neutral. To complete the look, purchase that black leather bag you've had your eyes on for months before completing the look with sleek, high heeled ankle boots.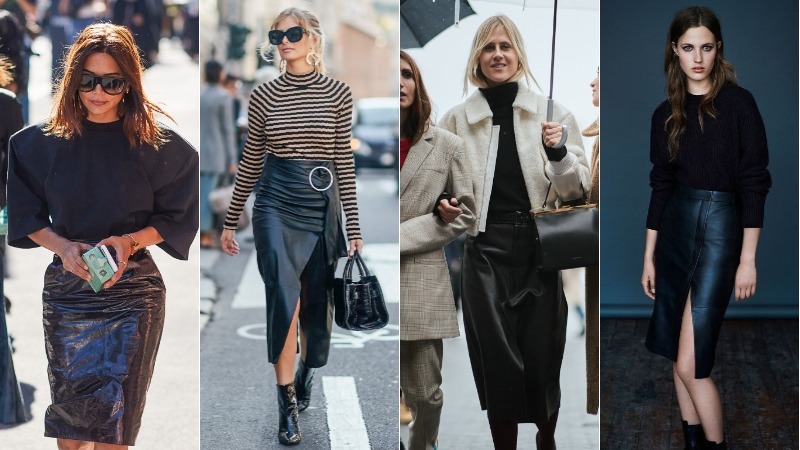 SHOP THE LOOK
Floral Pencil Skirt
Always fun, often flirty, and just a little bit flamboyant; adding a few flowers to your outfit is never a mistake in our books. If you've already taken the first step of buying a floral pencil skirt, then you are likely to fit all of these descriptions. If you're unsure how to style this statement piece, we're here to help. While there are no set rules, there are a few simple ways to create a truly memorable outfit. For light florals, look for tops in light colours and delicate fabrics. This will create a dreamy, feminine and highly versatile look. If dark florals are more your thing, embrace luxurious sophistication by pairing your skirt with dark sheer or lace tops. Finally, for a truly unique approach, embrace the fashion faux pas of the past by wearing a 'clashing' print blouse, coat, or tee.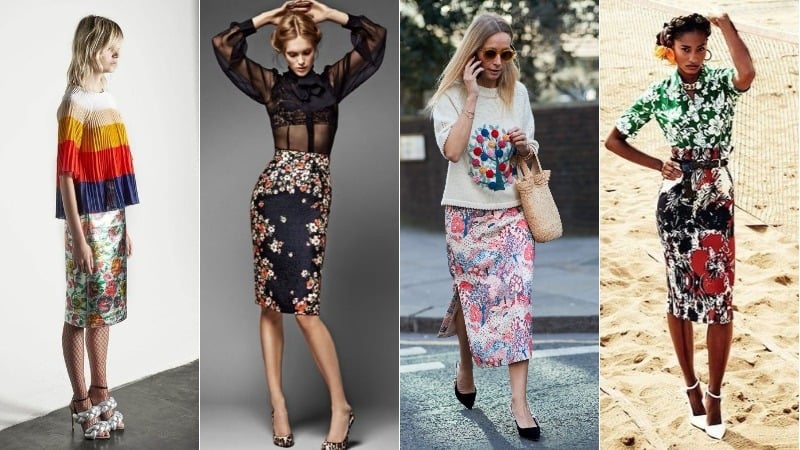 SHOP THE LOOK
Sequin Pencil Skirt
If diamonds are a girl's best friend then sequins on skirts are her secret, long-lost love. In recent years, this dazzling fashion statement has moved from the glitzy wardrobes of stage performers to the carefully curated closets of the fashion pack. To ensure this shimmering look shines rather than blinds onlookers, keep your top half, accessories, and shoes simple. A classic white blouse or black tee will instantly elevate this look from disco diva to high fashion trendsetter.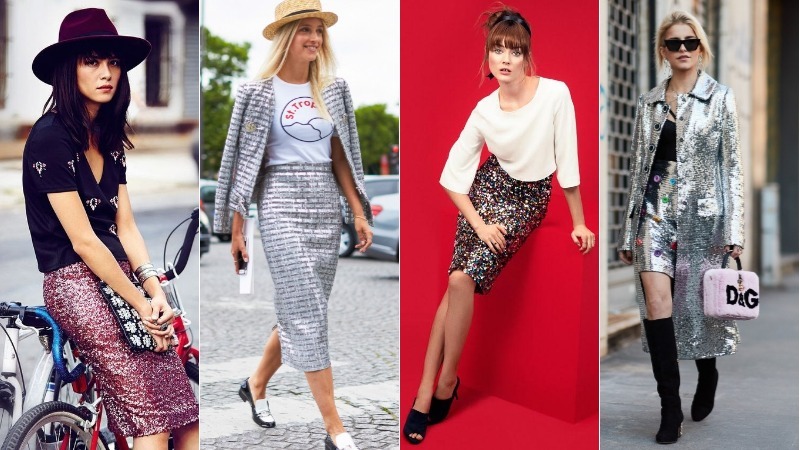 SHOP THE LOOK
Lace Pencil Skirt
For an ultra feminine fabric to complement the forever flattering pencil skirt silhouette, look no further than lace. For any ladies who believe that lace is outdated, bridal, or simply not for them, place those thoughts aside for a moment. With a few simple style tips, this delicate material can be the centrepiece of a refreshingly modern, on-trend outfit. Firstly, if you're going to wear a white lace skirt, this will most likely be the first thing people notice. Therefore, to lengthen the look of your legs pop on a pair of nude stiletto heels. This will trick the eyes to move down towards the ground, giving you a few extra inches. Regardless of which colour skirt you choose, lace is, in essence, a highly detailed fabric. Therefore, you can go one of two ways when it comes to finding its top half. Firstly, you may match intricacy with intricacy and exude femininity, by wearing a matching lace shirt or camisole. Alternatively, you can create a versatile, modern outfit by selecting something clean and simple. Our top picks this season include a light-coloured pinstriped shirt, oversized cashmere knit, or a snug, figure-hugging turtleneck.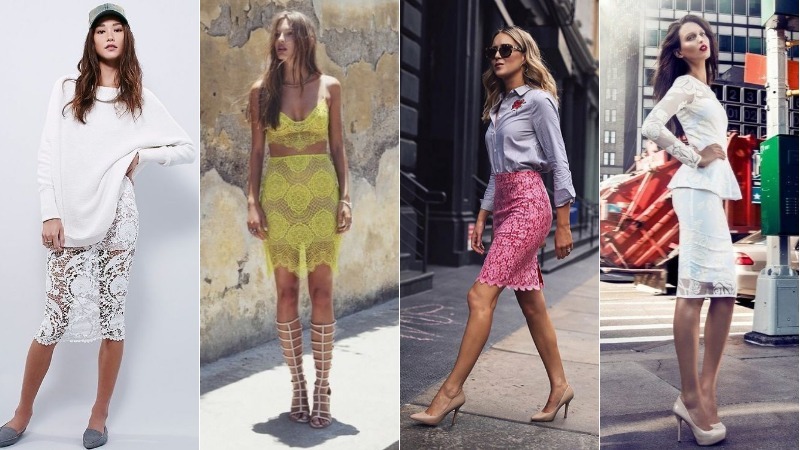 SHOP THE LOOK
Plaid Pencil Skirt
While the thought of plaid may take you back to nostalgic memories of your high school uniform, the wide checked print has found new life on the street-style scene. No longer merely the staple outfit of school kids, plaid has taken over as a must-have in any fashion lover's wardrobe. When incorporated with the classic pencil skirt silhouette, this pattern creates chic outfits for the modern, working woman. When playful colours such as dreamy violets, pastel pinks and egg-shell blues come into the mix, this garment becomes the piece to throw on for a lunch with the girls or well-earned shopping spree. If you're going for a corporate approach, keep your skirt length below the knees and wear it with a matching jacket. To complete this look, add character by wearing statement boots or heels. For those women seeking a more off-duty look, experiment with colourful plaid prints an on-trend clear raincoat or classic military trench.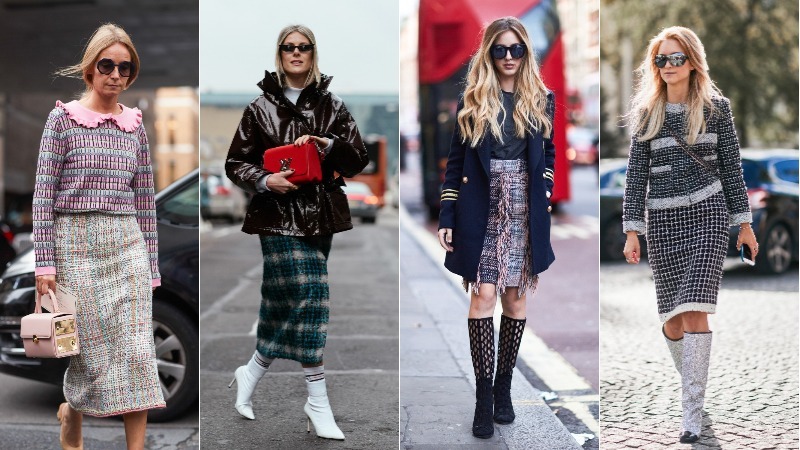 SHOP THE LOOK
Long Pencil Skirt
For tall women looking to flaunt their long legs, take that pencil skirt down to the ground. Rather than opting for the traditional knee-skimming style, select a pencil skirt that reaches past your toned lower calves or brushes just above your ankles. For this look, keep things sophisticated with monochromatic colours – namely, black, white and grey. Since you're already accentuating your height with your skirt length, low, kitten heels are the perfect addition to this outfit. Finally, to keep things fun, add a pop of colour with a bright handbag in one of this season's hottest colours: yellow, red, pink, or khaki.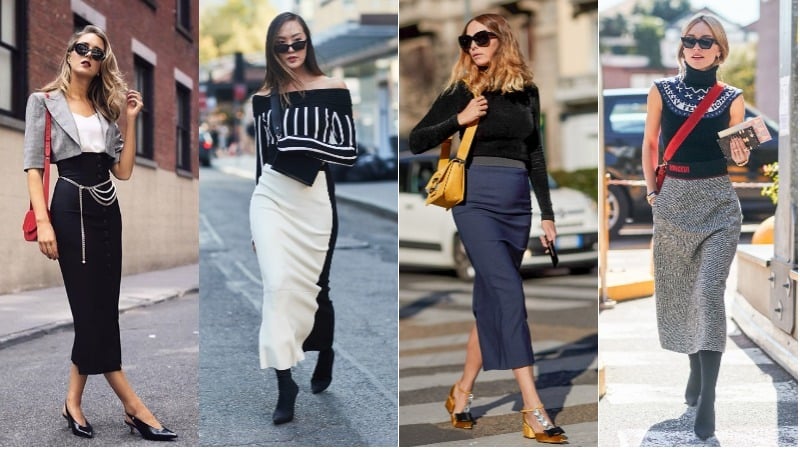 SHOP THE LOOK
Black Pencil Skirt
In the words of Neiman Marcus, "women who wear black lead colourful lives." Whether you're walking through the office, down the catwalk, or into a 5 star restaurant; a black pencil skirt commands attention. And how could it not? Combining the colour that flatters any figure with a skirt shape that does the same, there is really no room for error. To nail this look, forget the little black dress and go hunting for the perfect 'little black pencil skirt'. By little in this case, we mean long. For true class and allure, ladies, look for a pencil skirt that falls on or below the knees. From there, the styling options are as endless as your legs will appear. For a chic look, think silk blouses and black heels. If you're after something a little edgier, bold coloured crops, faux fur, and leather accessories line your path to success.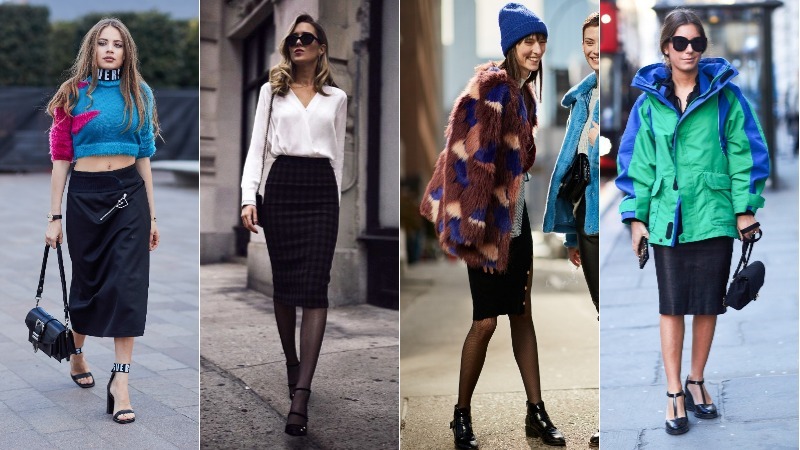 SHOP THE LOOK
White Pencil Skirt
If pristine, luxurious outfits fill your fashion dreams, take the plunge into the clouds and invest in a white pencil skirt. This statement piece has the potential to transform your entire persona. When wearing this piece, prepare to take on the appearance of a chic, alluring, and angelic figure. Ultimately, the way this skirt is styled will dramatically alter the overall effect. If exuding high fashion is your mission, pull out the gold, the fur, and the red lipstick. If you're after the empowered, snow queen appearance, opt for an oversized white coat, more fur, and icy blue accents. Finally, if you want to personify the word 'chic', a tight turtleneck, dark lips, and structured white blazer will achieve this goal.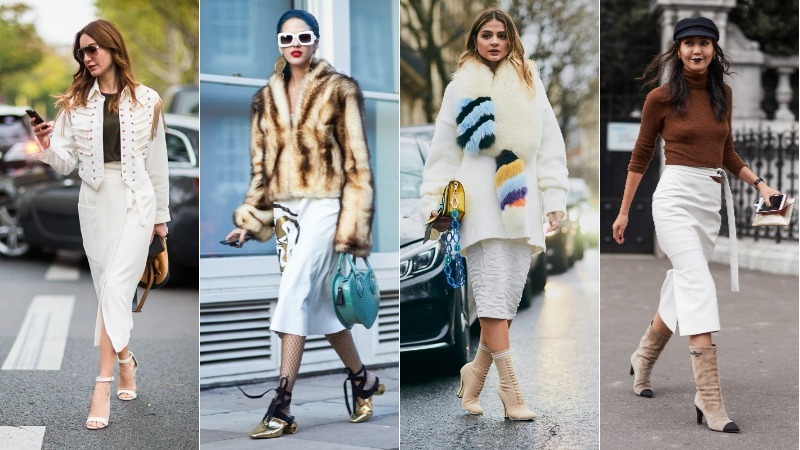 SHOP THE LOOK
Coloured Pencil Skirt
This season, block colours have made a comeback. In terms of pencil skirts, our go-to palette consists of blush pink, cherry red, canary yellow and khaki. When it comes to coordinating an outfit with your new colourful pencil skirt, the basics are fairly simple. Option one: Match your skirt colour to your top, or alternatively to your coat. Select a colour that suits your complexion and colouring to create a truly complementary, confident look. Option two: Pair your colourful skirt with a black or white shirt, for a crisp clean look that draws attention to the lower half of your figure. Finally, option three: Find your colour wheel. Remember that rainbow wheel your art teacher handed out to the class back in primary school? This is your new secret weapon. If you've lost the wheel from your school days, however, don't fear. This genius invention can be found easily online. To apply it to fashion, simply match colours that are opposite each other on the colour wheel. So, if you're wearing a pink skirt, pair this with a green shirt. In this equation, yellow matches with dark purple, and orange matches to blue. With this in mind, transform your wardrobe into an artist's palette and start mixing these colours like a pro.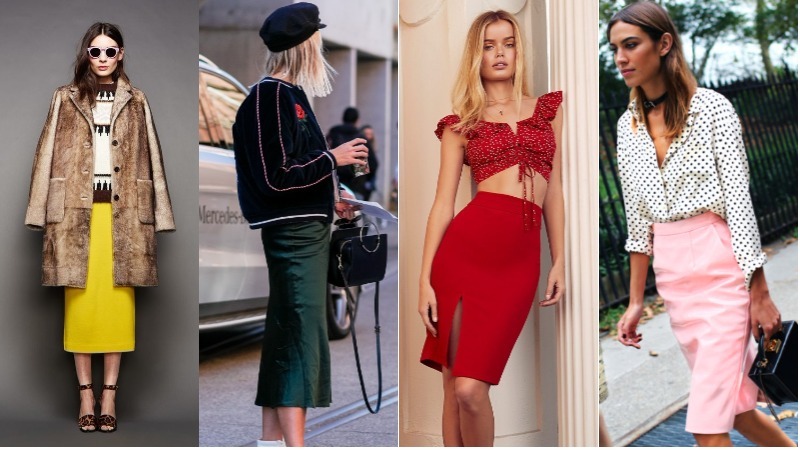 SHOP THE LOOK
How to Wear Pencil Skirt
For a sophisticated, on-trend look, ensure your pencil skirt falls to or below the knees.
Balance bold fabrics such as leather, sequins and lace with simple pieces in classic colours.
Accentuate the feminine figure created by a pencil skirt by wearing heels or heeled boots.
SUBSCRIBE TO OUR NEWSLETTER
Subscribe to our mailing list and get interesting stuff and updates to your email inbox.