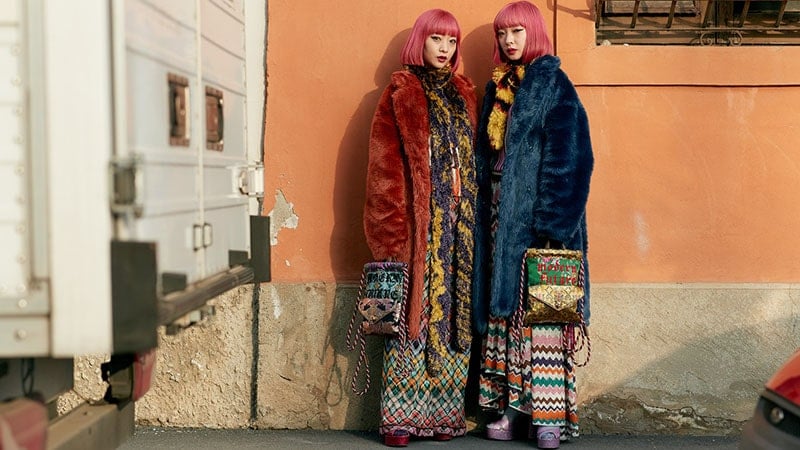 A maxi skirt is an item that every lady should own. Not only do these full-length skirts look fantastic, but they're also seriously versatile. When styled right, they can suit a range of occasions along with every season. Additionally, the comfortable and chic style can flatter anybody. So, whether you're tall or short, curvy or column-shaped, a maxi skirt can work for you. All you need to do is find the right design and partner it with the right pieces. Thankfully, we can help on this front. Here is our guide on how to wear a maxi skirt for a chic look.
Maxi Skirt Outfits
Black Maxi Skirt Outfits
If you're new to the world of maxi skirts, you can't go wrong with a black design. Both versatile and stylish, black maxis look great for a variety of events and occasions. As well as appearing fabulous with casual summer outfits, they can also work for evening ensembles and winter looks. To rock a black maxi in winter, partner it with a white, high-neck, long sleeve top. Then, complete your look with black boots and a blazer.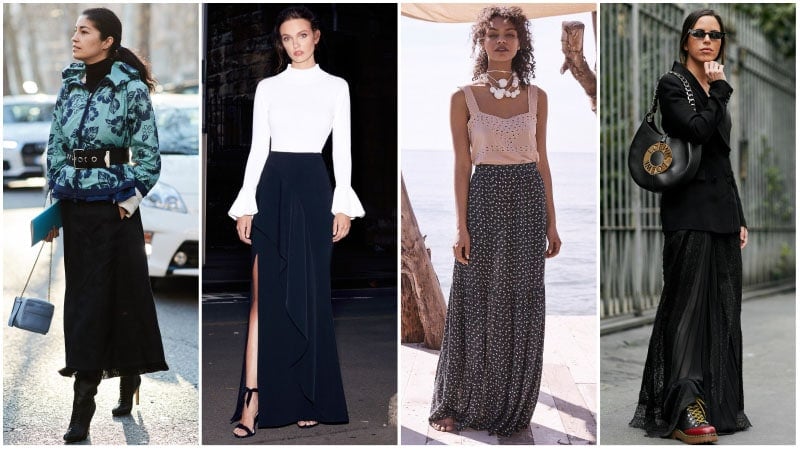 SHOP THE LOOK
White Maxi Skirt Outfits
For a feminine and whimsical look, a white maxi skirt makes a wonderful choice. Thanks to its crisp colour, a white maxi appears light and breezy, making it perfect for laidback looks during the warmer months. Designs in fabrics such as cotton, linen and crochet are particularly ideal. But, you can also consider styles with embroidery or a subtle pattern if you want to add a touch of colour. Once you've picked your style, pair it with a white or light top to keep your overall aesthetic bright. When it comes to shoes, you can either add sandals for a beachy vibe or boots for a western touch.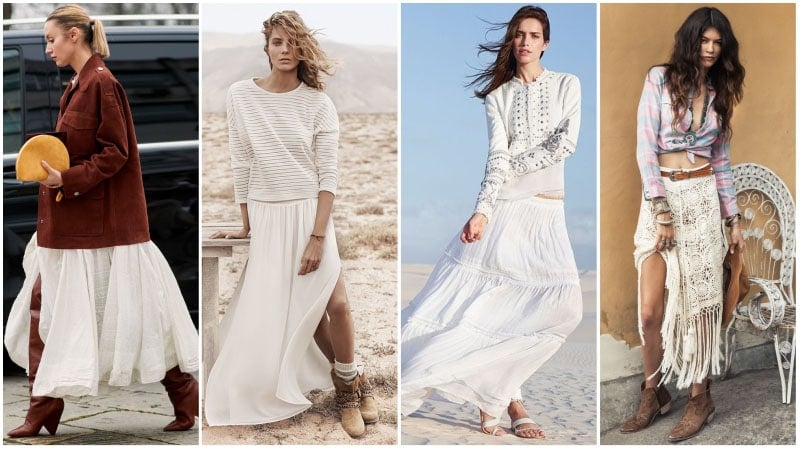 SHOP THE LOOK
Floral Maxi Skirt Outfits
A floral maxi skirt is a timeless garment that always looks chic. The style is especially ideal for achieving a gorgeous bohemian appearance. To create this look, opt for a flowing maxi with a softly coloured floral print. Also, be mindful of how the flowers appear. Small and delicate florals are perfect for a boho look while big and bold blooms are better suited to more modern outfits. Once you have your skirt, partner it with cute and comfortable items, such as a camisole top and flat sandals, and add accessories like beaded necklaces and bracelets.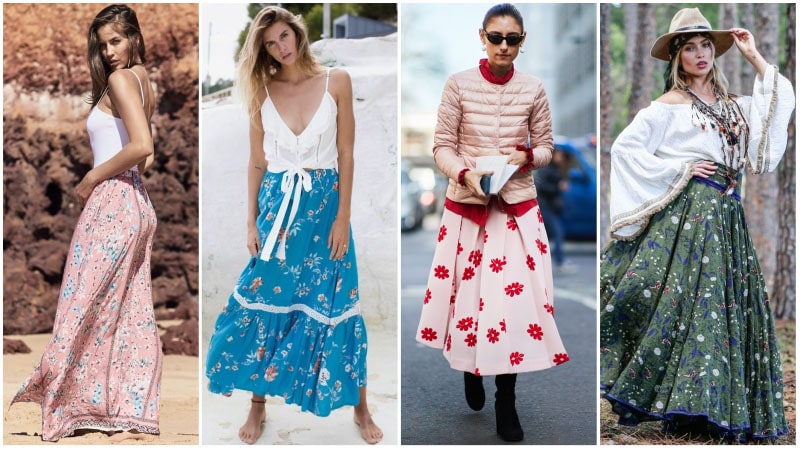 SHOP THE LOOK
High-Waisted Maxi Skirt Outfits
If you're looking to make your legs appear longer, a high-waisted maxi skirt makes an excellent option. However, when wearing one, it's essential to balance your top half with something minimal. To do so, try selecting a crop top or bralette. Alternatively, you could choose a standard style and either wear it tucked into your skirt or tied up in a knot. Also, as high-waisted maxis create a statement, especially those in bold prints or colours, you should select a top in either a matching or neutral hue.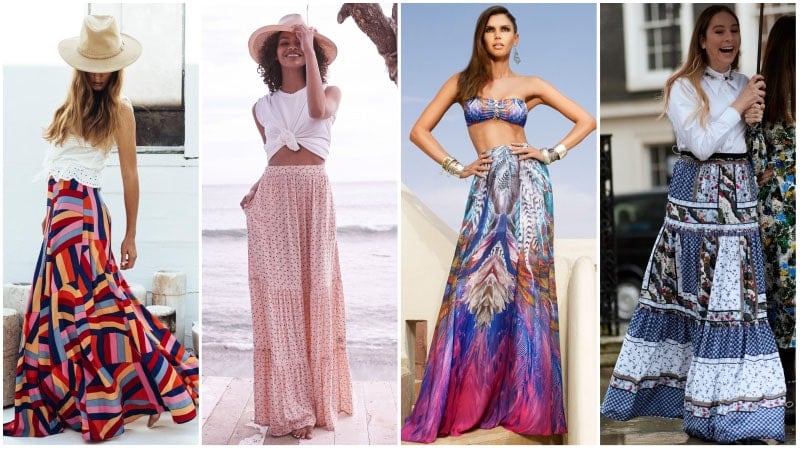 SHOP THE LOOK
Pleated Maxi Skirt Outfits
Thanks to their eye-catching designs, pleated maxi skirts are perfect for turning heads. As such, they make a fantastic choice for special occasions. For a sophisticated and classic appearance, consider choosing a style in a thick material with wide pleats. For a more modern look, opt for a plisse design in a fluid fabric. Either way, be sure to partner your skirt with heels to keep your look from appearing too bottom-heavy.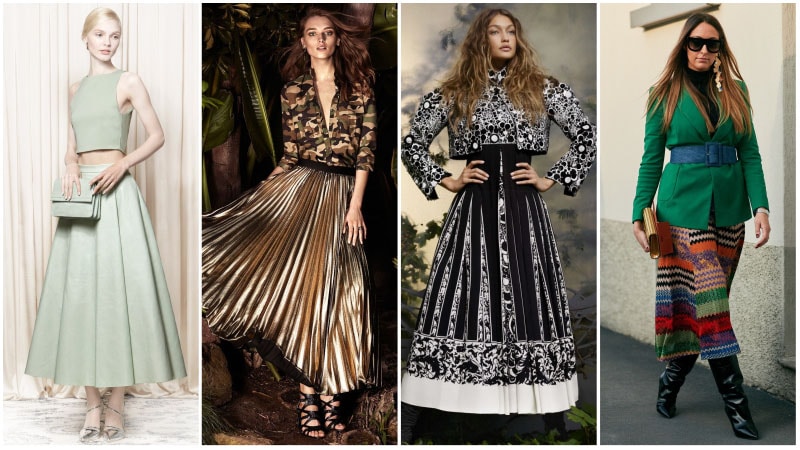 SHOP THE LOOK
Maxi Skirt with Slit Outfits
If you want to add both comfort and sex appeal to your maxi skirt ensemble, you can't go past a style with a slit. Not only do these maxi skirts make walking easier, but they also allow for a seductive flash of skin. To nail the look, all you need to do is ensure the height of your slit is ideal for the event you're attending. For example, if you're heading to drinks at a cocktail bar, opt for a slit that begins high on the thigh. But, if you're going to dinner at a nice restaurant, select one that starts around the knee.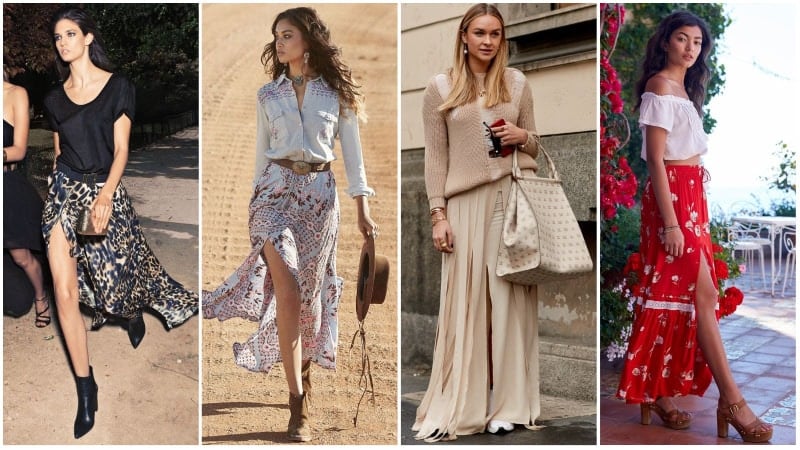 SHOP THE LOOK
Denim Maxi Skirt Outfits
For a unique take on the maxi skirt, consider adding a denim design to your wardrobe. Perfect for fashion-forward ladies, the denim maxi is a bold look that projects confidence. While there are several ways you can rock this maxi, a western, Americana ensemble appears particularly stylish right now. To achieve the look, choose a denim maxi a frayed hem and partner it with a logo T-shirt. Then, finish with some cowgirl accessories, such as boots, a saddle bag, and a fedora.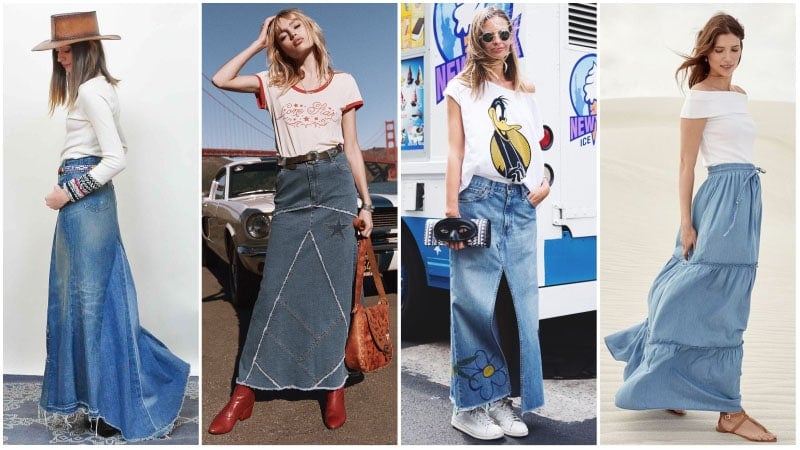 SHOP THE LOOK
Tulle Maxi Skirt Outfits
When it comes to special occasions, such as proms and engagement parties, a tulle maxi skirt can make an excellent option. A fantastic alternative to a traditional dress, a tulle maxi offers the same polished appearance but with a modern twist. To wear one, start by finding your perfect colour. While soft shades, like cream and blush, will play up the femininity of this skirt, bolder tones, such as navy and black, will enhance its statement style. Once your colour is chosen, you can complete your outfit with a cropped or tucked-in top, and heels.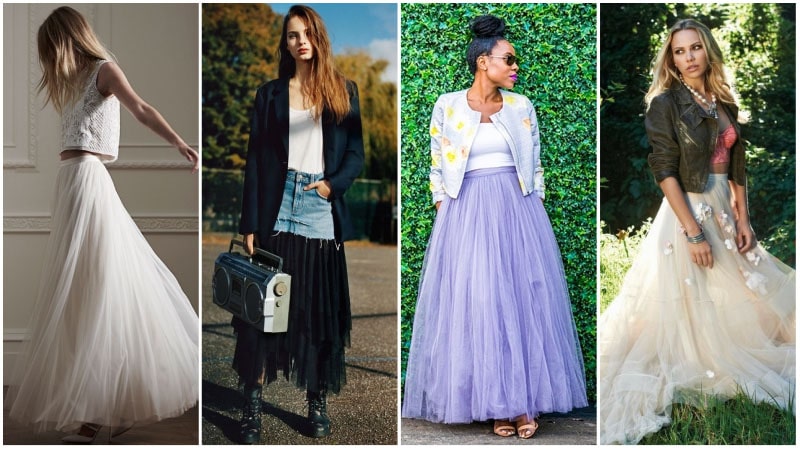 SHOP THE LOOK
Chiffon Maxi Skirt Outfits
A chiffon maxi skirt can make a surprisingly flexible garment choice. For the beach, single-layered designs work best. Wear one over the top of your swimsuit or bikini to achieve a gorgeous and flattering appearance. But, the beach isn't the only occasion you can wear this skirt. A chiffon maxi can also work beautifully with casual and evening ensembles. All you need to do is ensure your look isn't too see-through. To do so, select a layered design or partner a transparent style with a slip dress or skirt. Then, either play up the femininity of your skirt with light colours and fabrics or add a dose of attitude with tough black pieces.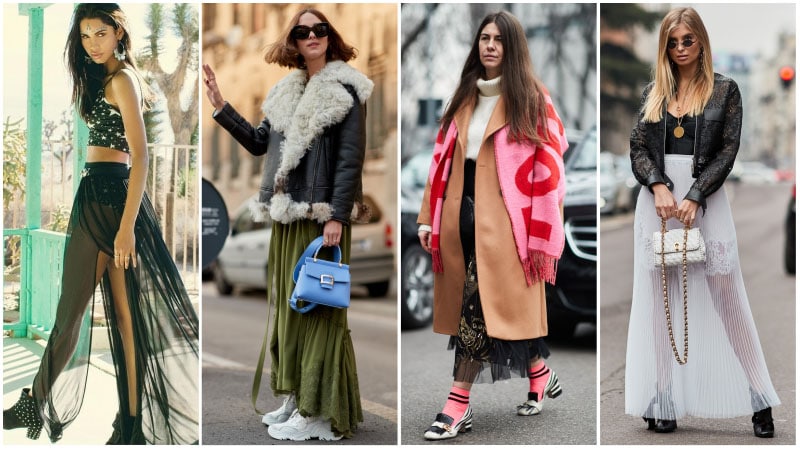 SHOP THE LOOK
Wrap Maxi Skirt Outfits
When choosing a maxi, you shouldn't forget to consider a wrap design. As well as being comfortable to wear and easily adjustable, wrap skirts are also feminine and flattering. They especially look great in smooth, lightweight fabrics, such as satin. They also come in a variety of stylish designs, including on-trend ruffle and buckle styles. As such, they're ideal for a mixture of events and occasions like lunch dates, evening drinks, and even work.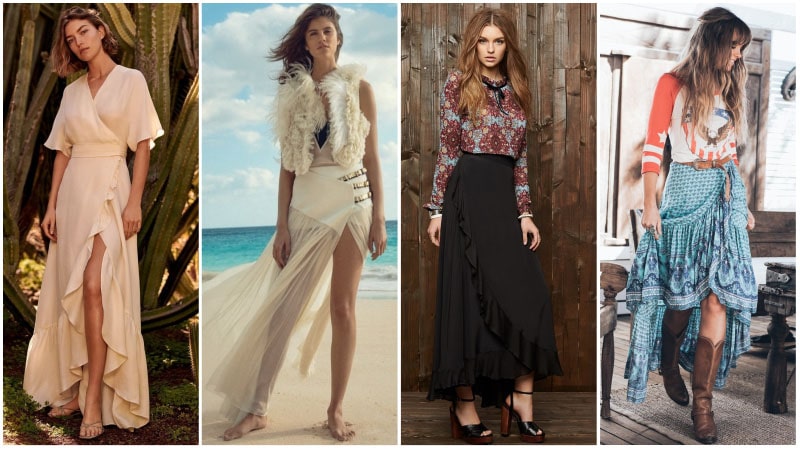 SHOP THE LOOK
How to Wear a Maxi Skirt
Choose the maxi skirt that best suits your style, such as a floral design for a bohemian look or a tulle option for a polished and pretty appearance.
If you're short, pair your maxi skirt with heels to elongate your legs.
For a flattering appearance, partner a maxi skirt with a crop top.
Team boldly coloured and printed maxis with matching or neutral tops.
If you don't have a maxi skirt, you can create the look by wearing a top over a maxi dress.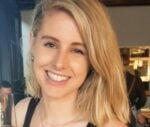 Taylah Brewer holds a bachelor's degree in fashion and business and is a skilled writer with several years of experience in the world of online content creation and copywriting. She is passionate about fashion, beauty, and all things lifestyle-related and has been writing for The Trend Spotter since 2016. She currently works as the Head of Digital & Ecommerce at White & Co.
SUBSCRIBE TO OUR NEWSLETTER
Subscribe to our mailing list and get interesting stuff and updates to your email inbox.