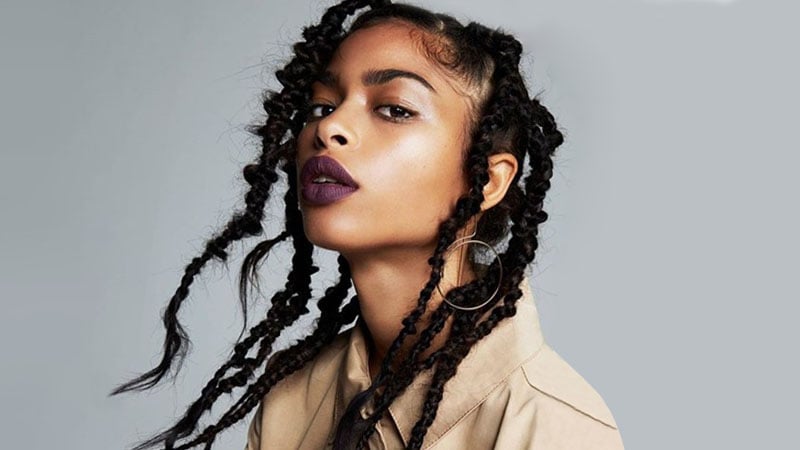 Have you been searching for a great new look? Well, then, you have come to the right place! Protective styles are a great option for your hair because they let you take a break from the heat and chemical styling while also promoting natural hair growth. There are many styles to choose from, including kinky twists. They are the two-strand twists with loose ends, meaning the end of the hair is curly, which creates a brilliant contrast with the rest of the twists. These twists are often worn around shoulder length and are not particularly thick, which is part of their appeal because they are low-maintenance and lightweight. They are not as versatile as some protective styles but can be adapted with different colors and styles to suit your preference. Keep reading for all the inspiration you need!
1. Kinky Twist Braids
Kinky twists are an excellent option for your next protective style. They are created with two-strand twists, left loose at the ends, and can be styled in various ways, depending on your preference. The great thing about these braids is that they are versatile and low-maintenance, while also giving your natural hair a break from the heat and chemical styling.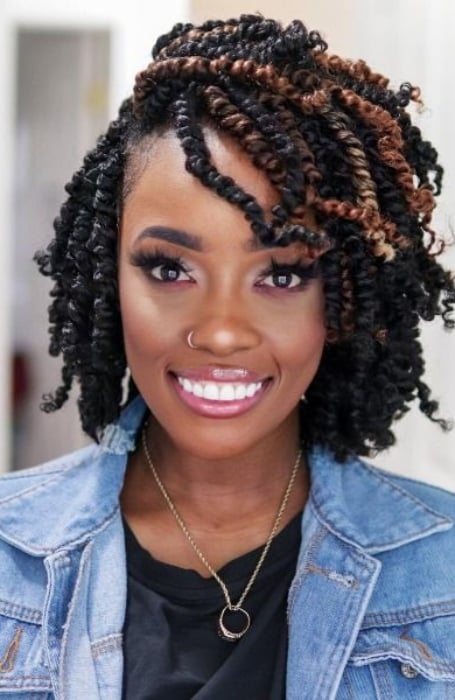 2. Long Kinky Twist
The kinky twist hairstyle is not often worn long and is normally kept around shoulder length, making it the ideal medium-length protective style. However, you can work with your stylist to alter the length slightly to best suit your preference. The great thing about this look is that it has loose ends, giving it a brilliant, curly finish that can be incredibly flattering and soften your features.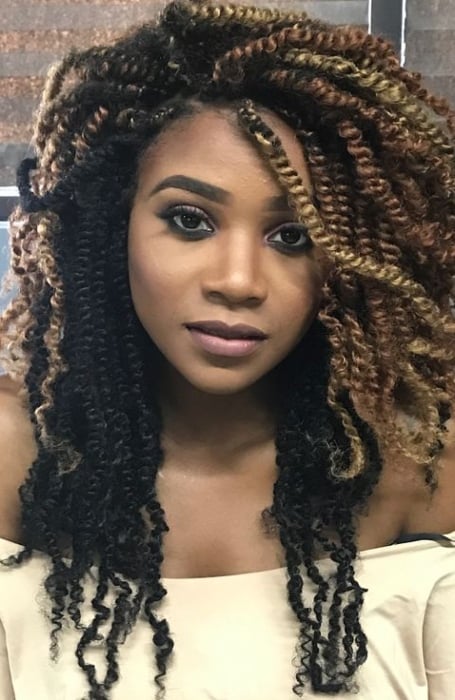 3. Crochet Kinky Twist
Kinky twists are similar to other twist hairstyles but are defined by their loose ends, which lets you show off the curly texture. These twists are long-lasting and gorgeous and the ideal hairstyle for a woman who wants to take a break from the heat or chemical styling. Crochet hair refers to a method of installation that attaches synthetic hair to natural hair, which is in a base of cornrows, using a crochet hook.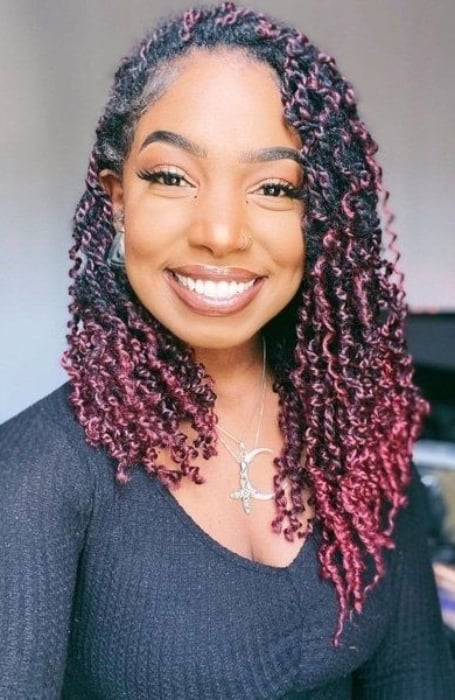 4. Pink Hair With Kinky Twist
Pink hair is a color that is universally flattering, fun, and expressive. The color is associated with love and femininity, and opting for pink hair can be a great way to make a statement about female empowerment or show that you are someone who is not afraid to take risks. There are various colors to choose from, including soft pastel hues and hot pinks, making it easy to find something to suit every preference.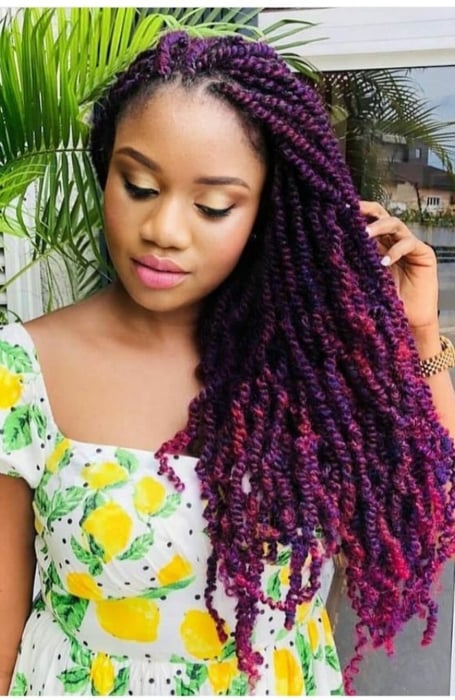 5. Short Kinky Twist
Kinky twists are typically worn around shoulder length but can also be cut slightly shorter to accommodate your preference. Short hair is appealing because it is low-maintenance and effortless to style. Because of the length, kinky braids are often worn loose and styled down instead of opting for updos. This is great for thin and fine hair because it will cause less tension on the scalp.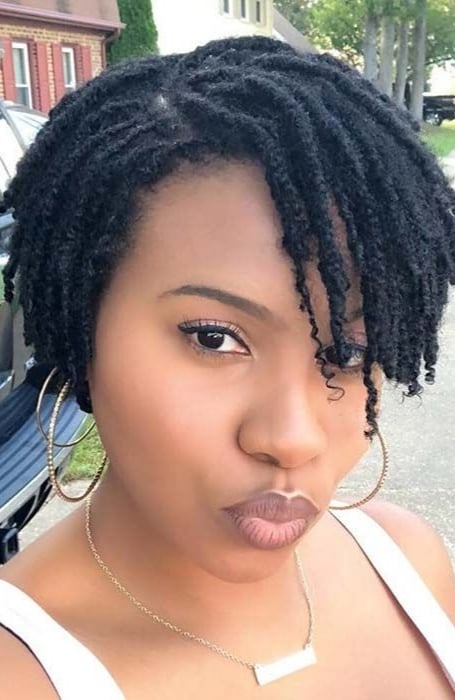 6. Lob Kinky Twist
The lob haircut is classic and chic and looks great on women of all ages. The hair is cut just above shoulder level, making it easy to style and low-maintenance, while also drawing attention to the face, specifically the cheekbones. Styling your kinky twists into a lob will create a modern version of a timeless cut. This will let you express yourself while showing off your hair texture.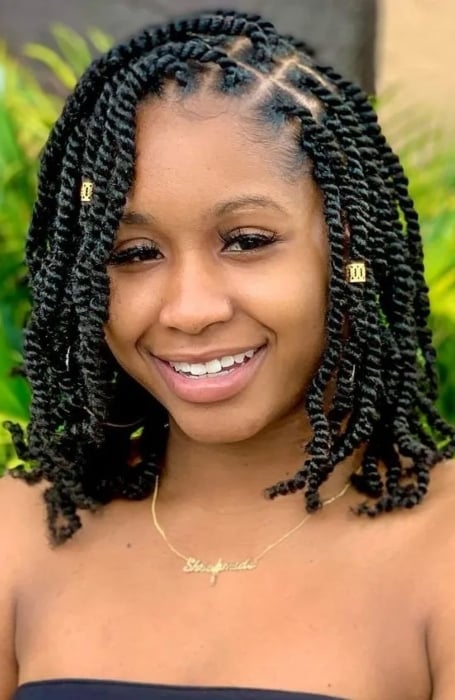 7. Medium Length Kinky Twist Styles
The most common way to wear kinky twist styles is with medium length hair. This length gives you the best of both worlds as it is short enough to make styling easy but gives you enough length to try out simple updos like a small bun or low ponytail. The way the hair falls around the face at this length can also be flattering, highlighting the features.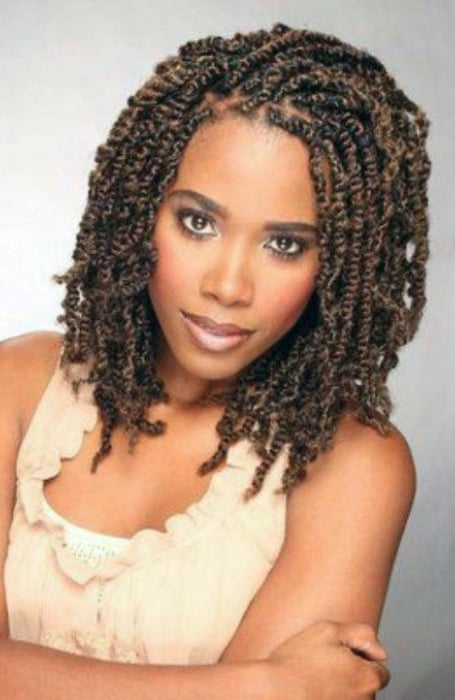 8. Kinky Twist with Tapered Sides
There are many ways to try out kinky twists and adapt the hairstyle to suit your preference. This includes pairing the twists, which are often voluminous and have brilliant curly ends with tapered sides. The contrast in length will make the hair on the top of the head appear fuller and thicker while also giving your hairstyle structure. This is for someone who wants an edgy and effortlessly cool look.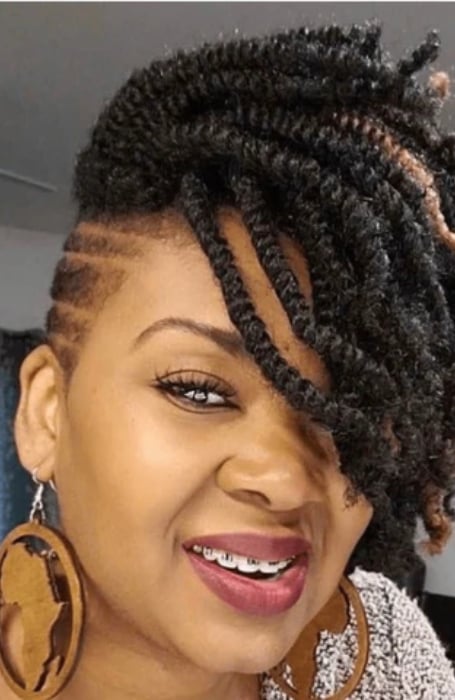 9. Afro Kinky Twist
Afro-textured hair, or kinky hair, looks full and healthy and is defined by tight curls. It can require more care than other curly textures but is gorgeous. You can wear your hair naturally or take a break from styling by working it into a protective style like kinky twists, which are done using kinky extensions. The appeal of this hairstyle is that it will promote natural hair growth.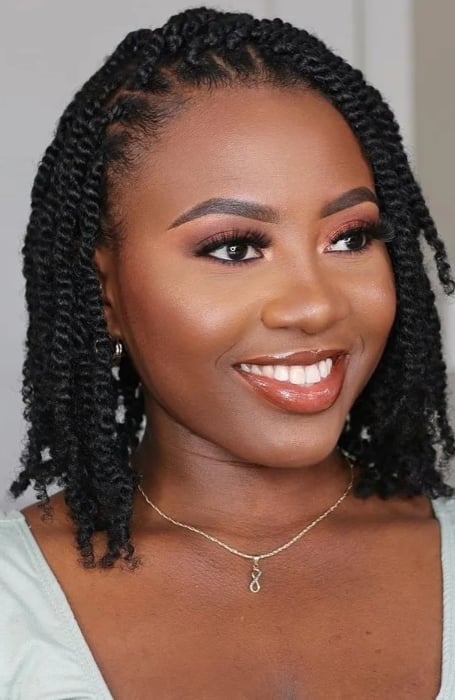 10. Small Kinky Twists
Kinky twists are smaller and shorter than many other protective styles. They lack thickness and should not typically be longer than shoulder length. They are versatile in how you can color and style them, but the size and length are pros because they make the look low-maintenance. Kinky twists are also long-lasting, and you should be able to wear them for around eight weeks.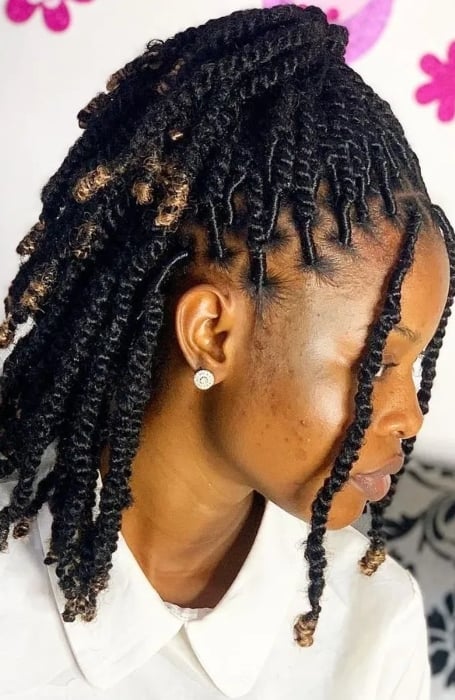 11. Ponytail Kinky Twists
Kinky twists are often worn down because they are medium-length, but you can also opt for a pretty low ponytail for an effortlessly chic look. The ponytail is one of the most simple updos and is appealing because it can be achieved with little skill or effort. It is a great way to remove the hair from the face and open up your features. It can also be styled to look neat and sophisticated or ideal for warm weather and daily errands.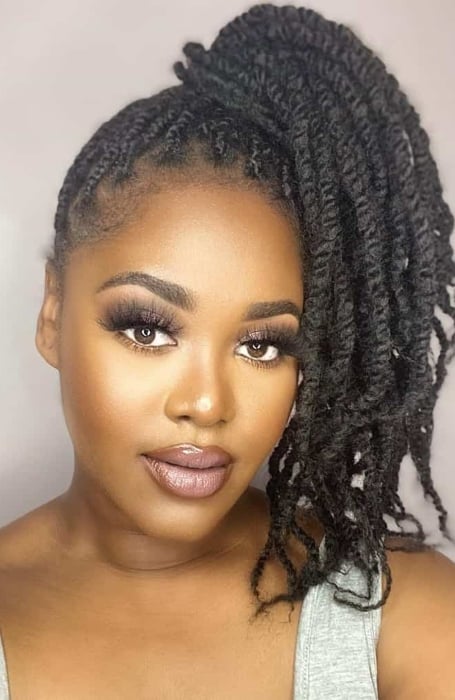 12. Colored Kinky Twist
If you want to stand out from the crowd, what better way to do this than with colorful kinky twists? Kinky twists are a super cute and feminine hairstyle. It is defined by the two strands and loose ends, which lets you show off the curly texture. While you cannot experiment too much in length and size, you can have fun with bright and bold colors.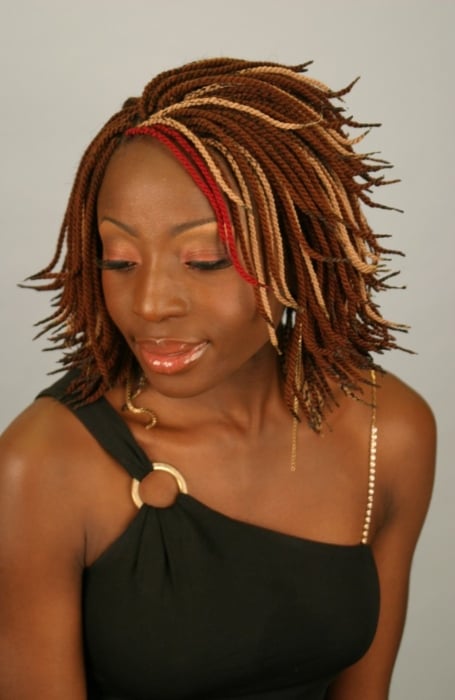 13. Kinky Twist Bob
The bob haircut is a favorite for women of all ages because it is universally flattering and exceptionally stylish. The bob also works with all hair textures, including kinky twists. These twists are meant to be around shoulder length, so cutting them and styling them in a bob is a practical and gorgeous way to wear your kinky twists. How the hair falls around the jaw level will also highlight your facial features.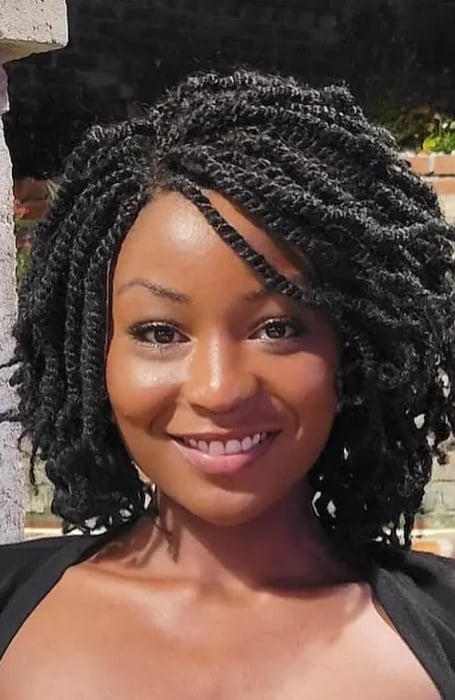 14. Kinky Twist Updo
Kinky twists may not be the most versatile protective style there is, but even with shoulder-length hair, you can experiment with simple updos. Updos are an excellent option for those who want to create a more formal finish, or your look could be deliberately unstructured for an effortlessly chic and laidback aesthetic. Low buns, ponytails, and half up half down hairstyles will work well.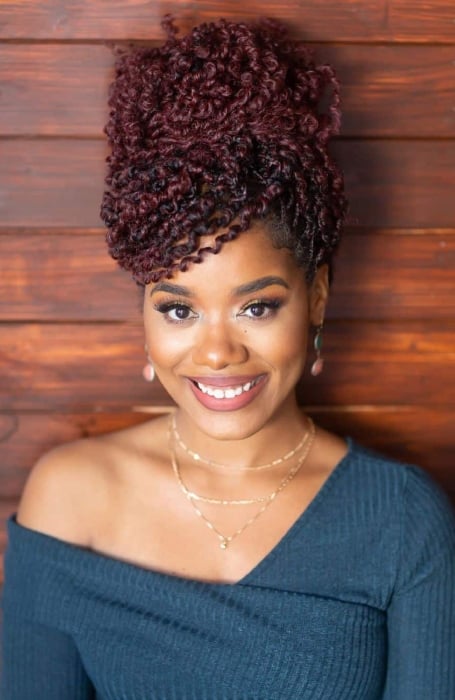 15. Knotless Kinky Twists
Knotless kinky twists refer to the installation process, which does not use knots and instead feeds in the extensions bit by bit. The result is a more natural-looking style that is also flexible and versatile. This is an excellent option for thin and fine hair as it will put less strain on the scalp and prevent hair loss caused by tension.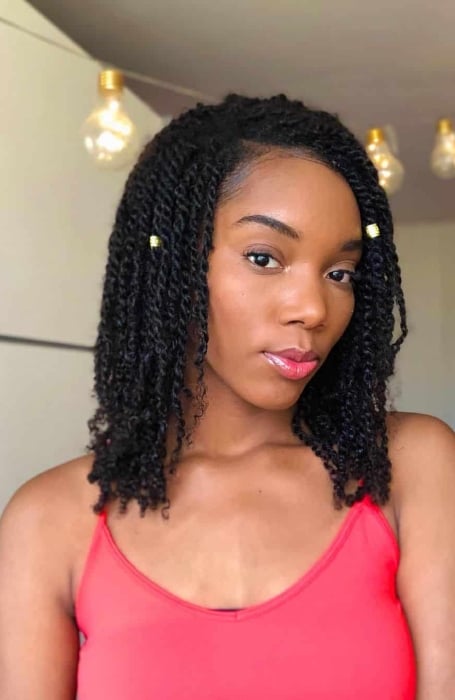 16. Large Kinky Twists
Kinky twists are low-maintenance because they are short and thin, but you can add some thickness to them with the extensions you use. Instead of opting for length, you can make the hair appear fuller and thicker by sticking to the traditional shoulder-length style. They are a great option for natural hair and can promote hair growth while reducing the risk of breakage.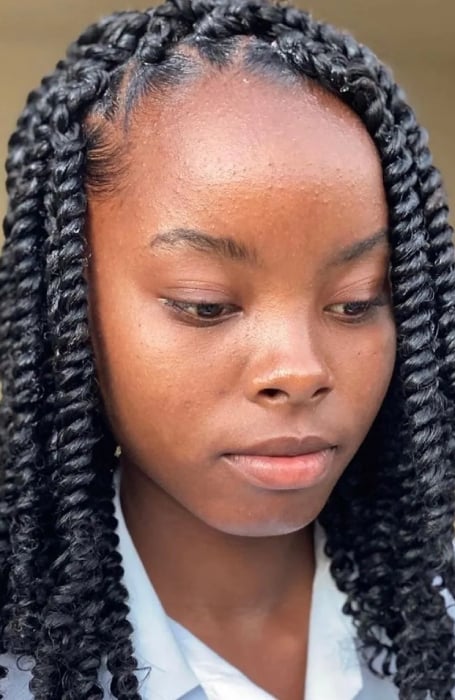 17. Kinky Twist Natural Hair
Natural hair refers to hair that has not been chemically or heat altered. If you have naturally kinky hair, you will find it dense and full. Maintaining it can be challenging, but you may be drawn to styling it in kinky twists. Or you can create the hair with extensions, giving you more length and thickness. Kinky twists are stylish and low-maintenance haircut, and this protective style will promote natural hair growth.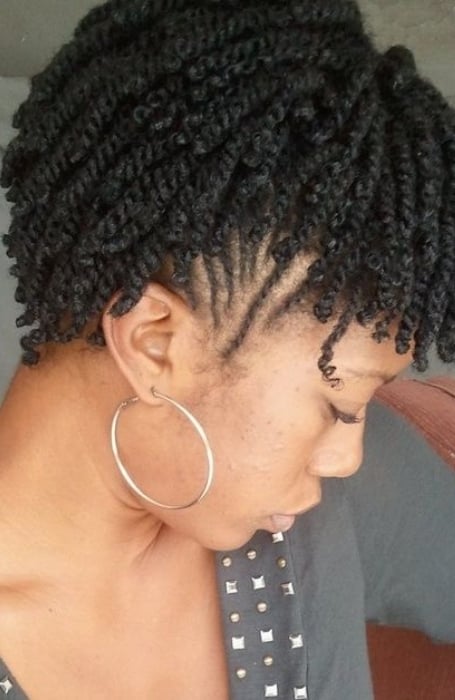 18. Blonde Kinky Twist
Blonde hair is gorgeous and is an excellent option for your kinky twists. The light color will highlight and enhance the texture while also brightening your appearance. There are various shades of blonde to choose from, making it easy to find one that best suits your preference and complements your complexion. You can also opt for a blonde ombre look if you want to create contrast with your roots.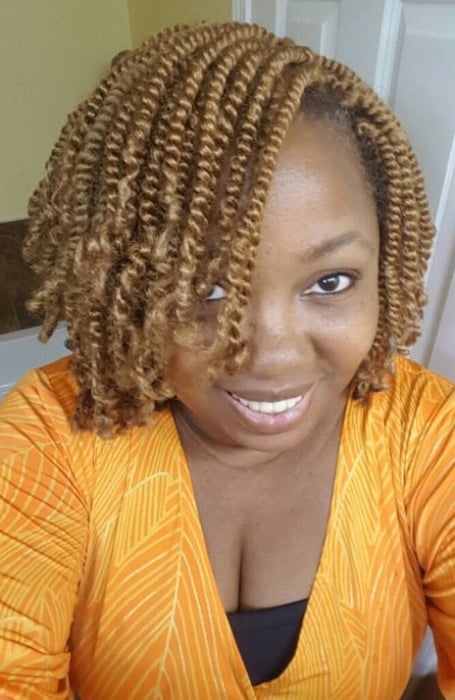 19. Curly Kinky Twist
Kinky twists are created using curly, Afro-textured hair, which is why they look better when worn shorter and styled in twists. Kinky hair is a type of curly hair, usually, type 4A to 4C. The appeal of these twists is that they have loose ends, which lets you show off the texture. This protective style will last around eight weeks and can be colored, styled, and adapted to suit your preference.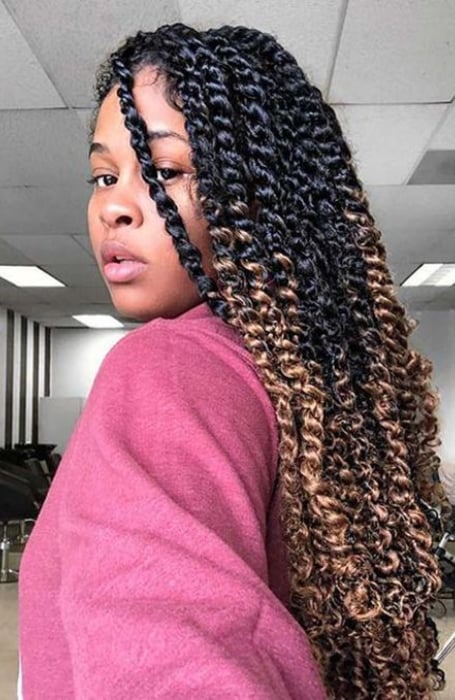 20. Kinky Twist Cornrow
For a unique look, you could pair kinky twists with cornrows. The contrast between the neat rows and the textured twists will look great. Cornrows are braided close to the scalp using the underhand braiding technique, giving them a raised appearance. It is one of the most popular braided styles because it can be achieved on most hair lengths and all textures. Cornrows can also form the foundation of more complicated braided styles.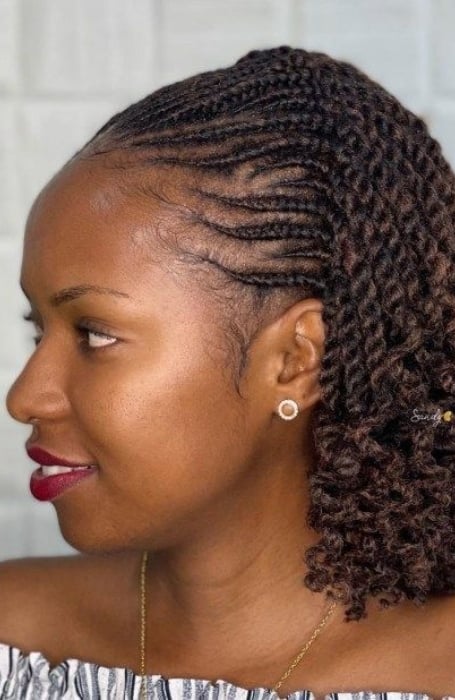 21. Red Kinky Twist
Red hair is a brilliant way to draw attention to yourself and can highlight your hair texture and style. Natural red hair is incredibly rare, but there are many different shades of dye to try with varying levels of brightness and richness. If you are looking to transform your appearance or want a fun change, red hair with kinky twists could be just what you have been looking for!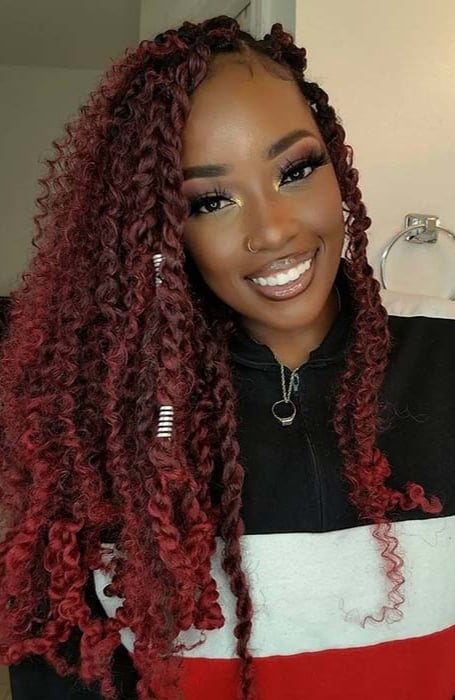 22. Burgundy Kinky Twist
Burgundy hair has been incredibly popular in recent years because it is a color that is bold and makes a statement, but it is also incredibly flattering on most people. The color is a dark, reddish-brown hue with violet tones and will be an excellent way to highlight the texture of your kinky twists. Coloring your hair in unnatural colors is also fun and expressive.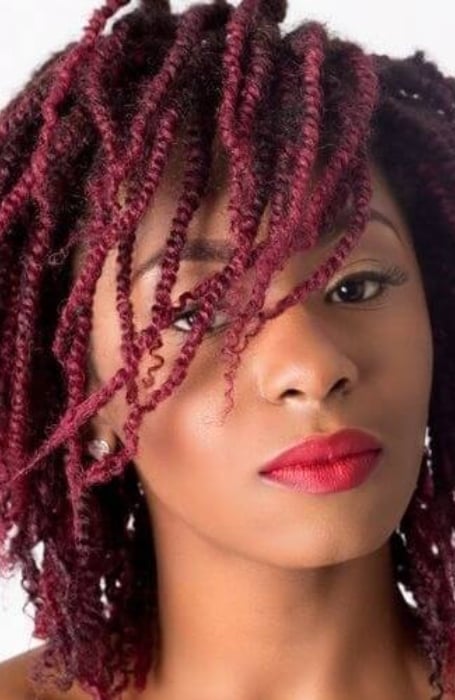 23. Kinky Passion Twist
Passion twists are a gorgeous braided style created using Freetress Water Wave hair. They are a type of two-strand twist, and are incredibly versatile, letting you experiment with the desired finish. This includes leaving the ends unraveled to show off the hair texture. Passion twists are typically installed with curly hair, but you can alter the look by using kinky hair for a version that combines passion and kinky twists.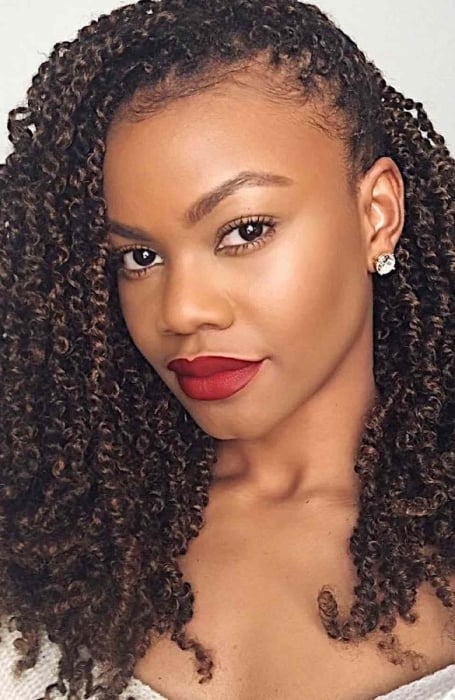 24. African Kinky Twist
Kinky hair is a type of curly hair with a very textured pattern with kinks. It can differ in density, strand diameter, and feel. The kinky twist is a popular protective style created from two strands with loose, curly ends. It is long-lasting and will break you from the heat and chemical styling. At the same time, this will promote natural hair growth.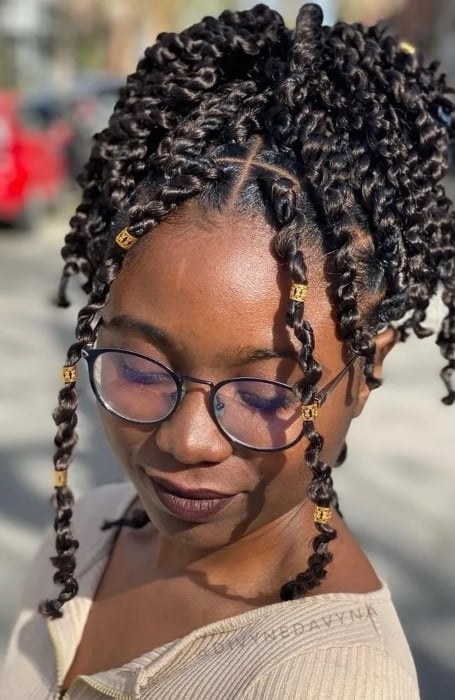 25. Half Up Half Down Kinky Twist
The half up half down hairstyle is an incredibly versatile look and can be adapted to suit all hair textures and most lengths. As the name suggests, the look is defined by the hair being worn half up and half down. This lets you pull the hair away from the face, opening up your features while also letting you show off your hair texture, or in this case, your kinky twist protective style.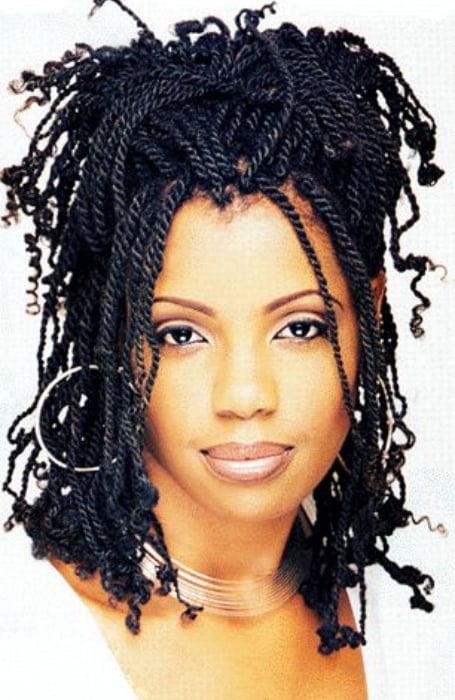 How to Do Kinky Twist
Kinky Twists are a two-strand twist hairstyle that is popular because it is lightweight, stylish, and low-maintenance. The look is a relatively quick and easy protective style and is created with a kinky hair texture. These twists are usually worn shoulder length and are not thick. You may not have as much versatility with styling as you would with some other hairstyles, but the appeal is how low-maintenance the twists are. In addition to your chosen hair extension and color, you will also need water, moisturizer, and hair grease. For more information on creating the style yourself, watch the video below.
Kinky Twist FAQs
What is a kinky twist?
A kinky twist is a protective hairstyle. It is a two-strand twist with loose ends, which show off the hair texture. These twists get their name because of the texture and can be created with Afro-textured, kinky extensions.
How long does kinky twist last?
Kinky twist hairstyles are long-lasting and low-maintenance, making them the perfect option for a woman who wants to change her style and have a break from the heat and chemical styling. At most, they can last around eight weeks, but will usually last around four weeks.
What type of hair is used for kinky twists?
There are several types of hair extensions that can be used for your kinky twists depending on your preference. You want to use Afro-textured hair for its denseness and coarseness which will make it easier to braid. You can choose human hair or synthetic options, but the latter is often best for braiding.
What's the difference between Marley twists and kinky twists?
There are similarities in appearance between Marley twists and kinky twists but the significant difference is where the braids start. With Marley twists, the extensions are twisted from the roots, whereas with kinky twists, the twisting starts about an inch away from the root.
What's the best hair for kinky twist?
The best hair for kinky twists will be a personal preference and you also have a choice between human or synthetic extensions. However, the best option is often synthetic for this style as it will be less likely to unravel and therefore longer lasting. Options include Tiana Passion Twist Hair and Bijoux Afro Kinky Bulk.
How long does it take to kinky twist?
It will take around six hours, give or take, to create a kinky twist, but they are long-lasting making the time spent worth it. For those who are skilled at installation, you may find this process is much faster.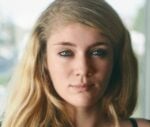 Cailyn Cox holds a degree in journalism and has been working with The Trend Spotter as a writer for over ten years. She has worked with some of the most prestigious women's and men's lifestyle publications. For her, writing is not just a job; it's a passion, which is why each article she writes is approached with such enthusiasm and dedication. She has extensive knowledge of hairstyles, tattoos, and beauty and has made a career out of creating informative articles that appeal to women and men of all ages.
SUBSCRIBE TO OUR NEWSLETTER
Subscribe to our mailing list and get interesting stuff and updates to your email inbox.