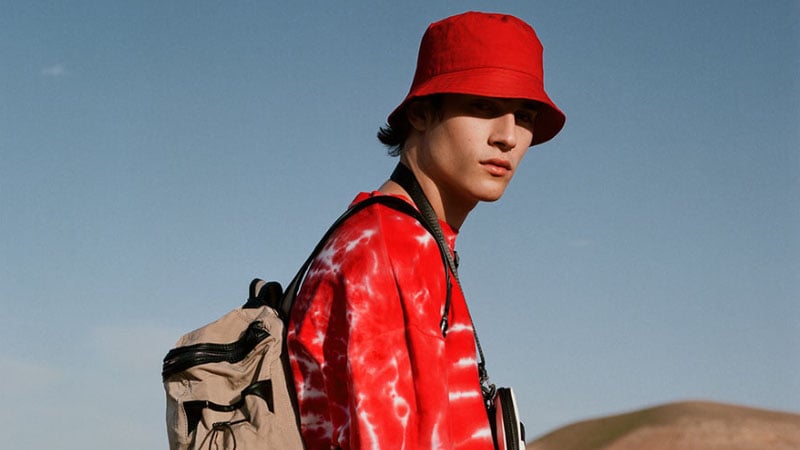 For decades, the bucket hat has been a staple accessory for men's wardrobes. With humble beginnings in the 1940s, this iconic item became hugely popular in the 1980s and 1990s, with the ever-growing popularity of streetwear. Still, as trendy as ever, you can rock them throughout the year, no matter the season. Whether it's paired with a suit or sweatpants, here are the coolest bucket hats and how to style them to perfection.
What is a bucket hat?
A bucket hat made its debut in the early 20th century and was worn primarily by fishermen and farmers in Ireland to protect against the rain. They became a part of mainstream fashion during the 80s and 90s, thanks to skate and hip hop subcultures, and are now a popular choice for fashion lovers. The style of the hat is distinctive, with a wide, downward-slanting brim and a flat top. You can find them with shorter sides, and thanks to its flexible fabric construction, you can flip the brim for better viewing. This accessory style is easy to fold, meaning you can put it in your pocket and be on your way.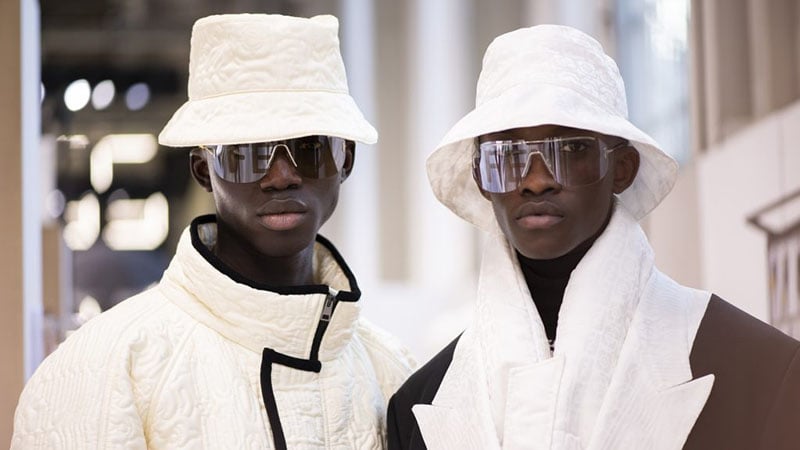 Bucket Hat Outfits
Black Bucket Hats
A black bucket hat is a great staple for everyone's wardrobe. It is easy to match with the rest of your outfits and is trendy enough to elevate your ensemble. Rock it with a blazer and oversized trousers, jeans, and a T-shirt – the options are endless. Whether it's a sunny day at the park or you're hanging out with friends, it's an excellent go-to item.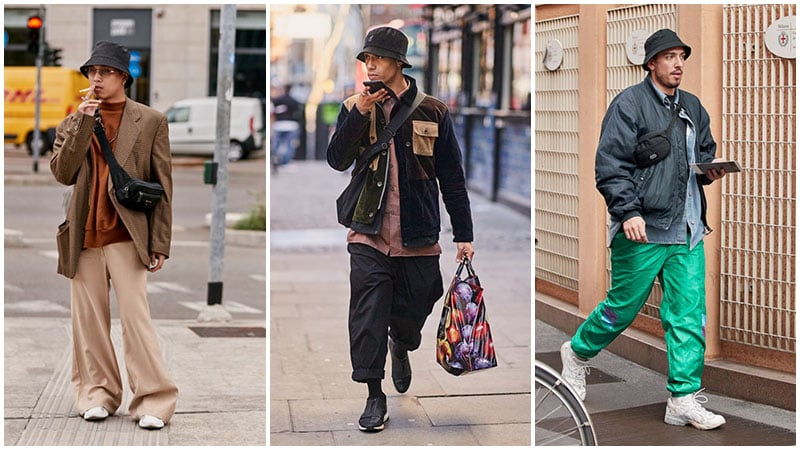 Tie-Dye Bucket Hats
The tie-dye trend has remained strong for a few years, and it is easy to see why. The rainbow shades easily brighten up your outfits, no matter what season it is. Try a tie-dye bucket hat with a monochrome outfit, such as all black or white. Alternatively, you can choose hues from the accessory and insert them into your ensemble. Let yourself experiment with different styles – this headgear goes with a range of looks.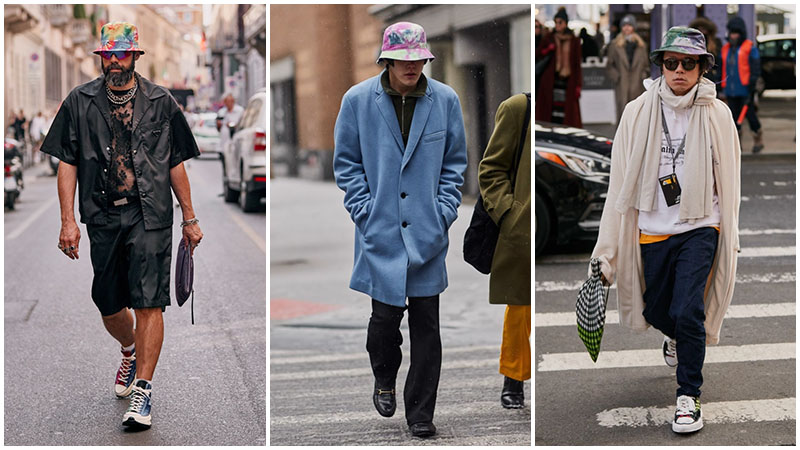 If you love dark shades but want to avoid wearing black, a navy bucket hat could be the choice for you. This trendy accessory is a great shade for the guy who loves neutral styling, such as camel suits, grey sweaters, and blue jeans. Embrace your wild side by rocking patterned pants and a shirt, or keep it minimal in all blue.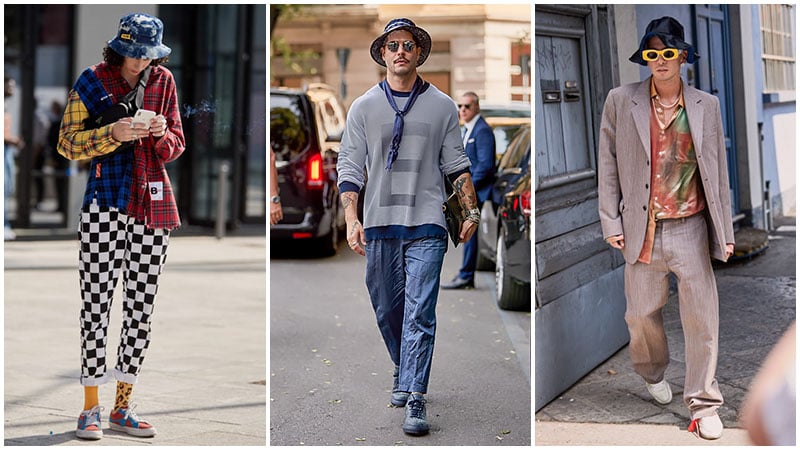 White Bucket Hats
Sometimes the simplest designs are the ones worth showing off. The humble white bucket hat looks amazing on various skin tones and is a great addition to your favorite outfit. For those who are fans of light ensembles, this accessory is a great way to tie everything together. Make your entire getup stand out by adding bright shades of blue, green, or red. With such variety to choose from, you can mix and match to find your next go-to.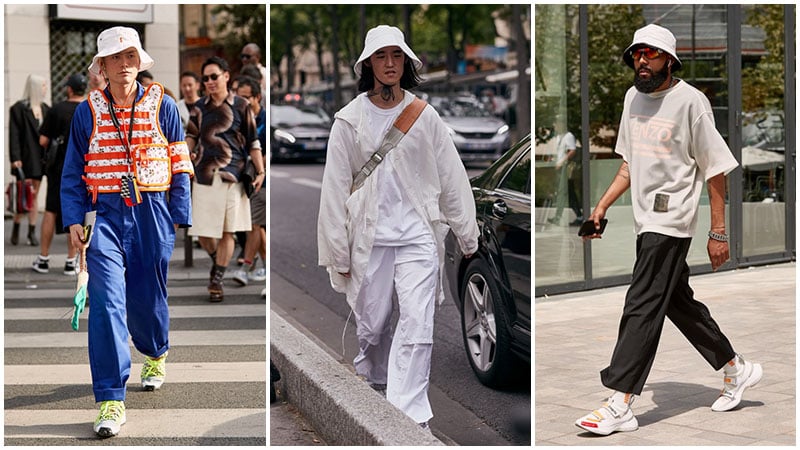 Olive and Khaki Color Bucket Hats
Elevate your outfit during the colder months by adding an olive color bucket hat. The warm-toned hue looks great when paired with similar shades and offers a finishing touch for many ensembles. For a smart casual event, opt for a casual suit and T-shirt combination in navy, khaki, or brown. You can add a camel overcoat with sneakers or dress shoes for a sleek and polished look during winter.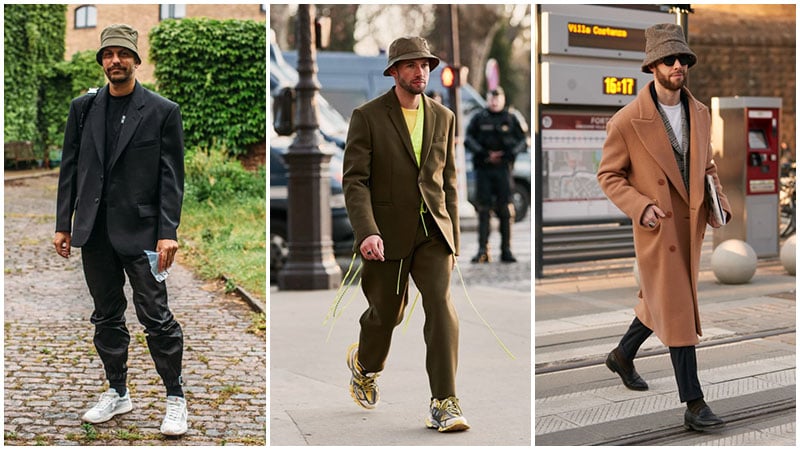 Bucket Hat With Cool Prints
Show off your quirky side by adding a bucket hat with cool prints. This edgy style is ideal for those who enjoy taking fashion risks but love keeping their look fresh. Choose a design that expresses your personality, such as geometric shapes, animal prints, or a logo. Find varying shades to complement a wide range of clothes, and you'll feel trendy and timeless.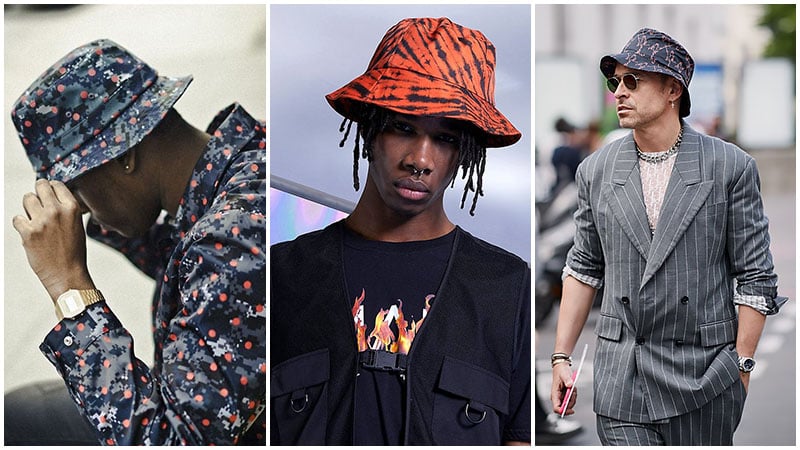 Yellow Bucket Hats
Yellow is a shade that is sure to brighten your day. Mixed with white, grey, or blue, it's a bright hue you can swap in and out daily. When choosing a yellow bucket hat, opt for a plain design or something with a pattern – dress it up or down depending on the occasion. You can wear it with a classic streetwear style, such as shorts and an oversized T-shirt. Alternatively, wear it with jeans and a blazer for a slightly more dressed-up feel.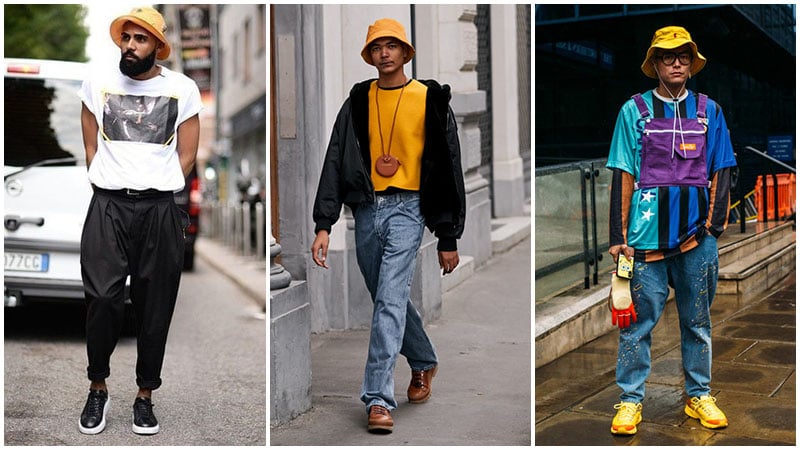 Plaid Bucket Hats
Take inspiration from the streets of London by adding some plaid flair to your accessories. A plaid bucket hat is a timeless style and it is easy to rock with a lot of different looks. For those who enjoy the pattern, add a matching sweater or trench coat – it will tie the ensemble together and create unity. An oversized Cuban collar shirt in a similar hue complements the design – pair it with dark trousers and a cross-body bag for the finishing touches.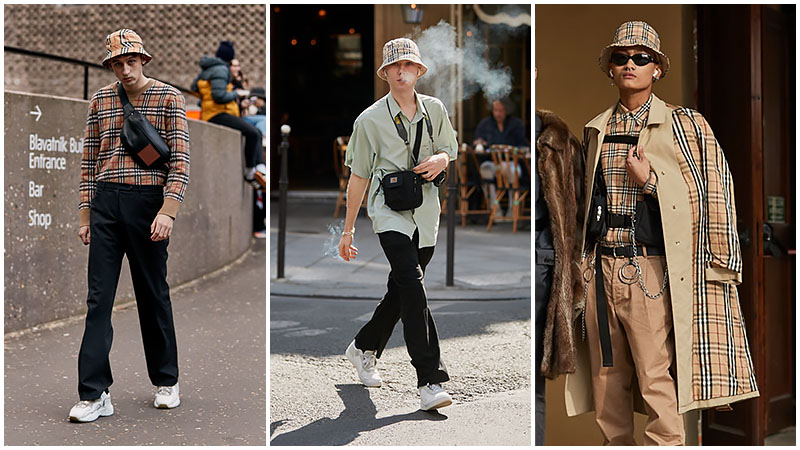 Grey Bucket Hats
Grey is one of the trendiest colors this season. With a wide variety of shades to choose from, you can try something new and elevate your total outfit game. No matter the season, a grey bucket hat can match almost anything in your wardrobe. Try all-black sweatpants and hoodie combination, or mix it up with a suit in a matching hue.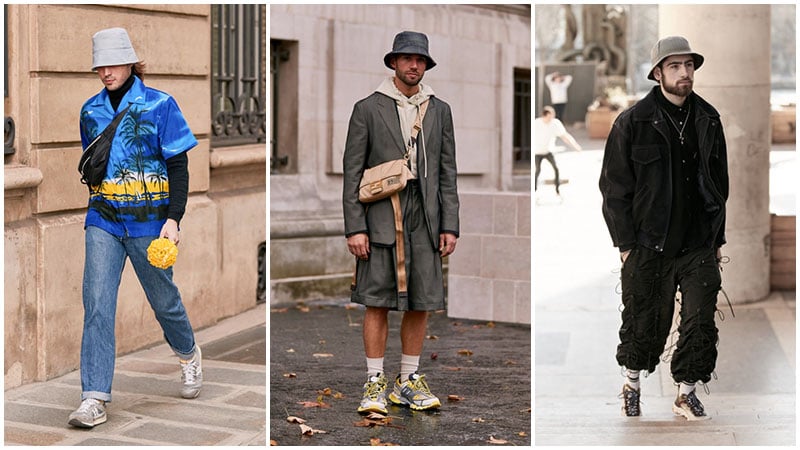 Red Bucket Hats
Add a bit of fire to your regular wardrobe choices with a red bucket hat. The street style favorite is a key element to any cool outfit, and you can dress it up or down to suit several occasions. Continue the warm shade throughout your ensemble, with either a shirt or shoes in the matching tone. For an extra funky look, rock a trench coat in a camel color to make the hat really stand out.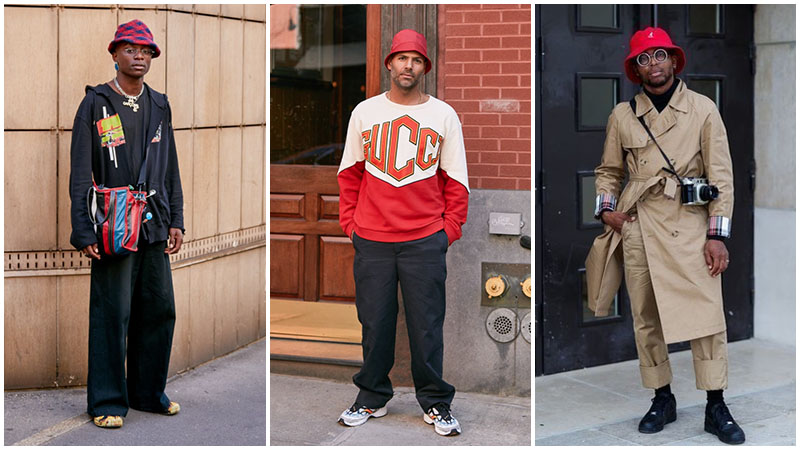 Bucket Hat Brands
Gucci Bucket Hats
Gucci boasts some of the trendiest patterns and styles in the industry. It is one of the oldest fashion labels in operation, starting in 1921 with luxury travel goods and equestrian equipment. The interlocking GG logo and green and red stripes are iconic with the label and often feature on the apparel and accessories available today. Now under the Creative Direction of Alessandro Michele, its pieces combine classic luxury with bold patterns, colorful shades, and a hint of opulence.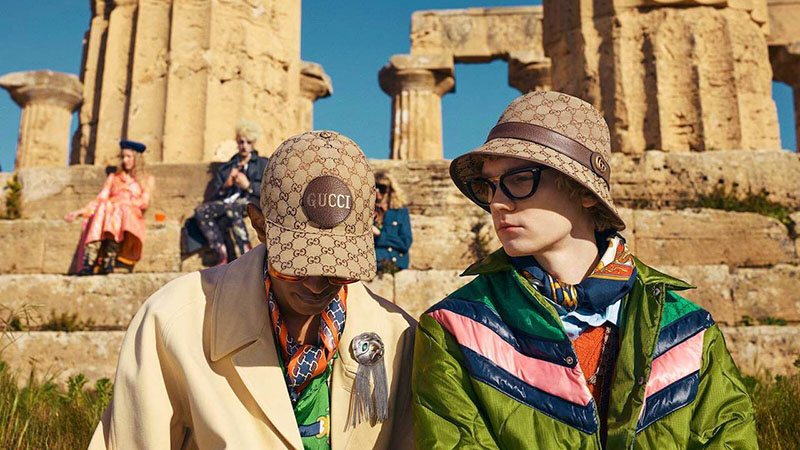 Nike Bucket Hats
Nike is one of the most recognized clothing brands on the planet. Sporting the iconic swoosh logo, it launched its first shoe in 1972 and has been worn by some of the most elite athletes in history. The Nike style is very sports-themed, featuring moisture-wicking fabrics and breathable construction, with a high fashion and street style twist. From fashion week to walks on the street, you'll see some of the most fashionable people rocking this brand.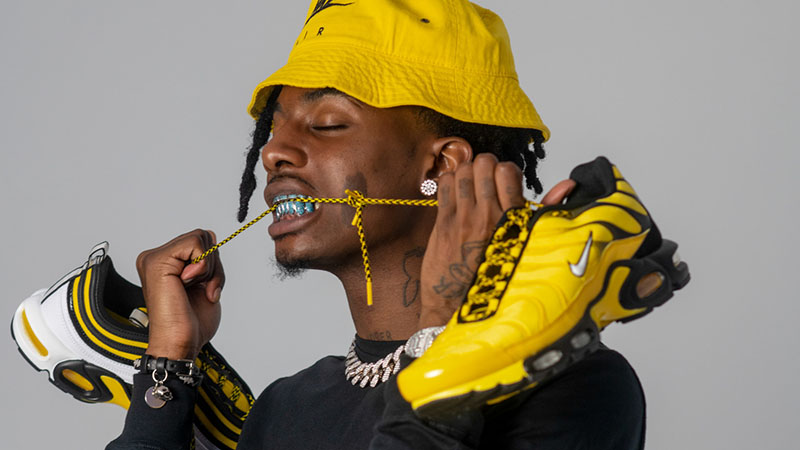 Fendi Bucket Hats
Fendi is one of the most recognized luxury fashion brands and it features distinctive styles in the industry. Founded in 1925, its roots began with fur and leather. When Karl Lagerfeld designed the now-iconic logo in 1965, it changed the brand forever. This label is synonymous with high-end luxury, with opulent styling and effortless finishes. Now you can find the interlocking FF on the majority of its items, including accessories, footwear, couture, and ready to wear.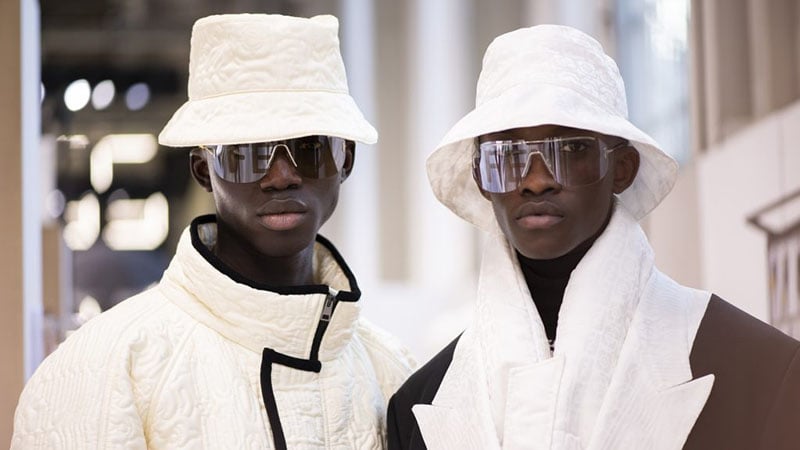 Champion
Champion is a true innovator in the sporting and apparel industries. Launching in 1919, it is considered one of the leading brands today and is most famous for its heavyweight hooded sweatshirt. Since it began, Champion is renowned for its famous C logo, combining athletic wear with an effortless and sleek street style – it's a brand that continues to dominate the scene.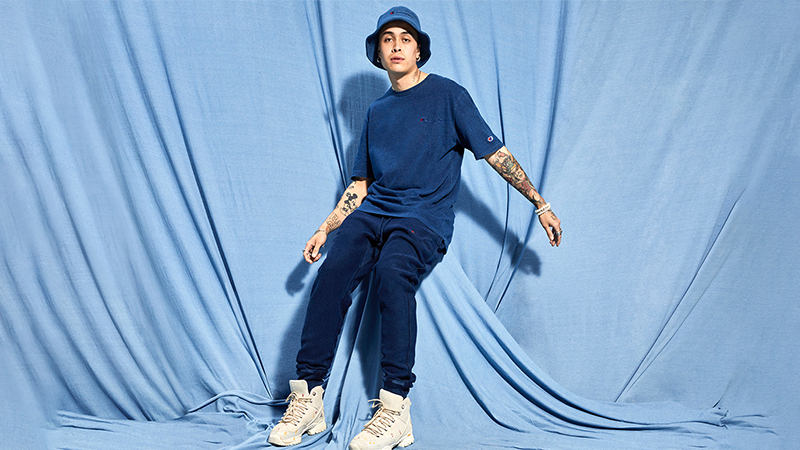 Adidas
With its distinctive stripes, iconic logo, and long history, Adidas remains one of the industry's leading brands. It is much more than just its athleticwear; the company has contributed to pop culture, music history, and the fashion world. Founded in 1949, the brand has grown to become one of the leading names in workout wear and street style. You can see people sporting the logo on hats, shirts, footwear, and everything in between – it's a statement within itself.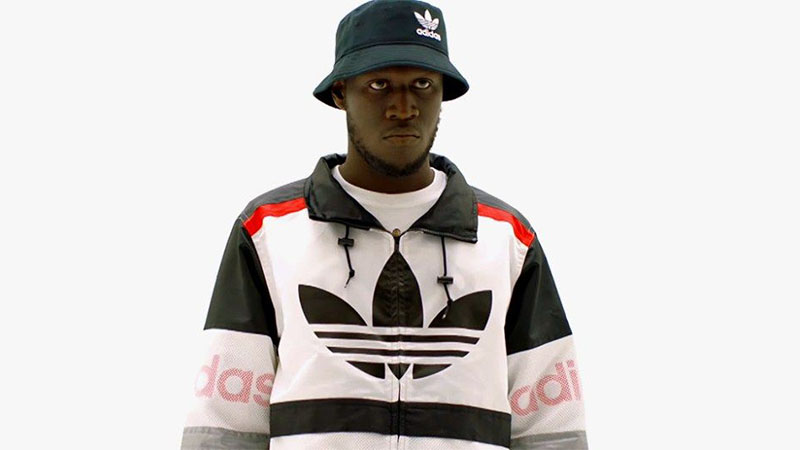 Stussy
A Cali brand born and bred, Stussy has dominated the surf scene for almost 40 years. Founded in the '80s in Laguna Beach, this brand has been adopted by the skating and hip hop scene and is widely known for its street fashion. The famous logo is tied with punk subculture and the label often partners with leading brands, including Marvel.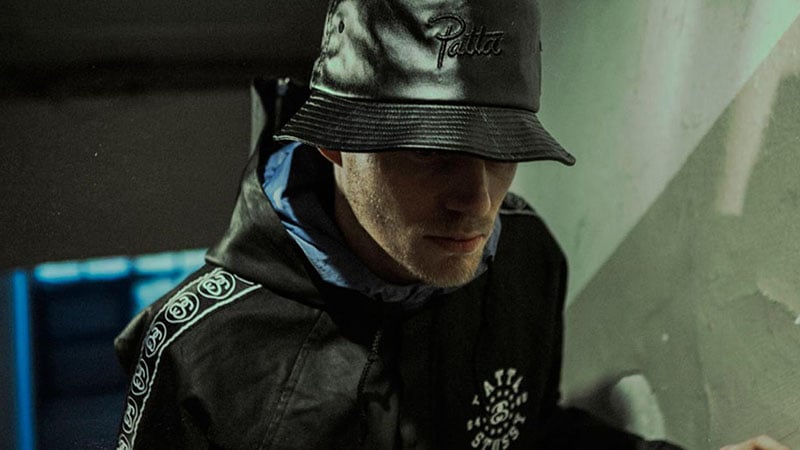 Supreme
If you love streetwear, you would have heard of this label. Starting small, Supreme has become one of the most iconic and loved brands in the industry. It was founded in 1994 by James Jebbia, selling hoodies and sweatshirts to the skate scene in New York. The famous red logo is highly recognizable and coveted by streetwear lovers around the world. It has now collaborated with more than 25 of the world's leading luxury brands, including Louis Vuitton, Lacoste, and The North Face.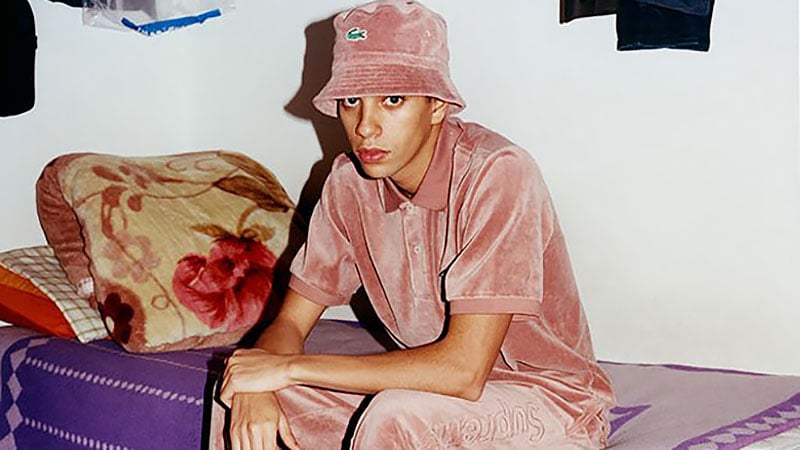 Valentino
From dressing some of the most influential people on the planet to becoming a ready-to-wear icon, Valentino has led the way for luxury designers with a cutting-edge flair. Starting out in haute couture, the designer created pieces for Elizabeth Taylor, Jacqueline Kennedy, and JLo. Now, it's best known for its accessories such as belts, sunglasses, and hats, with its iconic 'V' logo and immaculate tailoring.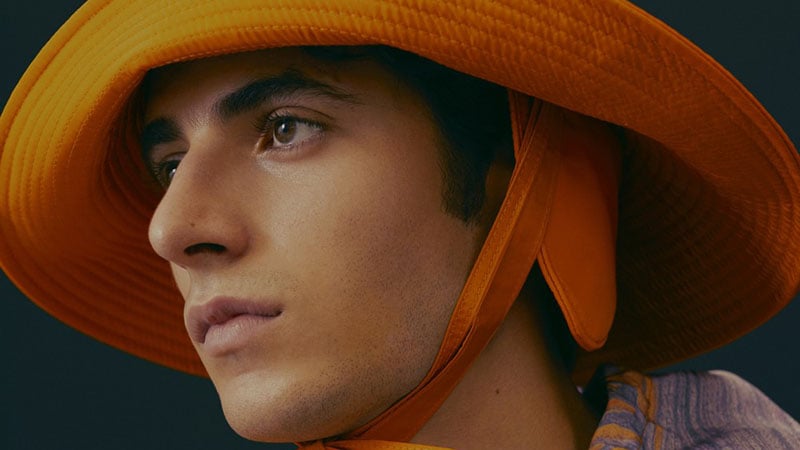 Car FAQs
What is a bucket hat called?
There are many different names for a bucket hat, including a fisherman hat, session cap, and an Irish country hat. They are named for their shape, consisting of a soft top and a wide, floppy brim. 
Are bucket hats in style in 2021?
This trend comes and goes every few years, but it has remained a popular choice for people for some time. In 2021, the humble bucket hat remains as cool as ever and is often sported in the streets of fashion week across the world. For a classic feel, opt for a subtle color, such as black or gray, that will remain in style for years to come.
What hats should guys wear?
Guys should try a variety of hat styles to see which suits them best. A bucket hat is an excellent choice for those who enjoy streetwear or want to add a summery feel to any ensemble. Neutral shades such as camel, brown, or gray are excellent choices for different skin tones and look great for almost any occasion. Ultimately, find something that you love and feel comfortable in for regular use. 
How to wear a bucket hat?
The beauty behind the bucket hat is the wide variety of outfits you can rock with it. There are endless ways you can style it, from a pair of sweatpants and sneakers to a suit or Hawaiian shirt. Mix and match your personal style to find something that you prefer - you can pair the accessory with your favorite outfits and look incredibly on-trend. 
Where to buy bucket hats?
Bucket hats have been a trending accessory for many years, so you can find one that suits you best from a wide variety of places. For a basic style, opt for stores such as ASOS, H&M, or Zumiez. High-end designers such as Burberry, Polo, and Gucci offer stylish bucket hats with bold patterns and logos. 
When were bucket hats popular?
While fishing hats have become an iconic piece of headwear in the 1940s, bucket hats became popular in the 1980s, during the increasing popularity of rap. The style slowly faded out of fashion by the end of the decade but came back strong in the streetwear revival of the 1990s. The hat comes in an out of style every few years as street style continues to evolve.  
How to wear a bucket hat?
Bucket hats are a great accessory to complement a streetwear style. Mix things up by pairing it with shorts and a polo shirt in a pale shade. Alternatively, you could try sweatpants or chinos with an oversized graphic T-shirt or Cuban shirt. Add some chunky sneakers for extra comfort and style.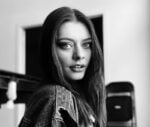 Alexandra Feiam is an experienced fashion writer who holds a degree in journalism. She has an impressive portfolio and expertise working as the Editor at Power Retail and Commercial Content Editor at Newscorp. Ally has been writing for The TrendSpotter since 2018, and her work has been featured in notable publications such as The Herald Sun, Arirang TV South Korea, Kidspot, The House of Wellness, and The Daily Telegraph.
SUBSCRIBE TO OUR NEWSLETTER
Subscribe to our mailing list and get interesting stuff and updates to your email inbox.