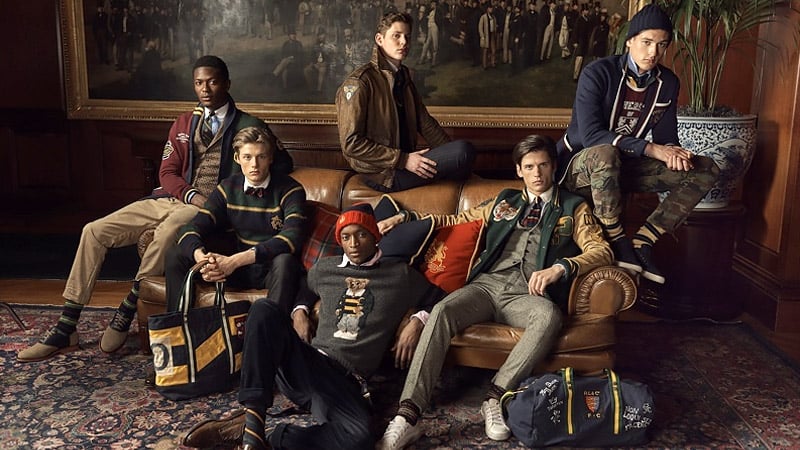 The world of fashion is full of designer brands that make a statement. From everyday wardrobe staples to special occasion pieces, luxury fashion houses are at every turn. While the world of designer fashion can be intimidating and present challenges like keeping up with trends or understanding how to style them successfully, there's no denying its allure. Whether you're just beginning to explore designer wear or have been interested in it for some time, this post is here to help you understand what designer labels mean and how they differ from one another – as well as where to start if you want to give high end designer fashion a try! So get ready as we dive into the fascinating realm of top designer brands and see which labels deserves your attention (and wallet!).
1. Luca Faloni
Luca Faloni is a designer brand that prioritizes the quality and durability of its garments. Unlike many high-fashion runway brands, Luca Faloni is distinct in its commitment to Italian tradition and the use of premium materials, with no compromise on the excellence of its cashmere. With a focus on slow fashion, Luca Faloni offers timeless staples that showcase true craftsmanship, appealing to those who appreciate fine workmanship. While it may not dominate the New York Fashion Week scene, Luca Faloni unquestionably deserves a special spot in your wardrobe.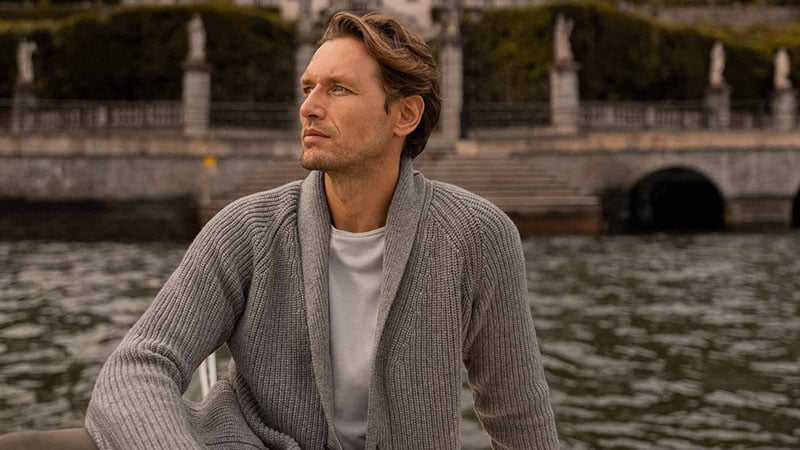 2. Louis Vuitton
Louis Vuitton is one of the most iconic designer brands in the world today, but it wasn't always that way. As a teenager in 1837, Louis Vuitton arrived in Paris and began his career as a trunk maker. After many years of honing his craft and building his reputation, he set up his own brand, which became known for its high-quality trunks and impeccable craftsmanship. The famous "LV" monogram was created in response to the flood of fake Louis Vuitton trunks in the market. As the 20th century rolled around, the brand expanded into leather bags, which brought even greater cultural cachet to the brand. In 1997, the brand began producing clothing under Marc Jacobs, and later on, Kim Jones introduced streetwear elements that culminated in the LV x Supreme collaboration in FW17. The recent appointment of Virgil Abloh as head of menswear was a bold move for the brand, but sadly, he passed away in November 2021.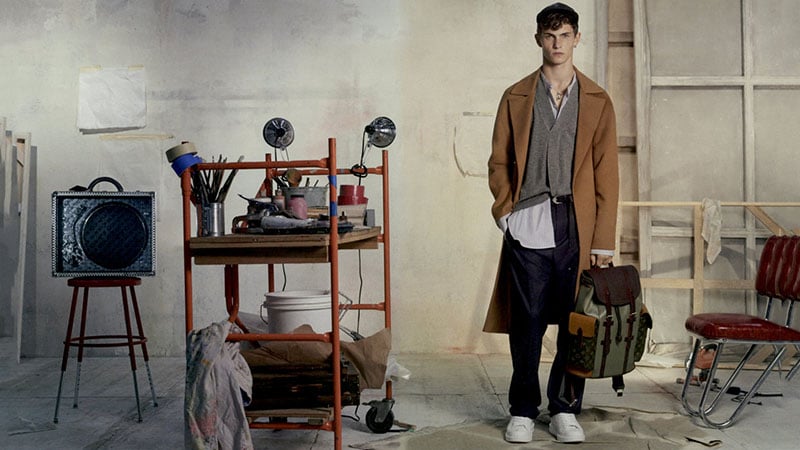 3. Gucci
Gucci's history dates back to 1921 when it was founded by Guccio Gucci in Florence. Like many top luxury brands, Gucci began as a luggage maker for the upper classes. After Guccio's death, his three sons, Aldo, Rudolfo, and Vasco, inherited the company. This is when the famous "GG" logo was designed by Aldo in honor of his father. Although the company faced economic troubles in the 80s, it was saved by Tom Ford, who was appointed as the new designer. Under the creative direction of Alessandro Michele, Gucci has now become one of the top designer brands for online sales worldwide.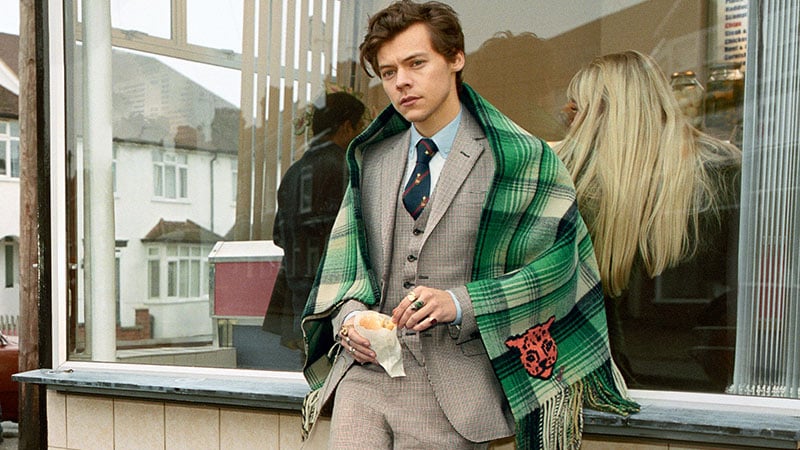 4. Balenciaga
Balenciaga is a designer brand that originated in the Basque Country of Spain before relocating to France due to the Spanish Civil War. Known for their sleek and linear lines, Balenciaga's designs went against the popular hourglass shape popularized by Christian Dior during the post-war era. The fashion house made waves in the 1950s with their revolutionary approach to women's fashion and trademark styles such as the collar that deviated from the collar bone and the "bracelet sleeves." In 2001, Balenciaga was acquired by French company Kering, which also owns other top designer brands including Yves Saint Laurent, Gucci, and Alexander McQueen. With continued impressive growth, Balenciaga remains a strong contender in the world of designer fashion.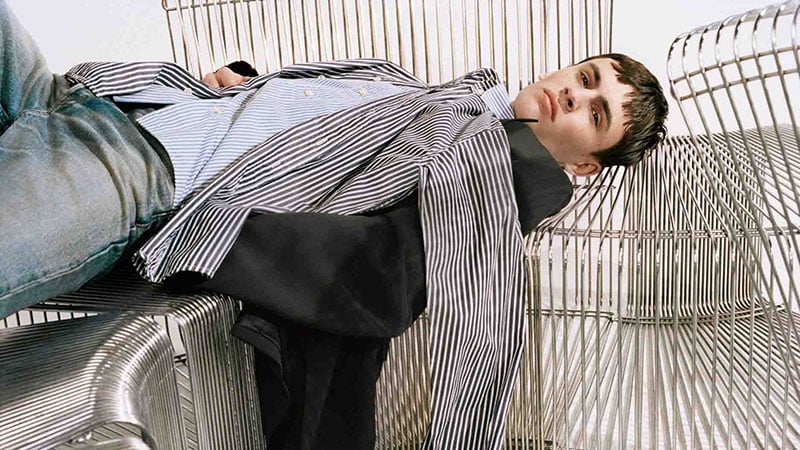 5. Dior Homme
Christian Dior is a notable name in the world of designer brands. He gained fame through his "New Look" collection, which featured the iconic "little black dress" that became synonymous with Parisian style. In the post-WW-II era, this collection became a symbol of women reclaiming expression. This tradition continues, as seen by the luxurious and stylish menswear direction taken by Kim Jones since 2018. Recently, Dior has taken on a more youth-led and digital direction. For example, the brand designed a racing kit for the game Gran Turismo and has taken on M'Bappé as a global ambassador. From the New Look collection to the current youth-oriented direction, Dior has remained relevant and innovative in the world of fashion.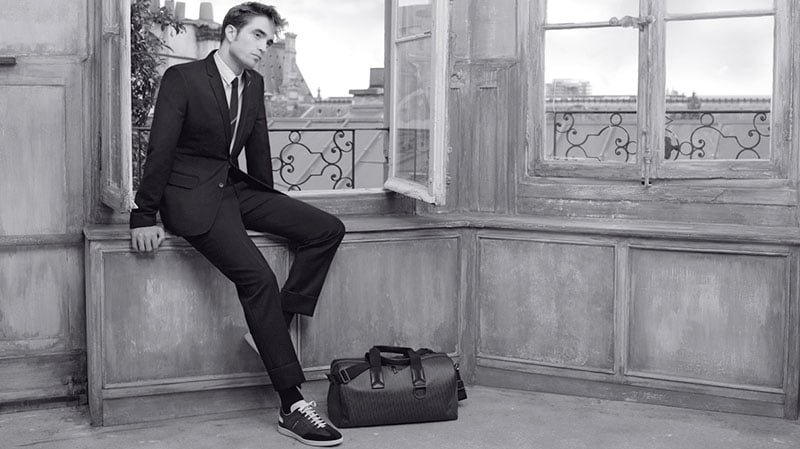 6. Prada
When it comes to luxury fashion houses, there are many brand names to choose from. However, there is one fashion show that stands out from the rest each season: Prada. Established back in the '80s by Miuccia Prada, the label has grown into a billion-dollar empire renowned for its pared-back style and clothes of the highest quality. With Raf Simons leading the menswear designs, Prada continues to push boundaries and innovate the fashion industry. It's no surprise that Prada is considered to be one of the most visionary and influential top designer brands of our time, with a reputation that's almost untouchable.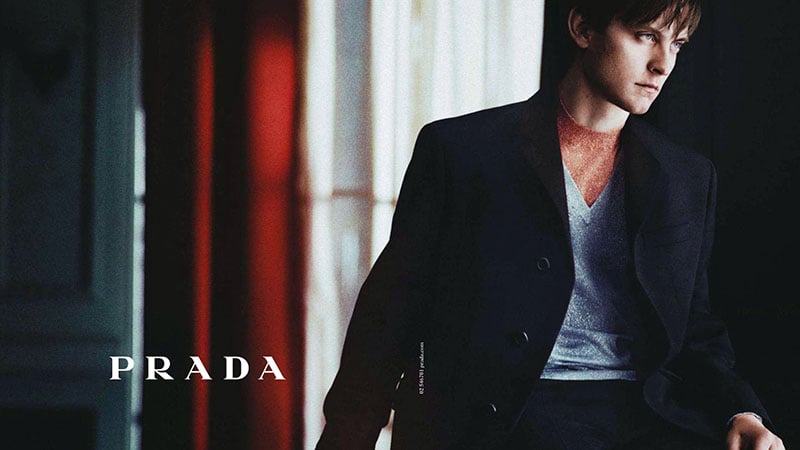 7. Stella McCartney
Stella McCartney launched her designer brand in 2001, owning a 50% partnership with the Kering group. The label was one of the first top designer brands to join the sustainability movement, choosing to follow in the footsteps of her mother, Linda McCartney, an animal rights activist. Due to this, the brand uses non-violent materials to create their ready-to-wear clothing, accessories, lingerie, and eyewear, strongly believing in sustaining the planet and taking care of animals. Stella McCartney's menswear has a unique urban look and is known for its soft, tailored shapes and sporty feel.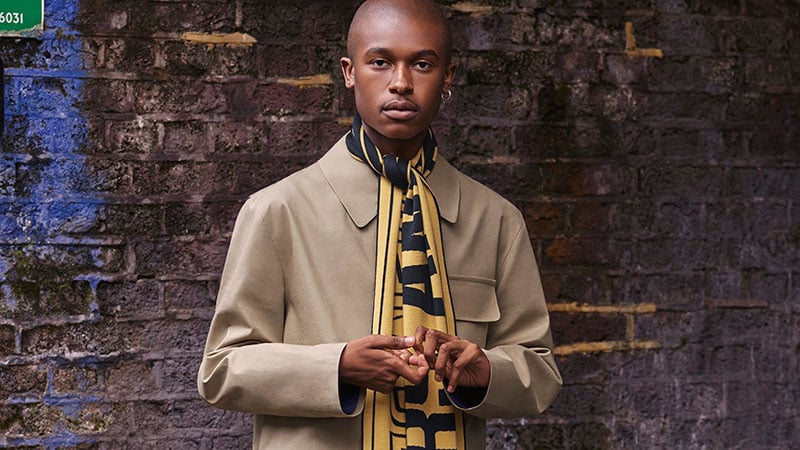 8. Fendi
Karl Lagerfeld's contribution to the Fendi brand is perhaps best exemplified by his lightning-fast creation of the iconic "FF" Zucca logo. In just three seconds, Lagerfeld managed to infuse Fendi's nearly century-old identity with a fresh and youthful energy. Of course, Lagerfeld's lasting legacy at Fendi extends far beyond a simple logo redesign. From 1965 until his death in 2019, he served as the brand's creative director, constantly pushing the boundaries of what the luxury label could achieve. While Kim Jones is now at the helm of Fendi, the brand's bold and dramatic use of furs and leather remains a hallmark of the designer's vision. Fendi stands alongside other legendary designer brands as a testament to Lagerfeld's indelible influence on the fashion world.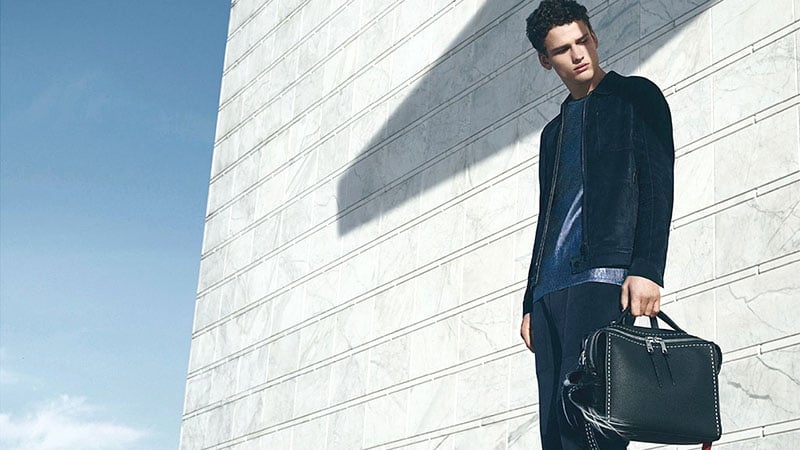 9. Saint Laurent
Yves Saint Laurent is one of the most iconic designer brands in the industry and for good reason. The brand's founder, an Algerian-born visionary, began his career in fashion at Christian Dior before launching his namesake brand with the help of Pierre Bergé in 1961. Yves Saint Laurent was consistently ahead of the times, embracing androgynous fashion long before it became mainstream. It was also the first designer name to feature women of color on the runway. The luxury brand is perhaps best known for its smoking jacket, a design that revolutionized women's fashion. Under the creative direction of Hedi Slimane, the brand carried an edgy, indie rock 'n' roll feel, while Anthony Vaccarello has brought a suave Parisian aesthetic back to the forefront. Regardless of the era, Yves Saint Laurent remains a top contender among designer brands, constantly pushing boundaries and setting new trends.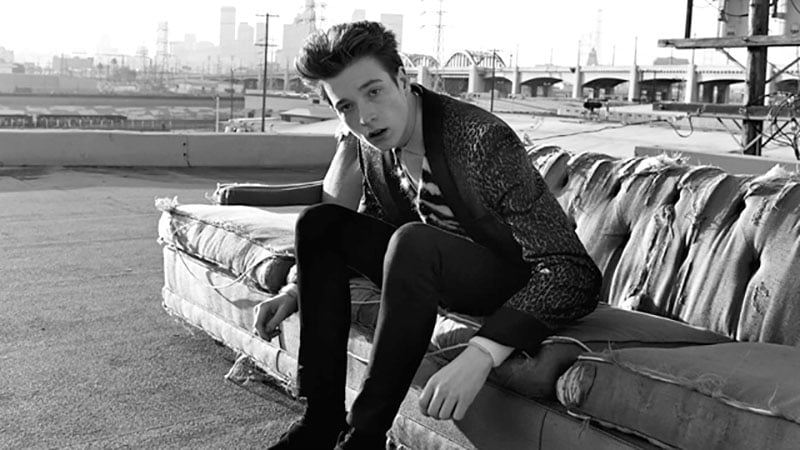 10. Givenchy
Hubert de Givenchy's legacy as one of the largest fashion designers will always be remembered in the world of designer brands. The Givenchy brand was established in 1952 with a primary focus on perfume, but it quickly gained popularity for its collaborations with the iconic Audrey Hepburn, notably for that little black dress in Breakfast at Tiffany's. In modern times, Riccardo Tisci took the brand to new heights, introducing dramatic elegance and a moody black Parisian chic. In 2020, the brand appointed Matthew M. Williams of Haute streetwear brand 1017 ALYX 9SM as the new creative director, showcasing their commitment to staying relevant and fresh in the ever-changing world of fashion houses.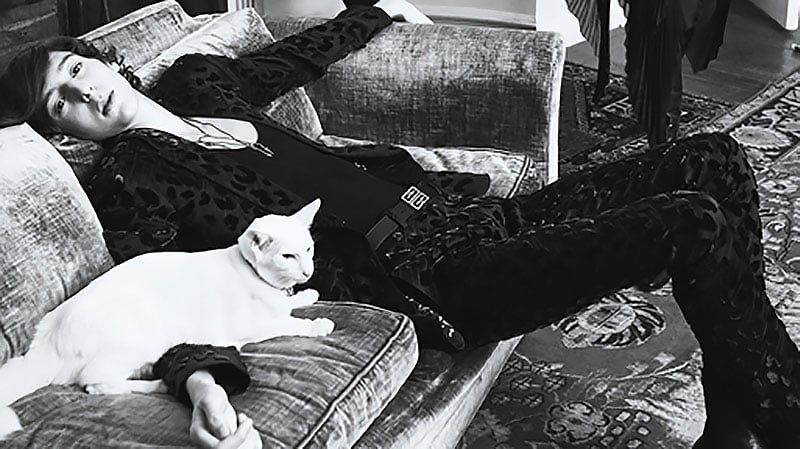 11. Balmain
Balmain has established itself as one of the leading designer brands in the fashion industry, known for its rich decorative fabrics and luxe trims. The luxury fashion house has a strong French heritage that is reflected in its innovative designs and attention to detail. From their signature gold medallions to the newly re-designed logo, each piece is adorned with Balmain's distinctive embellishments, including buttons, symbols, blazon coat of arms, gold ornaments, or tassels. Balmain has also collaborated with other top designer names, such as H&M and Victoria's Secret, further solidifying its reputation as a powerhouse in the fashion world.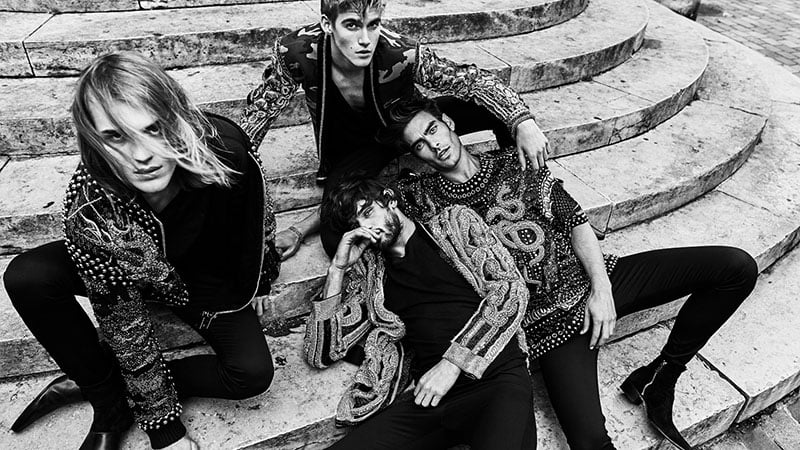 12. Kenzo
Kenzo is a fashion brand that has become notable for its stylistic fusion of Asian and European aesthetics. Launched in 1970 by Kenzo Takada, who moved from Japan to Paris in 1964, the label has been owned by the luxury conglomerate LVMH since 1993. The designer brand is celebrated for its colorful prints and signature motifs that can be seen across a wide range of products, including tees, sweatshirts, accessories, and homeware. What makes Kenzo unique is its ability to blend different styles seamlessly, creating borderless fashion that celebrates cultural diversity. Kenzo's success has been aided by endorsements from celebrities and fashion icons such as Rihanna, Beyoncé, and Michelle Obama, all of whom appreciate the brand's unique perspective. The label's founder, Takada, was revolutionary in his designs, particularly the square-cut sweater.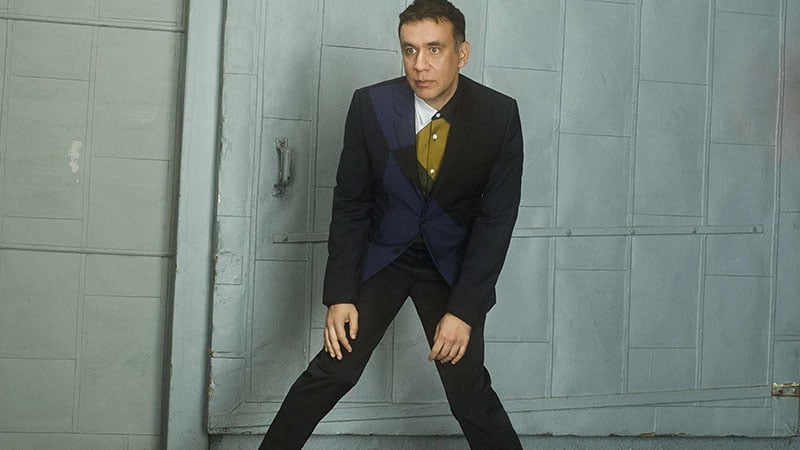 13. Alexander McQueen
Alexander McQueen was one of the top designer names who pushed the boundaries of fashion through his highly conceptual and theatrical collections. What many people may not know is that his tailoring skills were honed through years of work with various top designer brands, including Anderson & Shepard, Gieves & Hawkes, and Barmans & Nathans. McQueen's talent was undeniable, and he quickly rose to prominence as the chief designer of Givenchy, just four years after earning his MA from Central St Martin's. Despite his tragic passing in 2010, the luxury fashion house continues to produce innovative and stylish clothing that stays true to his fearless and visionary vision.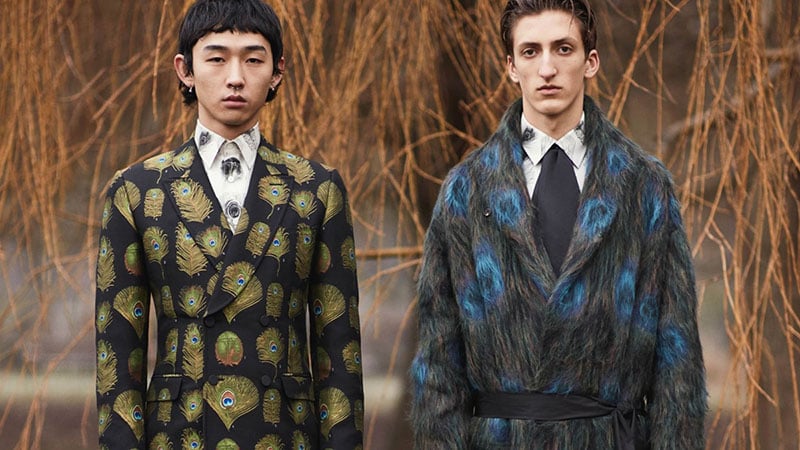 14. Chanel
Coco Chanel, a pioneering figure in the fashion industry, launched her eponymous brand in 1910. The interlocking "CC" logo, which remains a prominent feature of the brand's pieces today, epitomizes the label's timeless elegance. Chanel was the driving force behind the creation of the post-war "Flapper" style, characterized by frills and masculine colors. The brand's signature fragrance, No. 5, was released in 1921 and remains an iconic scent to this day. Chanel firmly believed in the power of simplicity, stating, "simplicity is the keynote of all true elegance." Her philosophy resonated with the Hollywood set post-WW-II, including the likes of Marilyn Monroe. In more recent years, the designer brand has expanded into male-oriented skincare and makeup, setting a new standard for male grooming in the beauty industry.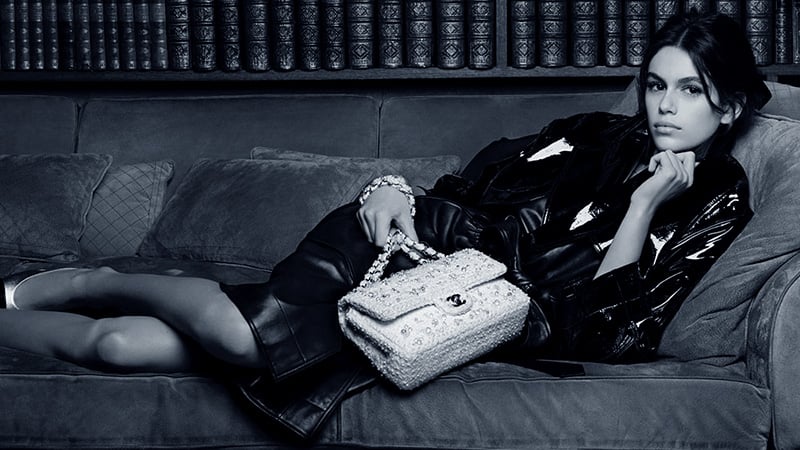 15. Armani
Giorgio Armani established his eponymous brand in 1975, quickly gaining a reputation for powerful tailoring that was both fashionable and functional. A decade later, his elegant suits became the envy of Wall Street and propelled him to the forefront of the fashion industry. With the turn of the millennium, Giorgio Armani became Italy's most successful designer name, thanks in no small part to his signature style, which continues to influence fashion today. Under the Armani label, one finds several top designer brands, each with its own ethos and appeal. Armani Exchange offers streetwear and casual apparel for everyday wear, while EA7 caters to those seeking sportswear. Despite having grown into a diverse fashion house, Giorgio Armani maintains its status as an outstanding high end designer brand, with dark and brooding collections that are unmistakably Armani.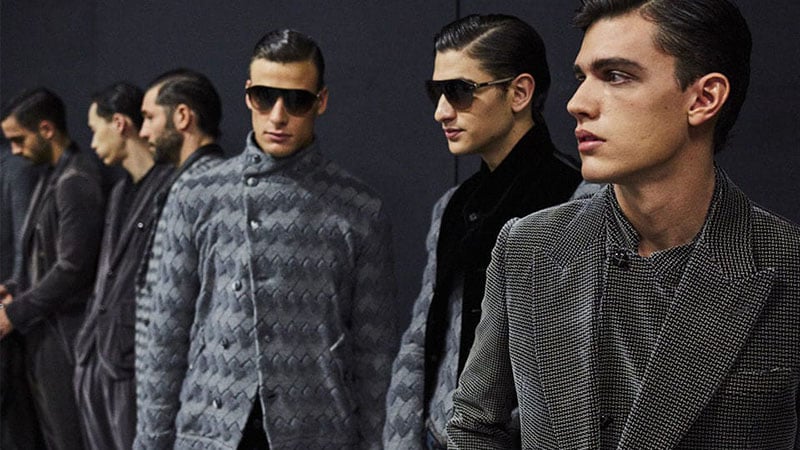 16. Tom Ford
Tom Ford, the man once destined to be an actor, is now a world-renowned fashion designer name. After working as the creative director for esteemed fashion houses such as Yves Saint Laurent and Gucci, Ford set up his own eponymous brand in 2005. Since then, his luxury fashion label has garnered a reputation for being one of the most suave and sophisticated designer brands for men. Tom Ford clothes are known for their impeccable tailoring, high-quality fabrics, and sleek outerwear that seamlessly blend formality and sexuality. The brand's wide-brimmed retro sunglasses have also become a staple of its aesthetic. Arguably, Tom Ford is one of today's most successful fashion designers, having won the award for Best International Designer in the year 2000, and now a household name.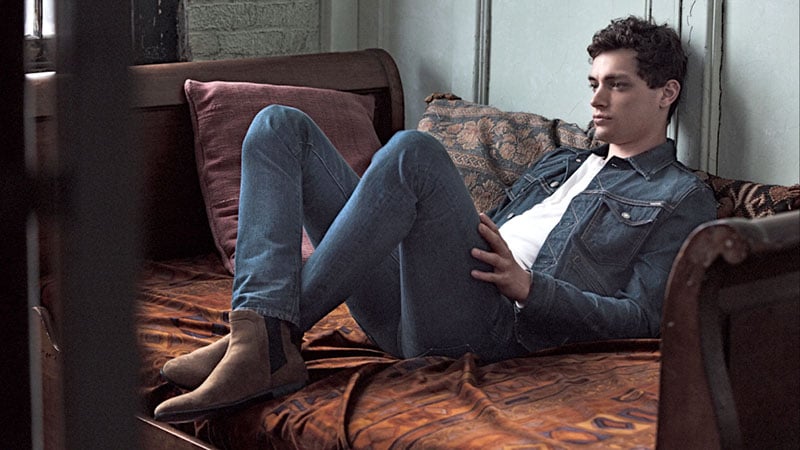 17. Burberry
When it comes to quintessentially British luxury fashion, there's one name that stands out above the rest: Burberry. Founded in 1856 by Thomas Burberry, the luxury fashion house first made its mark with its innovative outdoor-wear designs. But it wasn't until Jacqueline Dillemman came along in the 1920s that Burberry truly made fashion history. Dillemman's decision to use the designer brands iconic check pattern on the inner lining of its raincoats was a stroke of genius, and in 1967 she took things to the next level by removing the lining and covering luggage in the check instead. The rest, as they say, is history. Today, the Burberry check is recognized around the world and continues to dominate the brand's aesthetic, cementing its reputation as a leader in luxury fashion.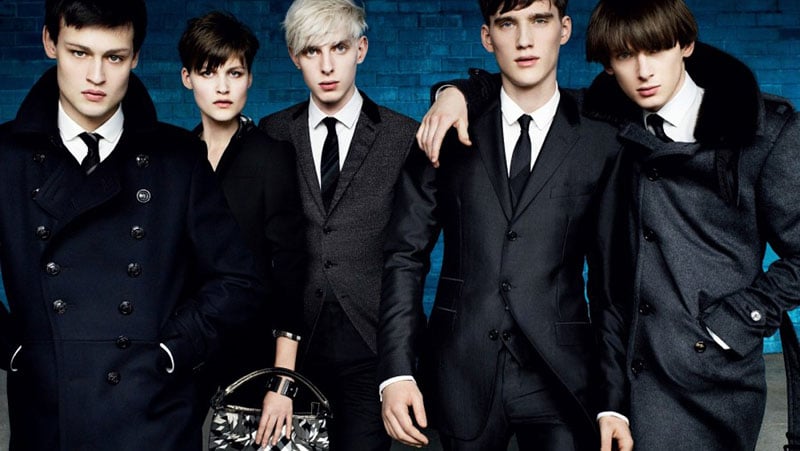 8. Comme Des Garçons
Comme Des Garcons, set up by Rei Kawakubo, is a luxury fashion brand that is synonymous with the color black. Kawakubo's famous quote, "I work in three shades of black," captures the essence of the brand's aesthetic. Initially, the brand focused on being as non-commercial as possible, but with time, its focus shifted. The designer brand collaboration with Converse began in 2009 and produced the iconic "CDG Play" range featuring a smirking love heart. In 2016, CDG collaborated with Nike at the SS17 "Invisible Clothing" Comme Des Garçons show. Kawakubo's innovative retail space, Dover Street Market, has been instrumental in promoting new fashion designers and takes an experiential approach to retail. While Comme Des Garcons will always be linked with black fashion, the brand continues to be a pioneering force in the fashion world.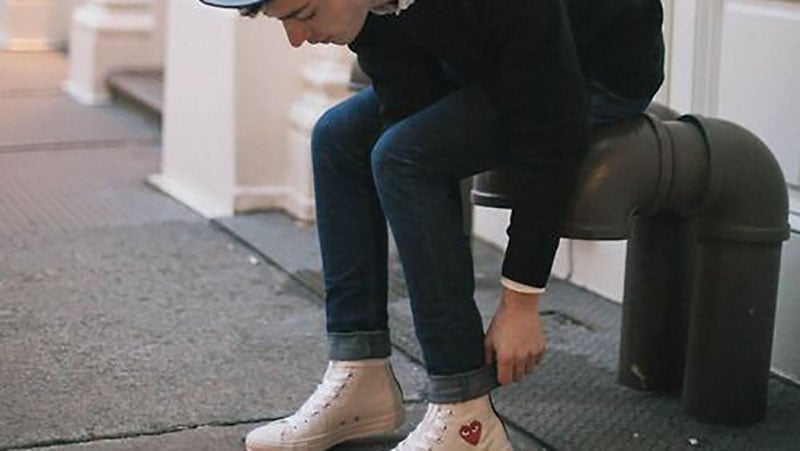 19. Calvin Klein
Calvin Klein may be best known for its provocative branding and cool boxer shorts, but there's much more to this American fashion brand than meets the eye. The label's founder, Calvin Klein, started his career as a suit and coat designer in New York before launching his own label in 1968. However, it wasn't until the highly controversial advertising campaign for CK Jeans in 1978 that the designer brand gained widespread recognition. Despite its reputation for sex appeal, Calvin Klein has also produced some of the finest American luxury fashion designs of the past few decades. Today, the fashion house boasts global retail sales exceeding $9 billion, distributed across more than 110 countries. So next time you slip into a pair of Calvin Kleins, remember the rich history and innovation that underpins this iconic American label.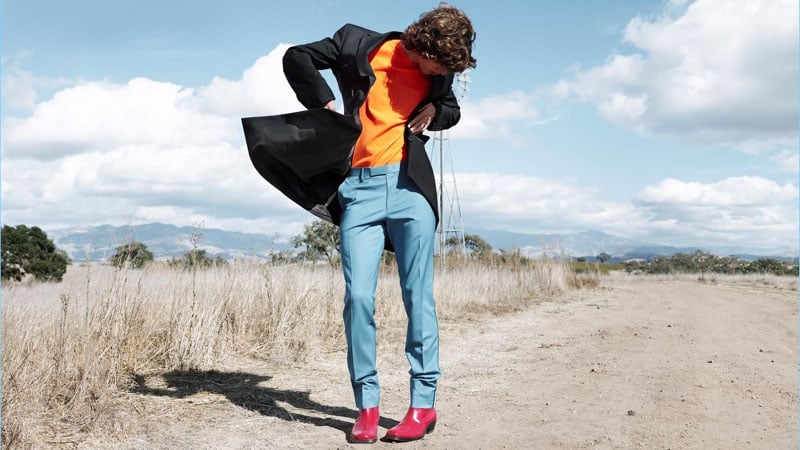 20.

Rolex
Established over a century ago by Hans Wilsdorf, Rolex pioneered watch innovation as we know it today. It was in 1926 when the Oyster, the world's first waterproof wristwatch, took Rolex to new heights of fame. Since then, the designer brand has spread its reach across the globe, providing timepieces that are a testament to resilience. Rolex watches are designed for the extremes – capable of withstanding the rigors of deep-sea dives, soaring flights, and high-intensity races. Today, Rolex remains among the top luxury watch brands renowned for its style, innovation, and timelessness. It's no surprise that the brand's second-hand market is incredibly lucrative, with a Rolex being guaranteed to increase in value over time.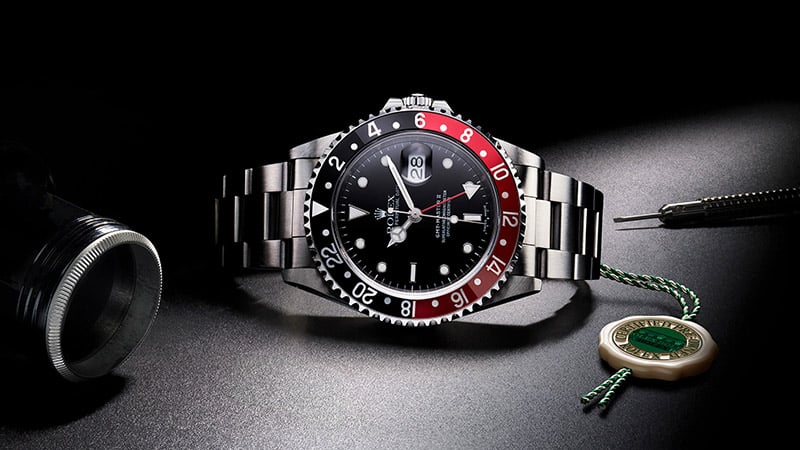 21. DKNY
DKNY has made a name for itself as a designer brand that exudes sporty influences and casual chic. Founded in 1984 by Donna Karen, the diffusion brand launched DKNY Men in 1992, capturing the essence of the label's core design ethos. However, it wasn't until the clever use of branding and iconic city landscape designs debuted on shirts and jumpers that DKNY truly became known for its unique style. With a strong sense of New York at its heart, its uncomplicated and laid-back approach to fashion has been embraced by many who yearn for the effortless sophistication of the Big Apple.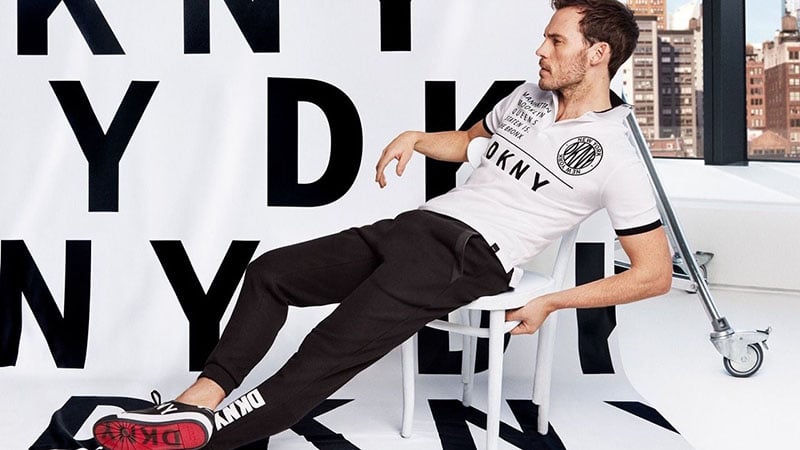 22. Ralph Lauren
Ralph Lifshitz's career at Brooks Brothers served as a springboard for his own designer name, which he founded in 1967. It wasn't, however, until 1970 when the iconic Polo range was released, promptly becoming a classic and instantly recognizable designer brand worldwide. The Polo logo punctuates polo shirts, t-shirts, cable-knit sweaters, and gilets. Ralph Lauren's clothing has become synonymous with preppy style, although the Purple Label is a runway-ready collection that caters to a wealthier clientele. Despite this, Ralph Lauren remains a go-to for classic and fairly-priced fashion.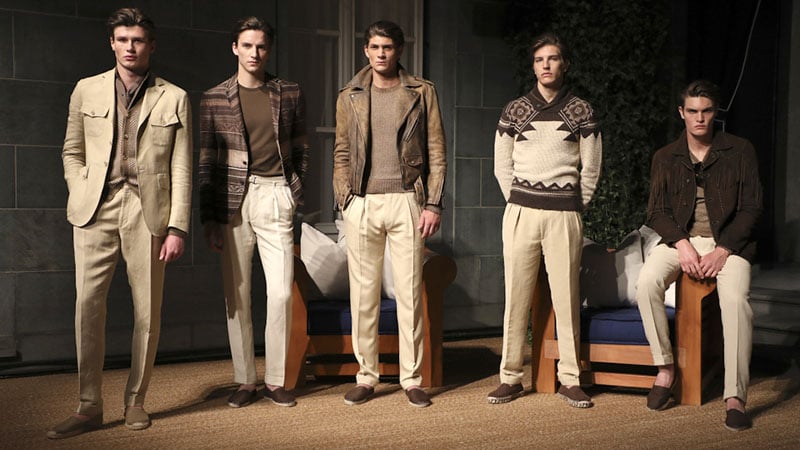 23. Valentino
Valentino is a well-known Italian designer brand that has been around since 1962. The founder, Valentino Garavani, found success early on with his first collection. It was praised for its elegance and style, and soon after, the color of Valentino became known as red. The iconic symbol "V" can be found on various items like belts, jewelry, and shoes. They're also popular for their Art Deco patterns. While the fashion house may be known for its luxury clothing, the recent fashion trends have seen them branch out. Valentino has remained relevant by introducing garments like hoodies and tracksuits, as well as sneakers that are eye-catching and colorful.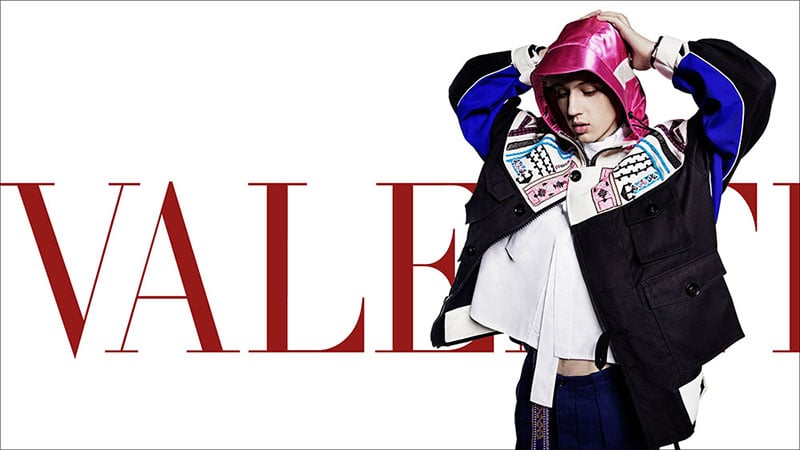 24. Paul Smith
At the young age of 17, Paul Smith's dreams of becoming a professional cyclist were dashed after a crash left him hospitalized. However, as fate would have it, he struck up a conversation with a local art student and found a new passion. Fast forward to today, Paul Smith is now a mainstay of Paris Fashion Week and renowned for his innovative designs. What sets the Paul Smith brand apart is the ability to combine playful elements with classic tailoring expertly. The designer's use of slogans, figurines, and wild patterns in his collections creates a unique personality that is unmatched by other designer brands. Despite being a top designer name, Paul Smith remains grounded and still maintains offices and studios in his hometown of Nottingham.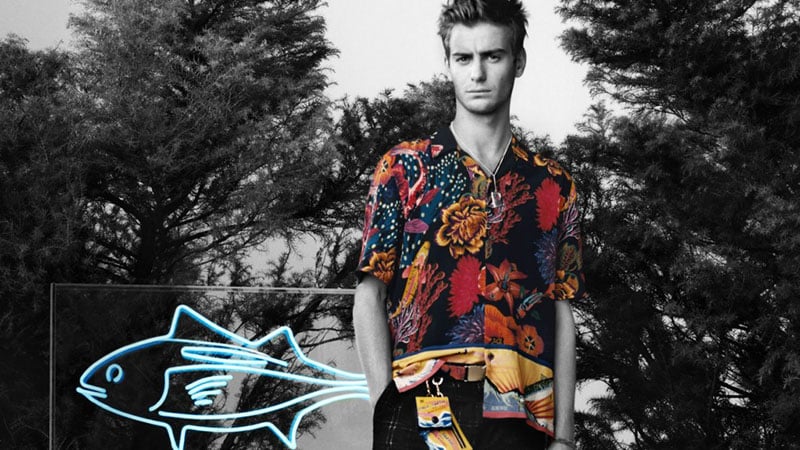 25.

Ermenegildo Zegna
Since its founding in 1910, Zegna has grown to become one of the biggest global producers of high-quality men's clothing and accessories. The fashion house has made a name for itself by prioritizing a holistic approach to business, always sourcing nature-friendly raw materials and promoting improvements in wool production worldwide. Zegna is renowned for its basic, smart casual designs that have made it one of the largest designer brands in the world by revenue. With a focus on luxury and sustainability, Zegna continues to redefine what it means to be a successful designer brand in the 21st century.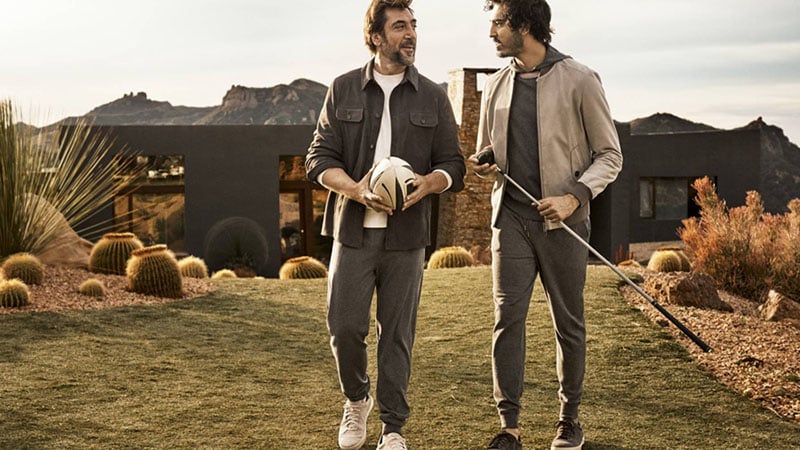 26. Hugo Boss
BOSS is a designer brand that ticks all the boxes when it comes to minimalist style. Despite its controversial history, it has become renowned for its chic tailoring and remains committed to its craft. Founded in 1924 in Metzingen, Germany, by Hugo Ferdinand Boss, the company faced criticism for producing SS uniforms using forced labor during the Second World War. However, in recent years, the fashion house has distanced itself from this past and is now associated with stylish fashion that suits everyday wear. BOSS has recently taken bold steps into the world of Gen-Z influencers, with The Hugo House at Coachella in 2022, providing a platform for influencers to showcase the brand's latest products through social media. And while BOSS is a high-end fashion brand, their suits are surprisingly affordable, sitting in the mid-price range.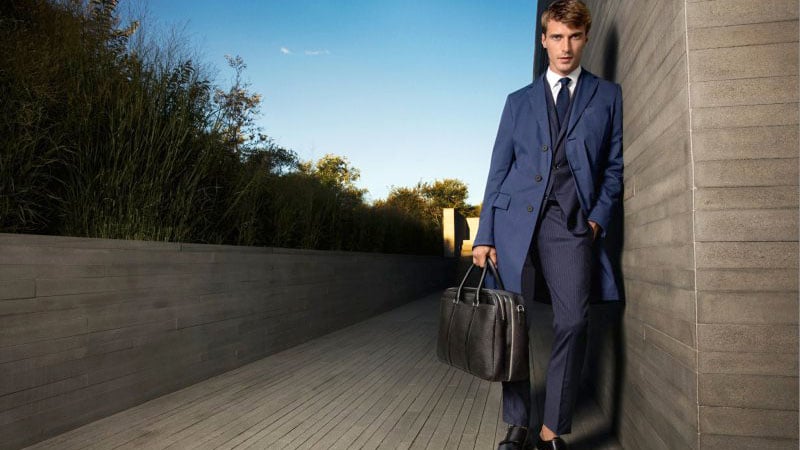 27. DSquared2
Twin brothers Dean and Dan founded DSquared2, in 1996, in Milan, Italy. The designs are a mix of edgy and sensual, made with Canadian and Italian tailoring, choosing their countries of heritage. Hence, their collections are perfectly contrasted, creating an alternate concept to luxury by melding together opposite designs.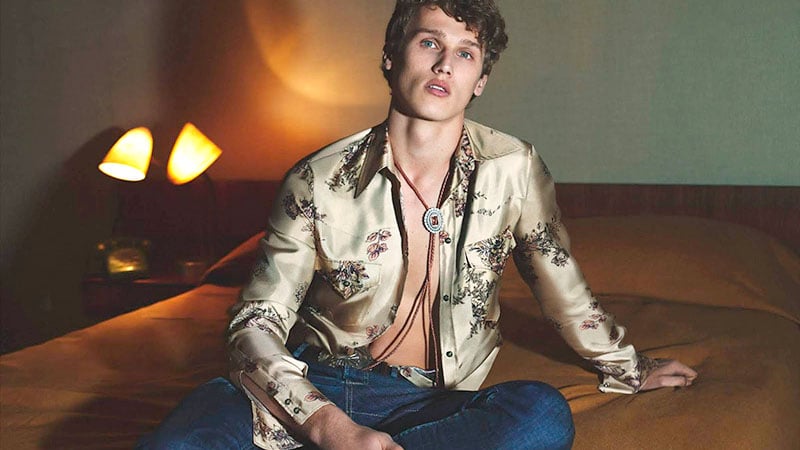 28. Thom Browne
In 2001 Thom Browne realized that there was a gap in the market for formal clothing because everyone had become overly casual in how they dressed. Therefore, the designer brand specializes in suits and formal wear, making even their casual clothing quite dressy. However, the most noteworthy thing about Thom Browne is that he loves playing with traditional proportions and creating clothes that are 'shrunken,' reconceptualizing the classic men's suit while also accepting gender fluidity by dressing his male models in skirts, dresses, and heels.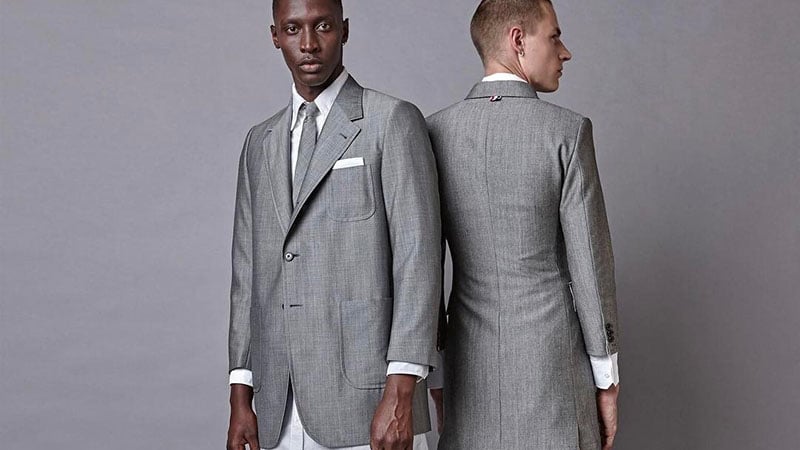 29. Hermes
Established in 1837, Hermès is one of the oldest and most respected fashion houses in the world. The brand's commitment to artisanal produce and craftspeople has remained unwavering throughout its history and into the 21st Century. With 52 specialized workshops located in 11 different regions in France, the company's manufacturing process is a reflection of its dedication to quality and craftsmanship. Hermès initially catered to horse riders by making leather harnesses, but in 1925, the brand launched its menswear range aimed at golfers. Later, Hermès expanded its product lines to include jewelry, watches, and sandals. However, the designers most iconic products are their silk scarves and ties. Since its launch in 1937 and 1949, respectively, these products continue to be produced using the Hermès approach of investing, elevating, and nurturing the craft of the produce. Today, Hermès remains one of the most respected men's designer brands due to its artisanal products of the highest quality.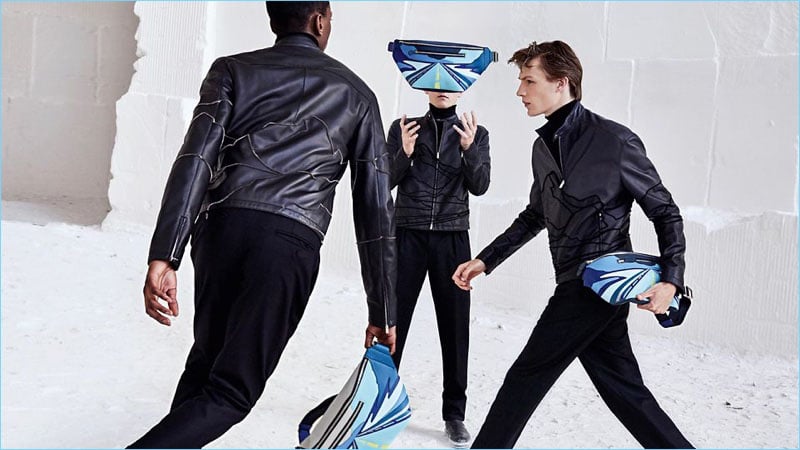 30. Lacoste
Founded by 1920s tennis champion Rene Lacoste, one of the greatest top designer brands of all time emerged from a determination to improve sporting apparel, which, at that time, was largely woven. He is credited with the invention of cotton pique, a sturdy knit fabric that, to this day, is still used in the company's iconic polo shirts. Over time the Lacoste range has grown to include a strong offering of technical and outerwear apparel with punchy coloration and classic tennis shoes.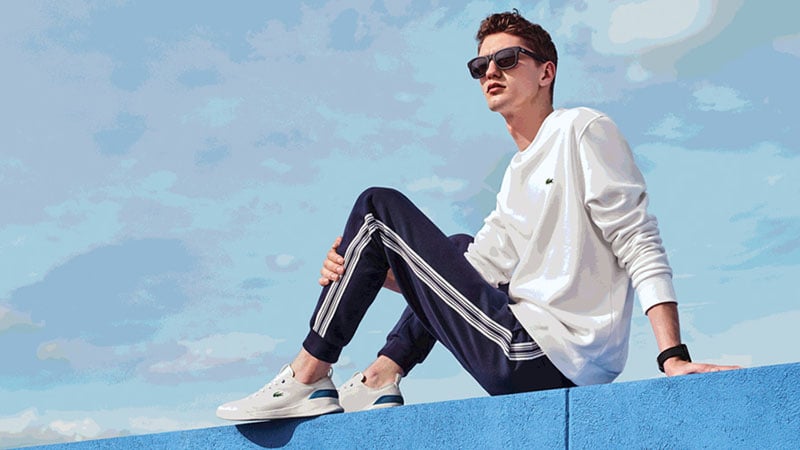 31. Belstaff
There is a lot to like about the brand Belstaff. It is practical but stylish, great for those who want a statement jacket or a great pair of boots; the best-known pieces are the iconic waxed cotton jackets. The brand with a long history, dating back to 1924 when it was founded by Eli Belovitch and his son-in-law Harry Grosberg in Longton, Stoke-on-Trent, in the United Kingdom. It was initially created as an outerwear brand but has since become a luxury designer brand, celebrated for its quality items that are made to last.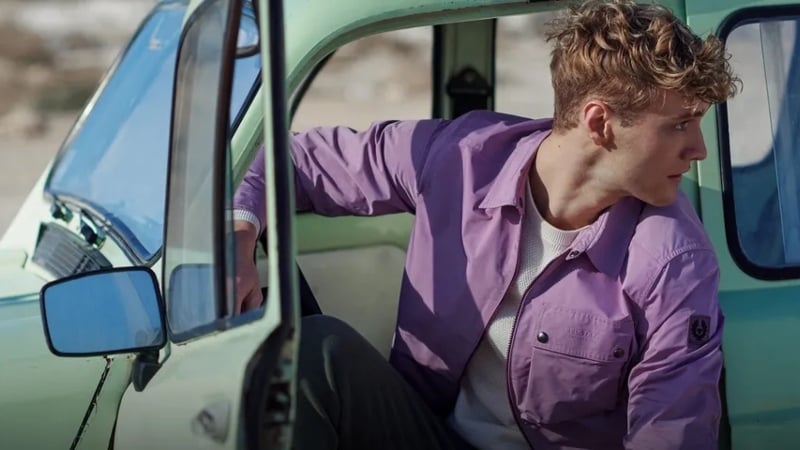 32. Diesel
Diesel is an Italian clothing company celebrated for its fresh denim designs, but it also sells accessories, footwear, and everything from beachwear to knitwear. It was founded in 1978 in Molvena, Colceresa, Italy, by Italian fashion mogul and businessman Renzo Rosso. The brand can feel rebellious and youthful, with distressed items and sometimes the unusual placement of zippers or pockets. This makes each piece of Diesel clothing ideal for those who want something special and different.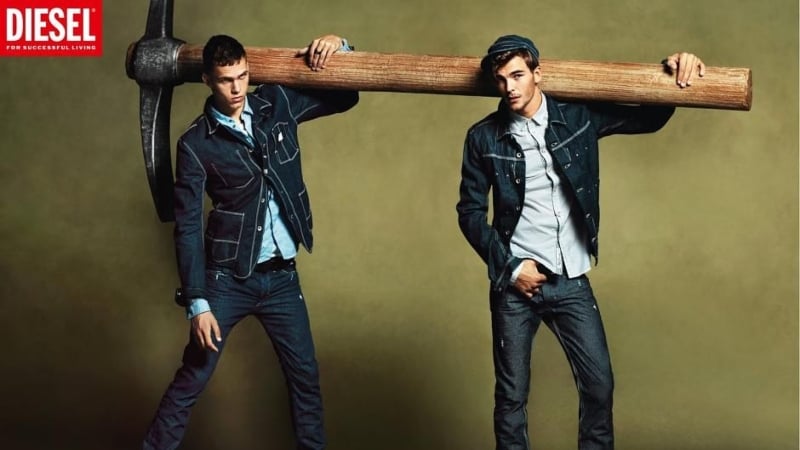 33. Etro
Another must-know Italian designer brand is Etro. The company is family-owned and was founded by Gerolamo Etro in 1968. The longevity alone should be a testament to the company's success, which is also thanks to its ability to evolve with the times. There are statement pieces, staples, classic colors, and tailored garments to paisley prints and unique colors. The brand is celebrated for its paisley designs, making it easy to recognize that the piece is an Etro design.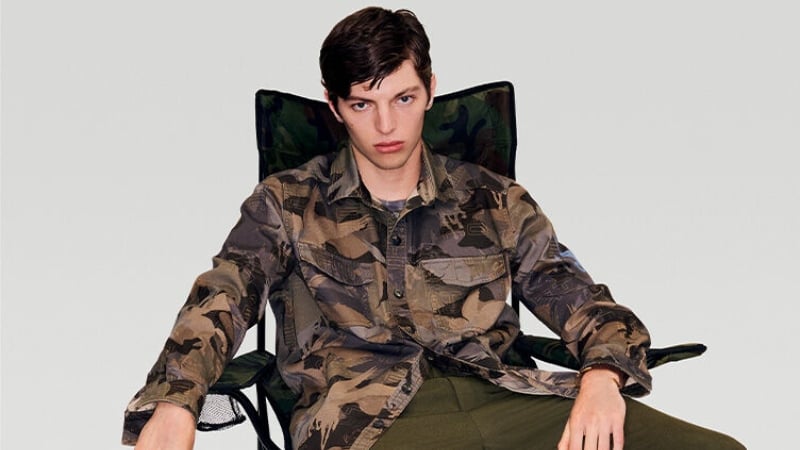 34. Erdem
Erdem is a company started by British fashion designer Erdem Moralioglu. His name is not the only thing unique about the brand, which was founded in 2005, and features collections for men and women. Best known for their botanical prints, the appeal of Erdem is that the designs are made to last, created using high-quality materials. There are items that are perfect for everyday wear, or you can find special designs for memorable occasions. From embroidered cotton jackets and chinos to floral tailored shorts, there is something to suit every preference, and they are often more affordable than other top designer brands.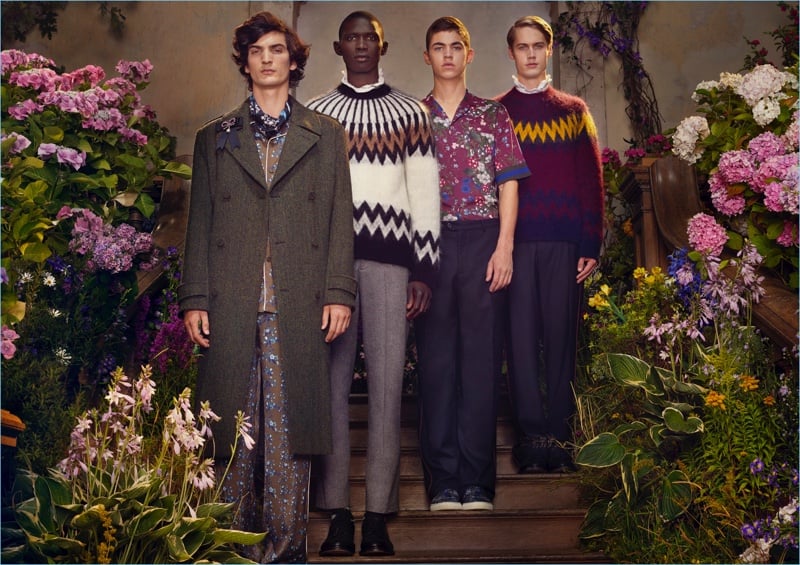 35. 3.1 Phillip Lim
3.1 Phillip Lim is a fashion label founded by friends Phillip Lim and Wen Zhou. The brand debuted at the New York Fashion Week in 2005, and over the years, it has gone from strength to strength, becoming one of the most sought-after top designer brands in the world. It is celebrated for creating ethical luxury fashion; they have stated that Community and Sustainability are integral to its design process. They also aim to make their pieces accessible to the "global citizen." The designs are special, with standout pieces including quilted jackets, duvet parkers, and edgy suede combat boots.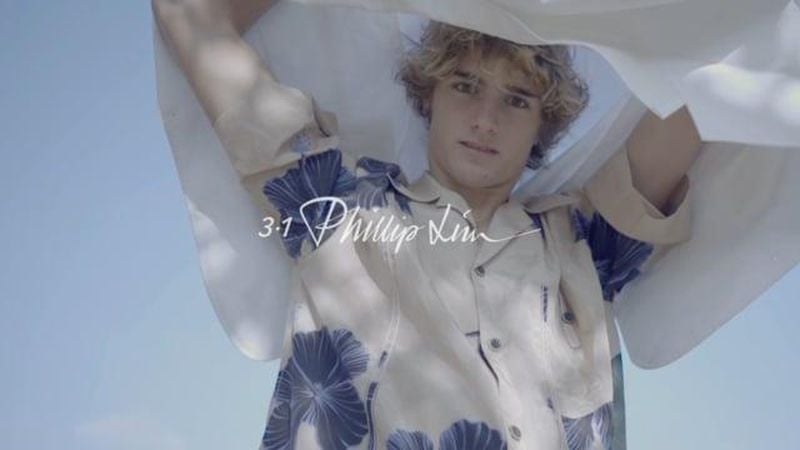 36. Vetements
Vetements is a luxury French fashion house known for its bold prints, interesting color combinations, and designs that are made to be noticed. Founded in 2014 by Demna Gvasalia and Guram Gvasalia, it has become easy to spot a Vetements product, which is the appeal of the luxury fashion brand. Designer pieces are costly but also built to last, so that you can expect superb quality.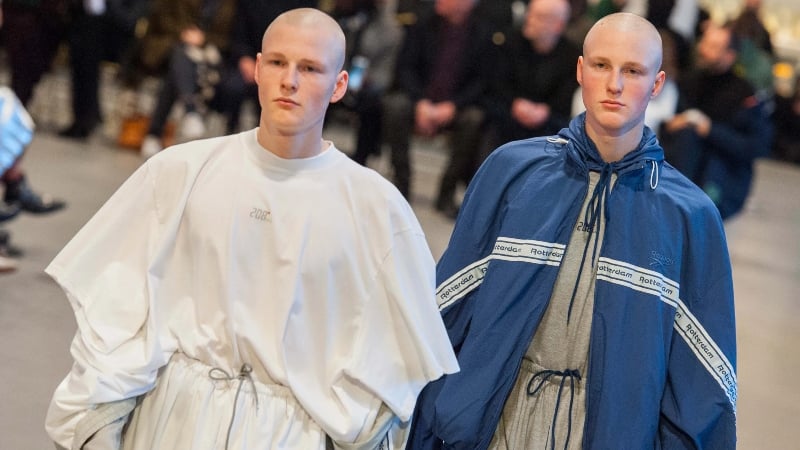 37. Stone Island
Stone Island is perhaps not as well-known as other top designer brands, but it deserves recognition. Founded in 1982 by Massimo Osti, the Italian brand is celebrated for its interesting colors and clever use of fabrics; these include a shiny, transparent bomber jacket made in a canvas with polyester monofilaments and flat nylon threads. Garments include everything from coats and jackets to knitwear and fleece and come in various sizes and fits.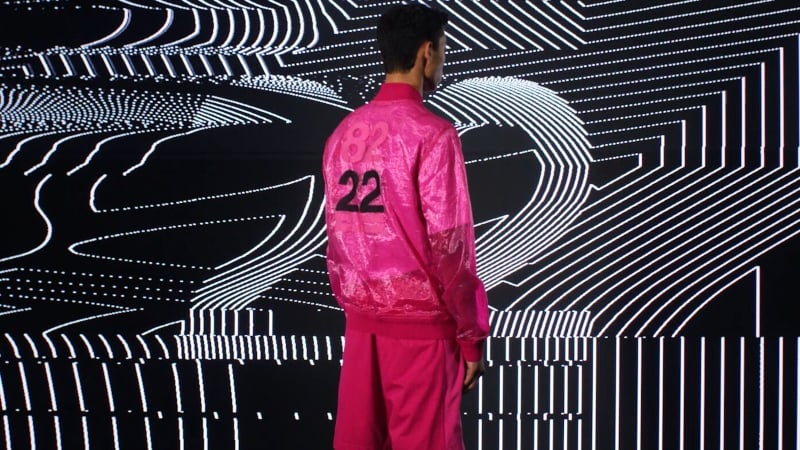 38. Rag & Bone
Rag & Bone was founded in 2002 by Nathan Bogle and Marcus Wainwright and has gone from strength to strength over the last 20 years. The appeal of this American designer brand is the urban style, and pieces are effortlessly cool and easy to wear, lending themselves to various occasions. The brand is sold in hundreds of stores worldwide and has become one of the best-known luxury labels, with pieces expertly crafted and designed to last. These include linen shorts, cotton knit shirts, and casual linen blazers.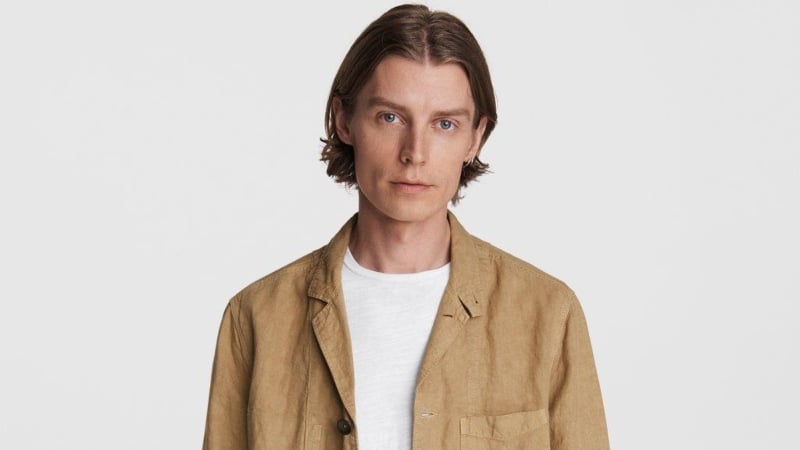 39. Roberto Cavalli
Luxury fashion label, Robert Cavali, is the eponymous brand of famed Italian designer Robert Cavalli. Founded in 1972 in Florence, Italy, the label has become known for its bold prints, brightly colored garments, and leather accessories. These pieces have a youthful feel and are for those who prefer to stand out from the crowd rather than blend in. Designs include the tiger-inspired Felix print silk shirt or the equally daring zebra-print slim-fit jeans.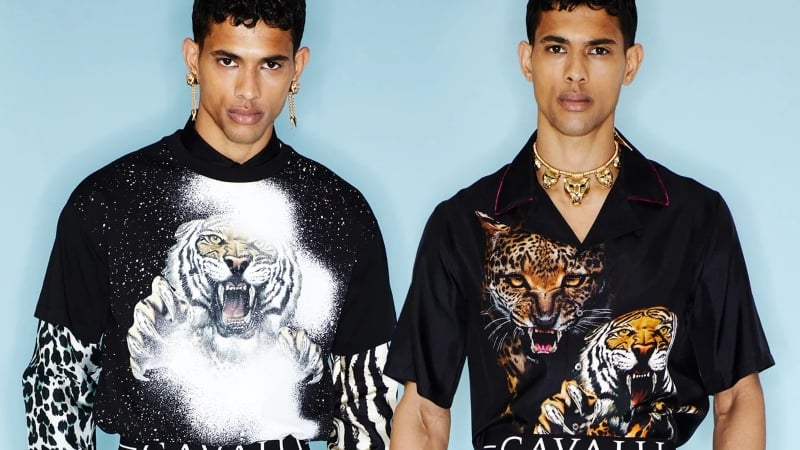 40. Rick Owens
Rick Owens is a designer brand that was designed to stand out. It is an interesting mixture of grunge and gothic designs and superb tailoring, creating unique pieces that are made to be seen. Founded by ​​American-born, Paris-based fashion designer Rick Owens, the brand is edgy and cool and has earned Owens the nickname of the Lord of Darkness. The first show took place in 2002 during New York Fashion Week's Spring/Summer season, and in the last two decades, the brand has continued to thrive.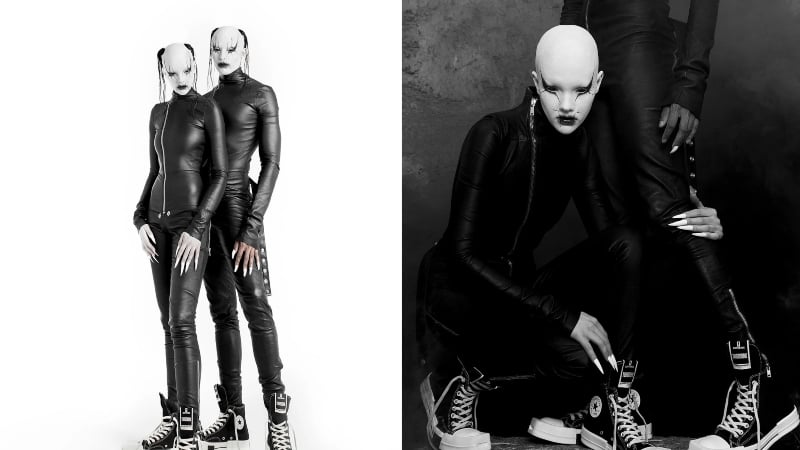 41. Dunhill
Founded by Alfred Dunhill more than 120 years ago, this London designer brand has from a long day from its origins. Alfred inherited his father's saddlery business, where he began developing leather car goods. Over the years, the family business entered into the luxury goods space, leading us to where it is today. It has become one of the industry's oldest and largest top designer brands with menswear, leather goods, accessories, fragrances, and watches.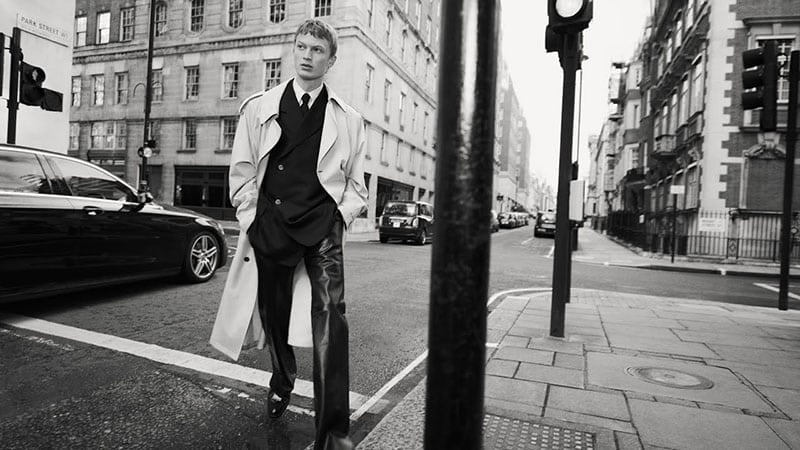 42. Maison Margiela
Renowned for its innovative and iconic designs, Maison Margiela is one of the most polarising designer brands of today. Founded in 1988 in France by Martin Margiela, the label reduces ready-to-wear and couture-inspired pieces. Inspired by shocking and provoking artwork, many have described the work of Margiela as the Marcel Duchamp of fashion. Some of its most recognizable items is its Tabi boot, inspired by the split-toe Tabi sock from Japan. The founder left the business in 2009, with John Galliano taking the role of Creative Director in 2014.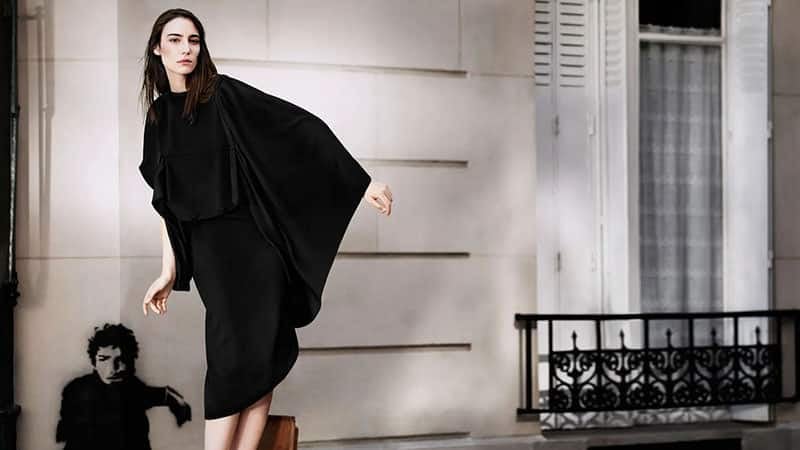 43. Vivienne Westwood
As a symbol of British punk and rebellion, Vivienne Westwood remains one of the most iconic top designer brands in modern fashion history. Launching a store in London called SEX, she paved the way for the punk subculture to enter the mainstream. Her pieces include ripped T-shirts, plaid, and sky-high platform heels – which supermodel Naomi Campbell famously wore (and fell) on the runway in 1993. A proud rebel of the industry, her pieces remain political and symbolic statements against conformists and defined an era of defiance against the norm.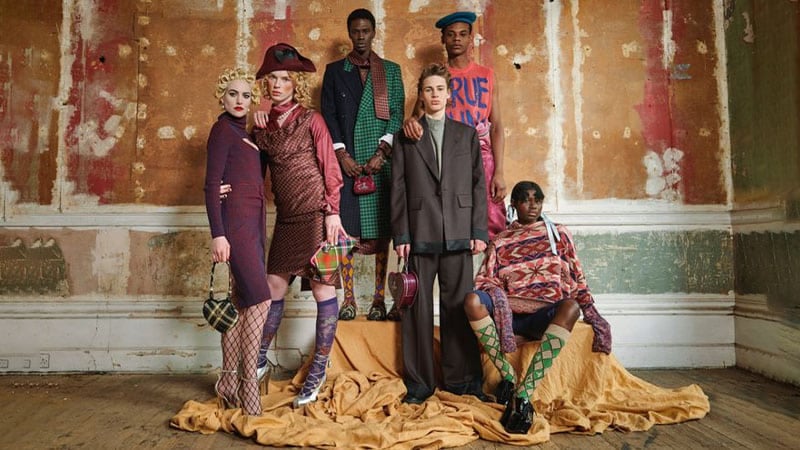 44. Ted Baker
Although Ted Baker's history only stretches back to the '80s, the British high street designer brand has certainly made a name for itself. Founded in 1988 in Scotland by Ray Kelvin, it started as the founder's alter-ego – complete as an aviator and "all-round sportsman," surrounded by princesses and "Hollywood beauties." Over the years, the brand launched a women's line and opened several stores over the UK. Today, you will find ready-to-wear pieces, footwear, and accessories, complete with worldwide men's and women's pieces.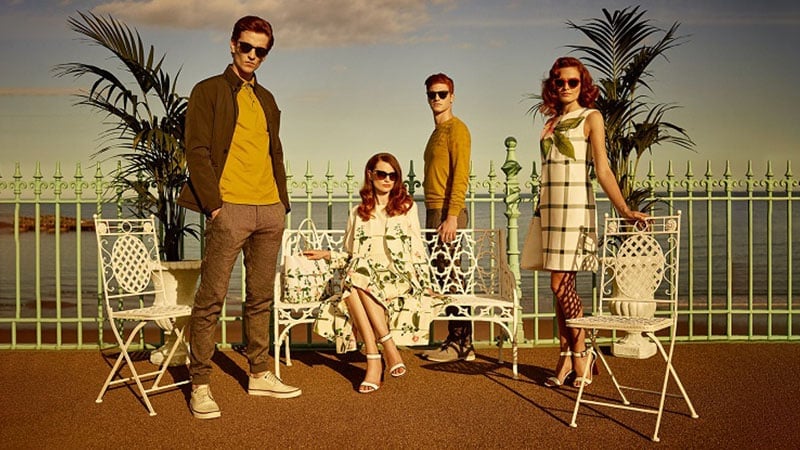 45. Tommy Hilfiger
Dubbed one of the most American designer brands in fashion history, Timmy Hilfiger is an inspirational and influential designer. Pursuing fashion as a career in the '80s, Tommy created button-down shirts, chinos, and pieces reminiscent of the preppy culture; in the decades since, it has become more than just a fashion brand. Tommy Hilfiger has inspired the next generation of culture, sparking the preppy revival of the '00s and in the hip-hop scene. Aside from fashion, Tommy Hilfiger supports and encourages philanthropic efforts such as Save the Children and the World Wildlife Fund.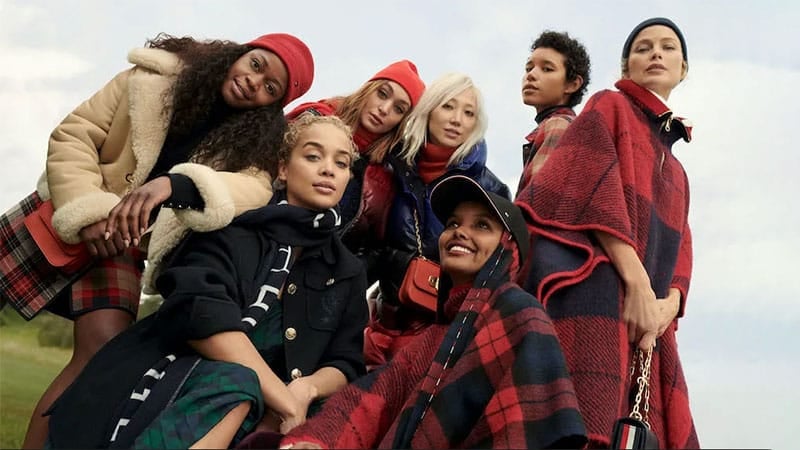 46. Zadig & Voltaire
Zadig & Voltaire is an edgy and rebellious brand founded in 1997 in France. Perhaps best known for its cashmere sweaters and Tunisian t-shirt, its streetwear aesthetic has inspired many other designers in its wake. The womenswear designer is heavily inspired by the Parisian woman, who is free-spirited with a touch of rock and roll. The most prominent designs feature leather, denim, and a blend of soft fabrics like cashmere, often with a streetwear edge and a timeless attitude.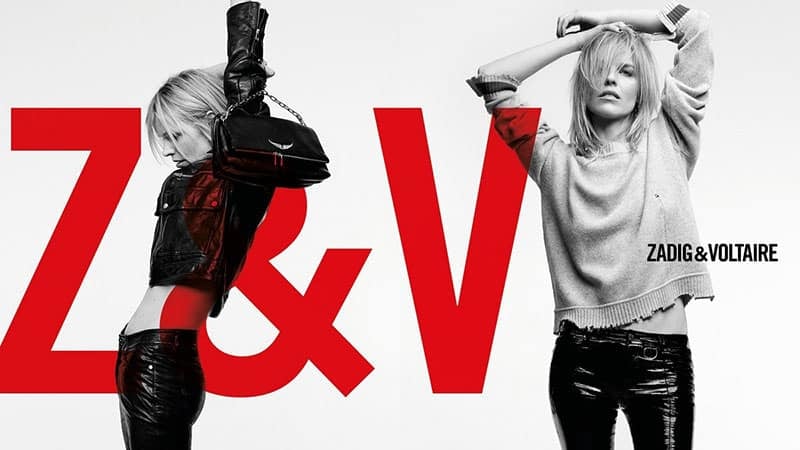 47. Derek Rose
While most will think of luxury designers as haute couture or ready-to-wear, Derek Rose defies them all with its high-end loungewear and pajamas. The intimate apparel designer was founded in 1926, focusing on making the wearer feel relaxed and comfortable. In 1987, it received the Queen's Award for Export Achievement and expanded its stores worldwide. Even 100 years later, its luxurious fabrics and effortless designs are intended for those who want to enjoy their free time.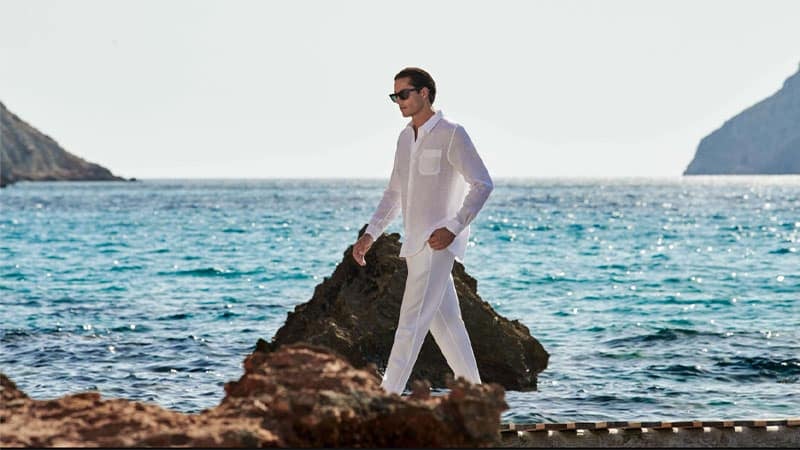 48. Lanvin
Lanvin is one of the oldest designer brands in France. Founded in 1889, it started out small and focussed only on hats. Created by Jeanne Lanvin at the age of 22, she soon entered the world of womenswear, home decor, and lingerie. As the third oldest French fashion house still in operation, today it works alongside some of the most influential designers in modern fashion history. With names ranging from the late Alber Elbaz to Claude Montana in its long list of creative directors, it remains an important element of the rich history of French fashion houses.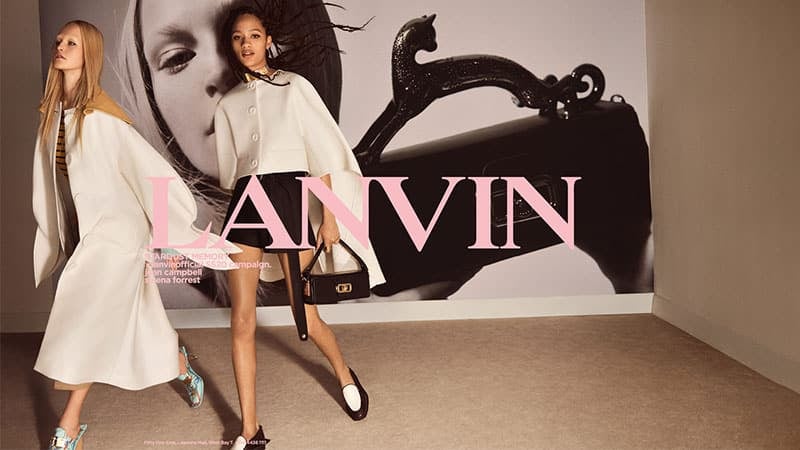 49. Belstaff
For those who enjoy two-wheeled motor vehicles, you would be well aware of Belfast and its influence on motorcycle fashion. Founded in 1924 by Eli Belovitch and Harry Grosberg in Staffordshire. As the first company to use wax cotton, it paved the way for waterproof apparel. In the decades since, it has remained true to its heritage, crafting men's and women's outerwear and pieces designed for adventures and those on the go.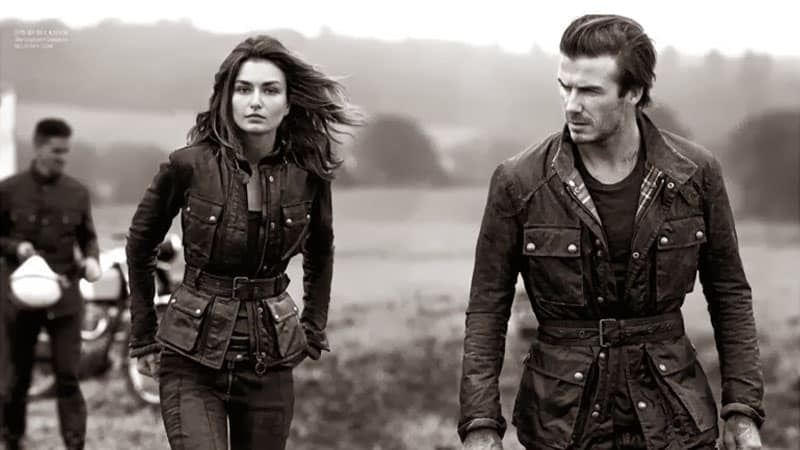 50. Moncler
Moncler, a well-known designer brand, gets its name from the charming mountain village of Monestier-de-Clermont in France. This association between the brand and the mountains of the region has allowed Moncler to mix the ruggedness of the outdoors with urban fashion. Founded in 1952 by René Ramillon and Andrè Vincent, Moncler quickly became recognized for its unique style, catering to the wealthy who spent their holidays in the mountains. The duo created quilted items such as sleeping bags, jackets, and tents, which were well-received by both tourists and locals alike. Today, the fashion house has expanded its collection to include hiking boots, beanie hats, and puffer jackets, all made with top-quality materials and exquisite designs.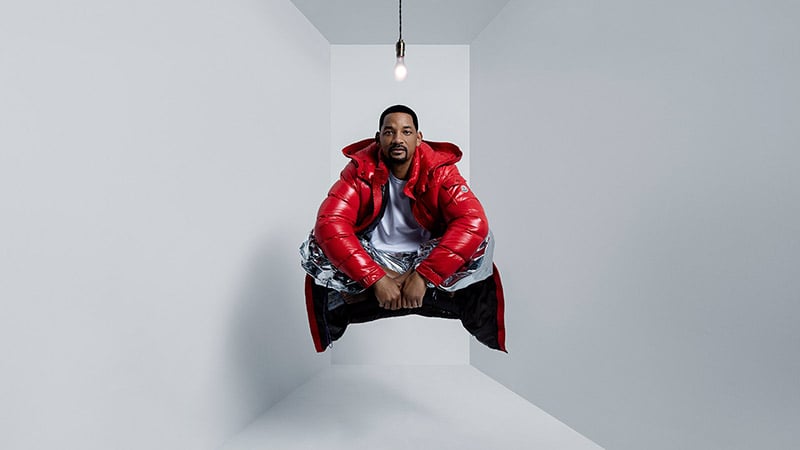 Top Designer Brands FAQs
What are the top 10 designer brands in the world?
Louis Vuitton, Dior, Gucci, Prada, Rolex, Hermès, Tom Ford, Armani, Saint Laurent, and Burberry are among the top 10 designer brands worldwide. While attempting to quantify this objectively is difficult, our selection process considers factors such as size, reputation, and heritage.
What is the most expensive designer brand?
The most expensive designer brand is Louis Vuitton which has a valuation of around $32.223 billion.
What's the hottest designer brand right now?
Over the past decade, Gucci has stood out as the go-to designer, with Alessandro Michele's creation of an alluring world of dandyism. However, it's important to acknowledge other notable brands. Bottega Veneta offers a distinct design perspective, while Louis Vuitton consistently remains a strong contender, especially with Kim Jones on board.
SUBSCRIBE TO OUR NEWSLETTER
Subscribe to our mailing list and get interesting stuff and updates to your email inbox.