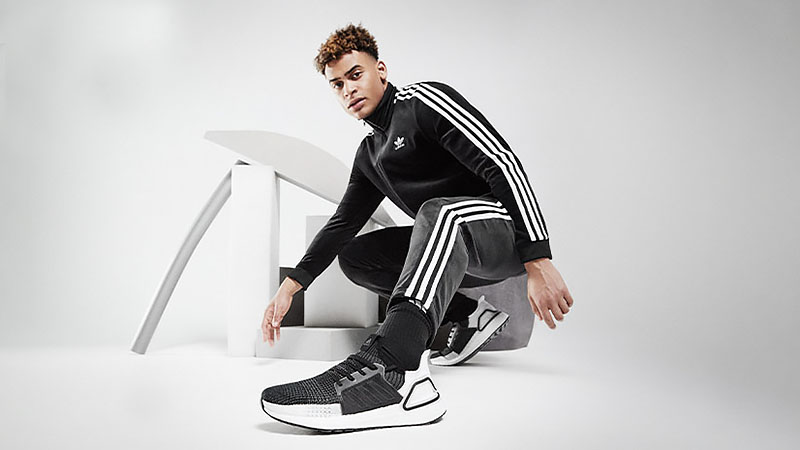 Sneakers are one of the most versatile and comfortable footwear options for men. Not only do they look fantastic on anyone, but they also flatter a massive range of outfits. Whether you're heading to the basketball court or meeting friends at the cafe, this is the ultimate guide to wearing men's casual sneakers.

Types of Sneakers
Low Top Sneakers
Show off your ankles and stay super slick in low top sneakers. You can wear a classic pair of Converse or tennis shoes, and you'll be the coolest guy everywhere you go. Choose to wear funky socks that show a bit of personality or no-show socks to draw attention away from your feet. Low top sneakers look fantastic with shorts, jeans, or chinos – the choice is entirely up to you.



High Top Sneakers
When the temperature starts to drop, and you want to stay snug but stylish, look no further than high top sneakers. This classic design is a fantastic choice to wear with jeans, chinos, or long-length shorts with socks. Keep a streamlined feel to your outfit with black Converse shoes or up the ante with a set of Balenciaga slip-on.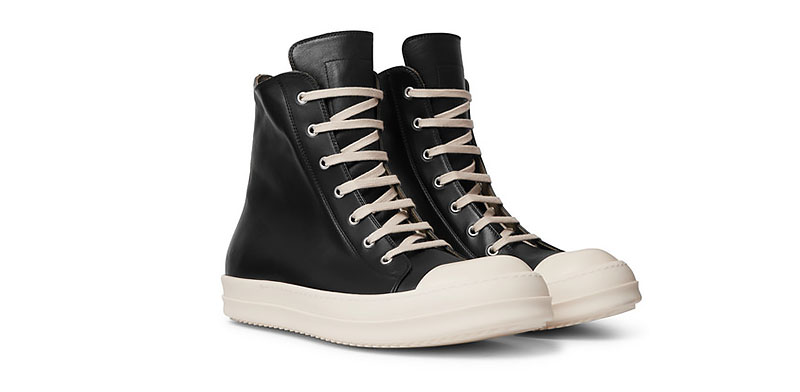 Luxury Sneakers
Show off a little bit with luxury sneakers. Whether you want to flaunt the price tag with a distinctive logo or you choose comfort over style, these shoes are worth every penny. From chunky and on-trend Gucci sneakers or sleek and slinky Balenciaga trainers, you'll be receiving compliments with every step that you take.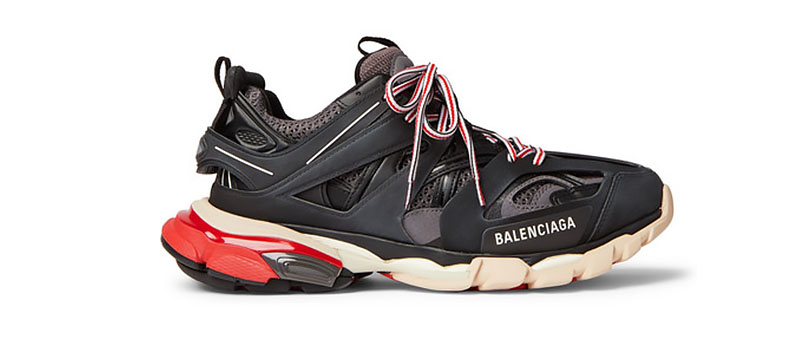 Slip-on Sneakers
Take the hassle of laces out of the equation with slip-on sneakers. From low top designs to sock shoes, you can mix and match to suit your personal style and budget. The timeless and classic footwear looks wonderful with an array of outfits on many occasions, so be sure you have a pair in your collection.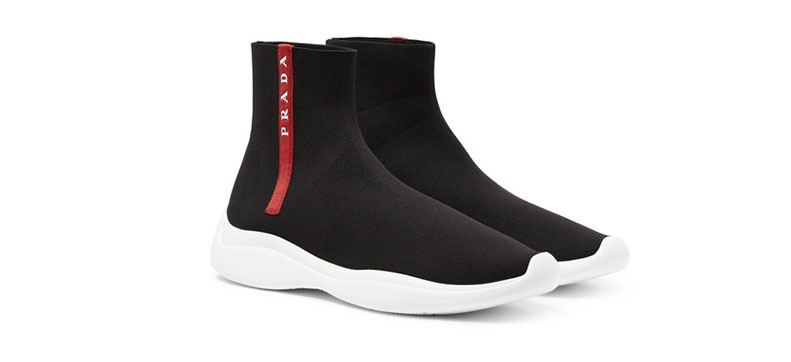 Basketball Shoes
Support your knees and get the ultimate bounce with basketball shoes. If you're trying to unleash your inner Michael Jordan or you're just shooting hoops, you can't go wrong with this sneaker. Choose from a classic '80s or modern design, and style them with jeans or tracksuit bottoms for a laid back and stylish streetwear feel.



Tennis Shoes
Score a grand slam with a pair of tennis shoes. Made for fast movement with optimum grip, you'll be a winner! Choose a tennis shoe that's lowkey and simple, or create a real statement in a bold and quirky design. You don't have to be on the court to rock these trainers – they look fantastic while you're working out or grabbing a coffee with mates.

Running Shoes
Go the extra mile with running shoes. With premium support on your knees and ankles, this trainer will help you get from A to Z in style. If you're heading out for a jog at night, opt for a set of sneakers that offer a reflection or are bright in color. It's best to choose a trusted brand for these runners – you'll be able to go the distance easily in something this sleek.



When to Wear Sneakers
Casual
If you're headed to a cafe or out to the movies, you can't go wrong with sleek sneakers with a casual outfit. From jeans, a T-shirt, and high tops to tracksuit pants, puffer, and luxury trainers, this footwear can complete any outfit. For the days where you're ready to make a statement, a set of designer shoes are sure to keep all eyes on you.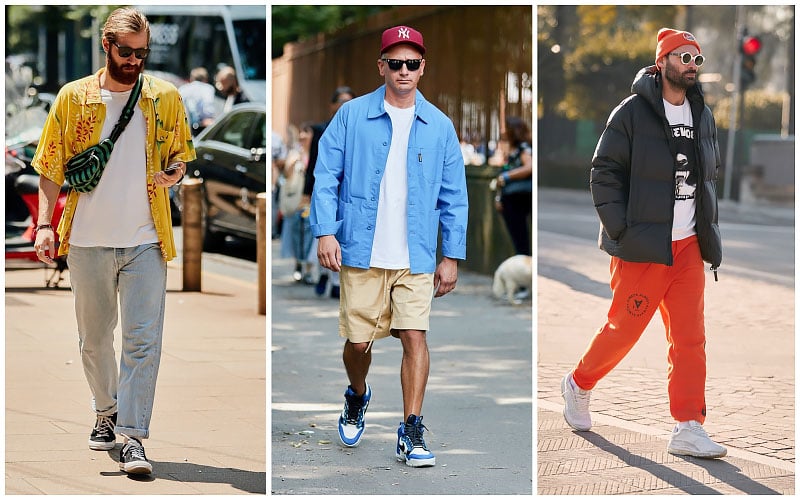 Smart Casual
For an office event, garden party, or a night out with the boys, opt for stylish sneakers to complete a smart casual ensemble. Go for a slim-fitting suit with a plain T-shirt and white low top sneakers for a laidback but well-put-together outfit. If you're feeling a bit more formal, choose a button-down shirt and blazer, complete with chinos and leather trainers. No matter what you go for, you're going to be the coolest guy in the room – guaranteed.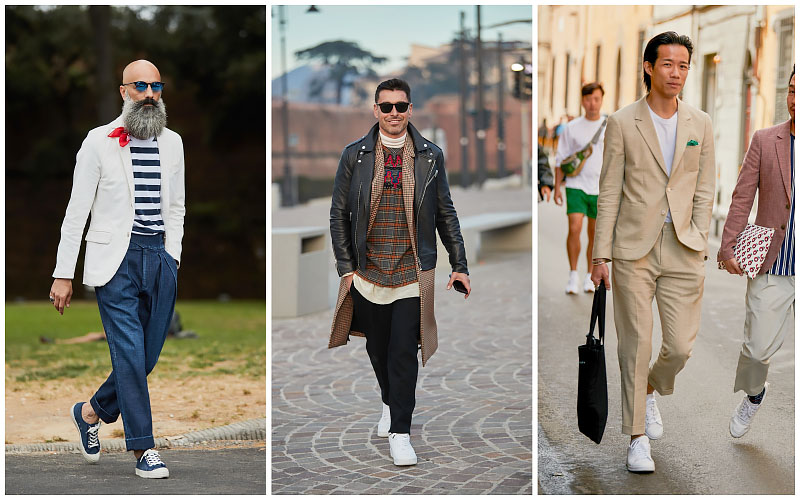 Best Sneaker Brands
Depending on where you're going, certain sneaker brands outperform the rest. For the ultimate support on your joints, opt for sporty shoes by Nike, Adidas, or Puma. If you're hoping to steal the show, opt for labels such as Balenciaga, Gucci, or Valentino – they offer incredibly stylish designs with optimum comfort and quality. It's essential to choose a pair that looks fantastic and gives you the best protection for everyday wear.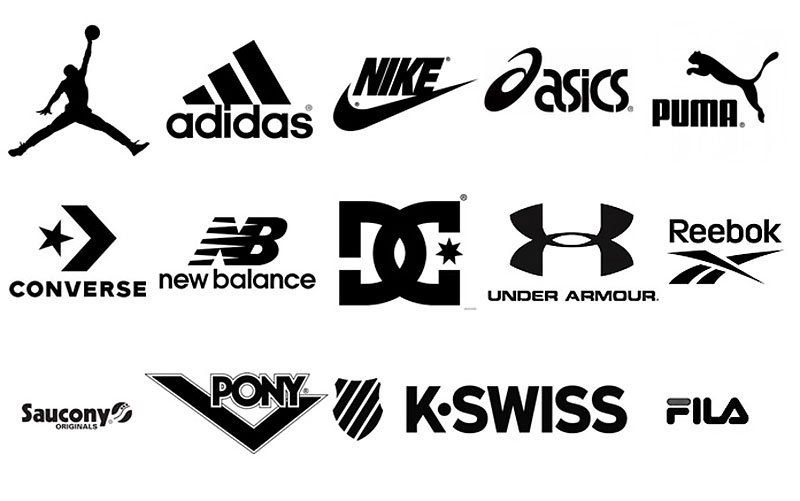 Most Comfortable Sneakers for Men
While it's an excellent factor to consider the style of your sneakers, the real kicker is the comfort they provide. Choosing a pair of shoes that offer support to your feet and joints will keep you feeling and looking great. If you're planning to work out, opt for the Nike Air Vapormax – these are made for intense sports. If you're on the skateboard scene, Vans Slip-On sneakers are a great option that looks and feels great while you're on the move.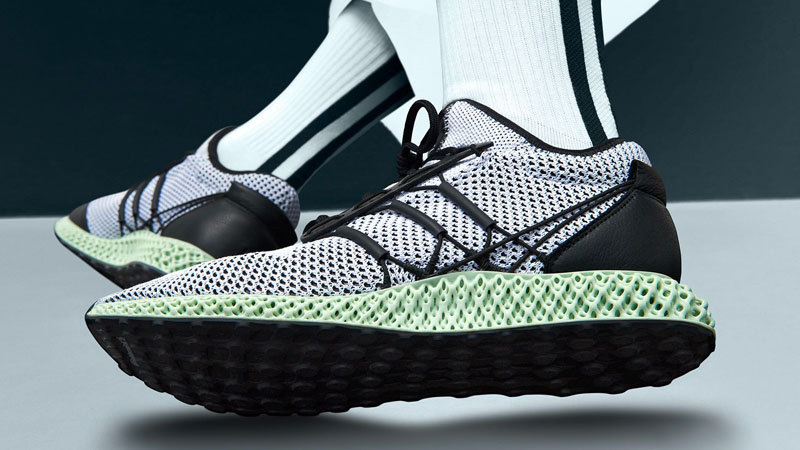 How to Wear Sneakers
Comfort is key – be sure that your shoes provide support for your joints.
Avoid choosing shoes that are overly trendy. What's super cool now may not be as slick in a couple of years.
Opt for colors that best suit the rest of your wardrobe. White is a great choice and will match most outfits.
Maintain the cleanliness of the shoes – keep them clean so you can wear them with confidence.
Although sneakers can look great with a suit, it's best to check the dress code before wearing your trainers.
Types of Sneakers FAQs
What sneakers are in style 2022?
There are many sneakers to choose from, but luxury, designer pairs are a must-have this year. They may be expensive, but if you wear them often enough, it's an excellent investment. Other styles include high top, low top, slip-on sneakers, tennis shoes, basketball shoes, and running shoes.
What is the best website to buy sneakers?
There are many online stores where you can buy sneakers, including big fashion retailers like Farfetch, SSENSE, Mr Porter, and Nordstorm.
What is the best time to buy sneakers?
The best time to buy sneakers is in the spring. During these months, the stores are trying to get rid of their winter stock and want customers to buy for the current season.
SUBSCRIBE TO OUR NEWSLETTER
Subscribe to our mailing list and get interesting stuff and updates to your email inbox.