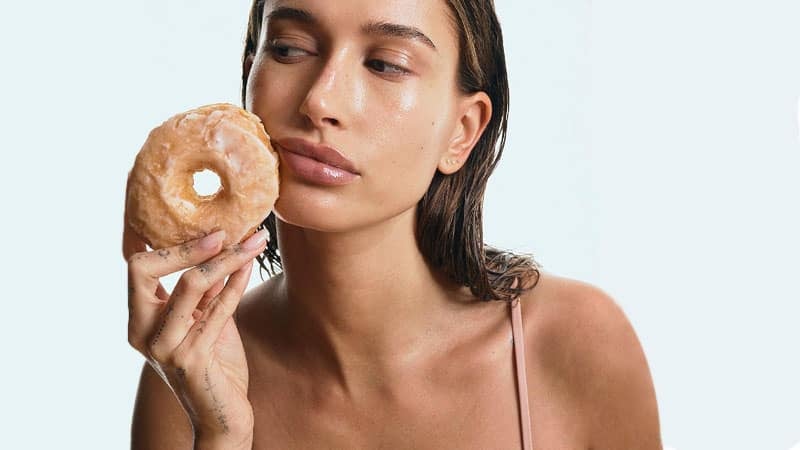 Hailey Bieber is known for myriad reasons, but one of the biggest is her influential manicures. Known for kickstarting the 'glazed donut' nail design, she offers supermodel-worthy fingers for her fans and beauty lovers. Follow along as we show you how to recreate Hailey Bieber's nails. Learn tips and tricks for achieving everyday glamour with a celebrity twist in no time!
1. Hailey Bieber Original Glazed Donut Nails
There's a likely chance you've seen this nail trend online. Started by Hailey's nail artist, this subtle and beautiful nail art looks exactly like the name suggests – glazed donuts. Going viral on TikTok, it has since become a mainstay in the beauty scene. To create this look, apply a coat of pink nail polish, and once dry, paint a thin layer of pearlescent top coat for the perfect shine. Alternatively, you can use dip powder with a holographic finish over the top for a light-catching effect.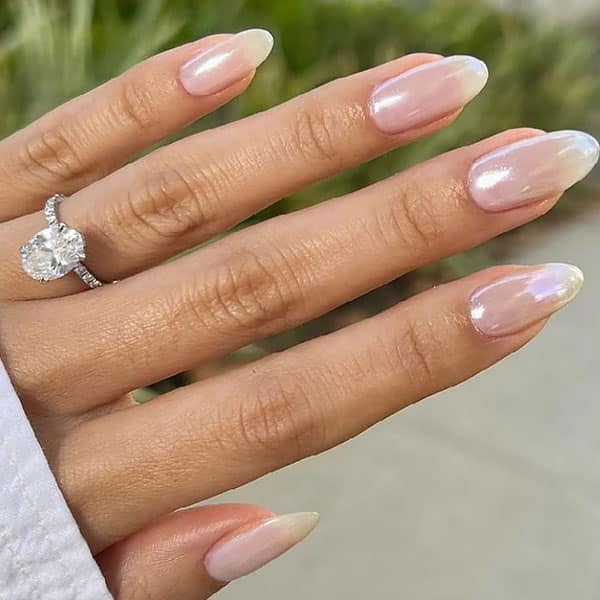 Get the Look
2. Hailey Bieber Chocolate Glazed Donut Nails
Glazed donut nails aren't just for summer – an updated version in chocolate brown is the perfect shade for cooler months. You can create this supermodel-worthy nail art just like Hailey's by using only a few products. A light brown nail polish with glimmer and shine will give the same effect, but if you want something a little more dramatic, opt for a powder with holographic prosperities to give it an extra pearlescent boost.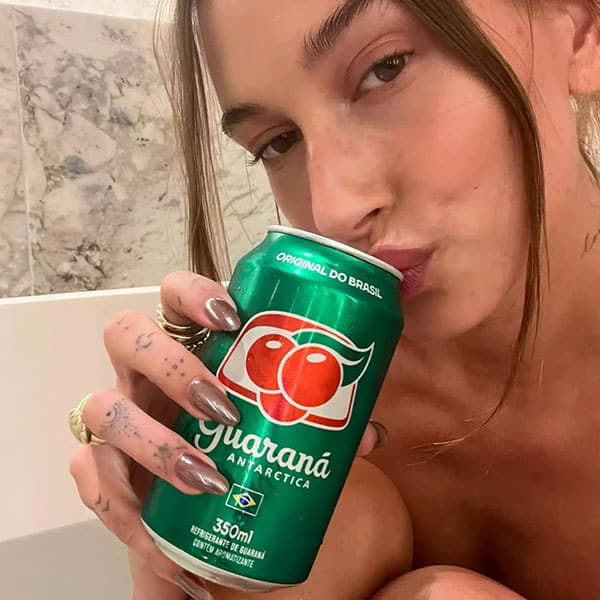 Get the Look
3. Hailey Bieber Grey Glazed Nails
Continuing on the holographic route, these grey nails are another great alternative to the glazed donut trend. Just like the brown and pink options, this design requires one or two shades to give off the supermodel effect. Find your favorite shade and apply it to every finger – you can keep it sheer if you want your natural nail coming through. Using a pearlescent top coat or powder, apply a small amount on each finger to give a beautiful shine. This works for any season and will give your outfits an instant high-fashion spin.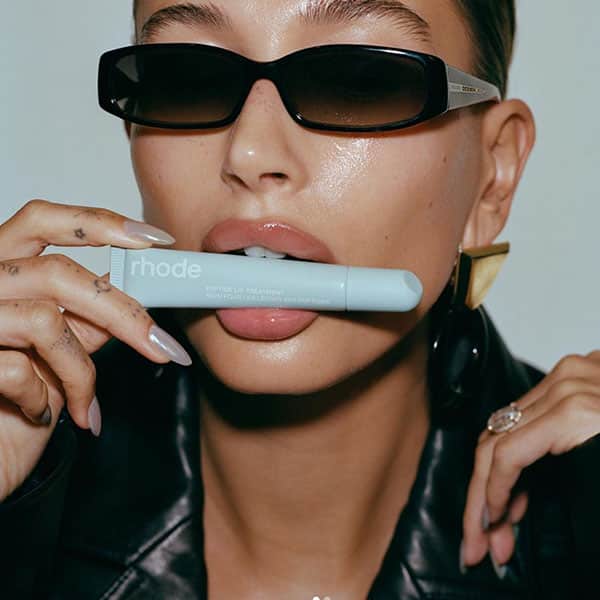 Get the Look
4. Hailey Bieber Natural Glazed Nails
If you want to feel like a supermodel, you can't go past the natural glazed nails from Hailey Bieber. This laid-back and bare look is easy to create and appears effortlessly perfect. Get 'your nails but better' style by applying one or two thin layers of nude pink across your fingers. Let them dry before adding a pearlescent top coat to catch the light and glimmer. This is the ideal nail option for school or occasions that require a minimal color.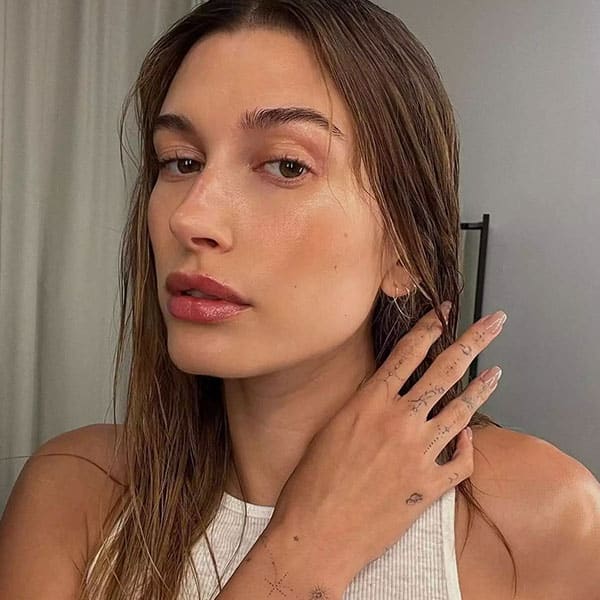 Get the Look
5. Hailey Bieber Neon Glazed Donut Nails
If you want the perfect summer manicure, look no further than this fresh take on the glazed donut. With the same stunning pearlescent top coat, you can turn to something slightly brighter underneath to make your hands pop. Opt for a neon shade like yellow or green – unlike the other glazed donuts, you don't have to make the application sheer. The color works best for nail shapes like almond and stiletto, but you can also choose something square or round.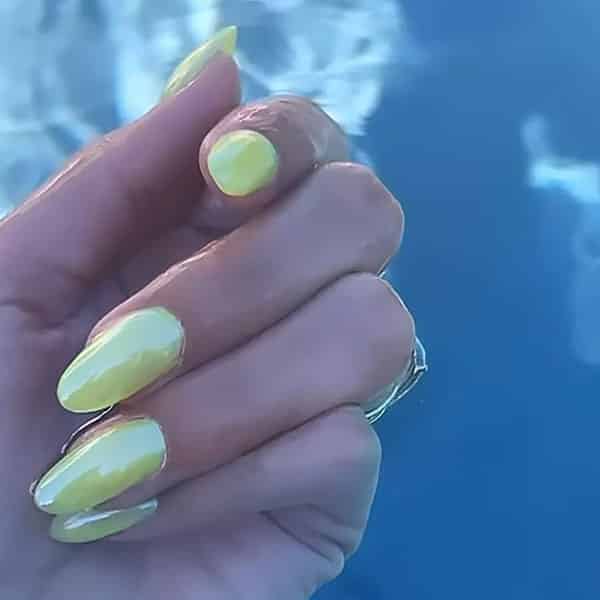 Get the Look
6. Hailey Bieber Gunmetal Nails
For a punk twist on the classic manicure, why not try gunmetal? This metallic shade is subtle enough for every day but offers a hardcore twist that's hard to compare. You can try many shiny polishes, but if you prefer dip powder, you can always add a holographic top coat for a glazed donut effect. Keep your nails bare from any other embellishments – this color is all you need for a knockout statement.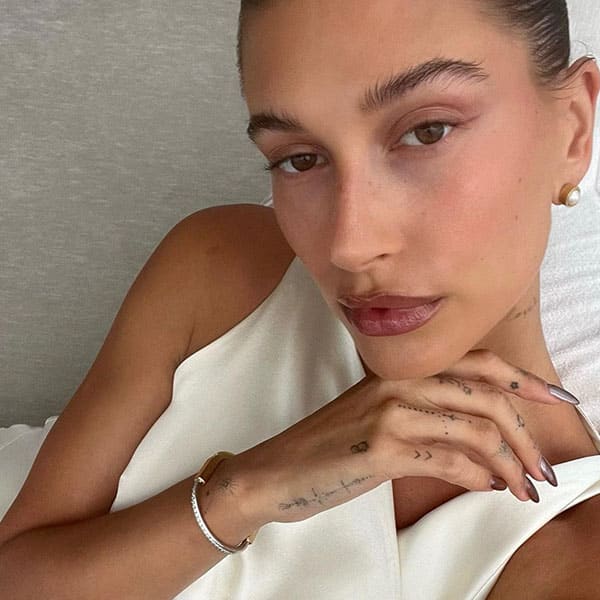 Get the Look
7. Hailey Bieber Bright Yellow Nails
Fresh and zesty, this yellow nail design is worthy of a try. While it's simple, the bright color is guaranteed to garner attention. Opt for a fluorescent shade if you want something on the neon spectrum. However, lemon and banana are more subtle options if you want to keep it low-key. Again, this is a look that doesn't require any extra embellishments, but they are fantastic when paired against equally vivid shades such as blue or pink – add jewelry or match it to your clothing for maximum impact.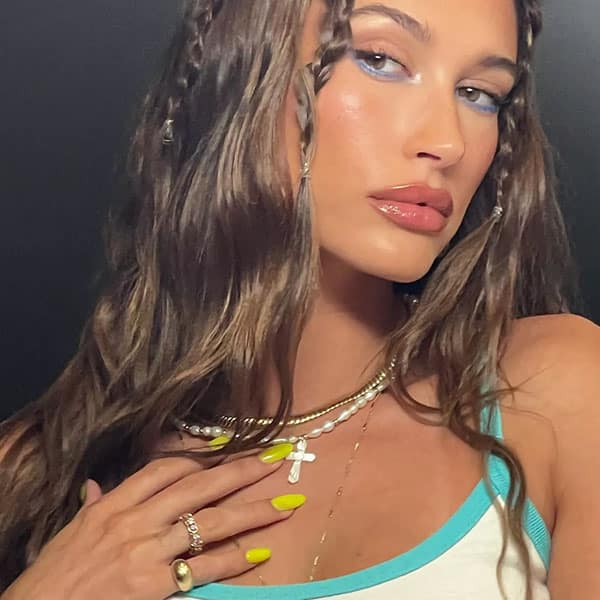 Get the Look
8. Hailey Bieber Orange Nails
Hailey's nails aren't always simple – sometimes, they're creative and expressive, just like these cute orange nails. Start off with a neutral base shade, such as baby pink or natural. Add orange dots across the nail, then using a small and thin brush, you can add the branches and leaves to create the illusion of fruit over your fingertips. You may need a steady hand for this one, so we recommend heading to the salon for the best results.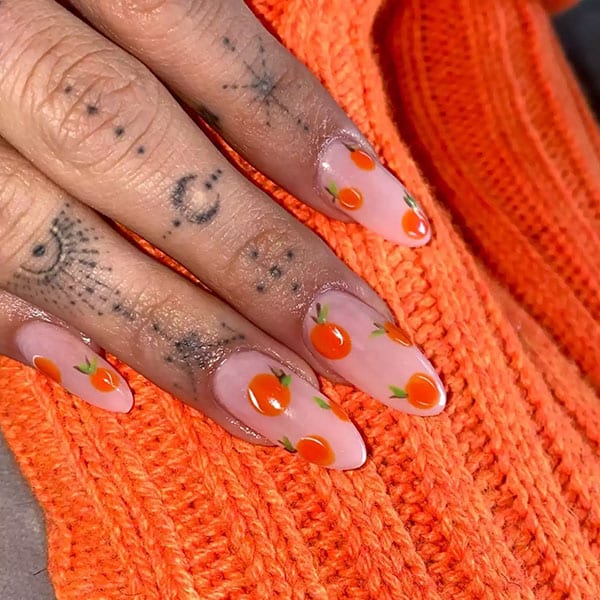 Get the Look
9. Hailey Bieber Classic Daisy Nails
Say hello to springtime with this delightful and simple daisy design. Like the orange design, this nail art requires a blank slate underneath, with only one or two layers of nude or pink polish. Using a thin nail brush, apply a few small yellow dots around your nails, then add white petals around the perimeter. Depending on the size and length of your nails, you can add one or two, and don't be afraid to place them in the corners.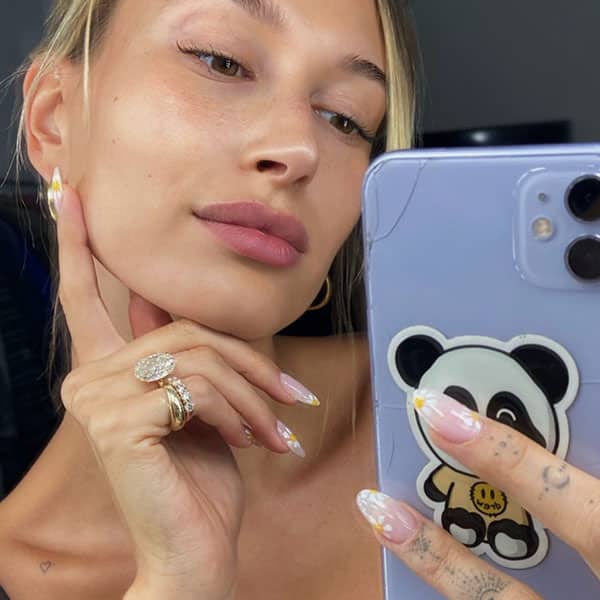 Get the Look
10. Hailey Bieber Daisies and Mint French Manicure
Can't decide between a French manicure and artwork? Take a page from Hailey's book and try both at the same time. Unlike the traditional design, however, you can swap out classic white tips for mint green. This is a fresh take on the look and is easy to replicate. Start with a natural pink base, and create the French manicure on four of your five fingers, leaving one blank. Then, using a small brush, paint a series of delicate flowers over the untouched nail, leaving room for the pink shade to show underneath. You'll feel instantly ethereal with a manicure this cute!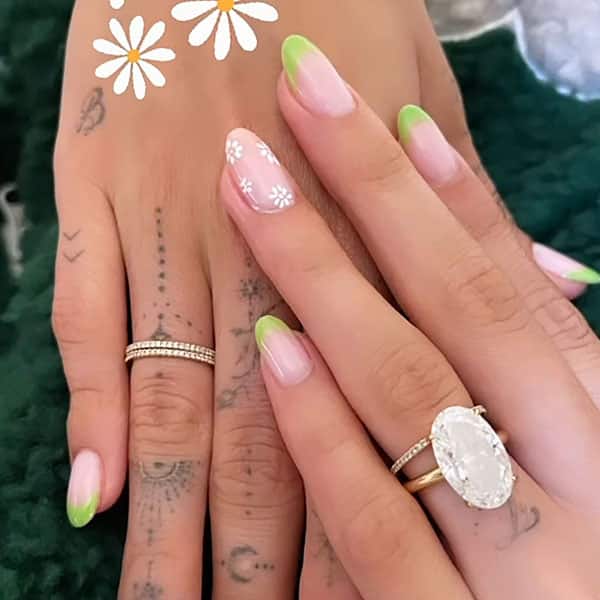 Get the Look
11. Hailey Bieber Abstract Art Nails
It's no secret that Hailey Bieber's nails are a work of art, and this manicure is further proof of that. This abstract-inspired style uses a series of bright shades on a neutral base and allows you to let your creativity run wild. As with most delicate nail art, you'll need a thin brush and plenty of polishes to create the look. Start with a natural shade – either pink, nude, or clear – and sporadically create organic shapes on the tips and at the cuticle of your nail. Play with colors like green, brown, red, and yellow – don't be afraid to mix hues that traditionally wouldn't work together. Remember, it's all about self-expression, so do what makes you feel good.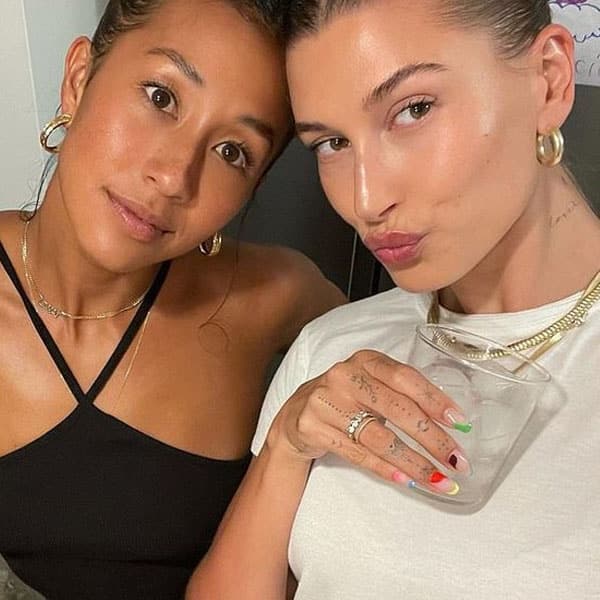 Get the Look
12. Hailey Bieber Gold Tip Nails
A lover of putting a fun spin on traditional styles, this gold tip manicure is the perfect option for a night out. Like a French manicure, this style uses only two colors – a natural base coat and a bold shade for the tip. Gold is a great choice for this look, as it alludes to extravagance and decadence without requiring any jewelry at all. You can try more than one tone of gold, but if you want to stay true to Hailey's design, opt for something with a cool undertone.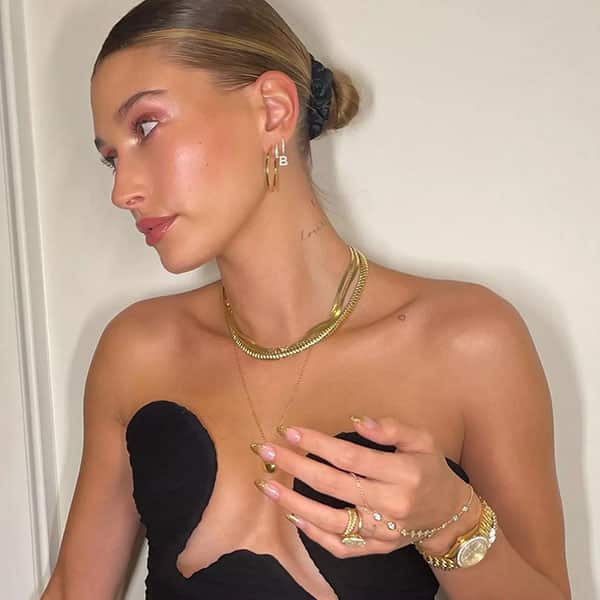 Get the Look
13. Hailey Bieber Dark Pink Nails
Barbiecore is holding strong, and these nails are the best way to lean into the trend. While Hailey loves a shade of light pink, we can't go past this darker alternative. The strong shade has an almost jelly-like effect and is easy to create at home. Find a polish that offers sparkle or holographic elements under certain lights, and apply two or three coats to your bare nails. You don't have to add anything else to get the look, but if you want to add a glazed donut finish, feel free to apply a thin layer of pearlescent top coat for a rounded finish.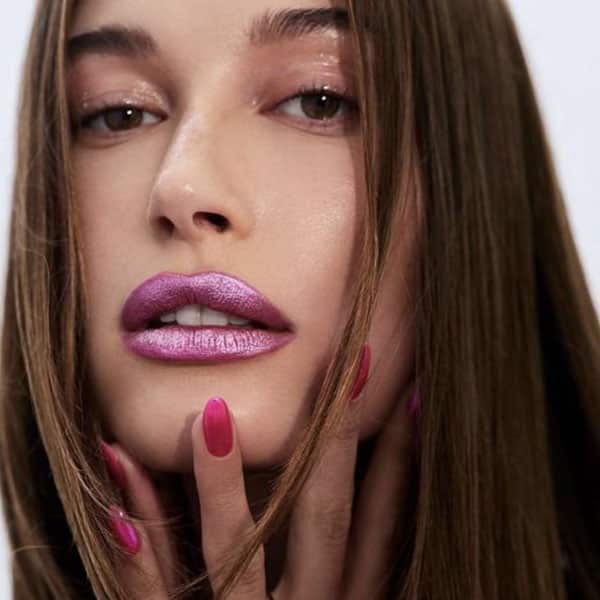 Get the Look
14. Hailey Bieber Bright Red Nails
Some classic looks never go out of style, and no truer words can be said about these red nails. Traditional in shade and design, the fashionable manicure requires only one item – a bright red polish. Find something that has a blue or orange undertone – these are universal shades that will pop on any skin tone. The best nail shape for this color is almond, as it elongates the fingers and creates the illusion of long nod elegant hands.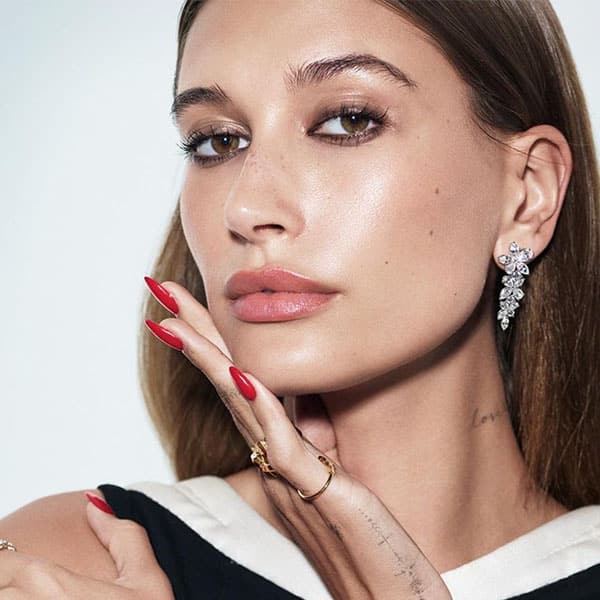 Get the Look
15. Hailey Bieber Red French Manicure
A true lover of putting a spin on traditional designs, Hailey just gave this classic manicure a futuristic spin. With all the elements of a French manicure, this style swaps out white tips with bright red and a holographic top coat to finish it off. This will catch the light perfectly and give a fashionable spin on a tried-and-true manicure that will inspire many to come. As with most modern interpretations of this style, the most popular nail shape is almond or squoval, as it elongates the fingers and creates an elegant silhouette.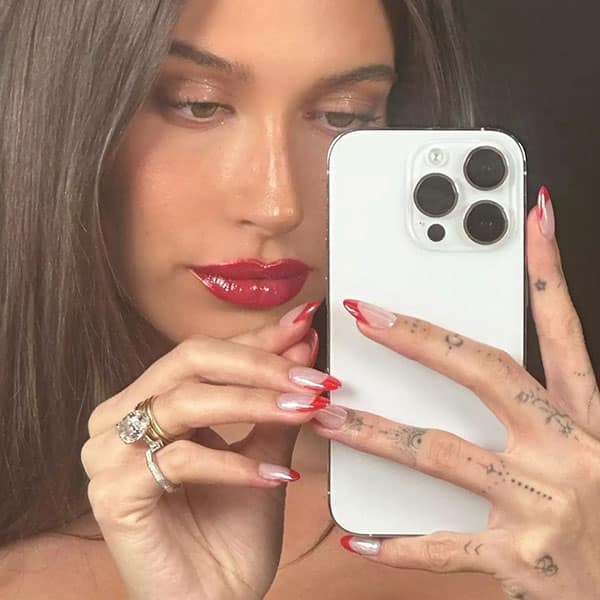 Get the Look
16. Hailey Bieber Baby Blue Nails
Was Hailey inspired by her hubby's first hit, 'Baby,' when she chose this manicure? The baby blue color is a fresh and youthful approach and is the ultimate summer shade. The style itself is simple, with a long stiletto or almond nail shape and a single shade, but the effect is out of this world. The beauty behind this is its versatility – you can try it with short nails or long nails in any shape you prefer. No matter how you choose to wear it, you will look like a breath of fresh air.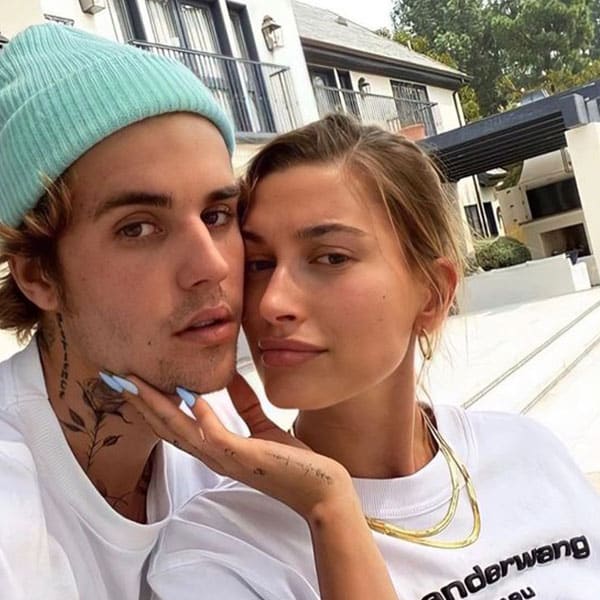 Get the Look
17. Hailey Bieber Pistachio Nails
Nothing says summer quite like a fresh manicure, and this pistachio shade is the perfect choice for hot days. A departure from classic white or blue, this green hue is a beautiful way to show off your fingers and celebrate the sun. Hailey's signature nail shape is almond, and it looks perfect with this color combo. Of course, if you prefer round, square, or any other nail shape, don't let this supermodel influence you to try anything else. This subtle hue looks amazing with all skin tones and is sure to garner a compliment or two!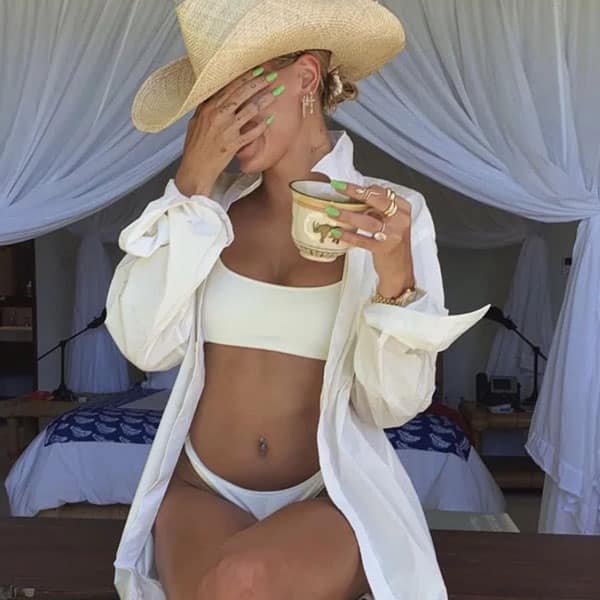 Get the Look
18. Hailey Bieber Lavender Grape Glazed Nails
If you want a low-key and subtle nail color, look no further than lavender. The shade is having a serious moment right now, and it's the perfect option to try for your fingertips. Depending on your preferences, you can create it with a few sheer layers or keep it bold with a darker hue, such as grape. Find an option with specks of glitter in the formula, or keep it natural with a matte finish – either way, you'll look like a model off-duty in an instant.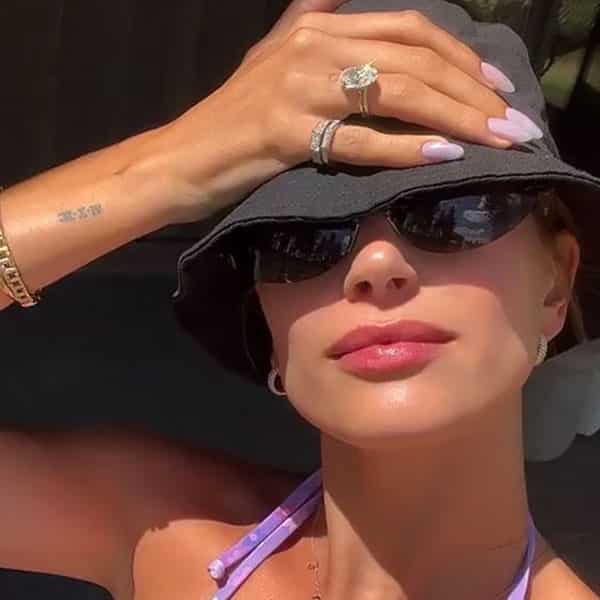 Get the Look
19. Hailey Bieber Light Pink Nails
Nothing says effortless like a set of light pink nails. Off the back of the Barbiecore aesthetic, this shade is subtle and suits everyone. You can try this with long nails or short nails, and it suits a wide range of occasions and events. It's also versatile, making it perfect for any other color choice for your clothes and accessories. Whether you are heading to the office or setting up a photo shoot for your social channels, this is the perfect manicure option to try.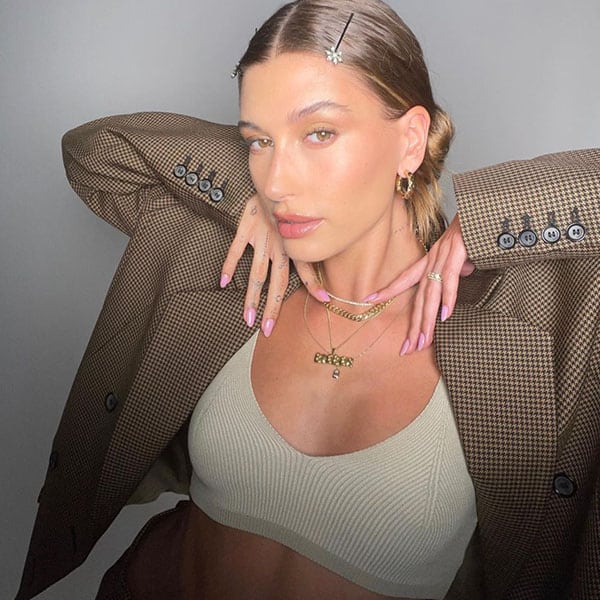 Get the Look
20. Hailey Bieber Black Nails
When all else fails, there's no better manicure choice than the classic black. Timeless and stylish, this choice is an elegant way to keep your aesthetic edgy without overdoing it. A few years ago, it was all about matte nails, but Hailey proves that a bit of shine won't hurt anyone. Once again, her favorite nail shape is almond, but you can opt for something shorter or longer if that is your preference. The beauty behind this color is its adaptability – if you're heading to work, on a dinner date, or running errands, you will look put-together and ready for anything.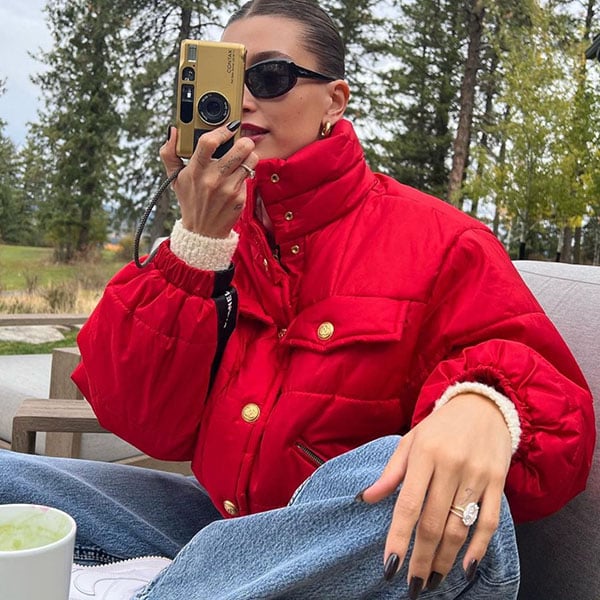 Get the Look
21. Hailey Bieber Dark Brown Nails
A fall classic, this dark brown manicure is made to be seen. These are a departure from her classic glazed donut aesthetic – instead, these look like a block of chocolate on her fingers. While it's a great choice for cooler months, you can wear this any time of year and look like a supermodel. When searching for the right shade, opt for something with multidimensional specks of color in the polish – this will catch the light and give the effect of melting sweets.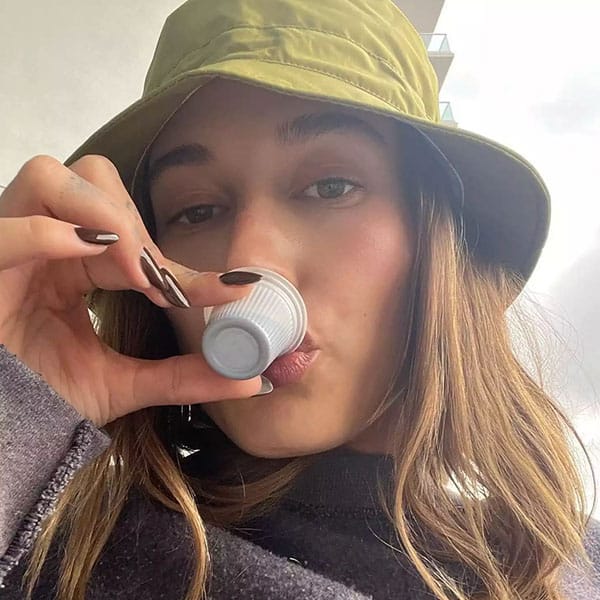 Get the Look
22. Hailey Bieber Dark Green Nails
Who can forget when Hailey paid trinity to Britney Spears with this iconic Halloween look? You can take a leaf out of her book by recreating the manicure, which gives the effect of jade. To achieve this look, you have a few options. First, you could try nail polish with a similar hue – add a sheer pearlescent top coat for a holographic feel. The second choice is a holographic powder, which gives the effect of an oil slick effortlessly.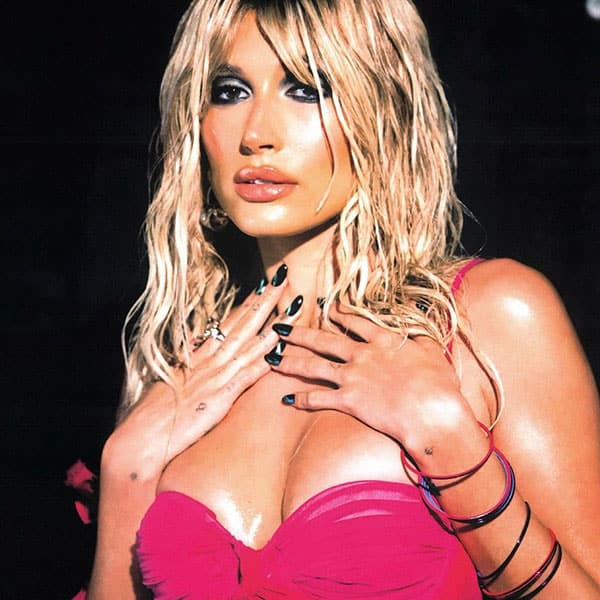 Get the Look
23. Hailey Bieber Dark Red Nails
If you're not into bright red nails, why not try this sultry alternative? This deep shade is the perfect choice for all skin tones, and it looks great at any length. This is likely best suited for chillier months and works with fall and winter shades such as black, gray, and cream. Hailey usually relies on her trusty almond nail shape, but you can choose any style you prefer – all look fantastic with this color.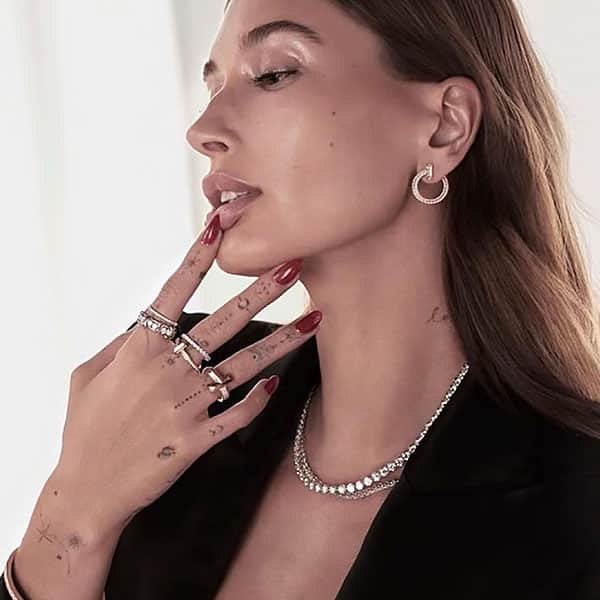 Get the Look
24. Hailey Bieber Maroon Nails
If dark red nails aren't your thing, but you want a deep shade for winter, why not opt for a maroon instead? This brown-infused shade is great for cold months and suits every skin tone. Much like dark red, it suits darker clothes and looks fantastic with cream and tonal shades. If you don't want a single shade on your fingertips, why not create an ombré or a sheer layer for a glazed donut effect? No matter how you wear it, you will look like an off-duty supermodel.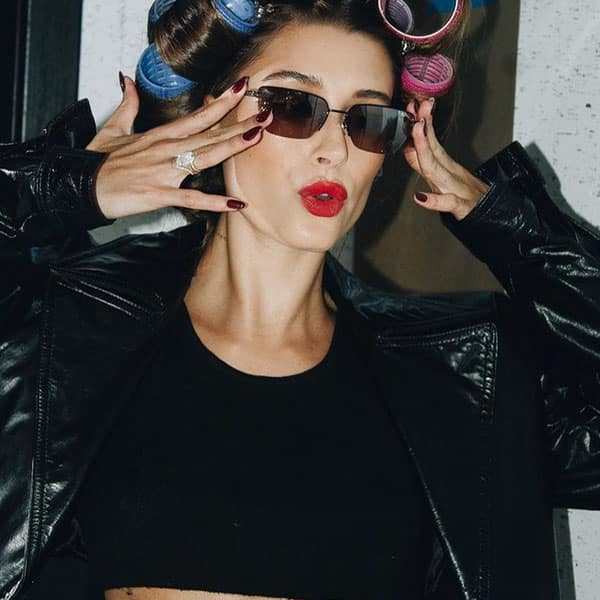 Get the Look
25. Hailey Bieber Cherry Nails
Add a burst of color to your everyday outfits with this cherry manicure. Unlike its darker counterparts, this nail shade is vibrant and will brighten your day. If you want to take a leaf from Hailey's book, avoid a shorter length to create the illusion of long and elegant fingers. You can style them with any outfit in your wardrobe, which works year-round.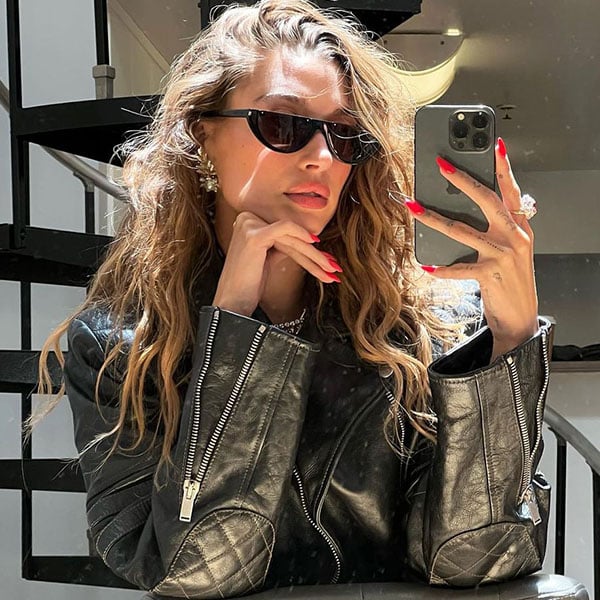 Get the Look