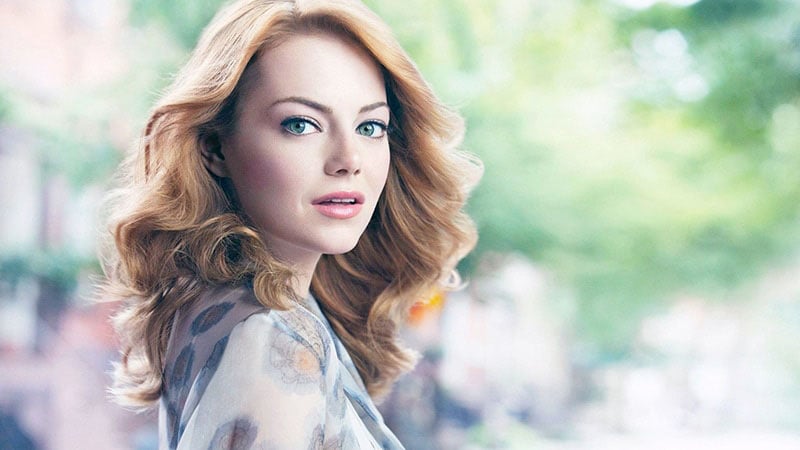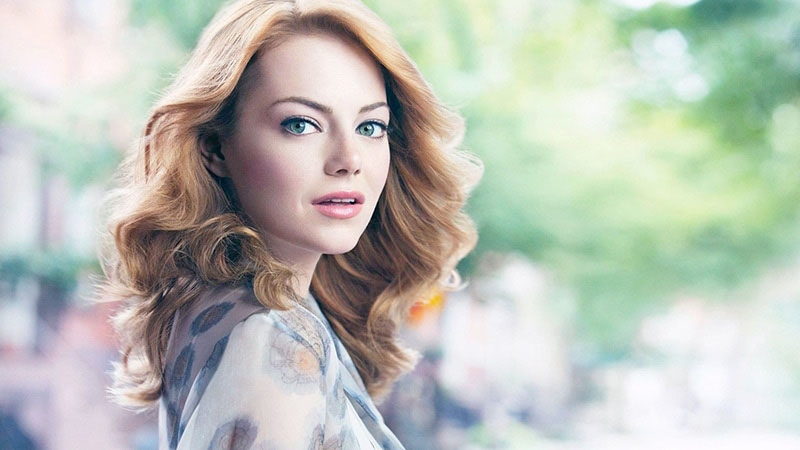 Going between red, blonde, brown, and black, Emma Stone is a true chameleon when it comes to her hair. The wide-eyed Oscar winner certainly isn't afraid to mix it up, and you shouldn't be either. Whether you're into sleek straight locks, glamorous curls, beach waves, firey red, sandy blonde or mysterious darks, Miss Stone is all you need when it comes to hair inspiration. To help you choose your next cut, color, and hairstyle we have rounded up Emma Stone's best styles to date.
Emma Stone Red Hair
While Emma Stone may seem like a natural redhead, this bombshell is actually a blondie by birth. However, her auburn hair suits her fair complexion perfectly. We would suggest this fiery shade for those of you with light skin and features. Otherwise, it can make you look a little washed out. For a more natural red such as this one, go for a lighter orangy shade with a few highlights.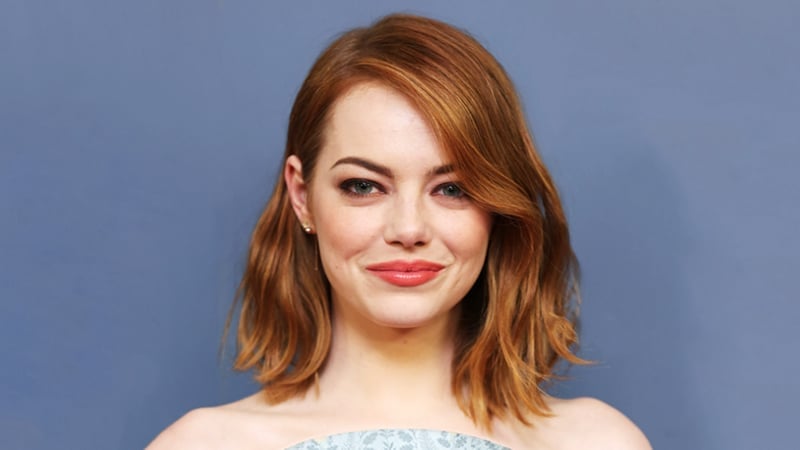 Emma Stone Blonde Hair
Blessed with naturally light hair, Emma Stone has had every shade of blonde from gold to platinum. If you want to steal this style and aren't a natural blondie, we'd suggest trying this Stone-inspired blonde, instead of platinum or white blonde. It is a clean shade that still achieves a natural color with no brassy tones and is much easier to manage than platinum blonde. Cut into a lob to keep your locks healthy and style with loose beachy curls.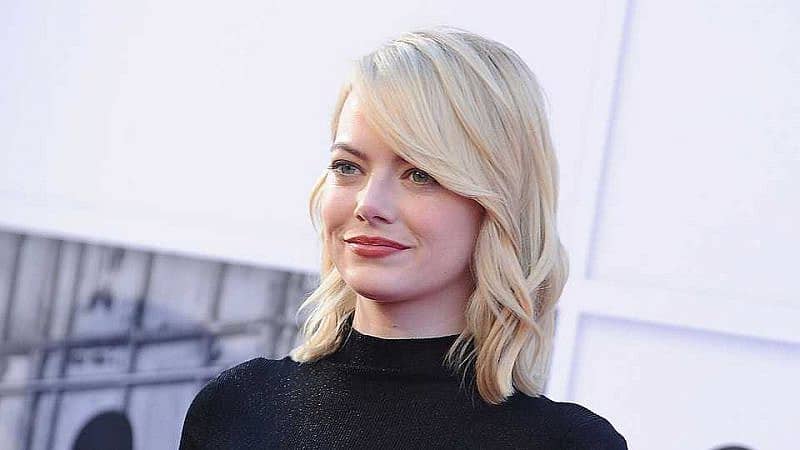 Emma Stone Brown Hair
Dark hair can be a little overpowering for people with light complexions. However, Emma Sone proves even pale babes can rock brown hair. She has also been known to sport monochromatic brown hair with copper undertones. This is a great shade to restore your lock's natural health and shine. Style with a simple mid part, or like Miss Stone, try a dramatic side fringe and rock a smokey eye makeup. The 2000s are back after all.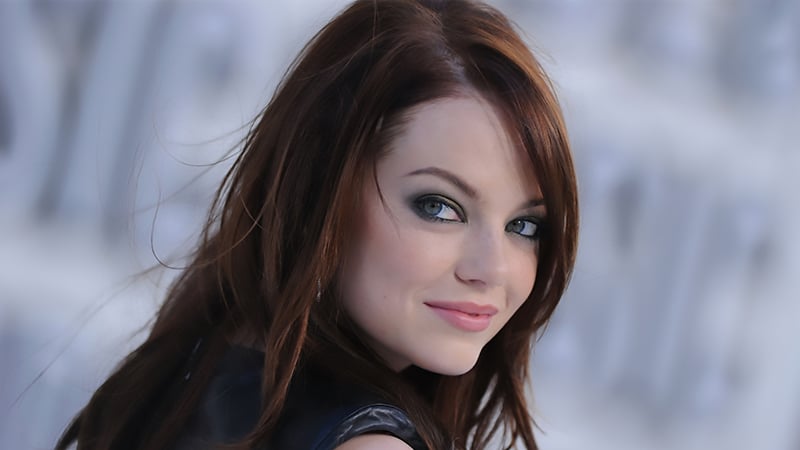 Emma Stone Black Hair
If you're looking for a shade more fierce than brown, why not go black? Emma Stone's black hair is deep, shiny, and full of body. It instantly takes her from a cute girl next door to a bad girl with an air of mystery and elegance. Try your own sleek style with this look stolen from the 2016 Goth-themed Met Gala. Blow-dry your hair until it is roughly 75% dry. Then using a small round brush, create blow waves by twisting the ends of your hair around the bush and gliding it gently through your locks while blow-drying. Run some anti-frizz serum through the ends and coat with a light layer of hairspray. Tuck one side behind your ear, and smooth it over using a tail comb and hairspray.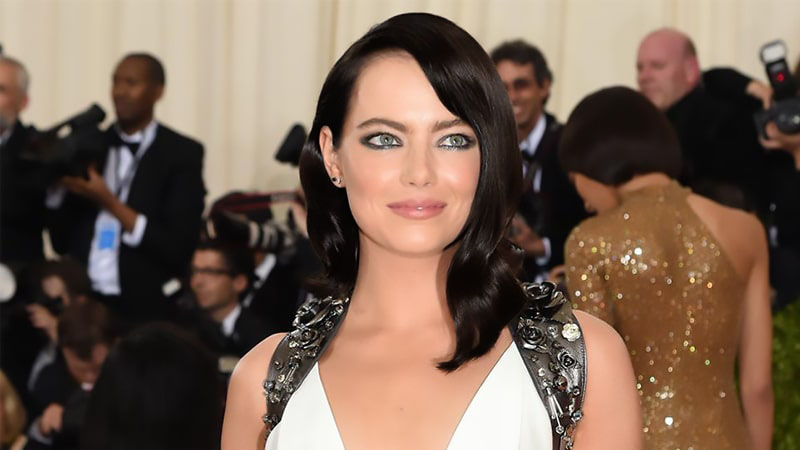 Emma Stone Short Hair Bob
Emma Stone's choppy bob is the ideal style for just about anyone, it is universally flattering, fun, and flirty, but also conservative and understated. Textured bobs are easy to style day to day as well as easy to maintain with regular trims. They're also a great way to give your hair a health kick. Crop off your locks to sit just below your jawline and have your hairdresser add some choppy layers for texture. Style by loosely waving your hair from the midsection down and mess it up using a small amount of texturizing powder.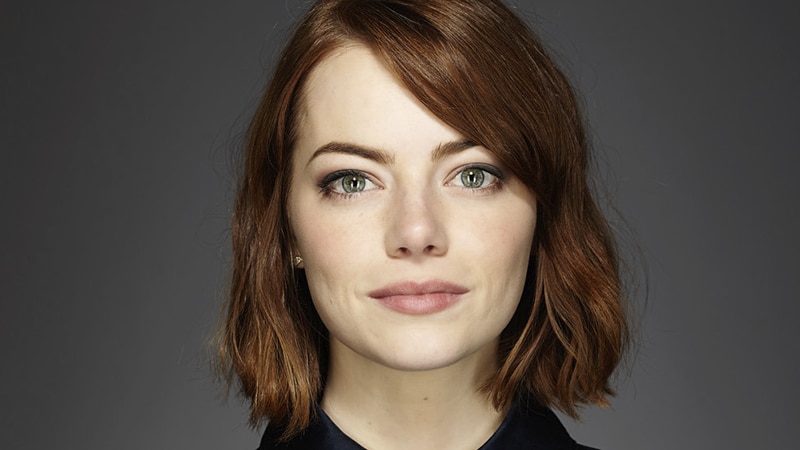 Emma Stone Long Hair
With red and brown hues and windswept texture, Emma Stone's long hair is effortless and stunning. Get this preppy look by blow-drying your hair using a round brush. Once your hair is dry use a large curler and start from the lower midsection. To create messy loose waves, brush the curls out, and add some anti-frizz serum. This style should look natural so try not to use too much product, however, if your locks are a little heavier you may need a bit of hairspray. If you don't have the length, you can always add a few checky clip-in extensions too.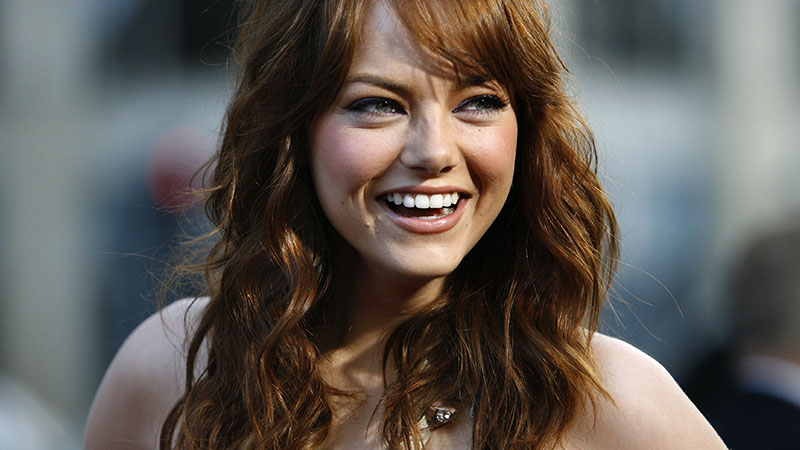 Emma Stone Straight Hair
Straight hair is so much more versatile than it may sound. From the classic Rachel Green midpart to Emma Stone's fun side fringe, straight hair is sophisticated, sexy, and easy to style. This look works best with clean and healthy hair, so you may want to do a treatment first. Wash your hair thoroughly and add some heat protection spray. Blow-dry in small sections using a wide flat brush. Pull your hair downwards keeping it flat at all times. Straighten your hair while following your iron with a comb and make sure your tongs are on an appropriate heat setting as burnt hair can create frizz. Run a small amount of nourishing oil through the ends and fix it with a light layer of hairspray. Follow our leading lady by creating a deep side part and tucking a small section behind your ear.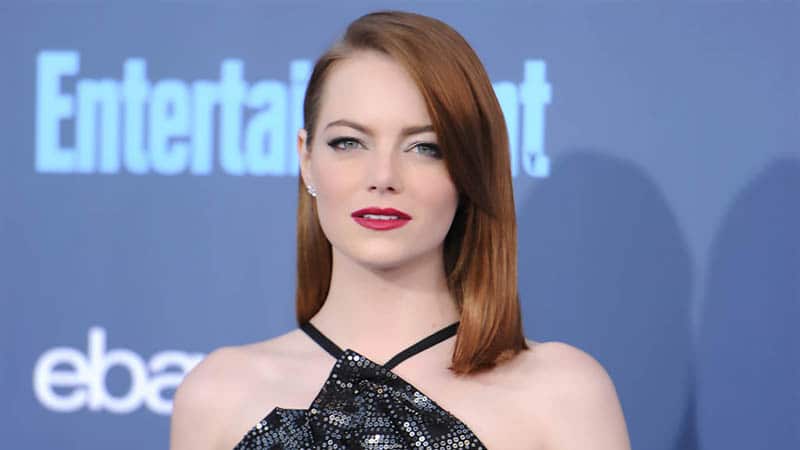 Emma Stone Hollywood Waves
Emma Stone is often seen on the red carpet sporting dreamy Hollywood waves. But you don't need to be a glamorous starlet to try this elegant look. Apply heat protector before you blow-dry your hair using a round brush to create volume. Take wide sections of hair and curl evenly, keeping the hair flat while wrapping it around the iron. Lightly pull the curls out with a small amount of anti-frizz serum, create a deep side part, and tuck one side behind your ear. Secure using a small amount of hairspray.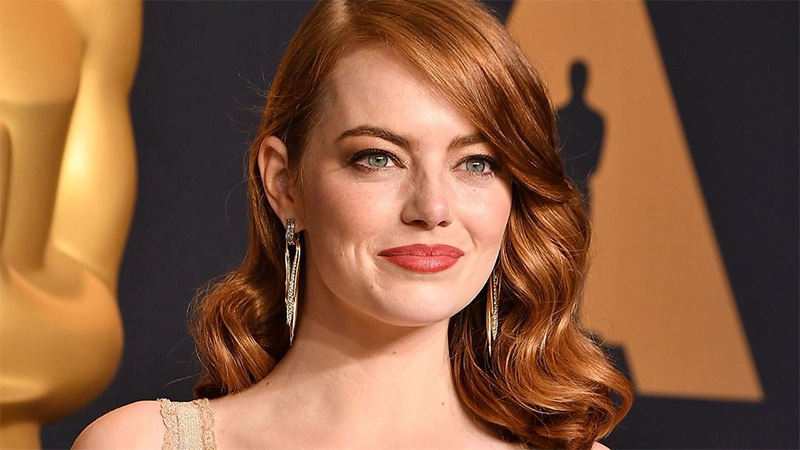 Emma Stone Loose Waves
Even if you have fine hair, you can still get Emma Stone's big bouncy waves. Blow-dry your hair using a round brush to create volume. Once your hair is dry use a curler or a flat iron to create waves. Start at the midsection and while keeping your tool upright take 1 -2 cm wide sections and curl your hair outwards. Keep the strands flat at all times. Brush the curls out for a bouncy loose look.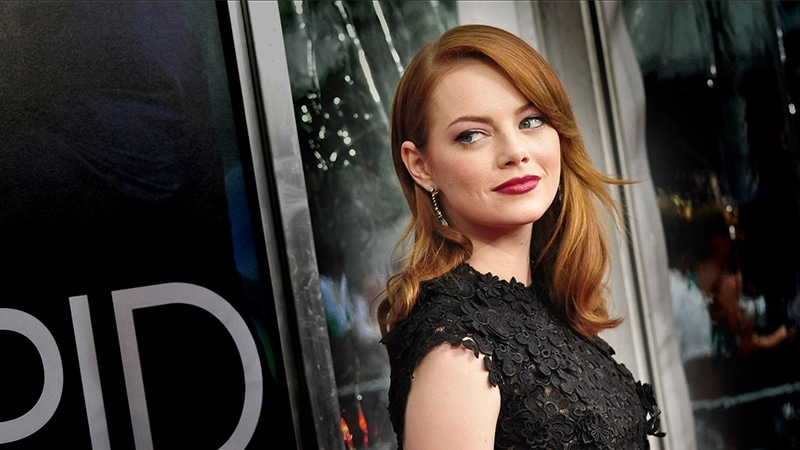 Emma Stone Updo
DIY updos may sound intimidating, but this elegant look is actually very easy to achieve. Wash your hair the night before so that it is easier to style the following day. Clean hair can be hard to work with as it is soft and doesn't stay in place. Curl the ends of your hair using a large barrel curler. Then, keep a few sections out at the front around your face, pull or roll your hair back into a low bun, and secure using clear elastic and a few pins. Pull a few strands so they hang loose. This style is soft, elegant, and universally flattering.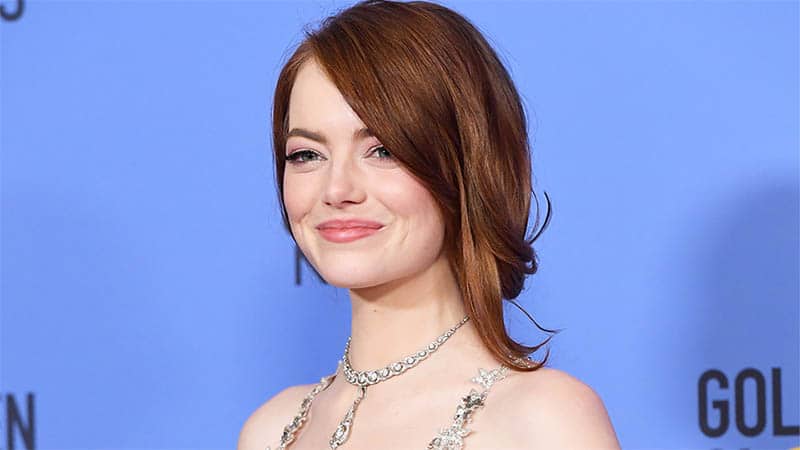 FAQs
What Colour is Emma Stone's hair?
Emma Stone's natural hair color is blond. However, she is well known for rocking various shades of red, from strawberry blond to deep burgundy. She's also worn her hair black and brown for multiple roles over the years.
How do you get Emma Stone's red hair?
Emma Stone's hair colorist, Tracey Cunningham, uses Redken Shade EQ gloss, which keeps the condition amazing while coloring Emma's naturally blond hair. To get it the redhead look yourself, you'll need to consider what color you're starting with. If your hair is dark, you may need to lighten it first; however, if it's already light, you'll also need to consider what tones it has. While you can try it at home, it's best to head into your hair salon for the best results with the least amount of damage.
SUBSCRIBE TO OUR NEWSLETTER
Subscribe to our mailing list and get interesting stuff and updates to your email inbox.