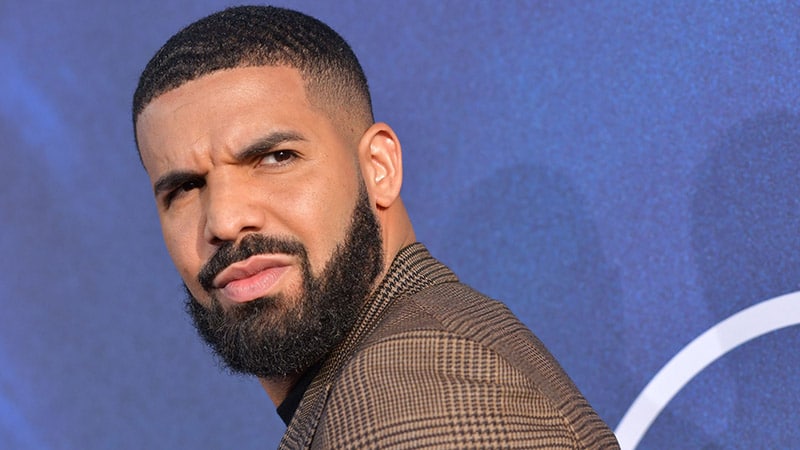 It is not just Drake's music that demands attention but also his effortlessly cool style, which extends to his haircuts. He has favored simple, masculine cuts that are fuss-free and require little maintenance, but he has also been known to try something fresh, modern, and expressive. From buzz cut fades that highlight his features to heart-shaped cutouts on the hairline, there is a Drake Haircut to appeal to every man and his preference. Drake also understands what works for him, opting for several bold haircuts but returning to old favorites again.
1. Drake New Haircut
Drake is mostly known for his faded hairstyle, but his most recent cornrows look got everyone's attention. Drake opted for a simple cornrow hairstyle for men, which looks bold and masculine. Cornrows are three-strand braids created using the underhand braiding technique, giving them a raised appearance. They are braided close to the scalp. Drake paired his hairstyle with baby hair at the hairline, giving the hairstyle a subtle contrast. He also opted for a taper into his facial hair.
2. Drake Buzz Cut Fade
Drake's signature look is minimalistic and cool; the buzz cut fade. The buzz cut is a popular short haircut for men that has been inspired by military haircuts and is appealing because it is easy to style and requires little grooming. The hair is clipped short on the head and paired with a fade on the sides and back; the hair gradually shortens downward and gives the look structure while also producing a slight contrast. When opting for any very short hairstyle, it is important to consider the shape of your head and whether there are any imperfections on the scalp, like moles or scars, that you would prefer not to draw attention to. This masculine look is ideal for all occasions, but you will need to make regular trips to the barber to keep the fade looking fresh.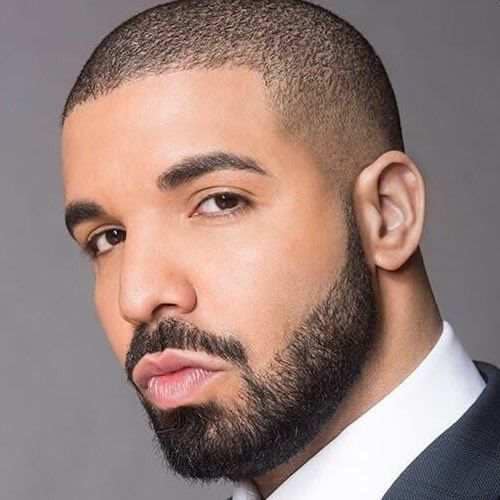 3. Drake Heart Haircut
Drake favors simple and masculine haircuts for men, but he has also been known to try something expressive and fun. The most notable look is his heart haircut, which he created in honor of his album, Certified Lover Boy. Hair is an extension of your personality and can be a wonderful way to show your playful side, and for Drake, it was a little bit of this and also a brilliant marketing opportunity. The hairstyle features a heart cutout at the hairline, with the rest of the hair kept short and simple. This makes the hairline the look's focus but feels more balanced by his thick and full facial hair. This haircut would require some maintenance to keep the heart shape looking fresh, but it is a lot of fun.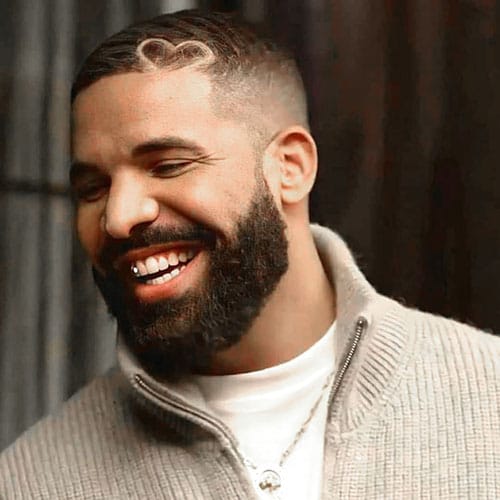 4. Drake Short Curly Afro
Another memorable look that Drake has rocked is his short curly afro hairstyle, which drew attention to his natural hair texture. Afros are great for embracing natural hair texture and giving the hair volume. They also let you take a break from heat styling, braiding, and other protective styles. Afro hairstyles can be created in various lengths, but the shorter options are much more manageable and low-maintenance. You also do not need to wait as long for the hair to grow out, and short afros can be healthier with the ends not appearing dry. Many men opt to pair the afro with a fade to give it more structure and remove weight from the hair. It can also make the hair appear thicker and fuller on top. Drake did not choose to do this.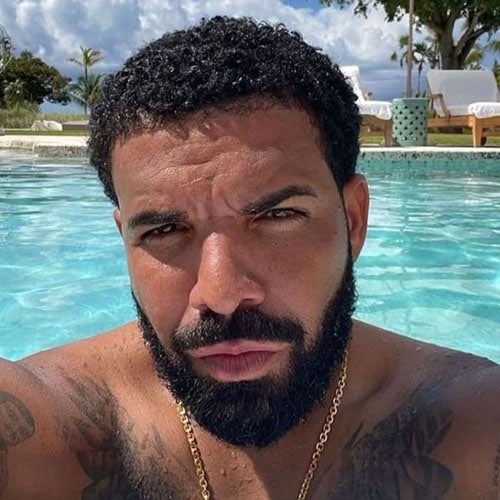 5. Drake Waves with Fade
Waves are a texturally interesting hairstyle created to give the hair a ripple-like appearance. They give definition to short hair and are a fun and expressive style. The appeal of waves is their versatility, and there are several options to choose from. These include the half-waves, also called 180 waves which feature waves on only a section of the hair, or the classic 360 waves, which cover the entire head. Waves can be adapted to suit your preference; this includes pairing them with a line-up or fade. Fades can be added to all hairstyles and give the look structure. Waves and a fade are fantastic combinations that create a slight contrast between the hair on top of the head and the back and sides. This will highlight the patterns on top and give you an effortlessly cool and polished finish.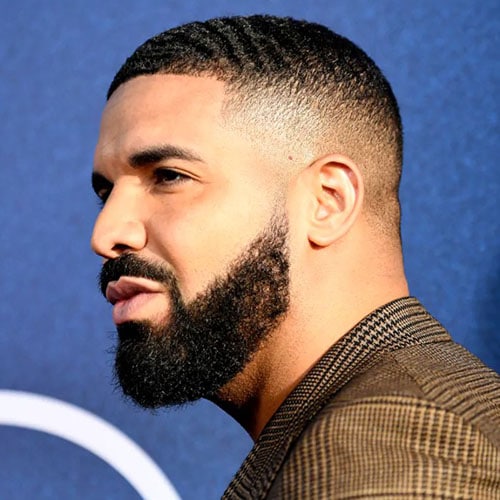 6. Drake Line Up Haircut
The line up haircut is an excellent addition to any haircut and makes the hairline stand out. Line ups are created by adding sharp angles or straight lines along the edges of the natural hairline and give the haircut structure. There are several ways to personalize the line up, opting for a classic approach or creating it with more modern elements. Drake keeps the rest of his hair short and simple when paired with a line up, drawing attention to the hairline and highlighting his features. It also feels fresh, polished, and effortlessly cool.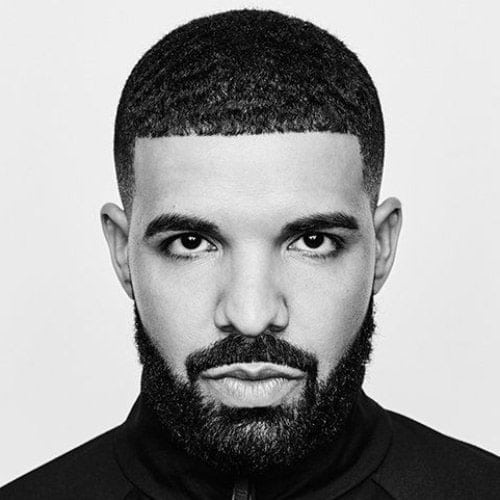 7. Drake Buzz Cut with Hair Design
The buzz cut is one of the most popular short hairstyles for men. The traditional buzz cut is clipped close to the head and is a simple and masculine look. The cut can be adapted to suit your preference, including pairing it with fades, a line-up haircut, or getting creative with a hair design which is a great way to have fun with your hair and show your personality. There are many options to choose from depending on how bold and noticeable you want the look to be, and this can include patterns, sharp lines, and even detailed images. Drake opted for a simple but effective pattern, working up from the hairline. It gave him an effortlessly cool appearance.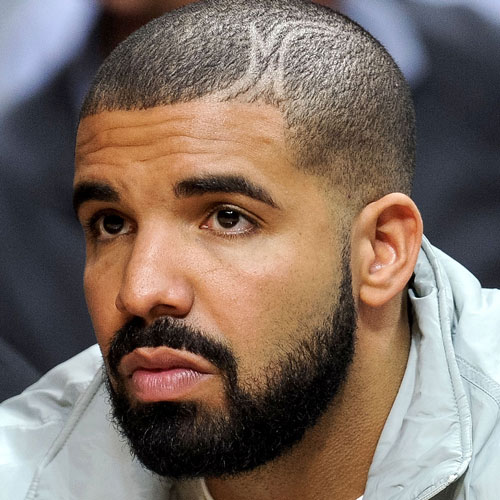 8. Drake Long Afro Haircut
Drake often favors short haircuts for men because they are low-maintenance and they suit him. But he has also been known to experiment with his style, trying new looks and embracing his natural texture. One of his most memorable men's hairstyles was his long afro, which was voluminous and made a statement. Afros are often paired with a fade to remove weight from the hair and give it structure, but Drake opted for thick sideburns, giving his haircut a retro, 70s vibe. Of course, this is not his usual hairstyle in day-to-day life, and was created for his cameo in Anchorman 2. Still, if you want to recreate it, this bold hairstyle demands attention.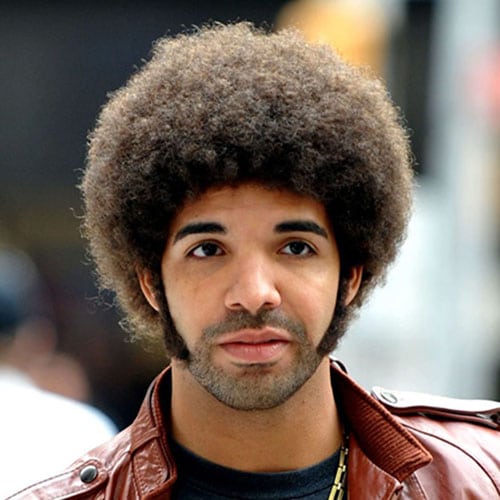 9. Drake Buzz Cut with Beard Fade
The buzz cut is Drake's go-to style and is a great hairstyle for most men because it is versatile and easy to style. The appeal of the buzz cut is that it can be personalized easily, whether this is with a fade or line-up to give the look personality. Drakes's version often features a lineup, drawing attention to the hairline and giving the hairstyle a modern feel. You can also choose to complement the shortness of the hair with a structured beard, creating balance. Drake's buzz cut with beard fade is an excellent look, drawing attention to his features and giving him a masculine appearance. The beard fade has the same concept as a fade on the head, with the hair gradually shortening in length.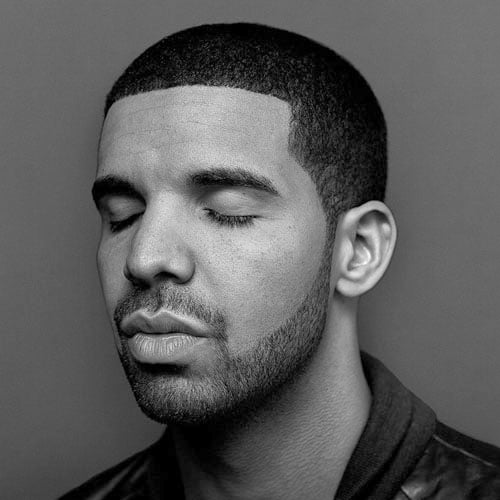 10. Drake Buzz Cut with Temple Fade
There are many ways to wear the buzz cut, including a temple fade. The temple fade is a cool addition to any hairstyle and is defined by the hair tapering around the temples. It is an excellent choice for someone who wants to make their hairline more noticeable, something we see Drake often doing, usually combined with a line up haircut. The haircut takes little daily maintenance, but you will have to visit the barber for regular touch-ups to keep it looking precise.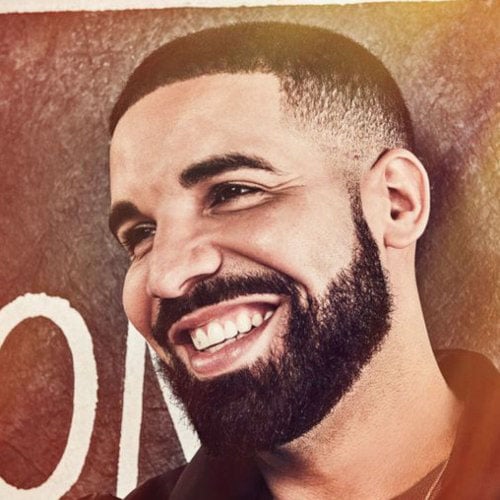 Drake Haircut FAQs
What is Drake's haircut called?
Drake has had several haircuts, ranging from simple and masculine to bold and expressive. His signature look features short hair and a fade, often a buzz cut fade paired with a lineup. This is a low-maintenance hairstyle and requires little to no daily grooming.
What is Drake's Current Haircut?
Drake has currently ditched his signature fade hairstyle for cornrows, a braided hairstyle created close to the scalp using the underhand braiding technique. This gives the hair a raised appearance. He paired his look with baby hair at the hairline.
Where does Drake get his haircut from?
Drake likely employs his own team of stylists to keep his hair looking fresh at all times. However, it has been reported that he has also had his hair cut by barber Scissorhands.
How to get Drake's signature short haircut?
Drake's signature look features a short buzz cut and a fade. It is often paired with a line-up, which draws attention to the hairline. If you want to create one of Drake's signature short haircuts, the easiest way to do this is to take a picture of your desired look with you when visiting the barber. Your barber will be able to adapt the hairstyle to suit your preference and complement your face shape and features.
SUBSCRIBE TO OUR NEWSLETTER
Subscribe to our mailing list and get interesting stuff and updates to your email inbox.