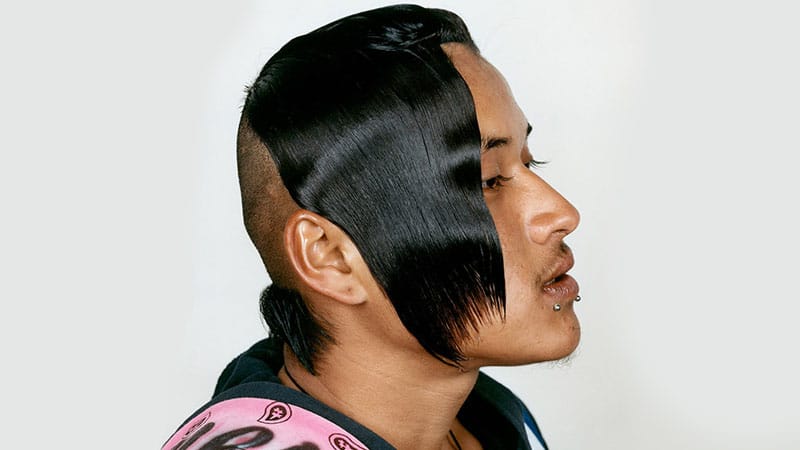 Some haircuts are universally flattering and versatile and can be achieved with minimal styling, and then there are those that are best avoided. Your haircut is a way to express yourself, and you can add your twist to most looks. You can also experiment with bright colors or interesting angles. Still, there are, unfortunately, some looks that take this too far; instead of being stylish or fashion-forward, they just look awkward. It can be challenging to execute styles that are great on the runways or in magazines but, in reality, would require a team of hairstylists and bucket loads of gel to pull off. If you are looking for a new way to wear your hair, these looks are probably not among them. Are you still interested? Keep reading to find out more.
1. Windswept Long Hair
Long hair is great for men because it lets you express yourself and challenges the outdated gender norms. Wearing your hair long and loose with a windswept appearance can be incredibly sexy. The way the hair falls around the face can soften your features. In theory, this is a fantastic choice, but there should be a limit on how messy your hair looks as you do not want it to appear tangled and unprofessional. You also need to take care to ensure your hair looks its best. Longer hair can tangle and knot much easier than shorter cuts, and leaving it to this does not create a stylish or edgy look; it just makes you appear disinterested in your hygiene.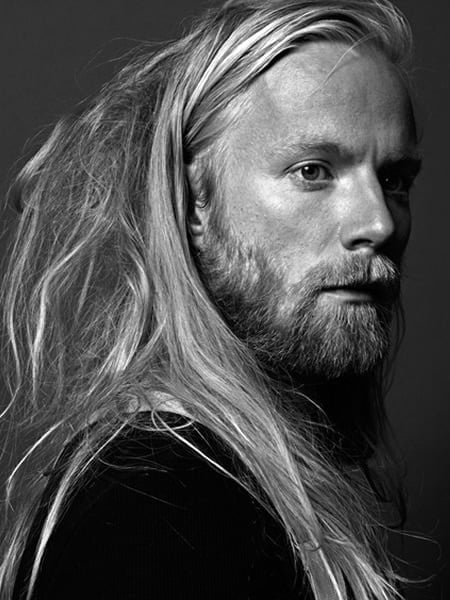 2. Side Swept Backcombed Waves
If you are looking for a fashion-forward haircut that looks great in an editorial, side-swept backcombed waves are the choice for you. However, this hairstyle is much more complicated to pull off for every day and can leave you with hair that is incredibly high-maintenance that you will spend a long time styling and adjusting. You will also need a lot of hairsprays to keep it in place. Hair should be expressive and let you reflect your personality, but this is a look that will restrict you from where you wear it. That said, if you are a man who loves big hair and wants to make a statement, give it a go!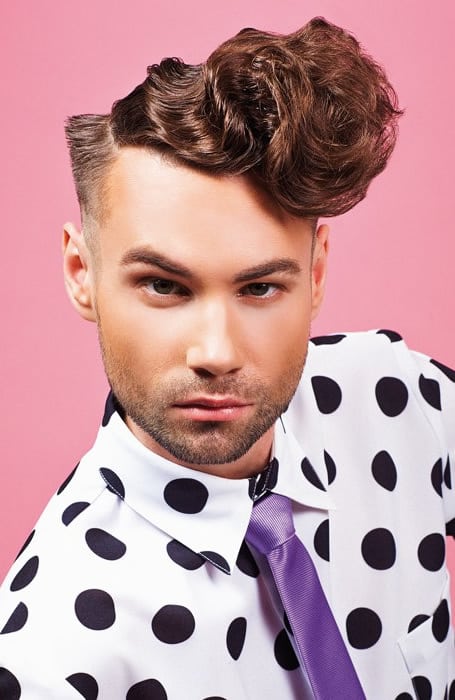 3. Edgy Asymmetrical Afro Hairstyle
Incorporating asymmetrical elements into your haircut can leave you with a cool look. However an overly pointy hairstyle can be incredibly hard to pull off, and instead of balancing the features and flattering the face, it will draw attention to only one side of the hair. Although this is an expressive and fun look, it is restrictive with where you can wear it, and it will take a lot of maintenance and regular styling to keep your curls at this sharp angle.
4. Fuzzy Combed Forward Hair with Hard Part
Big hair can be a lot of fun and make a statement, but there are some styles that appear too fuzzy and unprofessional. This is why many people would consider them to be a bad haircut. A good style is down to personal preference, but it should be noted that while some looks are edgy and cool on models on the runway or in fashion editorials, in day-to-day life, they are much harder to wear. This is one of those looks; it could be appealing as it highlights your natural hair texture, but it would also take a lot of time to style and can be uncomfortable and impractical because the hair covers the eyes. Pairing a hard part with a voluminous hairstyle is great for adding sharpness and structure. However, the contrast is too much in this case.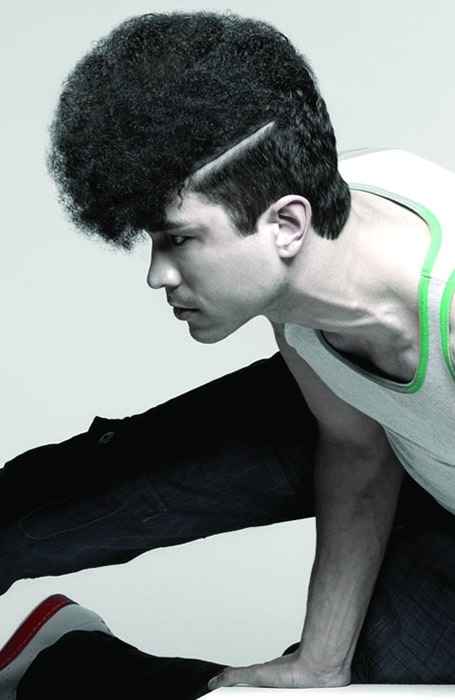 5. Curly Mushroom Haircut with Shaved Sides
The bowl cut, or mushroom hairstyle, is an edgy look that is not the easiest to pull off on a good day. Now think of that haircut and multiply the difficulty of wearing it by a hundred, and you have this style. This is an overly complicated look, and while it will draw attention to your hair and demand attention, it is doing so for all the wrong reasons. If you do not have curly hair, the style would be impossible to pull off; even with thick curls, a look like this needs a lot of hair product. The shaved sides accentuate the volume on top, which in this case, you do not need.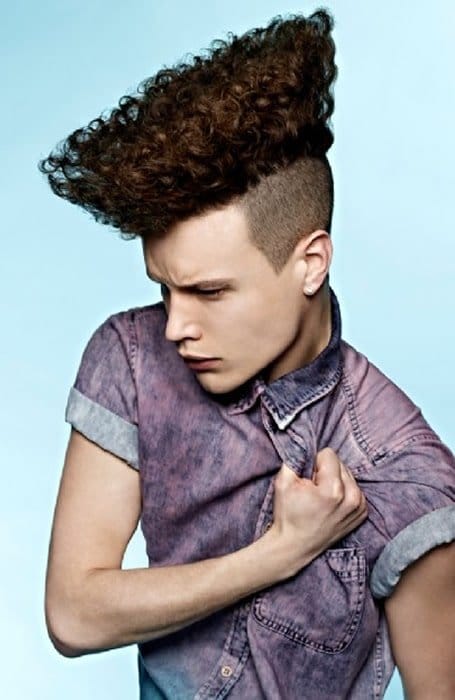 6. Half up Half Down High Ponytail
A half up and half down hairstyle is incredibly flattering and can highlight your hair texture. It is achieved with hair that is medium to long length and can be a practical and fun way to wear your hair. However, execution of the style is everything, and this look is not it. There is too much happening in one style, which is overwhelming. A high ponytail shouldn't be paired with a half up and half down hairstyle and should be worn on its own. The long fringe falling on the side of the face is distracting and fails to draw attention to the eyes or complement the facial features. And with all the hair on just one side of the head, it creates an unbalanced look.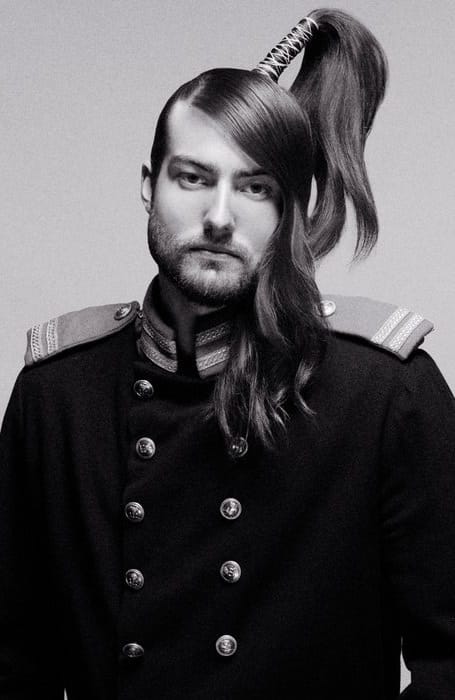 7. Spiky Hair with Exaggerated Fringe and Fade
Spiky hair is a popular choice for men's haircuts because it can add texture and volume to the hair. Were it not for the sharp angles in this hairstyle; this may be a look that you could pull off with ease. Plus, the deliberately messy appearance can be incredibly flattering. Unfortunately, the downside of this hairstyle is that the intensity of the fade and the placement of the hair makes it look too unnatural. Your eyes are drawn to the section between the fringe and the fade, and the cut appears choppy; it is almost as if the scissors slipped and you accidentally took a chunk out of your hair that you were not supposed to. The hair length is also something to consider, as the modern approach to spikes works best with shorter hair.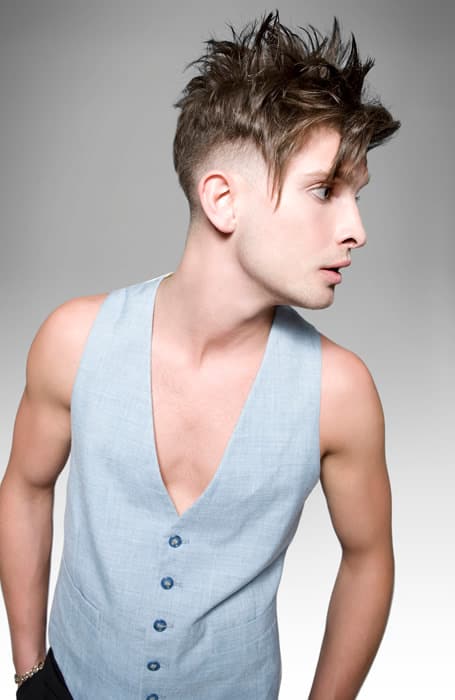 8. Angular Shaped Haircut with Straight Hair
The front part of this hairstyle is great, with hair brushed slightly backward and tucked behind the ears. This can draw attention to the eyes. The back part of the hairstyle leaves a lot to be desired, and the two features are clashing instead of complementary. This weirdly angled shape is also problematic and will be difficult to style. It will be a high-maintenance look that will require regular trips to the hairdresser, and you cannot grow it out naturally.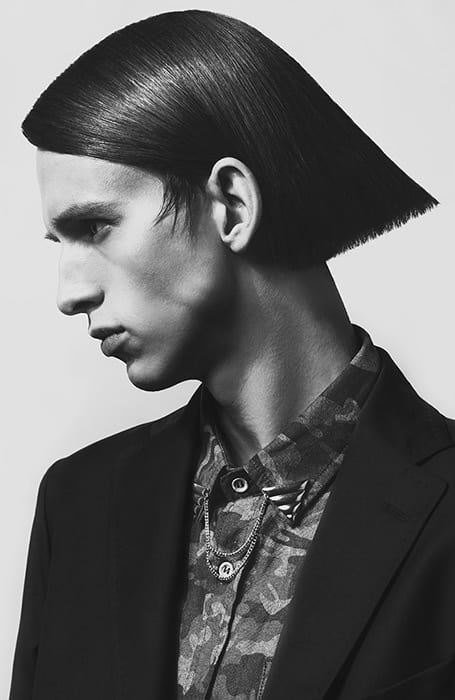 9. Voluminous Super Messy Haircut
We love the bedhead appearance, and it can be flattering and sexy. The deliberately messy and undone feel will draw attention to your natural hair texture and highlight it. It is also effortlessly cool and simple to style. The problem is when you attempt this look on hair that is too long. The result is something like this: instead of being sexy, it looks tangled. It is also harder to style longer hair in this way. While this is a fantastic look for creating volume, and your hair will demand attention, you will also spend a small fortune on hair products.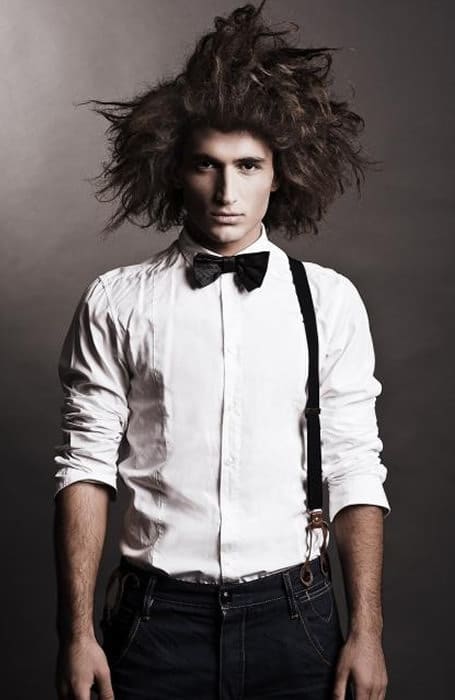 10. Straight Medium Length Hair with Angular Quiff
Some hairstyles look edgy and cool and show the world you are not afraid to take risks. This is a great quality to have, so do not let a hairstyle like this distract you from finding a more adventurous style than the norm. A quiff is an excellent way to create volume and is achieved by brushing the hair upward and backward, but this is not the way to do it. Sharp angles inside your quiff take a tremendous amount of skill to do, so although this look is going to be great in a fashion editorial or hair magazine, in real life, it is time-consuming and impractical. It will not hold up an entire day and will also restrict you from your activities.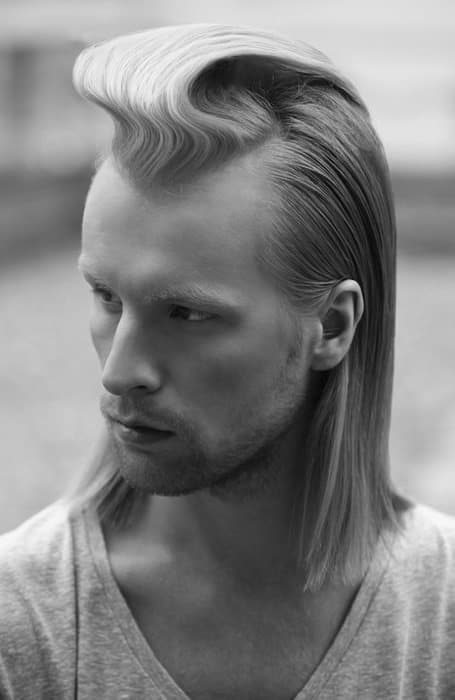 11. Asymmetrical Fringe Over The Eyes
A fringe can be a great way to transform your appearance, and the right style can draw attention to your face and highlight your eyes or cheekbones. Fringes are also an excellent addition to hair of all textures and create a youthful finish. The key is to choose a practical and stylish fringe, and anything that falls over the eyes is not that. This is a long, exaggerated fringe that will restrict your vision. Had the hair been slightly shorter on the one side, like it is on the left-hand side, it would have been a great way to frame the face. However, as it is, this is a haircut that is best avoided.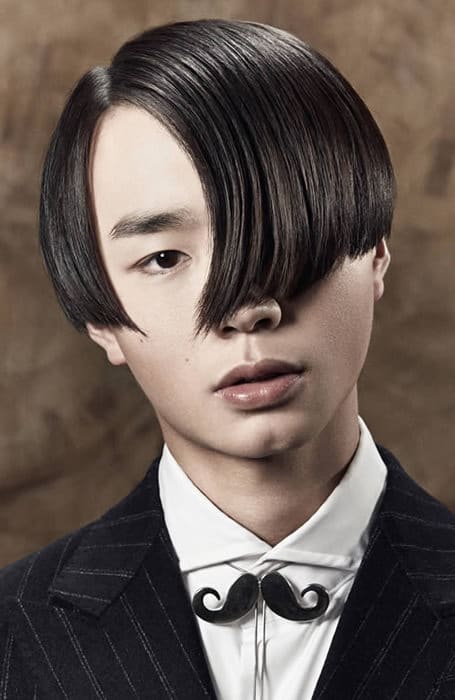 12. Blonde Hair with Voluminous Pompadour and Ponytail
Blonde hair is a fantastic color for brightening your appearance and highlighting your haircut and texture. There are many looks that will complement blonde hair, but this is not one of them. There is too much happening in one hairstyle, and the voluminous pompadour and ponytail do not blend well, making the haircut look disjointed. On its own, a messy ponytail can be a simple and effortlessly cool way to wear your hair, but in this style, the height and volume of the pompadour are too distracting. This haircut will take hours to style and is high-maintenance.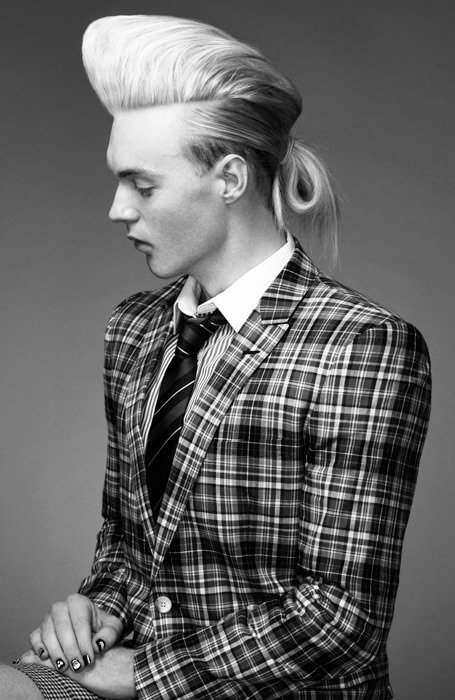 13. Disheveled Haircut with Fade and Pompadour
A fade and pompadour are two styles that work well together, with the pompadour giving the hair volume and fullness and the fade adding structure and creating a subtle contrast. This haircut is almost wearable, but the choppy pieces and unusual angles make it one to avoid. The cut makes it look as if there is hair missing from the middle, which becomes the focus of the look. The pompadour is also better suited to a more structured and less disheveled appearance. It is typically created by brushing the hair at the hairline up and backward.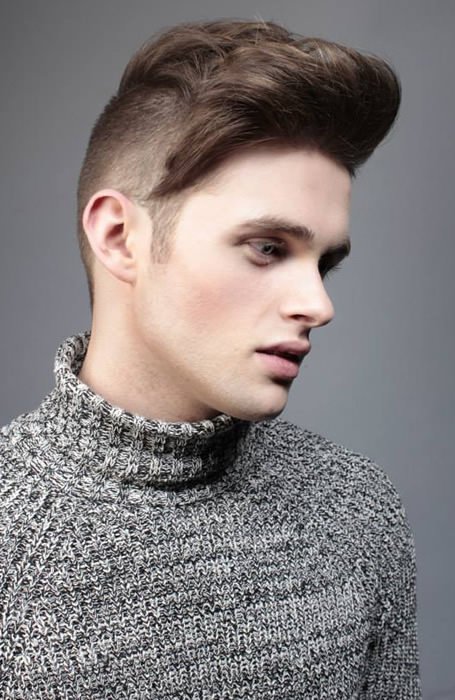 14. High Volume Pompadour with Straight Hair
There are many ways to wear straight hair, and it is not a bad idea to opt for a style that gives it more volume. Although straight hair can look glossy and healthy, it can be hard to create volume and can often look flat or lifeless. The idea of wearing a pompadour with your medium or long-length hair is appealing, but do not do it like this. The hair is too high at the front, which is incredibly distracting.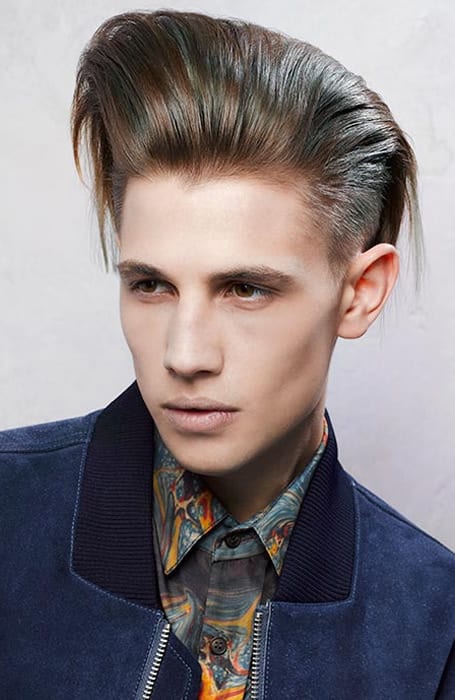 15. Faux Hawk on Thick Textured Hair
The faux hawk is a more versatile and easier-to-wear version of the mohawk. While the mohawk features a long strip of hair down the middle of the head with shaved sides, the faux hawk has a much more blended appearance. It works well with all hair textures and lengths; however, it is easier to style on hair that is textured and not too long. This haircut is almost what you want from the faux hawk, but instead of edgy and cool, it is distracting and too voluminous. It would be better to remove some of the volume and bulk from the top of the head and make the fringe slightly shorter to not fall in the eyes.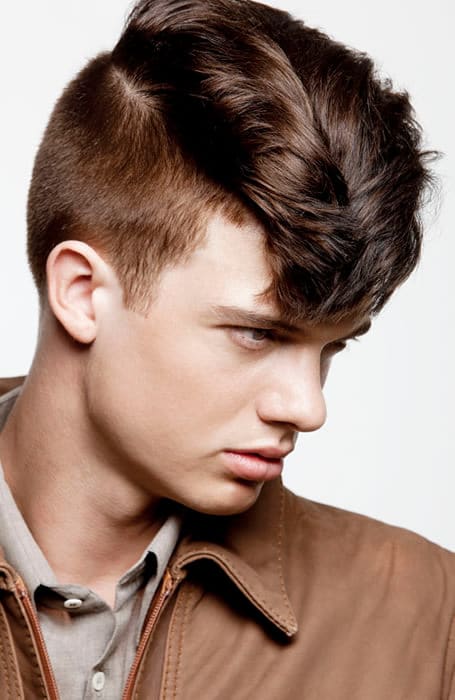 16. Windswept Hair with Side Fringe and Shaved Sides
There is a lot to love about windswept hair and a side fringe. It is an easy way to achieve a look that can soften your features and highlight your hair texture. Pairing it with shaved sides is not an issue either, as this can create structure and contrast and will draw attention to the hair on top of the head, creating volume. The mistake with this hairstyle is that the hair is focused only on one side, making an unbalanced appearance. A better choice would be to keep the hair on both sides of the head shorter, with length on top and a side-swept fringe. This haircut is almost what you want, just not quite.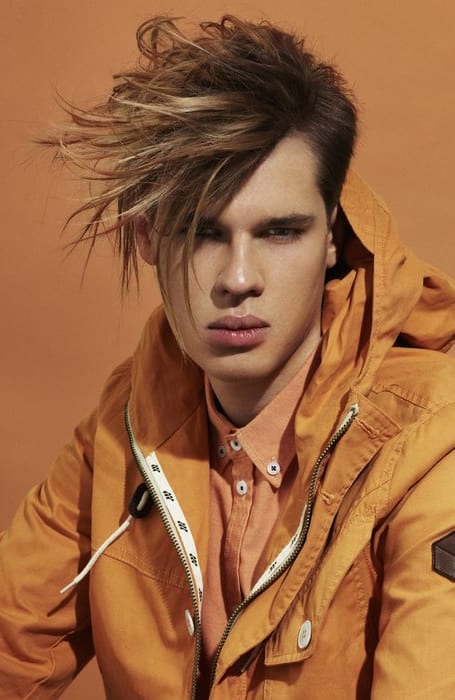 17. Angled Bowl Cut on Straight Hair
The bowl cut is a tricky look to pull off at the best of times, but adding unusual angles to it makes it even more challenging to wear. Straight hair is the ideal texture for a bowl cut because it makes it easier to style, but a simpler approach is the better option with this hairstyle. A side-parted fringe can be incredibly flattering on a different haircut, but it is better to opt for short, straight bangs all around the head with this look. Leave this haircut alone unless you have bucket loads of confidence and do not mind regular trips to the salon for trims.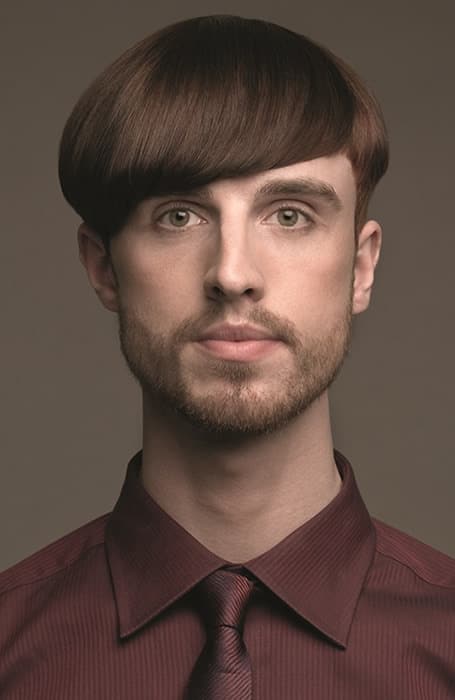 18. Two-Tone Hairstyle with Hard Part and Exaggerated Quiff
The two-tone hairstyle is fun and expressive. We are not here to tell you not to try it out because wearing your hair in colors of your choosing can show your playful side; however, pairing it with the right haircut is essential. In many ways, this look works. It gives you a hard part which is created by shaving a clean line shaved down to the scalp and provides the look with a sharpness, which is complemented by the softness and volume of the quiff. The issue is that there is too much going on in one hairstyle.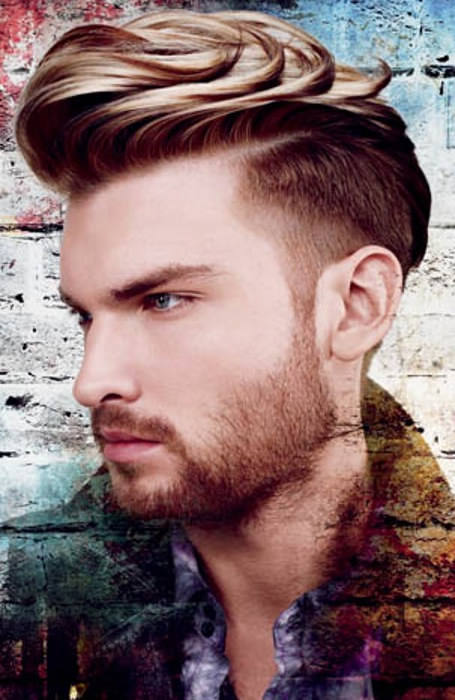 19. Fade with Hair Kept Long and Messy on Top
There are some haircuts that are so close to being effortlessly cool but fall just short, and this is one of them. The longer hair on the top with shorter sides is a classic pairing. It is a wonderful way to add sharpness and contrast to the hair and highlight your natural texture. Messy hair has a deliberately undone appearance and can look sexy. So, what is the problem? The fade is too high, and the wavy fringe is just ever-so-slightly too long.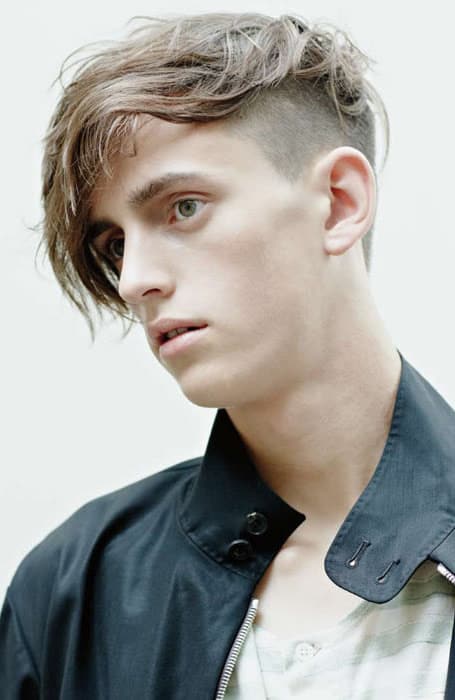 20. Wet Hairstyle with Long, Thin Fringe
The wet hairstyle is a look that makes it appear as though your hair is wet, except instead of emerging from the water, it is achieved with a gel. This style is surprisingly versatile and can be worn with hair of various textures and lengths. For sharp and sophisticated appearances, the slick back is a popular choice. Wearing it with a fringe can be alluring. The key is to not opt for a fringe that is too long and will restrict your vision. The ideal length is somewhere just above or just below the browline, and having your hair in your eyes will be uncomfortable and unprofessional. Or you can try a side or middle part.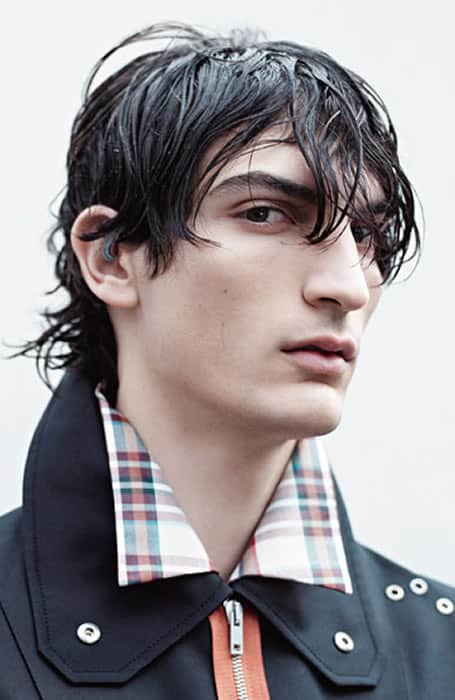 21. Short Straight Hair with One Big Curl
This haircut looks like something you would expect to see on a cartoon baby with one big curl in the middle of the hair. It may look cute on babies, but it seems awkward and out of place on a fully grown man. The back and sides of this look are kept short and neat, with the focus becoming the hair on top. It is good to leave length on top to create volume and a slight contrast; however, this approach doesn't let you achieve either and is distracting.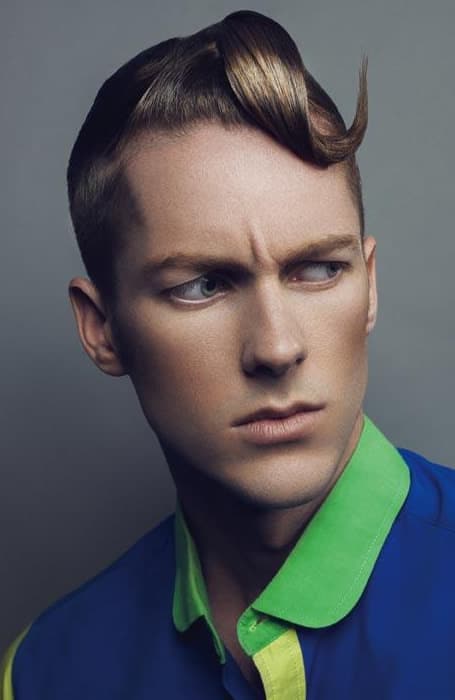 22. Curly Faux Hawk with Long Fringe
The faux hawk is a great hairstyle for men who want something edgy and cool without being too in-your-face. It is an easier-to-wear alternative to the mohawk and can be created on hair of various lengths and textures, including curly hair. A curly faux hawk can have a softer, more blended appearance, and it can be incredibly flattering. The reason this haircut should be avoided is not for any of the reasons mentioned beforehand, but because the fringe is too long. You spend a large amount of the day trying to remove the hair from your eyes and restyle your look. It is also unprofessional.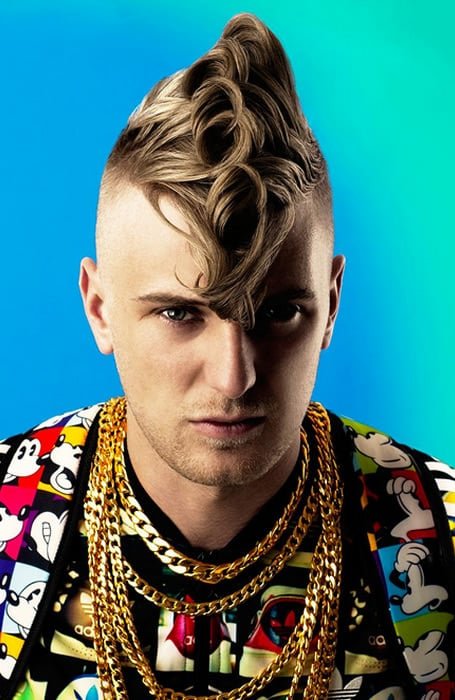 23. Gelled Pompadour and Curly Fringe
Gel is great for giving your hair hold and can help achieve structure, but too much gel makes the hair look stiff and rigid. If you have naturally curly hair, there is no need to gel it down as the appeal is the texture. Curly hair is versatile and can be worn in various ways and soften the sharpness and angles of many haircuts. The little gelled curls on the face in this hairstyle would be far more attractive if kept shorter and natural, so there is less contrast.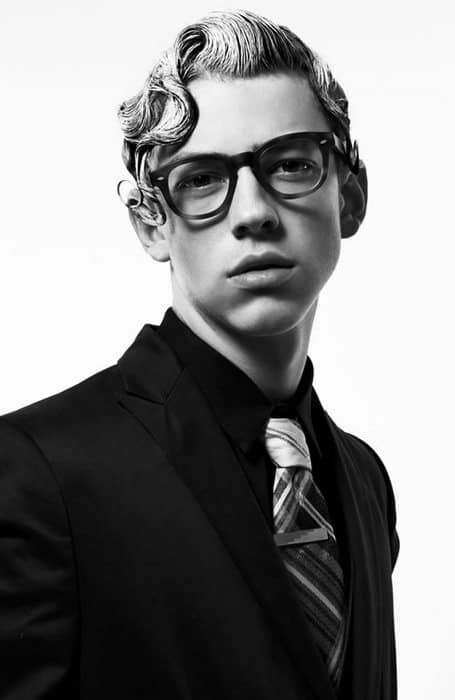 24. Short Hair with A Twist: Long Side Swept Fringe
A classic short hairstyle for men is easy to wear. Choosing an effortless style that requires little maintenance and can also be adapted to suit your hair texture is ideal. Your desired cut can still lend itself well to personalization. This allows you to add interesting elements to it, like a fade or slightly longer fringe. The keyword here is slightly, as a very long fringe does not make sense as a simple and fuss-free haircut then becomes high-maintenance. Any fringes with sharp angles that are dramatic, swooping, and restricting the vision are best avoided.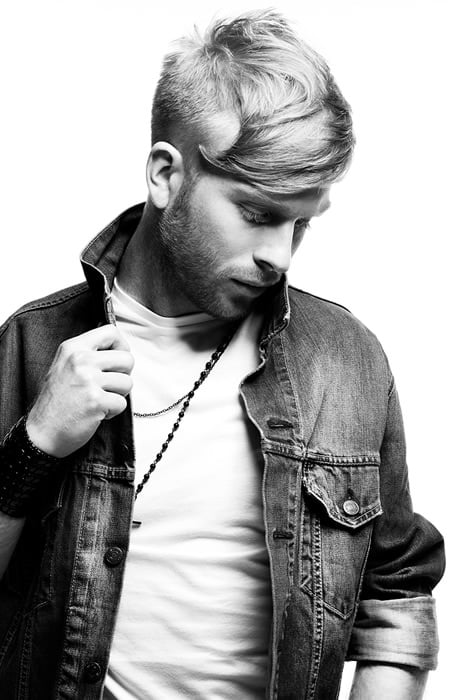 25. Long Sweeping Fringe on Straight Hair
Fringes are great and are a welcome addition to almost any haircut. They can frame the face, complement the features, and give you a youthful glow. That said, some fringes take a lot of maintenance, and the sweeping fringe is one of them. On hair with more texture, it could give you a softer appearance, but on straight hair, the precision of the cut is noticeable. The downside to this hairstyle is that the hair will be in your eyes. This is annoying and impractical and is not advisable if you work in a corporate environment. It can also restrict your vision which can be dangerous.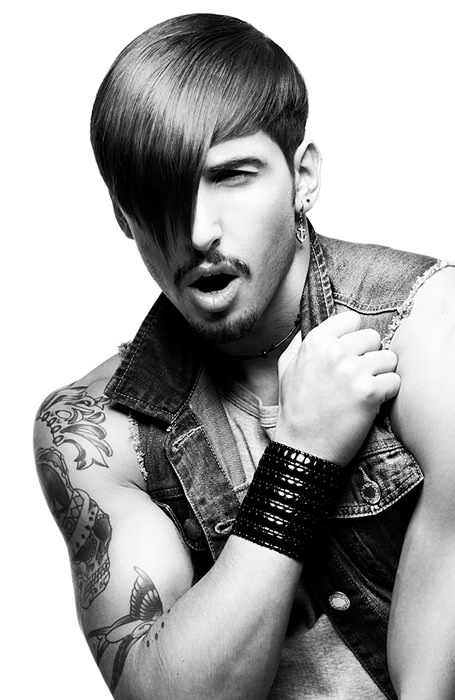 26. Messy Short Wavy Comb Over
Wavy hair is an excellent texture because it looks effortlessly cool and easy to style. The softness of the waves can also complement your facial features, and there are many ways to wear them, including a comb over. The comb over features hair brushed to the side, which is ideal for men who are balding or whose hair is thin. The problem with this haircut is not so much the hairstyle itself but how it has been styled using too much gel. This makes the hair appear dry and rigid instead of fluffy and full. The hair would also look better if the volume was focused at the front of the head and appeared more flat toward the back.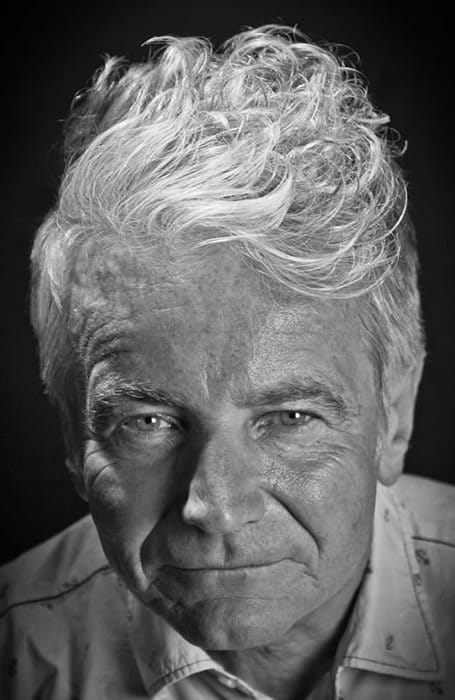 27. Edgy Two Tone Hair with Curly Front Flip
Flipping the hair is a look that was first popularized in the 60s, and there is a lot to like about it, including that it gives your hair volume. It is achieved with rollers and styling products and is favored by women. The flipped style can be created on hair of various lengths and textures, making it appealing. On this hairstyle, the flip is the focus of the look, with the rest of the hair kept short. If the flip had not been as dramatic and not in a different color, this haircut could be considered stylish, giving you a retro appearance.

28. Blunt Bangs with Triangle Shape and Fade
Some hairstyles are almost great but have not been executed correctly, and others make it hard to find positives. This hairstyle falls into the latter category because there is too much going on. There are multiple styles combined into one and unusual shapes that, instead of complementing the features, are distracting, making your hair the focus of your appearance. The biggest reason this haircut should be avoided is the triangular shape that the hair has been styled into.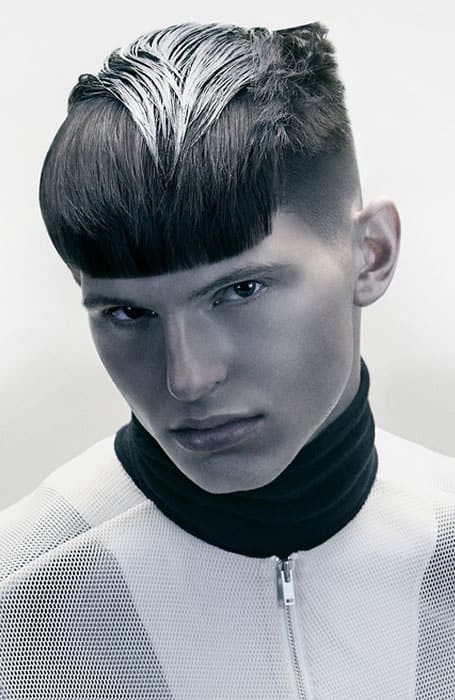 29. Dramatic Sideburns with Hard Part and Side Part Fringe
Sideburns are not as popular as they once were but can have a traditionally masculine and rugged appearance when worn with the right hairstyle. This is not that style, and instead of complimenting the hair, it clashes with the rest of it. There are too many different features in this hairstyle that are competing for attention, including an unusual hard part and a voluminous side-parted fringe. This makes the look overwhelming. It is not a fuss-free style, and you will spend a lot of time styling it and maintaining it.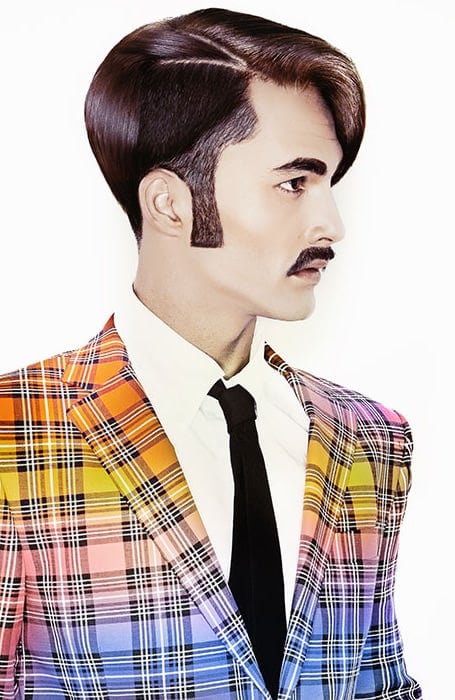 30. Blue and Blonde Mushroom Inspired Haircut with Angles
Trying out different color combinations and experimenting with interesting finishes lets you create a hairstyle that reflects your personality and style. It is fun and expressive, and there should be nothing stopping you from doing that. The downside to bold and bright hair is that it can restrict you and is often considered unprofessional. The color choice of this hairstyle is not the only problematic thing; this mushroom-inspired haircut has unusual angles and will be incredibly difficult to maintain.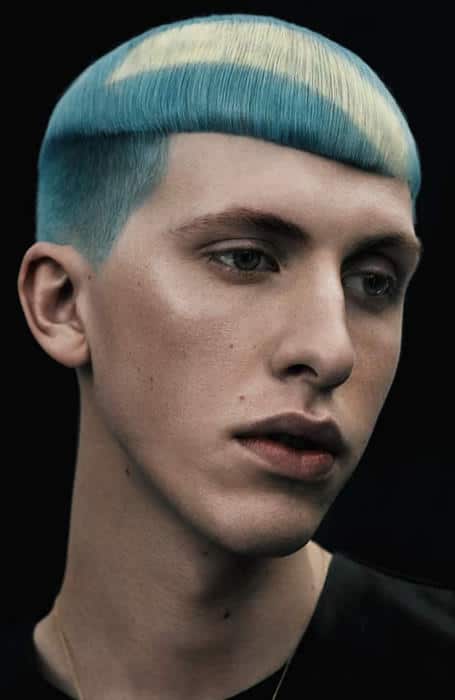 31. Shaved Sides with Voluminous Hair and Blunt Bangs
Shaved sides can be a great addition to any haircut giving your hair a rebellious and edgy vibe. It is also fantastic for highlighting the hair on the top of the head and can make it appear thicker and more voluminous. However, this is a bad haircut because of the way the hair on the top is styled. It is brushed forward with a slight flip and finished with long blunt bangs. Blunt bangs are great for drawing attention to the face and highlighting the features. But this particular look is very challenging to style and will only work on straight hair. It can also be difficult to create the flip and make the hair appear voluminous.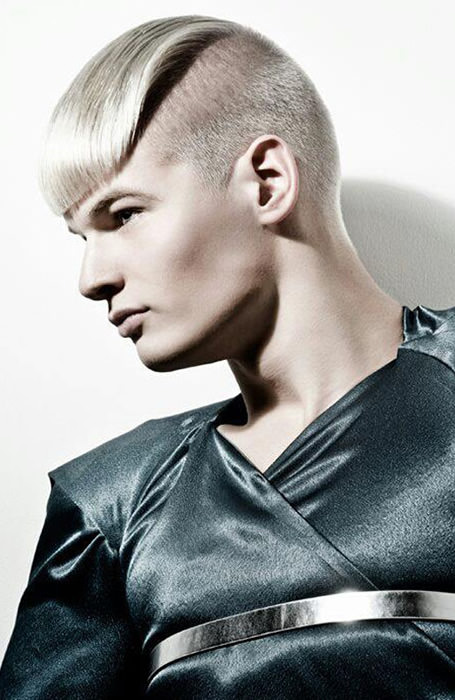 32. Fiery Ginger Hair with Long Fringe and Fade
Ginger hair is an orange shade that demands attention. Even the most simple hairstyles will get noticed, and the color can easily show off your hair texture. You do not need fashion-forward hairstyles to get noticed, which is why this seems like a bit of an overkill. A fade paired with hair that is longer on the top is fantastic for giving the hair volume and can make it look thick and healthy. However, it is a much better option to blend the fade instead of making clear distinctions between it and the rest of the hair.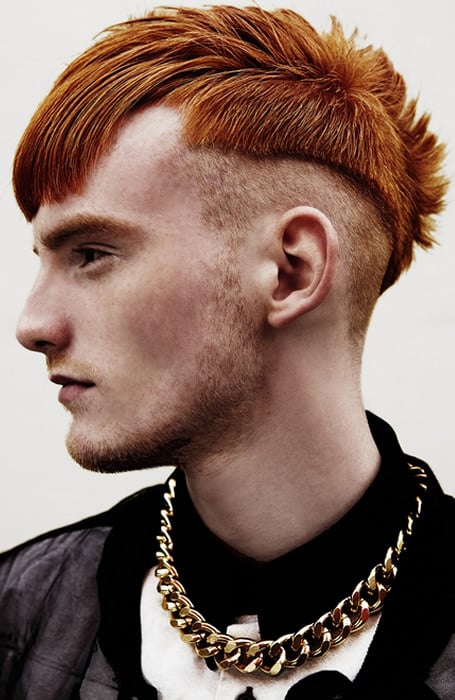 33. Choppy Fringe with Short Hair
A fringe is a welcome addition to most haircuts and can give you a youthful appearance. The right fringe should complement your features and can also disguise problem skin or fine lines and wrinkles. There are great fringes, and then this choppy fringe; it is uneven and styled to be deliberately messy. The different lengths, between short and long, and the gaps in the fringe make it look awkward. It is also not a look that can be worn in professional settings and is very restrictive.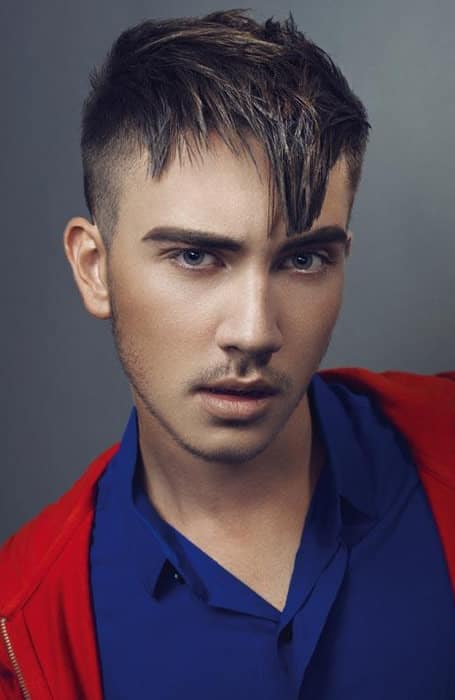 34. Angled Fringe with Flick and Fade
Unless you want to spend a long time styling your hair every day, it is best to avoid this look. You may see hairstyles in fashion magazines and think they would be great, but executing them in real life without a team of stylists and loads of hair products is challenging and impractical. The angle of this fringe is interesting and draws attention to the side of the head, which is also paired with a fade for structure. However, instead of achieving a polished appearance, it just looks like something is missing; and that something could be a big chunk of hair.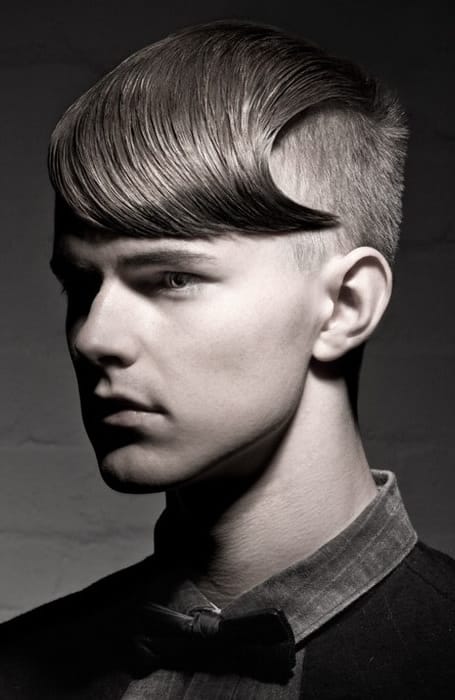 35. Caesar Cut with Spiky Hair
The Caesar cut is one of the most versatile short haircuts for men and can be worn with all hair textures. It is defined by the horizontally cut bangs and relatively the same length of hair on the top and back; there is only a slight variation between the lengths on the sides. It is effortless to style and flattering on most faces and can easily be personalized. The wrong way to personalize it would be to add texture to the middle and back of the head, creating a contrast between the straight bangs. This looks like two different styles have merged, and instead of blending well, they are fighting for attention.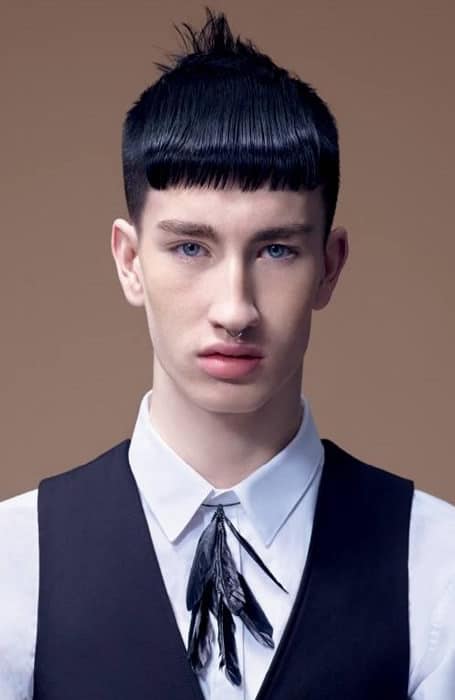 36. Platinum Blonde Hair with V-Shaped Hairline
There is a lot to like about platinum blonde hair, and despite being high-maintenance, it is a color that demands attention and can highlight your hair texture. It is also a hue that will lighten and brighten your appearance and can look very stylish. If you love hairstyles that take serious confidence to pull off, then an alternative to bangs could be a V-shaped fringe. This shape draws the eye to the hairline, but it is not particularly flattering, and it is high-maintenance; expect to make regular trips to the salon to touch up any stray ends. This hairstyle is, unfortunately, better suited for a fashion magazine.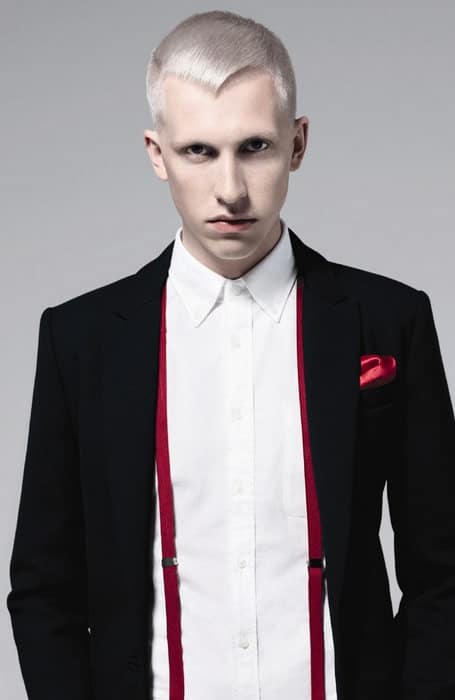 37. Fade with Circular Shaped Haircut
So close but yet so far, this is how we can describe this fade with a circular-shaped haircut. It is almost great, but the center of the hair is problematic. Fades are a welcome addition to most hairstyles, giving you structure and creating a neat and polished appearance. They are also ideal if you want to add volume to your hair on the top and can create the illusion of thickness and fullness. The downside is how the hair is brushed to meet at the middle; it can be incredibly challenging to pull off without using loads of hair products unless you have naturally textured hair.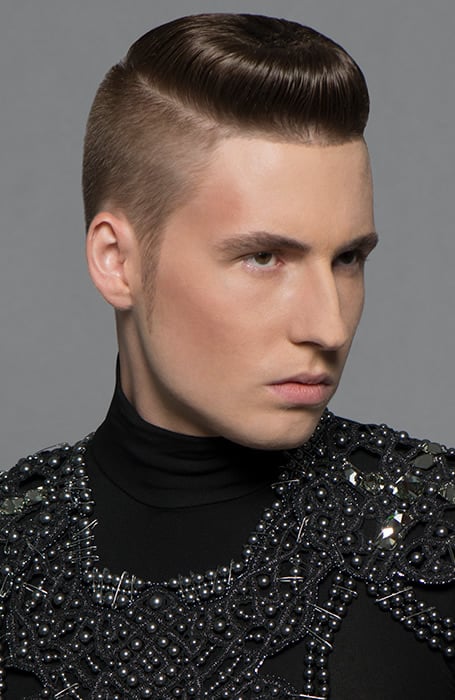 38. Shaved Hair with Slick Back and Angled Fringe
Some haircuts are best avoided, and this is one of them. The angled fringe and the way it is gelled down onto the scalp does not look good. It is also impractical, and you will need to touch it up throughout the day. The pro of this haircut is that the slick back and the fringe look great together usually, creating a traditionally masculine look that complements most face shapes. Instead of forming a fringe, it is better to brush the hair backward entirely. Keep more length on the side so that there is not such a sharp contrast.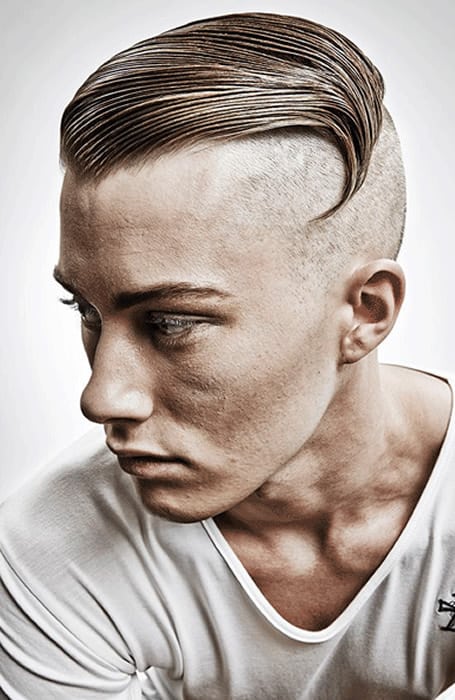 39. Viking-inspired Skullet and Big Beard
The skullet is a badass look for men who have a lot of confidence. The hairstyle is a mixture between a clean shave and a mullet, exposing much of the scalp but leaving length in the back. If you love rebellious looks, then this is it. Despite having its pros, this haircut is impractical and challenging to pull off for most men. It can easily look tacky and is not among the most flattering haircuts. Pairing it with a big beard can balance it in some ways, but it can also highlight the shaved head. If you are balding, this may be a way to embrace that, but there are many reasons to avoid this look.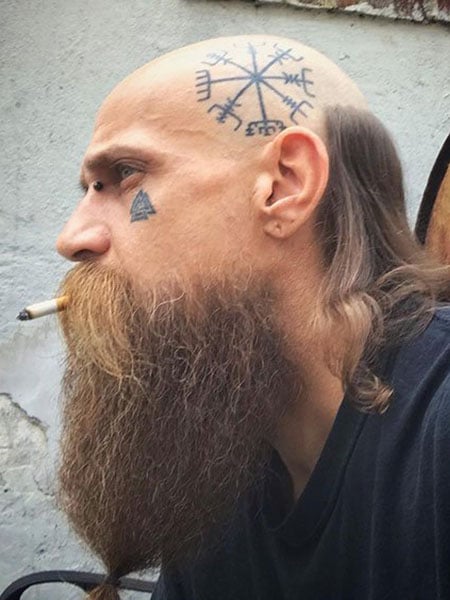 40. Dramatic Swooping Fringe with Straight Hair and Side Parting
Dramatic fringes can be fun and experimental, but they are also a lot of work. This swooping fringe will make a statement and draw attention to your face. It can give you a youthful appearance, and the side part is universally flattering, complementing all hair textures and face shapes. The downside is obvious; your hair will be in your face. Any look that restricts the vision or needs to be retouched throughout the day is high-maintenance. It can also look unprofessional and limit you for where and when you can wear the cut. Add this haircut to your avoid list to be on the safe side.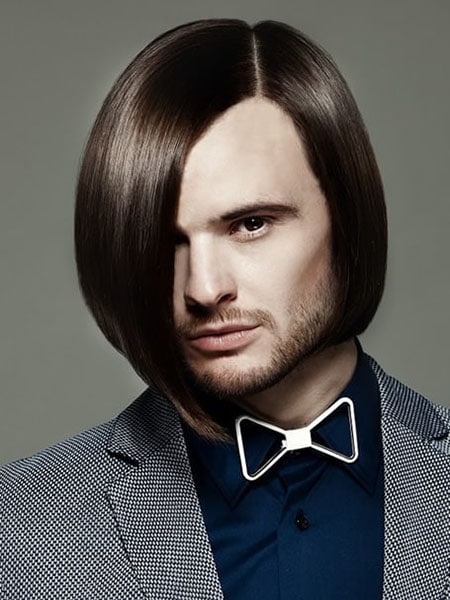 FAQs
What's the worst haircut for a guy?
The worst haircut for a man depends on personal preference. For some, this could be edgy haircuts like a bowl cut or sweeping fringe because they are tricky to pull off. Others may dislike bold and bright hairstyles or those created with unusual angles.
Why do my haircuts always look bad?
It is possible that you just need time to adjust to your chosen look or that the fresh cut appears too textured initially. If you are unhappy with your haircut, look online for inspiration and bring a photo of the look you want to your next hair appointment. Take into consideration your hair texture, type, desired length, and face shape.
What do you do when you get a bad haircut?
You may be embarrassed to tell your hairstylist that you dislike your hair, but it is important to be honest, and polite. This can help them work with you to find what went wrong and what you do not like about the cut. There is a chance that it can be improved or worked into a new cut. If this is not the case, you may have to wait for your hair to grow out before you can try again. Bring in pictures for reference and discuss how the look would work with your face shape and hair texture. Also, discuss what sort of maintenance you should expect.
Can hairdressers fix a bad haircut?
A different stylist may be able to fix your haircut or at least improve it.
SUBSCRIBE TO OUR NEWSLETTER
Subscribe to our mailing list and get interesting stuff and updates to your email inbox.