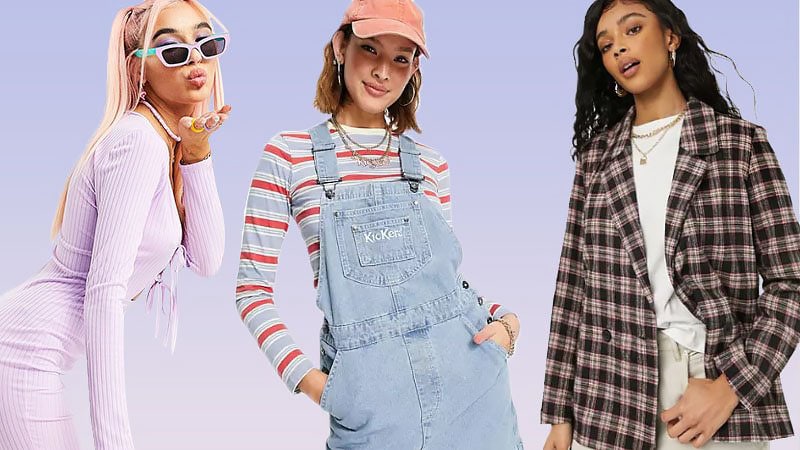 There are many ways to showcase your style and personality, with clothing that can reflect who you are. Iconic supermodels, influencers, and artists like Bella Hadid, Kylie Jenner, and Dua Lipa often showcase their love for e-girl and baddie aesthetic. Soft Girls, Dark Academia, Femboys, or Y2K – there are so many different variations. There's nothing quite like expressing your individuality, so keep scrolling to get inspired by these perfect outfits that will suit your aesthetic.
1. Grunge Aesthetic
Starting in the 80s and popularized in the 90s, the grunge aesthetic features a distinctive style. Taking its roots from the underground music scene of the 80s, the genre houses iconic bands like Nirvana, The Smashing Pumpkins, and Hole. The overall style removes traditional societal expectations and represents a protest against materialistic trends and preppy fashion that was prominent. The aesthetic includes oversized jackets and hoodies, wide-leg jeans, platform sneakers or combat boots, and band t-shirts. Of course, this aesthetic is dark in nature, so keep the shades neutral, black or gray. Now, the entire aesthetic surrounds the rejection of traditional and flashy trends of the time, so make sure you're comfortable while feeling a bit edgy.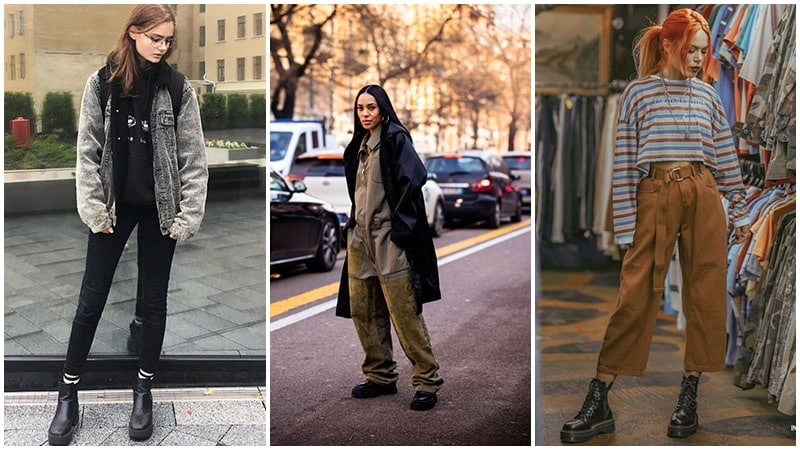 Get the Look
2. Indie Aesthetic
The term 'indie' has transformed over the years; even though the meaning at its core remains the same. The indie aesthetic is about alternative clothing and it is a celebration of individuality and independence. Gone are the days of dark shades and oversized flannels – this trend takes pieces of the fashion of the early 2000s and puts a modern spin on them. Think flared high-waisted jeans, cropped graphic T-shirts, chunky sneakers, and bucket hats. Essentially, it blends key elements from the skateboard culture of the 90s with the bright styling from the early 2000s. Bonus points if you use the over-saturated filters in your pictures for Insta.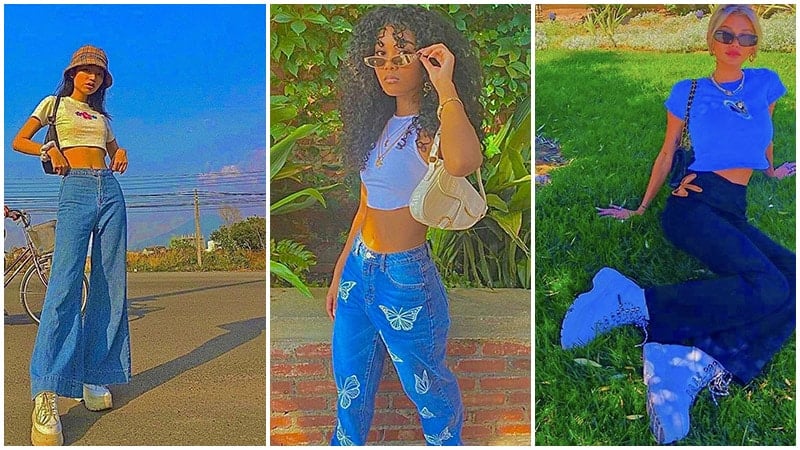 Get the Look
3. Soft Girl Aesthetic
Cutesy, delicate, and overtly feminine, the soft girl aesthetic is a major trend that you can find on TikTok and Instagram. This trend relies primarily on pastel shades – like bubblegum, baby blue, sage, and lemon – with warm tints and gentle images of clouds, fluffy animals, and flowers. Also heavily inspired by the Y2K style, the aesthetic is comfortable and stylish. Wear the wide-leg denim, lacey camisoles, and cropped cardigans – finish the look with chunky sneakers, a baguette bag, or a bucket hat. The trend pulls similarities from the Kawaii aesthetic in Japan, preppy styles, and VSCO and E-Girl styles, but the subtle differences help this aesthetic stand on its own.
Get the Look
4. Vintage Aesthetic
Every decade goes through a resurgence at some point in modern trends, and the vintage aesthetic is no exception. This style takes its inspiration from varying elements of the decade's past, such as band T-shirts from the 60s, bellbottom jeans from the 70s, a color palette from the 80s, and styling from the 90s. There are no rules for this trend, so you can take your favorite bits from each generation and incorporate them into your wardrobe. Circular sunglasses, light-washed denim, and platform shoes are all common elements of the aesthetic. Thrifting items from second-hand stores, shopping on repurpose fashion sites, and wearing vintage clothing is an essential part of the trend. This aesthetic keeps the life cycle of fashion going, and it is sustainable.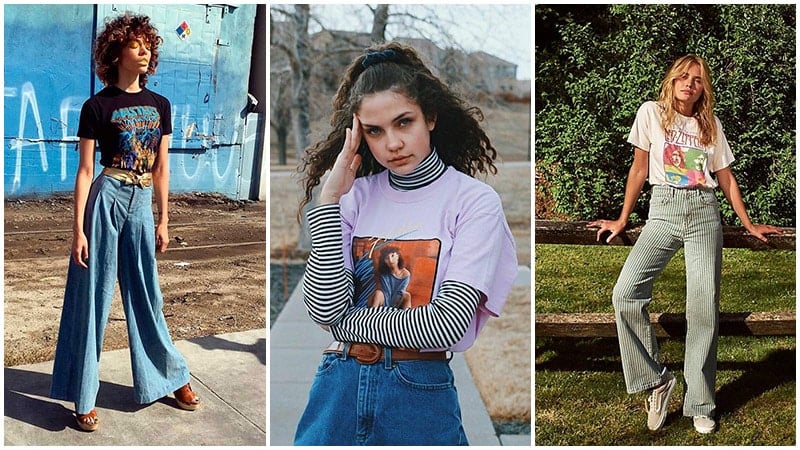 Get the Look
5. 90s Aesthetic
The 90s were a broad and widely influential era in the 20th century. From the grunge movement in the early part of the decade to closing out with the Y2K bug and technology influences, there are plenty of fashion trends that the era has inspired. Some subcultures of the 90s aesthetic include preppy and minimalist influences like Cher Horowitz from Clueless and pop music from Britney Spears and the Spice Girls. Other aesthetics that have come out of this era include grunge aesthetic, with mainly plaid textures, dark shades, and chunky combat boots. This is heavily inspired by the works of Nirvana, Radiohead, and Pearl Jam, taking its style from the underground subculture and rejecting mainstream style. Numerous trends have evolved from this era – you can easily find one that suits you best.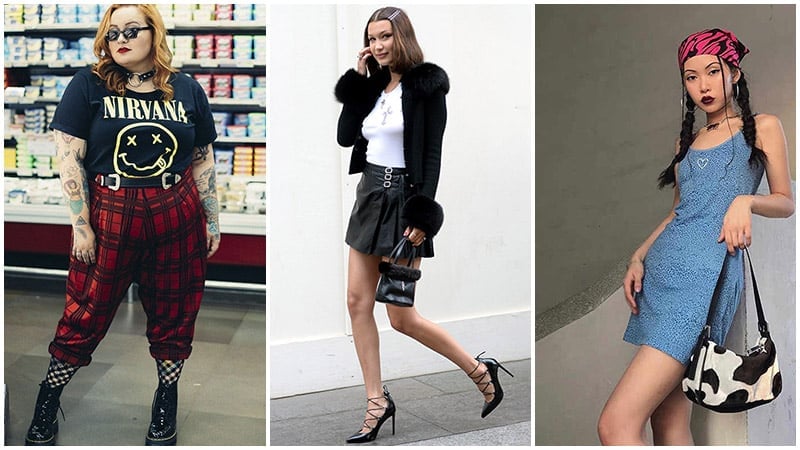 Get the Look
6. Baddie Aesthetic
The baddie aesthetic dominated primarily on platforms like Instagram, Tiktok, and YouTube, features many sub-aesthetics under its belt. Some include Y2K, luxurious, and Insta baddies, each with their own distinctive style. The origins of this aesthetic are directly from African American trends and tie in heavily with celebrities and influencers like Cardi B, Megan Thee Stallion, and Doja Cat. Iconic elements of this trend include oversized streetwear, body-hugging mini dresses, and bodysuits, often with cutouts in the fabric. Hair is often long and straight, with throwback accessories like large hoop earrings, gold chain jewelry, and du-rags. For the boujee and pampered style, the makeup is often dewy, and the clothes are luxe, soft and high-end. The prominent baddie girls will sport brands like Fashion Nova, Supreme, Prada, and I.Am.Gia – favorite shades include burnt orange, black, fire red, and lots of pink.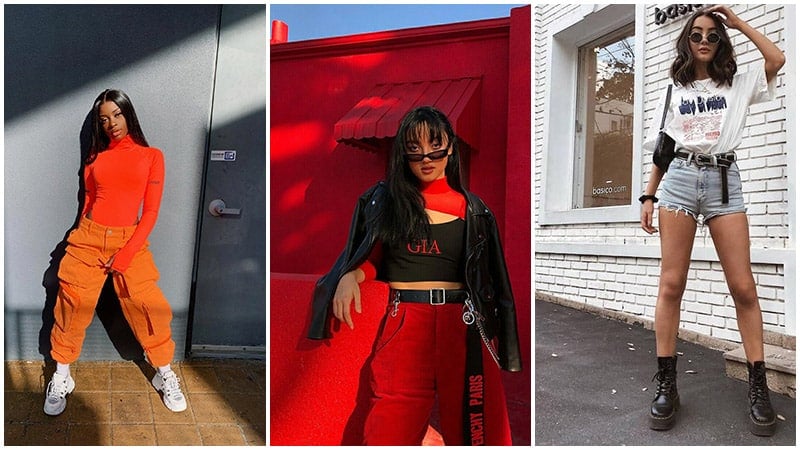 Get the Look
7. Y2K Aesthetic
It's the trend that is seen on Instagram, TikTok, and everywhere in between. Y2K aesthetic is wide-reaching but takes its inspiration directly from fashion and cultural trends of the late 90s to mid-2000s. It is supremely distinctive in its style, with pieces like pastel-colored camisoles, high-rise flared jeans, colored sunglasses, and tiny accessories. Like its vintage counterpart, there are plenty of subcultures that fit under the category – McBling, Synthwave, Emo, and Barbiecore, among many others. But the overarching themes of this style include crop tops, vintage luxe brands like Dior, Prada, and Versace, relaxed denim, and chunky sneakers. The impact of pop culture references such as Bratz Dolls, films like Legally Blonde and Mean Girls, and celebrities like Paris Hilton, Lindsay Lohan, and Britney Spears.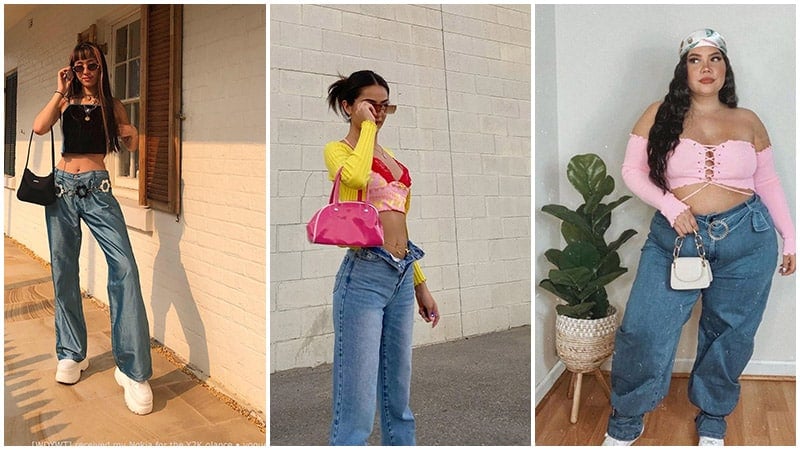 Get the Look
8. Pastel Aesthetic
The pastel aesthetic isn't tied to a particular pop culture reference, an era in time, or subculture – it's all about the colors. This trend pulls its core focus on soft and delicate shades – the hues are developed by adding more white to the original tint. Many aesthetics branch off from this umbrella, such as Soft Girl, Kawaii, and cutesy aesthetics. You can rock the style by pairing light fabrics and textures together – baby pink cardigans, beige pants and mini skirts, white sneakers, and sage or lavender accessories. There are so many ways to dress it up or down, and it can match your favorite trends easily. From the 60s to today, it remains a timeless trend for everyone to love.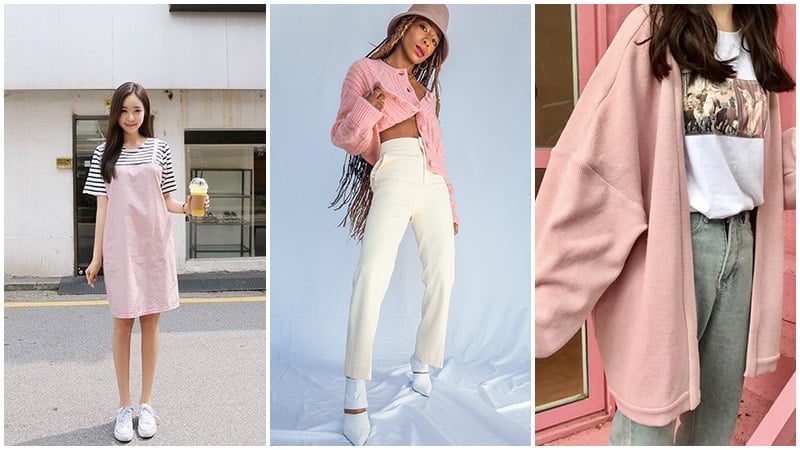 Get the Look
9. Skater Girl Aesthetic
Skater aesthetic has been around for a lot longer than people may realize. While the trend that you see today is heavily influenced by the 90s and early 2000s and its grunge counterpart, the style has origins traced all the way back to the 40s. The consistent theme throughout the decades is the use of dark colors and clothes that allow freedom of movement. In recent years, the style has transformed to incorporate elements from the 90s and 2000s, such as oversized shirts, layering, chunky sneakers, and baggy cargo pants or jeans. Brands such as Vans, Converse, and Huf are widely popular, but can also include brands like Supreme. Grab your skateboard and go for a ride – you'll definitely look like a pro with an outfit like this.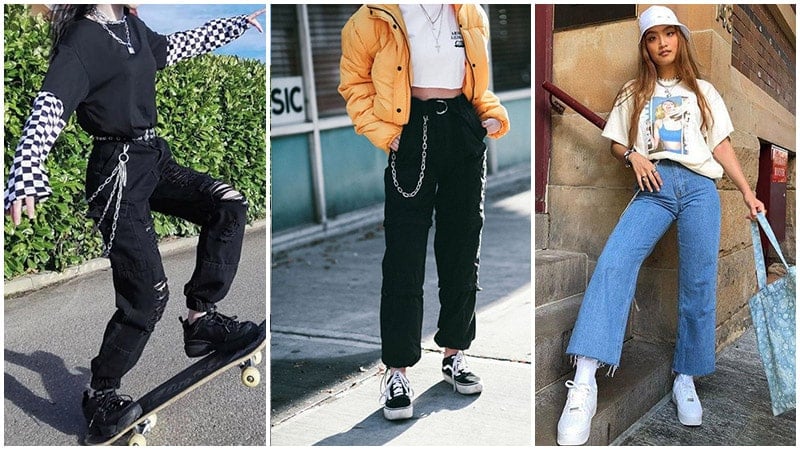 Get the Look
10. Dark Academia Aesthetic
The dark academia aesthetic trend has been a popular choice for several years. Easily identifiable and perfectly blended into current trends, this aesthetic primarily focuses on classical literature – including works by the Brontë sisters, Oscar Wilde, and Jane Austen – Romantic and Neo-Classic imagery and colors. The dominant shades often include black, dark brown, charcoal, and forest green – its influences stem from the art style of Baroque and Renaissance for its decadence and eye for detail, and Gothic for its scholarly roots, and dark tones. Typically you can embody this aesthetic with a black turtleneck, checked trousers, brogues, and varying shades of brown. Layer coats with blazers, mix monochromatic ensembles and enter a world of Byronic Heros and literary excellence.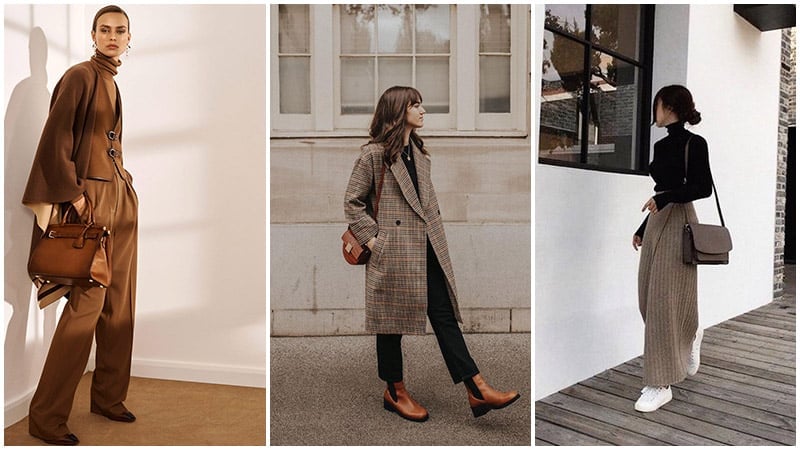 Get the Look
11. Femboy Aesthetic
The femboy is an aesthetic that has entered the world fairly recently, and it's pretty cute. Just as its name suggests, this style features boys – whether they're a part of the queer community or not – who dress in traditionally feminine clothing, such as skirts and dresses. People that identify as non-binary or male are blurring the lines with gender and the clothes that typically align with them – this can be with nail polish, flower decals, tennis skirts, or slip dresses. Try it out with butterfly hair clips, cropped pastel cardigans, and colorful mini skirts with oversized sweaters. The trend, which has been spearheaded by Gen Z stars like Jaden Smith and TikTok influencers, removes the gender boundary of feminine attire and redefines the concept of masculinity.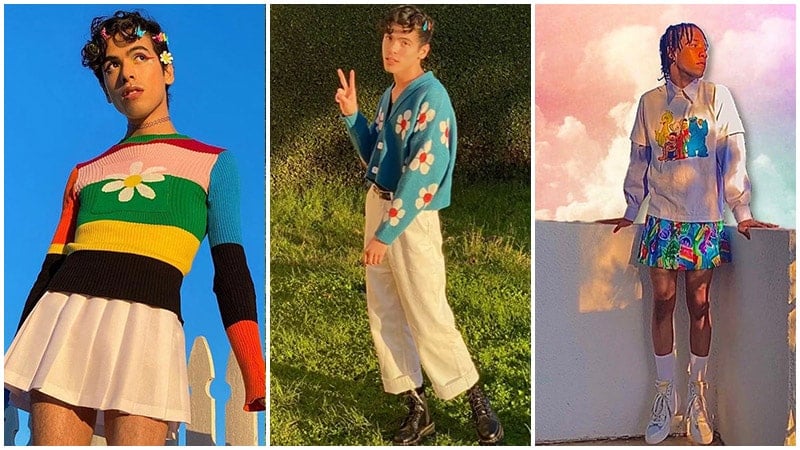 Get the Look
12. Pink Aesthetic
Pink aesthetic has undergone radical transformations in the last century. Starting as a typical 'boy' color, it quickly flipped into becoming a hyper-feminine and girly palette, which has remained ever since. With some negative connotations associated with the shade, it has since been reclaimed and loved by millions worldwide. If you love pastels, neons, Millennial Pink, or even a subtle hint of bubblegum, there is a way you can work it into your everyday wardrobe. A major favorite of fashion goers includes combining pink with other hues like blue, green, black, or white. You can even try your hand at a 'fashion faux-pas', by pairing pink and red together – trust us, it's a statement worth making.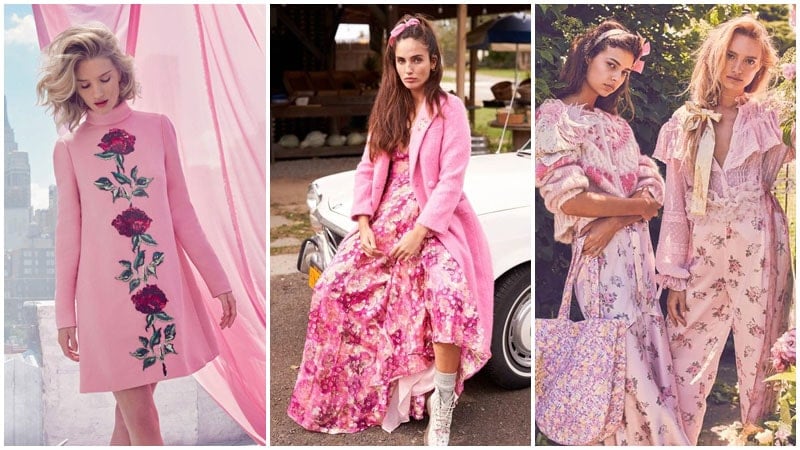 Get the Look
13. Emo Aesthetic
The emo aesthetic has been circulating as its own genre since the early 2000s, although its roots make their way to the late 70s. Bands like Siouxsie and the Banshees and The Cure paved the way for traditional emo bands of the early 2000s. Some of the most popular mainstream bands in the genre include Panic! at The Disco, Fallout Boy, Paramore, and My Chemical Romance. The overarching elements of this trend include plenty of black, skinny jeans, fishnets, Converse, striped tops, and layered pieces. Makeup and hair include heavy eyeliner, piercings, and choppy bangs in dark or colorful shades. While the trend has changed a lot since its inception, it still has plenty of its original key elements today.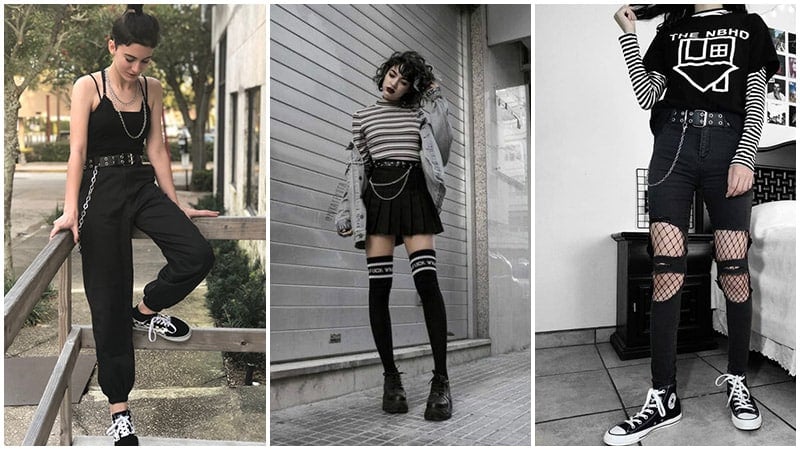 Get the Look
14. Kawaii Aesthetic
Kawaii (かわいい) is a word in Japanese that translates to a feeling of childlike and cute items. While many subcultures nest under this term, there are a few core ingredients to the overall aesthetic. This includes soft pink shades, glitter, rainbows, and soft, fluffy animals. This genre usually includes checked mini tennis skirts, white or striped knee-high socks or stockings, and oversized sweaters. Large and chunky sneakers tie the looks together and give the impression of appearing like a cartoon. It's a super cute aesthetic with myriad niches and subcultures – each with its own individuality and style.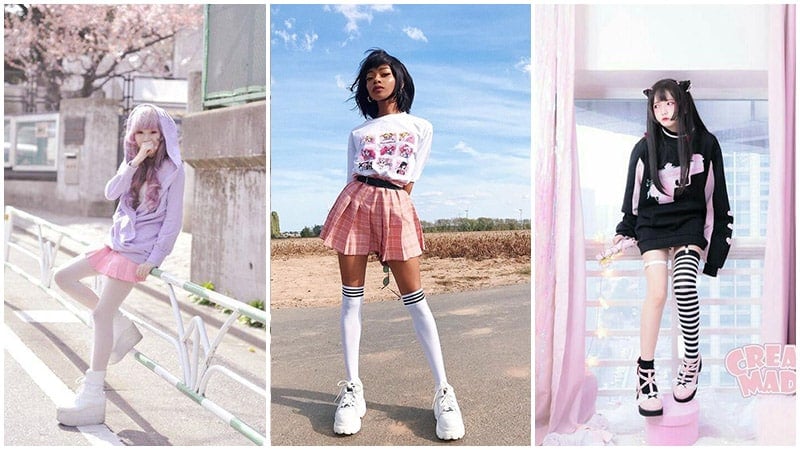 Get the Look
15. Kidcore Aesthetic
Do you wish you could time travel back to the 80s and 90s? Well, now you can with the kidcore aesthetic. This style, which takes its nostalgic influence from kids' themes of the 90s, uses bright primary colors, children's toys, and kid-like graphics in its items of clothing. Frequent icons of the era include Beanie Babies, Disney, Sesame Street, and Clifford the Big Red Dog. To dress in this style, you will require loose-fitting denim, baseball T-shirts – preferably with stripes, and all things rainbow. The most commonly worn shades include red, blue, green, yellow, and orange – they're a bright way to help you stand out.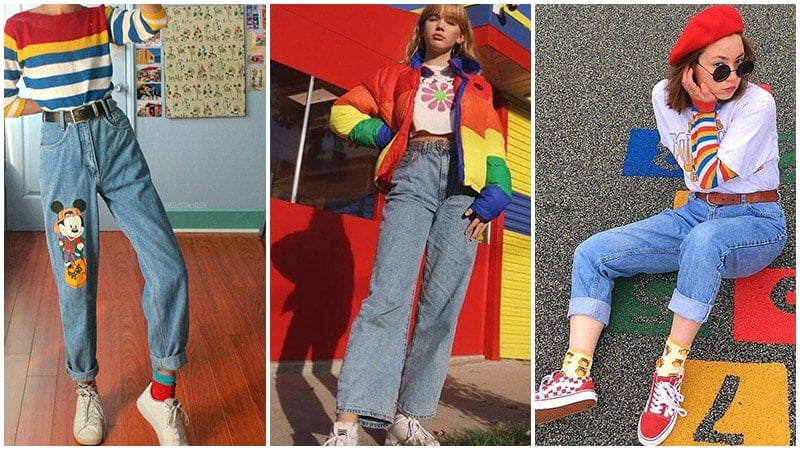 Get the Look
16. Retro 80s
The 80s were a golden era for music and fashion, so it's easy to see why it's making the rounds again. The 80s aesthetic is dominated by color blocking, acid wash jeans, turtlenecks, and an overall colorful appearance. Icons of the era include Will Smith in The Fresh Prince of Bel-Air, characters in John Hughes' films (The Breakfast Club, Ferris Bueller's Day Off, Home Alone, etc.), and modern shows like Stranger Things. Try a pair of denim overalls, a bold roll neck or sweater, and chunky white sneakers to style this look. Bonus points if you roll up the bottom of your pants to show off your tall socks. Once you try this aesthetic, you'll never want to give it up, because it will never let you down.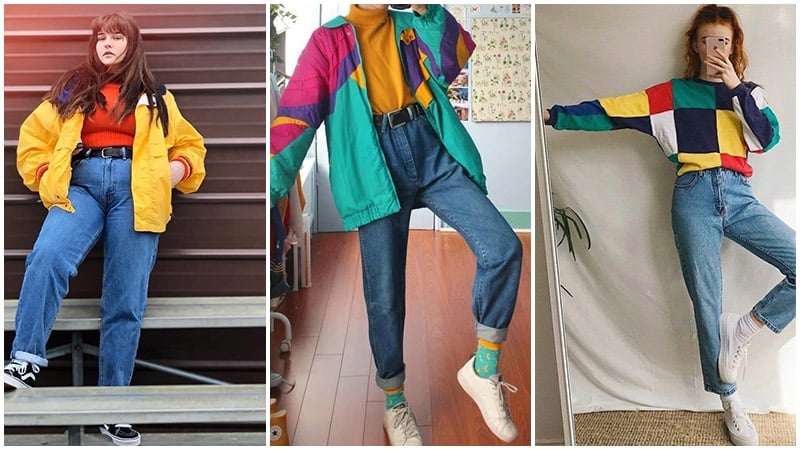 Get the Look
17. Goth Aesthetic
Dark, gloomy, and edgy, the goth aesthetic is mysterious and multidimensional. There are many different goth aesthetics, but the most commonly seen type stems from the late 70s and early 80s British bands like Siouxsie and the Banshees and The Cure. Dress styles often feature plenty of black or gray, white checks, and fishnets. Heavy eyeliner, dark lipstick, and piercings are also common, along with colorful hair extensions, long locks, and choppy bangs. Varying styles of this aesthetic include pastel, Lolita, Victorian, and Deathrockers, each with their own distinctive fashion. This is an aesthetic that has myriad branches of trends and styles, so you can find something that suits your personality best.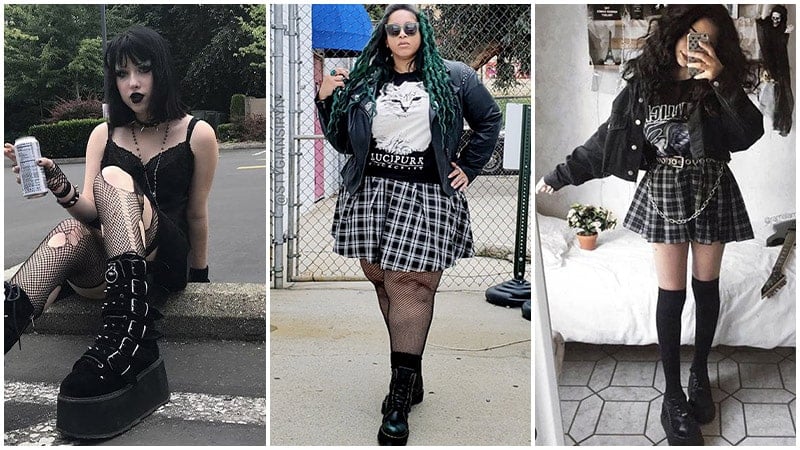 Get the Look
18. Soft Grunge Aesthetic
Like its original movement, the soft grunge aesthetic takes elements of the underground 90s and pairs it with pastel shades and current trends. This is a modern take on the iconic style, with elements from its origins combined with trends from TikTok and Instagram. This includes items like flared pants, crop tops, and chunky combat boots. However, you can still tell this aesthetic apart from the rest, thanks to their typically darker palette, mixed with soft colors and cute vibes.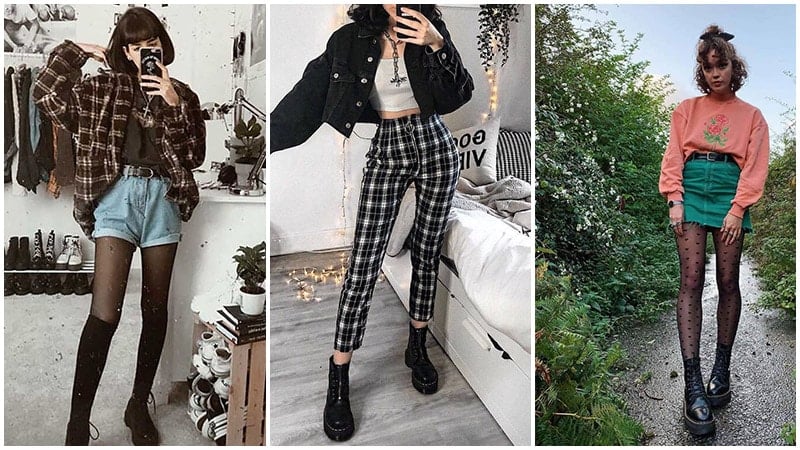 Get the Look
19. Artsy Aesthetic
Connecting with nature, art, and all things beautiful, the artsy aesthetic stems off into many different styles. The original aesthetic – Arthoe – was originated on Tumblr and is connected with many LGBTQIA+ people of color, such as Amandla Stenberg and Willow Smith. The themes include a love for iconic artists such as Vincent Van Gogh, whose Sunflowers and Starry Night often feature as a motif on T-shirts and bags. Today, this aesthetic features bright colors, stripes, loose trousers, and oversized tees. Typically you will see check pants or jeans with shirts and sweaters tucked in, chunky sneakers or flats, and lots of browns, blues, and color blocking.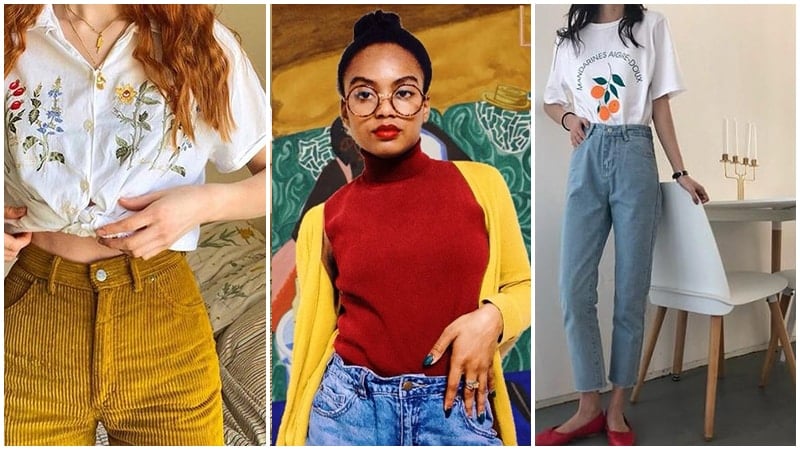 Get the Look
20. Hippie Aesthetic
Takings its roots from the hippie movement of the late 60s and mid-70s, the hippie aesthetic aspires to replicate the carefree and liberated vibe of the youth culture. Clothing in this period is heavily influenced by the festivals and pop culture of the time, including Woodstock in 1969 and the psychedelic movement with bands like Pink Floyd and the Beatles. The color palette is an element from the 70s rather than the 60s, which features more vibrant hues. Typically, flowing fabrics, bell-bottom jeans, browns, and orange shades, and big sunglasses dominate the trend, as well as oversized floral patterns and psychedelic artwork.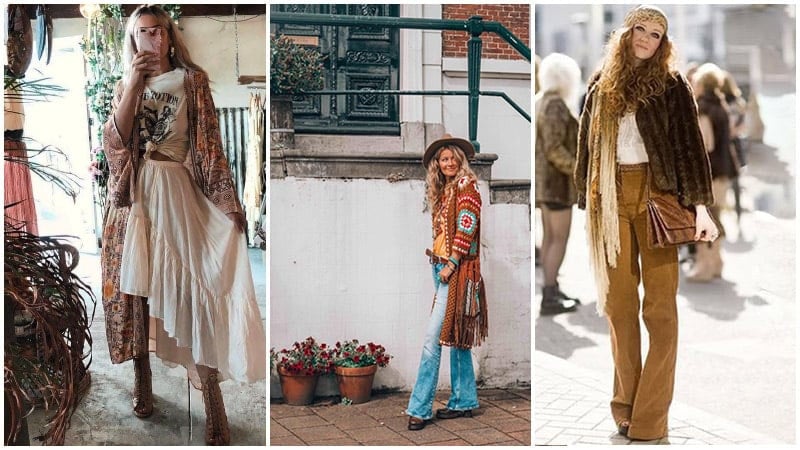 Get the Look
21. Slytherin Aesthetic
Ambitious, cunning, and excellent leaders, those in Slytherin have a keen eye for style. This aesthetic focuses heavily on the House colors – emerald green and silver – and often replicate the style of uniforms worn in the books and films. Whether you're Potter Bounding or just showcasing your love for the series for Insta, you can unleash your inner Slytherin easily. Start with a dark green turtleneck, blazer, or cardigan – it makes for the perfect pop of color against black mom jeans or skater skirt. Add chunky boots or brogues to complete the look. What's more, you can wear these colors around and represent your Hogwarts house while looking ready for a photo shoot.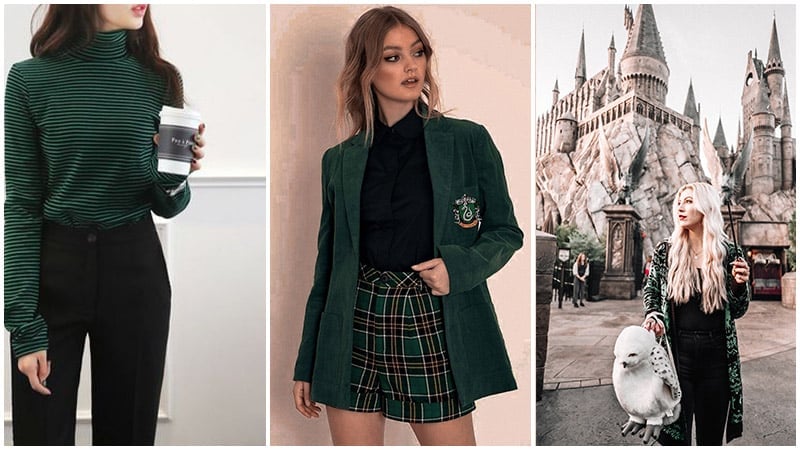 Get the Look
22. Cottagecore Aesthetic
Imagine yourself lying in a field of daisies reading a novel without a care in the world. That is the vibe that Cottagecore Aesthetic gives, and currently dominates the likes of TikTok and Instagram. It takes its core inspiration from the Regency and Edwardian periods in Europe and romanticizes the simple life of living in the countryside. This aesthetic celebrates soft and natural colors, fabrics, and patterns, including flowing dresses, lots of lace and gingham, leg of mutton sleeves, and handmade accessories. You will often find fictional characters such as Miranda from Picnic at Hanging Rock or Alice in Wonderland as vital inspiration sources. To style this aesthetic, try a linen dress with puff sleeves and a cinched-in waist, a flowing blouse with floral print, or a pinafore in neutral tones.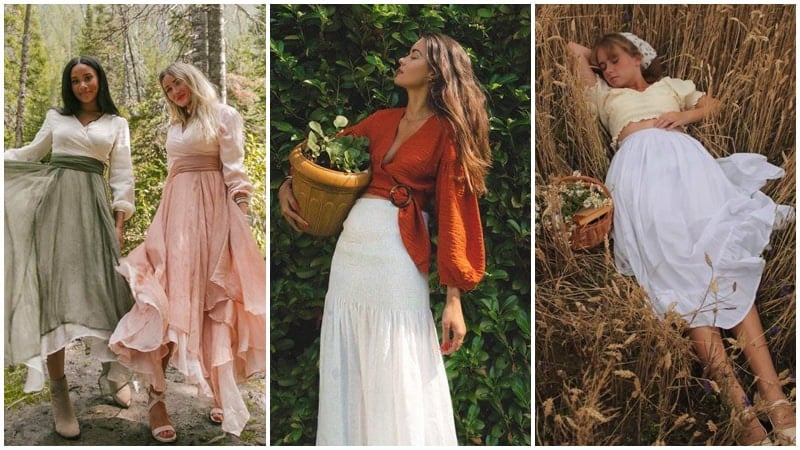 Get the Look