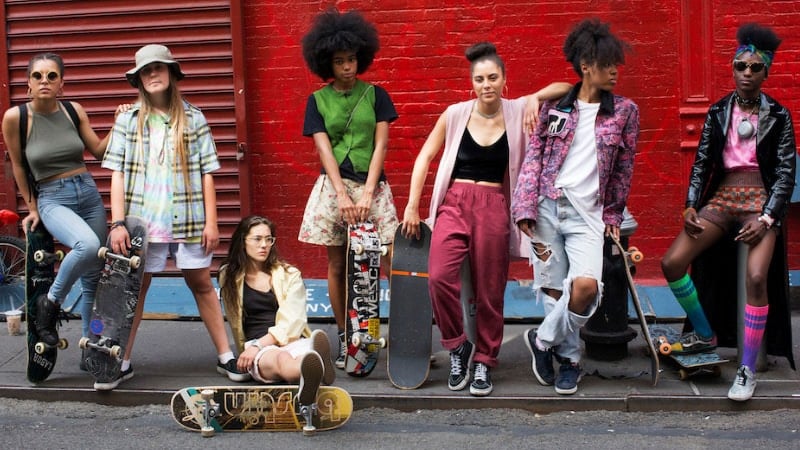 In 2021, we can safely say that the trends from the decade's past are coming back in a big way, and the same can be said for the skater girl aesthetic. A subculture that has been around for more than 70 years, the skater girl shot to popularity in the late 50s and early 60s. The 80s and 90s were a huge era for the skate scene, skyrocketing the sport into mainstream popularity. Today, the '90s and Y2K influences of aesthetics have inspired some of the latest skater styles, even if you don't know how to do a kickflip. If you're hoping to shake up your look in a casual and carefree way, stay tuned. Here's how you can emulate this niche and history-rich aesthetic and look super cute at the same time.
RELATED: 25 Best Streetwear Brands You Need to Know
What is a Skater Girl?
A skater girl is a subculture of people who enjoy skateboarding or the aesthetic that surrounds it. While skateboarding itself is traced back to the 40s, it wasn't until the 60s that women started popularizing the trend, including Patti McGee. The 'Golden Era' of the scene was the 70s, then transformed again in the late 80s and early 90s, with influences like Cara-Beth Burnside and Elissa Streamer. It doesn't matter if you're a pro or just starting – anyone can easily rock the look and feel authentic.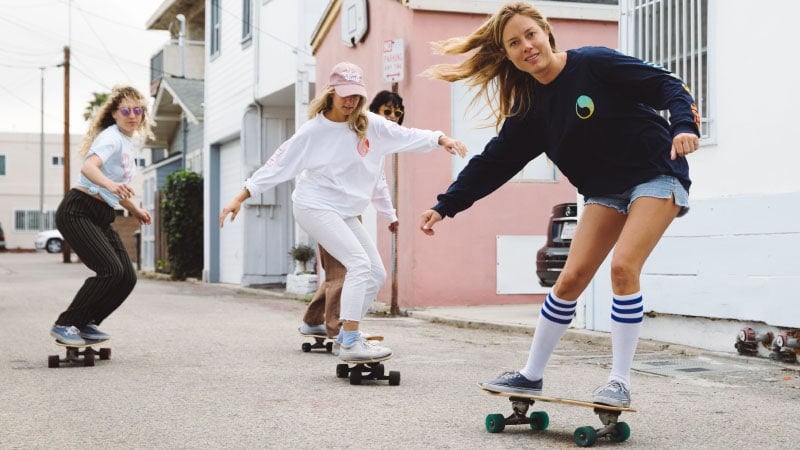 How do Skaters Dress?
While the specific style has gone through transformations with every era, the fundamentals have stayed the same. Skaters typically wear comfortable and loose-fitting clothes – this allows more motion while you're moving on the board. Graphic t-shirts and high-waisted mom jeans with sneakers are a classic ensemble – swap out the tee for a crop top when you're in warmer weather. Sweatshirts, denim shorts, Converse high tops or Vans, and bucket hats are also popular choices for those who love the aesthetic and sport.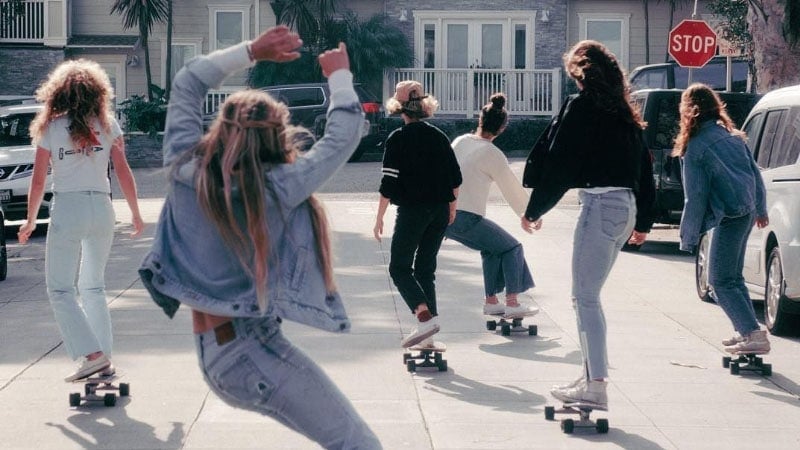 Skater Girl Outfits
Skate Shoes
As well as being an essential item to your outfit, wearing the right shoes is crucial to your comfort and riding style. The original skate shoes include Vans, which launched in the 60s and are an integral part of the subculture and aesthetic. The most popular choices that have a retro feel include Vans Old Skool or Vans Era. Alternatively, you can wear Converse All Stars, either in High Tops or Low Tops – the authentic style usually have a chunky and flat sole, which gives you the best grip on the board.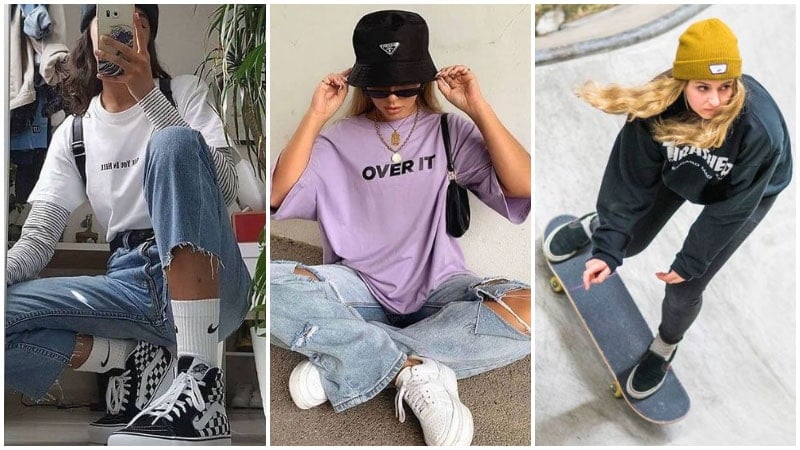 Skate Pants
Just like the skater shoes, the pants you wear while you're on the board are essential to your aesthetic and your movement. While you skate, you will often bend down, so you need to find something appropriate for the actions and cute enough for the Insta grid. Unleash your inner skater girl by rocking oversized chinos or cords in black, dark hues, or a bright shade like cherry. Team it with a cropped t-shirt, oversized sweater, or even a hoodie. You can add some skate shoes with tall socks in white, black, or a funky pattern for an authentic edge. Remember, you should be comfortable in the outfit you're wearing – this aesthetic is cool, laidback, and all about the ability to move.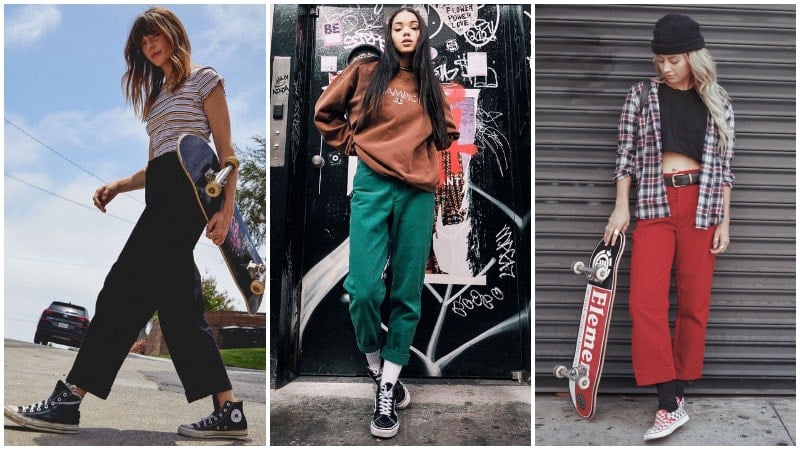 Skate Girl Jeans
As one of the easiest clothing styles, humble jeans can totally elevate your skate attire. A major element to the skater girl aesthetic is loose-fitting and high-waisted denim, which you can pair with a cute crop, oversized graphic t-shirt, or a hoodie. For the cooler months, experiment by layering clothes, such as a plain tee with a chunky argyle knit vest or a long-sleeved shirt underneath a cute t-shirt. Add a pair of chunky white sneakers that have a flat bottom for an authentic skater feel to finish the look.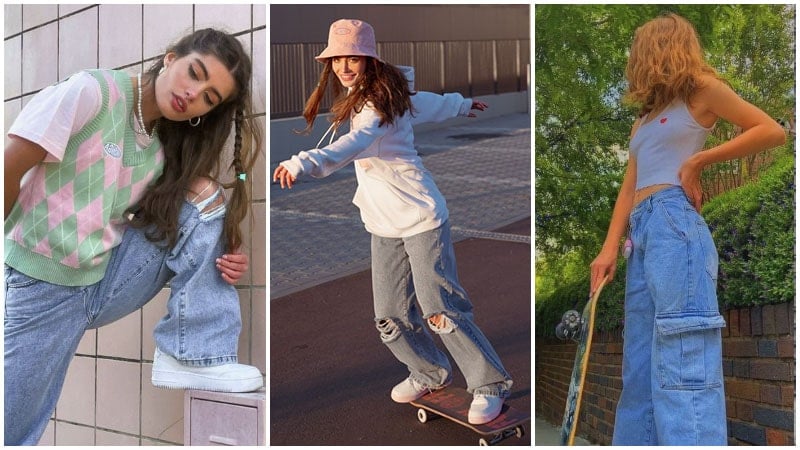 Skate T-Shirts
Showcasing your favorite grunge or punk band on your clothes isn't just a cool staple for a skate aesthetic, but it's also a great way to express your personality. As a major element of this style, large and loose-fitting t-shirts with prints on them can completely enhance an outfit. Rock them as they are, or layer them with long sleeves underneath – it's all about the aesthetic you're emulating. For soft skater girl aesthetic, crop and tank tops are a huge trend, paired with shorts, tennis skirts, or loose jeans. Skatepunk and traditional skater girls will typically opt for oversized tees with a large print on the front, either of a nostalgic TV show like Beavis and Butt-Head, a punk band like The Clash, or a grunge band like Nirvana.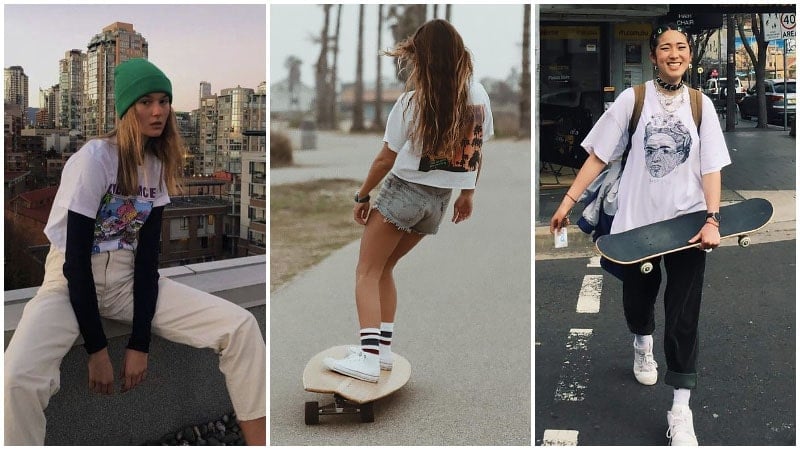 Skate Shorts
During the warmer months and in hotter climates, wearing loose-fitting jeans can become uncomfortable. That's where denim shorts come into play – they're a great alternative to the long pants that still have an authentic skater edge. This ensemble was made popular in the 70s, that was considered the 'Golden Era' of skateboarding. Iconic faces of the era include skaters like Laura Thornhill, Ellen O Neal, and models such as Farrah Fawcett-Majors. All of them played a huge role in wearing shorts while on the board. Today, the soft girl aesthetic features denim cut-offs with crop and tank tops, usually in brighter colors or white.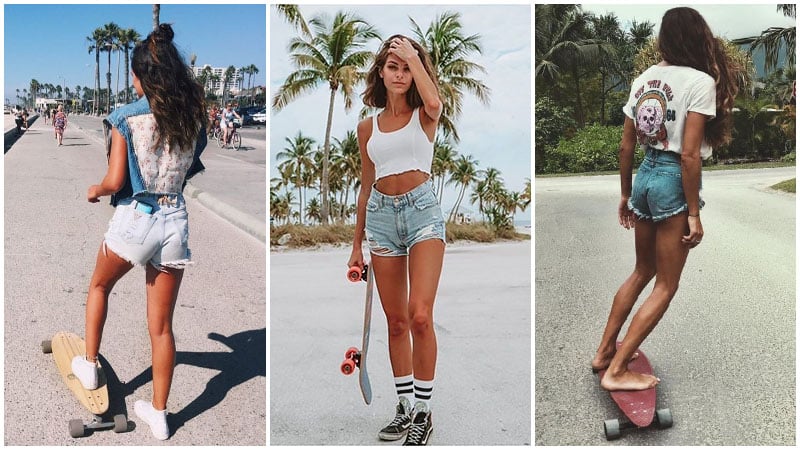 Hoodies
Taking its inspiration from Southern Californian grunge scenes, oversized attire plays a huge role in the overall aesthetic. When the frosty temperatures set in, swap out a long sleeve shirt for a loose-fitting hoodie. They are ultra-comfortable and versatile, meaning you can skate, walk and do a kick-flip without feeling constricted. They also act as an excellent padding cover if you were to slip or tumble off the board. Opt for shades like charcoal, blue, bottle green, or even sand. Just like the other tops in this aesthetic, rock them with loose-fitting pants or jeans.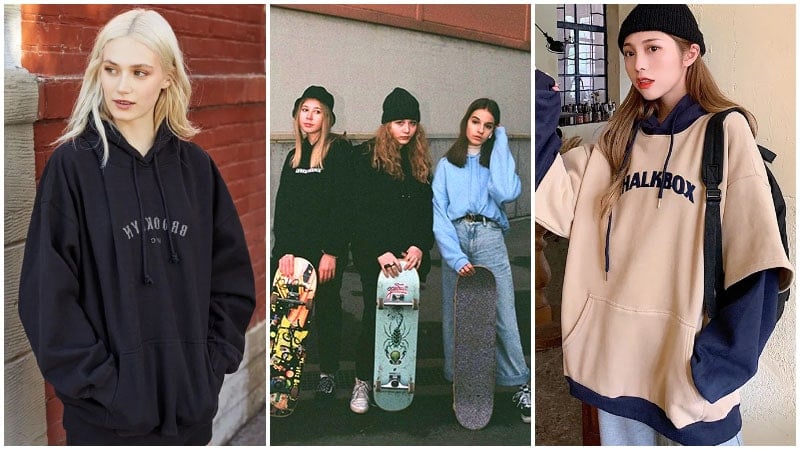 Accessories
While most skater girls won't be wearing many accessories while they're performing a goofy foot or grind, there are some cute ways to polish an outfit for an authentic skater feel. Headwear like a beanie, cap, or bucket hat are great ways to keep the hair out of your face and your head protected. You should have a bag with you that you can easily carry around while you're on the go. In this case, opt for a backpack or even a fanny pack to keep your stuff secured.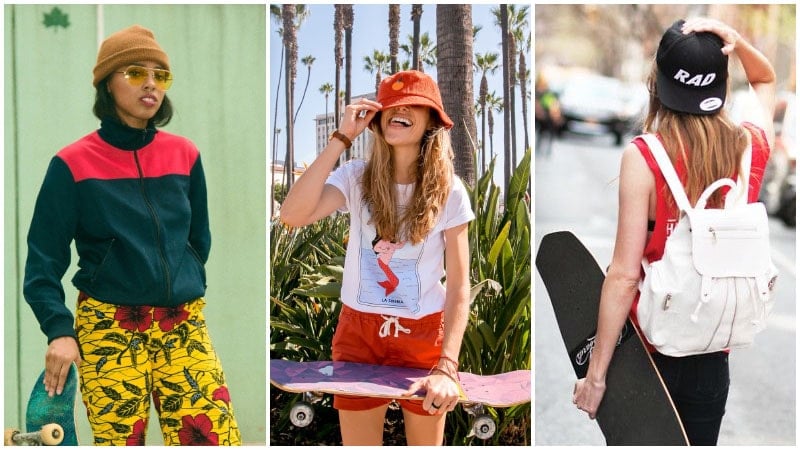 Best Skater Brands
With the history of skater girls going back to the 60s, some brands have stuck true to the authentic feel of the sport that are around to this day. Some of the best brands include Vans, which debuted in 1966 and continue to produce some of the most popular sneakers to date. Others include Santa Cruz, HUF, Element, and DC. These all originate from the Californian skater cene over the last century and create excellent skate shoes, boards, and clothes to try when you're on the move. Some other labels that have made the rounds include Stüssy and Supreme, which have started to enter the luxury space in recent years.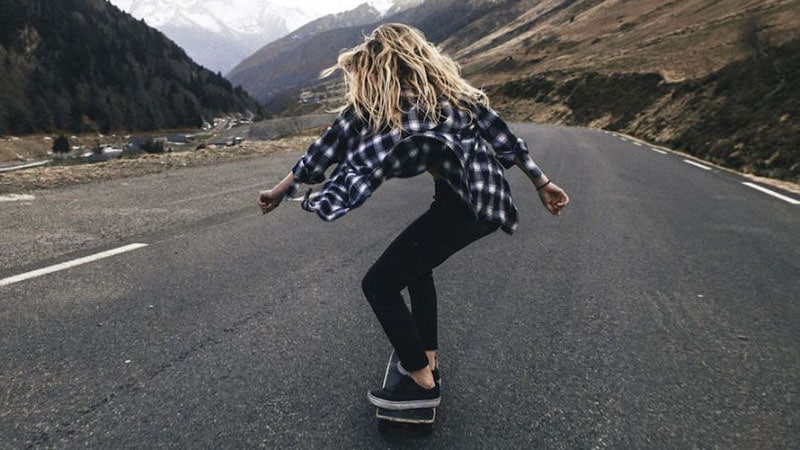 How to Get Skater Girl Style
Wear loose-fitting t-shirts and sweatshirts for comfort and casual styling
Opt for sneakers with a flat and chunky sole
Try graphic t-shirts and layering long-sleeve shirts
Keep comfortable with mom jeans or loose-fitting chinos
In the warmer months, swap out pants for shorts.
Accessories like beanies, backpacks, and bucket hats are essential to the style.
Car FAQs
What should a skater girl wear?
The beauty of being a skater girl outfit is you can wear almost anything that makes you comfortable. Popular choices include oversized graphic tees and vintage styles or iconic skate brands like Vans, Stüssy, or Supreme. You can wear loose-fitting mom jeans or high-waisted cords for optimum movement and style. You can create a silhouette by pairing a crop or tank top if you're choosing baggier pants.
How do you become a skater girl?
To become a skater girl, you have got to learn how to skateboard and look the part. Start with an oversized t-shirt with a band on the front, such as Slasher or Nirvana. Then add a long sleeve shirt underneath for layering, baggy jeans, and a pair of chunky sneakers. Of course, a skater girl wouldn't be the same without an actual skateboard. You can find some great affordable boards online, which are fantastic to ride and look great on TikTok or Instagram.
What is a skater girl aesthetic?
The skater girl aesthetic is a subculture that branched off from the grunge aesthetic of the late 80s and early 90s. While the original elements of this style typically will remove the hyper-feminine silhouettes and color palettes that were typical of the era. Now, it combines the aesthetics that have sparked recently due to TikTok trends, which include the Y2K influence and trends in the different subcultures.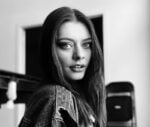 Alexandra Feiam is an experienced fashion writer who holds a degree in journalism. She has an impressive portfolio and expertise working as the Editor at Power Retail and Commercial Content Editor at Newscorp. Ally has been writing for The TrendSpotter since 2018, and her work has been featured in notable publications such as The Herald Sun, Arirang TV South Korea, Kidspot, The House of Wellness, and The Daily Telegraph.
SUBSCRIBE TO OUR NEWSLETTER
Subscribe to our mailing list and get interesting stuff and updates to your email inbox.