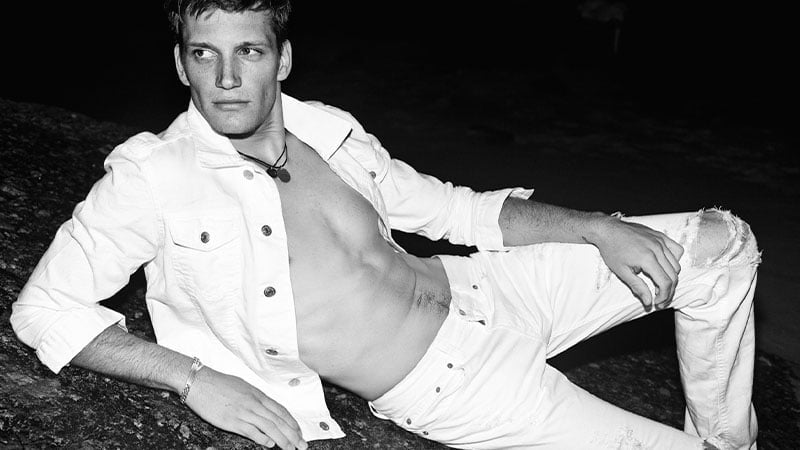 Wearing white jeans can sometimes be a daunting thought for gents. Even if you're adept at styling your favorite blue and black designs, attempting to rock white denim can present a challenge. But, don't let that stop you from wearing these seriously cool pants. With a little knowledge of what to wear with your white jeans and plenty of confidence, you'll be able to don these trousers in serious style. Whether you want to dress them up with a blazer or down with a leather jacket, we can show you how to style your white denim for a unique and undeniably impressive appearance.
RELATED: 40 Best Jeans Brands for Men
White Jeans Outfit Ideas
White jeans are probably easier to style than you would expect. They're also surprisingly versatile and can be worn with a variety of outfits. When rocking your bold, white jeans, it's best to keep things simple and complete your outfit with classic styles and a minimalistic color palette. As such, items already in your wardrobe, like a white button-up and a navy blazer, will work well to complete your look.
All White Outfits
If you're feeling confident about rocking white jeans, you may want to try an all-white outfit. Although the look is bold, it's also ideal for summer and certain semi-formal occasions. To ensure you get the look right, remember to stick to bright, white jeans. Then, add a matching shirt and a slighting darker, white jacket. To help balance the look, try adding in just a touch of color. A bit of black on your shoes or a blue stripe on your shirt will keep your outfit from appearing too monotonous.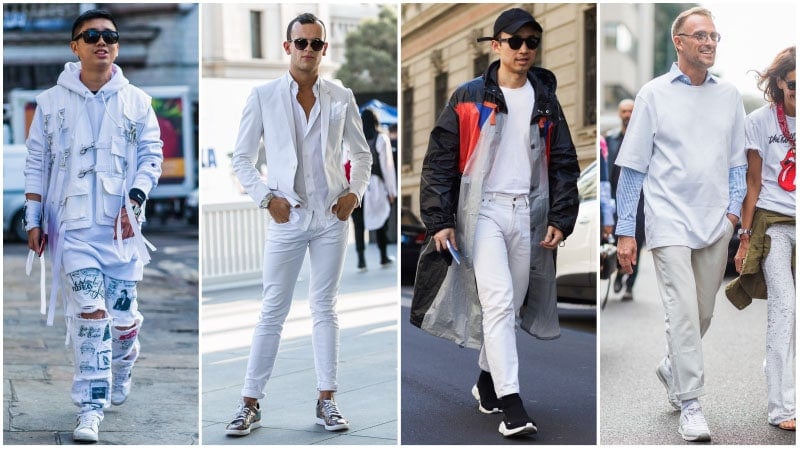 SHOP THE LOOK
White Jeans and Blazer
White jeans are perfect for creating a stylish, smart casual, or semi formal outfit. Thanks to their clean appearance, these minimalistic trousers are easy to dress up. To nail the look, all you need to do is add a tailored blazer. By doing so, you will instantly elevate your outfit and your jeans. To complete the look, choose between a T-shirt and loafers for a relaxed yet elegant appearance or a button-down shirt and dress shoes for a sophisticated style.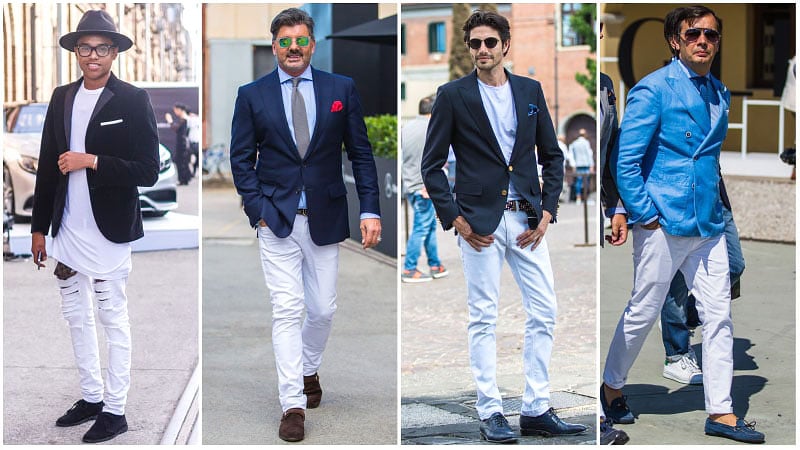 SHOP THE LOOK
White Jeans and Shirt
One of the best ways to wear white jeans is just to pair them with a shirt. The combination may be simple, but it's also incredibly smart and can be dressed up or down depending on your shoes. When it comes to choosing a shirt, light colors tend to look best and can create a coordinated appearance. A light blue denim shirt, for instance, will complement your white jeans well. Alternatively, try pairing your trousers with a striped button-up to add more interest and color to your outfit.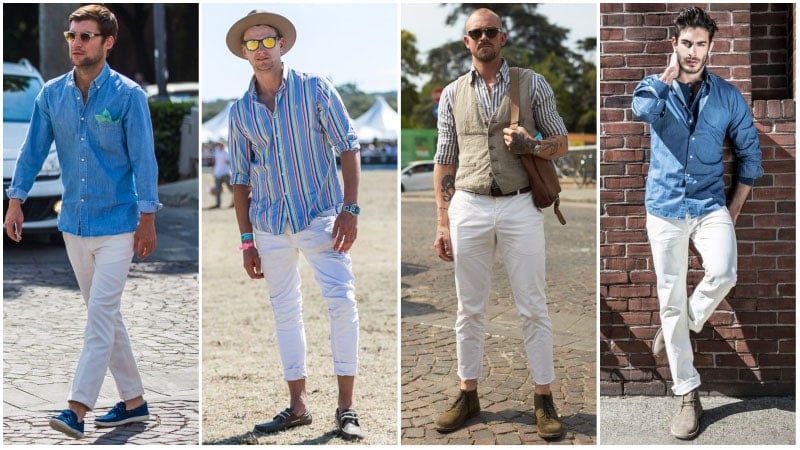 SHOP THE LOOK
White Jeans and Shoes
Although white jeans aren't quite as versatile as other styles, they can still be paired with a variety of shoes. Selecting the right footwear for your look just depends on what you're wearing on your upper half. If you're donning a blazer or formal shirt, try derby shoes. If you're rocking a T-shirt and casual jacket, sneakers will make a better choice. Loafers can also make a good option and will achieve a laid-back yet luxurious look. Boots are another type of footwear to consider and can change your overall look depending on their style. For example, chukka boots will create a smart casual appearance while chunky, lace-up boots will project an urban vibe.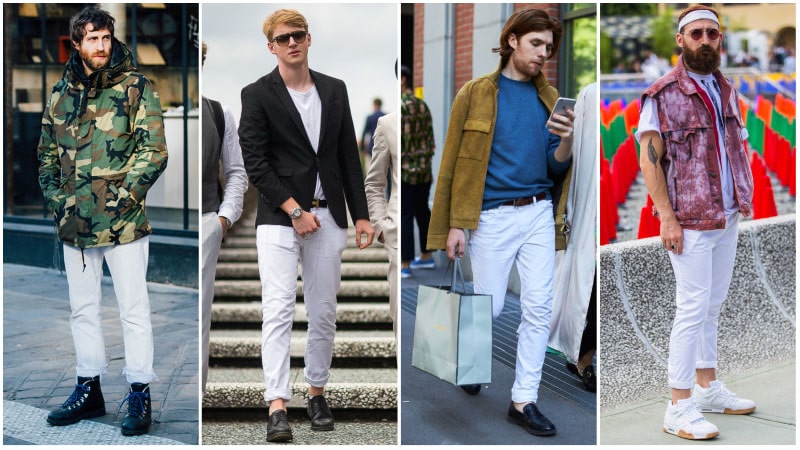 SHOP THE LOOK
White Jeans in Winter
While many men view white jeans as a purely warm-weather item, they can be worn in winter too. To make these light trousers appropriate for cooler climates, all you need to do is partner them with darker colors. Black is a particularly good choice and is ideal for achieving an awesome monochromatic outfit. To rock the look, partner your jeans with a grey sweater, black leather jacket, and black beanie. Just be sure that there's no rain or snow forecast for the day as bad weather can quickly turn your pants from white to grey.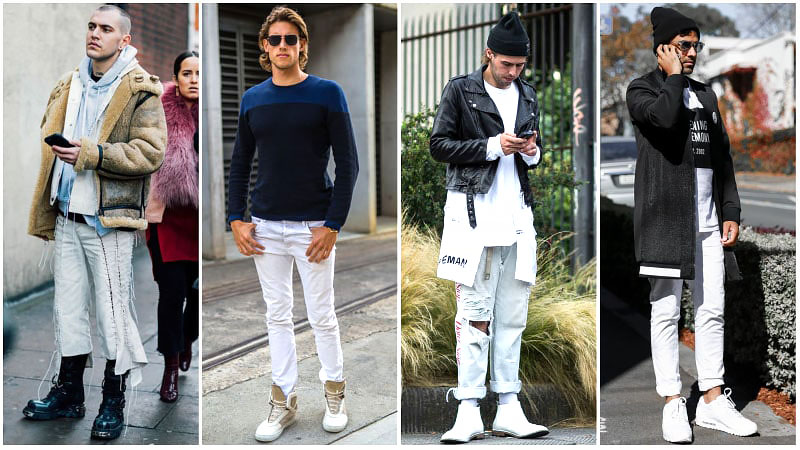 SHOP THE LOOK
White Jeans in Summer
White jeans look awesome in summer and are a great alternative to darker, blue, and black styles. They're especially ideal for lightening up your look and giving it a fresh appearance. One of the best ways to wear white denim in summer is to pair it with a white T-shirt, denim jacket, and sneakers. The result will be a fresh and fashionable casual look that's perfect for warm summer days. Alternatively, if you're heading somewhere more formal, try a white shirt, beige blazer, and brown accessories for an outfit that looks sleek in the sun.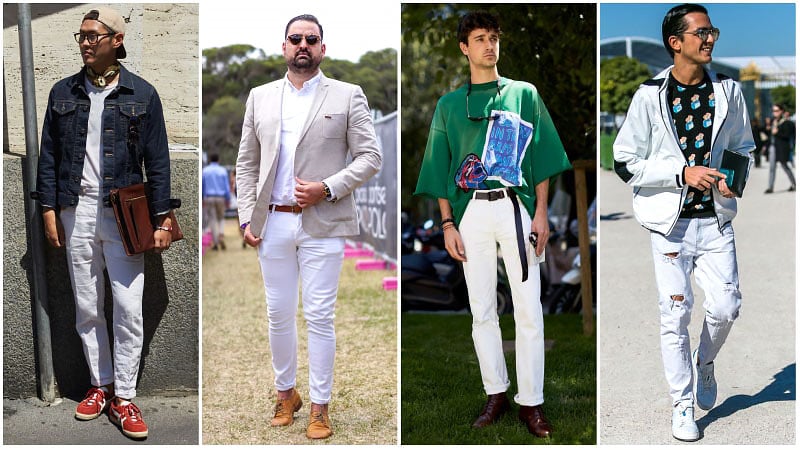 SHOP THE LOOK
How to Remove Stains from White Jeans
While white jeans usually look great, the smallest stain or patch of dirt can make them appear awful. As such, knowing how to remove stains and properly clean your pants is essential for any owner of white denim. If you do get a mark on your trousers, be it from food, grass, or anything else, clean them immediately to avoid a stain appearing. Start by removing excess dirt or liquid with a dry cloth. Then, use sparkling water to clean the area. Finally, wash your jeans, and remember to add a little bit of bleach to keep your white jeans light and bright.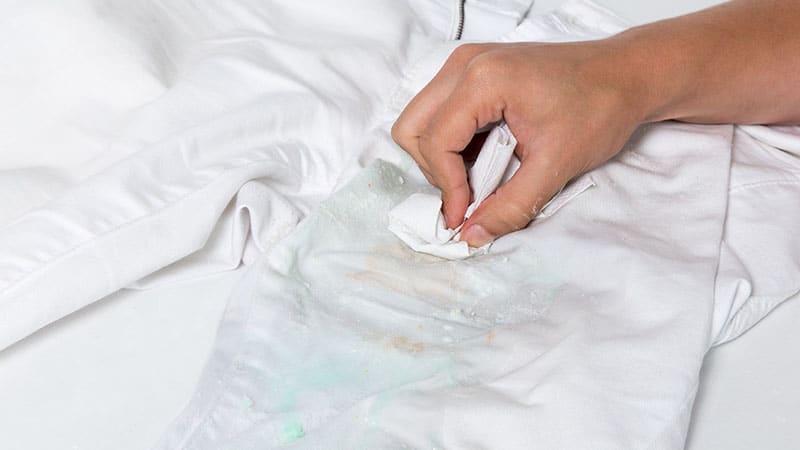 What to Wear with White Jeans
White jeans are best paired with classic styles and a minimalistic color palette.
Rock your white jeans with a black leather jacket in winter.
Wear white jeans with a T-shirt and a blue denim jacket in summer.
Try an all-white outfit with white jeans for a bold statement.
Pair your white jeans with a shirt for a smart casual look and a blazer for a semi-formal style.
Choose from sneakers, boots, loafers, and derby shoes to complete any outfit with white jeans.
FAQs
What looks best with white jeans?
White jeans make a pretty big statement on their own, so it's best to keep the rest of your outfit and the color palette simple. Black and white is an excellent monochromatic combination, but white also looks remarkably fresh and crisp when worn with blue. However, because it is such a universal shade, you really can rock it with whatever color tickles your fancy.
What's the rule for wearing white pants?
There's an outdated saying from the 1960s that you can't wear white after Labor Day, but this idea is very archaic. White jeans are generally acceptable year-round; however, white pants made of lighter fabrics such as linen are better suited for warmer locales and the summer months. Of course, if you're a little clumsy, an excellent personal rule for wearing white is don't drink red wine or order squid ink pasta.
Should you size up in white jeans?
White can be a bit more see-through than darker colors and can be a little less forgiving, so sometimes, sizing up can be a good move. However, you don't want to be swimming in excess fabric, so it's also about finding the right cut. Opt for a straight leg or boot cut jean, rather than skin-tight to find that balance.
Are white jeans in Style?
While white jeans will never be as prevalent as the classic blue jeans, nowadays, they're a staple that is always in style, especially on the spring/summer runways.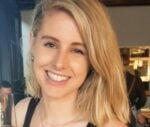 Taylah Brewer holds a bachelor's degree in fashion and business and is a skilled writer with several years of experience in the world of online content creation and copywriting. She is passionate about fashion, beauty, and all things lifestyle-related and has been writing for The Trend Spotter since 2016. She currently works as the Head of Digital & Ecommerce at White & Co.
SUBSCRIBE TO OUR NEWSLETTER
Subscribe to our mailing list and get interesting stuff and updates to your email inbox.