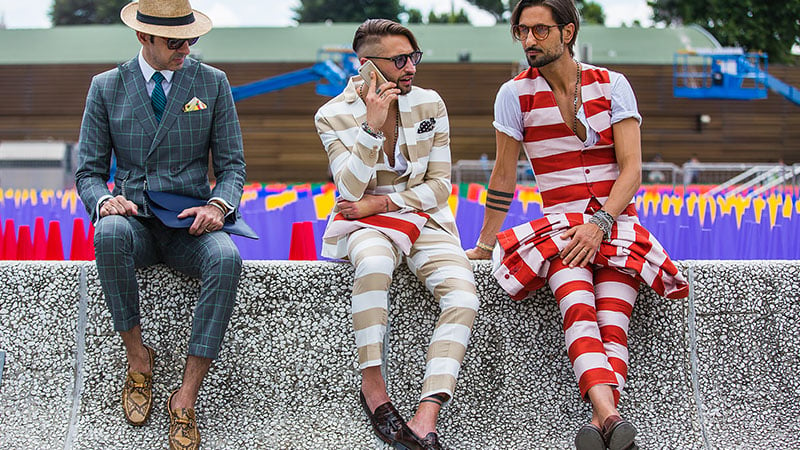 In today's fashion-forward world, going sockless is a cool statement. Gents who dare to don their shoes without socks are rewarded with a stylishly modern appearance that oozes confidence. Whether you partner your sockless feet with a casual and relaxed outfit or a sharp and sophisticated style, the edgy look can work. If that's not enough to convince you to try this dominating menswear trend, think about the practicality. Exposing your ankles is a multi-purpose way of dressing. It both helps you to stay cool in summer and keeps your appearance more polished than sandals or flip-flops. All you need to know is how to wear shoes without socks in style, so you end up looking suave not silly.
Shoes Without Socks
Loafers Without Socks
Loafers are the easiest type of shoes to wear without socks and the best choice for those who are inexperienced in going sockless. They're also versatile and can pair well with outfits ranging from casual through to semi-formal. If you're aiming for a sharp, semi-formal style without socks, choose a classic Penny or Gucci loafer. For a more casual look, opt for a tassel loafer in leather or suede.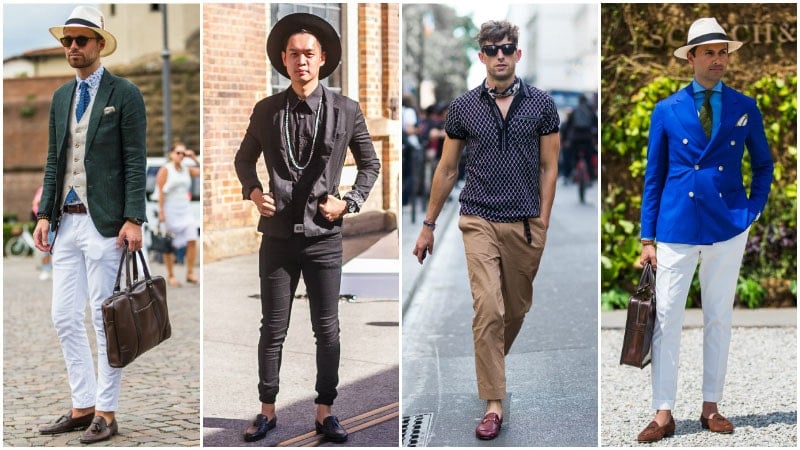 Brogues Without Socks
Brogues may be more challenging than loafers to wear without socks, but they can still make a stylish option. The lace-up style of brogues appears more polished and sophisticated than slip-on shoes. This means they're an ideal type of footwear to pair with smart casual attire. As brogues already create a statement with their perforated designs, wearing them without socks will create a standout feature. You can choose whether you want to play up this uniqueness or play it down with the rest of your outfit. By pairing sockless brogues with neutral colors and designs, you'll create a sharp and stylish appearance. By pairing them with patterns and bold colors, you'll create a distinct and eccentric style.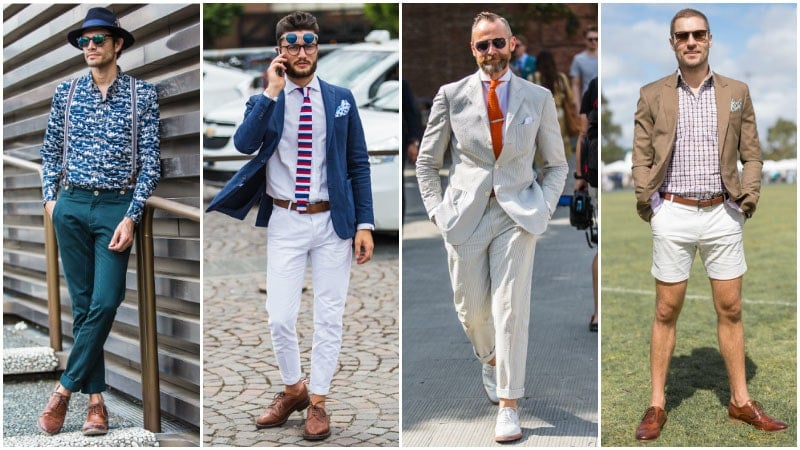 Boat Shoes Without Socks
Boat shoes are a common footwear choice for summer and appear naturally stylish without socks. Whether you're headed out for a day of sailing on a yacht or simply grabbing some Sunday brunch, boat shoes and bare ankles make a great choice. To make the most of this preppy look, pair your boat shoes with some Southern California style. Cropped chinos and a button-up shirt or polo is a fool-proof outfit. Just add a blazer for more formal occasions and settings.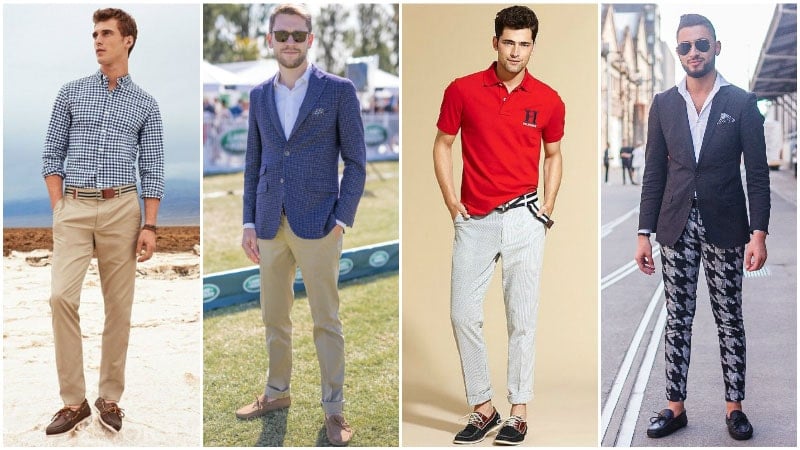 Monks Without Socks
Monk strap shoes can appear edgy and contemporary when donned without socks. The formal shoe just demands a more polished outfit. While the flash of your ankle will add a relaxed touch to your outfit, it should stand alone as a statement. Keep the rest of your look semi-formal and sleek or you'll risk appearing awkward and uncoordinated. As most gents tend to go sans socks in summer, you can opt for a suit that's seasonally appropriate with lightweight fabric and a relaxed shape. The design, on the other hand, should be sharp and classic.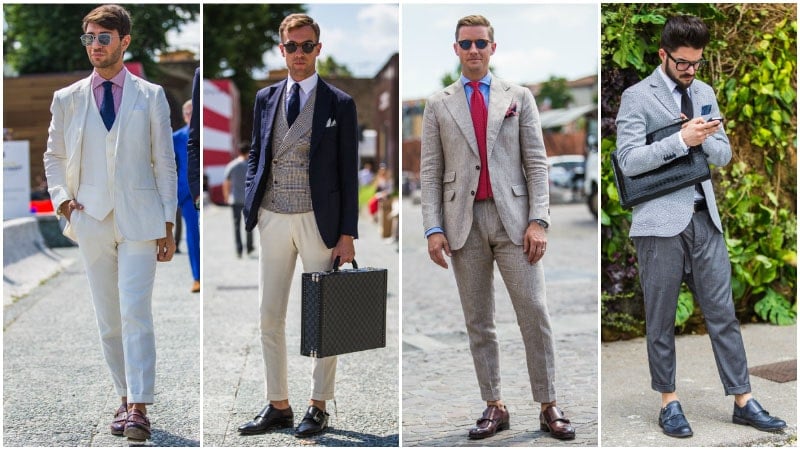 Slip-Ons Without Socks
Slip-on shoes are an easy style of footwear to wear without socks. As they're casual in appearance, they tend to work best for relaxed and informal occasions. This is especially true for slip-on sneakers and espadrilles. While sneakers are a great way to wear this trend in the colder months, espadrilles worn without socks are a quintessential summer look. Other types of slip-on shoes, including slippers, can also be worn on their own. A modern alternative to loafers, slippers and their quirky style appear unique and trendy when paired with smart casual and semi formal styles.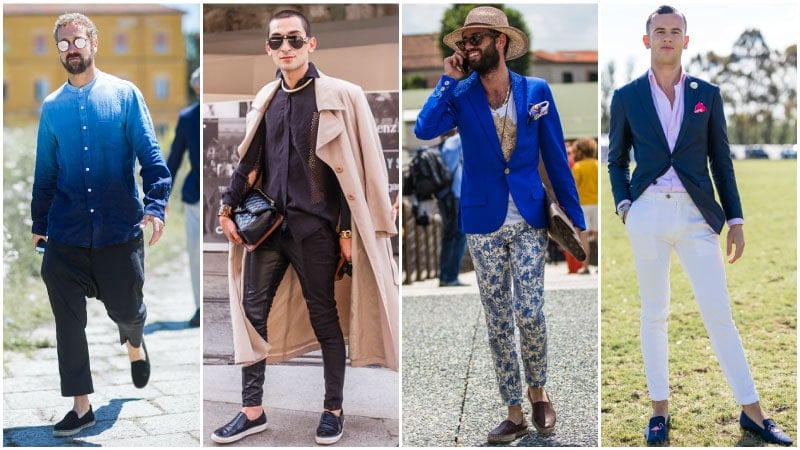 Sneakers Without Socks
Sneakers have become a stylish streetwear option and are no longer just for the gym. Today, they can also easily be worn without socks. All you need to do is choose the right type of sneaker and pair it with the right outfit. Low-cut sneakers are the best option. They'll show off your ankle and allow you to make the most of this trend. As for color, white is currently the epitome of sharp and simple dressing. The minimal style of white sneakers makes them the best and easiest option for sockless, smart casual looks.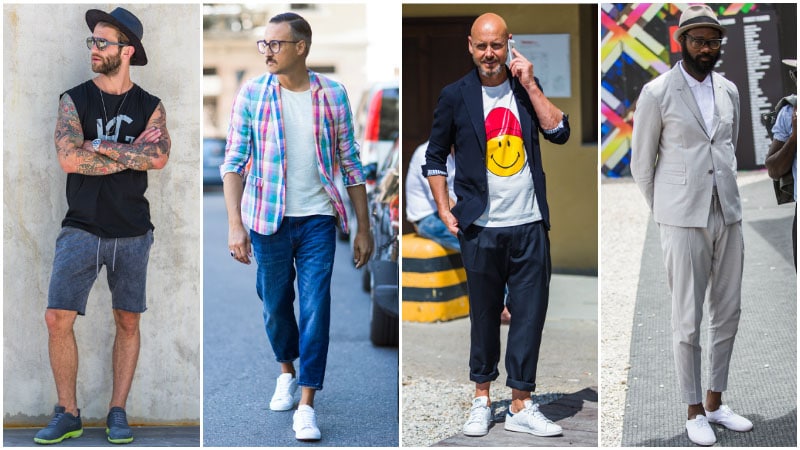 When to Wear Shoes Without Socks
You can go sans socks just about anywhere. Whether you're off to a dinner, a cocktail party, or getting a coffee, it's more acceptable than ever to leave your socks at home. The style can easily work for many dress codes including smart casual, and semi-formal. Of course, there are some occasions when socks are still a mandatory item. Business casual and formal attire should always be worn with socks whether it's to the office, a conference, a meeting, or lunch. The look of going without socks is too casual for these occasions and may appear disrespectful.
Smart Casual Attire
Events and occasions that call for smart casual attire are a great opportunity to forget about wearing socks. To make the style work, you just need to find the right balance between polished and relaxed. Loafers, slip-ons, sneakers, boat shoes, and monks are fantastic shoe choices for smart casual occasions.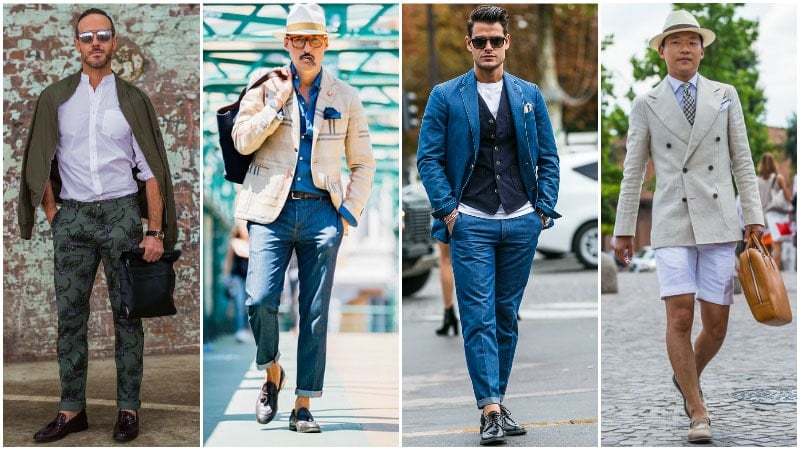 Semi-Formal Attire
While wearing shoes without socks is never ok for formal occasions, it can work for semi formal events. The key is to make the rest of your outfit, including your shoes, sharp and polished. Oxford, brogues, derby, and loafers will work the best. Avoid sneakers and boat shoes. They will knock your outfit out of the semi-formal dress code when worn without socks.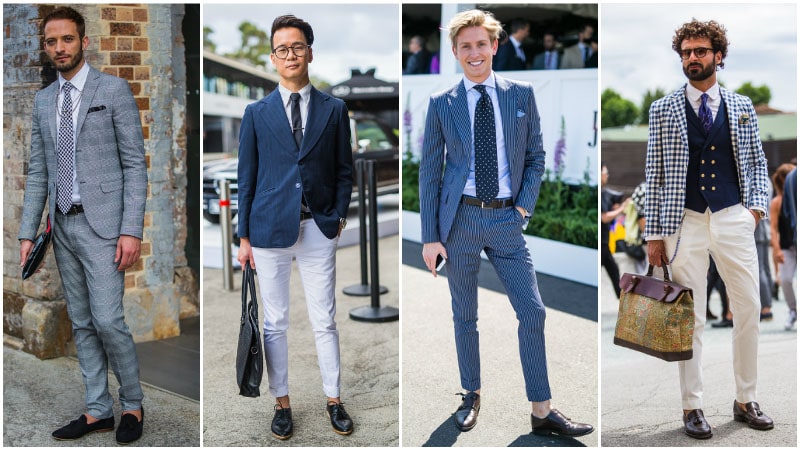 How to Wear Shoes Without Socks
Only wear socks without shoes on suitable occasions.
Without socks, your shoes will stand out, so make sure they're stylish, clean, and un-scuffed.
If you like the appearance of going sockless but not the feel, invest in some invisible socks that can be hidden underneath enclosed shoes.
Ensure the hems of your pants sit (or are cuffed to) two inches above your shoes and that they are slim-cut but not tight.
Going sockless can mean sweaty feet and smelly shoes. Invest in items such as a cedar shoe tree, insoles, and shoe deodorizer to help keep your footwear fresh.
Jeans, trousers, and shorts can all work without socks, but slim-fit chinos tend to look best.
FAQs
What shoes can you wear with socks?
You can wear socks with most closed-in shoes, but the critical factor is to choose the right kind of socks. Dress socks are appropriate for most men's dress shoes; just try to match them to the color of your trousers. If you're opting for boat shoes, slip-ons, or loafers, invest in a good pair of invisible socks. When it comes to sneakers, it depends on what you're wearing them for. If you're off to the gym, wear good sports socks that won't rub and will absorb sweat; however, if you're wearing them for the style, it's really up to you.
Are you supposed to wear socks with sock shoes?
It's really up to you. Part of the sock sneaker's appeal is the slim silhouette, so wearing socks can create unnecessary bulk. However, if you think you might be in for a sweaty foot day, you can try throwing on a pair of thin or low-profile socks.
How do you match your shoes with socks?
The best approach is to match your socks to your trousers rather than your shoes. This ensures the leg line isn't broken up or that you end up with a bootie effect. However, if you're feeling bold, you can choose a tonal sock with a simple (non-novelty) pattern such as stripes. Full-on matchy-matchy socks are more important in formal settings than for smart-casual or casual looks.
How do you wear socks and sneakers?
Sneakers are very versatile when it comes to sock types. Start by asking yourself if you're wearing sneakers for the gym or fashion. For the gym or any kind of workout, it's best to wear sports socks, which absorb more sweat and don't rub. However, for style, you have a much more comprehensive selection. Long socks look great with street styles like Stan Smiths, Converse, and high-top designs. Ankle socks or invisible socks are great for sleeker, sportier styles and an athleisurewear vibe.
Is it OK to wear black socks with white shoes?
It's really going to depend on the rest of your outfit, as to the color of the socks you wear with white shoes. Most gents opt to go a white or invisible sock if they're wearing white sneakers, mainly because this tends to be a more casual or smart-casual vibe. However, if you're wearing them with black jeans, then a dark sock might be the better choice. Black socks can also work well with white sneakers if your overall look is quite athletic, especially if other parts of your outfit are black, such as a shirt or sweater.
What color socks do you wear with black sneakers?
Black socks are the safest choice for black sneakers. Avoid white socks unless you want to look like a school kid.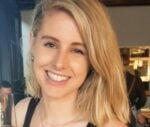 Taylah Brewer holds a bachelor's degree in fashion and business and is a skilled writer with several years of experience in the world of online content creation and copywriting. She is passionate about fashion, beauty, and all things lifestyle-related and has been writing for The Trend Spotter since 2016. She currently works as the Head of Digital & Ecommerce at White & Co.
SUBSCRIBE TO OUR NEWSLETTER
Subscribe to our mailing list and get interesting stuff and updates to your email inbox.