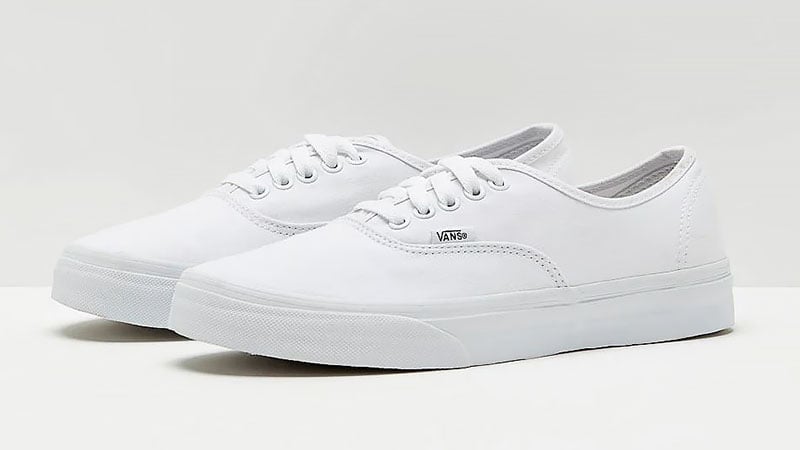 Keeping white shoes clean is a big challenge for any sneaker fan. The light colour means your sneakers will show mud and discolouration more easily. When it comes to Vans, it's even more difficult because the uppers are made from cotton canvas, which traps dirt. If you're not careful, that box fresh finish will be gone in seconds. Luckily, there are several cheap and easy ways to return your favourite white Vans to their former glory. Keep reading to find out how.
RELATED: How to Wear Vans
How to Clean White Vans
Hydrogen Peroxide and Baking Soda
Hydrogen peroxide and baking soda are a well-known cleaning combination. Peroxide is a bleach and disinfectant, while baking soda is a natural abrasive and deodoriser. Together, they have the power to lift away dirt and leave your kicks looking fresh. To clean your Vans with hydrogen peroxide and bleach, you'll need to make a paste of the two ingredients, plus a little water. Use an old toothbrush to apply the mixture to your Vans, then leave them out in the sun to dry. Peroxide won't bleach your shoes back to white on its own. The liquid evaporates before it can do its work, but the baking soda paste means it will stay in place long enough to make your Vans sparkling clean once again!
Bleach
Bleach and dishwashing liquid is another dynamic duo you can use to clean your white Vans. However, you need to be very careful with the types you use: if they contain chlorine and ammonia, do not mix them. If your bleach and dishwashing liquid are safe to combine, mix a small amount of each in a plastic bowl, then dilute with a cup of water. This time you want to use a cloth, instead of a toothbrush, soaked in the liquid to scrub your shoes clean. You can control how white you want your Vans to be with this method. As shown in the tutorial below, you can stop scrubbing halfway through if you prefer a slightly more 'beaten up' look to your sneakers.
Washing Machine
Using a washing machine is the simplest way to clean your white Vans. However, this method works best if your shoes aren't too dirty. If there's mud on the soles of your shoes, make sure you clean it all off first. Before you put your sneakers in the washing machine, prep them by spraying them with regular bathroom bleach. A spray bottle is ideal because it will protect your hands from the chemicals. To ensure your white Vans stay white, put them inside a white pillowcase. Then run your washing machine on the standard, cold cycle for whites with no spin and a double rinse. This tutorial will show you which mistakes to avoid, as well as comparing the machine method to using plain baking soda and water.
Magic Eraser
This is one of the best ways to restore your favourite pair of white sneakers. Magic Erasers – also known as Cleaning Erasers or Eraser Pads – are spongy blocks that get rid of stains without chemicals. The secret is in their chemical composition; they are made from melamine foam, which activates when you wet it. This makes the sponge act like ultra-fine sandpaper. You can then use it to rub away marks from walls, floors and even bathroom tiles – and your white Vans! As shown in the tutorial below, a Magic Eraser works miracles in seconds. With the added power of a little bleach, your Vans will be back in action in no time!
How to Wear Vans
Vans has been making iconic skate shoes since 1966. The brand was founded by brothers Paul and James Van Doren and their friend Gordon C Lee. Their original sneakers – now known as Vans Authentic – were an instant hit for their casual, comfortable design and California cool vibe. Since then, Vans has released five more styles including the beloved SK8-Hi, Era and Slip-On. But you don't need a board to wear them: these versatile shoes are adaptable enough to wear with any outfit, and there's a style for every aesthetic. Check out the Vans range and get some styling inspiration for your favourite pair.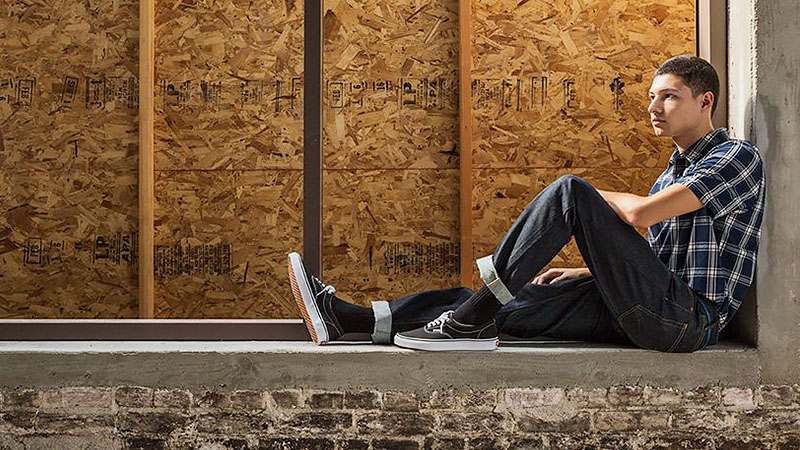 SUBSCRIBE TO OUR NEWSLETTER
Subscribe to our mailing list and get interesting stuff and updates to your email inbox.