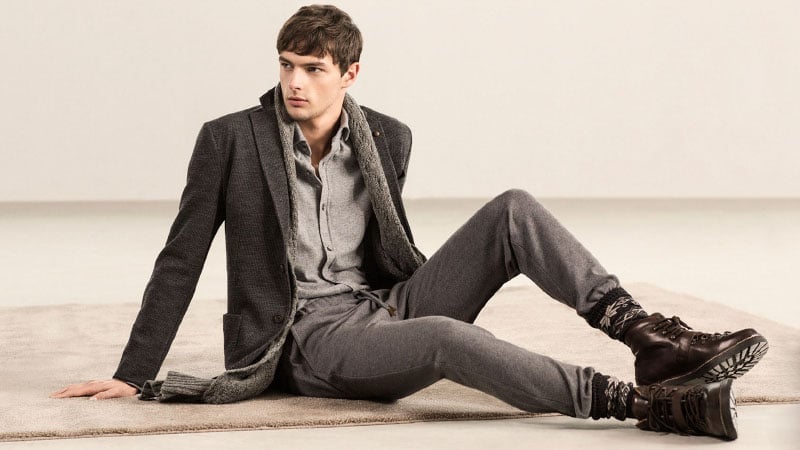 Men's joggers have grown in popularity and presence for the past few years. It's a trend further boosted by an increasingly home-based workforce, the flourishing lounge and athleisurewear trends, and a general embrace and acceptance of a more comfortable lifestyle. As such, there are a plethora of choices on the market. Whether you're looking for something smart but casual, an everyday pair, a style that will level up your workout, or something to wear on a lazy Sunday on the couch, this guide on how to wear joggers will have you covered!
What are Joggers?
Joggers have come a long way since their origins as exercise wear. These traditional sports pants are known for their comfortable, lightweight material and athletic appearance. Originally designed to fit loosely and for sweating it out, joggers are now a stylish and versatile wardrobe staple. With a tapered leg that fits closely around the ankle, joggers feature an elastic waist or drawstring closure and are ideal for those seeking a mixture of function and fashion. Today, they're made from a wide range of materials and come in fits and styles that are more sophisticated and tailored. Whether you're lounging around the house or heading out for a night on the town, joggers have become an essential item in modern fashion.
Types of Joggers
Smart Joggers
If you want to switch up your jeans, chinos, or tailored trousers for something a bit more comfortable, joggers may be the perfect answer in smart casual situations. However, you can't just chuck on your baggy grey fleece pants and be on your way. Instead, look for tailored, tapered cuts that use more refined fabrics like cotton or linen. You can still opt for the elastic waistband but designs with a fly (or faux-fly) better mimic regular trousers without sacrificing comfort. Wear this jogger style with a dress shirt and loafers, polo and boat shoes, or crisp white sneakers and a classic coat like a pea or trench.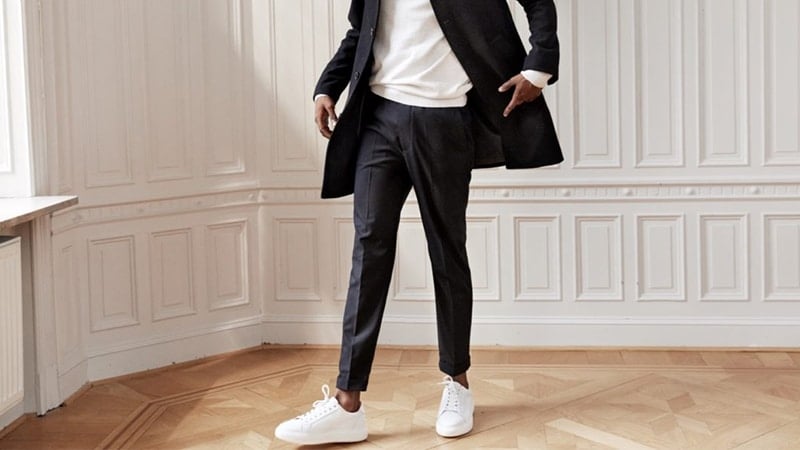 Sporty Joggers
Joggers got their start in the sports industry. As such, they're an excellent selection for your next epic training session. However, the style has evolved to incorporate the latest fabric technologies that include features like a four-way stretch, sweat-wicking, increased breathability, and materials that aid muscle recovery. There's also been a general move away from the baggy styles that once dominated, with more slim-fitting flattering designs now available, so there's no sacrificing style for comfort. Of course, there is still something special about slipping into a super-baggy pair of joggers post-workout for the ultimate recovery feeling.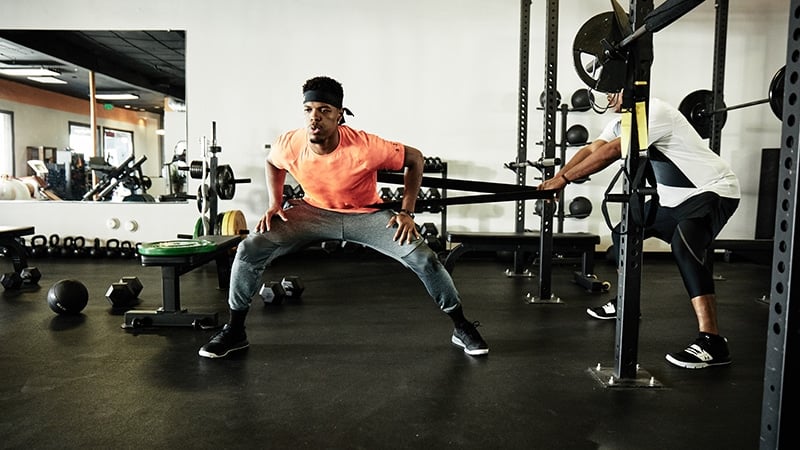 Everyday Joggers
Joggers are a great choice for everyday wear, whether you're off traveling, exploring locally, running errands, or just hitting the pub with your mates. There's such a variety of designs and materials that are great for casual daily wear. Look for cargo-style pants that match great with boots, or embrace an athleisure vibe with slim-cut fleece or cotton joggers paired with a pair of fresh kicks, a simple shirt, and a bomber jacket. Classic black is always a great option if you're uncertain, but those feeling bold should look at some of the brightly colored designs from brands like Paul Smith and Todd Snyder.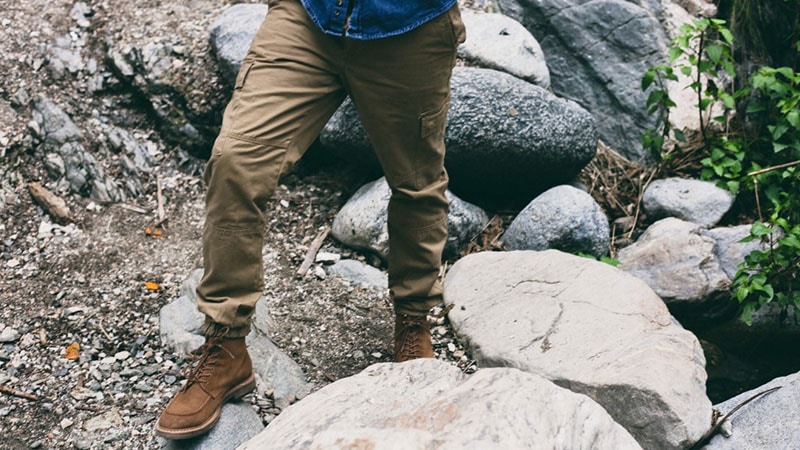 Lounge Joggers
Lounge joggers are the epitome of loungewear and work-from-home vibes. In general, they'll have a loose cut through the legs, so you don't feel constricted in any way, and they will use soft fleece or French terry that caresses your skin like a dream. These joggers are best paired with a comfy t-shirt, your favorite hoodie, or a warm pair of socks, or take it all the way by rocking a Hugh Hefner-style robe.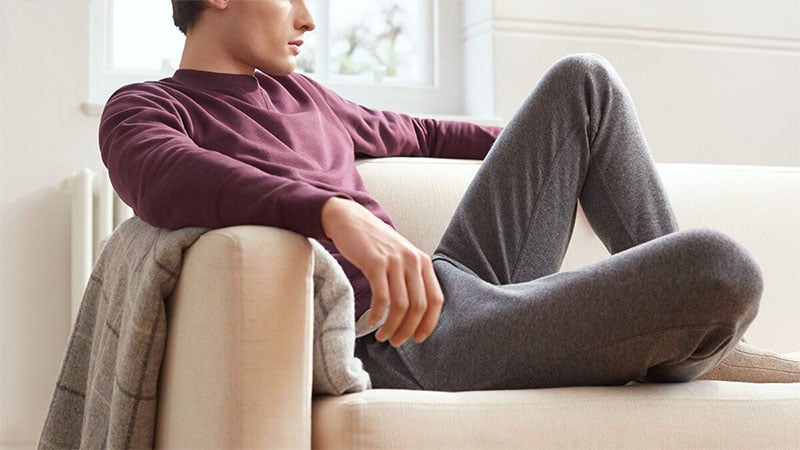 How to Wear Joggers
Sweatshirts and Joggers
While a sweatshirt and joggers may be your go-to look for lazing on the couch, it can also be a seriously stylish streetwear outfit. With the rise in athleisure trends, the combination has become more and more appropriate for everyday wear. To keep the look more polished than your loungewear, opt for stylish sneakers, boots, or structured items.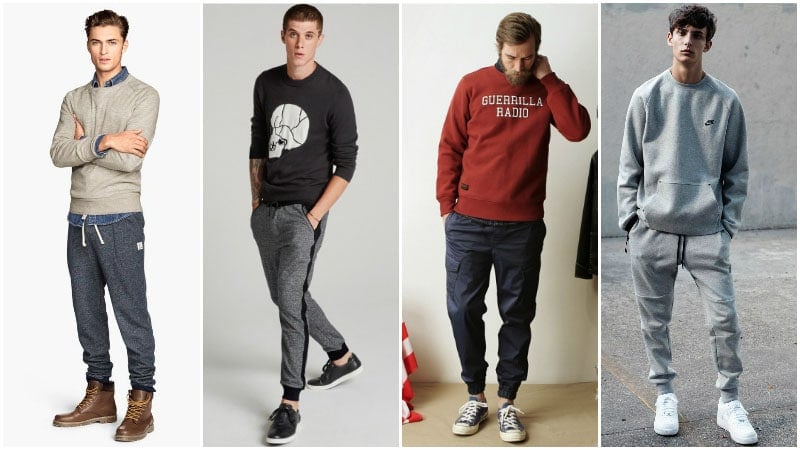 T-Shirts and Joggers
Joggers are intended to appear casual and relaxed. By pairing them with a T-shirt you'll complement this style and create an easy weekend look. Not to mention, you'll also be incredibly comfortable. Just make sure your T-shirt is well-fitted, and the bottom of your joggers sits tight at or above your ankles. This will maintain a cool, clean aesthetic while providing a more tidy silhouette.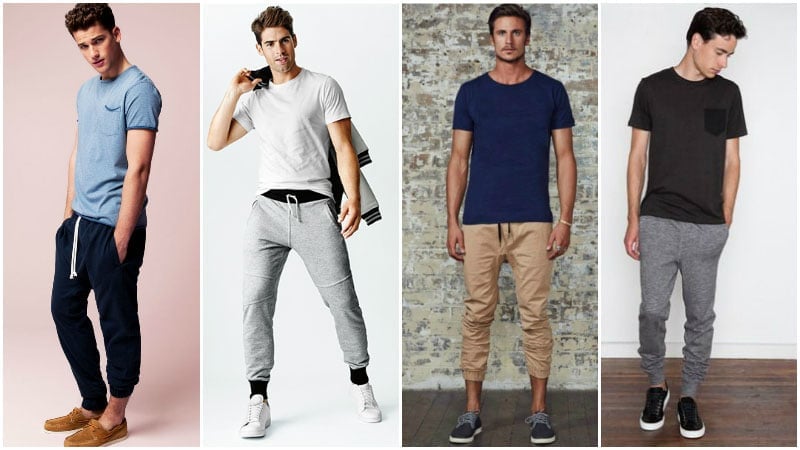 Track Jackets and Joggers
The humble track jacket is cool once again and waiting to be paired with your joggers. Playing up the overall sportswear appeal of your outfit, a track jacket and jogger combination carries a seriously athletic vibe and can be styled with additional outerwear.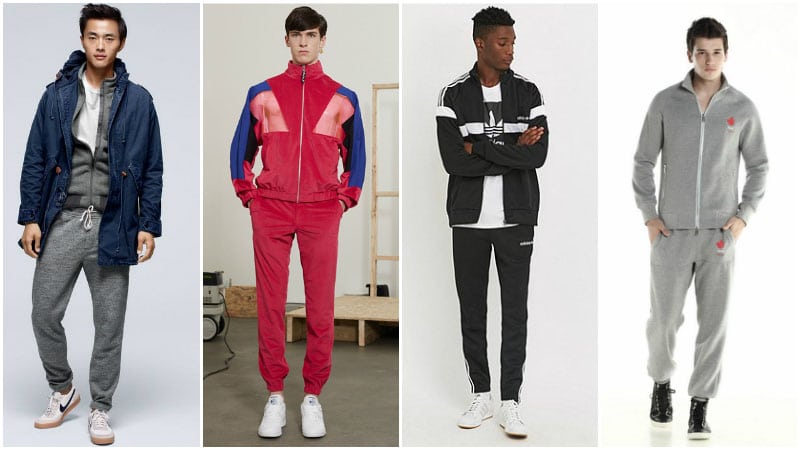 Hoodies and Joggers
These days, a hoodie paired with joggers is an appropriate casual option. It can be great for simple errands and occasions, such as going to get coffee. If you want to make your basic joggers and hoodie a little more stylish, try multiple layering options for an edgy street-inspired look.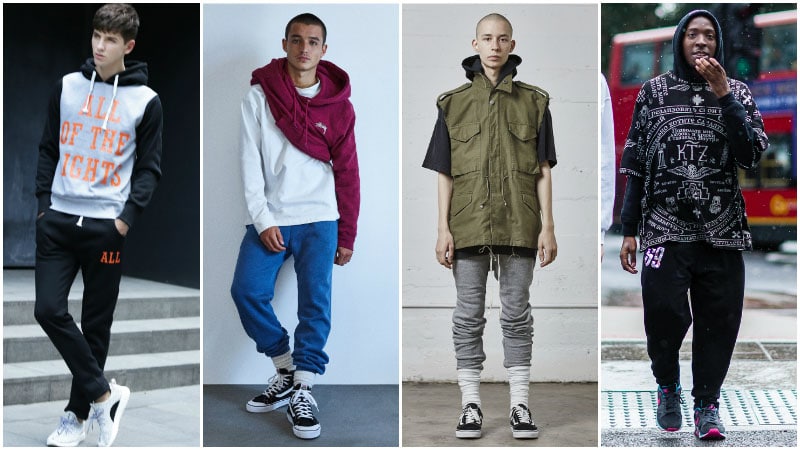 Denim Jackets and Joggers
A denim jacket is a fantastic outerwear choice to accompany joggers. The casual yet stylish piece can finish off your outfit and will create a cool weekend look. If you want to introduce some more structure, then a denim jacket and joggers are a great styling option.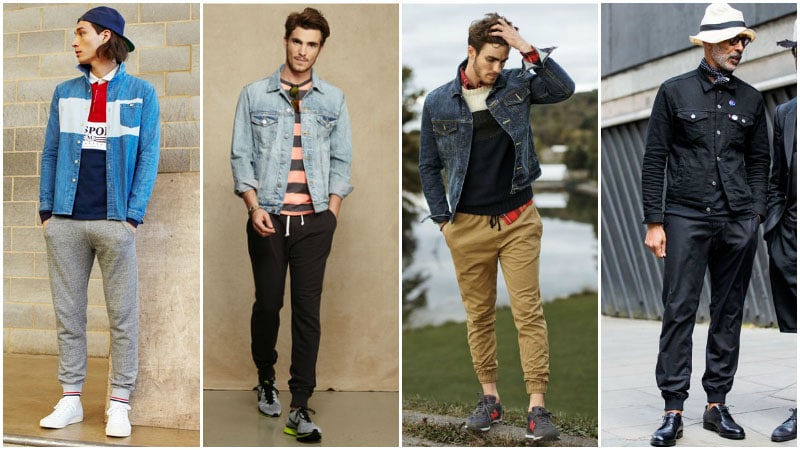 Biker Jackets and Joggers
Although you may be more inclined to wear your favorite skinny jeans with your biker jacket, you should try your joggers instead. Mixing the soft and comfortable sportswear pants with a tough leather jacket provides a contemporary athleisure look.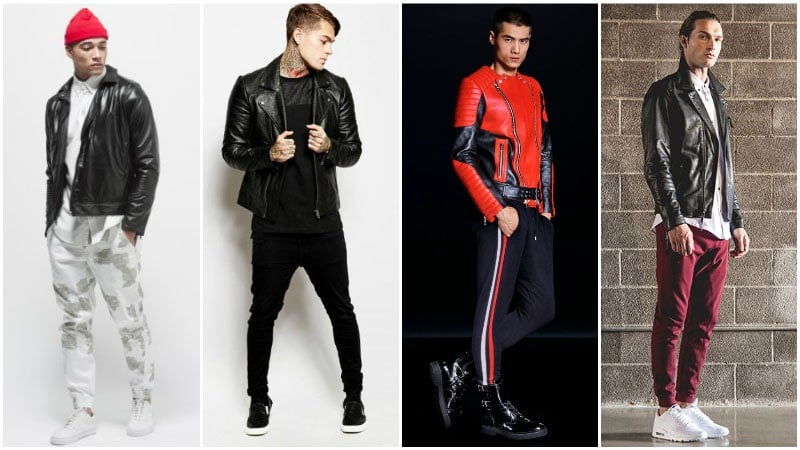 Blazers and Joggers
Joggers are surprisingly versatile and can even be paired with a blazer. Part polished, part relaxed, the unique combination creates a striking appearance. To make the look work, keep your color palette dark or neutral and opt for a less structured blazer. Instead of a dress shirt, choose between a casual button-up or your favorite piece of knitwear.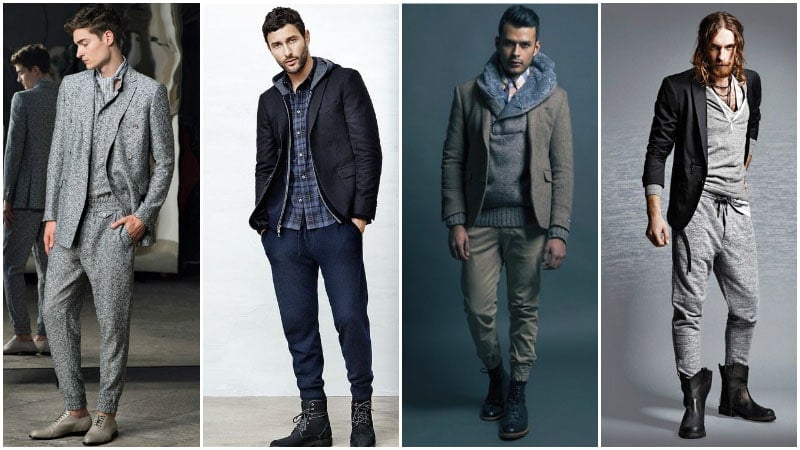 Polo Shirts and Joggers
Like joggers, polo shirts have a sportswear vibe, meaning the two go well together. To keep the look casual, choose soft and light styles of joggers. If you want the look to appear more polished, be sure to pick joggers in a slightly heavier fabric. If your joggers are a plain color, you may also want to consider a patterned polo shirt. The detail will immediately make your shirt the feature of your outfit and your joggers the supporting act.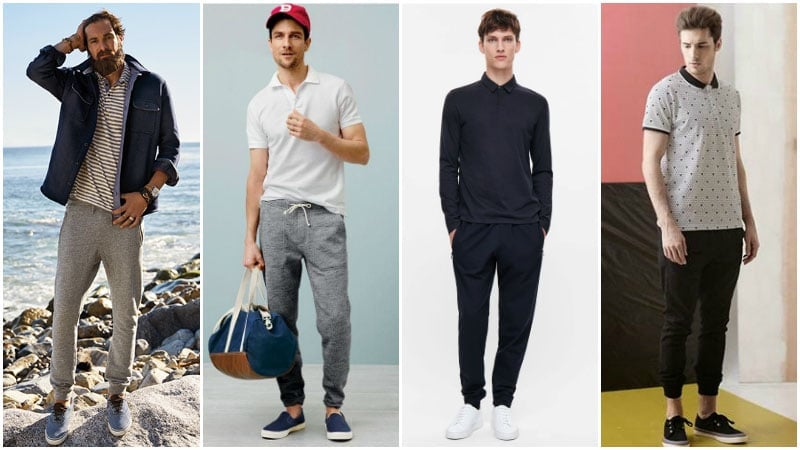 Dress Shirts and Joggers
A dress shirt and joggers can be an ideal alternative to your regular smart casual outfit. While it may not seem like the pair should work, they make a surprisingly stylish combination. A neat, long-sleeved Oxford shirt is a great option and can be worn loosely tucked in for a more dressed-up look.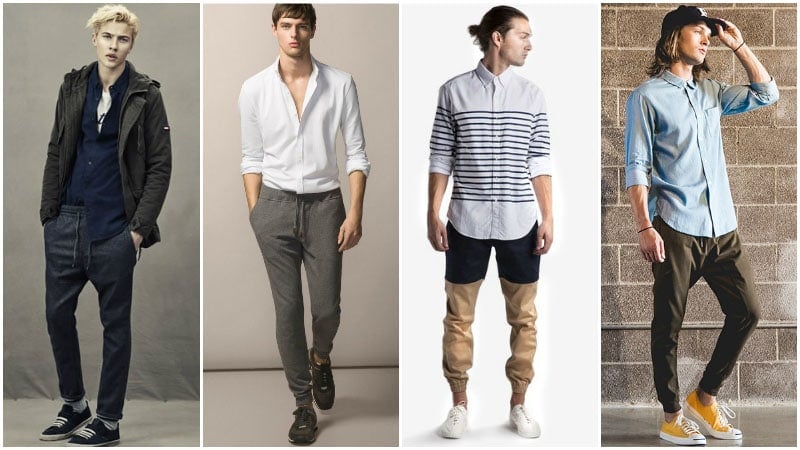 Bomber Jackets and Joggers
The bomber is one of the most popular jacket styles dominating the streets and a must-have item for your wardrobe. It's also the ideal jacket to wear with your joggers. Not only does its cropped length allow you to show off your stylish pants, but its relaxed, athleisure vibe also complements their style.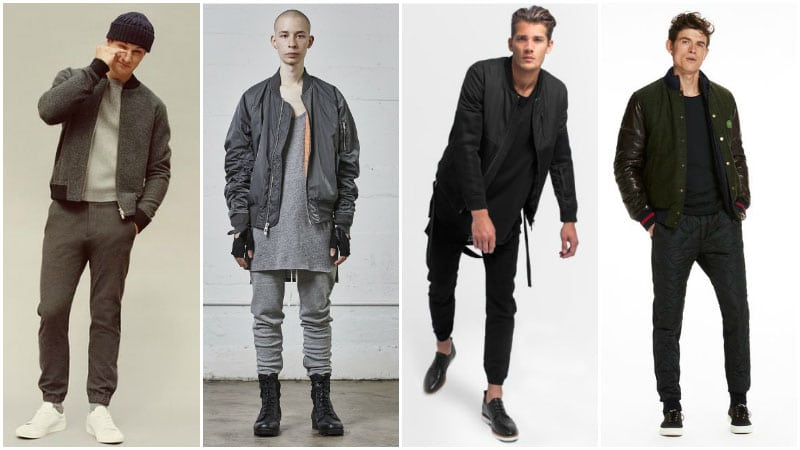 What Shoes to Wear with Joggers
Joggers can be worn with a surprising variety of shoes. If you're looking for a fail-safe option, however, you can't go past high tops or sneakers. Ensure your sneakers are clean to keep your look polished and sleek. If you're after a smart casual look, you can wear more formal shoes, but be aware that they're tricky to get right. Shoes without laces that can be worn without socks are the best option. As such, boat shoes or loafers can be an ideal choice. To amp up your look, select a contrasting color shoe.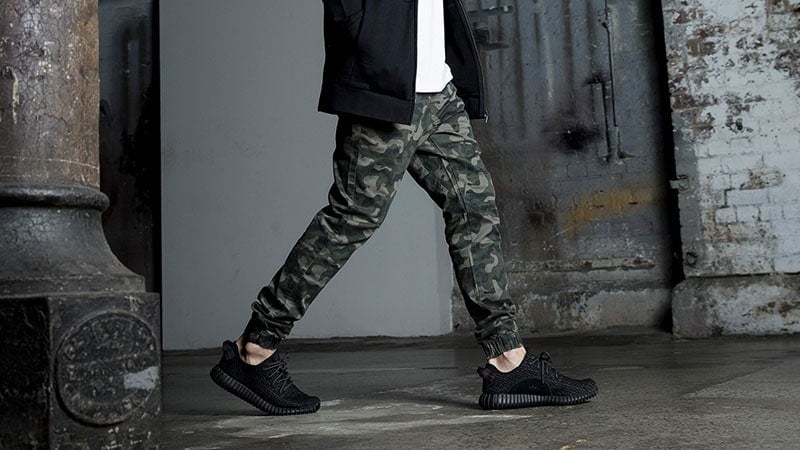 Joggers Style Tips
Keep your overall aesthetic casual and relaxed.
For maximum style, coordinate with designer brands.
Go for multiple layering options to mix up your look.
Add polish to your look with a slim silhouette and the addition of more structured styles.
When pairing joggers with a jacket, opt for shorter styles, such as a bomber, biker or denim jacket.
Have a good pair of stylish trainers on hand as your go-to footwear for when you're wearing your joggers.
How to Wear Joggers FAQs
What are joggers?
Originally made for exercise, joggers are a traditional style of sports pant. Lightweight and comfortable, joggers have an athletic appearance and taper in at the leg. Most also tend to have an elastic or drawstring waist and elastic at the ankles. Today, thanks to the booming trends of athleisure and sports luxe, joggers have become a key wardrobe essential. No longer seeming out of place or cheap, joggers are now a cool and contemporary item when styled correctly. While you can still buy the basic sweatpants-style joggers, there are also many more sophisticated and slimline styles available.
How should joggers fit length?
Most modern cuts of joggers have a cuffed or elastic ankle, so they should sit level with your ankle bone. This length of pants means it's a great way to show off your shoes as part of the complete ensemble. Some looser, more traditional cuts may overhang a little thanks to extra room and bagginess.
Is it OK to wear joggers in public?
It's absolutely ok to wear joggers in public. If you're off to a smart casual occasion, opt for a tailored, tapered cut in fabrics like cotton and match it with a dress shirt or blazer. However, for everyday wear, a slimmer cut balances a flattering silhouette with comfort and looks great worn with a simple t-shirt and sneakers.
Should joggers be tight or loose?
Joggers can be either loose or tight. Looser styles are best suited for the gym, recovery sessions, and lounge-style pants. Meanwhile, tighter cut joggers are a bit more flattering and sophisticated, so they're excellent for everyday wear and can be dressed up with a bomber jacket, polo, or dress shirt.
What shoes look best with joggers?
The most effortless and natural choice of shoes to wear with joggers is a pair of sneakers. It could be a crisp white pair, classic black, or old-school dad-style — whatever you like. Tailored joggers can also be worn with boat shoes or loafers when you're dressing up more, but this can be a little trickier to pull off.
How do you pick out joggers?
The best way to pick a pair of joggers is to decide how you want to wear them. You'll need to look for different cuts, features, and fabrics if you plan on wearing them to the gym or for exercising, rather than if you want to switch out your regular chinos for everyday wear or dress them up a bit. Start by choosing a brand that caters to your intended use. For example, select Nike or Under Armour for sports styles; Gucci, Everlane, and Todd Snyder for smart styles; or Amazon Essentials and Lululemon for lounge styles. Then browse their range to find a pair you like.
Can I wear joggers to work?
Joggers in the workplace can be a bit edgy still, depending on the dress code. However, any place with a casual dress code that lets you wear jeans or chinos shouldn't have a problem with smart or everyday joggers, as you can style them much the same, and they look just as refined. Still, it's best to leave the really comfy loungewear styles for home.
What's the difference between sweatpants and joggers?
The terms sweatpants and joggers are often used interchangeably; however, there is a difference. Sweatpants generally use thicker, heavier materials that are warmer, while joggers are designed to be more lightweight and breathable. Joggers also tend to be more fashion-forward, with slimmer, tapered legs and cuffed or elasticized ankles.
What's the difference between tracksuits and joggers?
A tracksuit is an entire outfit consisting of (often matching) pants and a jacket that are worn over athletic or sports outfits. They're designed to be removed to compete, then put back on to stay warm (and so you're not just running about in your speedos or tight lycra running suit). They're often made of polyester and can have either tapered or straight legs in the pants. Meanwhile, joggers are a separate unit with slimmer, tapered legs, cuffed or elasticized ankles, and are made from lightweight fabrics like cotton.
Are joggers in style?
Thanks to the rise in athleisurewear and sports luxe trends, joggers are absolutely in style. Combined with a range of cuts for different occasions and a general embrace for more comfortable clothing, they're a must-have in any stylish gent's wardrobe.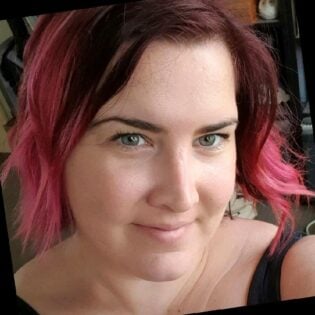 Alexandra Linde is an experienced writer holding a bachelor's degree in Journalism. She is the owner of Alexandra McKiterick Creative and has expertise in travel, fashion, fitness and lifestyle. Alex has previously written for Flightcenter, Travello, and Backpacker Deals.
SUBSCRIBE TO OUR NEWSLETTER
Subscribe to our mailing list and get interesting stuff and updates to your email inbox.