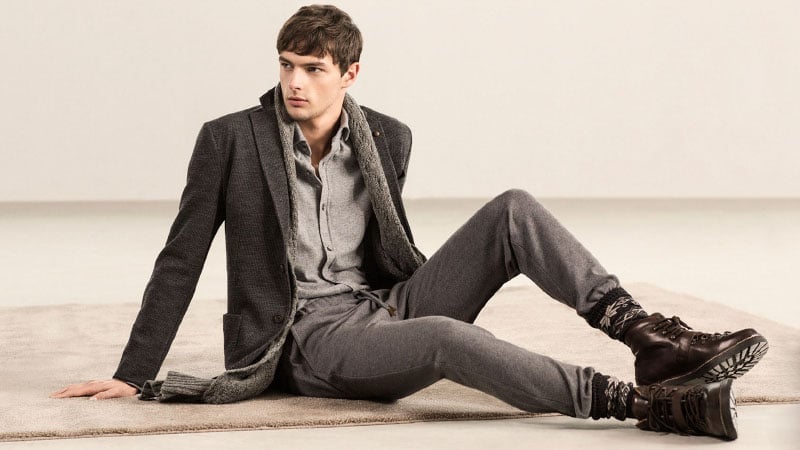 Men's joggers have been growing in popularity and presence for the past few years. It's a trend further boosted by an increasingly home-based workforce, the flourishing lounge and athleisurewear trends, and a general embrace and acceptance of a more comfortable lifestyle. As such, there are a plethora of choices on the market. Whether you're looking for something smart but casual, an everyday pair, a style that will level up your workout, or something to wear on a lazy Sunday on the couch, these brands have some of the best options. Choose from a range of fabrics, cuts, and technologies to suit your every need.
Best Joggers for Men
1. Everlane
Everlane has the best collection of fresh essentials that balances affordability and style. The direct-to-consumer company is based in San Francisco and serves customers in the United States and Canada. Michael Preysman and Jesse Farmer founded the brand in 2010 with the goal of revolutionizing transparency in the fashion industry. The men's joggers range from casual tailoring and cargo styles to uber-comfy, soft and stretchy designs using the ReNew fabric made from 100% recycled fibers. Each piece is intended to last, using the highest quality materials and timeless designs. Match them with a crisp white t-shirt and white sneakers for running errands, or grab the matching sweatshirt for lazy Sundays on the couch.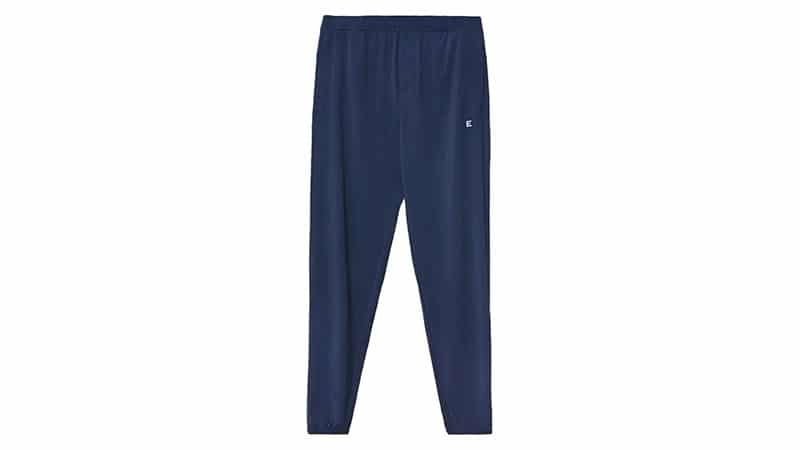 2. Gucci
Bring some classic Italian glamour to your jogger collection with the offering from Gucci. Every pair boasts Gucci's famous sartorial elegance, despite the more casual silhouettes. Choose pants that feature the iconic GG jacquard print, or opt for a pair of joggers from one of the collaboration lines. Doraemon has partnered for a range of manga-inspired styles, while Ken Scott brings his vibrant floral designs to every set. Plus, The North Face continues its crossover into the world of high fashion, combining its technical fabrics and expertise with Gucci's expert tailoring. Go the whole hog and invest in a matching set with joggers and jacket, or contrast the casual feel with a Gucci button-up.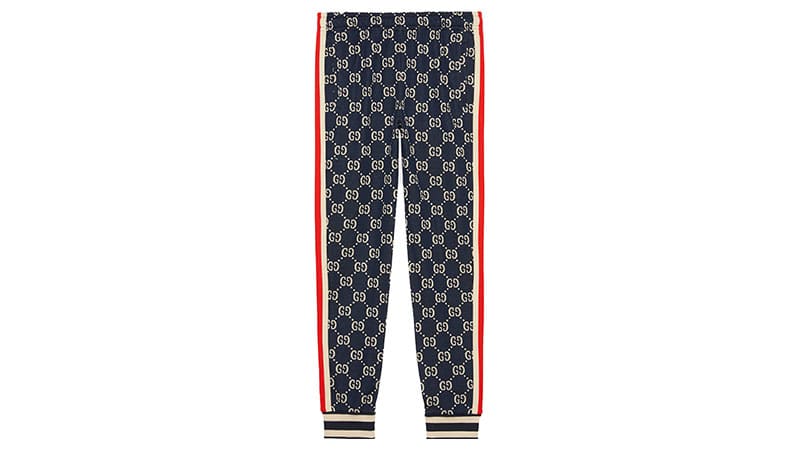 3. Nike
It's logical that sportswear giant Nike has a great selection of men's joggers; after all, sports was the style's birthplace. Casual details and technical fabrics combine to create performance pants that will elevate your every day. Stay warm with a pair of Tech Fleece joggers that are perfect for before and after a training session yet still feature a clean look. Meanwhile, wardrobe staples like the Club Fleece are ideal for weekend relaxing. Styling these casual joggers is simple — just throw on a soft t-shirt, and you're ready. Most of the designs also have ribbed ankle cuffs that let the Nike kicks you're inevitably wearing them with shine.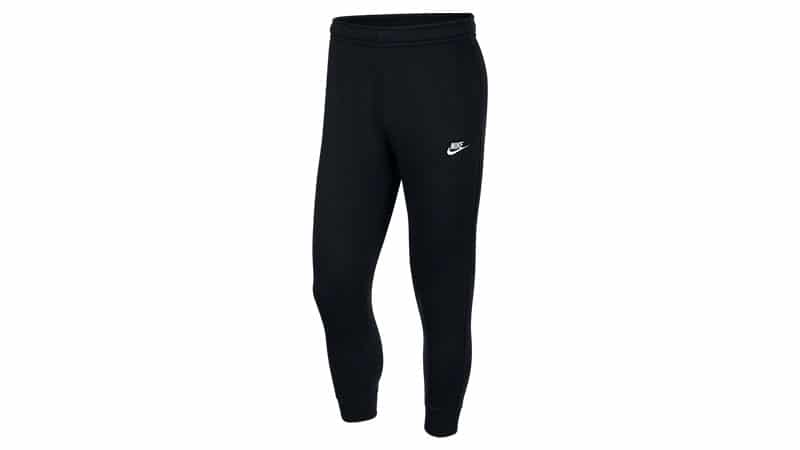 4. Puma
Puma has a solid range of men's training joggers that make any workout better. These sports styles feature technical fabrics like the dryCELL moisture-wicking technology that moves sweat away from your skin, keeping you cool and comfortable while you exercise. Other handy features include a slim cut, so you still look stylish, side pockets, and an elastic waistband. They also have a range of heavier, softer sweatpants using knit and French terry fabrics that are ideal for lounging. Alternatively, there are also joggers for everyday wear that look great with casual sneakers and a t-shirt.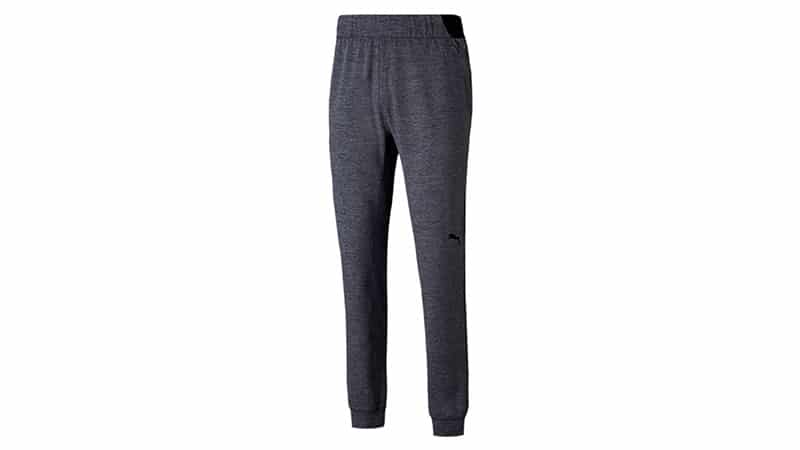 5. Adidas
Fans of the 3 Stripe Life will love the huge collection of men's joggers at Adidas. Choose technical styles for your next workout, whether it's running, hiking, soccer training, or hitting the gym. These designs use advanced fabrics that wick away sweat, manage moisture, and boast responsive flexibility. Alternatively, there are also some great lifestyle options for everyday or loungewear. These include the Originals Range that has classic cuts in soft fabrics like sustainable cotton fleece. The Lifestyle collection features the Tiro 21 pants, a streetwear staple with a signature silhouette, iconic design, and innovative technologies.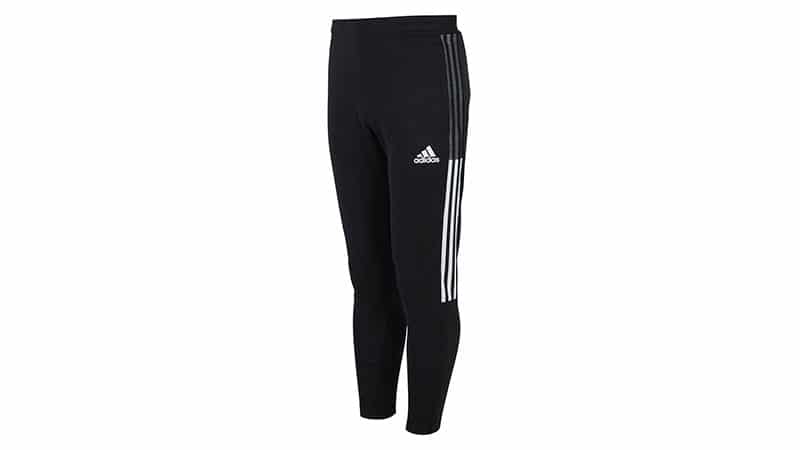 6. New Balance
With a long history in and passion for sports, New Balance is an excellent choice for men's joggers. The brand has designs for getting active and training, with styles like the Essentials Speed Pant and Impact Run Woven Pant. They feature lightweight material and athletic cuts for easy, uninhibited movement. However, if you're feeling a little lazy and just want to chill, there are great lounge joggers as well. Grab a pair of the Essential or Core Fleece Sweatpants for simple, cozy comfort.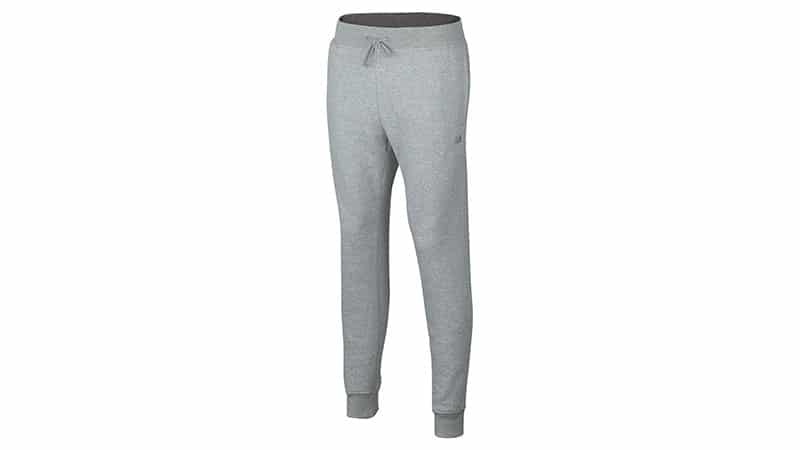 7. Gymshark
A prominent online presence, extensive influencer marketing, and niche targeting earned fitness wear brand Gymshark intense popularity. As such, it's the perfect choice for men's joggers that combine both form and function at reasonable prices. There are dozens of styles to choose from. Hit the weight rack or HIIT class with a style like the Aspect Jogger that uses high-stretch performance material, or the Fit Tapered Joggers to effortlessly take you from training sessions to everyday wear with its physique-enhancing silhouette. Alternatively, for rest days and running errands, styles like Retake and Restore are ideal with relaxed fits and soft fabrics.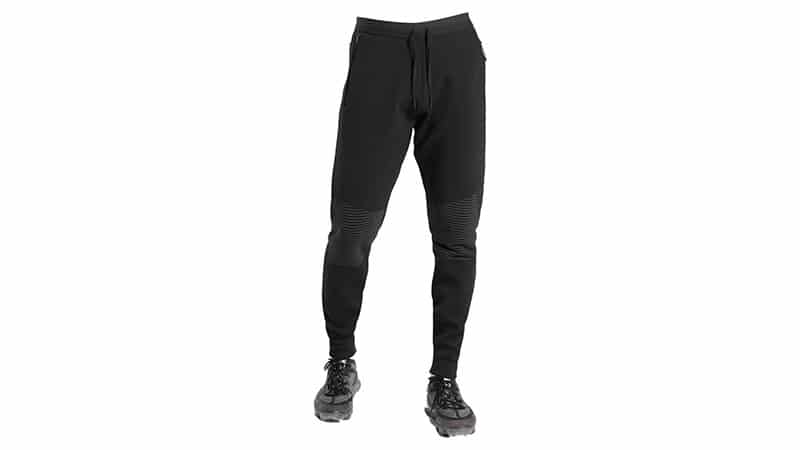 8. Reiss
Reiss is a British menswear brand that brings a suave sophisticated to men's joggers. The collection is perfect for everyday casual wear, with a couple of pieces that could easily be teamed with a sharp blazer for a smart look. Choose the Bemish jersey jogger or the Premier neoprene ones for a relaxed day chilling around the home. However, if you want to get out and about yet stay comfy, opt for a style like the Eastbourne that uses technical fabrics and looks great with a crisp white t-shirt. Alternatively, get even more active with the Thomas windproof joggers featuring quick-dry, windproof fabric, so if you're running errands in the rain or heading off on a hike, you'll stay drier.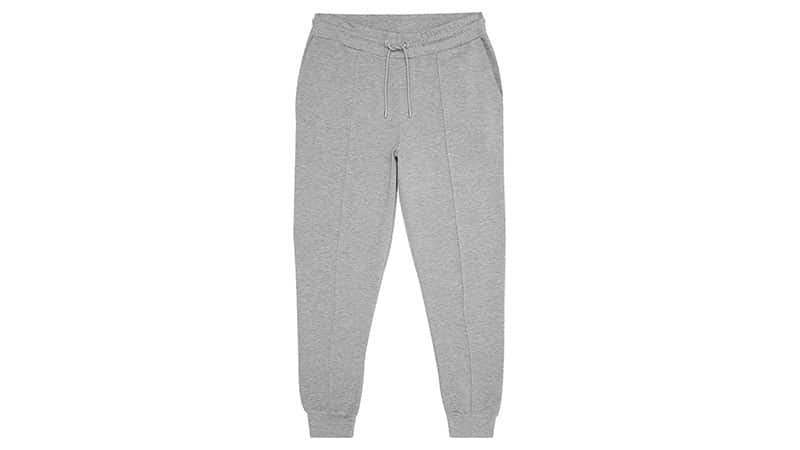 9. Uniqlo
Initially a textile manufacturer, Japanese brand Uniqlo is well-equipped to make excellent men's joggers. They channel a drive for innovation into technical fabrics and meticulous design. The collection of styles look just as good on the street as they do in the gym, yet you still benefit from high-tech materials. For example, the Ultra Stretch has a stretch rate of over 1.5-times for stress-free movement, while DRY technology keeps you sweat-free. Meanwhile, designs like the Cargo Jogger Pants have urban appeal, and the Pile-Lined Sweatpants are perfect for lounging around your home on chilly winter days.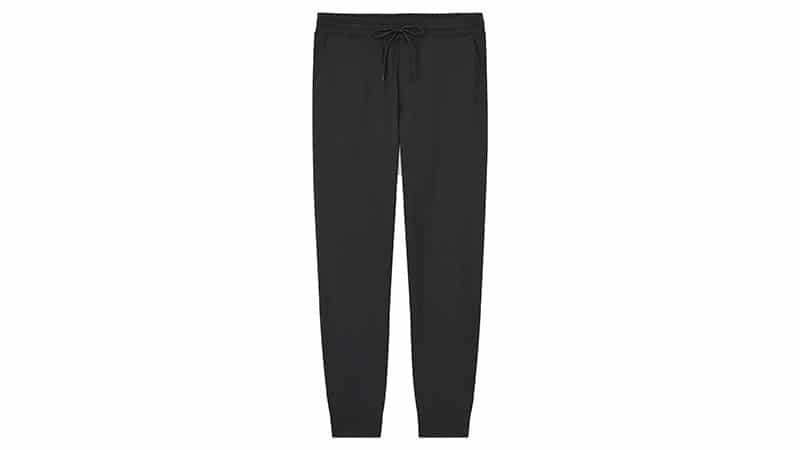 10. ASICS
Asics has a small selection of joggers that are perfect for sports or everyday wear. The French Terry jogger has a comfortable and tapered fit, with soft fabric that's perfect for days off and chilling at home. However, the materials are still moisture-wicking and quick-drying, so they're just as well suited to going for a run on a cold day. Alternatively, the Tokyo Thermopolis pants are also great for cold-weather performance, featuring buttery soft polyester in a regular fit. The brand's vision is to "Create Quality Lifestyle through Intelligent Sport Technology" that promotes healthy and fulfilling lives.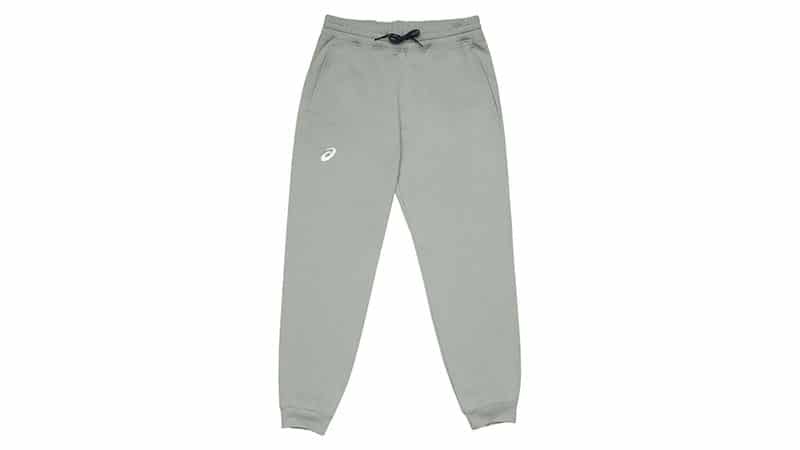 11. Hugo Boss
Crisp tailoring is the cornerstone of the Hugo Boss look, a fact that remains true even with the selection of men's joggers. Opt for a more comfy, casual vibe, with a classic pair of soft, cotton jersey joggers with tapered hems and color blocking. However, if you want to elevate your look, some relaxed-fit pants with tapered legs are perfect. You can pair them with a plain t-shirt and a bomber jacket for a more thoughtful take on jogger styling without sacrificing any comfort.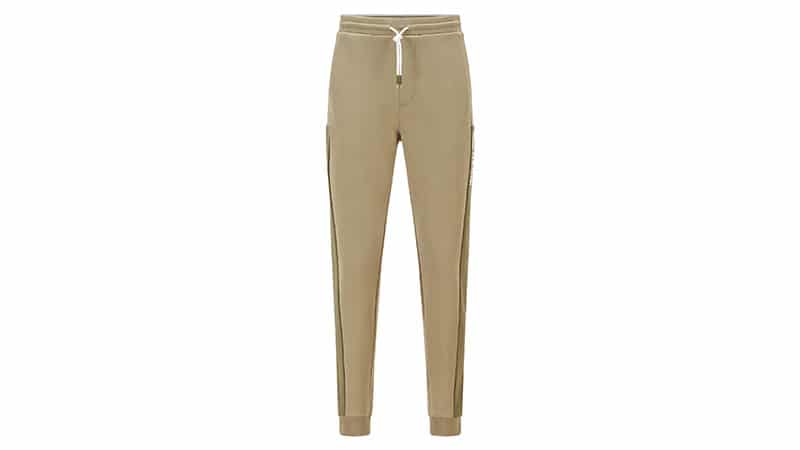 12. Amazon Essentials
Like most things on Amazon, there are dozens of men's joggers under the Amazon Essentials brand. As such, there's sure to be something that suits everyone's aesthetic and needs, all at a brilliant price. Match a pair of Men's Slim-fit Jogger Pants in one of many colors with a polo shirt, blazer, or dress shirt for a stylish and smart look. However, if you just want to be comfy while you chill on the couch watching Netflix, a pair of soft cargo fleece joggers are ideal. They have a choice of pockets to keep your phone and snacks nearby, with a relaxed cut and elastic waistband.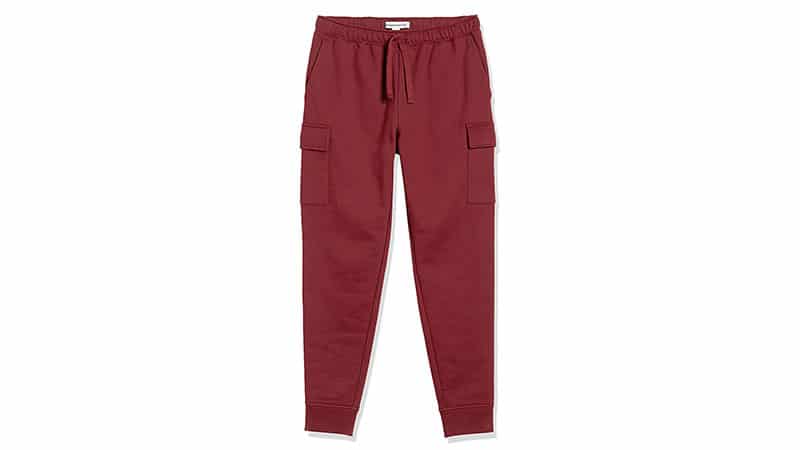 13. Under Armour
You're spoilt for choice with men's joggers at Under Armour, with dozens of options to choose from. In line with the brand's vision to create performance solutions, there are unsurprisingly many sporty designs. The Challenger collection is designed for soccer players training on the field, while Storm Launch joggers will keep you dry yet remain breathable, so you can train no matter what the weather is doing. When it comes to downtime and recovery, styles like the RECOVER™ Knit Track Pants are brilliant. The mineral-infused fabrics redirect energy expenditure back into your muscles to reduce fatigue. Under Armour invests a lot of time, money, and expertise into research, development, and innovation to help athletes stay ahead of the game.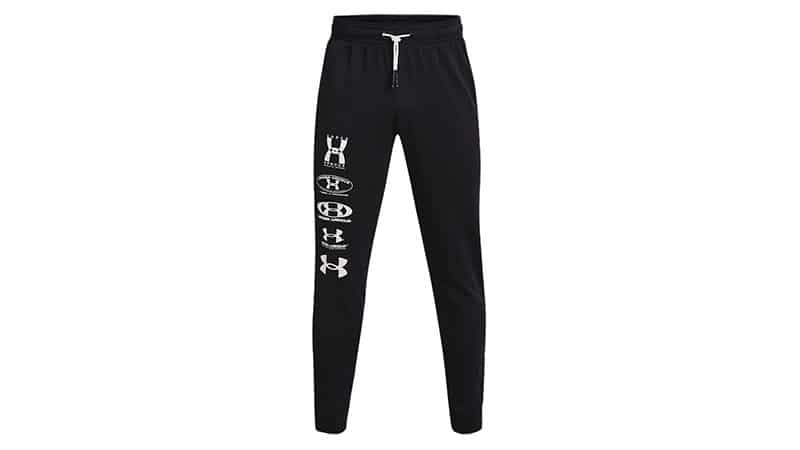 14. Champion
Enjoy a modern and streamlined fit with the sports-inspired joggers from Champion. Choose a pair of Reverse Weave joggers that boast a heavyweight fleece that's made for the streets. They have no vertical shrinkage, so the fit stays true, no matter how often you wear them. Match this design with your favorite t-shirt or a track jacket. For a different take on streetwear, the super fleece cargo joggers are a brilliant casual style that embraces the utility trend. Finally, the best-selling Classic Jersey joggers are a great year-round addition to your gym bag and use traceable U.S-grown cotton.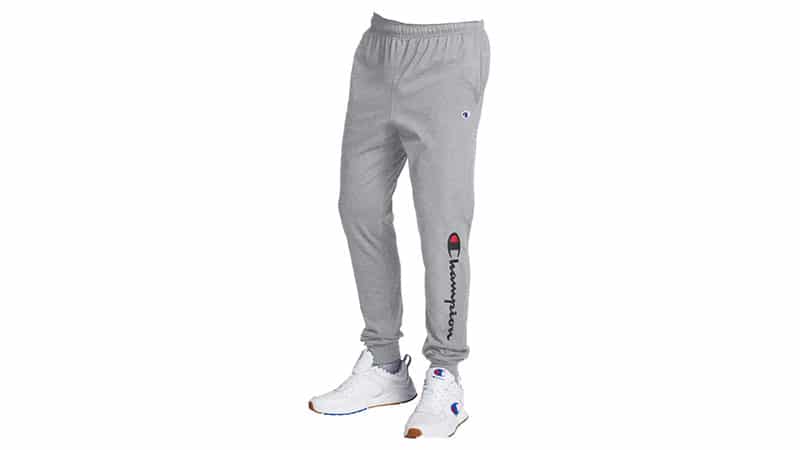 15. Coggles
If you like to shop online, then Coggles is the web destination for you. The UK-based website stocks an array of leading and emerging brands. Consequently, you'll be spoiled for choice when it comes to men's joggers. Grab a pair of Kenzo Sport Classic joggers that use soft cotton jersey, or select pants from Y-3, which combines the sports-expertise of Adidas with the street-savviness of Yohji Yamamoto. Other brands include Polo Ralph Lauren, MP, Calvin Kelin, The North Face, and Canadian brand Dsquared2. Best of all, if you're not near your PC or laptop, you can download the Coggles app (on Android and iOS) and shop from your phone.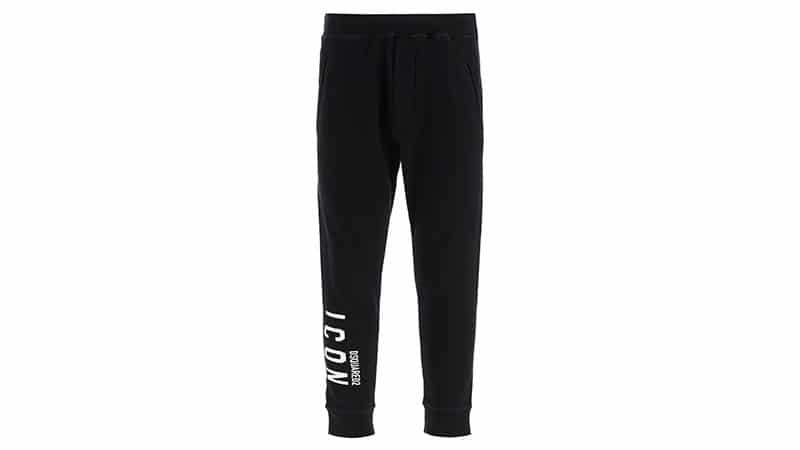 16. Todd Snyder
Todd Snyder has a great selection of joggers that meet all your lounging, smart-casual, and sporty needs. He launched his eponymous label in 2011 after an illustrious career with brands like Polo Ralph Lauren, Gap, and J Crew. As such, Todd brings modern interpretations and bespoke tailoring to his menswear collections, which include collaborations with labels like Champion. Add the Italian Stretch Drawstring Camp joggers to your weekend wardrobe, pairing them with a polo shirt and loafers. Alternatively, the Light and Midweight Slim Jogger Sweatpants embrace a casual comfiness but add a more tailored touch.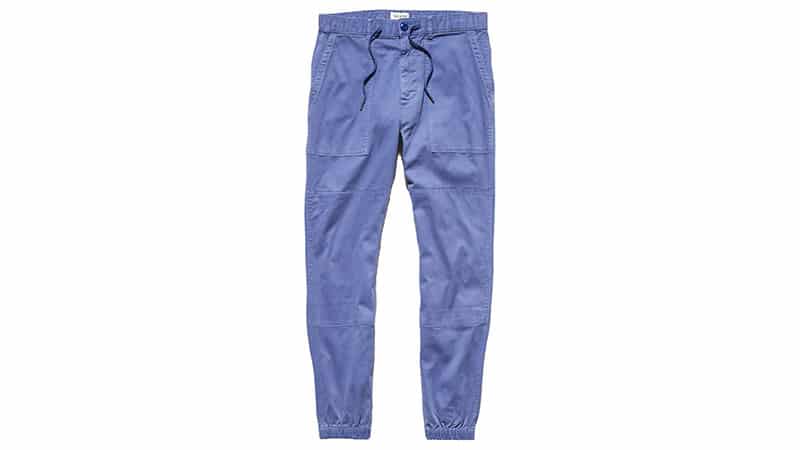 17. 2XU
Joggers from 2XU are a brilliant addition to your workout kit, whether you choose to exercise in them or just wear them pre and post-workout. Styles like the Light Speed jogger feature lightweight, four-way stretch fabric for excellent motion and flexibility. They also have practical features like a ventilated waistband, pockets, and reflective panels for low-light visibility. Meanwhile, the looser, more casual cut of the Aero jogger is perfect for transitioning between training and home or for relaxed weekend workouts. Moisture-wicking keeps you dry, while zippered ankles mean you can remove them without taking your shoes off.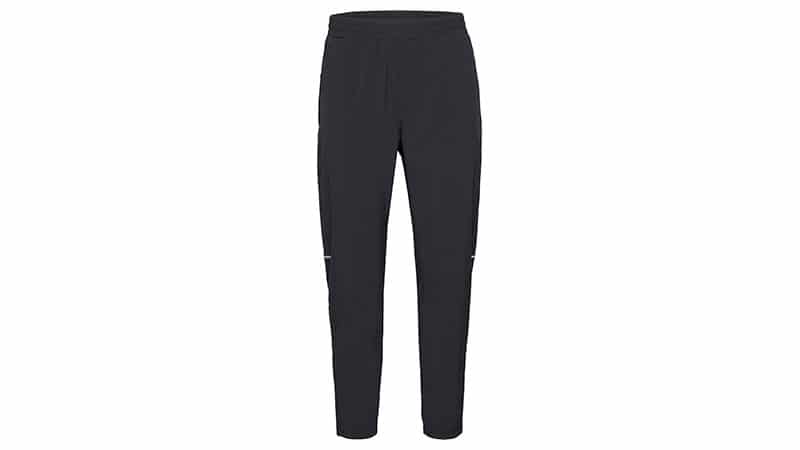 18. Club Monaco
Club Monaco is all about better basics, so it's the perfect brand to look for classic, timeless joggers. They use premium materials without an excessive price tag, keeping the entire collection accessible yet enduring. If you're looking for a pair to wear for more smart-casual occasions, the Refined Joggers are ideal. They still boast a comfy drawstring waistband and plenty of stretchiness but have a tailored silhouette that looks great matched with a smart wool blazer or button-up shirt. However, if you're keen to keep it casual and comfy, a style like the Cozy Sweatpants really delivers. Plus, it has a matching sweater for a fully coordinated loungewear look.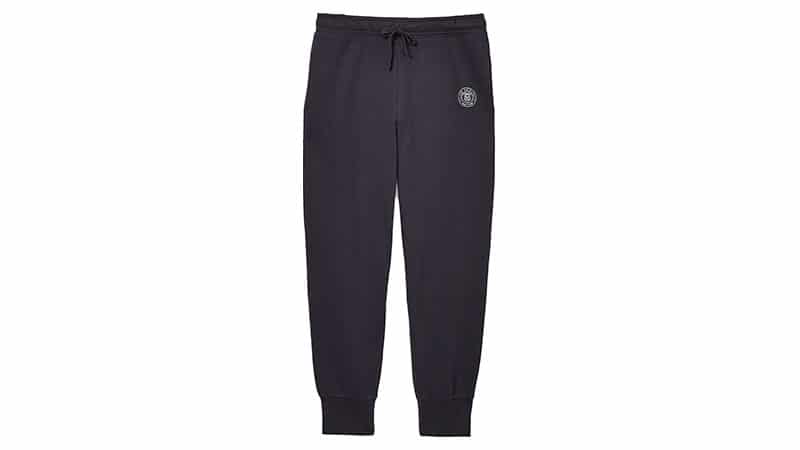 19. Lululemon
While Lululemon is best known for its uber-popular range of women's yoga wear, it also boasts a great collection of men's joggers. Designs like the ABC Jogger are great for everyday casual wear, with a more tailored shape that doesn't sacrifice any comfort. However, if you're looking for a pair of pants for a serious sweat session, there are plenty of options. The Intent Jogger is made for yoga with soft Luon fabric, sweat-wicking, and stretch, while the Surge Hybrid is ideal for running, keeping you cool in the colder months without inhibiting your stride. Shop online for different styles that aren't available in stores.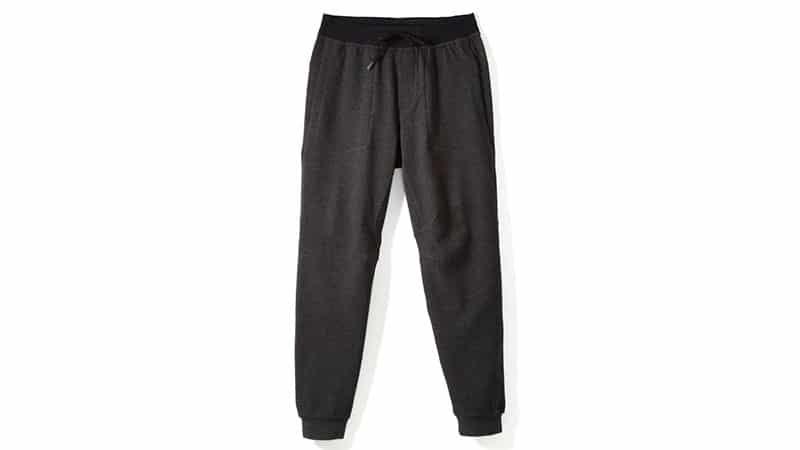 20. River Island
River Island's extensive collection of men's joggers has you covered for everything from loungewear luxe to the athleisure trend. Plus, it's all offered at reasonable prices that won't break the bank. Choose from a variety of fits, with the usual cuts like slim, skinny, and regular. However, there's also a small collection of Big & Tall with extended sizes and Muscle cuts to show off a built rig. Match them up with a coordinated sweatshirt, or choose a style like the slim-fit chinos or tailored joggers that are ideal for a Sunday session at your favorite bar, matched with white sneakers and a leather jacket.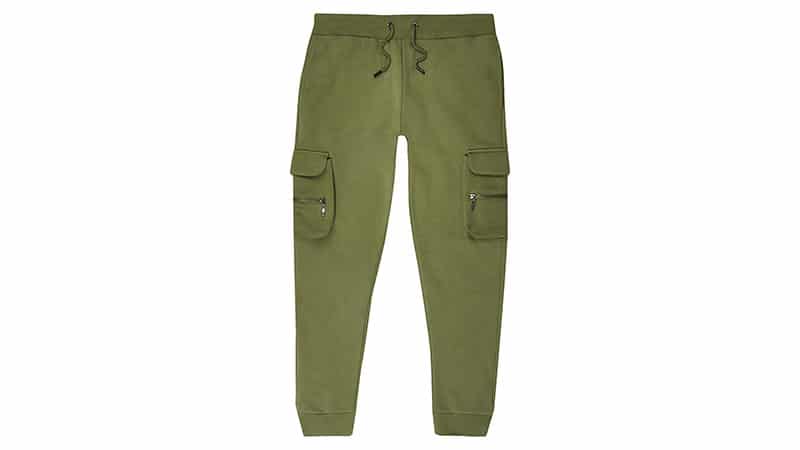 21. Paul Smith
Find the perfect pair of joggers for casual wear at Paul Smith. The British designer maintains "classic with a twist" as the guiding principle in every piece, underpinning it with a dry sense of humor. Put a smile on your butt and face with the Happy sweatpants, made from 100 percent cotton and featuring a happy print on the rear pocket. Meanwhile, the Cotton Jersey Lounge Pants are so soft and comfy; you'll never want to take them off. All the designs pair great with a simple t-shirt, or for something toastier, a knitted sweater or long sleeve raglan.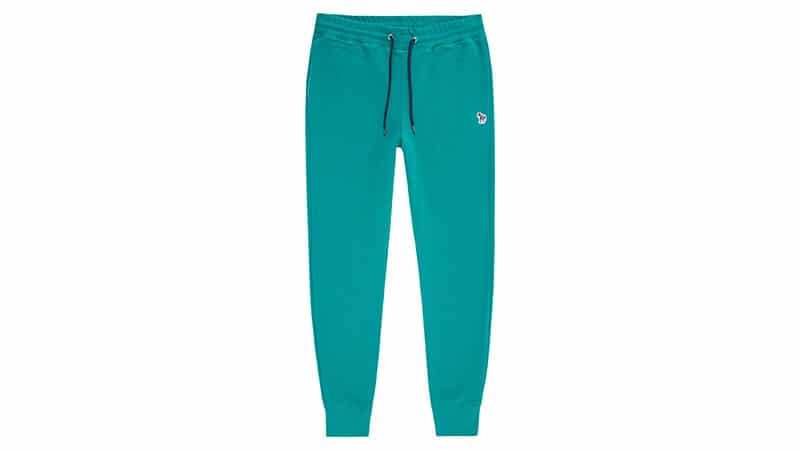 22. Boohoo Man
Boohoo Man is the menswear offshoot of Boohoo.com, a wildly successful online retailer launched in 2006. Select from hundreds of men's joggers. There are classic staples that keep it simple or fun and effervescent designs that show you don't take life too seriously. Cargo styles are great for running errands on the weekend, with lots of pockets to keep your keys, phone, and wallet. Meanwhile, skinny cut joggers are ideal for showing off all the hard work you put in at the gym on leg day, and regular fits are best for Netflix on the couch. Tall gents are also taken care of, with a range of Tall joggers designed for longer legs.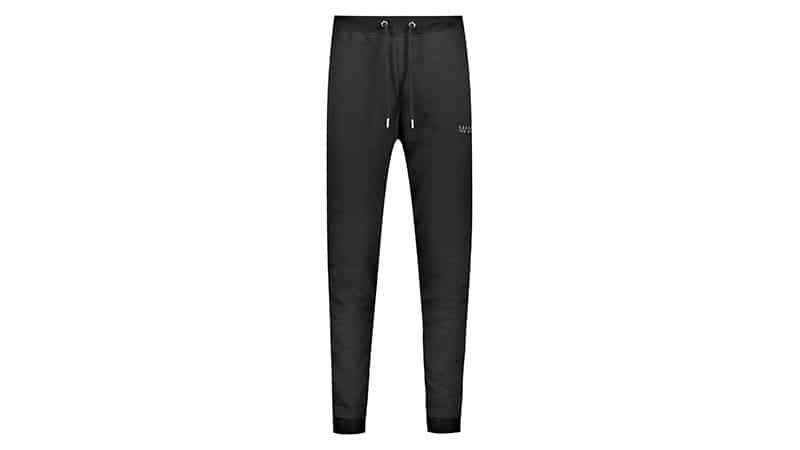 23. Culture Kings
Australian streetwear retailer, Culture Kings, has an incredibly curated collection of clothing from some of the most sought-after brands in the world. Their range of men's joggers includes styles from brands like Last Kings, Saint Morta, The Anti-Order, Nana Judy, and Carré. Most designs ooze edgy street style, making them the ideal choice for tastemakers and style icons. While you can shop online from the comfort of your couch, the in-store experience is like no other. Leading Australian DJs perform daily, plus you get the chance to win collector pieces and exclusive not-for-sale items with games like Sharpshooter Challenge free-throws and the Culture Kings Claw Machine.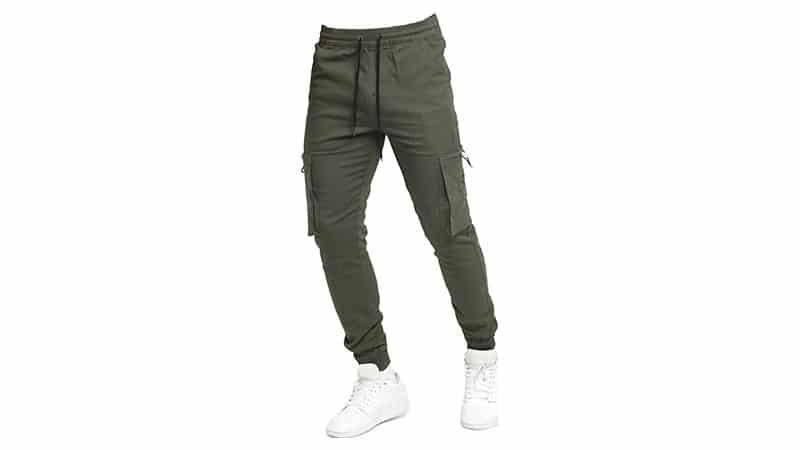 24. Gap
Gap is the authority on casual American style. As such, they're a great place to shop for your next pair of joggers. The small but sufficient range includes loungewear designs featuring soft French terry that are perfect for lazy weekends on the couch binging your latest Netflix obsession. If you're looking for something to wear out of the house, the Slim Canvas joggers and Cargo joggers are a great choice. Both look great matched with a simple t-shirt and your favorite sneakers and come in a great range of modern colors.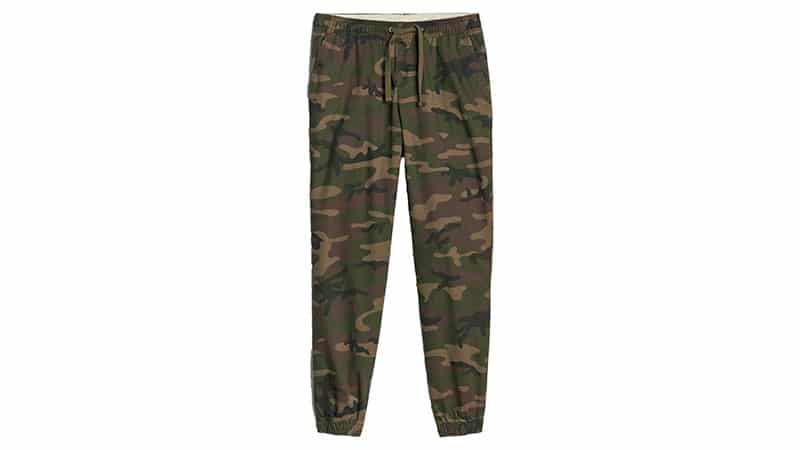 25. Cotton On
Cotton On is one of Australia's largest retailers, with more than 1500 stores in over 18 countries. The focus is on the latest trends and affordable pieces, bringing a taste of Australia to wardrobes worldwide. Select from dozens of different styles of men's joggers, from urban designs that are great for everyday wear to casual denim styles that are at home by the beach and worn with bare feet. Pair them up with other Cotton on basics such as a plain t-shirt, warm hoodie, denim jacket, and white shoes.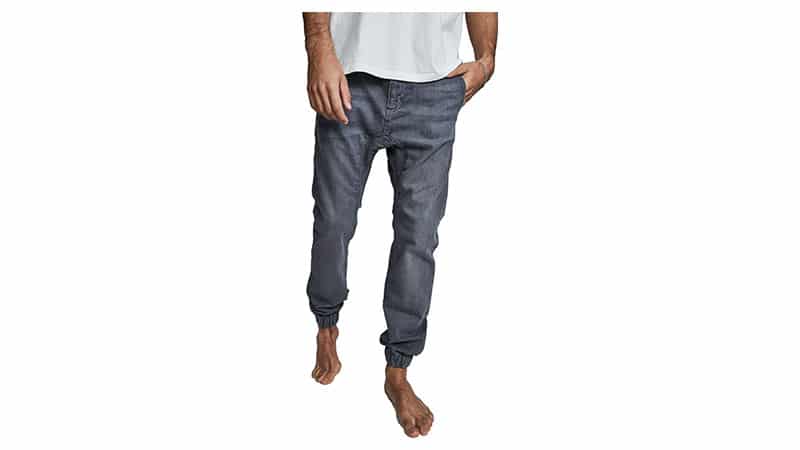 Types Of Joggers
There are plenty of different types of joggers; however, most fall into one of four categories. These are smart, sporty, every day, and lounge joggers. The cuts, details, and fabrics vary between categories, but there can be crossover depending on how you style the whole outfit.
Smart Joggers
If you want to switch up your jeans, chinos, or tailored trousers for something a bit more comfortable, joggers may be the perfect answer in smart casual situations. However, you can't just chuck on your baggy grey fleece pants and be on your way. Instead, look for tailored, tapered cuts that use more refined fabrics like cotton or linen. You can still opt for the elastic waistband, but designs with a fly (or faux-fly) better mimic regular trousers without sacrificing comfort. Wear this jogger style with a dress shirt and loafers, polo and boat shoes, or crisp white sneakers and a classic coat like a pea or trench.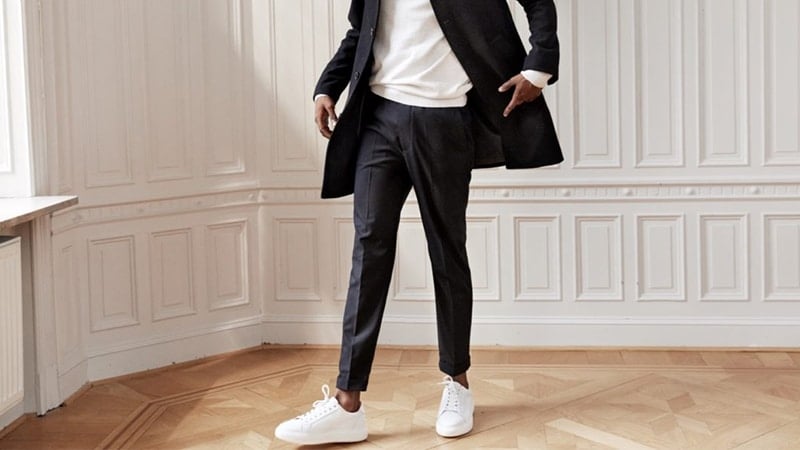 Sporty Joggers
Joggers got their start in the sports industry. As such, they're an excellent selection for your next epic training session. However, the style has evolved to incorporate the latest fabric technologies that include features like a four-way stretch, sweat-wicking, increased breathability, and materials that aid muscle recovery. There's also been a general move away from the baggy styles that once dominated, with more slim-fitting flattering designs now available, so there's no sacrificing style for comfort. Of course, there is still something special about slipping into a super-baggy pair of joggers post-workout for the ultimate recovery feels.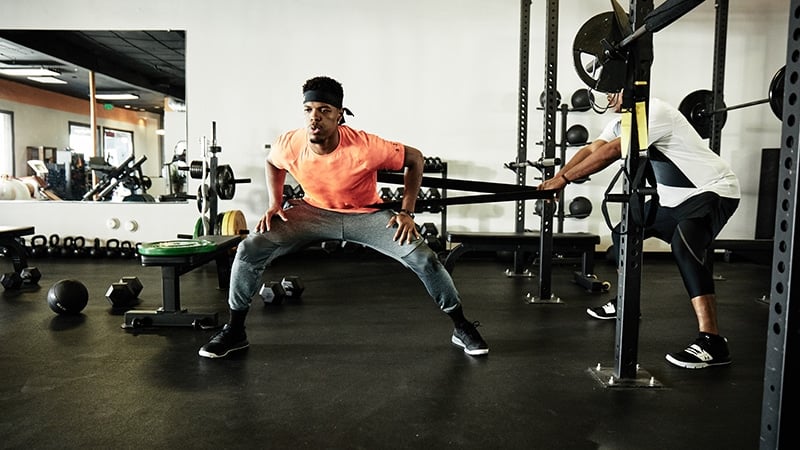 Everyday Joggers
Joggers are a great choice for everyday wear, whether you're off traveling, exploring locally, running errands, or just hitting the pub with your mates. There's such a variety of designs and materials that are great for casual daily wear. Look for cargo-style pants that match great with boots, or embrace an athleisure vibe with slim-cut fleece or cotton joggers paired with a pair of fresh kicks, a simple shirt, and a bomber jacket. Classic black is always a great option if you're uncertain, but those feeling bold should look at some of the brightly colored designs from brands like Paul Smith and Todd Snyder.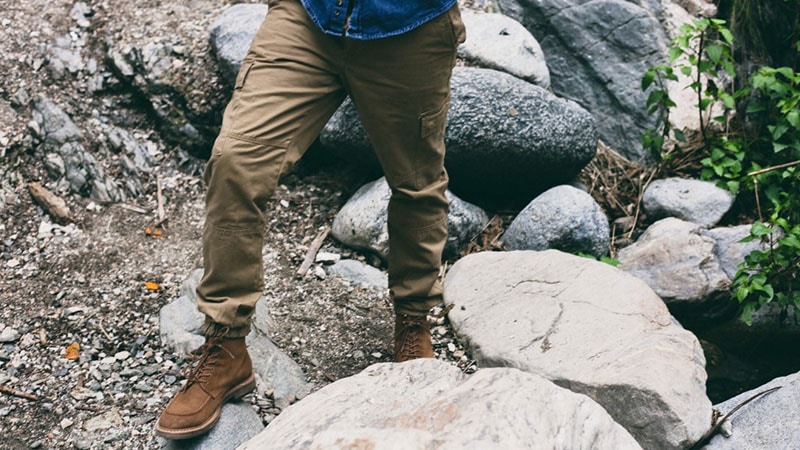 Lounge Joggers
Lounge joggers are the epitome of loungewear and work-from-home vibes. In general, they'll have a loose cut through the legs, so you don't feel constricted in any way, and will use soft fleece or French terry that caresses your skin like a dream. These joggers are best paired with a comfy t-shirt, your favorite hoodie, a warm pair of socks, or take it all the way by rocking a Hugh Hefner-style robe.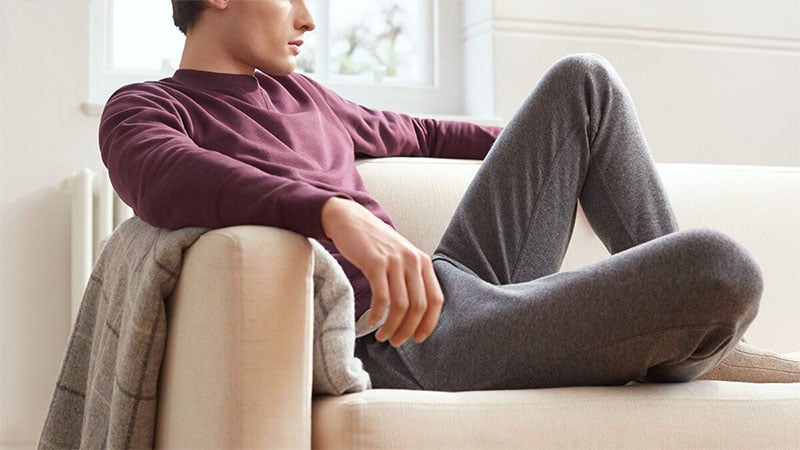 Jogger Outfits
Sweatshirts + Joggers
While a sweatshirt and joggers may be your go-to look for lazing on the couch, it can also be a seriously stylish streetwear outfit. With the rise in athleisure trends, the combination has become more and more appropriate for everyday wear. To keep the look more polished than your loungewear, opt for stylish sneakers, boots, or structured items.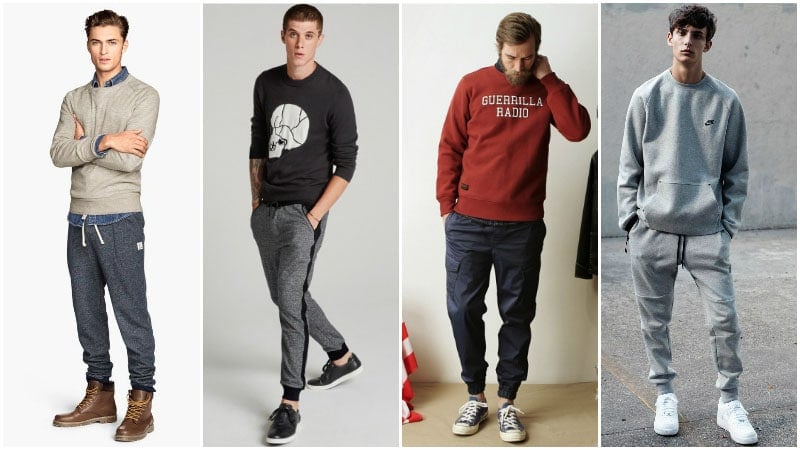 T-Shirts + Joggers
Joggers are intended to appear casual and relaxed. By pairing them with a T-shirt you'll complement this style and create an easy weekend look. Not to mention, you'll also be incredibly comfortable. Just make sure your T-shirt is well-fitted and the bottom of your joggers sits tight at or above your ankles. This will maintain a cool, clean aesthetic while providing a more tidy silhouette.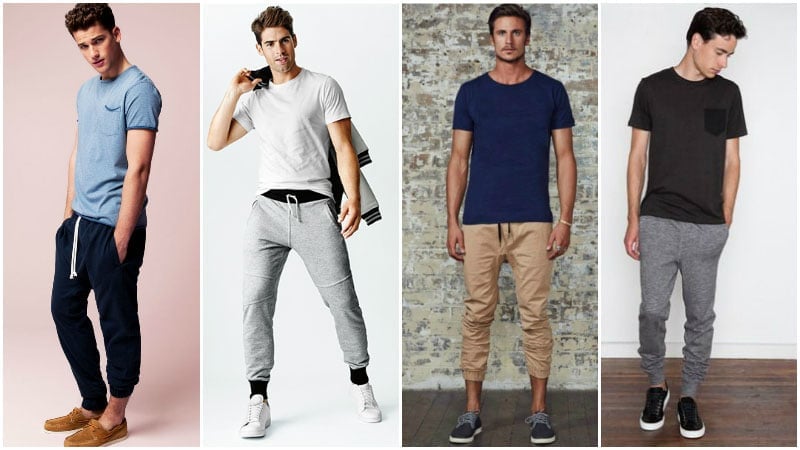 Track Jackets + Joggers
The humble track jacket is cool once again and waiting to be paired with your joggers. Playing up the overall sportswear appeal of your outfit, a track jacket and jogger combination carries a seriously athletic vibe and can be styled up with additional outerwear.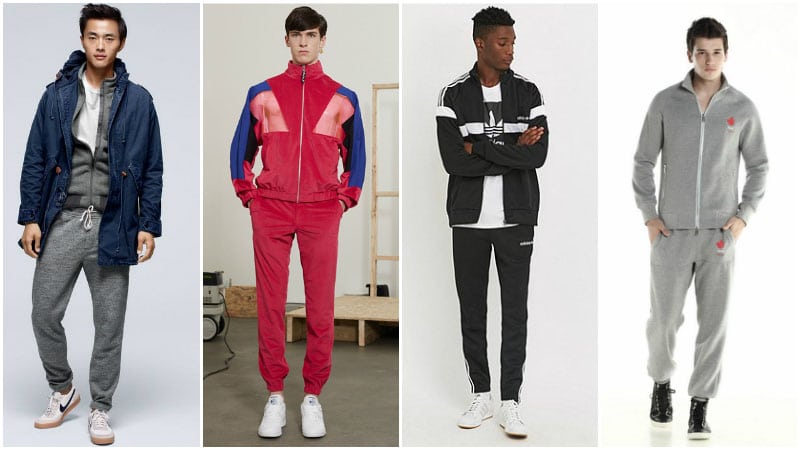 Hoodies + Joggers
These days, a hoodie paired with joggers is an appropriate casual option. It can be great for simple errands and occasions, such as going to get coffee. If you want to make your basic joggers and hoodie a little more stylish, try multiple layering options for an edgy street-inspired look.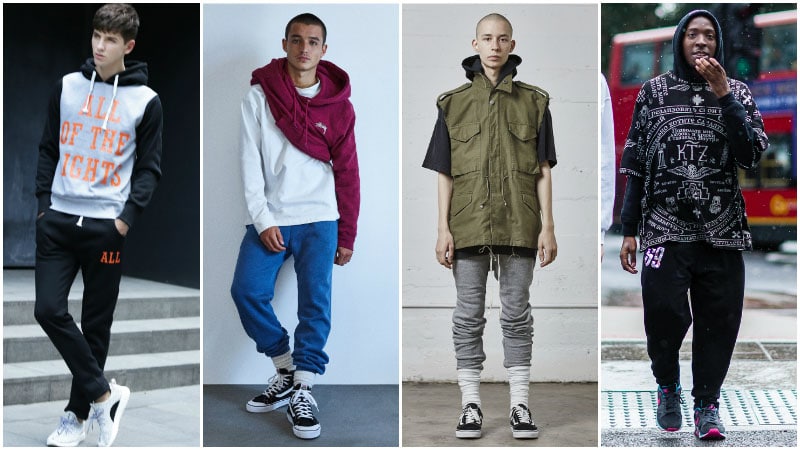 Denim Jackets + Joggers
A denim jacket is a fantastic outerwear choice to accompany joggers. The casual yet stylish piece can finish off your outfit and will create a cool weekend look. If you want to introduce some more structure, then a denim jacket and joggers is a great styling option.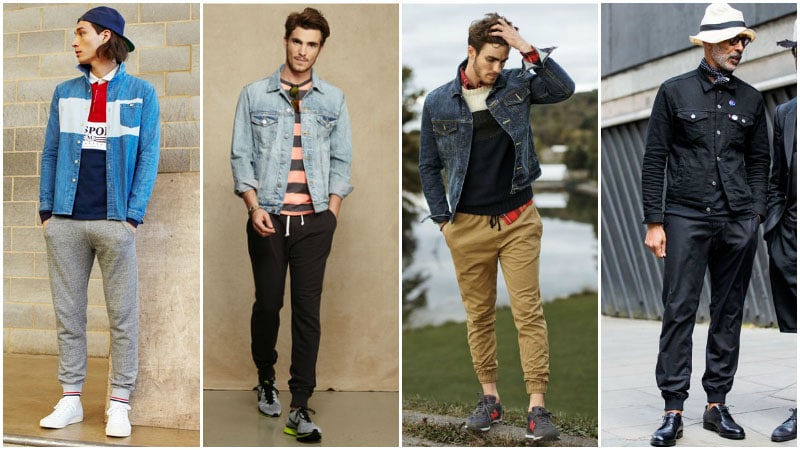 Biker Jackets + Joggers
Although you may be more inclined to wear your favorite skinny jeans with your biker jacket, you should try your joggers instead. Mixing the soft and comfortable sportswear pants with a tough, leather jacket provides a contemporary, athleisure look.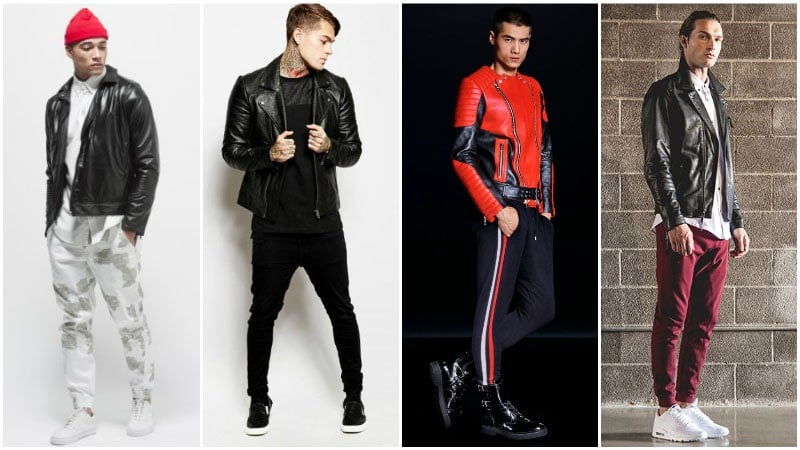 Blazers + Joggers
Joggers are surprisingly versatile and can even be paired with a blazer. Part polished, part relaxed, the unique combination creates a striking appearance. To make the look work, keep your color palette dark or neutral and opt for a less structured blazer. Instead of a dress shirt, choose between a casual button-up or your favorite piece of knitwear.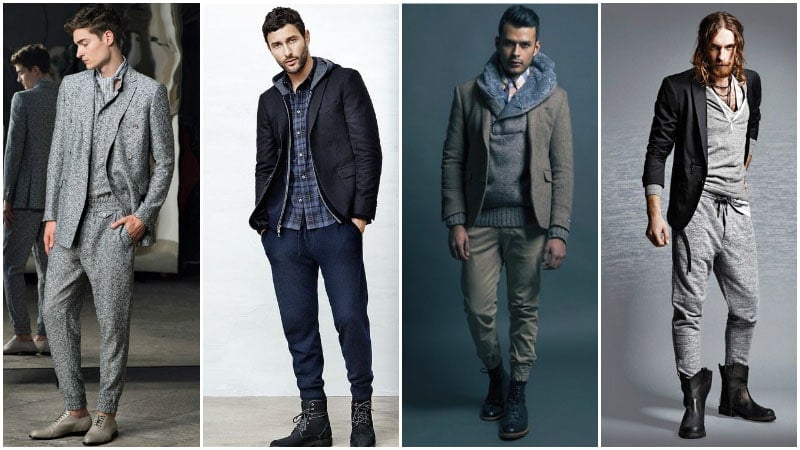 Polo Shirts + Joggers
Like joggers, polo shirts have a sportswear vibe, meaning that the two items go well together. To keep the look casual, choose soft and light styles of joggers. If you want the look to appear more polished, be sure to pick joggers in a slightly heavier fabric. If your joggers are a plain color, you may also want to consider a patterned polo. The detail will immediately make your shirt the feature of your outfit and your joggers the supporting act.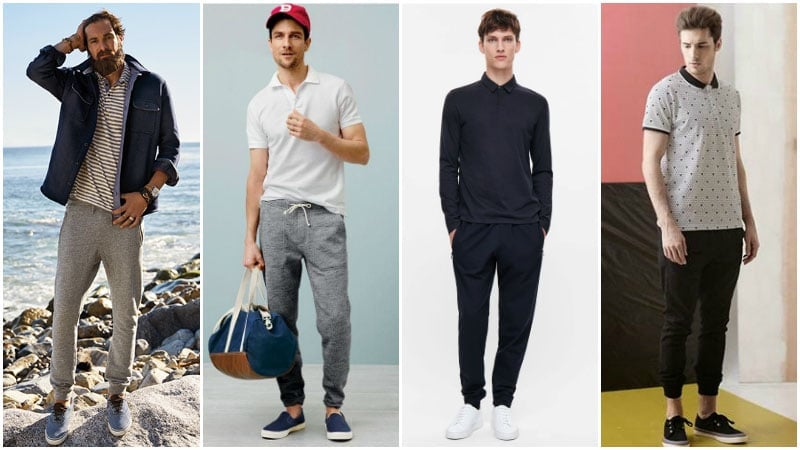 Dress Shirts + Joggers
A dress shirt and joggers can be an ideal alternative to your regular smart casual outfit. While it may not seem like the pair should work, they make a surprisingly stylish combination. A neat, long-sleeved Oxford shirt is a great option and can be worn loosely tucked in for a more dressed up look.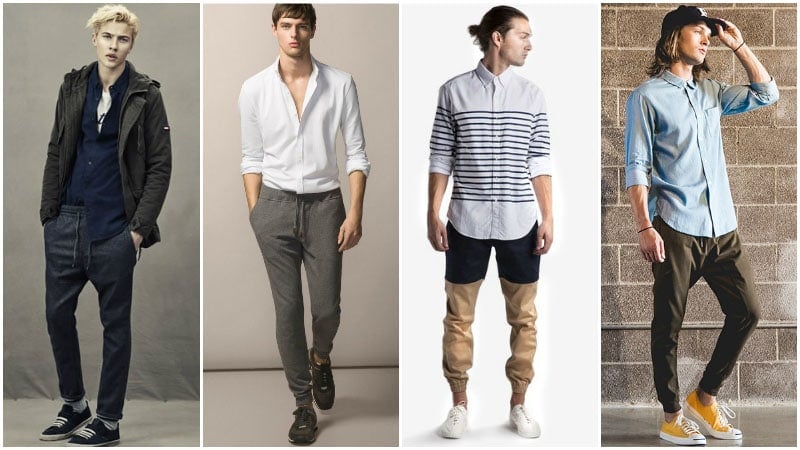 Bomber Jackets + Joggers
The bomber is one of the most popular jacket styles dominating the streets and a must-have item for your wardrobe. It's also the ideal jacket to wear with your joggers. Not only does its cropped length allow you to show off your stylish pants, but its relaxed, athleisure vibe also compliments their style.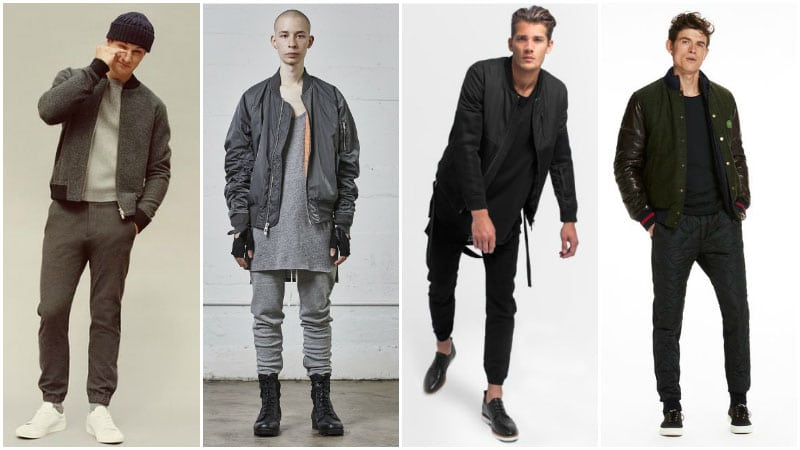 Shoes to Wear with Joggers
Joggers can be worn with a surprising variety of shoes. If you're looking for a fail-safe option, however, you can't go past high-tops or sneakers. Ensure your sneakers are clean to keep your look polished and sleek. If you're after a smart casual look, you can wear more formal shoes but be aware that they're tricky to get right. Shoes without laces that can be worn without socks tend to make the best option. As such, boat shoes or loafers can be an ideal choice. To amp up your look select a contrast color shoe.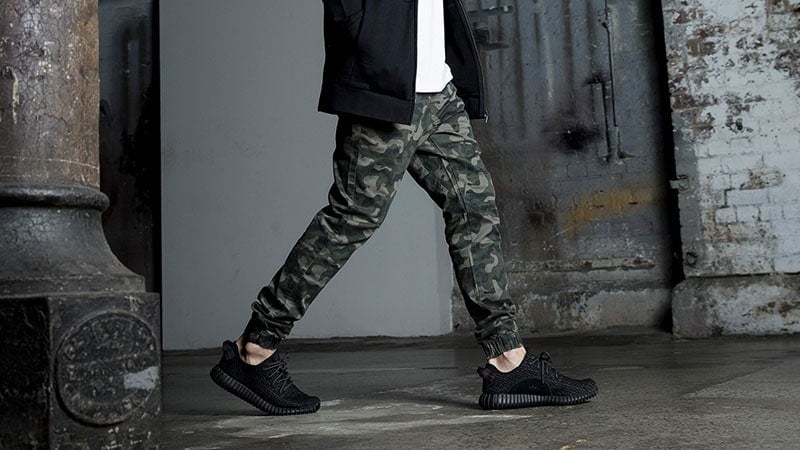 How to Wear Joggers
Keep your overall aesthetic casual and relaxed.
For maximum style coordinate with designer brands.
Go for multiple layering options to mix up your look.
Add polish to your look with a slim silhouette and the addition of more structured styles.
When pairing joggers with a jacket, opt for shorter styles, such as a bomber, biker or denim jacket.
Have a good pair of stylish trainers on hand as your go-to footwear for when you're wearing your joggers.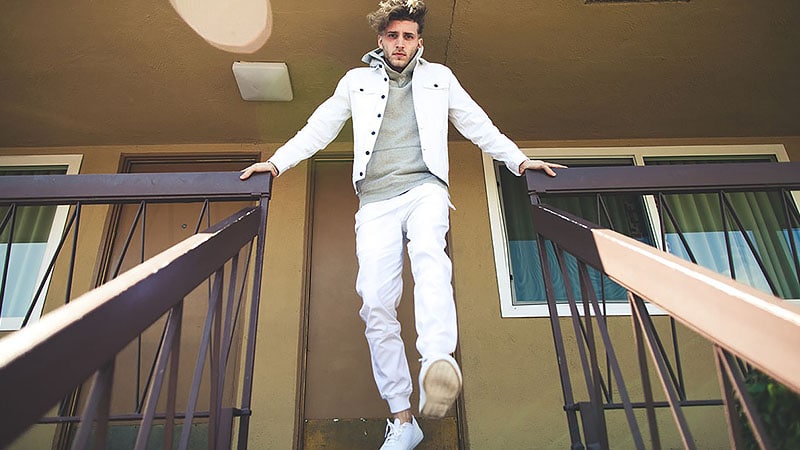 How to Wear Joggers
Joggers can be styled in countless ways, and you're only limited by your imagination. A sweatshirt is a natural match, as is a classic t-shirt, track jacket, or hoodie. Switch things up by opting for a denim, bomber, or biker jacket for an edgier feel. However, if you want to dress things up a bit for a smart casual event, try a polo shirt, blazer, or dress shirt. Then, when it comes to shoes, sneakers are an obvious win, but you can also rock your joggers with boat shoes or loafers.
RELATED: How to Wear Joggers for Men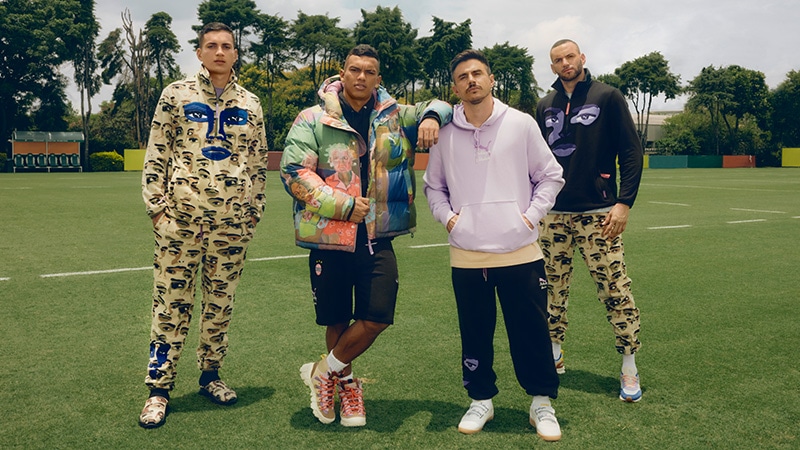 Best Joggers Brands
Y-3
Nike
Thom Browne
Balmain
Lacoste
Theory
J.Crew
Public School
Adidas
Alexander Wang
Cadet
Joggers for Men FAQs
What are joggers?
Originally made for exercise, joggers are a traditional style of sports pant. Lightweight and comfortable, joggers have an athletic appearance and taper in at the leg. Most also tend to have an elastic or drawstring waist and elastic at the ankles. Today, thanks to the booming trends of athleisure and sports luxe, joggers have become a key wardrobe essential. No longer seeming out of place or cheap, joggers are now a cool and contemporary item when styled correctly. While you can still buy the basic sweatpants-style joggers, there are also many more sophisticated and slimline styles available.
How should joggers fit length?
Most modern cuts of joggers have a cuffed or elastic ankle, so they should sit level with your ankle bone. This length of pants means it's a great way to show off your shoes as part of the complete ensemble. Some looser, more traditional cuts may overhang a little thanks to extra room and bagginess.
Is it OK to wear joggers in public?
It's absolutely ok to wear joggers in public. If you're off to a smart casual occasion, opt for a tailored, tapered cut in fabrics like cotton and match it with a dress shirt or blazer. However, for everyday wear, a slimmer cut balances a flattering silhouette with comfort and looks great worn with a simple t-shirt and sneakers.
Should joggers be tight or loose?
Joggers can be either loose or tight. Looser styles are best suited for the gym, recovery sessions, and lounge-style pants. Meanwhile, tighter cut joggers are a bit more flattering and sophisticated, so they're excellent for everyday wear and can be dressed up with a bomber jacket, polo, or dress shirt.
What shoes look best with joggers?
The most effortless and natural choice of shoes to wear with joggers is a pair of sneakers. It could be a crisp white pair, classic black, or old-school dad-style — whatever you like. Tailored joggers can also be worn with boat shoes or loafers when you're dressing up more, but this can be a little trickier to pull off.
How do you pick out joggers?
The best way to pick a pair of joggers is to decide how you want to wear them. You'll need to look for different cuts, features, and fabrics if you plan on wearing them to the gym or for exercising, rather than if you want to switch out your regular chinos for everyday wear or dress them up a bit. Start by choosing a brand that caters to your intended use. For example, select Nike or Under Armour for sports styles; Gucci, Everlane, and Todd Snyder for smart styles; or Amazon Essentials and Lululemon for lounge styles. Then browse their range to find a pair you like.
Can I wear joggers to work?
Joggers in the workplace can be a bit edgy still, depending on the dress code. However, any place with a casual dress code that lets you wear jeans or chinos shouldn't have a problem with smart or everyday joggers, as you can style them much the same, and they look just as refined. Still, it's best to leave the really comfy loungewear styles for home.
What's the difference between sweatpants and joggers?
The terms sweatpants and joggers are often used interchangeably; however, there is a difference. Sweatpants generally use thicker, heavier materials that are warmer, while joggers are designed to be more lightweight and breathable. Joggers also tend to be more fashion-forward, with slimmer, tapered legs and cuffed or elasticized ankles.
What's the difference between tracksuits and joggers?
A tracksuit is an entire outfit consisting of (often matching) pants and a jacket that are worn over athletic or sports outfits. They're designed to be removed to compete, then put back on to stay warm (and so you're not just running about in your speedos or tight lycra running suit). They're often made of polyester and can have either tapered or straight legs in the pants. Meanwhile, joggers are a separate unit with slimmer, tapered legs, cuffed or elasticized ankles, and are made from lightweight fabrics like cotton.
Are joggers in style?
Thanks to the rise in athleisurewear and sports luxe trends, joggers are absolutely in style. Combined with a range of cuts for different occasions and a general embrace for more comfortable clothing, they're a must-have in any stylish gent's wardrobe.
SUBSCRIBE TO OUR NEWSLETTER
Subscribe to our mailing list and get interesting stuff and updates to your email inbox.