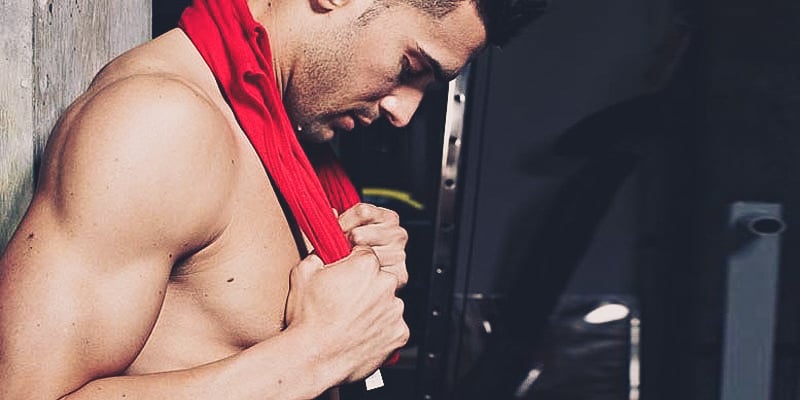 An early morning workout with winter's first ice-cold bite is an achievement in itself. The ability to actually commando roll out of bed and get your sweat on needn't be undermined. While you've already proven you've got the willpower to wake up before the birds and workout, why not up the anti and bestow your gym bag with six gym bag essentials.
In a bid to steer you clear of that frazzled looking hairdryer or communal bar of soap in the gym locker room, take note, gentlemen. Before you lug half your grooming kit to your next sweat session, take a trawl through the fittest grooming roundup yet, full of everything you need and nothing you don't. These heavy hitters are more than equipped to continue the deadlifts for you and bound to get you out the door and into the office, looking and smelling a million bucks.
1. The Sport Stick
After a full-blown sweat session, you'll be perspiring for the rest of the day so be sure to armour up with the right ammo. One solid swipe of Molten Brown Sport Anti-Perspirant will leave your underarms as fresh as a daisy, without the dreaded chalky residue.
2. The Multi-Tasker
While some double-duty shower products can leave us scratching our heads, the tried and true Kiehl's Cross Terrain Wash for Hair, Face and Body will always deliver. A coin-sized amount of product will go a long way, so use sparingly.
3. The Lotion
Nobody expects you to lug your jumbo pump of lotion to the gym with you, but just because you're downsizing doesn't mean you have to sacrifice quality. Here's where Anthony Logistics Glycerin Hand and Body Lotion steps in. We're most dehydrated after a workout or a hot shower, so don't be afraid to slather this skin saver top to toe.
4. The Kit
Sweaty socks, boxing gloves, jockstraps and who knows what else will be accompanying your grooming kit, so pick a bag that offers equal parts style and substance. Opt for a wash bag that's waterproof, durable and armed with an impressive shelf life. Our pick? The Kenyatta Organic Cotton-Canvas Wash bag by WANT Les Essentiels De La Vie is slicker than your average and will be your closest travelling companion for years to come. Guaranteed.
5. The Styler
If you rarely find the time to blow dry your hair at home, chances are slim you're going to be blow-drying in the men's locker room. Apply a dab of Baxter of California's Clay Hair Pomade Styling balm to your palms, before running through towel-dried hair. This quick-fix texturiser offers volume and control, while steering you clear of any potential fuzzy fiascos.
6. The Face Saver
After a hot shower and strenuous gym session, your skin will be parched at best. Make sure you don't go skint on skincare, apply a super hydrating facial moisturiser like Triumph and Disaster's Game Face, packed with natural skin-saving properties, bound to keep your head in the game right through until happy hour.
SUBSCRIBE TO OUR NEWSLETTER
Subscribe to our mailing list and get interesting stuff and updates to your email inbox.