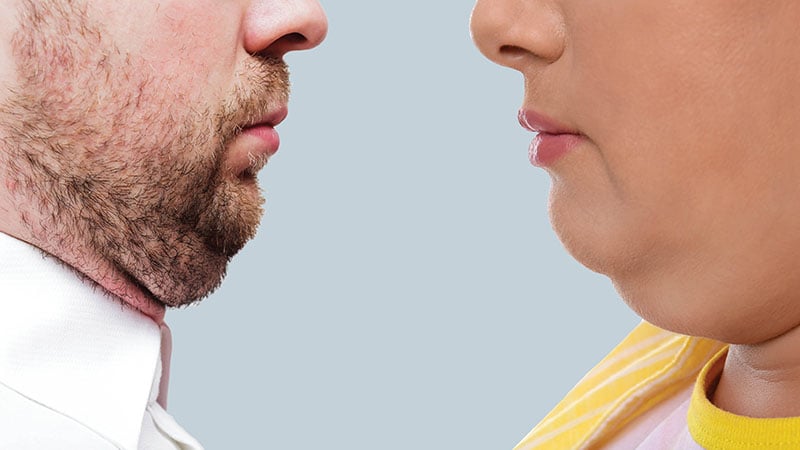 A double chin can make you feel self-conscious, giving your self-esteem a big hit. Any number of issues can cause these excess deposits of fat. Luckily, once you've established why you've got a double chin, there are ways to get rid of it. These can include exercise, diet, and cosmetic procedures. If you're sick of being horrified every time you accidentally open your phone camera on selfie-mode, read on to get the low down on how to ditch that double trouble beneath your chin.
What is a Double Chin?
A double chin is simply excess fat deposits that accumulate underneath the chin. It's also known as submental fat and can be caused in several ways.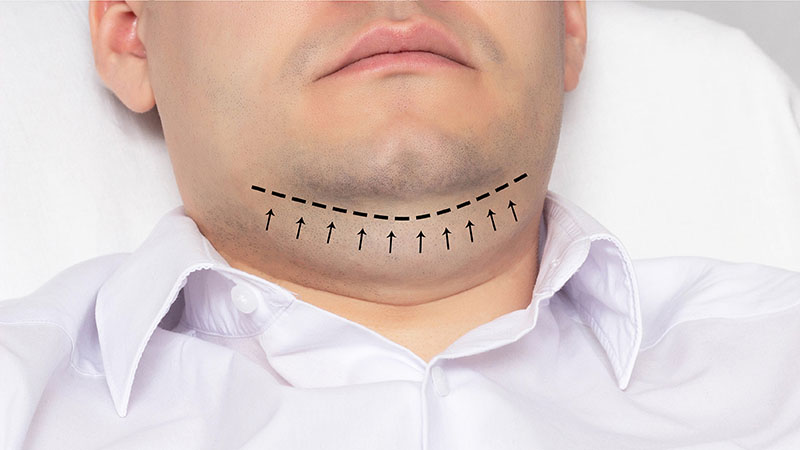 Double Chin Causes
Being Overweight
Being overweight can be one cause of a double chin. When you consume more calories than you burn, your body stores this energy as fat cells. Just like gaining fat deposits around your stomach, legs, chest, or butt, your body can also store fat cells in your face, neck, and chin. This is why double chins are common in people who are overweight. Luckily, simple lifestyle changes such as a more balanced diet and increased exercise can help reverse the fat gain for most people.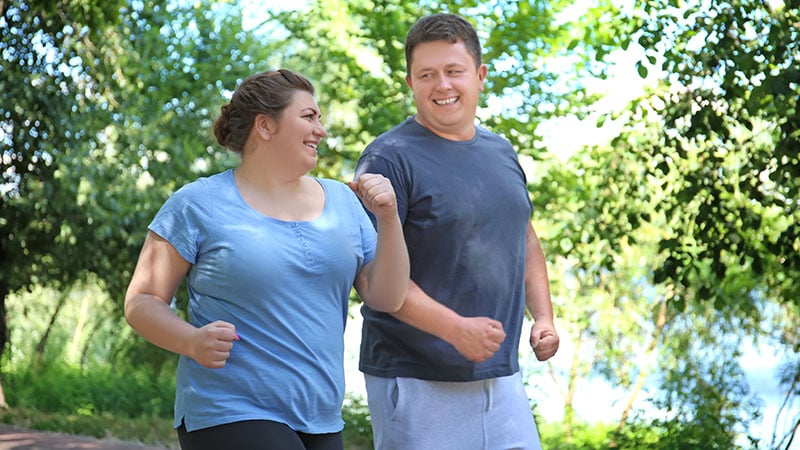 Facial Structure
Genetics and facial structure also play a role in the presence of a double chin. Unfortunately, some people are more naturally inclined to have a double chin, especially if it runs in the family. This could be because there's a predisposition for elasticity loss in the skin or a more pronounced submental area. Other facial structure factors, such as a small chin, narrow face, or weak jawline, can also exacerbate the appearance of the area under your chin.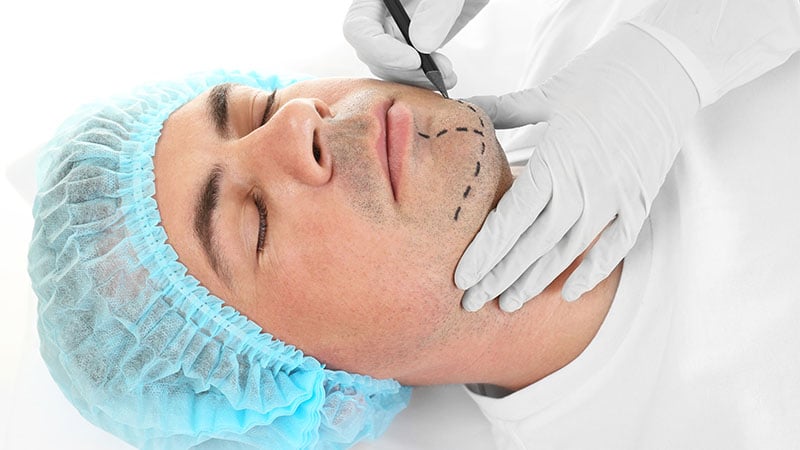 Posture
Poor posture, especially from slumping in front of a computer or phone, is another potential cause of a double chin. This can happen in two ways. Firstly, poor posture can lead to weakened muscles in the neck and face area, meaning they don't hold the way they should and can sag. It can also result in looser skin in the area, exacerbating the problem. Additionally, poor posture, especially of the upper back, can make you hold your head in such a way that it looks like you have a double chin. However, if you straighten your spine and lengthen your neck, this may, in fact, not be the case. Of course, you'll still need to build the strength in your muscles to correct your posture through conscious positioning and exercises.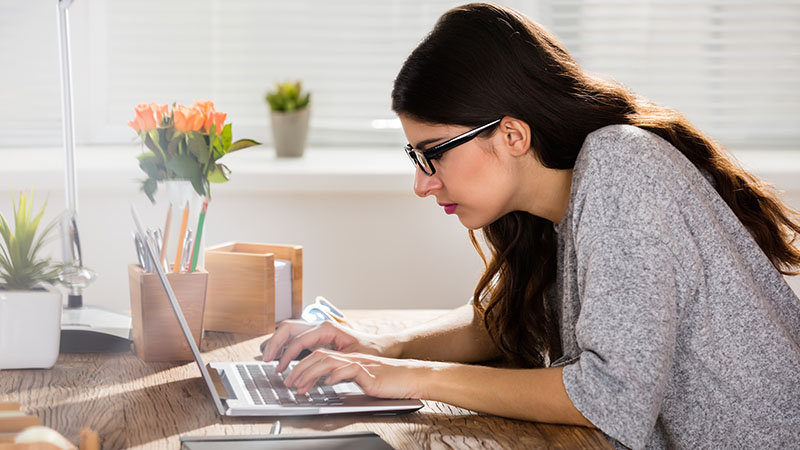 Aging Skin
As humans get older, the skin becomes less elastic with the decrease in collagen production that begins in your 20s. This is why you get wrinkles and could also be the cause of a double chin. The skin beneath your chin will start to sag and hang lower than it used to, giving the same effect as if you had extra fat cells stored here. The aging process can be sped up through environmental factors such as smoking, sun exposure, and poor diet. Consequently, if you're worried, this could be your future, it's best to cut back on those activities as soon as possible.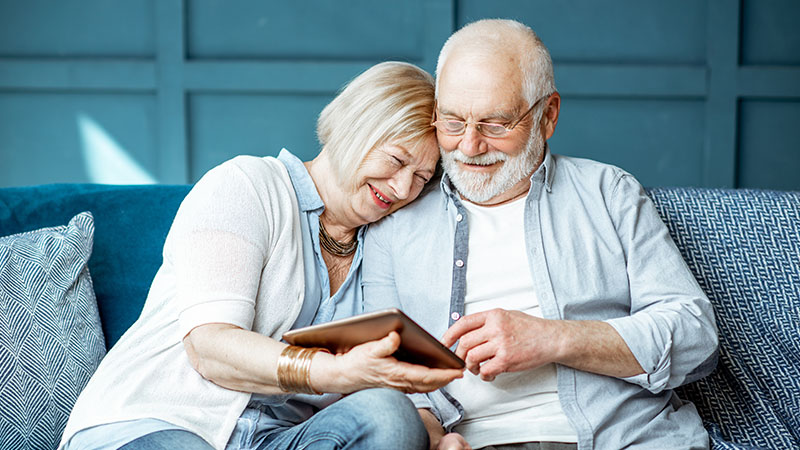 How to Get Rid of Double Chin
Diet
Eating at a calorie deficit is the only way to lose excess fat stores from your body. One of the easiest ways to achieve that deficit is to choose a healthy, balanced diet that focuses on fruits, vegetables, lean protein, healthy fats, and whole grains. Additionally, you'll want to increase your water intake, reduce your sugar consumption, and increase your fiber consumption to help you feel fuller for longer. Doing this will also help stop snacking between meals, which can be an issue for some people. Additionally, you can try eating foods such as shellfish, citrus, cashews, and bone broth, which can increase your body's natural collagen production. Of course, life is about balance, so it's more than ok to have a treat every so often. That way, you don't feel like you're missing out. As long as, on average, you're at a deficit, you'll see results.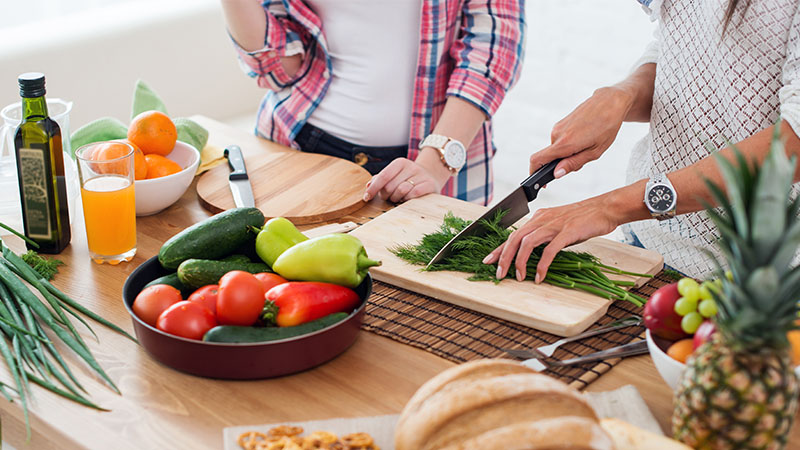 Exercise
Exercise is another excellent way to achieve a calorie deficit, as you want to burn more energy than you consume. You can try HIIT training, cardio, lifting weights, dancing, yoga — whatever kind of exercise you enjoy is the best. Exercise can also help strengthen the muscles in your upper back, chest, and neck and correct your posture. Since these are another cause of a double chin, you'll be hitting two birds with one stone. Plus, the improved blood flow around your body that comes with movement can improve collagen production. Lastly, exercise gives you a fantastic release of endorphins that feels amazing, reduces stress, and boosts your immune system.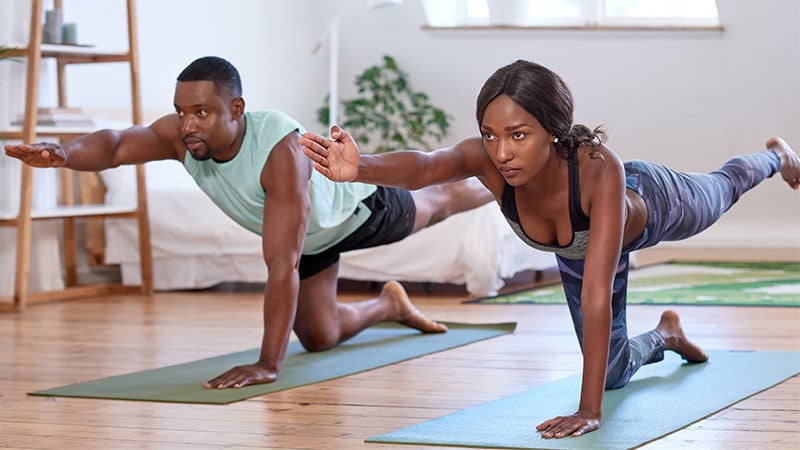 Lipolysis
Lipolysis is the process by which fat cells break down. When it comes to ditching a double chin, there are a couple of options, including laser and cryo-lipolysis. The laser option is more common and uses heat from lasers to melt the fat away. It also promotes collagen production to help tighten the skin. This procedure is great for targeting small spaces and is minimally invasive; however, it can have side effects, including bruising and swelling. You also need to ensure you're performing adequate aftercare; otherwise, you risk complications such as infection, scarring, or even blood clots in extreme cases. Alternatively, cryo-lipolysis is a newer procedure that freezes fat cells instead of melting them, using a specialized vacuum applicator. It's non-evasive, with minimal discomfort during the procedure and very few side effects.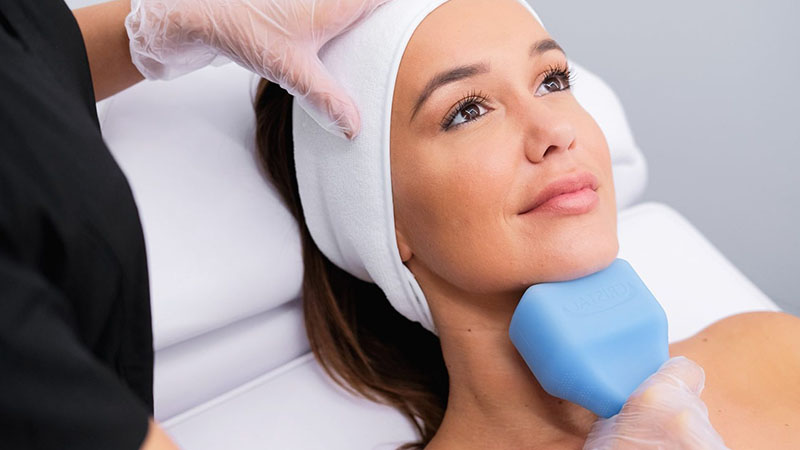 Mesotherapy
Mesotherapy is also a form of lipolysis and is a non-surgical cosmetic procedure that can help spot reduce fat deposits. It involves injecting a fat-dissolving solution into the fatty and connective tissue under the chin. Often the ingredients in the solution include deoxycholic acid, phosphatidylcholine, multivitamins, or saline. These break down the fat cells into nano-size particles, which then get processed through the body. You'll need a series of injections, sometimes up to 20 sessions, to see results. Keep in mind that side effects can include localized pain, swelling, redness, and bruising, all of which should subside in a couple of days. Make sure to choose a reputable doctor or dermatologist to administer the mesotherapy, as there are significant risks associated with the procedure, including nerve damage if done incorrectly.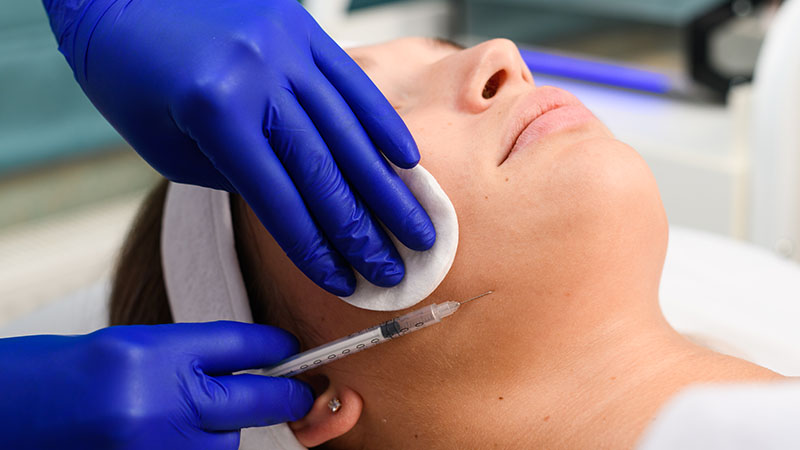 Double Chin Exercises
Straight Jaw Jut
1. Lift your face towards the ceiling.
2. Push your lower jaw up until you feel a stretch.
3. Hold for ten seconds, then release and bring your face back down.
4. Repeat 10-15 times each day.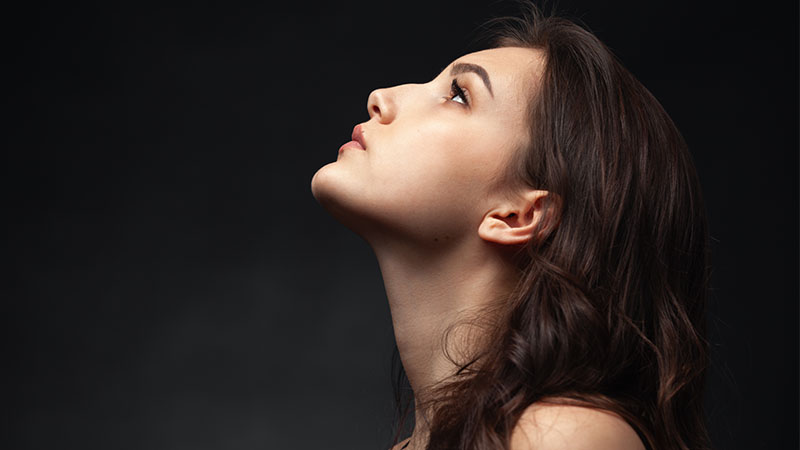 Ball Exercise
1. Tuck a tennis ball below your chin, lowering your chin to keep it in place.
2. Gently press against the ball for a couple of seconds, then release without dropping the ball.
3. Repeat 25 times, each day.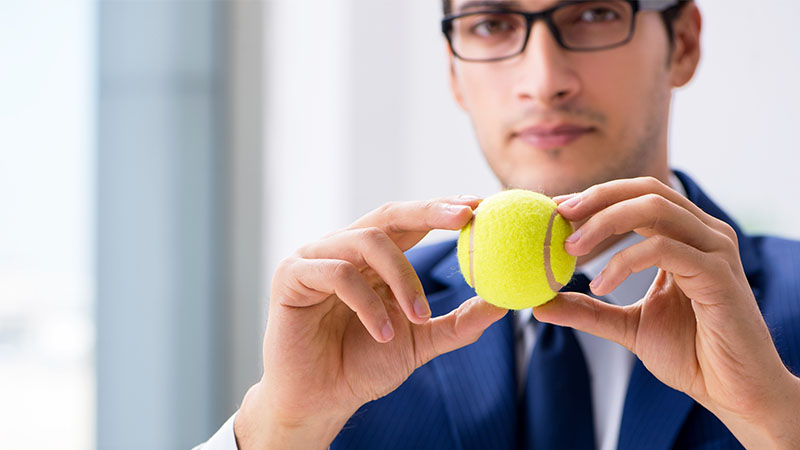 Pucker Up
1. Lift your face towards the ceiling.
2. Pucker your lips as if you're trying to kiss the ceiling. You should feel the stretch under your chin.
3. Hold for 10 seconds, then stop smooching the roof and bring your face back down.
4. Alternatively, get yourself a tall lover and regularly kiss them while you're standing!
5. Repeat 10-15 times each day.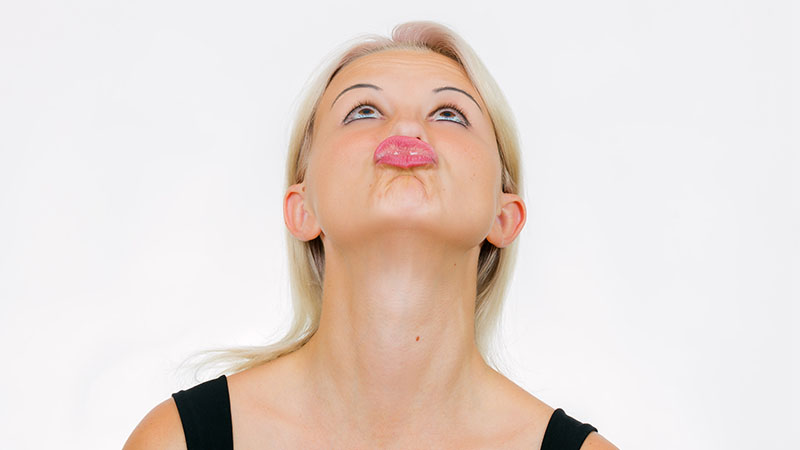 Tongue Stretch
1. Find a private place to do this exercise.
2. Stick your tongue straight out while looking ahead.
3. Lift your tongue up as if trying to touch your nose, and hold for 10 seconds.
4. If you choose to do this one in public, don't make eye contact with anyone. Or do … you do you.
5. Release and put your tongue back in your mouth.
6. Repeat 10-15 times each day.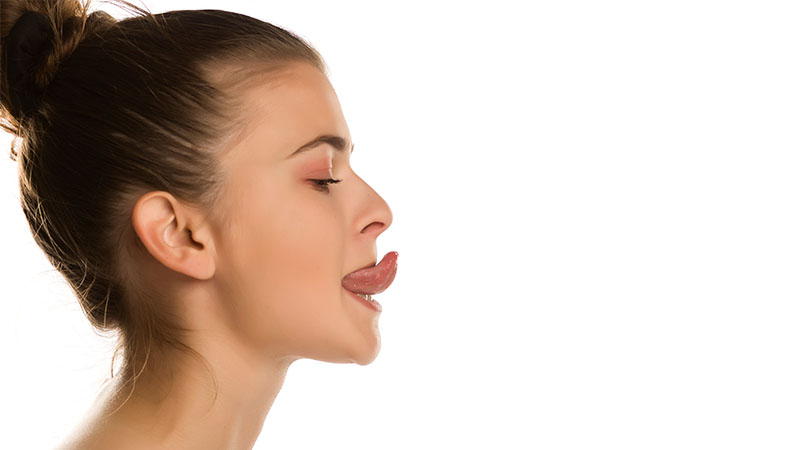 Neck Stretch
1. Lift your face towards the ceiling.
2. Hold your tongue against the roof of your mouth until you feel a stretch.
3. Hold for ten seconds, then release and bring your face back down.
4. Repeat 10-15 times each day.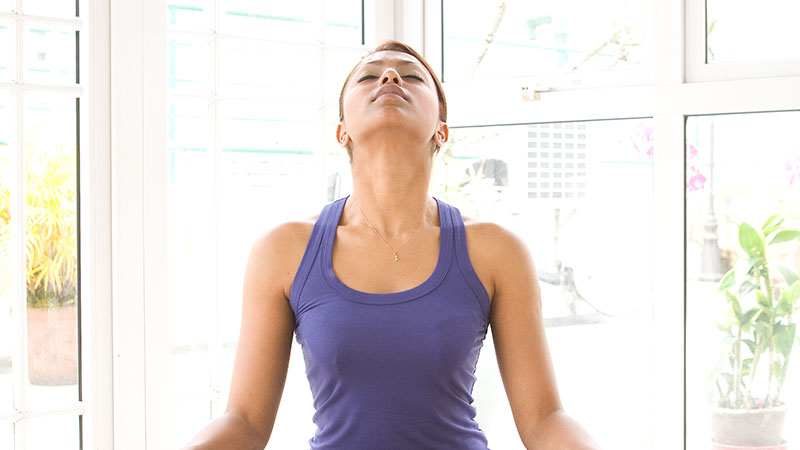 Bottom Jaw Jut
1. Lift your face towards the ceiling, and turn your head to the right.
2. Push your lower jaw up until you feel a stretch down the left-hand side of your jaw and neck.
3. Hold for ten seconds, then release.
4. Keeping your face lifted, turn your head to the left.
5. Push your lower jaw up until you feel a stretch down the right-hand side of your jaw and neck.
6. Hold for ten seconds, then release and bring your face back down.
7. Repeat 10-15 times each day.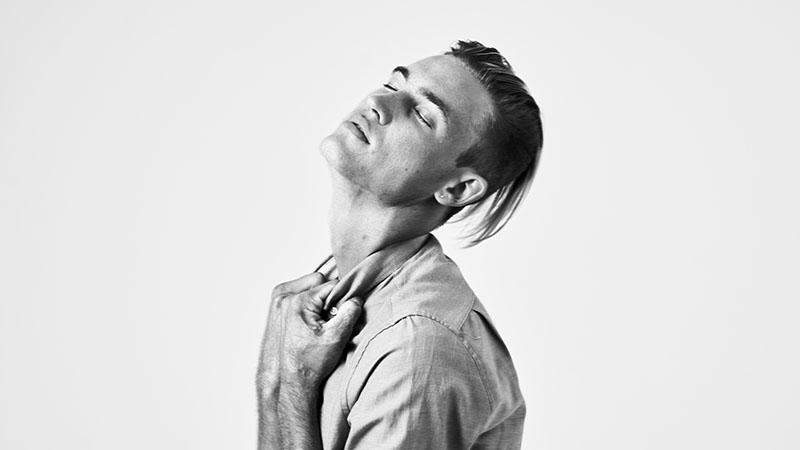 FAQs
Is it possible to get rid of a double chin?
Yes, it is possible to get rid of a double chin, depending on the cause. Poor posture can be a relatively easy fix, as can excess weight. However, facial structure and aging are a little trickier to change and may require more intensive methods such as cosmetic procedures.
What causes a double chin?
There can be multiple causes for a double chin. These can include being overweight, your facial structure, poor posture, or aging skin. Some of these are easier to rectify than others. Consequently, it's essential to work out the cause of your double chin so you can take the appropriate steps to get rid of it.
Do double chin exercises actually work?
Double chin exercises will help to strengthen the muscles in your neck and jaw. However, it won't let you spot target fat loss. Stronger muscles can help lift the skin in the area and assist with poor posture. If excess weight is the issue, double chin exercises give you a tighter jawline once you've lost the fat deposits.
Why do I have a double chin when I'm skinny?
If you're not overweight but still have a double chin, it could be due to poor posture, aging skin, or facial structure such as a narrow jaw or small chin.
Do double chin masks work?
Double chin masks have mixed results. Some people see improved elasticity and skin texture thanks to ingredients such as hyaluronic acid or aloe vera. However, most reports show short-lived success, with results only lasting a couple of days at most.
SUBSCRIBE TO OUR NEWSLETTER
Subscribe to our mailing list and get interesting stuff and updates to your email inbox.