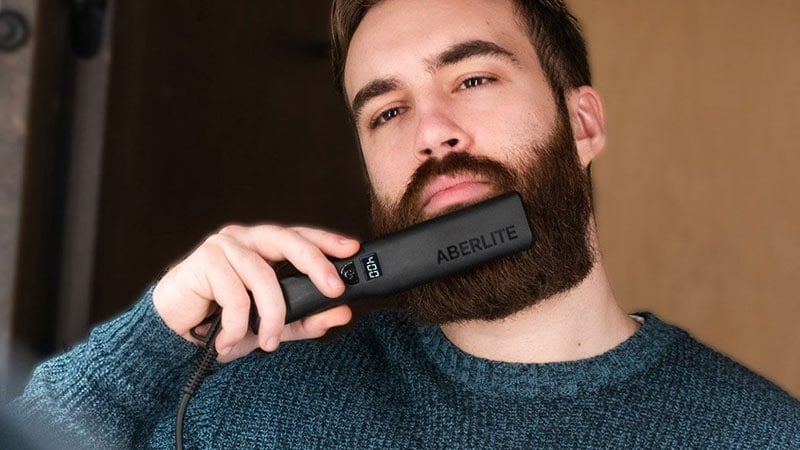 For those who struggle with a curly, coarse or frizzy-looking beard, using a beard straightener is more effective than battling with oils and balms. They are also far more gentle on your skin than trying to blow dry your beard with a hairdryer. Even better, beard straighteners work as well on your hair as they do on your beard. They're ideal if you need to look extra polished for a big meeting or date. You can also use one daily to keep your facial hair looking neat and tidy instead of woolly and wild.
RELATED: 30 Best Beard Oils & Conditioners for a Softer Beard
Best Beard Straighteners
1. Iston Beard Straightener
The Iston Beard Straightener will make even a coarse beard smooth and silky. It is designed to prevent damage to your facial hair by sealing the hair cuticle, which prevents split ends. Using ceramic technology, it heats up fast. Plus, the straightener also has ionic conditioning and an anti-static coating to make frizzy beard hair a thing of the past. The temperature is adjustable to suit all hair types, and the design is wider than most beard straighteners, which reduces the time it takes to smooth out your beard.
BUY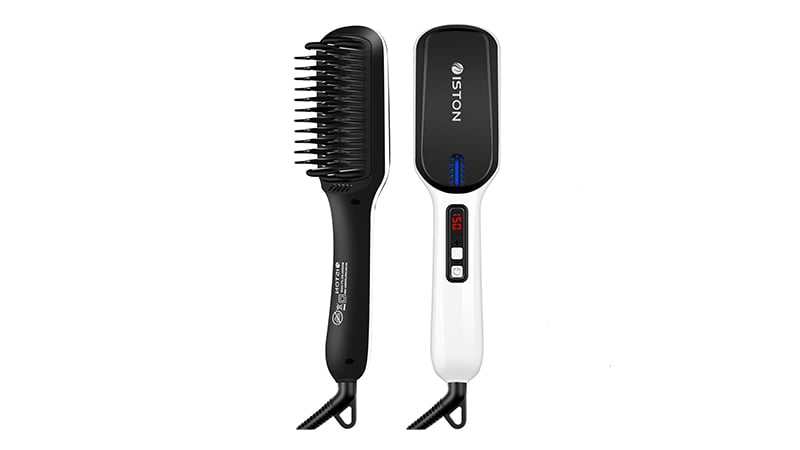 2. Annynice Beard Hair Straightener Brush
The Annynice Beard Hair Straightener Brush is a consistent performer. While you can use it on your hair, it is designed specifically for beards. Tourmaline technology helps reduce damage to the hair fibers, even at high temperatures. Because the heat is distributed evenly and consistently, you will need to make fewer passes over your beard, so there's less chance of damage. Plus, the Annynice Brush works particularly well on thick beards. Heating up in just 30 seconds, the results of using this straightener will last all day.
BUY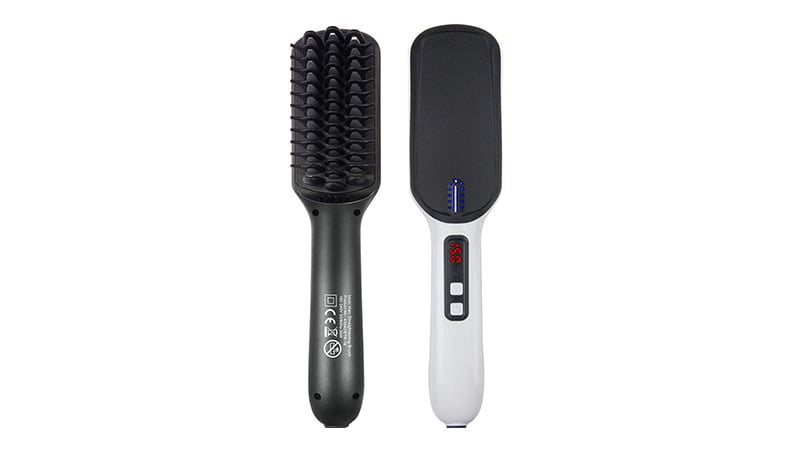 3. Arkam Ionic Beard Straightener
The Arkam Ionic Beard Straightener is designed to be one of the fastest facial hair taming devices on the market. It uses 'Single Stroke Technology' to ensure your beard looks ultra-sleek in one go. You can also use it on your hair. The adjustable heat gauge makes it suitable for every hair type and the results last all day. It is also an excellent option for those who frequently travel, as it comes in a silk bag for secure storage in your luggage. Additionally, it can support electric voltages in every country around the world.
4. Dolirox 2 in 1 Beard Straightening Brush
The Dolirox Brush & Styler is a multi-functional styling tool that is a beard straightener and hot comb in one. Not only will it tame an unruly beard, but also your hair. It heats up in just 60 seconds and can be used on straight or curly hair to create a smooth hairstyle. The two temperature modes – High and Low – make it perfect for both thick and fine hair types. Plus, if you have bleached or dry hair, you can still use the comb. Its rubber teeth mean the heat won't damage your hair.
BUY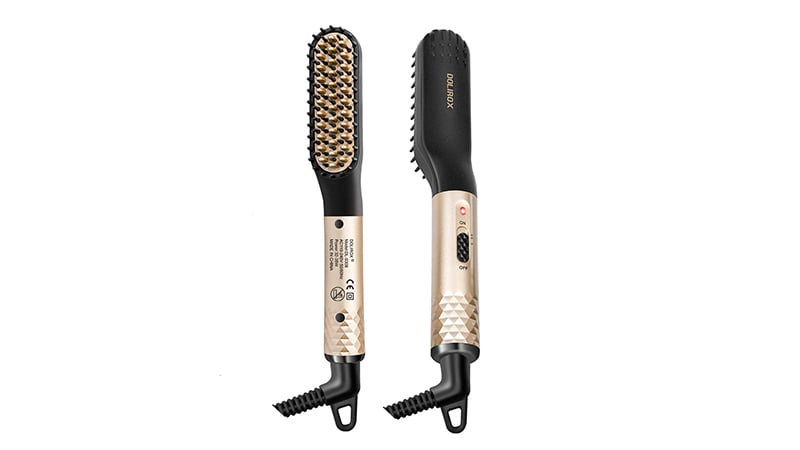 5. Aberlite MAX Beard Straightener
Gents rocking a longer beard will appreciate the Aberlite MAX. It's designed specifically for use on whiskers two inches or longer for the ultimate taming of wild facial fuzz. Choose from five heat settings with the highest temperature of 440-degrees. It also uses advanced thermal technology with positive temperature coefficient (PTC) heating components and ionic conditioning for less frizz and snag-free brushing. All you need is one pass for straight, smooth facial hair. Plus, a 360-degree swivel cord makes it easy to operate, while an auto-safety shut-off powers the unit down after 30 minutes of discontinued use.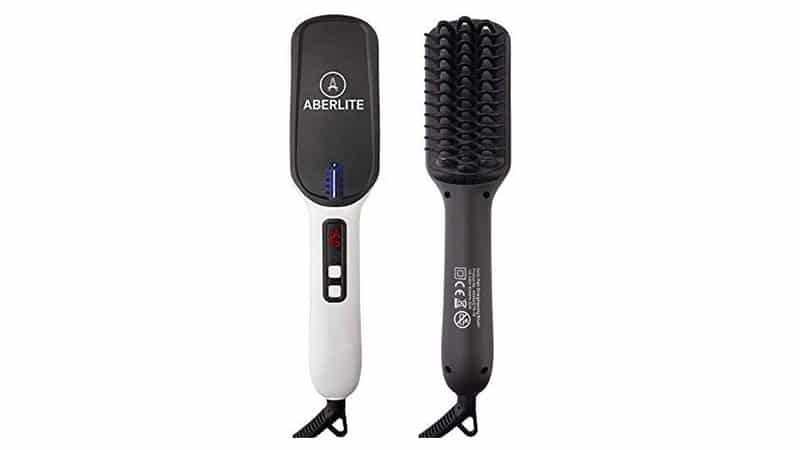 6. BEARDCLASS Premium Beard Straightener Comb
Enjoy a smooth, sleek, and luscious beard with the BEARDCLASS Premium Beard Straightener Comb. Designed for all beard lengths, the shorter and denser ceramic-coated bristles have a proprietary design that grips the hairs better for a more effective result. Plus, it offers an adjustable temperature range from 248-degrees Fahrenheit to 410-degrees, with anti-scald protection, so you don't need to worry about frying your face. You'll be out the door even faster with a speedy 40-second heat-up time, and its small, compact size makes it great for traveling for work or vacations. Finally, the set also comes with other useful beard accessories, including a beard comb, boar-hair beard brush, mustache comb, scissors, and a convenient travel pouch.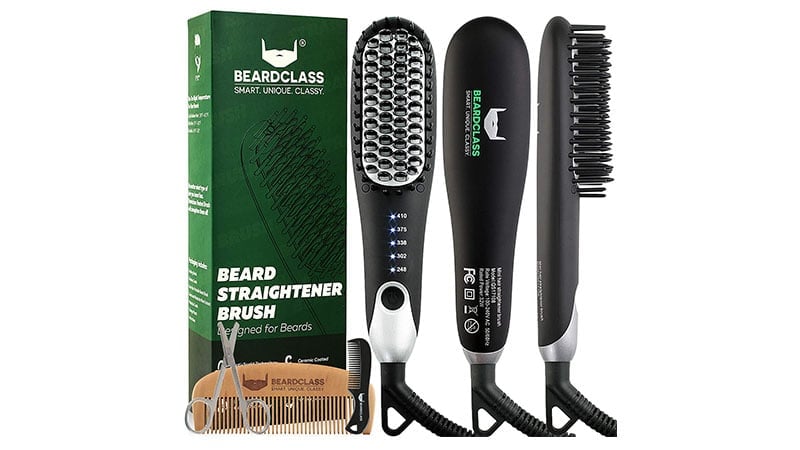 7. Safenorth Ionic Beard Straightener Brush
Safenorth brings you a complete and stylish beard care kit, including a toiletry travel bag, scissors, wooden comb, and wooden brush. Of course, the hero of the set, however, is the Ionic Beard Straightener Brush. It uses ceramic heating teeth with an anti-static coating, interspersed with rubber bristles to protect your skin and provide a smooth but firm glide. An LED display panel shows you what temperature you're working with (ranging from 260 to 400 degrees Fahrenheit), while an auto-shut-off mode kicks in after 60 minutes. Lastly, the 360-degree swivel cord and compact size ensure ease of use without losing performance or power.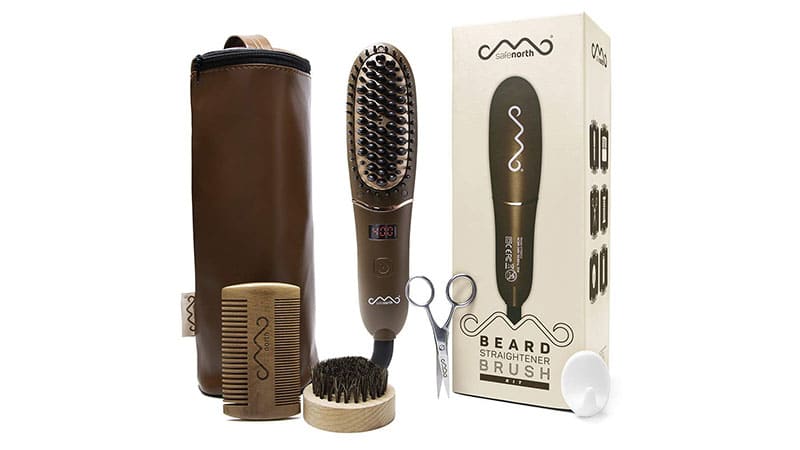 8. YiBi Beard Straightener for Men
You'll be looking suave and stylish when straitening your beard with the YiBi Beard Straightener for Men. It heats up in just 30 seconds and uses negative ion technology to help prevent heat damage to your luscious whiskers. Choose from dual temperature options. The lower setting of 356-degrees Fahrenheit is ideal for thick and coarse facial hair, while the hotter setting at 392-degrees Fahrenheit is best for long beards and curly hair. Designed in the United States, it also has ergonomic handles, a flexible rotating power cord, and a slim, lightweight shape.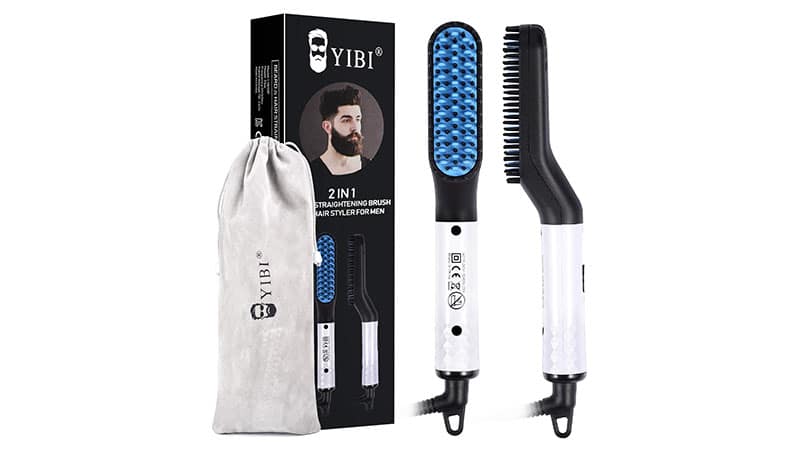 9. Aberlite Pocket Compact Beard Straightener
Aberlite's Pocket Compact Beard Straightener is designed specifically for men on the go. Its small, portable size is ideal for traveling. It's also a versatile choice, thanks to curved bristles, which are shorter and more compact, ensuring you can style any type and length of beard. Select from flexible temperature settings to choose the right heat for you, with options ranging from 260 to 400 degrees Fahrenheit. Finally, the ceramic heating element, anti-scald teeth, and advanced ionic conditioning let you brush through smoothly, with no snagging or frizz for the ultimate sophisticated and composed look.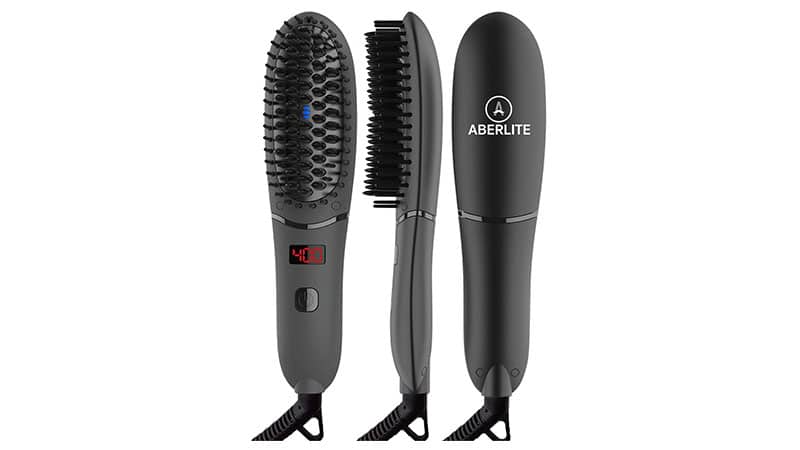 10. Cayzor Beard Straightener Comb
Cayzor keeps it simple and sleek with its beard straightener comb. The advanced PTC heating element reaches your desired temperature in just 30 seconds and provides even, consistent heat for better, more effective results. Select from 5 settings to suit all beard types, including fine, curly, thick, coarse, and long. The LED display will show your chosen temperature, with 210, 250, 280, 320, and 360 degrees Fahrenheit options. The portable design also includes high-density teeth and a recessed power button, so you can't accidentally turn it on. Plus, the safety shut-off powers the unit down after 30 minutes.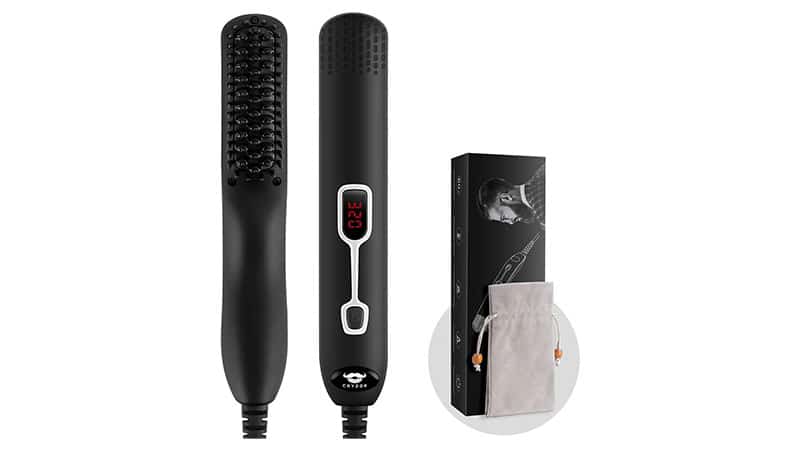 11. YiBi Beard Straightener Kit
YiBi's Beard Straightener Kit is the complete set and makes an excellent gift for the bearded gents in your life. The beard straightening brush is equipped with MCH heating and a maximum temperature of 450 degrees Fahrenheit. The advanced ionic tech keeps your hair hydrated to reduce frizz and any potential damage, while the anti-scald design protects your skin. Stay safe with a 30-minute auto-shut-off function and a temperature lock. Lastly, the set includes a heat-proof storage bag, an organic beard balm for moisture and styling, plus a cleaning brush and double-sided wooden comb to help perfect your look.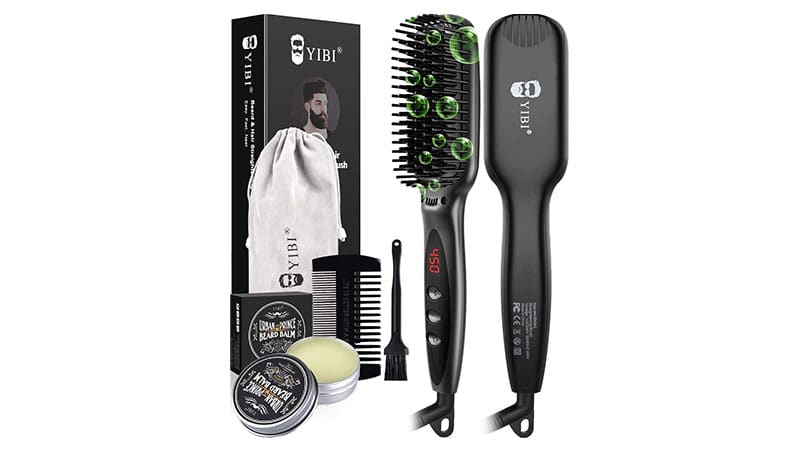 12. Ceenwes 3 in 1 Beard Straightener
Straighten your beard with ease, using Ceenwes' 3-in-1 unit. Pick from three temperature settings – 360, 400, and 450 degrees Fahrenheit. These let you work on soft or thin beards, all the way through to the thickest and curliest facial hair. Other features include a 360-degree rotatable power cord, a hanging hook for easy storage, and MCH dual ceramic plates for 30-second rapid heating. Plus, the anti-scald design protects your face, while ion technology prevents heat damage and frizz. In the kit, you'll also get an organic beard oil for added moisture, plus access to an e-book full of advice on growing and caring for your beard (which is particularly useful for anyone new to beard care).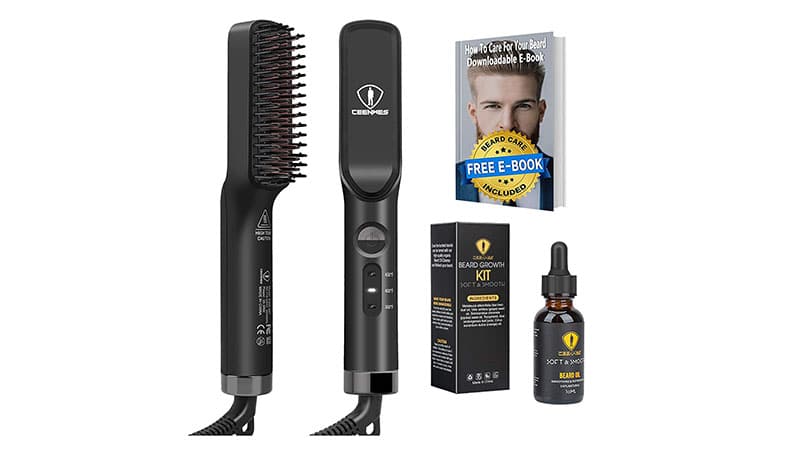 13. TAME THE WILD Easy Glide Beard Straightener Essentials Kit
If you're looking for a great gift set, then the Beard Straightener Essentials Kit from TAME THE WILD is perfect. It comes with a conditioning beard soap, heat protection spray, hydrating beard balm, a wooden comb, a stylish carry bag, and, of course, the beard straightener. It's everything you need for healthy, well-maintained facial hair. The Easy Glide straightener has an anti-scald design, with rapid heating and ceramic bristles. Choose from three heat settings, including 300, 350, and 410 degrees Fahrenheit. This gives you the flexibility to tackle all kinds of beards, from fine to thick and coarse. A 360-degree swivel cord prevents you from getting tangled as you work, while the lightweight design is also great for travel.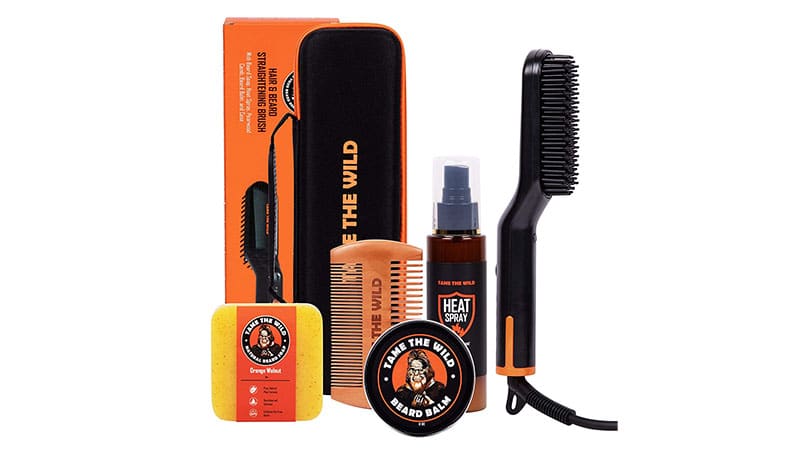 14. HOT TOOLS Men's Beard Straightener Brush
Ceramic and tourmaline technologies combine in the HOT TOOLS beard straightener for fast, efficient results. Boasting a unique bristle pattern, the brush detangles, straightens, and shapes all in one smooth movement. Choose from dual temperature settings with 360 or 410 degrees Farenheight for various facial hair types. A six-foot cord provides the freedom to move, while dual voltage is ideal for traveling abroad, as is the convenient travel bag.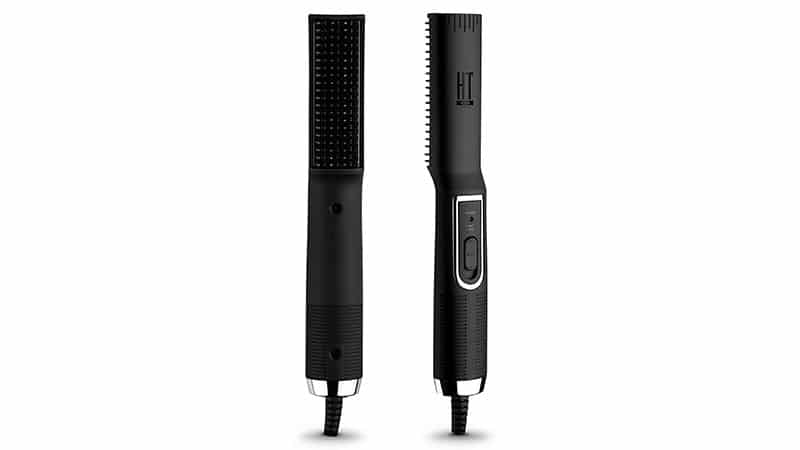 15. Movember Cordless Viking Beard Straightener
The Swedish-designed Movember Cordless Viking Beard Straightener is a super convenient option for taming your beard. Because it is cordless, you can get maximum maneuverability and control over the bristles. It's also completely portable and lightweight, so it's ideal for travel. Equipped with ionic conditioning technology and an anti-static coating, the straightener will make your beard frizz-free and polished in seconds. You can also use it on your hair to eliminate flyaways – leaving you looking ultra-sleek and professional. It's also no wonder this straightener is named after the Vikings. The fierce warriors were famous for their braided hairstyles and immaculate beards, and carried combs with them at all times!
BUY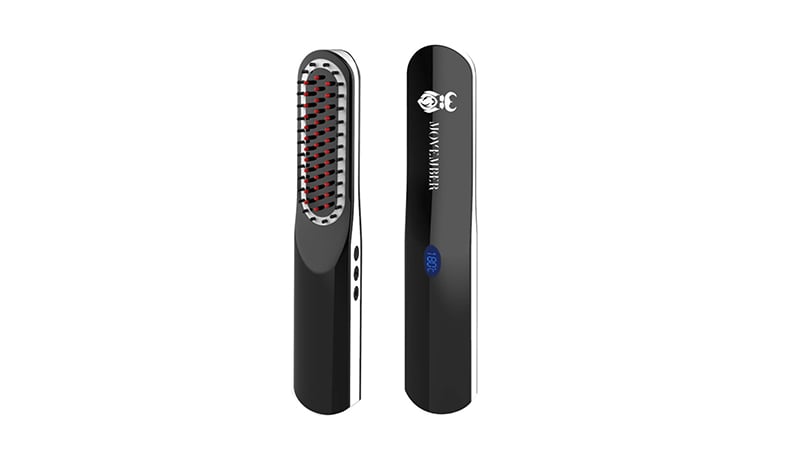 16. Charminer Electric Comb for Men
As one of the most affordable beard straighteners on the market, the Charminer Electric Comb still ticks all the boxes. It's suitable for styling your hair and beard, has both ceramic and ionic technology, and the temperature is adjustable. It works for both straight and curly types of hair and is lightweight and compact, so it's great for business travel. However, it does take two minutes to heat up so ensure you wait the optimum amount of time before using it. There's also no automatic power-off function, so ensure you switch it off after using. But at a fraction of the price of other beard straighteners, it's still a reliable option for those wanting to try out this type of styling device.
BUY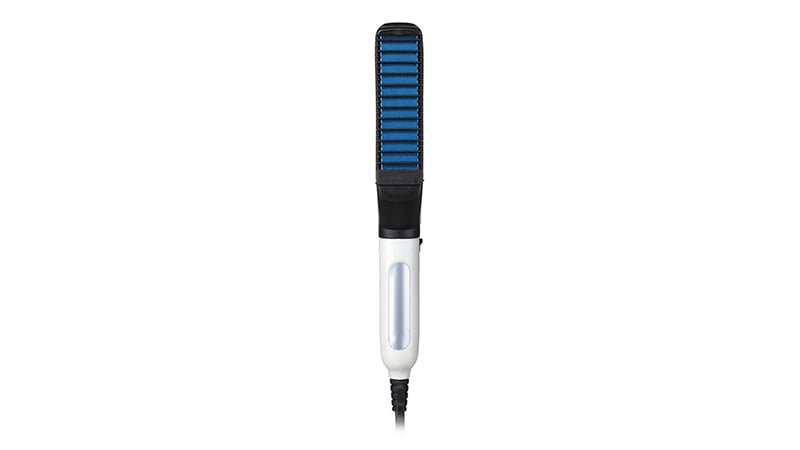 17. Charminer Beard Straighter
If you need more control when straightening your beard – or taming your hair – try the Charminer Beard Straightener. It has a 360-degree swivel cord, which means you can move in any direction you need. The tug-free design ensures a smooth result with no tangling. It uses porcelain technology in its heating mechanism, which means your beard will look super sleek. Plus, the comb teeth are coated in soft rubber to protect your face and scalp from burning. Plus, the stylish gold and black design will also look great in your bathroom cabinet!
BUY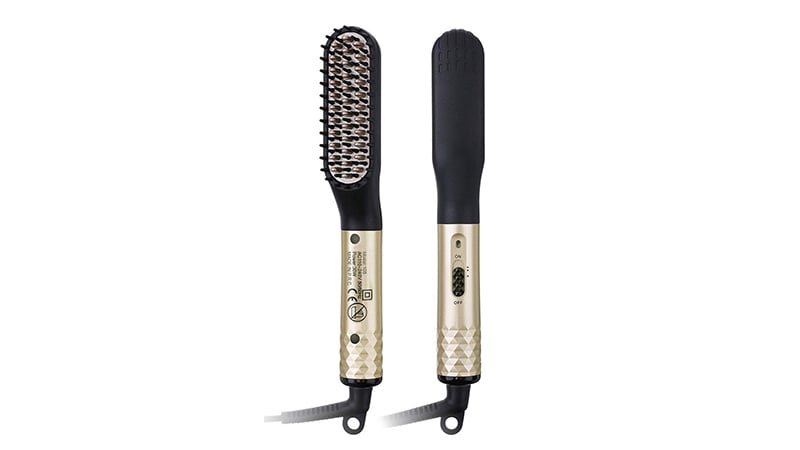 18. Dioverde Beard Straightener
For those who struggle with a straggly, frizzy beard, the Dioverde Beard Straightener's anti-static coating makes it a great option. It straightens, smooths, and detangles your beard in one step – making it compatible with every hair type from curly to straight, thin, or thick. You'll be left with a soft and shiny beard that looks neat and polished. Plus, it heats up in just 15 seconds. If you're worried about using a heat tool so close to your face, don't panic. The Dioverde Beard Straightener comes with a removable layer comb that acts as a shield for your skin, preventing burns and scalding.
19. Tame The Wild Ionic Beard Straightening Brush
If you want to tame particularly coarse or kinky beard hairs, you need a straightener that combines both ceramic and ionic technology. The Tame The Wild Brush uses ceramic heating to go from 0 to 400F (200C) in one minute, distributing the heat evenly without tugging or pulling at your bear hair. Next, its ionic generator reacts with your hair on a molecular level, strengthening broken and damaged strands. Even better, the straightener won't overheat as the handle, and bristle tips don't heat up enough to scald you. Plus there are safety lock and automatic shut-off features. For extra control, you can choose between 12 different temperature settings to get your ideal result.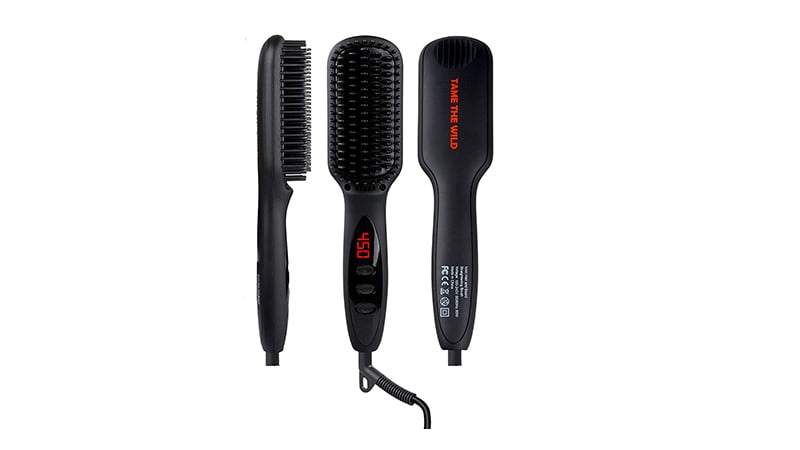 20. Larmhoi Beard and Hair Straightening Brush
The Larmhoi Brush & Electric Comb is all about efficiency. It works on both your hair and beard, combining comb teeth with heat to smooth, straighten or define curls. Each of the comb teeth has an anti-scald coating to prevent burns and distribute heat evenly, giving you super-smooth results. Light and portable, you can easily travel with this beard straightener. For a professional finish, apply a little beard oil before you straighten.
BUY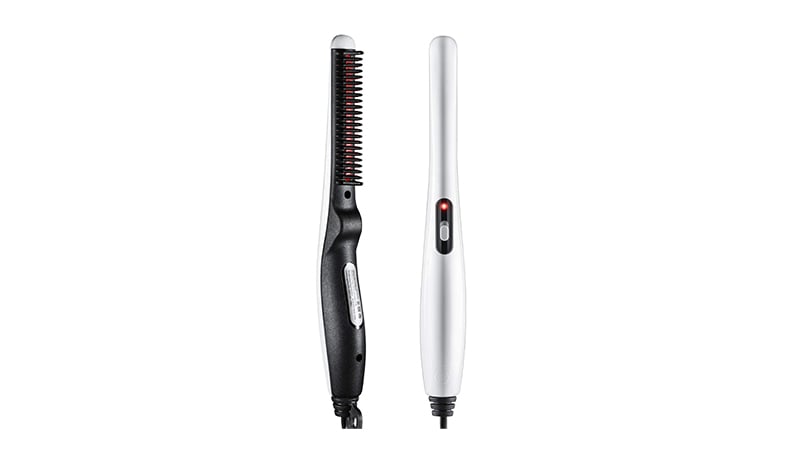 Types of Beard Straighteners
When researching different beard straighteners, you'll come across a lot of buzz words and different options. There are a few main types of heated beard combs, including ionic, tourmaline, ceramic, porcelain, and infrared. Each has its benefits and will affect the price and functionality of your device.
Ionic
Ionic beard straighteners emit negative ions, which interact with the positive ions in the water molecules in your hair. This helps minimize frizz and maximize hydration, giving you smoother, shinier results.
Tourmaline
A tourmaline straightener operates in a similar manner to an ionic one. However, it produces even more negative ions for faster, more effective, and efficient outcomes.
Ceramic, Porcelain, Infrared
These refer to the materials used in the brush, mainly in the construction of the bristles and the heating technology. Each of these is known for its quick, even, and consistent heating, allowing you to straighten your beard faster, with fewer passes and less damage.
How to Use a Beard Straightener
Start by washing and drying your beard. You want very little water remaining in the hair to prevent singeing.
Apply a good quality heat protectant to your beard. This will help prevent damage.
Turn your beard straightener on, selecting your chosen heat setting. Let it come to full heat – this can take between 30 seconds and a couple of minutes.
Start by brushing from your cheeks, using a firm but gentle downward motion. Keep the strokes short, and don't let the brush rest in one spot.
Move onto your chin, brushing straight down or slightly outwards if your beard is long.
Next, brush down through the neck area. If you have a long or really full beard, you may also need to brush out from underneath to get through all the volume.
Finish by tidying up any strays with a beard comb and optional beard balm to help everything stay neat and in place.
Beard Straighteners FAQs
Do beard straighteners really work?
If you have a curly or coarse beard that cannot be tamed with oil or balm, then a beard straightener may be a great alternative. The approach is the same as you would take for your hair, and there are several products on the market designed to help you achieve a smooth and silky beard and create a more polished appearance.
How do I get my beard to lay flat?
To help create a flat beard, you should start by washing it. You can then apply beard oil and comb it into your desired shape. Beard balm can also be used for added styling, or if you have an unruly beard that is scraggly or coarse, you can also use a beard straightener.
Can you use a beard straightener every day?
When using a beard straightener, there are several things to consider, and overuse could have a negative effect. In the same way, using a hair straightener on your head hair every day can be damaging because of the heat. Therefore, you should take precautions by choosing a good product and a heat-spray shield.
Which beard straightener is best?
There are several great beard straighteners on the market, depending on your preference and budget. A few to consider include the Tame The Wild Ionic Beard Straightening Brush, Movember Cordless Viking Beard Straightener, and the multi-functioning styling tool, Dolirox 2 in 1 Beard Straightening Brush.
SUBSCRIBE TO OUR NEWSLETTER
Subscribe to our mailing list and get interesting stuff and updates to your email inbox.