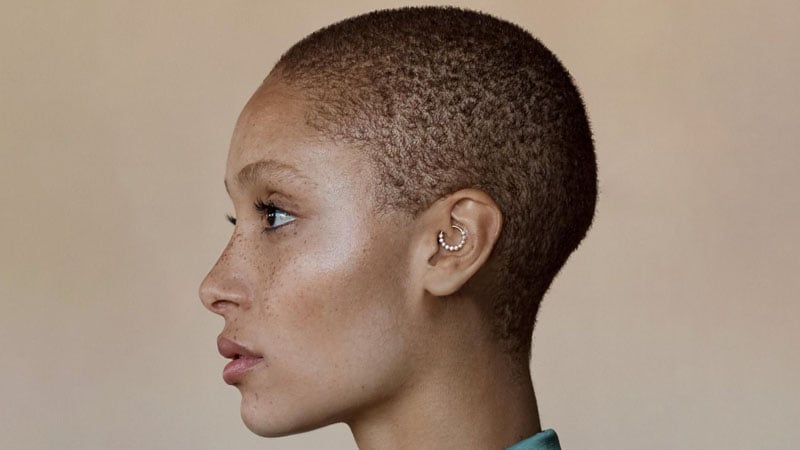 The Daith piercing looks edgy and cool. It pierces through the inner cartilage of the ear, but there is more to know about it than just aesthetics. Some believe it can help relieve pain for headaches and migraines and could be beneficial for anxiety-related symptoms. It can cause discomfort and the healing process is lengthy, but this piercing is a great way to express yourself and there are many ways to personalize it with the jewelry you choose. From pain, healing time, and aftercare, we have all the information you need to know about the Daith piercing before deciding to get one for yourself.
What is a Daith Piercing?
Daith piercings are popular for their aesthetic but are also used for pain relief and other purposes. The piercing is done through the innermost cartilage fold of the ear, where the inner ear meets the outer ear. They can be painful because it pierces thick cartilage and because it takes longer to pierce, around nine seconds, which can also prolong the discomfort.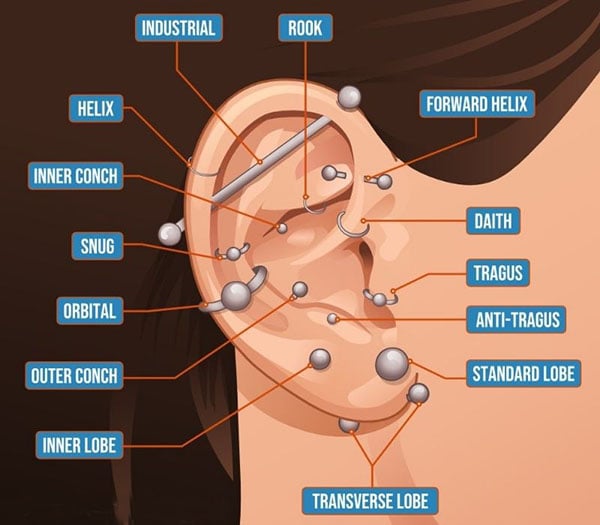 Daith Piercing Pain
Everyones pain threshold is different, but the Daith piercing is considered around a three out of five on the pain scale. This is still much higher than an earlobe piercing which would be rated around one out of five. Piercing through cartilage will cause some discomfort, and you may find that for several days after you experience a dull ache in the area. While the piercing heals, which can take up to nine months, the area may be sensitive to touch.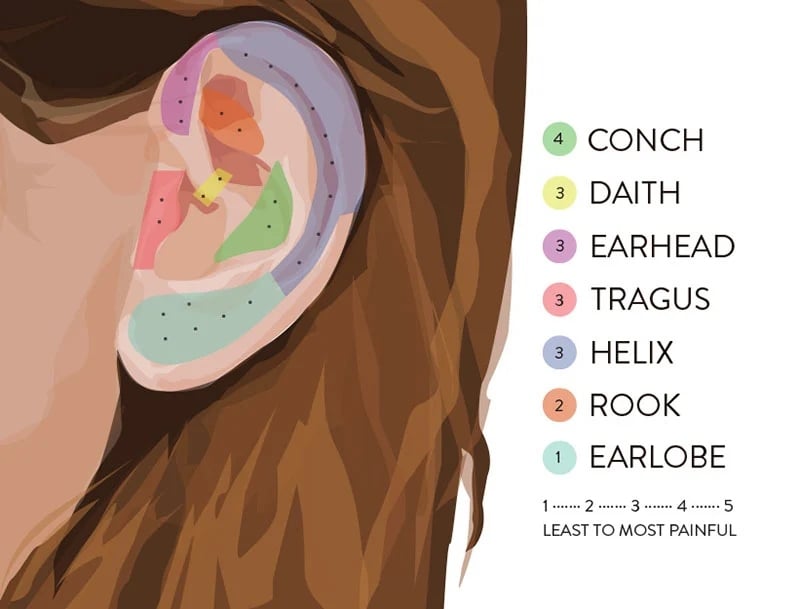 Daith Piercing Cost
The Daith piercing is affordable, with prices ranging from $40 to $80, which is common for most inner ear piercings. Prices vary depending on the studio you choose and the piercer. Other cost factors include your choice of piercing and the material of the jewelry.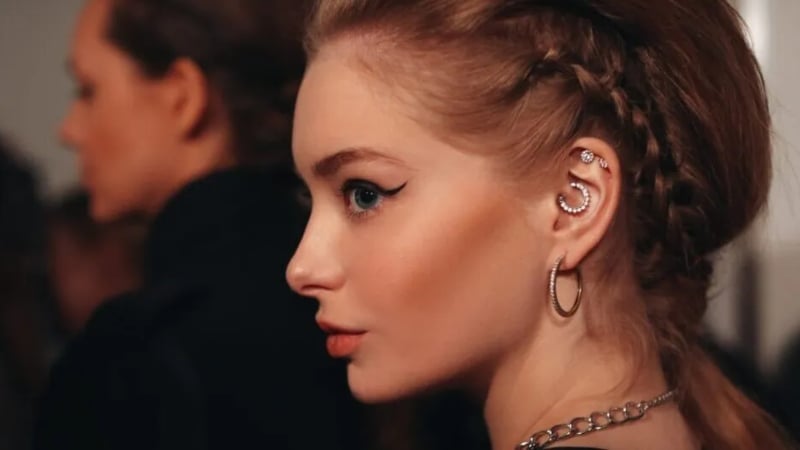 Daith Piercing for Headaches and Migraines
The Daith piercing looks edgy and effortlessly cool but it is not only used for aesthetic purposes. The location where it pierces is near the acupuncture target to help relieve migraines and headaches by blocking pain receptors in your body. Getting pierced here is believed to offer permanent relief for migraines. However, there is no scientific evidence to confirm the pain-relieving abilities of the Daith piercing. It is not recommended by doctors for this purpose and some believe that the pain relief could be more of a placebo effect.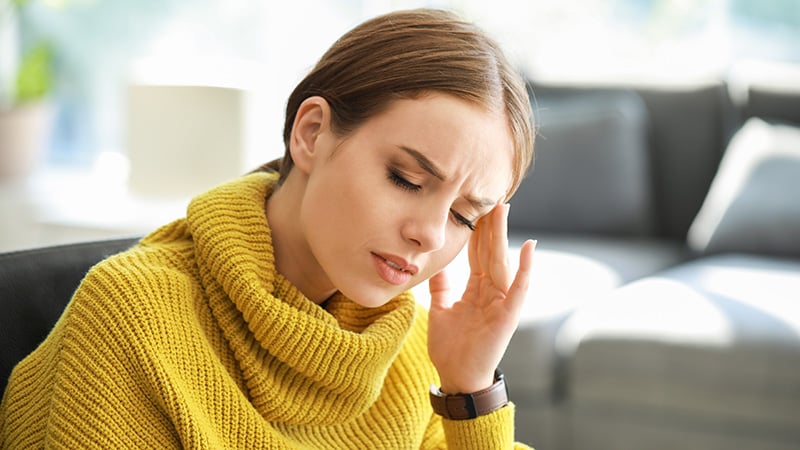 Daith Piercing for Anxiety
The Daith piercing is believed by some to be beneficial for symptoms of anxiety. The location of the Daith piercing, on the innermost fold of the ear, through the cartilage, is believed to ease symptoms caused by anxiety, like migraines. This is done by targeting a pressure point, and the Daith piercing is believed to put permanent pressure on the vagus nerve, which in turn should help alleviate symptoms. There is no medical proof that this works and it has been argued by some to be a placebo effect.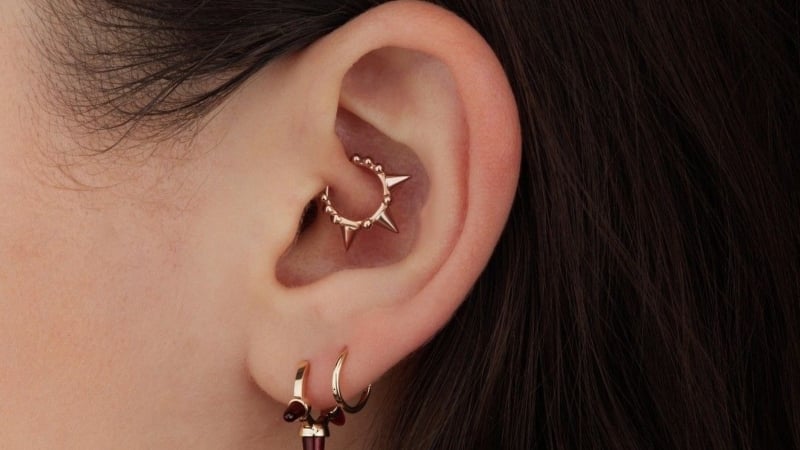 Daith Piercing Aftercare
How to Clean Daith Piercing
The right aftercare and cleaning routine is essential for any piercing. Even when you think your Daith piercing has healed, you should continue your aftercare routine for at least six months. You will need to clean the area with a saline solution daily using a spray bottle. Wash your hands with soap and water before touching the piercing, and pat it dry afterward using a paper towel.
How to Change Daith Piercing
A Daith piercing should not be changed for several months after the initial piercing. For the best results you should wait until it is fully healed, which can take around six to nine months. However, many people do change their piercings before. To check that it could be ready, ensure there is no pain, redness, or swelling.
Daith Piercing Healing
The Daith piercing can take between six to nine months to heal fully. While the area may be sensitive to touch until it is fully healed, it should not be painful. A few days after the piercing you may experience a dull ache. You may also be unable to sleep on the side of your piercing because of the pressure. Proper aftercare can prevent infection. Your piercing will need to be soaked in a saline wound wash solution for around ten minutes daily. Always wash your hands before touching your piercing. You should not play with the piercing during healing and avoid sticking anything into the ear.
Daith Piercing Infection
There are possible side effects of the Daith piercing, including infection, which will need to be treated by a medical professional. You want to take care to prevent inflammation of the cartilage. Signs of infection include redness and pain, swelling, and a yellow discharge. The area will also feel warm. Other complications after getting a Daith piercing include skin reactions, allergic reactions, and keloids, which are enlarged, raised scars.
Daith Piercing Jewelry
There are several options for jewelry when choosing a Daith piercing. For those who do not want to risk an allergic reaction, it is best to choose metals like gold, titanium, niobium, and stainless steel. Nickel-free jewelry is advisable. There are also different types of piercings from hoops to captive beads, depending on your preference. Keep reading to find out everything you need to know about each of these pieces.
`
Hoop Earrings
Hoops are a great choice for a Daith piercing and can look feminine. There are different sizes and thicknesses to choose to make this a versatile choice. There are also different patterns, letting you find a unique and expressive piercing.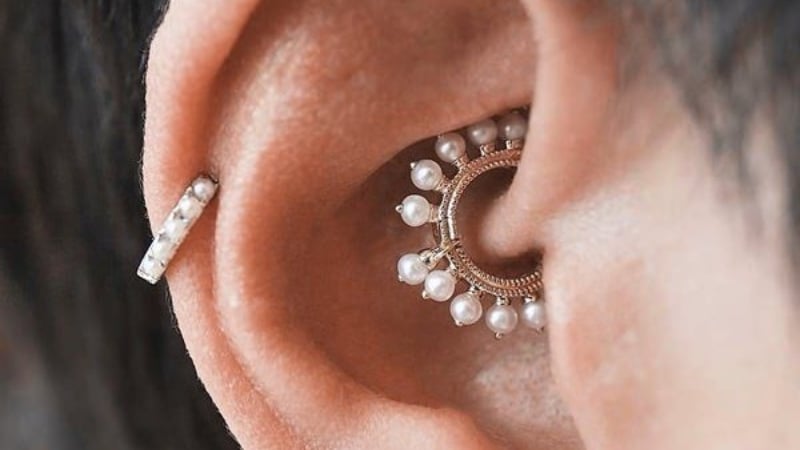 Heart Earrings
For those who want to embrace the love in their life, what better way to show this off than with a heart Daith piercing? This is a piercing that has a heart shape. However, not all ear shapes look good with the heart piercing and it is not advisable to use them until the piercing has healed completely.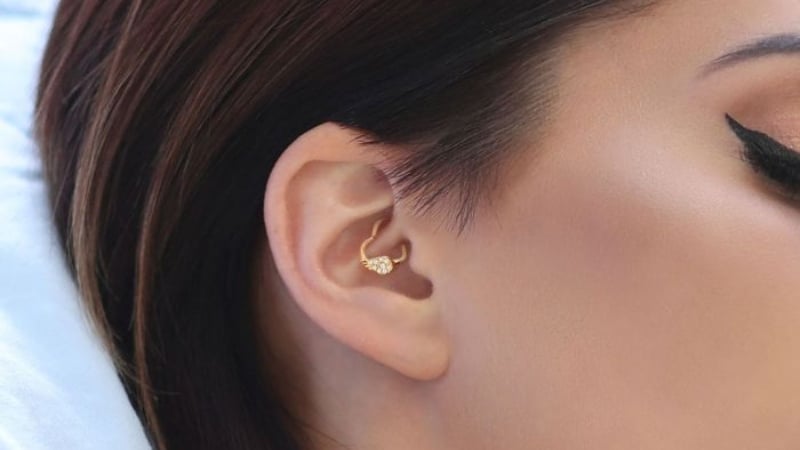 Barbell Earrings
The barbell piercing has balls on either end. It can be straight, curved, or circular, which makes it easy to find an earring to suit the location of your piercing.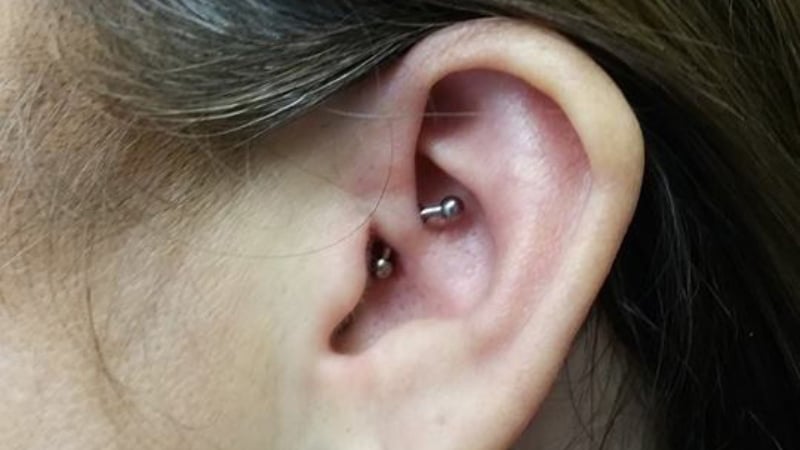 Captive Bead Earrings
The appeal of the captive bead ring piercing is its simplicity. It is a hoop piercing with a bead in the center, which makes removing the piercing very easy. It is also less likely to fall out because it is securely held in place.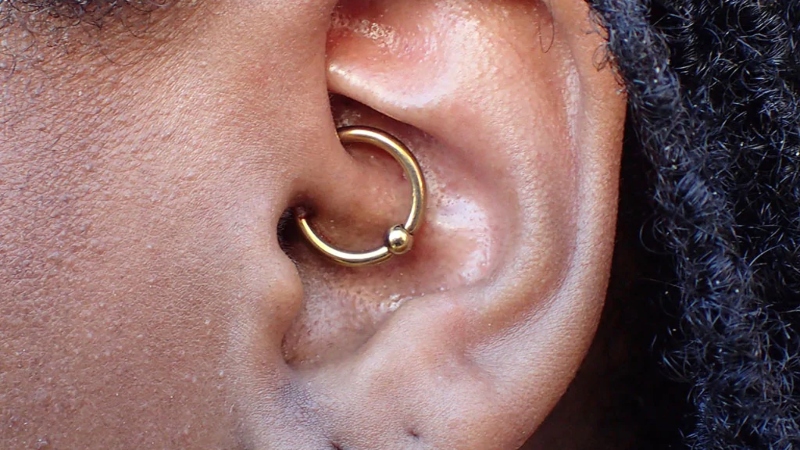 Clicker Earrings
The defining feature of a clicker piercing is the hinged clasp and it makes a clicking noise when closed. This is a versatile piercing and is incredibly easy to use. There are also different styles and various materials to choose from.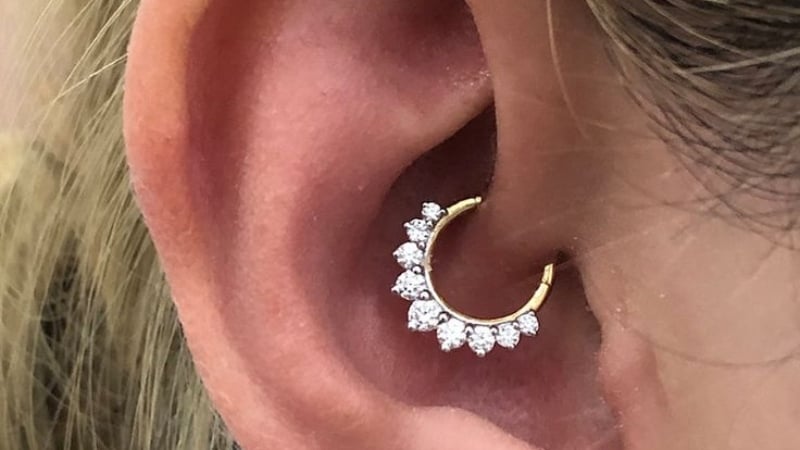 Fake Daith Piercing
If you love the look of the Daith piercing but are reluctant to try it out because of the pain or because you are prone to allergic reactions or skin irritations, you can choose a fake Daith piercing. This is also a great way to try out the piercing to see if it looks good on you and complements your ear anatomy. There are many different options to choose from and a variety of materials available.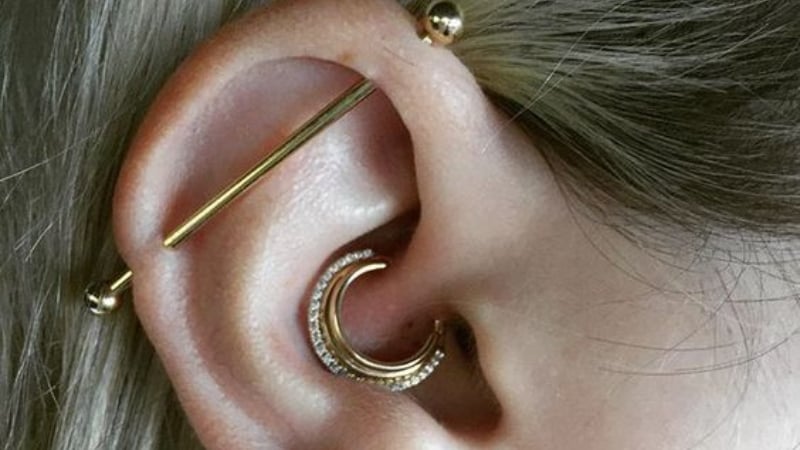 Daith Piercing FAQs
Does a Daith piercing hurt?
The Daith piercing does hurt. How much it hurts depends on your pain tolerance and ear anatomy, but it is generally considered around a six out of ten.
Does a Daith piercing stop migraines?
Some believe that a Daith piercing can alleviate the pain of migraines and headaches. The idea is similar to acupuncture which targets a specific point on the ear, and the piercing will be done near this location. The idea is that the piercing can offer permanent relief for migraines. However, there is no scientific evidence to confirm the perceived health benefits of the Daith piercing.
Which ear do you get a Daith piercing?
You can get a Daith piercing done on one or both of the ears. For those who suffer from migraines, you may wish to get it done on the side of the head where you experience the most pain. If it is for aesthetic purposes only, it does not matter which side you choose.
What is a Daith piercing good for?
A Daith piercing looks edgy and cool. It is one of the hottest piercings at the moment and is great for those who want something different and expressive. It also has potential health benefits associated with it, including pain relief for migraines and to help with anxiety-related symptoms.
Can you wear earbuds with a Daith piercing?
The Daith piercing can take between six and nine months to fully heal. During this time you should not wear earbuds or stick anything into the ear. Once the piercing has healed, you can use earbuds if your earring is small and does not rub against them causing friction and irritation to the piercing.
How much is a Daith piercing?
The cost of a daith piercing will vary, depending on your choice of jewelry, the material you use, and the studio you choose.
What Material is Used for Daith Piercing
The best materials for Daith piercings are nickel-free, as these have a greater risk of infection. Popular choices include gold, titanium, niobium, and stainless steel. These materials are hypoallergenic and will help you avoid allergies and infections.
SUBSCRIBE TO OUR NEWSLETTER
Subscribe to our mailing list and get interesting stuff and updates to your email inbox.