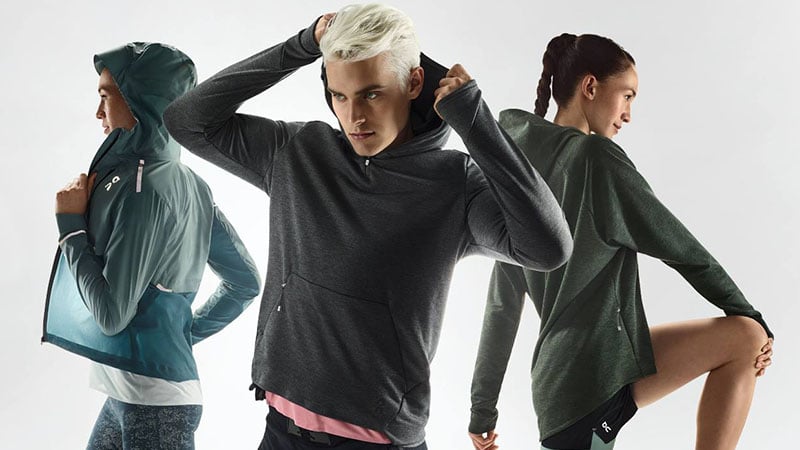 Athletic clothing is now a standard feature on the fashion scene. Of course, it's always been at home in the gym and the sports field, but as the athleisurewear movement continues to gain momentum, more and more people are looking for outfits that combine form with function. Consequently, brands like Nike, Adidas, and Puma continue to grow while smaller, newer brands join the market with unique and inspiring offerings. We've rounded up some of the best workout and gym clothing brands to know. Common elements include innovation, technical fabrics, improved performance, a passion for movement, and a commitment to sustainability. Next time you expand your wardrobe, keep these companies in mind.
1. Gymshark
If ever there was a workout and athletic clothing brand with a cult following, it's Gymshark. Ben Francis and a group of friends founded the company in 2012 as teenagers. The company's social media presence and following are part of the reason for the brand's popularity. A robust online community engages with the brand and gives customers access to information, challenges, and workout examples. However, it's more than just Instagram likes; they are devoted to innovation and performance. Must-have styles for women include Flex Leggings, Flex Shorts, Adapt Seamless Leggings, Essential Tee, and Fit Seamless Sports Bra. For the gents, its Arrival Shorts, Veer T-Shirt, Crest Hoodie, Retake Quilted Bomber, and Critical Zip Joggers. There's also a selection of accessories such as socks, gloves, hats, bags, bottles, and resistance bands.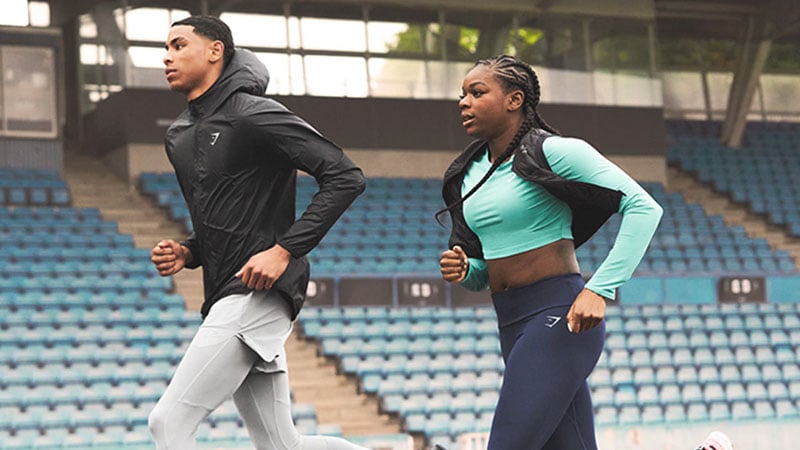 2. Tropicfeel
Tropicfeel is a workout brand based in Barcelona, Spain—committed to inspiring conscious travel. Since launching in 2017, it has offered innovative products that are versatile and sustainable. The brand specializes in lightweight and sustainable sneakers as well as backpacks and clothing designed specifically to meet the needs of sporty people. Their versatile shoe collections range from waterproof sneakers to stylish running shoes, providing you with a perfect option for any activity.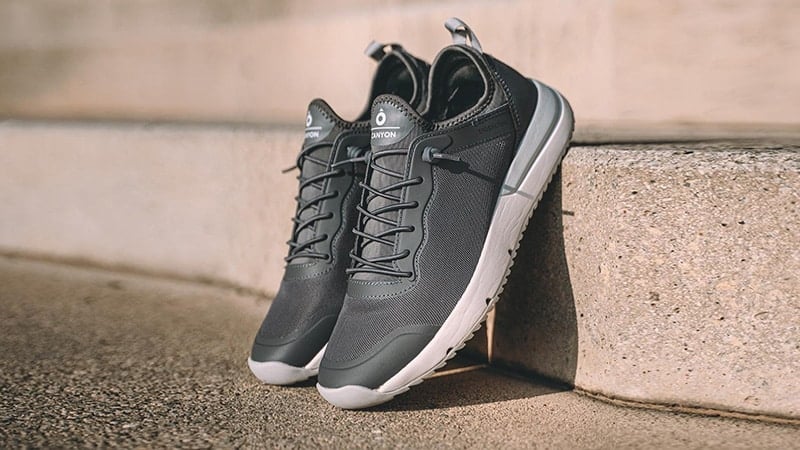 3. Rhone
Find the perfect balance of fit, form, and function with Rhone. This workout and athletic clothing brand is made for men who are committed to pursuing progress. A line-up of the finest tech fabrics goes into the collection of tees, polos, tanks, jumpers, hoodies, button-downs, henleys, vests, jackets, joggers, pants, shorts, tights, and swimwear. These materials include Polartec® Delta™, a lightweight, cooling, sweat-wicking fabric, and Polartec® Alpha® for heat retention without moisture. Then, there's also Goldfusion, which uses gold particles for colorfastness and odor control, while Silvertech threads silver into the fabric to prevent bacteria and smells from building up. It's next-generation technology in classic and timeless designs. While the target market is men, the ladies do get a look in with a capsule collection of hoodies and joggers for cozy comfort.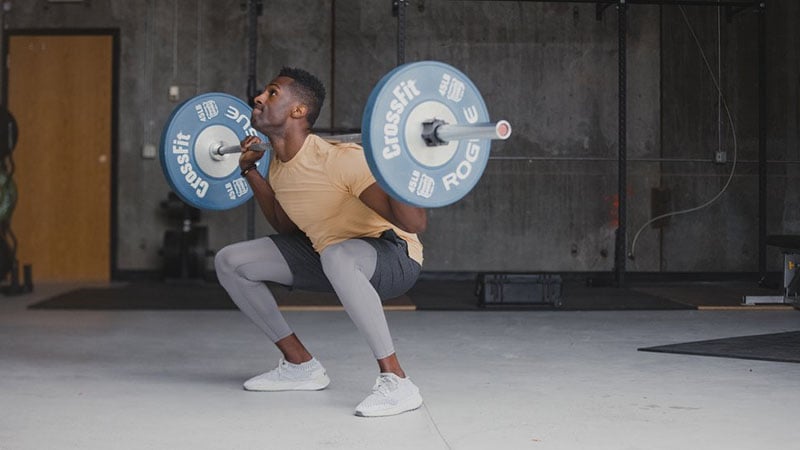 4. 2XU
If you're looking for advanced performance apparel and leading-edge compression, the 2XU is the answer. Also known as Two Times You, it launched in Melbourne, Australia, in 2005. The brand is the brainchild of professional triathlete Jamie Hunt who became obsessed with performance fabrics. The proprietary PWX compression fabric sets the company apart from competitors and makes them the best in the world. Backed by medical technology and research, these garments let you train hard, perform better, and recover faster. Plus, they're lightweight, flexible, and have graduated compression to increase blood flow and lymphatic drainage. The best-sellers are, of course, compression tights and shorts. However, they're complemented by a range of compression tops and other traditional items for both men and women. There's also a pregnancy collection and endurance edit for elite sports like triathlons and distance swimming.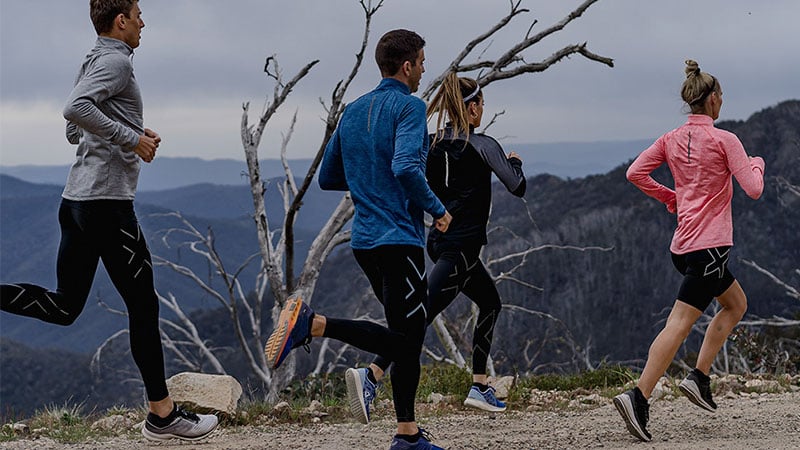 5. Asics
Asics is probably best known for its high-performance running shoes, such as the Gel Kayano and Gel-Nimbus. Beyond shoes, the brand also has clothing for men, women, and children. This range includes t-shirts, tanks, leggings, shorts, jackets, polos, and jerseys. You can also shop by sports such as running, football, tennis, cricket, training, hockey, netball, track and field, and touch football. When it comes to innovation, the company turns to their ASICS Institute of Sport Science to develop and work with new and unique materials to continue to achieve excellence in all areas.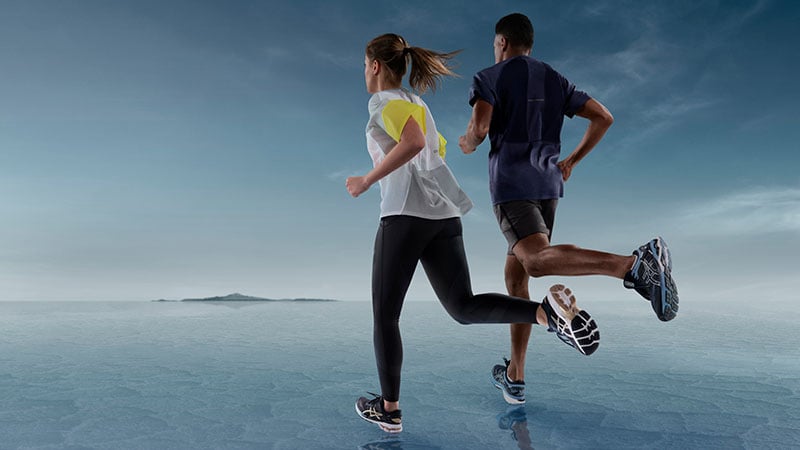 6. Adidas
Like Nike, Adidas is a well-known global workout and athletic clothing brand. Launched in 1949, the brand continues to make gains in technology, innovation, performance, and sustainability. It's all about sport. Whether you're a weekend hiker, new to running, an elite football player, or a yoga instructor, you have options. Even if you're less active, Adidas has a strong following for its street style and casual yet fashionable aesthetic — the three stripes and mountain logo are instantly recognizable. When it comes to innovation, it is applied to the technology in their clothing and shoes and the brand's commitment to sustainability. Partnerships with organizations and projects like Parley for the Ocean, Sport Infinity, and Futurecraft Loop tackles problems commonly presented by the textile and clothing industry.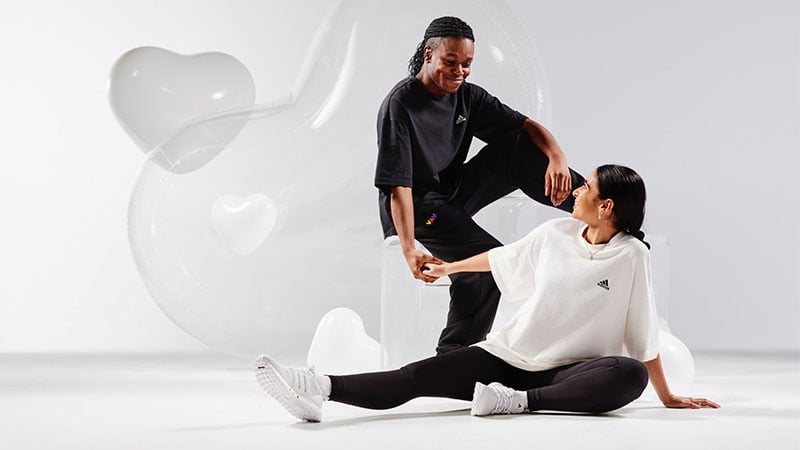 7. Fabletics
Kate Hudson is the famous face behind the workout and athletic clothing brand Fabletics. She launched the company with Don Ressler and Adam Goldenberg in 2013. The goal was to create accessibly priced, quality activewear and to inspire women to lead a healthy and active lifestyle. The other unique detail about Fabletics is the shopping method. Like a regular retail store, you can purchase any of their leggings, joggers, shorts, tanks, tees, sweaters, or sports bras. Alternatively, you can join the VIP membership program. Each month you get charged a set amount and receive member credits to use on any 2-piece outfit. You also get better prices, VIP sales, and access to the Fabletics FIT app, and you can cancel or skip anytime. Plus, new collections and items are released each month, so there's always something new to explore, and you'll never get bored!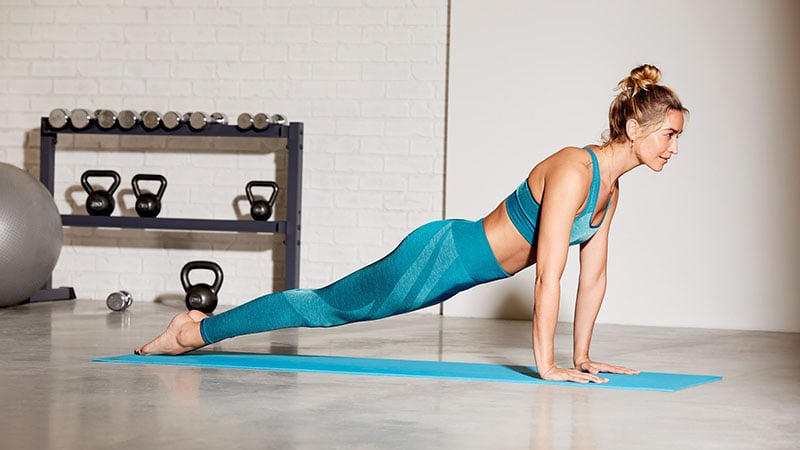 8. On Running
On Running is made for runners. The Swiss company's focus is shoes, with the iconic 'cloud' sole feature in every style. However, to accompany the shoes is a range of running gear for men and women to elevate your performance. These include running pants, tights, jackets, vests, hoodies, shorts, and t-shirts. The high-performance fabrics used in each garment are breathable, cooling, and exceptionally comfortable for daily wear or training. Plus, they're stylish thanks to the unique Swiss aesthetic and engineering. Sustainability is vital to the brand. They used preferred materials such as 100% recycled or bio-based polyester and polyamide, vegan leather, 100% certified organic cotton, and merino wool. There's also a focus on encouraging circularity, reducing C02 emissions, and obtaining materials and labor only from ethical sources.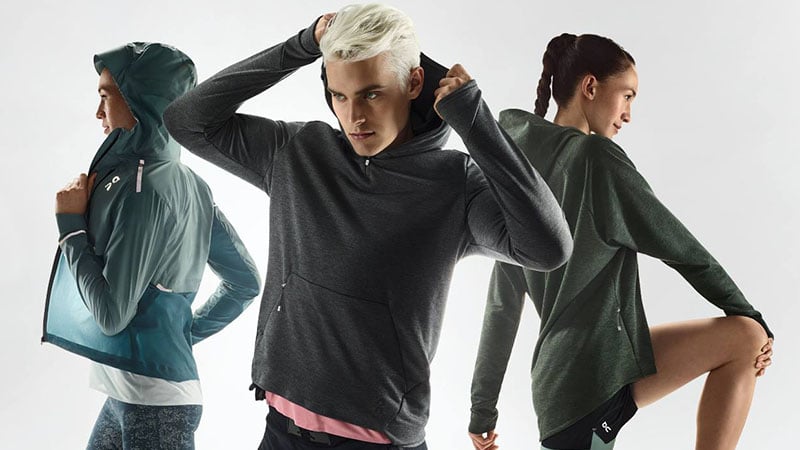 9. Wolven
Honor the earth by shopping sustainably with Wolven. Kiran Jade founded the workout and athletic clothing brand on sustainability, diversity, body positivity, and artistic appreciation. She spent her youth learning that the differences between people make everyone unique and that everyone deserves to feel they belong. Each design begins as art on canvas before turning into leggings, joggers, t-shirts, crops, shorts, or swimwear for both men and women. Pattern inspiration can come from nature, family gatherings, a quiet hike, or a stunning sunset. Wolven has excellent sustainability measures in place yet continually strives to improve further. They partner with Climate Neutral to offset the carbon footprint. They also use OEKO-Tex Certified Recycled P.E.T., a material made from recycled plastic bottles and modal fabrics made from sustainably harvested wood-pulp fibers.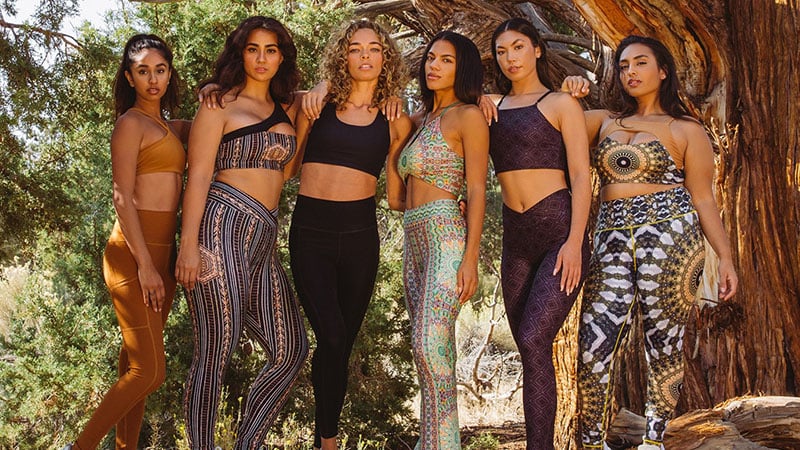 10. Nike
Nike is, without a doubt, one of the most recognizable workout and athletic clothing brands. Its mission is to expand human potential. As such, they focus on design innovation, technical performance materials, and producing more sustainably. Choose from a massive collection of sport-specific clothing, including yoga, running, gym, tennis, golf, dance, basketball, football, rugby, skateboarding, or tennis. Alternatively, there's also a selection of lifestyle and casual outfits for men, women, and children for days when you're not training. Another tenet of Nike's philosophy is that sport is for everyone. That's why they continue to innovate for inclusion through developing products such as sports hijabs and hands-free running shoes for people with disabilities.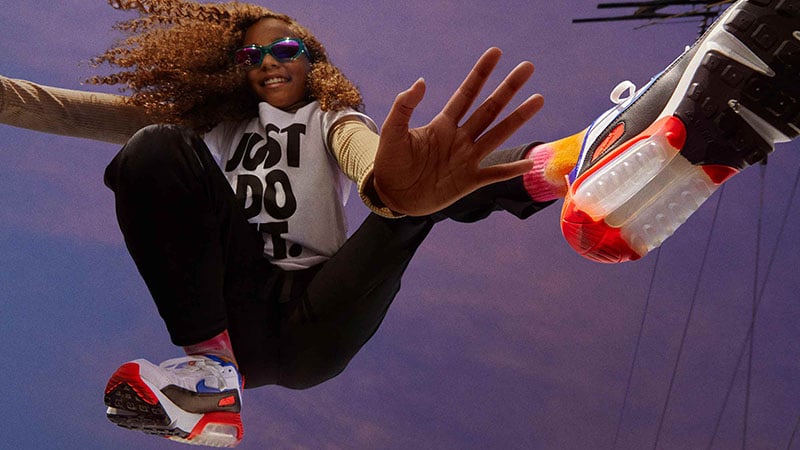 11. Champion
Champion launched in 1919 by reimagining, reinventing, and redefining workout and athletic clothing. Be the best version of yourself, and you're already a Champion. Over the years, some of the brand's achievements include pioneering a reverse weave sweatshirt, developing cotton football jerseys, making the first breathable mesh shorts and supportive jogging bra, and inventing the first reversible tee. Not to mention, Champion also invented the hoodie — a classic staple of most wardrobes. Thanks to innovations like these, you can now choose from a huge range of fitness gear for men, women, and children. The advancements continue in sustainability, with goals to reduce water use, energy consumption, carbon emissions, and waste while embracing renewable energy.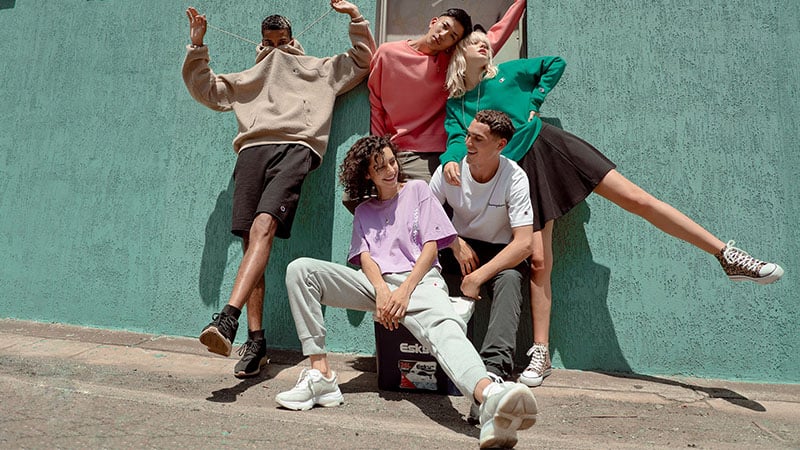 12. Puma
German brand Puma believes in the empowering and transformative abilities of sport. It's about being brave, confident, determined, and joyful. You'll find garments for most sports within their range, including golf, football, running, basketball, yoga, and motorsports. However, there's also plenty of space for lifestyles and athleisurewear for those who want to transition seamlessly between the gym and life. They're also constantly changing the game to be faster and stronger. As such, innovation is the key to success. Landmarks in the process include the development of evoKNIT for temperature regulation, Speedcoat for futuristic race suits, EvoPower in football shoes, EVO TRG jacket for thermal optimization, and active gaming footwear for the e-sports generation.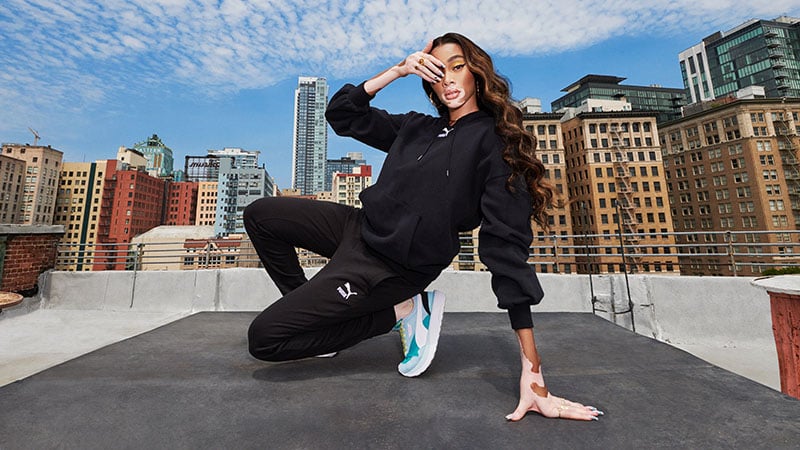 13. New Balance
Regardless if you're a professional athlete or an everyday sports person, New Balance aims to elevate your game. It strikes the perfect balance between form and function to give you an edge while looking fabulous. Shoes are the main focus of the brand, but not the limit. There's also an array of men's, women's, and children's clothes for all kinds of sports. This includes training, running, tennis, basketball, golf, football, skateboarding, and cricket. Like other global workout and athletic clothing brands, New Balance gives back. Environmental initiatives reduce the impact of manufacturing and production, while social change comes via community leadership and The New Balance Foundation.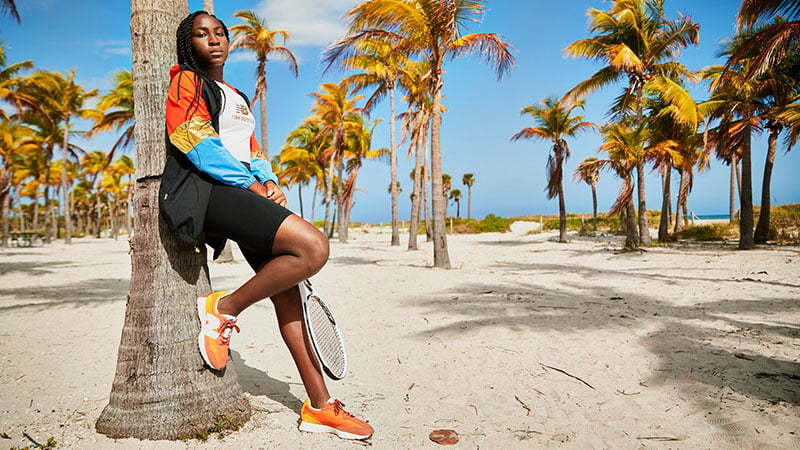 14. P.E. Nation
P.E. Nation is for ladies who love luxury. Lead by Pip Edwards and Claire Tregoning; they reinterpret the latest fashion trends into active and streetwear for modern women. Choose a sports bra for a run, leggings for a lifting session, or a contemporary dress for dinner with friends – the options are all there. They use luxe-feeling technical fabrics that give you the desired results while still looking stylish. Materials are made from regenerated nylon, quick-drying compression knits, and a crease-resistant, breathable jersey. Other conscious yarns that continue the brand's eco-friendly journey include organic cotton and yarn made with recycled plastic bottles. Plus, the company works with i=Change to donate $1 from every sale to one of three charities — Bushfire Relief, Thread Together, and Restore the Reef. Consequently, investing in a piece from P.E. Nation will make you look amazing and feel good.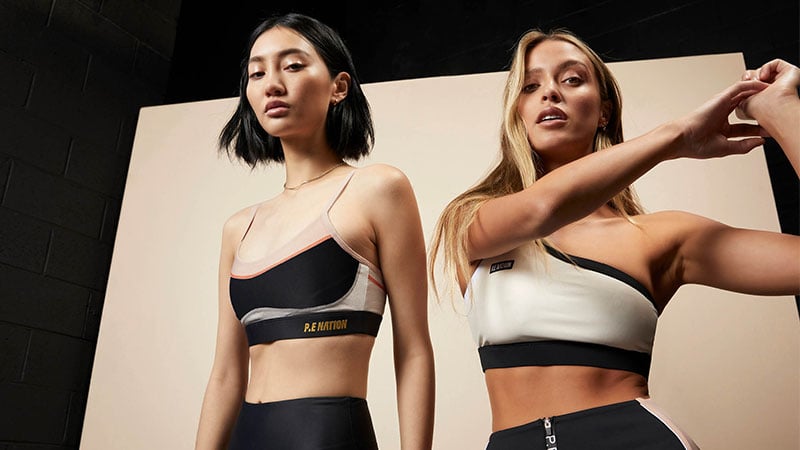 15. Reebok
Boundary-pushing brand Reebok is part of the Adidas Group. As such, their goal is to be the best fitness brand in the world. It's based on the belief that active people become the best versions of themselves physically, mentally, and socially. Shoes lead the way, with styles like the Nano, Club C, Forever Floatride Energy, and Instapump Fury finding places as iconic Reebok designs. Then, the best sellers feel luxurious in clothing, perform excellently, and suit various sports and activities. There are also collaboration collections with personalities such as Les Mills, Maison Margiela, and Cardi B. If you prefer to keep it old school, you can return it to vintage styles, such as Reebok Classic Leather and Reebok Classic Nylon.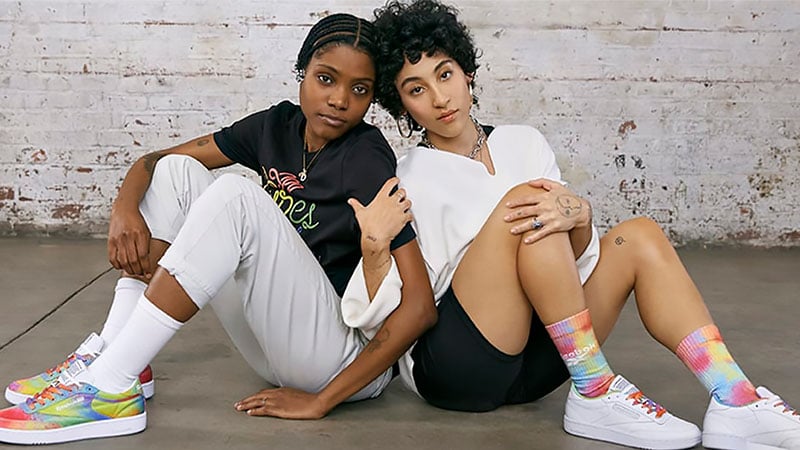 16. Under Armour
Perform better with Under Armour. The story began with a simple sweat-wicking shirt and has advanced to embrace innovation that solves problems you didn't even know you had. Over the years, the brand created new and improved athletic and sports clothing fabrics. This includes UA TECH™, which feels like cotton; Charged Cotton® allows sweat to dry quicker; and Storm, a breathable yet waterproof material. Then, there's also UA RUSH™ that increases blood flow in the muscles through mineral-infused fabrics that reflect energy back into your body. Fill your wardrobe with inspired outfits for every activity, whether in the gym, on the court or field, or in the mountains. There's gear for men, women, and children, including shoes, accessories, and a plus-size range.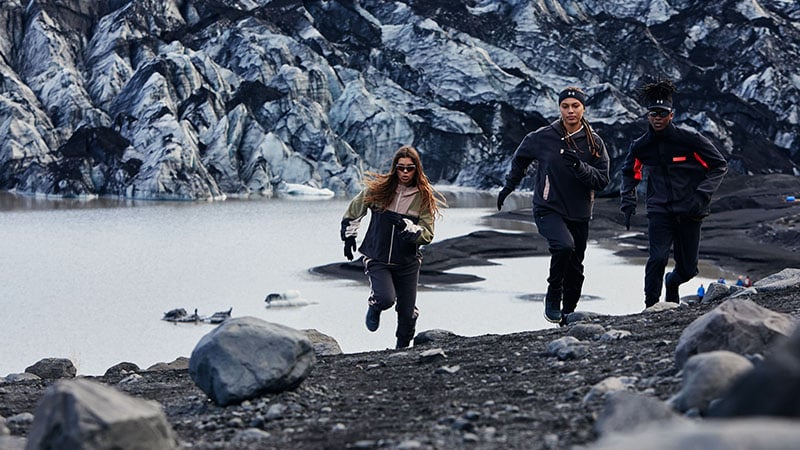 17. Barbell Apparel
The Barbell Apparel journey began on Kickstarter with the Athletic Fit jeans. It became the second most-funded fashion project. The jeans were designed to fit muscular bodies and move naturally, so you can look and feel good. They're made with Barbell Advanced Flexible Denim, which stretches in multiple directions for freedom of movement. Since then, the range has expanded to include other casual items such as chinos, dress pants, dress shirts, hoodies, and tops. You can also choose training garments such as shorts, leggings, sports bras, joggers, and tanks. Thirdly, there are also recovery outfits, which include joggers, crops, hoodies, and t-shirts. Each item has high-tech fabric that resists odor, wicks away sweat, and stretches for a perfect fit.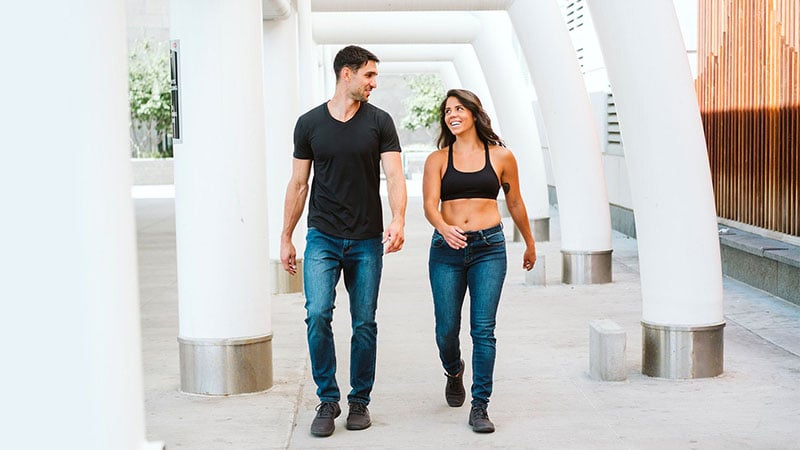 18. Leorêver
If you're a gent who appreciates a little bit of luxury, Leorêver is your workout and athletic clothing brand. It's the brainchild of designer Jonathan Oe, and every garment is handmade in Huntington Beach, California. You can get an excellent range of fitness and compression wear, and Jonathan also creates stylish collections for everyday use. To start, the Compression range has pants and tops that improve performance, while Eight Ave offers luxury tracksuit sets. Next, the micro-fiber poly-spandex Palisade collection was designed for boxers' recovery, and American Cotton is perfect for casual wear. Finally, Roma features karate pants double as dress trousers and a 1940's inspired field jacket that wouldn't be astray in the office. It's the perfect answer for comfortable wear that won't keep you down.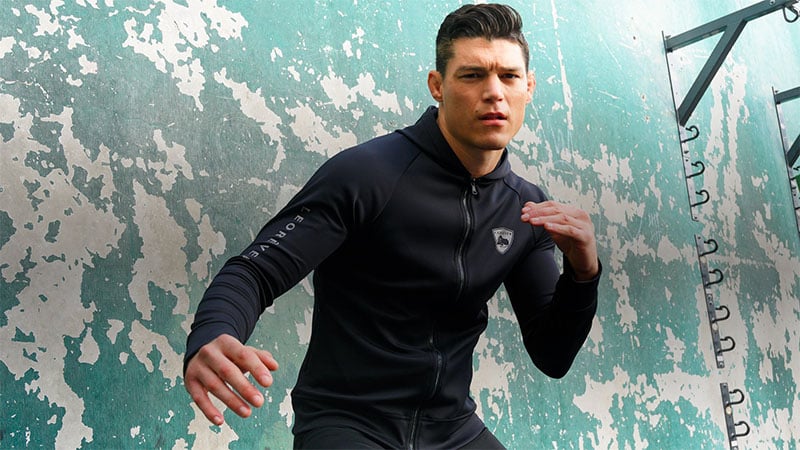 19. Lululemon
The rejuvenating and calming effects of yoga are at the core of the Lululemon brand, and you can even join free in-store and online classes. The first designs released in 1998 were yoga outfits for women. Since then, the range has expanded to include menswear and garments targeted for running, cycling, training, and anything else that gets you sweaty. Select from sports bras, leggings, shorts, t-shirts, joggers, tanks, and swimwear. Plus, there are outfits for casual wear, including polos, dresses, button-down shirts, jackets, hoodies, and skirts. Lululemon has also embarked on a journey to improve its inclusivity, equity, and diversity. Change is happening through increased inclusion of underrepresented groups, larger size runs, expanded training, feedback, and open dialogue.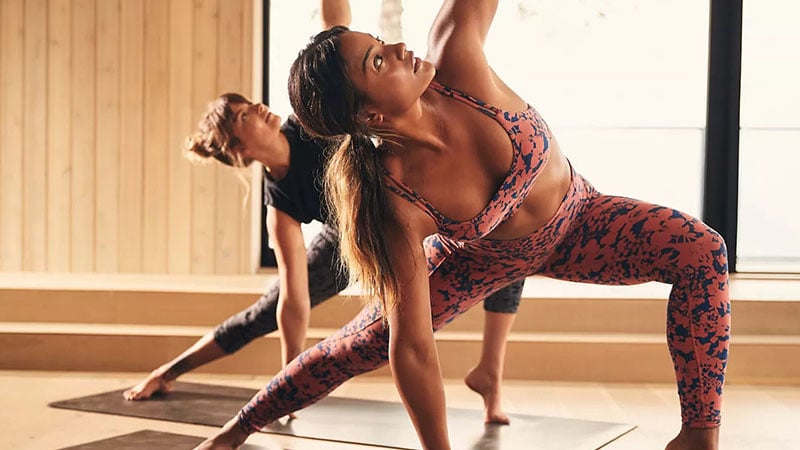 20. Vuori
Take inspiration and energy from the active, sunshine-fuelled lifestyles of the California Coast. Vuori, a performance apparel brand, integrates fitness, surf, sport, and art in its activewear. There's also a strong focus on sustainability, following five principles. These include ensuring materials are ethically and sustainably sourced, reduced waste, the brand's carbon footprint is 100% offset, and that they contribute to social responsibility and community leadership. Ethical manufacturing is used to create every item. Some of the materials used in the men's and women's lines include Eco-Happier, made from recycled materials, and DreamKnit™, a brushed jersey for extra comfort. Finally, if you need additional guidance or inspiration, join the Vuori ACTV CLUB, where you'll have access to free, quality classes on Instagram every morning.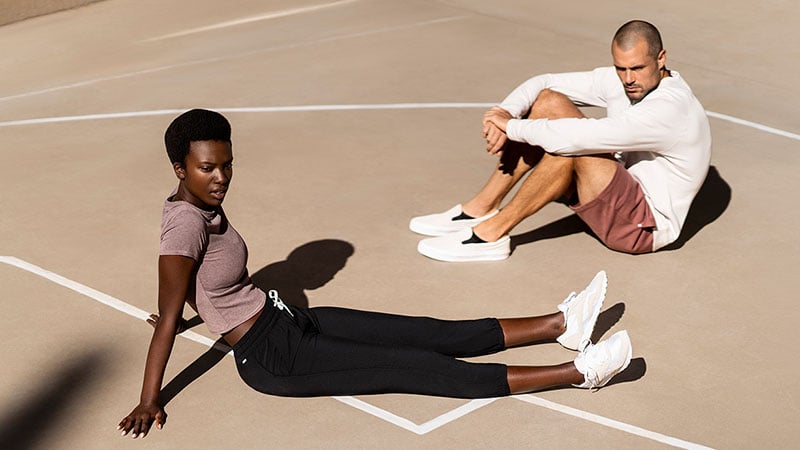 21. Echt
Echt is one of Australia's leading performance and leisure clothing brands and is based in Melbourne. However, with a global following, they ship to over 50 different countries. The company's designs are "Engineered for the Modern Day Athlete." Consequently, you'll find a massive range of fresh, fun, and functional apparel, perfect for everyday workouts, sports, and even just going about your day. You can kit out your athletic wardrobe without getting bored because new styles are released almost weekly. Select from men's and women's options and accessories, such as caps, arm bags, waist bags, and lanyards.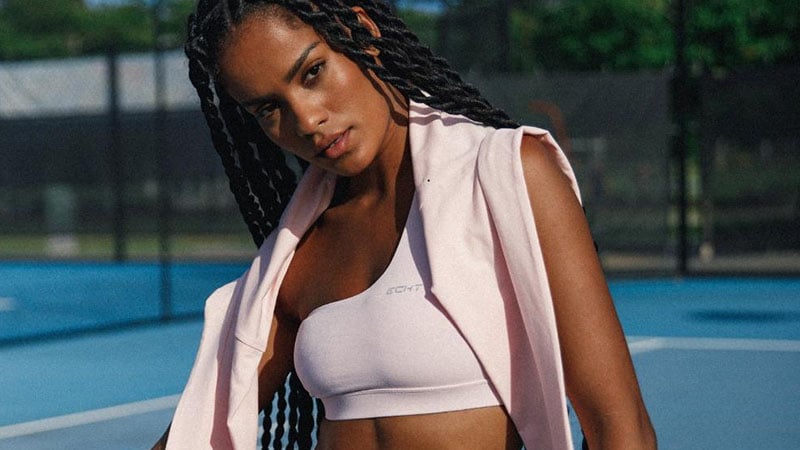 22. Ryderwear
Show off your hard-earned rig with clothing from Ryderwear. Weight lifters design every item from this Australian bodybuilding clothing brand for other lifters. They're created with the relentless pursuit of excellence and the squat rack in mind so that you can get the best out of every workout. The quality materials used are hard-wearing, extra-stitched, sweat-wicking, and exceptionally comfortable. Choose from men's and women's garments that fit a sculpted physique. In addition to workout clothing, street-savvy fashion pieces easily take you from the gym through the rest of your schedule.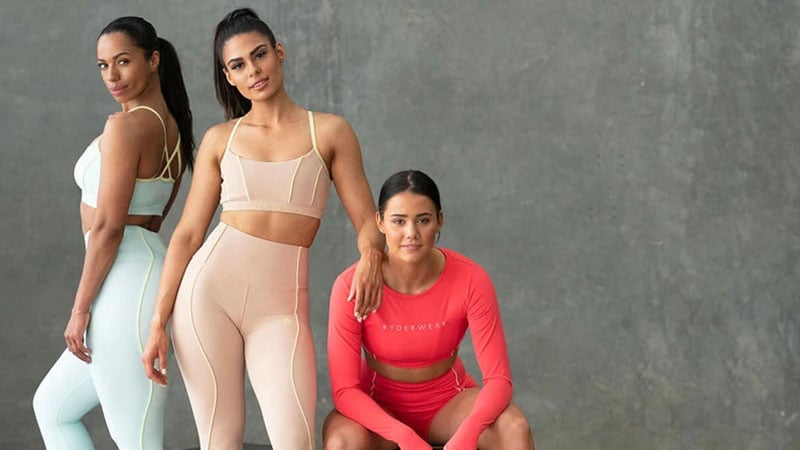 23. Myprotein
Myprotein is a leading sports nutrition company that has also branched out into athletic performance clothing. Their designs use cutting-edge technology to improve your performance while looking and feeling good. There is both men's and women's clothing that spans a variety of collections. These include Velocity for high-intensity workouts, Raw Training for durability, everyday Essentials, and supersoft Composure, which is ideal for yoga. Additional collections for women include sweat-wicking and sculpting Curve and Curve Seamless and Power and Power Ultra, which use quality technical fabrics. In addition to the clothing, there's a huge range of accessories, including hats, gloves, underwear, bags, bottles, recovery gear, towels, and meal prep containers. Of course, if you're looking to supplement your active lifestyle diet, there's a full range of nutritional support and supplements, from protein powders to amino acids.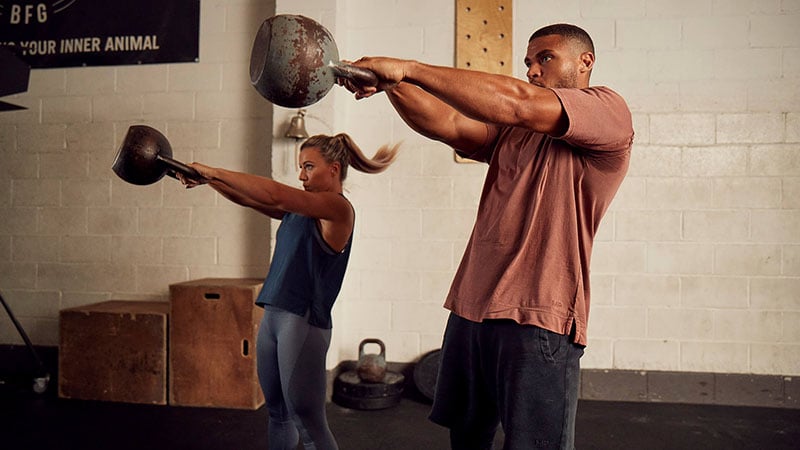 24. Beyond Yoga
Feel beautiful on the inside and out with Beyond Yoga. It's a body-positive workout and athletic clothing brand for women that uses the softest, most comfortable fabrics that hug your body as you move. Bestsellers include Out Of Pocket High Waisted Midi Leggings, Slim Racerback Cropped Tanks, and Balanced Muscle Tanks. They're made from fabrics like Spacedye, a buttery soft performance fabric, or Featherweight, an even lighter-weight version of Spacedye. Moisture-wicking, four-way stretch, and UV protection add to the comfort and function of each design. Plus, many of the styles also come in an extended size range from 2XS to 3XL. Finally, the clothing is manufactured in the United States from materials sourced from experts worldwide. This allows Beyond Yoga to improve sustainability while utilizing cutting-edge practices and leading experts.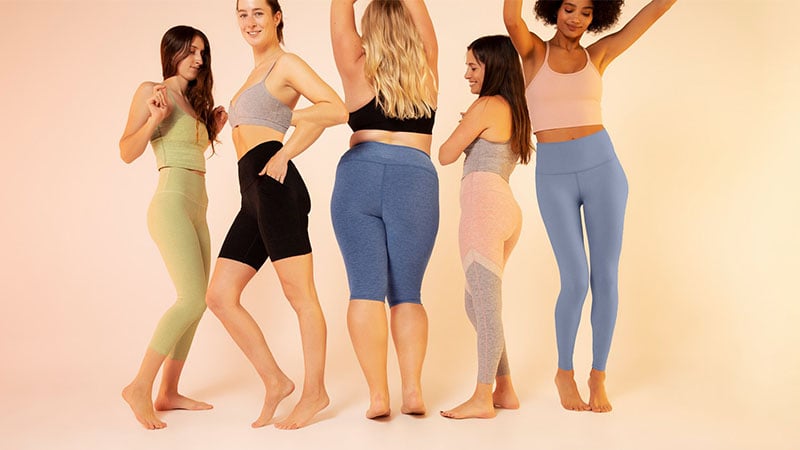 25. Outdoor Voices
Every garment from Outdoor Voices is designed to sweat in. However, it's less about performance and more about having fun and releasing endorphins. That's why everything is also designed for recreation. It's athleisurewear reimagined. Tyler Haney established the company in 2013. Her goal was to create functional and technical sportswear without making you feel like you needed to be an elite athlete — it's for regular people. Explore both men's and women's lines. Guys can choose from t-shirts, hoodies, tanks, jackets, joggers, and shorts. Meanwhile, women can explore singlets, t-shirts, crops, jackets, hoodies, dresses, shorts, leggings, and pants. Both come in various technical fabrics such as super-soft CloudKnit, workout focussed TechSweat™, quick-dry LightSpeed, and moisture-wicking Sweatee. Finally, regarding environmental values, Outdoor Voices is committed to longevity and circularity on the path to sustainability.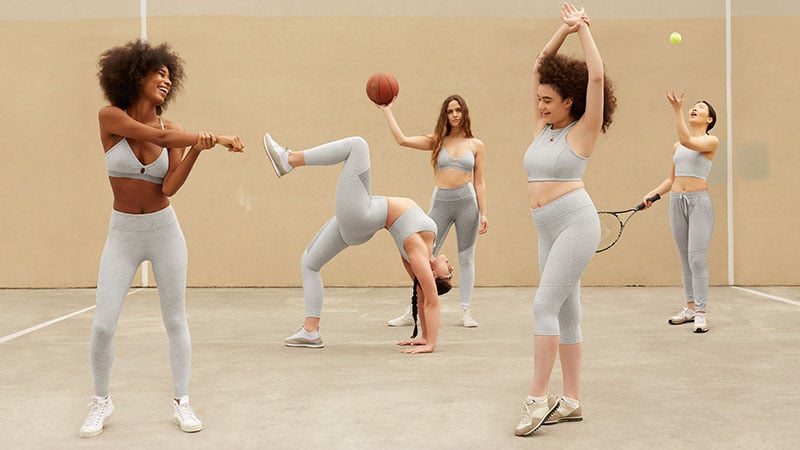 26. Athleta
Athleta is a women's workout and athletic clothing brand that was founded in 1998. It was bought in 2008 and now forms part of Gap Inc., allowing the brand to bring its activewear to more women. The five core values of Athleta are: Movement Matters, Performance Empowers, Design for Life, Sisterhood Elevates, and Sustainability Sustains Us. As such, their focus is on creating versatile garments that empower women to live actively, support each other, and contribute to the planet and the future. Discover innovative designs that move with your body and accentuate the female form. Search for items by activities such as yoga, running, cold-weather training, hiking, traveling, swimming, golf, or tennis. They also offer a girls' collection and an extended size run, up to a 3XL for larger women. Finally, Athleta is a certified B-Corp, meeting high social and environmental performance standards.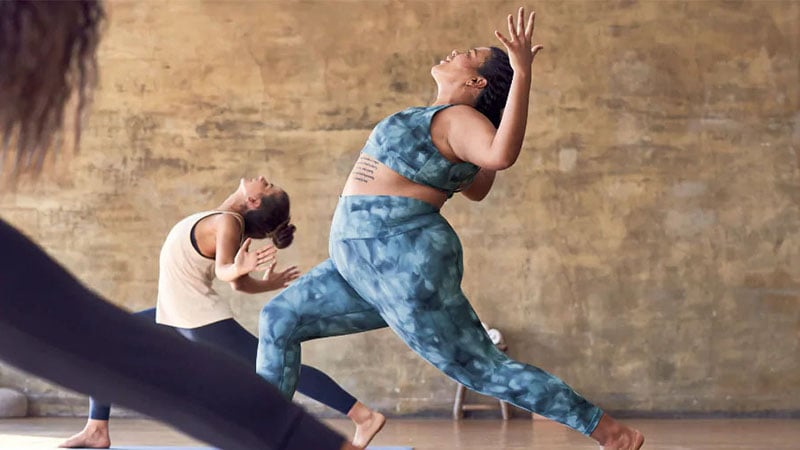 27. BOXRAW
It's about more than just the clothing at BOXRAW – it's about the entire boxing lifestyle. The brand's vision is "to be the reason why the world got into boxing." As such, the whole range of sportswear is designed to help drive you and enable you to become a champion. There are training and lifestyle options for both men and women. These include joggers, t-shirts, hoodies, shorts, compression garments, leggings, and sports bras. The technology used in the designs includes SMRT-TEC fabrics for sweat-wicking, four-way stretch for uninhibited movement, and targeted ventilation. Of course, you can get equipment and accessories, such as hand wraps, water bottles, headwear, gloves, and even sauna suits. Finally, the BOXRAW Foundation gives back by using boxing to help children in the developing world. Teaching young people a sport helps improve confidence, creates a sense of community and positively shifts mindsets.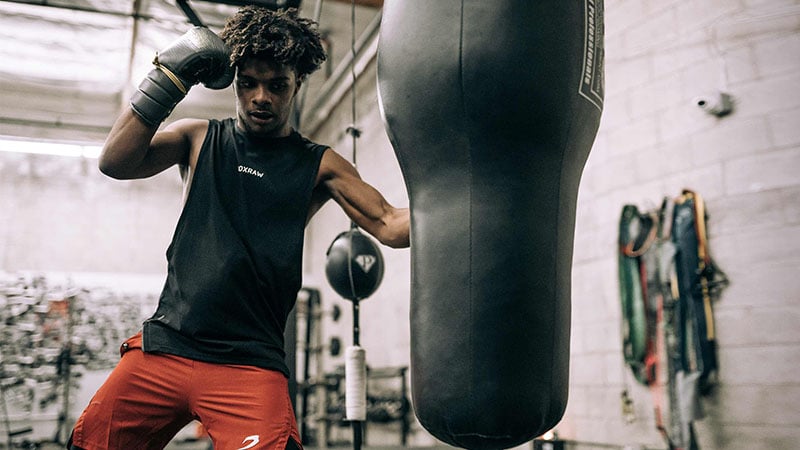 28. Elite Eleven
Fitness and fashion collide at Australian company Elite Eleven. While the focus is on sports and lifting styles, some of the most popular items are their extensive range of women's leggings and shorts. Choose from various fabrics, including ribbed, technical, seamless, and performance. They're incredibly soft and functional, and the different collections are ideal for various activities, from yoga to sweaty gym sessions. There's even a collection called Scrunch, with ruching through the back seam that really shows off your squat gains! Also, ladies can have sports bras, tops, joggers, hoodies, and jackets. There are joggers, shirts, tanks, shorts, and hoodies for the men. You'll look great whether you're out and about running errands, catching up with friends, or heading to the gym.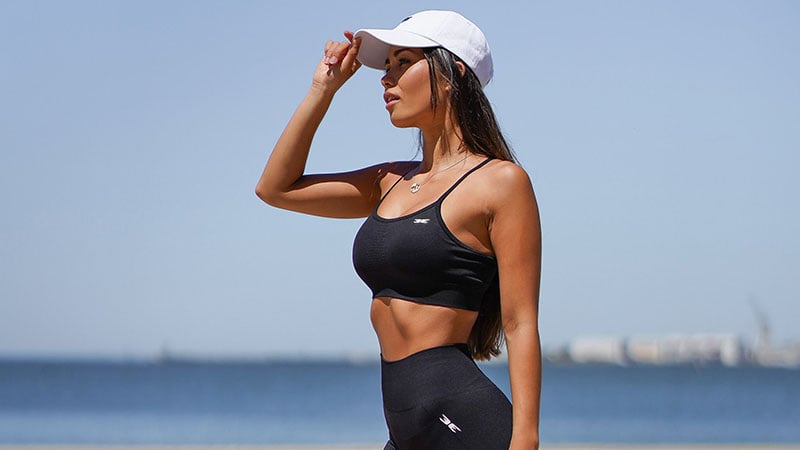 29. Macron
The Italian company, Macron, is one of Europe's leading workout and athletic clothing brands. It plays the field in four main areas. This includes team wears for professional and club sports teams and merchandising for those teams' supporters. However, if you're not a professional sportsperson, you can also check out their running and training lines and the leisurewear offering for everyday comfort. The brand uses innovation to provide its customers with the best technical products to help improve performance. Some of their most notable clients include S.S. Lazio, Bologna FC, the Albanian Football Association, and Welsh Rugby Union. When it comes to the run and train and athleisurewear lines, select from classic and stylish options like leggings, joggers, t-shirts, jackets, running shorts, sports bras, and more. There are options for both men and women.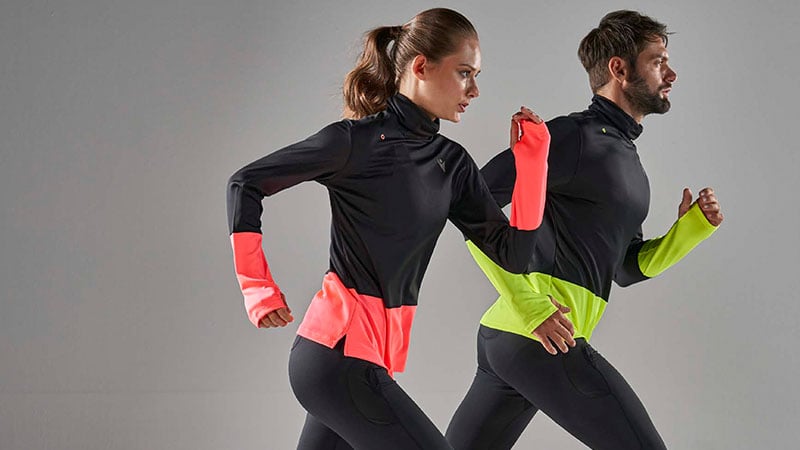 30. Peak Velocity
While Amazon might be best known as the largest online marketplace, it has some of its own in-house brands. One of these is Peak Velocity. It offers a range of premium workout and athletic clothing for men that seeks to rival top brands like Nike. Choose from long joggers, comfy shorts, quick-dry shirts, long-sleeved crewnecks, thermal shirts, hoodies, water-resistant jackets, and singlets. You're covered whether you're off the gym, running errands, or hiking a mountain. Plus, as an Amazon brand, each item is also reasonably priced, with nothing costing over $70.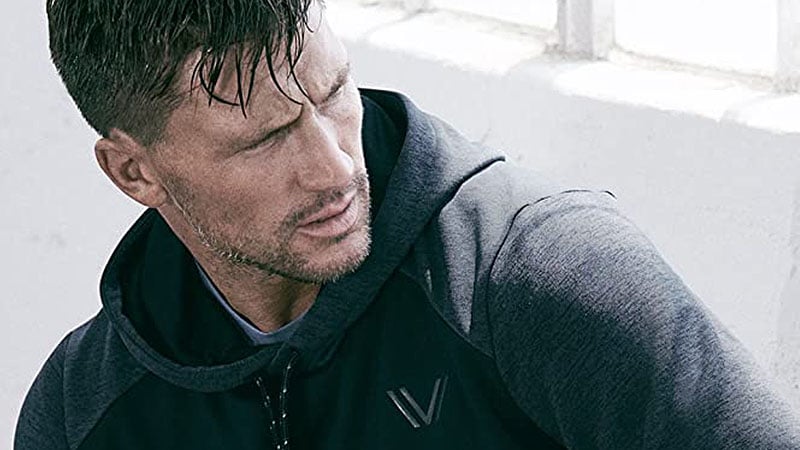 31. Olivers Apparel
Olivers Apparel is a brand for classic gents. From humble beginnings in California came a vision for simple, classic, and sturdy athletic staples that can be worn daily. Much time and money are invested in developing each design's premium fabrics. They include an all-over stretch weave, merino active jersey, passage stretch weave, classic French terry, charter stretch twill, compass ripstop nylon, pique cotton tech, and pivot tech. The benefits of materials like this include dynamic movement, breathability, and comfort. Select from a range of pants, shorts, shirts, mid-layers, and accessories. Each of these styles has a more casual than sporty aesthetic. That means no matter what your day brings, whether it's lunch with friends or an impromptu hike, you're covered for every adventure.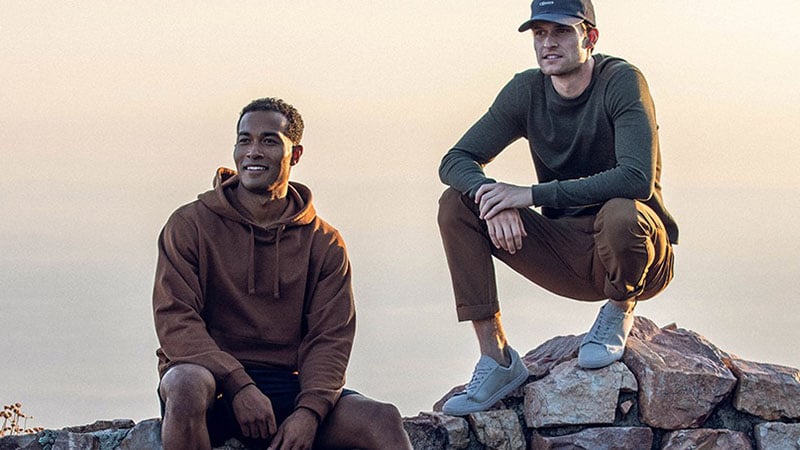 Workout Clothes Rules
Fit
Getting the right fit is crucial when buying workout clothes. You don't want things too tight or too loose, as they might start to move or chafe. As such, it's important to try things on, as fit can vary depending on the type of garment, materials, and shape. While it can be tricky with the limited space in the changing room, try to make a few moves with the clothes on to ensure everything feels comfortable and stays in place. Try high knees on the spot, twisting, stretching, and jumping. It's also essential to do a squat check to confirm the fit is good and that the pants don't go see-through! When buying online, know your measurements and check them against a size guide. It's also good to confirm the brand's return policy if it's wrong.
Design
Choosing the right clothing design for the activity and your body is essential. While some types of clothing can be worn for multiple activities, some sports need specially designed garments. For example, super-short running shorts won't be the best choice for a downward dog, while a tank top isn't ideal for trail running in the snow. If you're new to a sport or activity, have a read about what other people wear. Other things to consider include what time of day you're working out. Choosing something high-vis or reflective at nighttime can be advantageous so that people can see you. Then during the day, UV protection can be useful if you're outside.
Breathability
There's not much worse than sweating into the hot, unbreathable fabric. You feel gross and very quickly start to smell. Ideally, you'll opt for materials that breathe and wick sweat away. Workout and athletic clothing brands invest a lot of money and research into developing technical fabrics that do just that. If you can, do some research before buying to know what you're looking for with different brands. Then, follow the washing instructions once you have them, as improper care can interrupt the effectiveness. Technical fabrics can be more expensive, but they can be worth the investment if you work out regularly.
Durability
Sports and exercise can be hard on your clothing. If you've dished out some big dollars on an outfit, you want it to last more than a few sweat sessions. Ensuring your clothes will last is making sure they fit for purpose. The other part is marking sure it's good quality. When shopping in a store, stretch the fabric to check it doesn't loosen, try scrunching it to ensure the creases fall out easily, and look at the stitching to see if it's reinforced. If you're shopping online, read up on what materials are in the item you're looking at, and if you can, check reviews to see how they've worn for others. Keep an eye out for mentions of abrasion resistance, multi-directional stretch, double stitching, and microbial fabric — all of these can contribute to improved durability.
Gym Clothing Brands FAQs
What clothes are best for the gym?
The best clothes for the gym are ones that you're comfortable in. Ideally, they should also be fit for purpose and fit you well. You want to make sure nothing is riding up or down as your move. Features to look out for include sweat-wicking, breathability, and durability. This will ensure you'll stay comfortable during your whole workout, and the clothes will last. Popular garments for women include shorts, tights, singlets, and tees, while for guys, it's shorts, joggers, tanks, and tees.
How do I get the smell out of my workout clothes?
Gym stink is a hazard of regularly sweating; however, there are a few tricks to get odor out of your gym clothes. First, let them air as soon as you can before throwing them in the hamper to prevent them from staying moist and musty. Next, presoak them in a mix of white vinegar and water, or add a cup of baking soda to your wash. If that's still not enough, you can try stripping them by soaking them in a combination of borax, laundry soda, laundry powder, and hot water for a few hours before washing.
Where can I buy good quality workout clothes?
You can buy good quality workout clothes at physical retailers and online. If you're brand loyal, you can visit that specific company's stores or websites.
SUBSCRIBE TO OUR NEWSLETTER
Subscribe to our mailing list and get interesting stuff and updates to your email inbox.