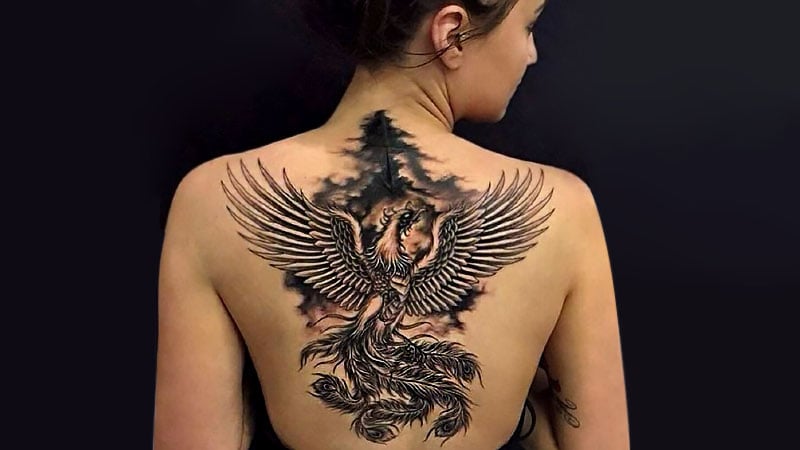 The phoenix is one of the most important representations of rebirth and strength, and this deep meaning makes it an appealing subject to have inked. The magical bird has been featured in many myths and cultures, including Chinese folklore, where it is a symbol of femininity, and Greek mythology, where it is associated with fire and the sun. The firebird goes through cycles and can regenerate by bursting into flames and emerging from the ashes of its predecessor. It is for this reason that it is linked with renewal, something which is particularly appealing to women who have faced turmoil in their past and risen to become stronger. If you need inspiration for your next meaningful tattoo, we've found some of the best designs to help inspire you.
1. Phoenix Hip Tattoo
Hip tattoos highlight one of the sexiest parts of the women of woman's body. It is an area associated with sexuality and intimacy. The shape of the phoenix can fit well in the area. You can opt for a small tattoo or something larger that also covers part of the upper thigh. There will be severe discomfort involved in tattooing this area because it is over bone, especially if you have a smaller frame, but the placement is versatile and can also be easily covered.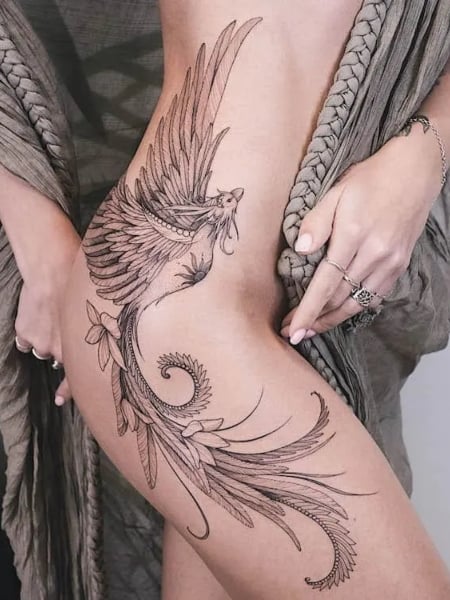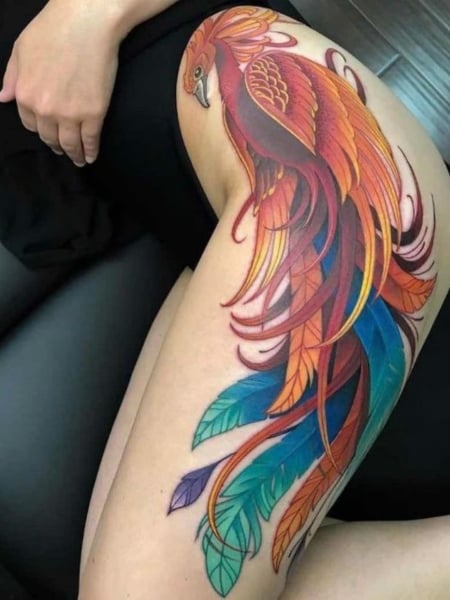 2. Red Phoenix Tattoo
Red tattoos are ideal for someone who wants their design to stand out. The color is also popular for phoenix tattoos because it is vibrant and makes a statement. It is also associated with fire and the phoenix is a firebird. There are some drawbacks to red ink though, and this includes that there is a greater risk of an allergic reaction and infection. It is also more restrictive and will often only look good on lighter skin tones.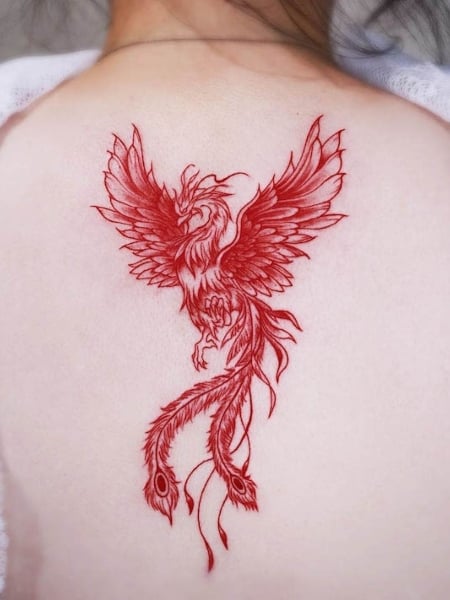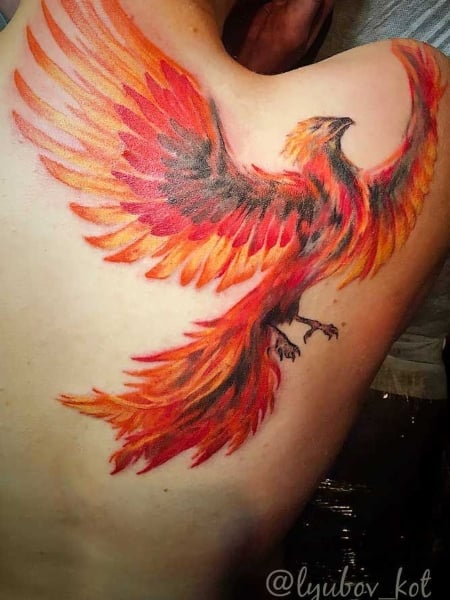 3. Unique Phoenix Tattoo
The Phoenix is such a powerful choice for a tattoo and the rich symbolism associated with it can make a statement about your thoughts and feelings. There are also many ways to design the bird to reflect your preference, whether that is including other images for a unique tattoo, or experimenting with different styles like watercolor or trash polka. The great thing about body art is that your creativity is your only limit and will determine how unique your design is.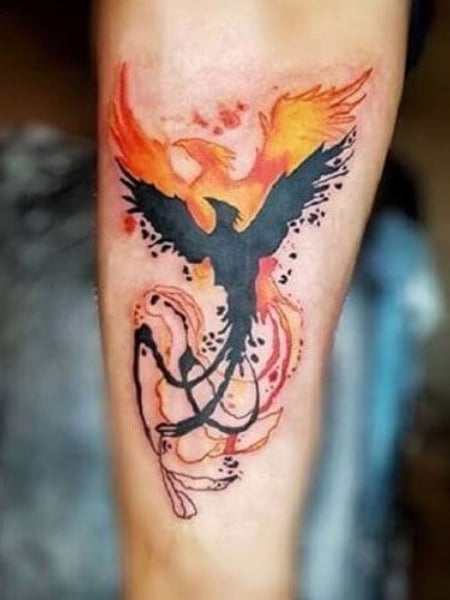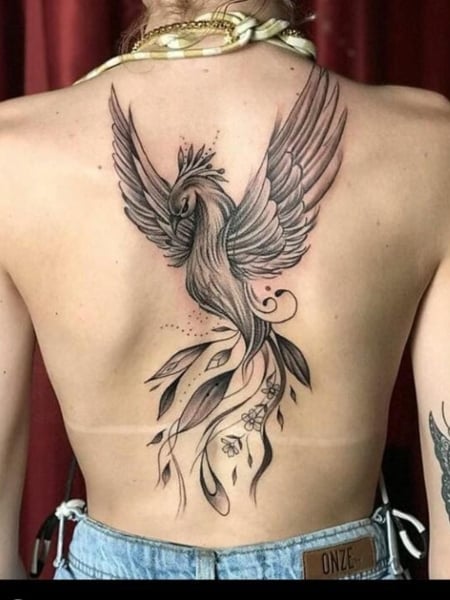 4. Phoenix Sun Tattoo
The phoenix is associated with transformation, rebirth, and the life cycle. It is also linked to fire because it is believed to cyclically regenerate by bursting into flames. It makes sense then that the phoenix and the sun are linked in some way, and the sun is also a symbol of life and power. Like fire, the sun represents warmth and energy, and choosing to include a sun tattoo design in your phoenix artwork can add to the overall meaning.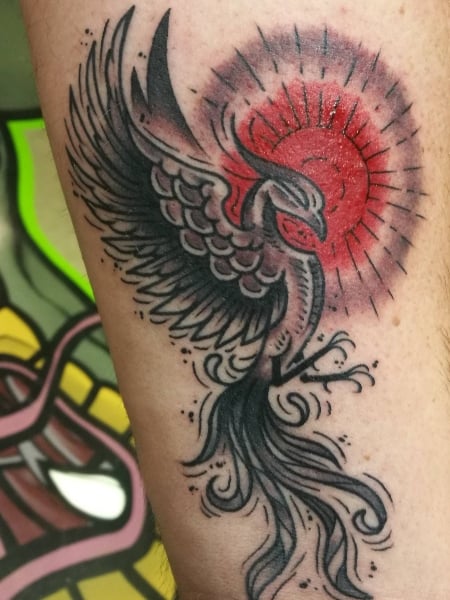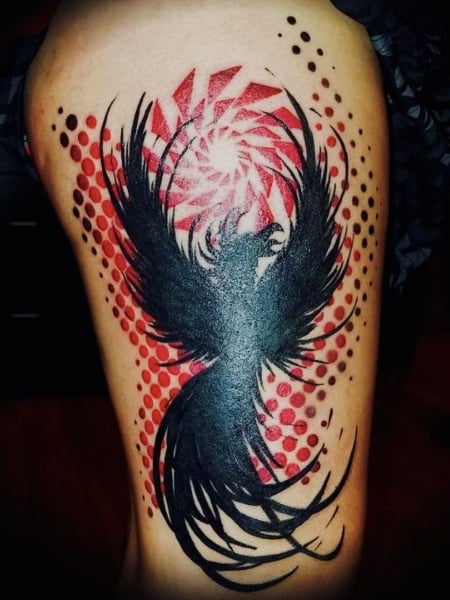 5. Geometric Phoenix Tattoo
Geometric tattoos are created using lines and shapes and can be incredibly detailed or appear abstract. These designs are often associated with symmetry and balance and can add meaning to your piece. Almost all designs can have a geometric element incorporated into them, including a phoenix. This will make your body art unique and visually interesting. You can choose to split the phoenix in two, with one half a realistic and detailed portrayal and the other geometric, or opt for a fully geometric design.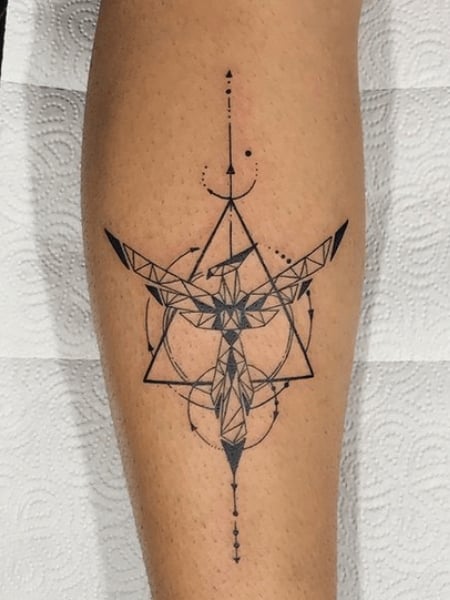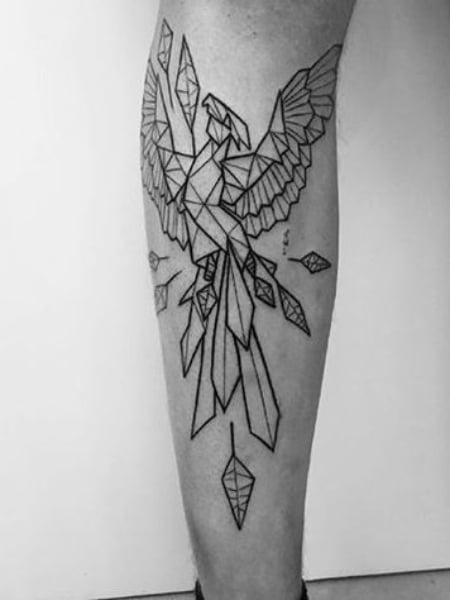 6. Phoenix Sternum Tattoo
What better way to show a design is meaningful to you than inking it close to your heart? Sternum tattoos are often reserved for truly meaningful designs and will highlight one of the most beautiful parts of the female body. Your phoenix design could be a way to honor the person you are and show how you are resilient and determined. It could also represent triumph, transformation, and strength. This is one of the most painful locations for tattoos because you are tattooing over bone. If you can withstand the pain, the result is worth it!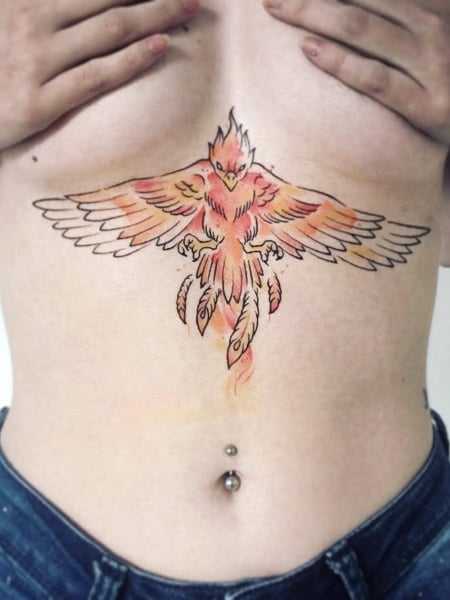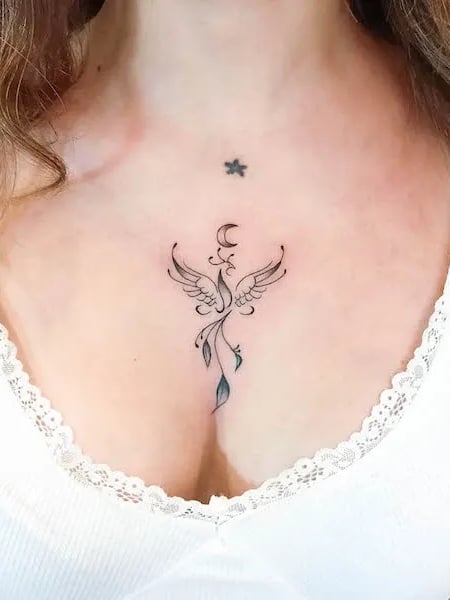 7. Phoenix Bird Tattoo
The phoenix is a mythological bird whose story has inspired many people. The legend states that the phoenix can cyclically regenerate. Bursting into flames and emerging from the ashes new and stronger than before. This symbolism resonates with individuals who have been going through a period of transformation or who want to remind themselves of the progress they have made in overcoming the challenges they have faced.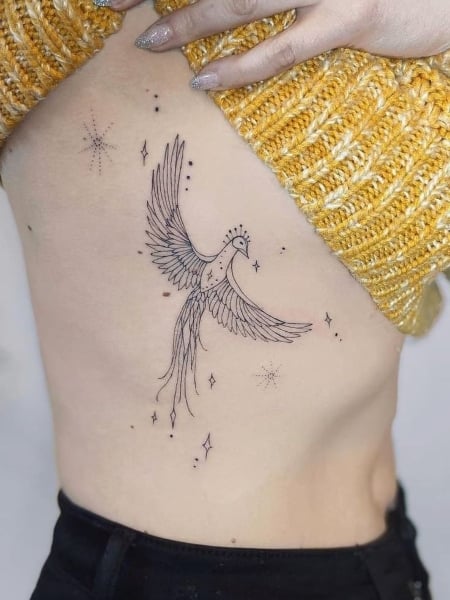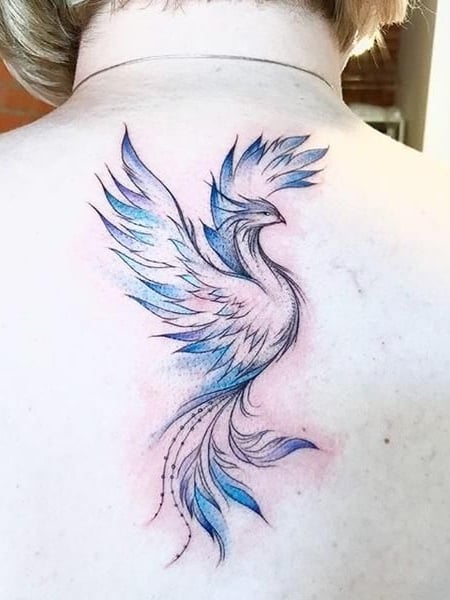 8. Blue Phoenix Tattoo
The blue phoenix can have a slightly different meaning than the red phoenix and can be associated with spirituality and awakening. Your design could also represent intensity and fire because blue flames are the hottest. Alternatively, a blue design could be because you want something different and are drawn to the color because of its aesthetic. Blue can represent calmness and tranquility. Blue is also more versatile than red and is flattering on a variety of skin tones.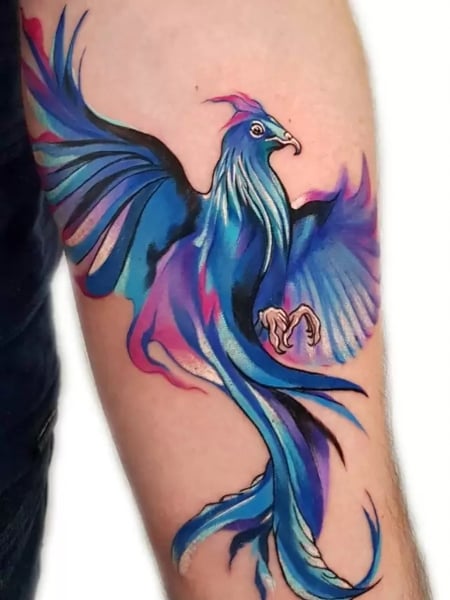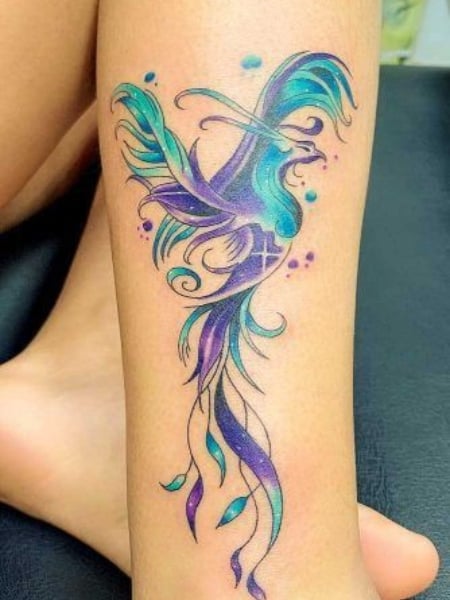 9. Black And Grey Phoenix Tattoo
When getting inked with a phoenix tattoo, most people opt for a red or colorful design that depicts the flames. However, choosing to stick to classics like black and grey can look just as great. The appeal of black and grey is its versatility and this is a combination that lends itself well to various designs. It is excellent for achieving contrast and the design will be less likely to fade. Black and grey will also suit all skin tones.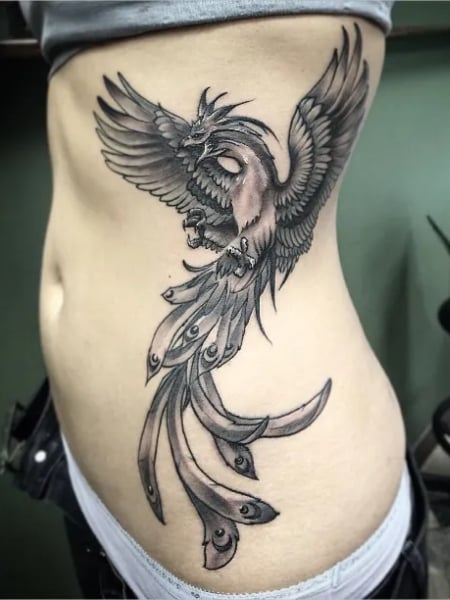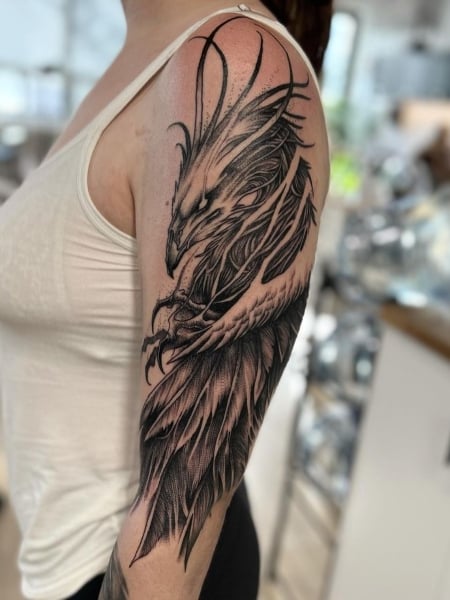 10. Phoenix Flower Tattoo
The phoenix is a powerful symbol of rebirth and transformation and can reflect your thoughts on the balance between life and death. There are many ways to design your piece to make it unique and this includes adding other imagery, like flowers. Flower tattoos represent beauty and growth, and can add another layer of meaning to your phoenix design. It can also make it more delicate and feminine, or let you include other colors in the artwork.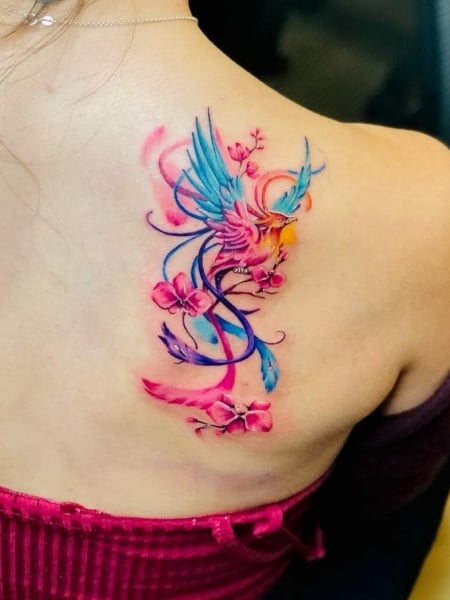 11. Small Phoenix Tattoo
The phoenix is one of the most recognizable symbols of rebirth and renewal, and this deep meaning makes it an appealing subject to have inked, but you don't need to make it a big or bold design to have an impact. Small tattoos are increasing in popularity, and many women are drawn to little pieces because of their versatility; they suit any placement and are subtle and discreet. If you want to cover up your ink, you can, but if you would instead show it off, you can do that too!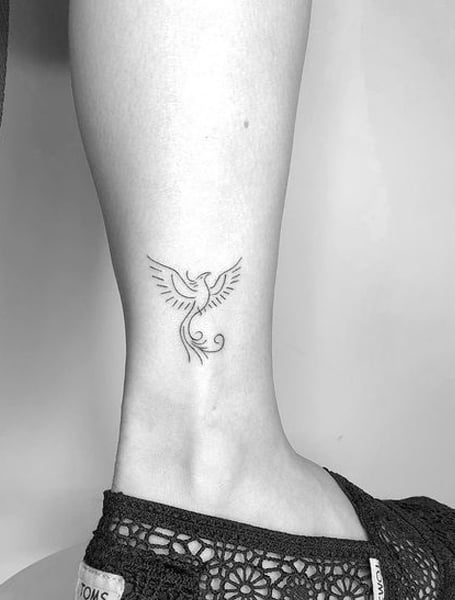 12. Minimalist Phoenix Tattoo
Getting your skin inked can be a painful and time-consuming process, which is just one of the reasons why opting for a minimalist tattoo is so appealing. Thanks to the lack of detail and shading, these pieces are generally quicker to complete. Plus, there's beauty in the simplicity of these designs. They still have the same symbolism but instead, focus on the basic shape and outlines, reducing the image to only the essential visual elements. A great way to make a statement without trying too hard.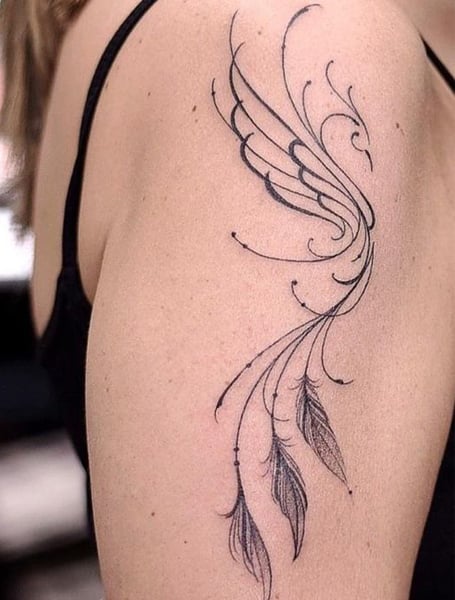 13. Phoenix Thigh Tattoo
A thigh tattoo is a popular choice for women because it is a location that is discreet and can be covered up. That is great, but it's not the only highlight of this spot; there's a certain feminine quality about this placement. It can be subtly sexy and enhance a woman's natural curves. It's an excellent choice for larger designs, allowing for as much detail as needed to create a piece that is meaningful and impressive. Another major pro is the tattoo pain chart scale, and many people find this is one of the least painful locations because the area contains enough fat and muscle to act as cushioning.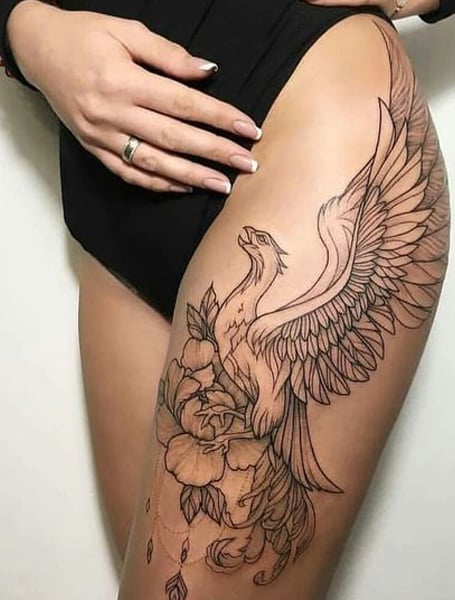 14. Tribal Phoenix Tattoo
Tribal tattoos have a very distinct style and are a popular choice for both men and women. Getting inked in this way is something that has become mainstream, but its roots are from indigenous tribes who placed great importance on the symbols they used. Individuals were tattooed for purposes of protection, to instill fear in their enemies, or to adorn their bodies with beautiful, intricate patterns. When recreated in a tribal style, the phoenix can be an eye-catching piece; serving as a reminder to the wearer of how they have been born again and giving them power and control.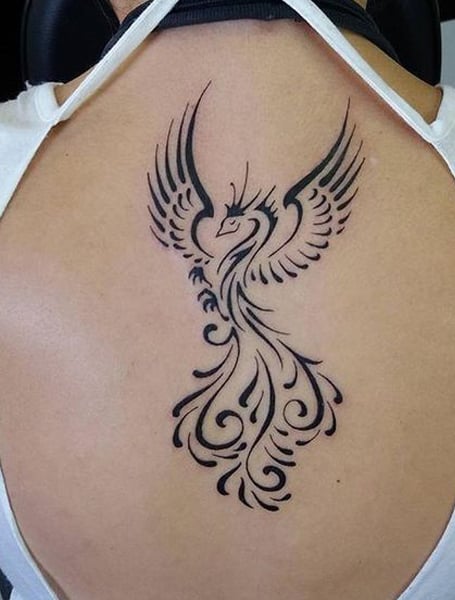 15. Phoenix Rising From Ashes Tattoo
If you have faced hardship or turmoil in your life and come out stronger and wiser, then you will be drawn to the idea of a tattoo of a phoenix emerging from the ashes. The symbolism behind this design is that the bird has been reborn, leaving behind its old self and becoming renewed and more powerful. The ashes signify the past, as it is believed this mythical creature obtains new life after burning up. It's not hard to see why this would be an appealing option for any woman, and the visual imagery is impressive.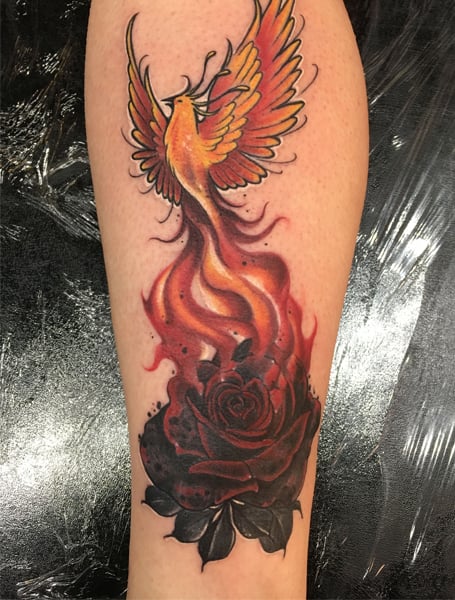 16. Color Phoenix Tattoo
A color phoenix tattoo is a lovely way to get creative with the design. Since the mythical creature is often associated with fire, many people choose red, orange, and yellow hues when getting inked, but your creativity is your limit. The majestic bird looks stunning in a multitude of different shades; the contrasting colors can make the piece stand out even more. A design like this usually looks best when completed in more detail, and we encourage you to try out several placement options like the back, arm, or even the chest to make a statement.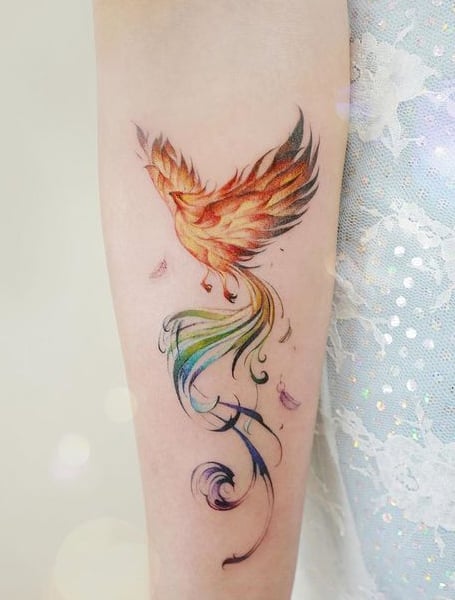 17. Japanese Phoenix Tattoo
Japanese tattoos are not your average design! The style, or Irezumi, is very distinct, often incorporating bold, vibrant colors, with images rich in history. Many people are familiar with the mythical bird and what it stands for, and it is cross-cultural; in Japanese folklore, it is referred to as the hou-ou and is believed to represent obedience, justice, and a balance between harmony and disharmony. If this imagery appeals to you, don't be afraid to go big.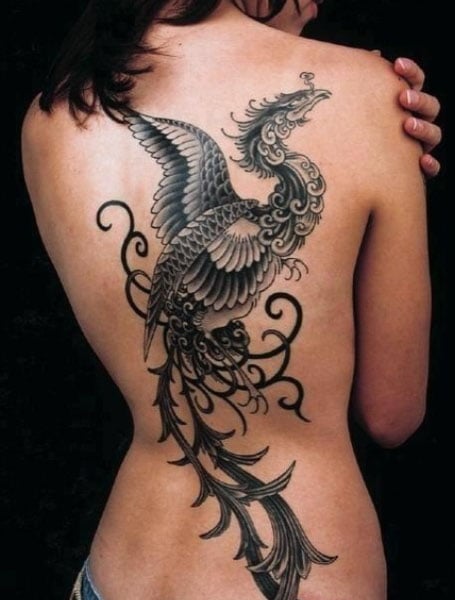 18. Chinese Phoenix Tattoo
Are you considering getting a Chinese tattoo design with a lot of meaning? Then consider a Chinese phoenix tattoo, a symbol of power and femininity. In Chinese mythology, the magical bird is known as Fenghuang and represents the empress. It is also linked with characteristics of virtue and grace. It's an excellent piece for women who want to show their feminine side and are inspired by the symbolism.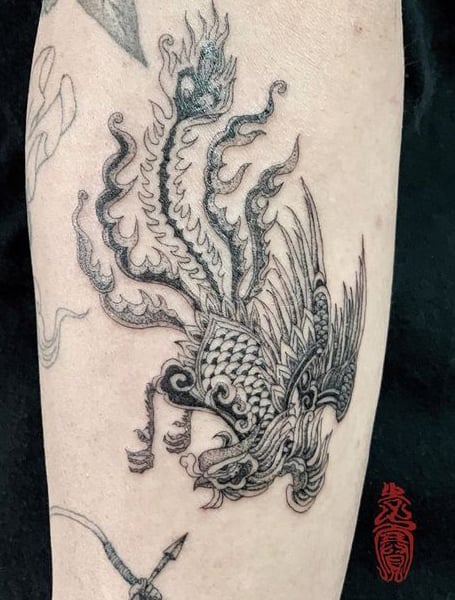 19. Watercolor Phoenix Tattoo
Do you want a phoenix design that stands out? Look no further than a watercolor tattoo! This process is still a relatively new practice, but the stunning results are quickly proving why this style is becoming so popular. Your ink looks as though a painting has come to life on your skin, with vibrant colors blending into each other to create an eye-catching tattoo. The gradual shifts in shades are often formed without any outlines, but incorporating black ink will help the piece fade slower and retain its shape for longer.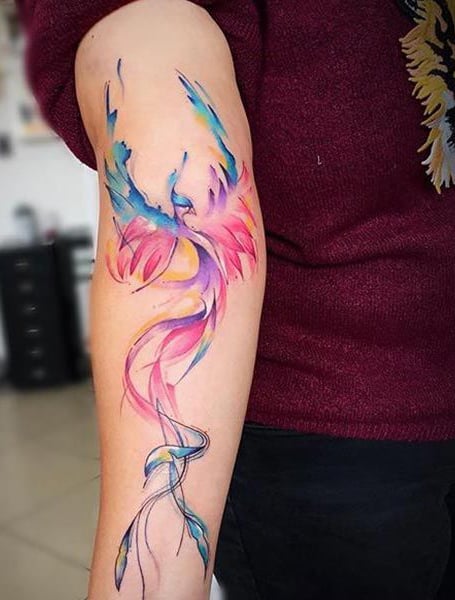 20. Dragon and Phoenix Tattoo
In Chinese mythology, two common and powerful symbols are the dragons and the phoenix. The combination of a phoenix with a dragon tattoo is something to take note of; these mythical creatures represent a perfect balance. It is also considered to be the union of husband and wife. The dragon represents the ying, and the phoenix is the yang; in this way, this concept of dualism is thought to symbolize a man and woman.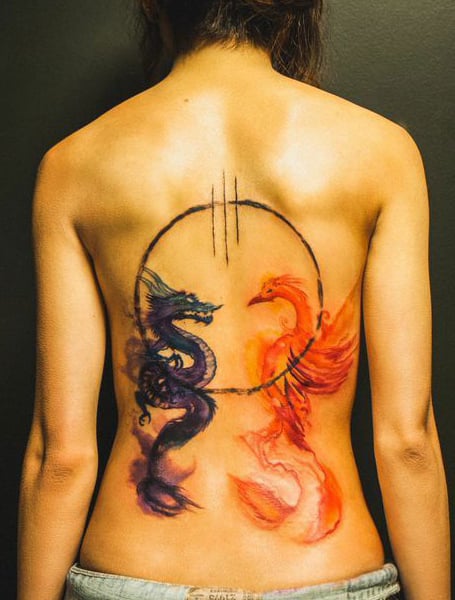 21. Fire Phoenix Tattoo
A phoenix goes through cycles and can regenerate by bursting into flames and emerging from the ashes of its predecessor. It is for this reason that the bird is often associated with fire and the sun, serving as a symbol of renewal and rebirth. This concept is something that appeals to many women, especially if you have faced turmoil in your past and overcome it. In tattoo form, this can be represented with the mythical bird going up in flames, or rising from a fire.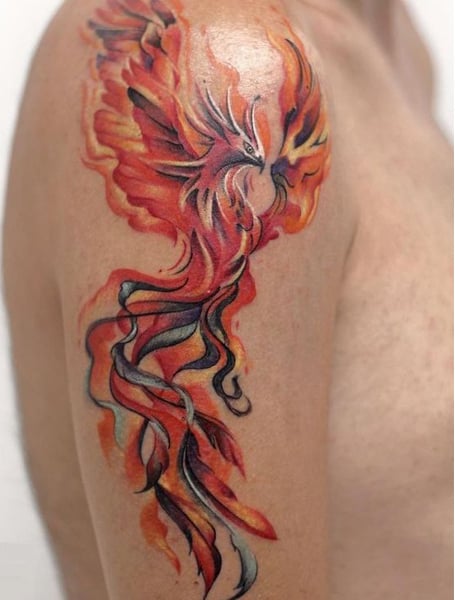 22. Harry Potter Phoenix Tattoo
Fans of the wizarding world will be familiar with the importance of the phoenix Harry Potter tattoo. The magical bird can make a faithful and loyal pet, but also symbolizes rebirth and regeneration, immense strength, and has fantastic powers; the tears have healing properties. The creature, Fawkes, is featured in the novel series and films and has aided Harry in slaying the Basilisk. Fans have been fascinated by the image of the crimson-colored bird, and combined with the deep meaning and characteristics associated with it; it's become a fantastic tattoo option.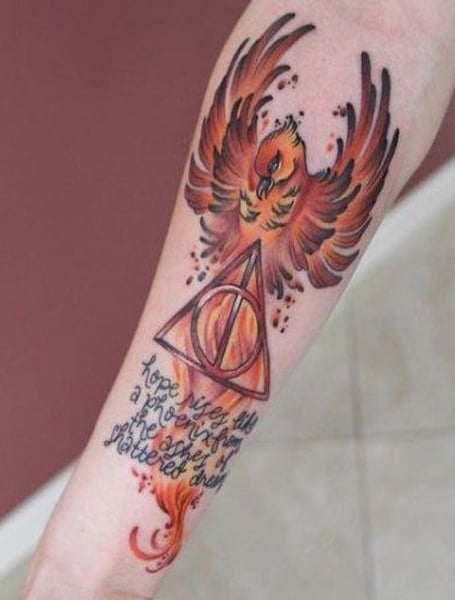 23. Phoenix Wings Tattoo
You don't need to ink the entire design of a phoenix to have the symbolism, and some women prefer a more subtle approach; this can be achieved by tattooing just the wing of this firebird. In some cultures, it represents prosperity, and the idea also brings to mind thoughts of freedom. The image can be done in black ink but lends itself well to bold, bright hues.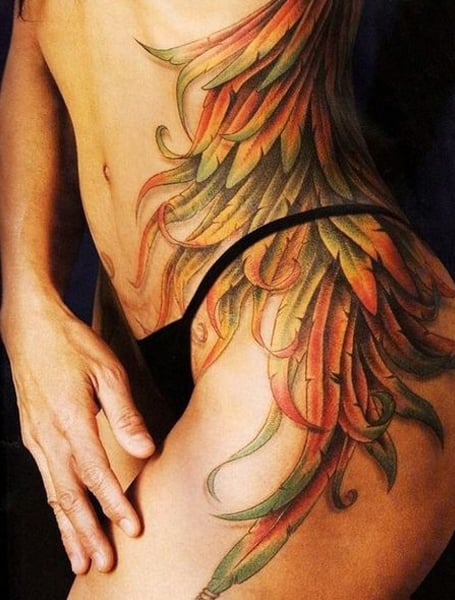 24. Phoenix Feather Tattoo
Do you contemplate your mortality and the concept of life and death? If so, then a phoenix feather tattoo may be the perfect choice for you. In Greek mythology, the symbol is believed to represent eternal life. Harry Potter fans may also remember that phoenix feathers could be used in wand-making, creating a highly sought-after and rare piece. Whatever reason you choose this feather tattoo design, we have a feeling you won't be disappointed.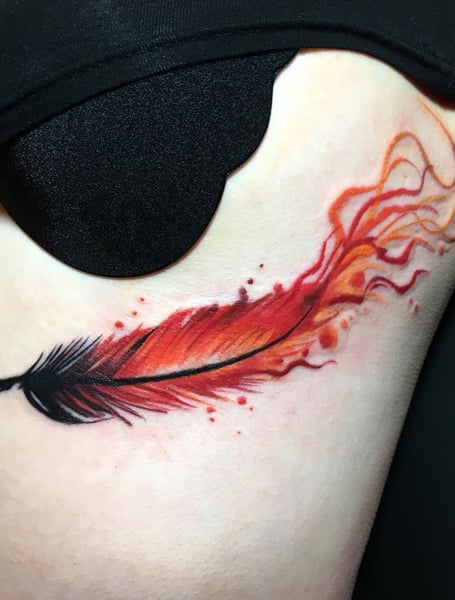 25. Phoenix Forearm Tattoo
If you want a decent size design, in a location you can often see, then get a forearm tattoo. The visibility of the area means that you, and others, will see the image of your choice, which is why it makes sense to choose something meaningful. The spot is also a great place to get inked, as it won't cause as much discomfort as other places, such as the chest or the back.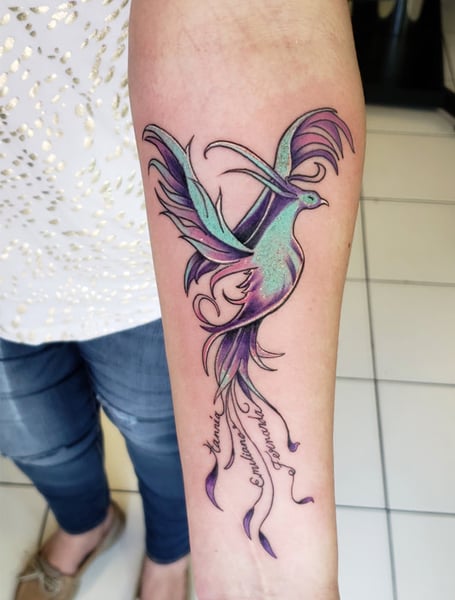 26. Phoenix Shoulder Tattoo
There's a lot to love about shoulder tattoos. For starters, they look super cool, especially if the design is relatively large and can utilize the space. It's also a spot that offers a lot of versatility and can be easily covered up if you so desire. In terms of soreness and sensitivity, the outer part of the area has thicker skin and won't cause too much discomfort, but the closer you get to the shoulder blades, the pain is going to increase due to the bone and abundance of nerves found here.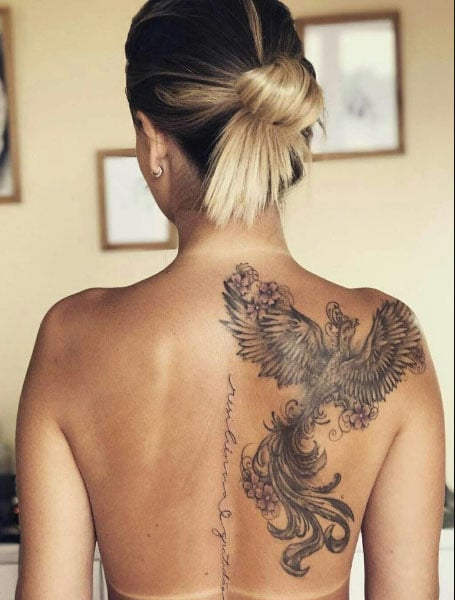 27. Phoenix Arm Tattoo
Tattoos are a big commitment because they're meant to last a lifetime, and often, they hurt. That said, the results are usually worth it, especially if you've spent time researching good artists and designs that have meaning for you. A phoenix tattoo will look great on the arm because it's a large enough surface to include detail. Also, the area lends itself well to many styles and sizes. A popular choice would be the bird in flight, as it can be made to look as though it is rising upwards on the arm. Plus, another major pro is the lack of pain associated with getting inked in this location because it has more muscle and flesh.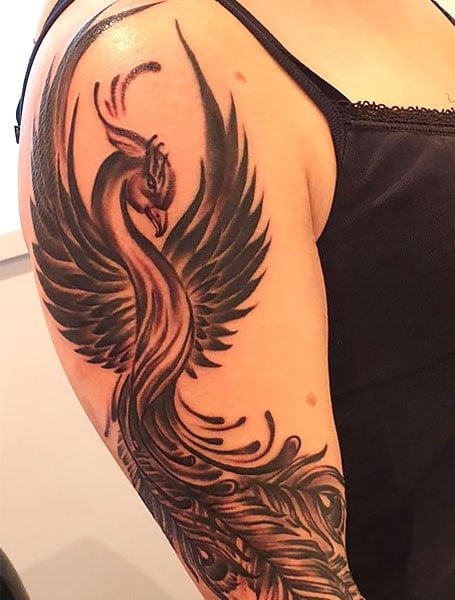 28. Leg Phoenix Tattoo
If you're getting your first tattoo, why not choose a leg tattoo , as it will not cause you much discomfort. The leg is one of those places and is considered to be one of the least painful tattoo spots. Even if you're a seasoned tattooer, this is still an appealing location; there is enough space for a detailed phoenix design of your choosing. Whatever you decide on, it will be eye-catching and have personal significance for you.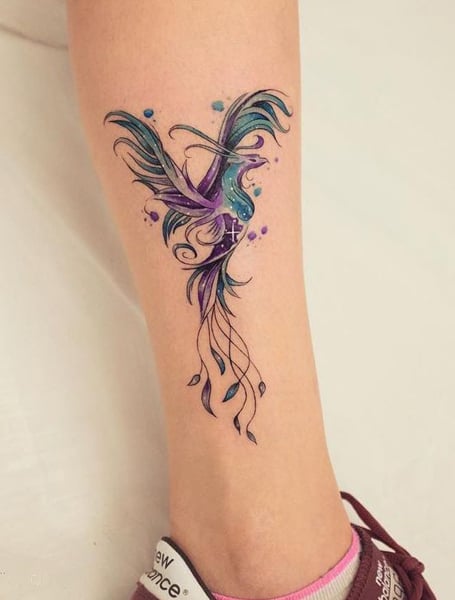 29. Neck Phoenix Tattoo
Neck tattoos are not for the fainthearted, and unlike other placement options, this is going to cause a significant amount of discomfort. The skin in this area is not thick and is very sensitive. The beauty of a phoenix neck tattoo, though, is that you can show off your artwork, and when the design is especially meaningful, this is a beautiful thing to do. Hold your head high with this unique piece.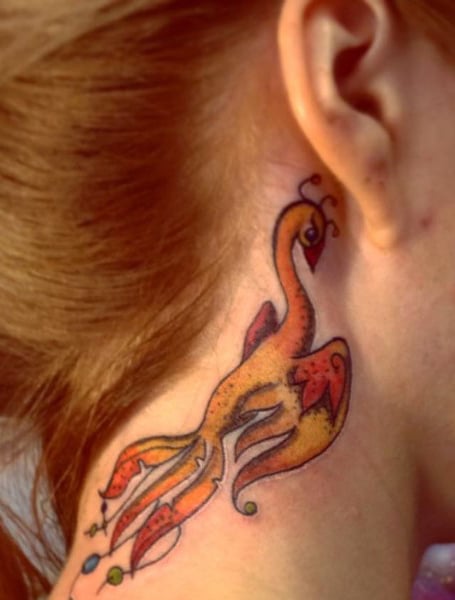 30. Phoenix Wrist Tattoo
A wrist tattoo works best with small, minimalist designs because the placement doesn't allow for larger, more detailed pieces. That said, this is a fantastic location for something as meaningful as a phoenix tattoo because it will enable the wearer to look at it all the time. It can serve as a reminder for the reason why you chose this design in the first place. When getting inked, remember that pieces in this area may not last as long because of exposure. The wrist is exposed to the elements and is also used frequently. Plus, this spot can result in some discomfort because of the thin skin and nerves that surround the area.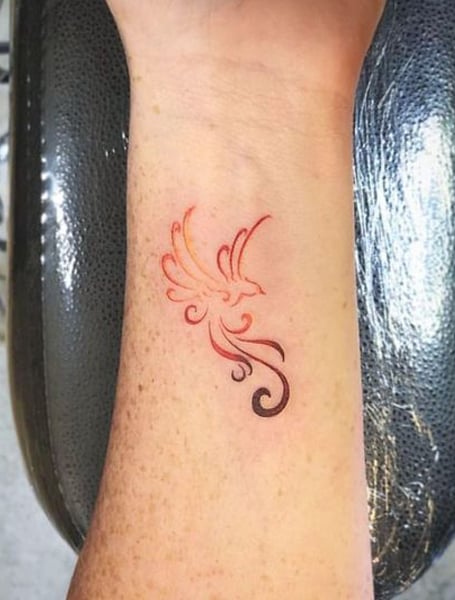 Phoenix Tattoos FAQs
Whatb is the meaning of a phonix tattoo?
People often get a phoenix tattoo to represent a new beginning or perhaps the end of an arduous journey. Because it symbolizes transformation and strength, it can have profound meaning for anyone who's struggled through adversity. The longevity of the phoenix can also provide symbolic strength for someone embarking on a new path.
What does a phoenix tattoo look like?
A phoenix is generally depicted half-alight with flames on the tail feathers, and wings aloft. They can be done in black and grey, but look particularly striking when tattooed with colors. Using rich reds, oranges, and yellows accentuate the flames, bringing additional gravity to the design. The bird lends itself to many styles, including watercolor, tribal, linework, and realism.
What tattoo goes with a phoenix?
Generally, phoenix tattoo designs are large and hold the space well on their own, especially as a sleeve or chest piece. However, some complementary ideas to fill in extra space can include additional flames, feathers, or smoke. Natural elements such as flowers, leaves, and trees also look great.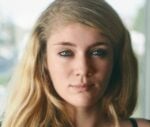 Cailyn Cox holds a degree in journalism and has been working with The Trend Spotter as a writer for over ten years. She has worked with some of the most prestigious women's and men's lifestyle publications. For her, writing is not just a job; it's a passion, which is why each article she writes is approached with such enthusiasm and dedication. She has extensive knowledge of hairstyles, tattoos, and beauty and has made a career out of creating informative articles that appeal to women and men of all ages.
SUBSCRIBE TO OUR NEWSLETTER
Subscribe to our mailing list and get interesting stuff and updates to your email inbox.