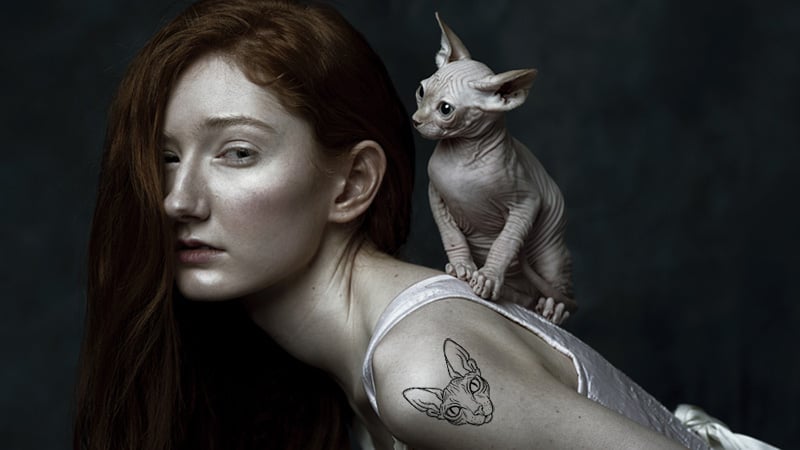 You do not have to be a cat lover to be drawn to the symbolism associated with the animal. Cats have been respected and valued throughout history and are associated with wealth, prestige, and grace. They can also represent intelligence, resilience, confidence, and independence, or mystery and magic. The appeal of a cat tattoo is there are many options to choose from. Cat designs can be created in various styles, from simple and minimalist tattoos to bold and bright pieces like the American Traditional technique or watercolor artwork. They also look great big or small, giving you versatility with your placement. Whether you opt for a cat design inspired by your favorite cartoon or honor your pet with a tattoo of its likeness, there is something to suit every preference.
1. Black Cat Tattoo
For those who want a tattoo associated with magic and witchcraft, a black cat is a perfect choice. For some, a black cat represents bad luck, while for others it is good fortune. It can also be associated with loss and grief and could be inked to honor a pet who has died.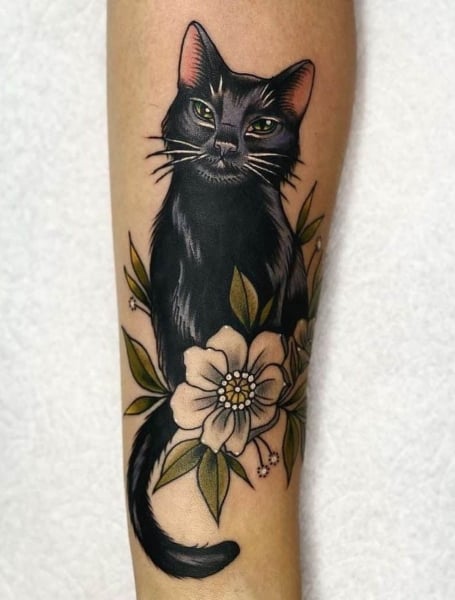 2. Cheshire Cat Tattoo
Fans of Alice and Wonderland will be drawn to a Cheshire cat tattoo. It can represent fantasy and magic but is also associated with mischief and guidance. In addition, the Cheshire cat design, with his large smile, is very noticeable and will make for a striking tattoo, and looks great when created in color.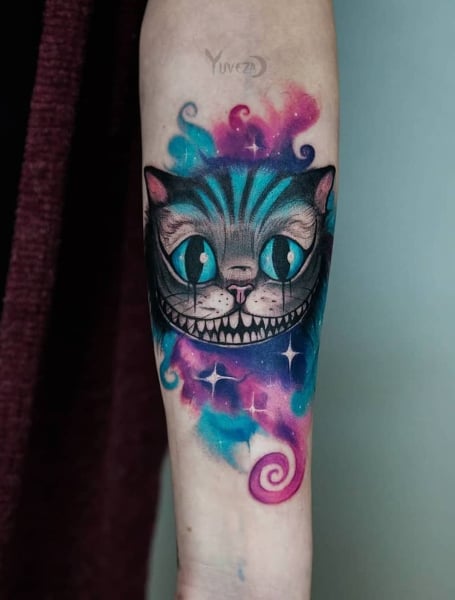 3. Cat Outline Tattoo
The great thing about cat tattoos is they can be created in multiple styles, including something simple like an outline. Outline tattoos focus on the outline of the image only and do not use shading. This creates a beautiful, minimalist design that can be inked large or small.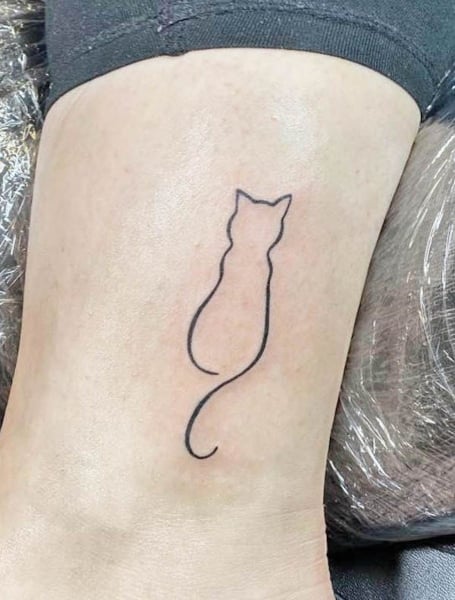 4. Simple Cat Tattoo
Simple tattoos appeal to those who want to focus on the fundamental elements of their chosen design. Your tattoo will be created without detail or shading, and instead, focus on clean lines and a distinct outline. This piece should be completed quickly and will cost less. It will also cause less discomfort because of the lack of shading.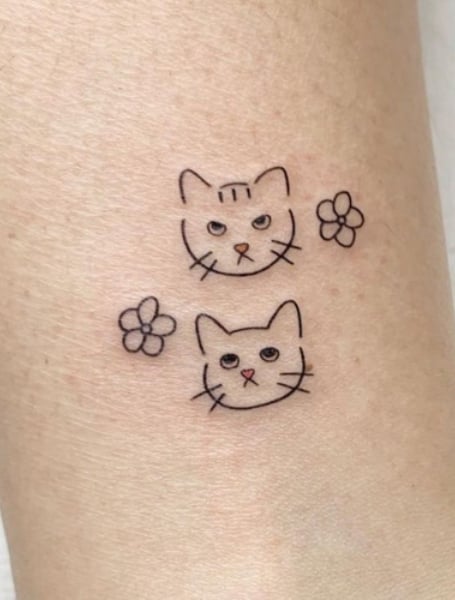 5. Sphynx Cat Tattoo
The Sphynx cat is typically higher maintenance than your average house cat and they are often associated with good fortune, prosperity, and prestige. They are a favored pet for those who want to convey these things, but can also make for an interesting and symbolic tattoo design.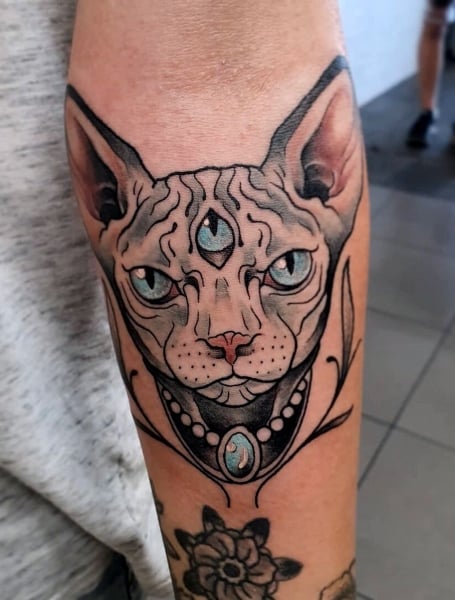 6. Minimalist Cat Tattoo
Minimalist tattoos appeal to those who prefer clean lines, negative spacing, and limited color and detail. The result is a simple tattoo that can be inked big or small. A minimalist cat tattoo can also focus on the meaning behind the tattoo more than the design itself. Cats represent resilience, mystery, intelligence, and grace.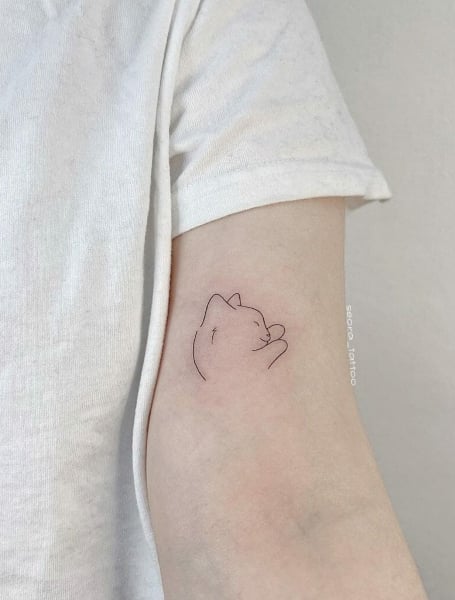 7. Cat Paw Tattoo
A cat paw print tattoo is an excellent way to honor your pet and keep them close to you at all times. It is also appealing to someone who wants a simple or minimalist design and can be inked on a small scale which gives you versatility with placement. Your tattoo can also symbolize confidence, independence, and individuality.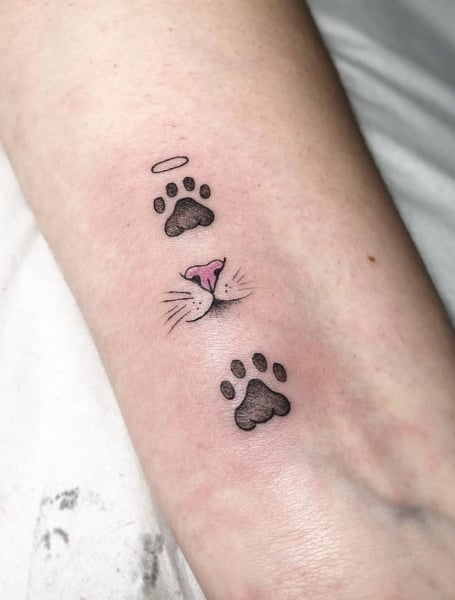 8. Fat Cat Tattoo
A tattoo of a fat feline is associated with abundance, love, and warmth. A happy, full cat has positive symbolism and your design could be in honor of your beloved pet, or it could be a way to convey the qualities mentioned above. There are different styles to choose from, including cartoon and realistic, depending on your preference.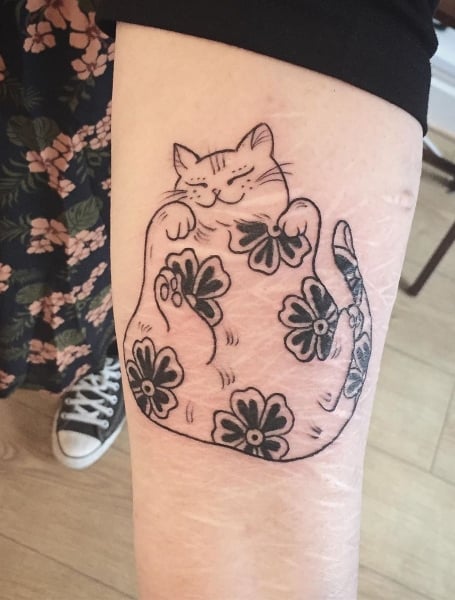 9. Lucky Cat Tattoo
The lucky cat or welcoming cat originated in Japan and is symbolic of good luck, happiness, success, and prosperity. It is kept in the home or business as a lucky amulet that will hopefully bring you good things. The same symbolism applies to a tattoo, making for a positive design that can inspire you.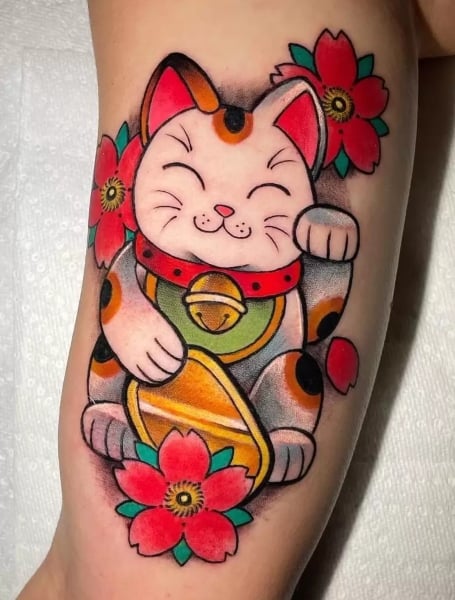 10. Alley Cat Tattoo
An alley cat is a cat that lives on the street and does not have an owner. A tattoo of an alley cat could represent toughness, resilience, freedom, and self-confidence. It can make a powerful statement about what is important to you, or remind you that you can only rely on yourself.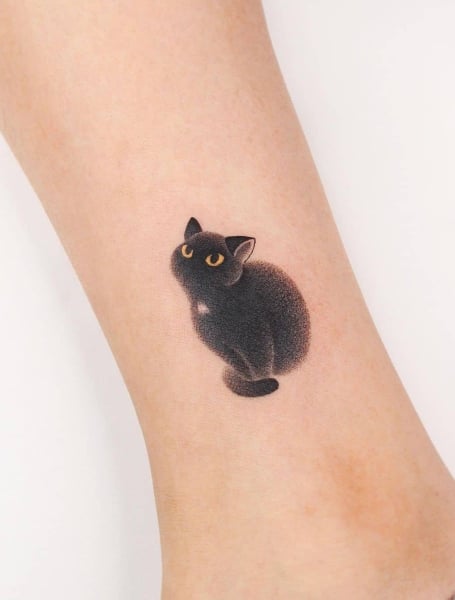 11. Cat Skull Tattoo
The cat skull tattoo is an excellent choice for someone who wants a dark and edgy design. It is also symbolic of death and destruction. Your design can make a powerful statement and there are various interpretations of what it could mean. For example, it could be inked by someone who has experienced loss or who has gone through a challenging time in their life and wants a reminder that things will get better.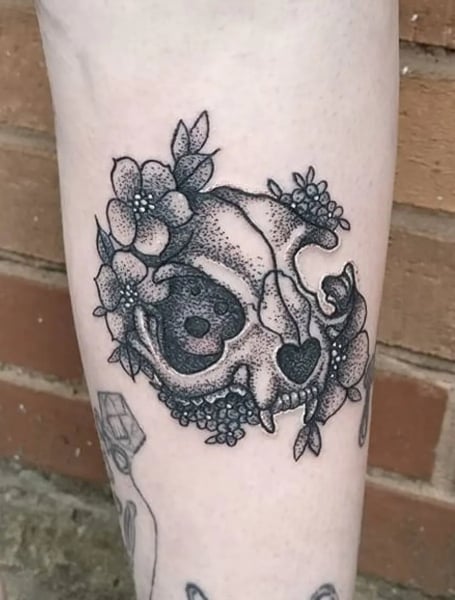 12. Small Cat Tattoo
Small tattoos are appealing for several reasons but especially their versatility. With a small design, you are not restricted with your placement and can get inked anywhere on the body, including smaller areas like the finger or behind the ear. Small tattoos will cost less and will take less time to complete, which will also result in less discomfort.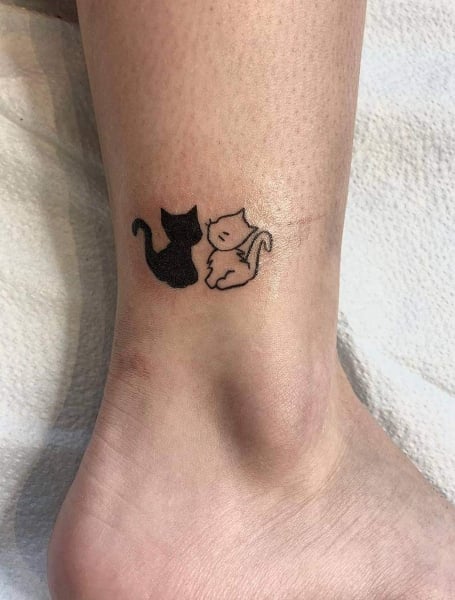 13. Cat Belly Button Tattoo
A belly button is an unusual place for a tattoo and one that can be painful, however, the appeal is the versatility of this location. It is easy to cover up and show off when you want. Designs can be created to incorporate the circular shape of the navel, or your tattoo could feature above or beneath it, depending on your preference.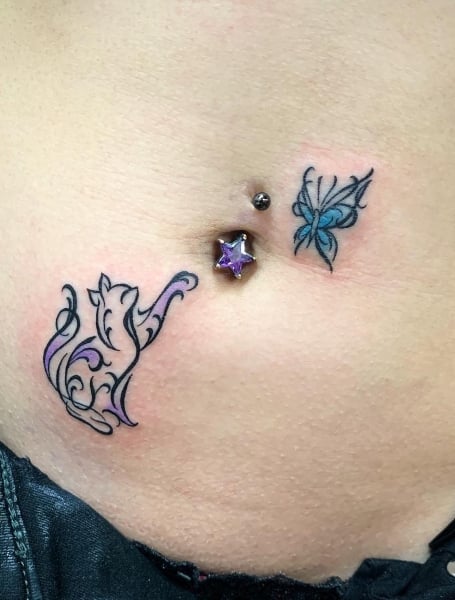 14. Cat Memorial Tattoo
If you have lost a beloved pet, a beautiful way to honor their memory is with a tattoo. Memorial tattoos are inked to celebrate the life of someone or something that meant a lot to you, and this design is often personalized and unique. For example, you can get an image of your cat, or include its name in your design.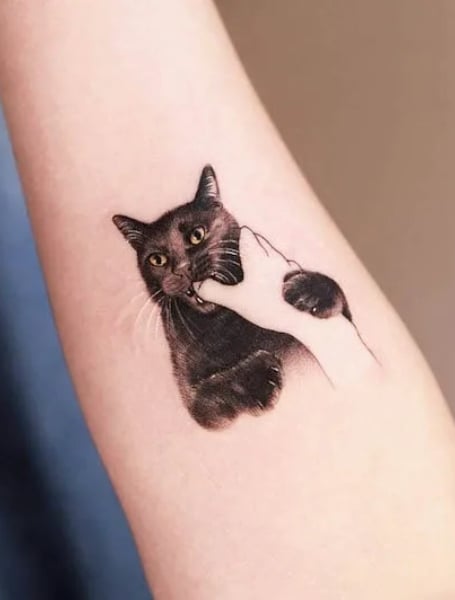 15. Line Art Simple Cat Tattoo
Simple tattoos are appealing because they focus on the basic elements of the design. Several styles can be considered simple, including line art, which focuses on a single color and clean lines to create your chosen artwork. This is ideal for someone who wants a minimalist piece.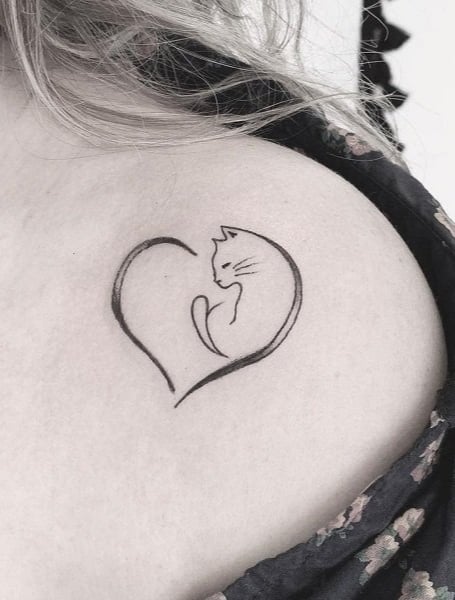 16. Cat Silhouette Tattoo
A silhouette tattoo is a great choice for your design because it is simple but effective. The blackened design focuses on the basic form of a cat, letting you attach your chosen meaning to it. It could represent grace, intelligence, resilience, or independence. You can also combine the cat with other designs and styles to create a contrast.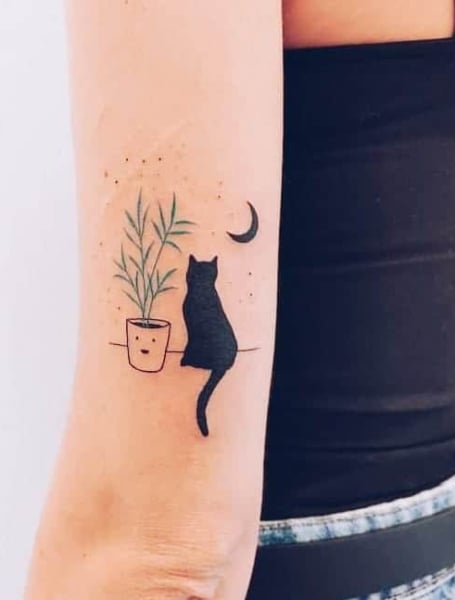 17. Felix The Cat Tattoo
Felix the Cat is a classic cartoon created in 1919 by Pat Sullivan and Otto Messmer. Choosing a Felix the Cat design could be to honor a grandparent who loved the show, celebrate the silent film era, or it could be comment on childhood, innocence, and happiness. The simplicity of the design will let you get it inked small and give you versatility with your placement.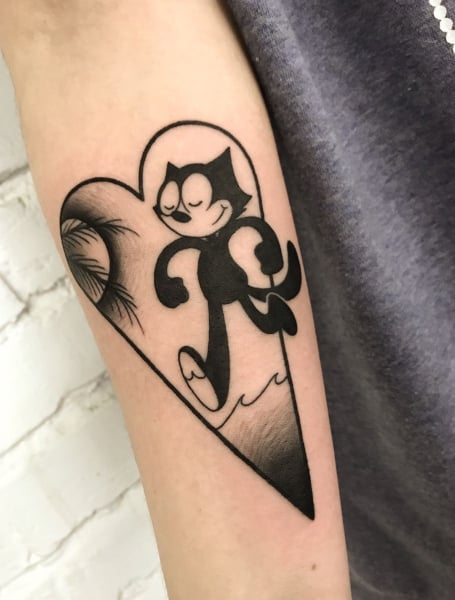 18. Cat Name Tattoo
Name tattoos are special because they include the name of a loved one, or in this case, the name of your pet cat. This is a fantastic way to make your tattoo more personal and unique. Add an image of a cat, including a realistic portrayal of your pet, or a general image with line art or geometric styles.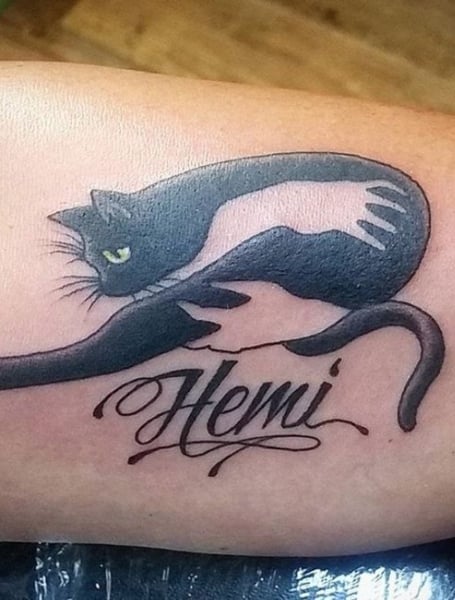 19. Hairless Cat Tattoo
A hairless cat, also known as a sphynx cat, is a beloved pet for many people but is also seen as a status symbol and associated with wealth and prestigious. If you own a sphynx, like the look of them, or find the symbolism associated with them appealing, this is the ideal choice for your next inking.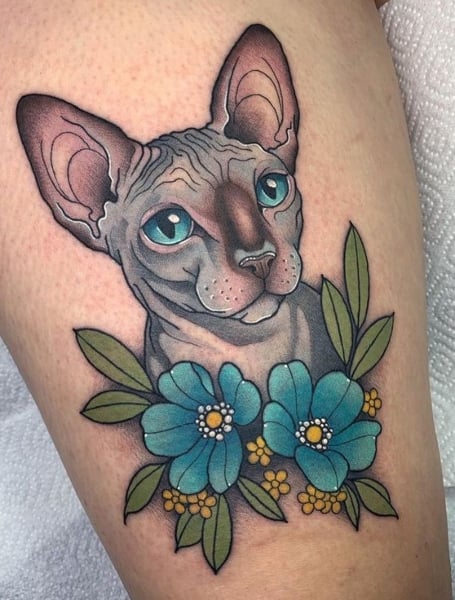 20. American Traditional Cat Tattoo
The American Traditional tattoo style is defined by its bold black outlines, bright but limited use of color, and minimal shading. The style is expressive but often has limited detail. It also focuses on specific themes, including nautical or animal designs. This makes a cat the ideal choice for the American Traditional style.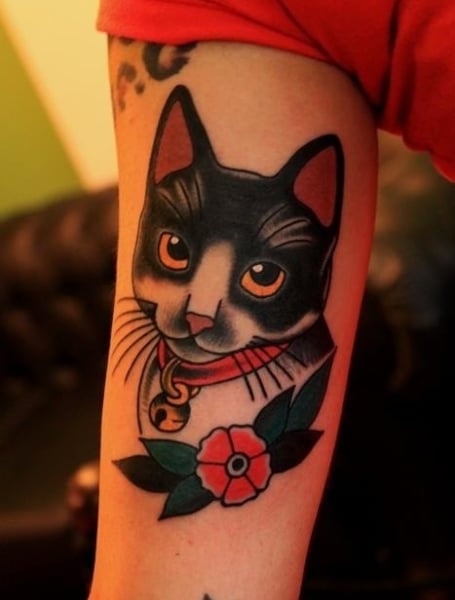 21. Cute Cat Tattoo
Cute tattoos are pretty and delicate in appearance. They can be of anything, but popular choices include animal designs and a cute cat tattoo will be symbolic and pleasing to look at. Most people choose a smaller and simpler design, which gives you versatility with your placement and can get inked anywhere on the body.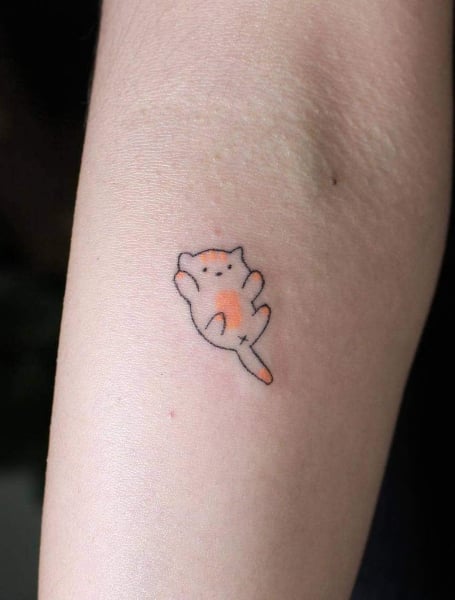 22. Egyptian Cat Tattoo
In Ancient Egypt, cats were beloved pets and honored because they were believed to bring good luck to the family who kept them. They were also adorned with jewels, fed well, and mummified when they died. Depending on your chosen design, your tattoo could reflect your love for cats or the deep respect you feel the animal deserves. It could also show your interest in history and Ancient Egyptian culture.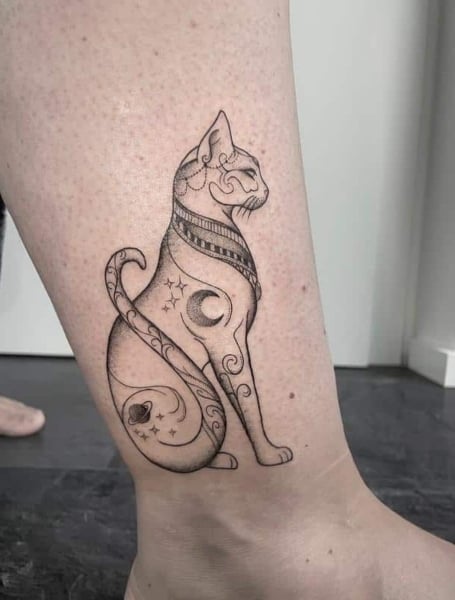 23. Japanese Cat Tattoo
Japanese tattoos are a style that is bright and bold, making them easy to notice and rich in symbolism. They have defined the combination of vibrant colors and striking black linework, in addition to the symbolic imagery. A Japanese cat can be associated with good luck, fortune, and wealth.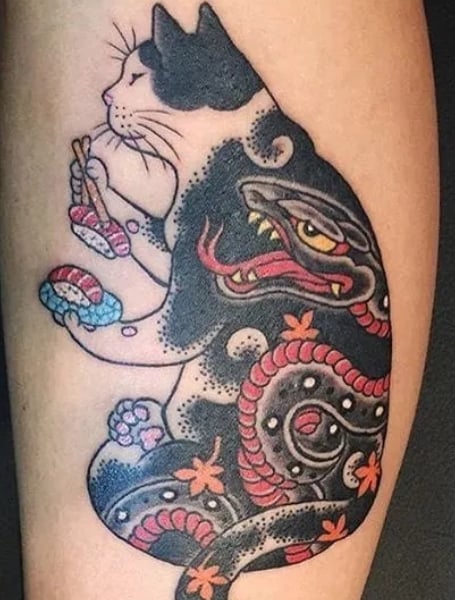 24. Cat Eye Tattoo
The cat eye tattoo is an excellent choice because it can be created in various styles and can be inked small, which allows you to get it inked anywhere on the body; from the finger to behind the ear. A cat eye is also symbolic of intelligence, wisdom, and mystery, and your tattoo can make a powerful statement.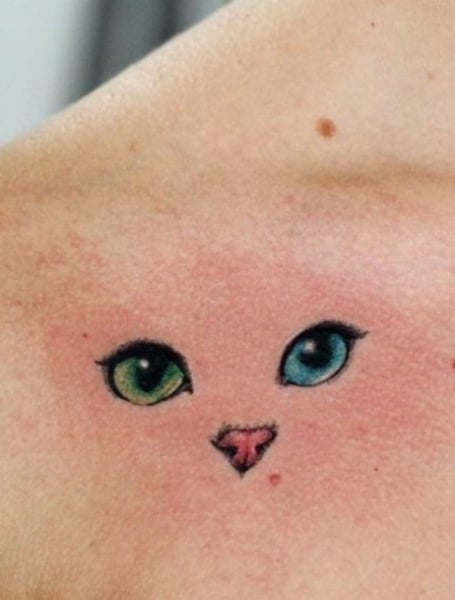 25. Cat Flower Tattoo
Flower tattoos are one of the most commonly inked designs because there are so many blooms to choose from. Flowers look great in different styles and colors and are also symbolic of beauty, growth, and life. They can be added to other designs, including a cat tattoo, to add to the overall meaning or create a softer, prettier finish.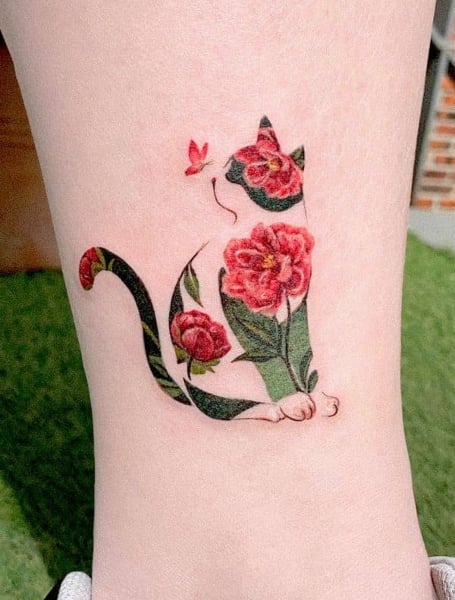 26. Cat Ear Tattoo
Ear tattoos are an edgy and cool placement for your body art and are best reserved for small and simple designs. You can focus your cat tattoo behind the ear, or get it inked on the top or even on the inner ear. Depending on the location, the pain will vary. You will also need to consider the vibration and noise from the tattoo machine and how this may affect you.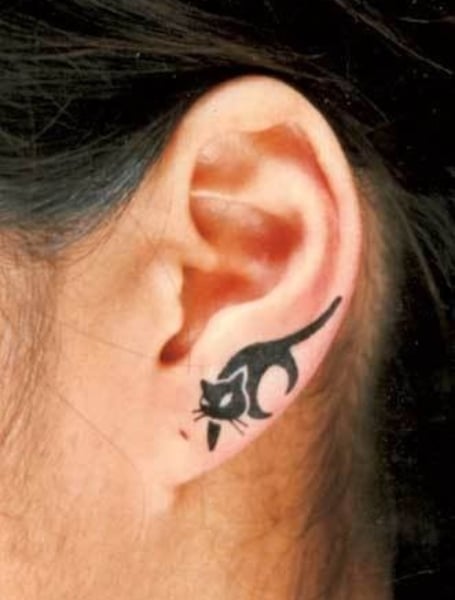 27. Cat Face Tattoo
There are many different ways to get inked with a cat design, but focusing on its face is one of the best options to show your love for your favorite feline. This can be a way to honor your beloved pet or a tribute to them once they have died.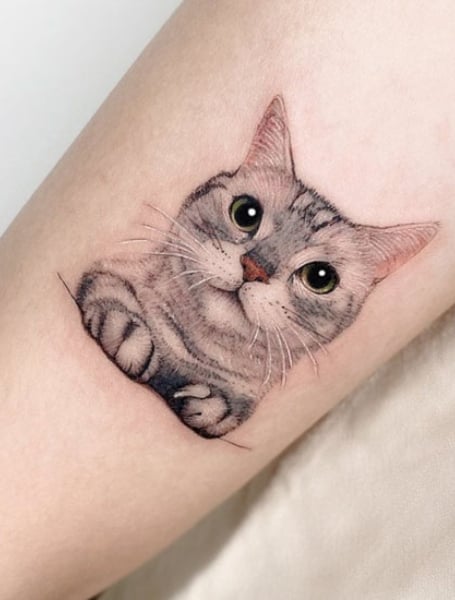 28. Cat Moon Tattoo
Cats are associated with different things, one of which is mystery and witchcraft. A black cat and a moon tattoo will make for an interesting and symbolic design and the phase of the moon that you choose will add to the meaning. A full moon is often associated with magic and the supernatural, while a crescent moon represents change, growth, and creativity.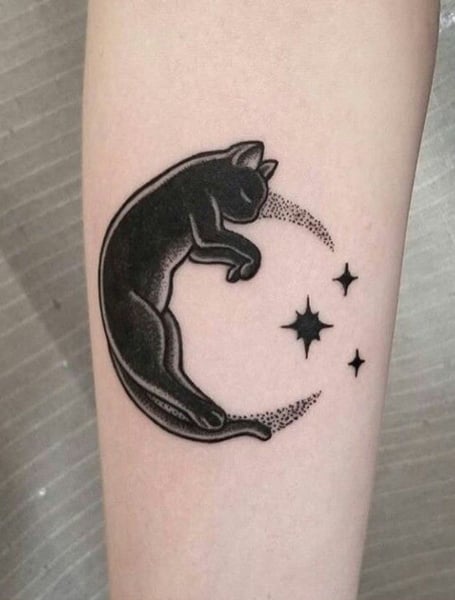 29. Cat and Bird Tattoo
Bird tattoos represent freedom but when combined with a cat design this meaning is altered. Your piece can now represent balance or could be associated with good and evil, right and wrong, or predator and prey. There are many interpretations depending on your chosen design and your preferred symbolism.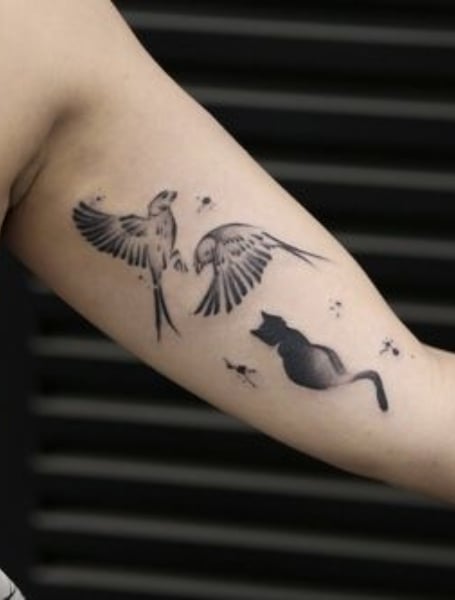 30. Cat Butt Tattoo
A cat butt tattoo is a cheeky design that can show your sense of your humor. It can be a reminder not to take nonsense from other people or to only focus on the positive things in your life. Cats are also associated with independence and confidence, and this can be a way to channel these qualities.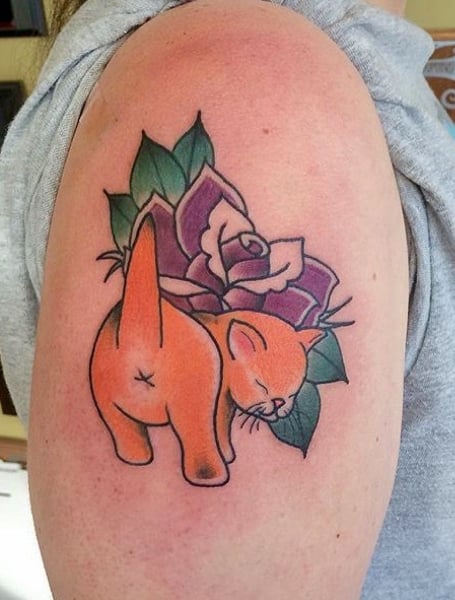 31. Cat Dog Tattoo
CatDog was a 90s cartoon about conjoined siblings, one a dog and the other a cat. A tattoo designed around this could be a way to honor a childhood memory or take you back to a simpler and happier time in your life. The show was a comedy, so it could also bring a smile to your face or remind you to find joy and laughter in your life.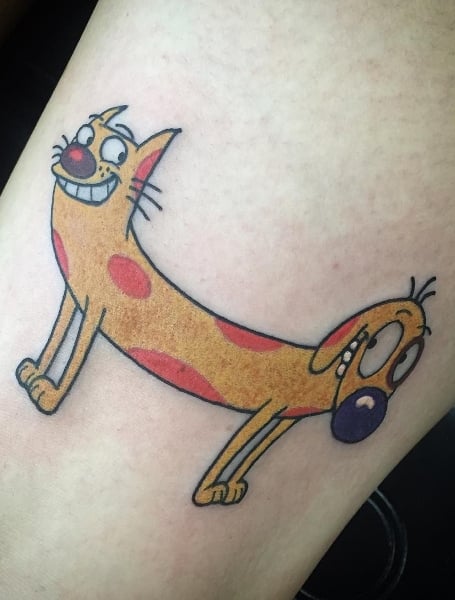 32. Geometric Cat Tattoo
Geometric tattoos are created with lines and shapes. The result is a striking finish that is interesting to look at but also associated with balance and stability. Almost all designs can have a geometric element to them, and a great choice for your cat design would be to choose a realistic portrayal on one half and a geometric one on the other, creating a brilliant contrast.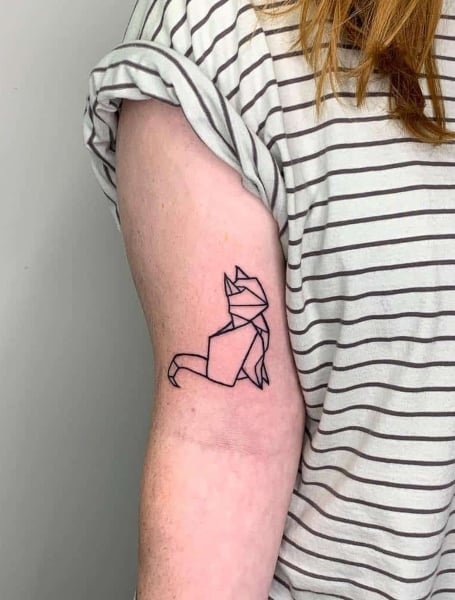 33. Siamese Cat Tattoo
Siamese cats are a breed of cats that are beautiful, intelligent, and loving. They make for excellent pets but they are also symbolic of royalty and wealth. You can choose a Siamese cat design if you are drawn to the qualities that this breed has, or perhaps you own one and want to honor your pet.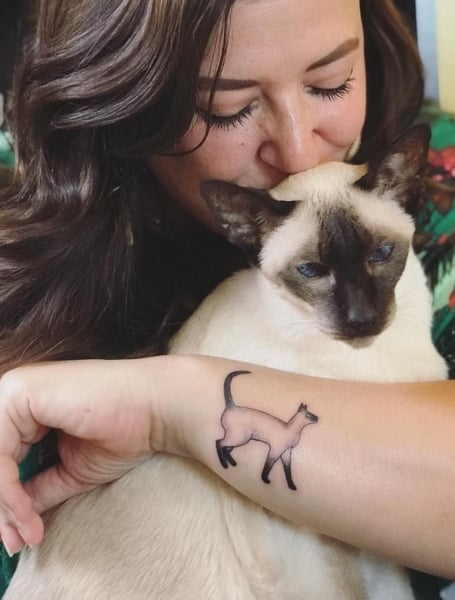 34. Cat Semicolon Tattoo
The semicolon tattoo makes a powerful statement about mental health. It is associated with suicide awareness and is inked to show solidarity for those who are struggling. The semicolon represents continuation, showing that the wearer's story is not over and they continue to live and fight for another day. Some people choose to combine other images with the semicolon, including a cat design.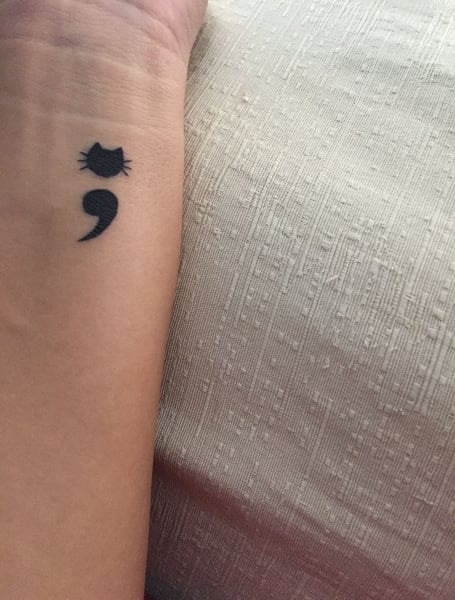 35. Matching Cat Tattoos
Matching tattoos are a sweet way to celebrate the bond you share with someone. This can be your sibling, best friend, or romantic partner. Deciding on the perfect design to reflect your relationship will add to the experience, and a cat is a fantastic choice for people who value resilience, intelligence, grace, and mystery.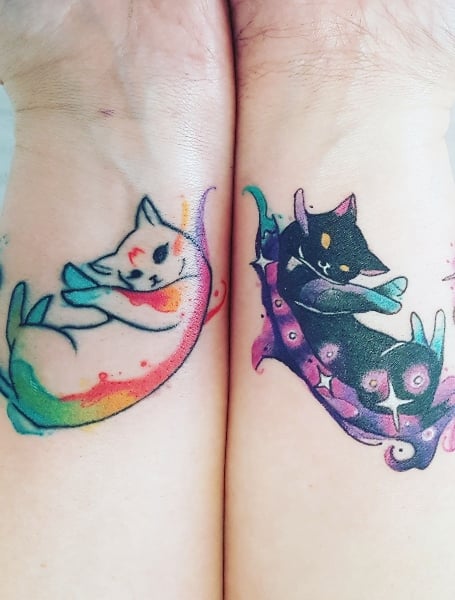 36. Trash Polka Cat Tattoo
Trash polka is an edgy and cool technique that will demand attention. It creates a contrast between the black and red colors and the combination of realistic and abstract imagery. The style originated in Germany and is ideal for anyone who wants a design that feels rebellious and chaotic.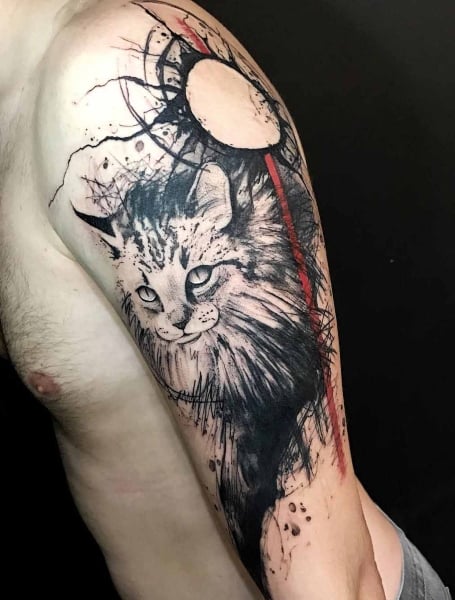 37. Neo Traditional Cat Tattoo
Neo Traditional tattoos are a modern update to American Traditional designs but have more detail and greater depth of dimension. There is also more versatility with the subject matter, which lets you get more creative with your cat design and the imagery you add to it. This technique is appealing to those who want something bright, bold, and cool!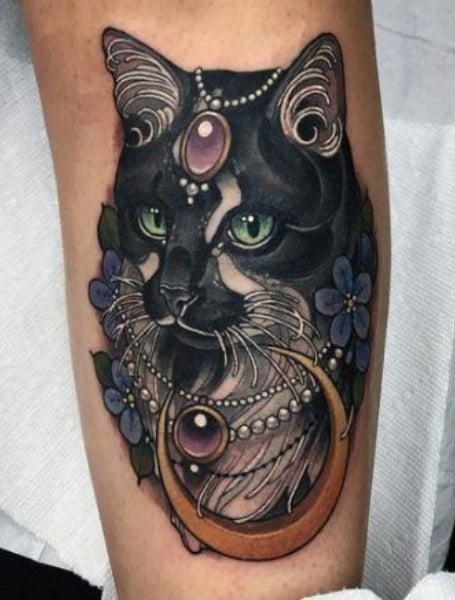 38. Watercolor Cat Tattoo
Watercolor tattoos are a brilliant blend of bright colors, which make for eye-catching and beautiful artwork. The style uses vibrant colors with no black outlines and is best suited to natural images like flowers and animals. You can also create a more detailed design by focusing the watercolor effect as a base and inking over it.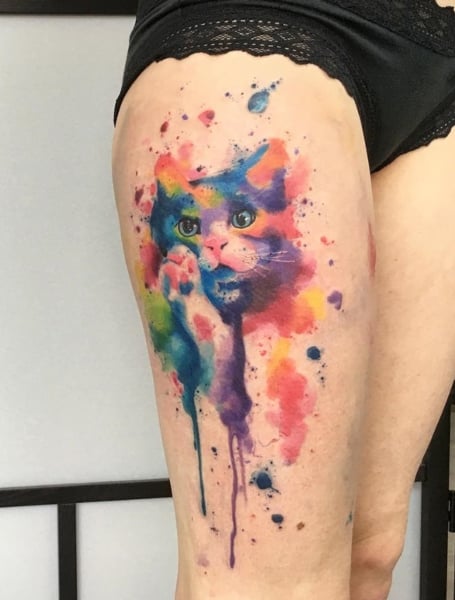 39. Yin Yang Cat Tattoo
The yin-yang symbol represents the concept of duality and two opposing yet complementary forces. Yin is represented as black and Yang is white, and together, can be a reminder of the importance of achieving balance and harmony. Your yin-yang cat tattoo is an interesting way to include this symbol, while also adding to the overall meaning and creating a more detailed design.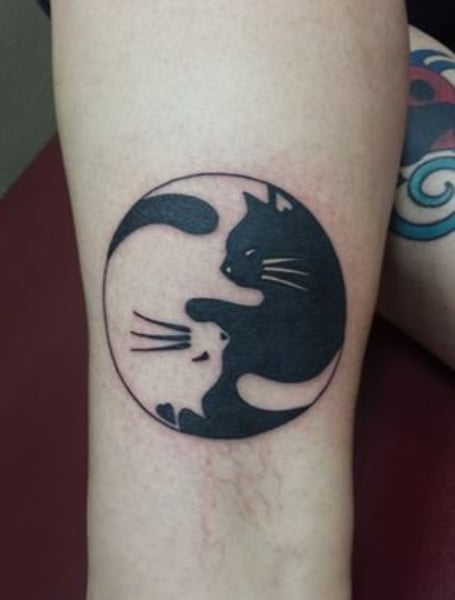 40. Black And White Cat Tattoo
A black and white cat tattoo is a wonderful choice for someone who wants to create a contrast and there are several options for your design. You can focus on line art to keep it simple, or include other designs for a more detailed finish. It can also represent balance and harmony.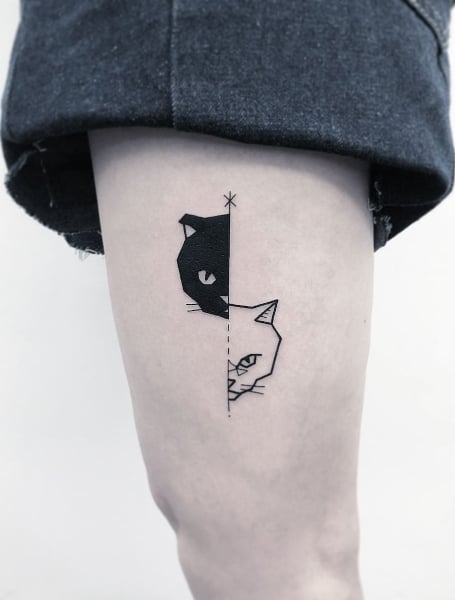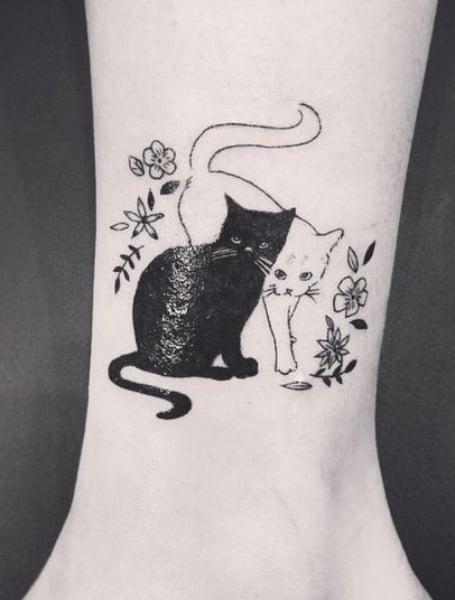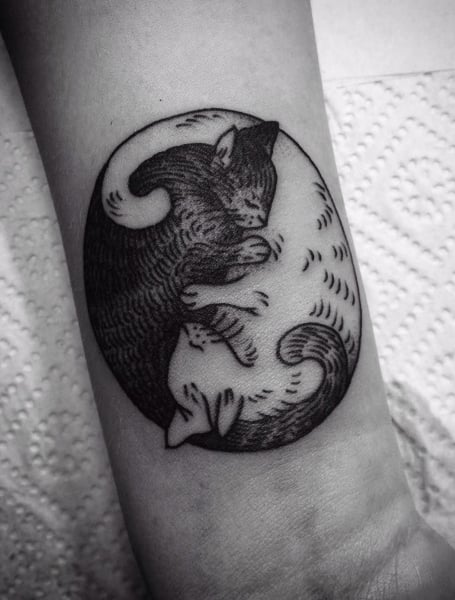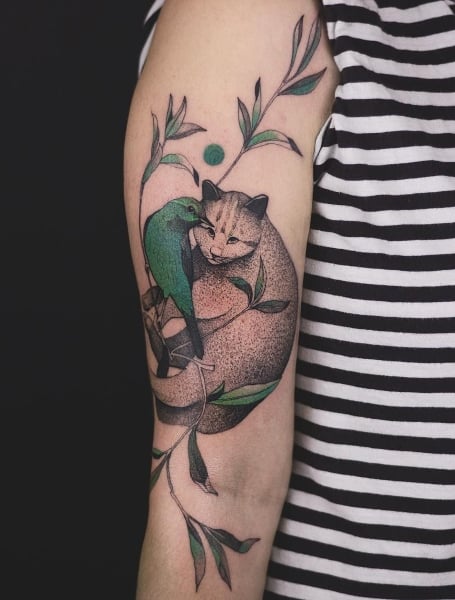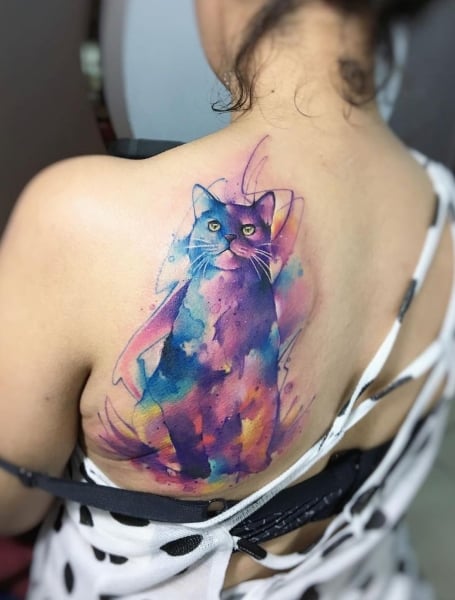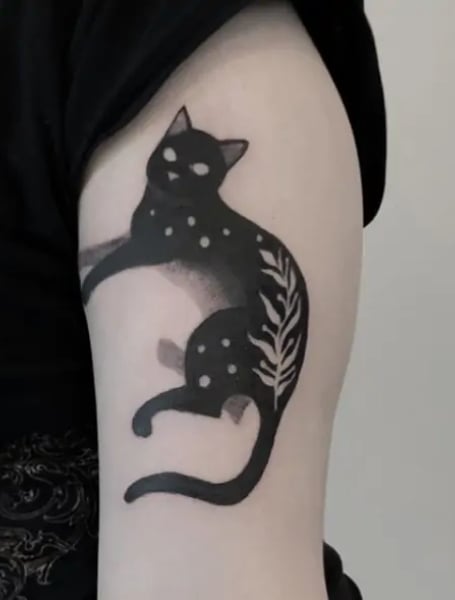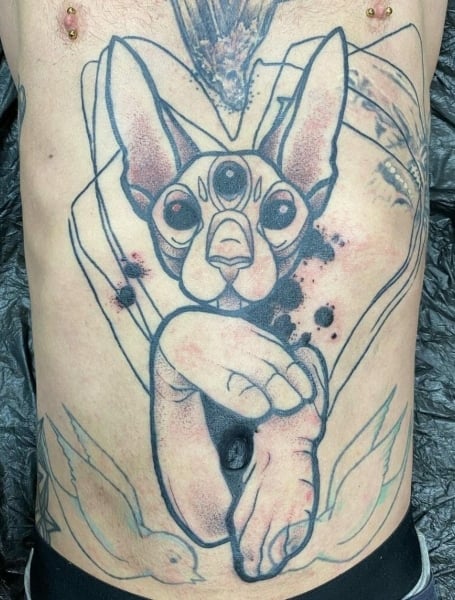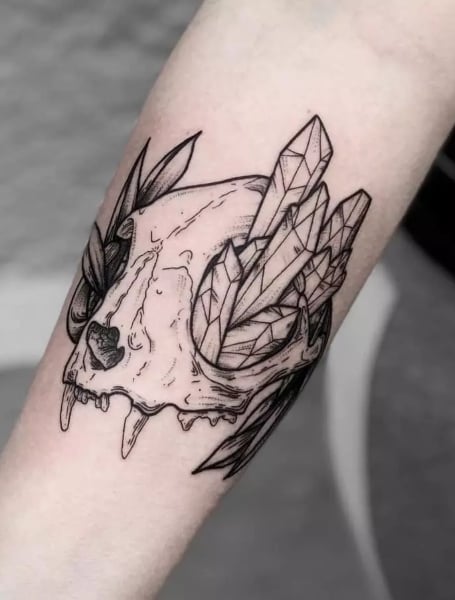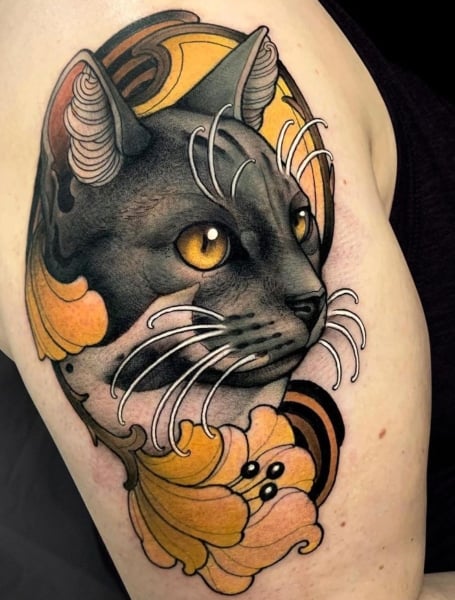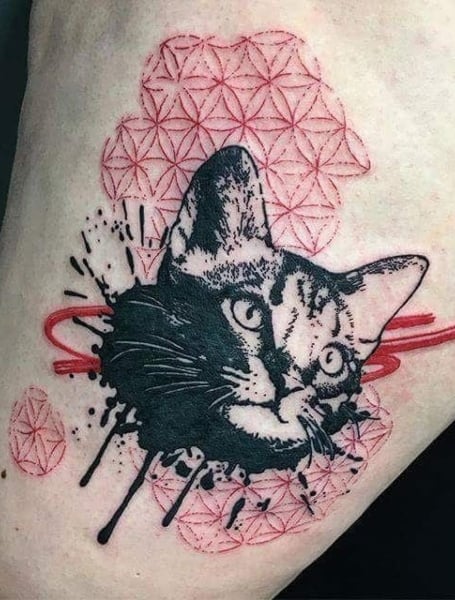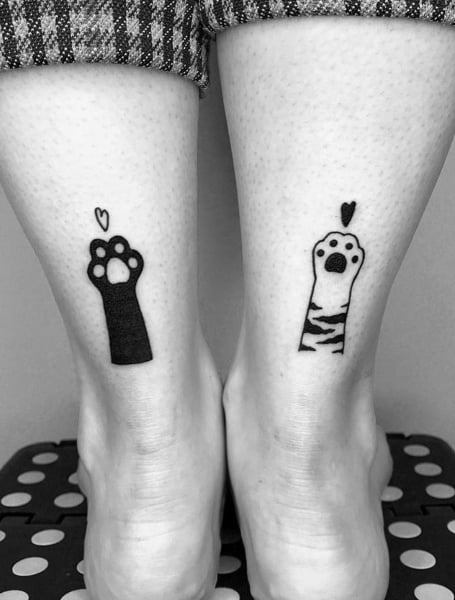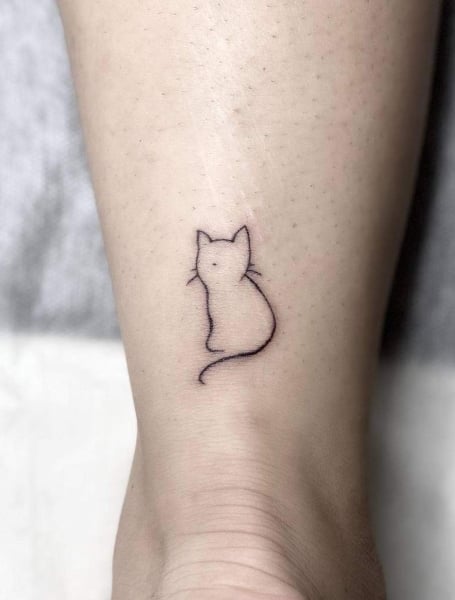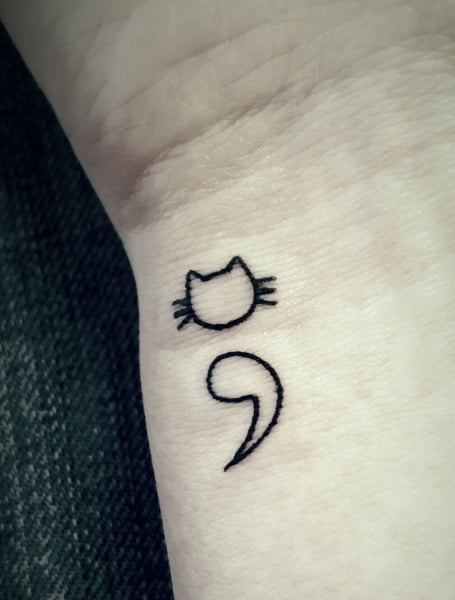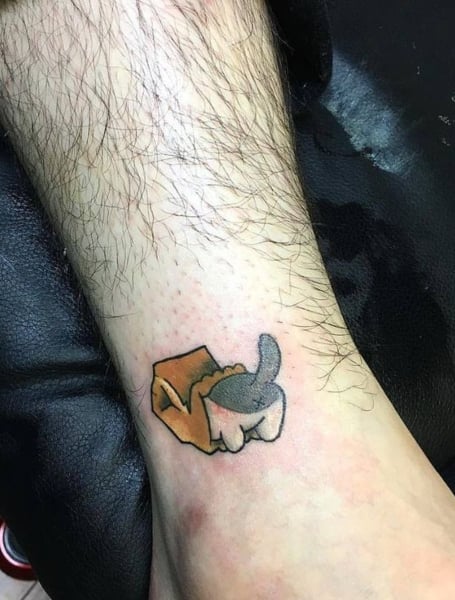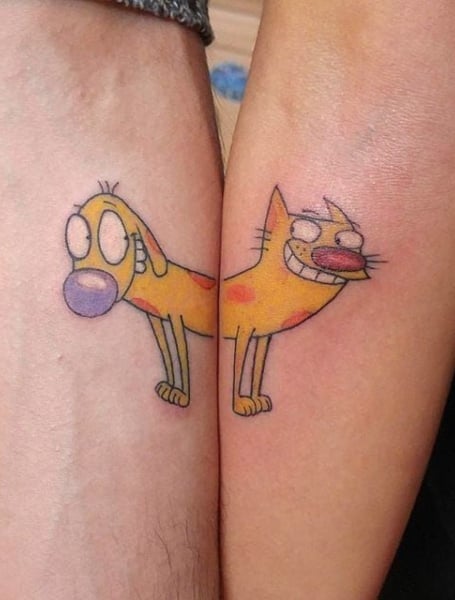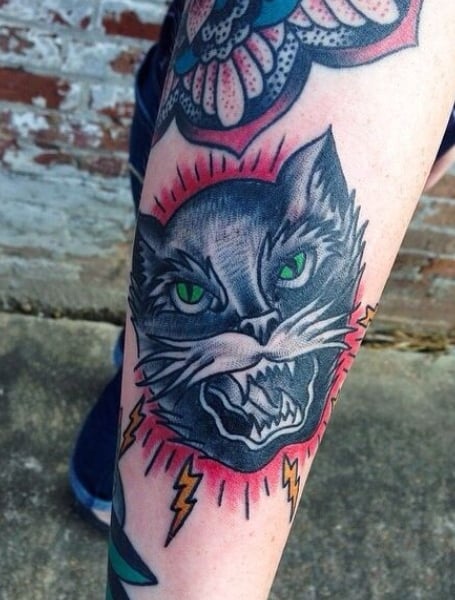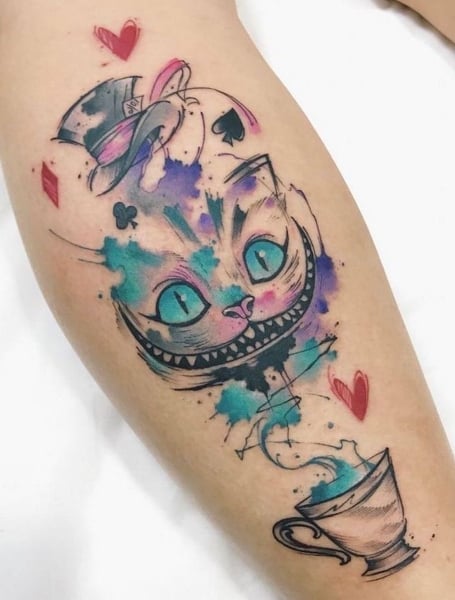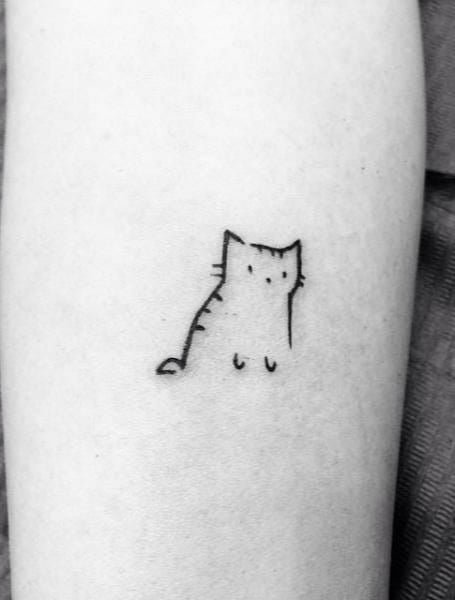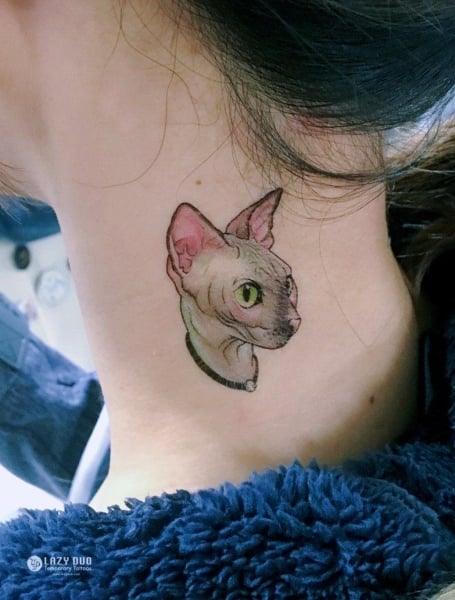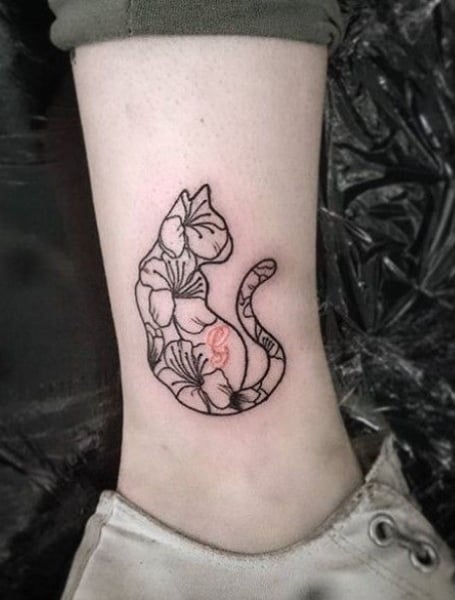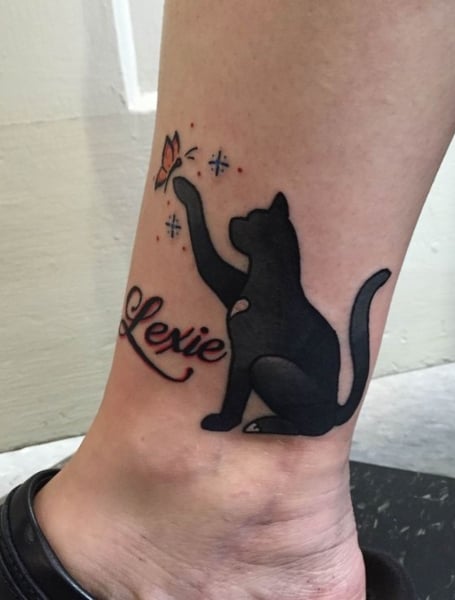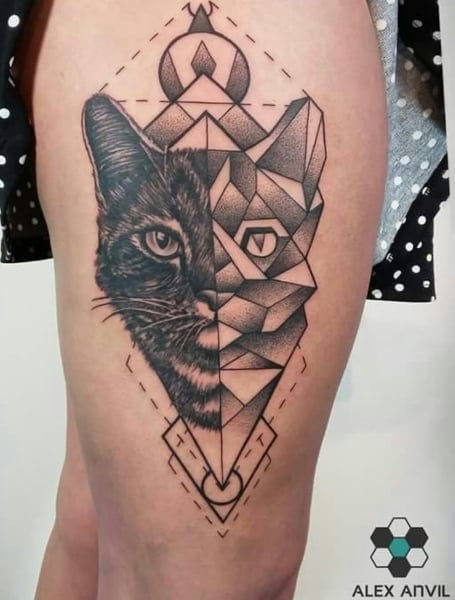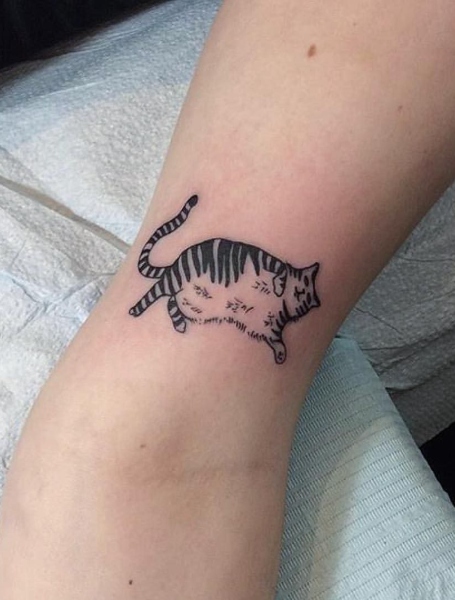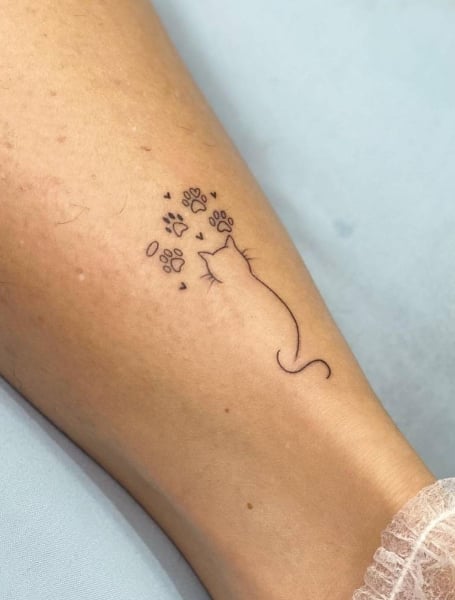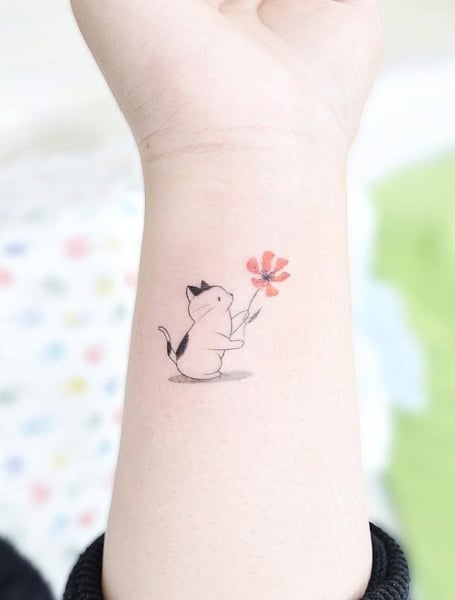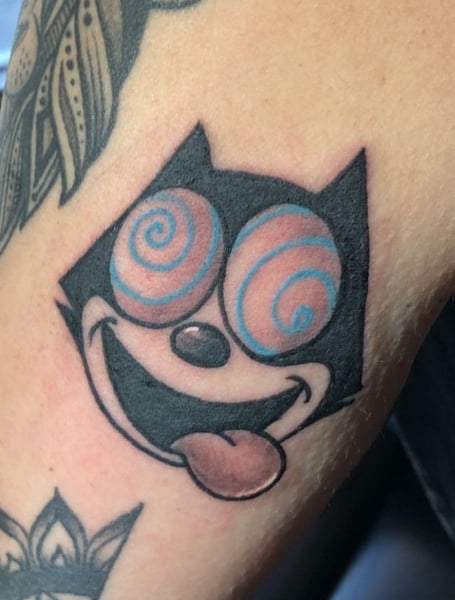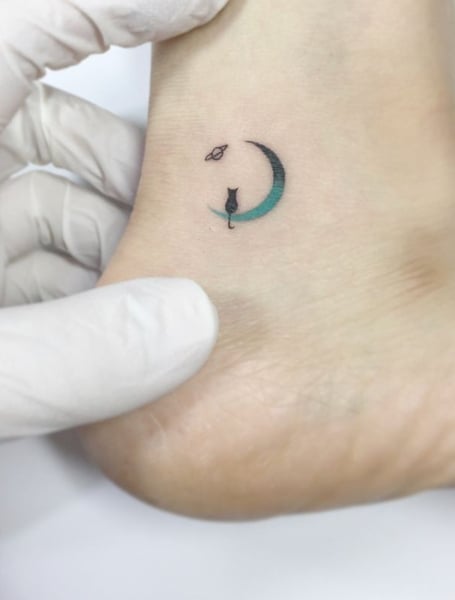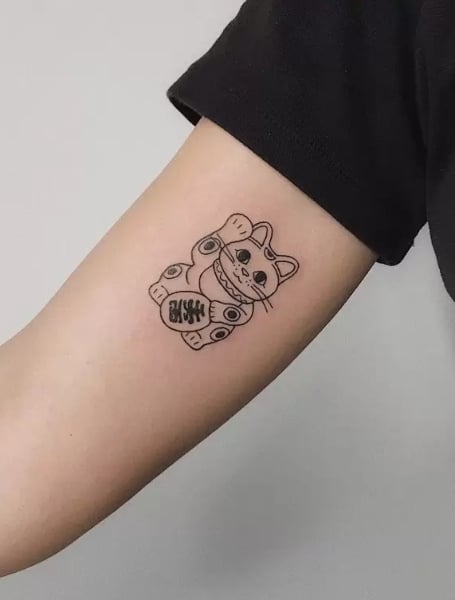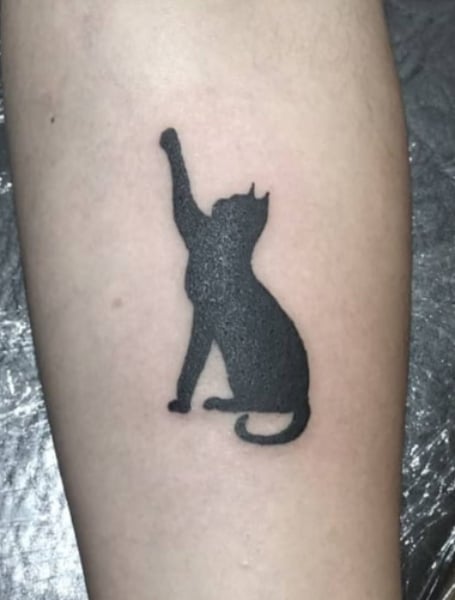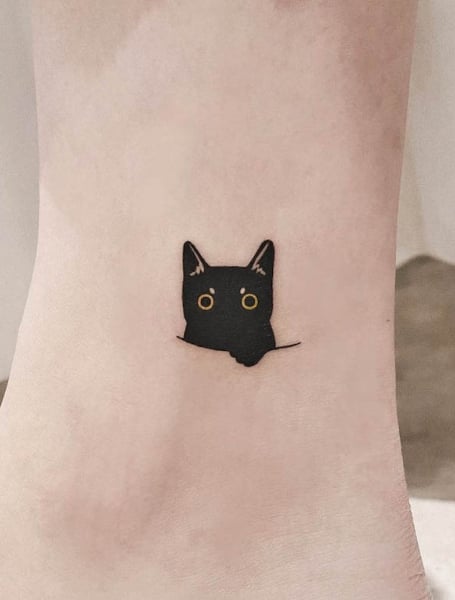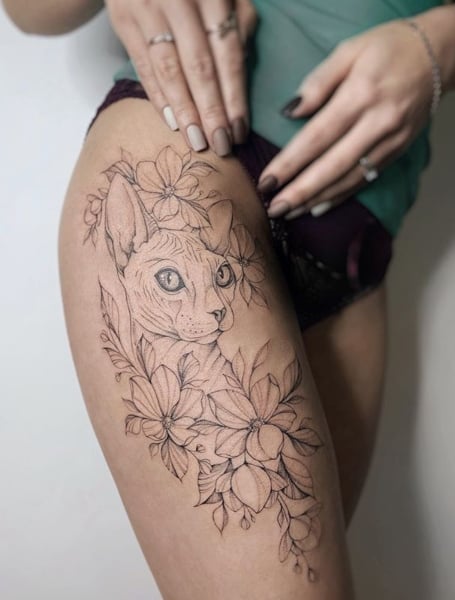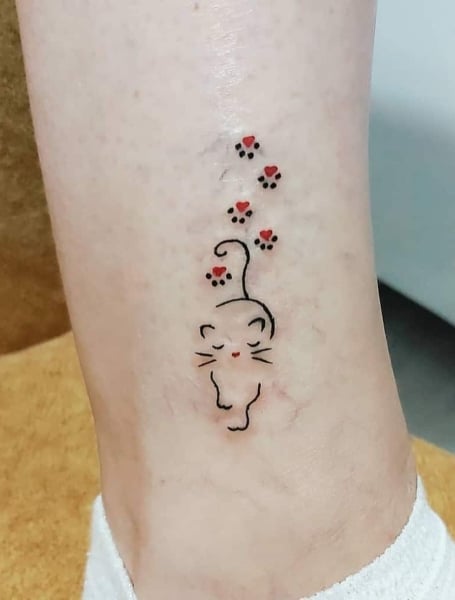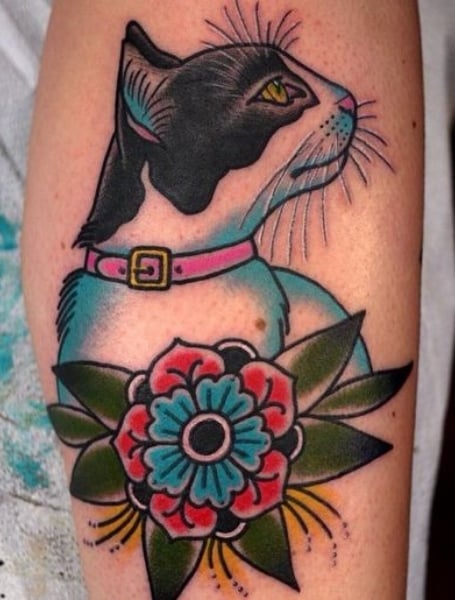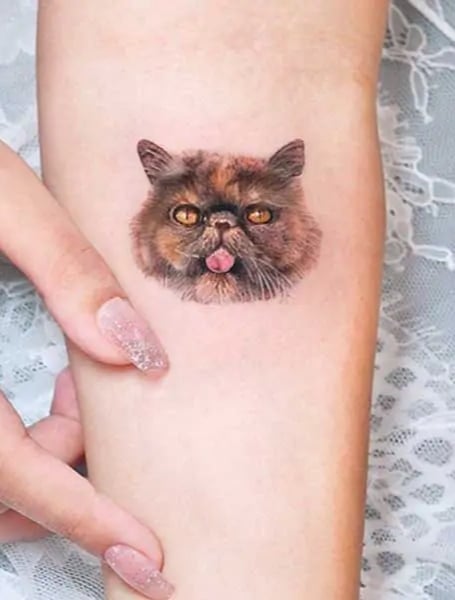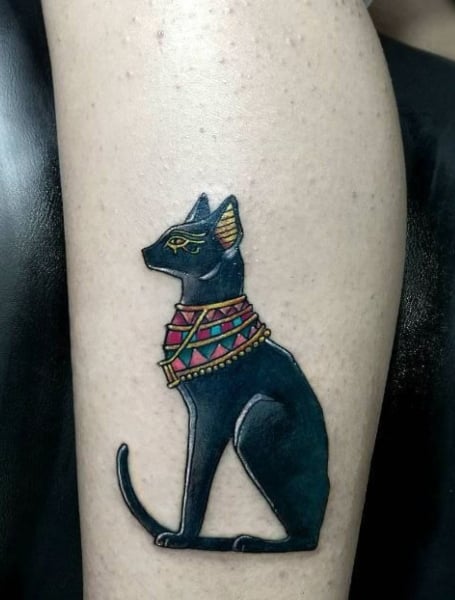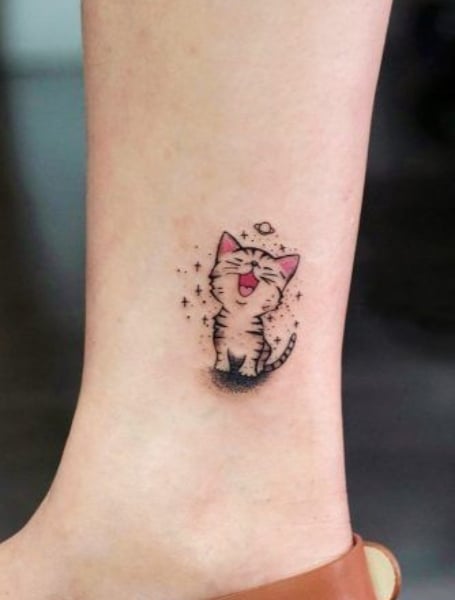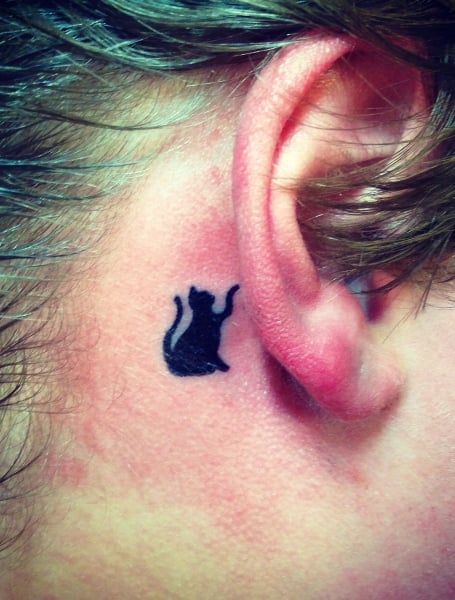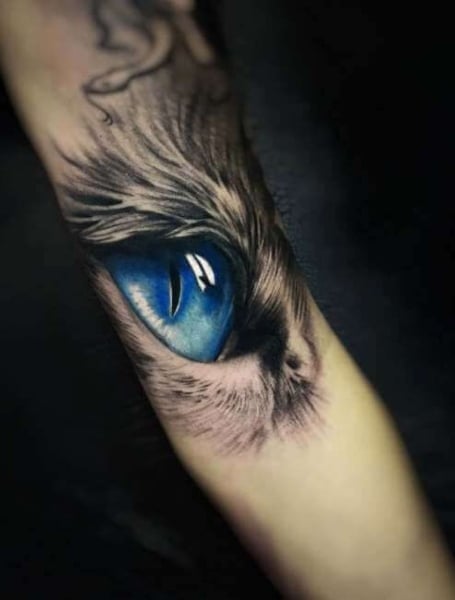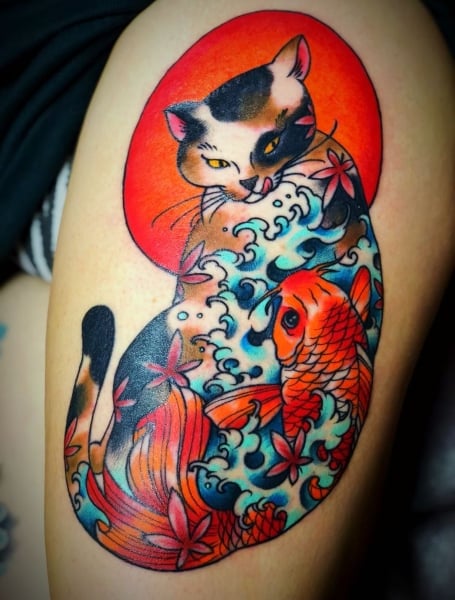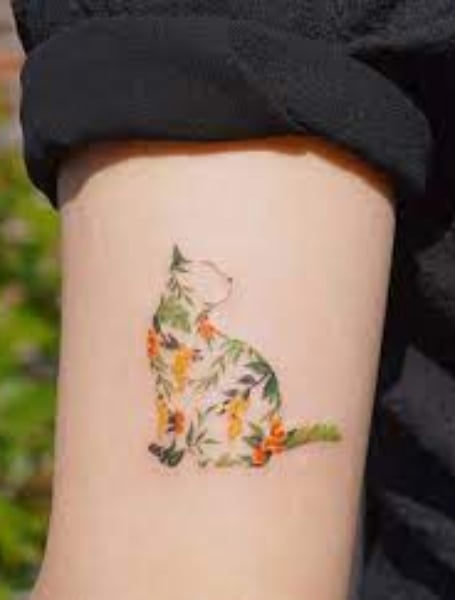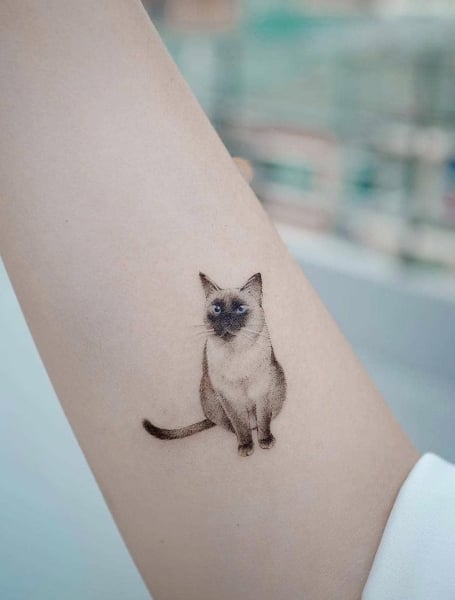 Cat Tattoo Meaning
In general, cat tattoos are associated with resilience, mystery, intelligence, and grace. For some, the animal is also associated with confidence, independence, and individuality, and you can convey your chosen meaning with the design you choose. The appeal of cat tattoos is they can be created in various styles and you can combine your favorite feline with other imagery to add to the overall meaning. For example, a Sphynx cat is often associated with good fortune, prosperity, and prestige, whereas a cat and moon tattoo is associated with mystery, magic, and witchcraft.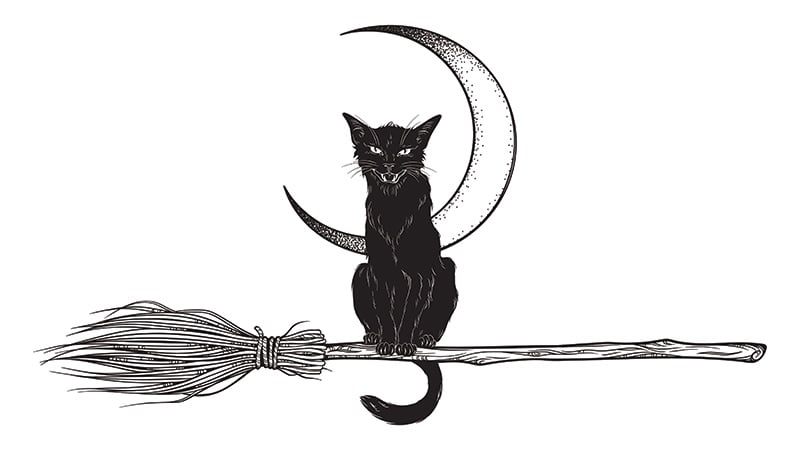 Cat Tattoos FAQs
What does a black cat tattoo symbolize?
A black cat has different symbolism, depending on your interpretation. For some, a black cat represents bad luck and evil, whereas, for others, a black cat represents good fortune, magic, mystery, and witchcraft. Black cats are also associated with death and grief and could be inked as a memorial design for a beloved pet that has died.
40 Cool Cat Tattoo Designs & Meaning
You should definitely get a tattoo of your cat if you want to show your love for your pet. It can also be inked as a memorial tattoo to honor the bond you shared before its death. Choosing to get a design of your cat, instead of a generic image of a cat, will also make your tattoo more meaningful.
SUBSCRIBE TO OUR NEWSLETTER
Subscribe to our mailing list and get interesting stuff and updates to your email inbox.