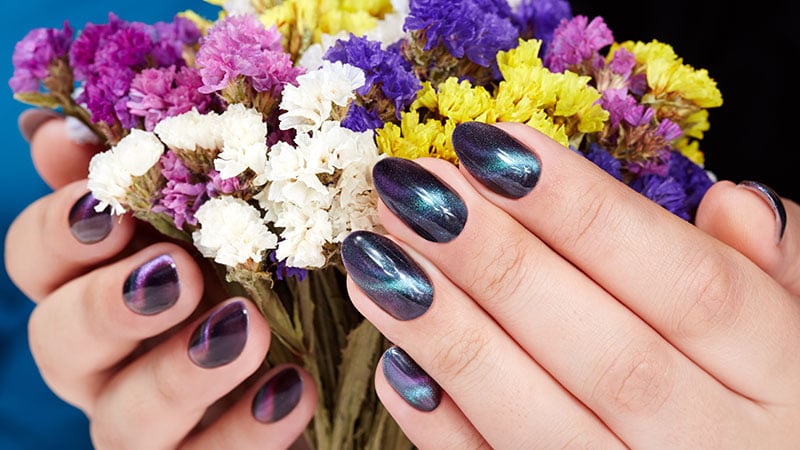 The cat eye nail trend has been enjoying its moment in the spotlight; for a good reason, it is one of the most stylish and fun ways to add a little sparkle to your manicure. The technique is achieved using an iron fragment powder polish to give your nails a brilliant shimmer. Then, using a small magnet, you can manipulate the polish and make it move in the direction you want. The goal is to create a thin line in the middle of the nail, which resembles a cat's eye, hence the name. The cat's eye stone is also symbolic, representing wealth and good fortune. There are many ways to try out the trend, including experimenting with the size and shape of the line and various color combinations. For a powerful and ultra-chic manicure, this is the option for you!
1. Black Blue and Purple Cat Eye Nails
The cat eye nail trend is mesmerizingly beautiful. It is created so that they have a thin line of shiny polish that resembles a cat's eye or the cat eye gemstone and can be done in a color combination of your choosing. Black, blue, and purple will create a dreamy look that resembles the night sky.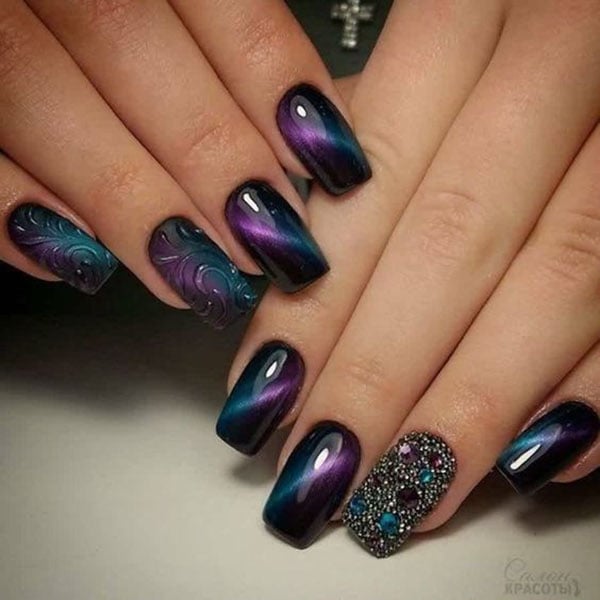 2. Blue Cat Eye with Gold Flakes
You can combine your favorite blue shade with gold flakes for a stylish take on the cat eye nail trend. The gold adds an extra sparkle to your manicure, giving it a luxurious appearance and creating a textured finish. You can experiment with the placement of the flakes, trying out different angles for each nail.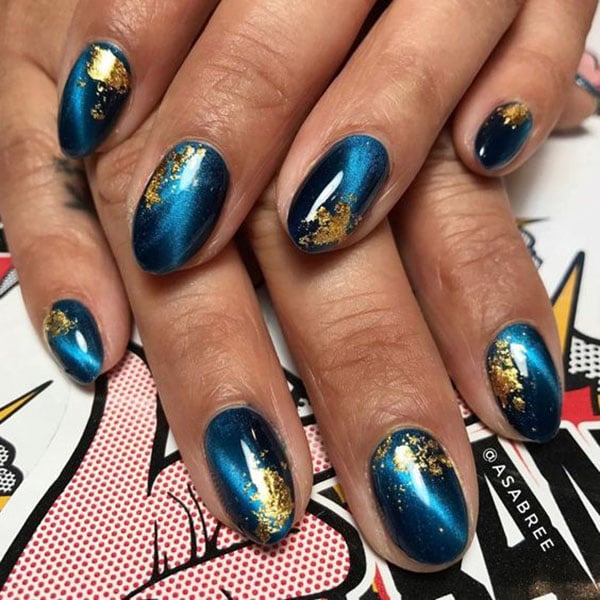 3. Brown Cat Eye Nails
Brown is a great color because it is versatile, and there is a shade to suit every complexion and preference. Depending on your choice, you can pick dark, moody hues or soft, light browns. This is also an ideal option for a more subtle take on the cat eye nail trend.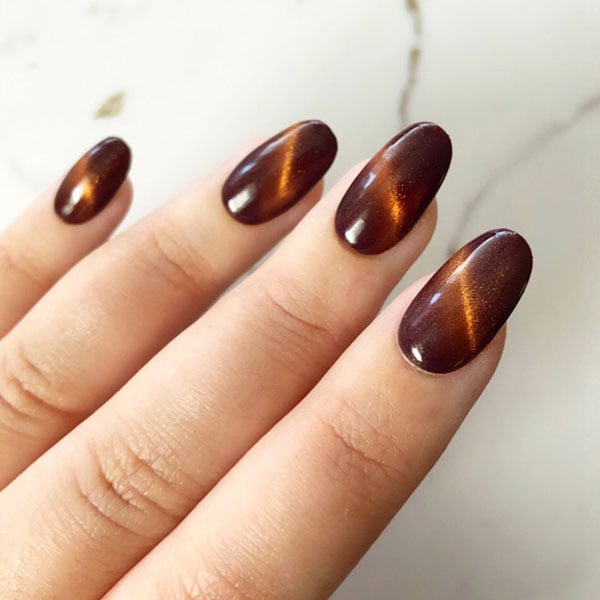 4. Burgundy Cat Eye Nails
Burgundy is a fantastic color for your nail art, but to take this color to the next level and create a manicure designed to stand out, use it as the base color for your cat eye nails. The shimmery effect is stunning and works well on all nail shapes and lengths.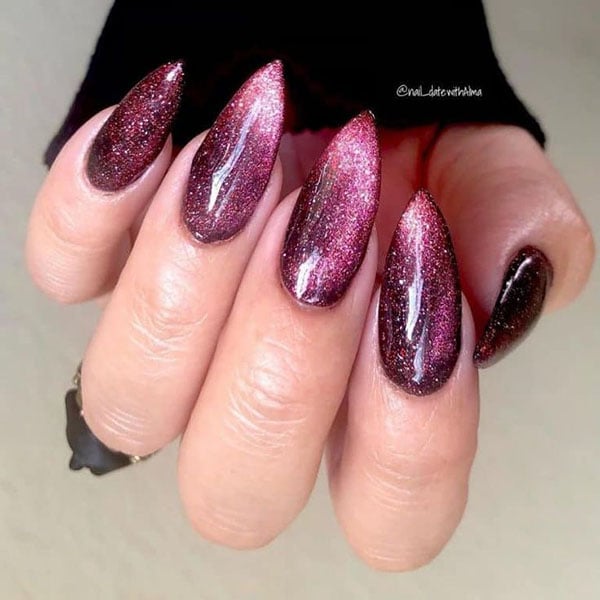 5. Cat Eye and Snake Nail Art
Snake print has long been a fashion favorite, and the trend has filtered into nail art, too. Combining two trends is a great way to get your hands noticed and creates a more visually interesting and striking finish. Green and gold are colors that work well together and flatter most complexions.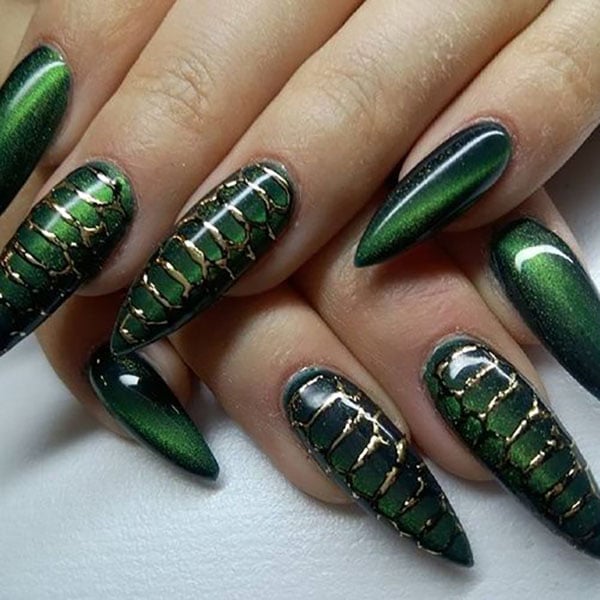 6. Cat Eye Cool with Feature Nail Art
There is a lot to love about the cat eye nail trend because it is shimmery and beautiful and can be created in your chosen colors. You can also experiment with the trend, mixing and matching other designs. Opt for a different pattern on a feature nail, drawing attention to this specific finger.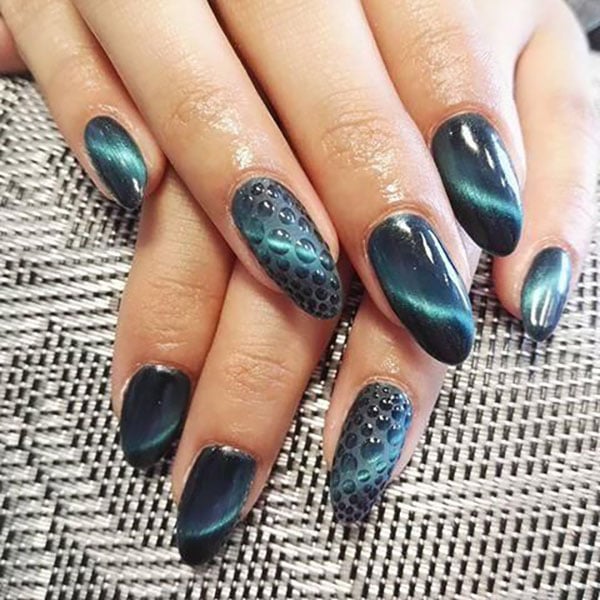 7. Cat Eye Design with Matte Nails
Matte nails have a smooth, flat finish and are a great choice if you want a texturally interesting manicure. The matte polish looks gorgeous paired with the cat eye nail trend, creating a contrast. Limit the colors of your designs to not detract from the matte lacquer.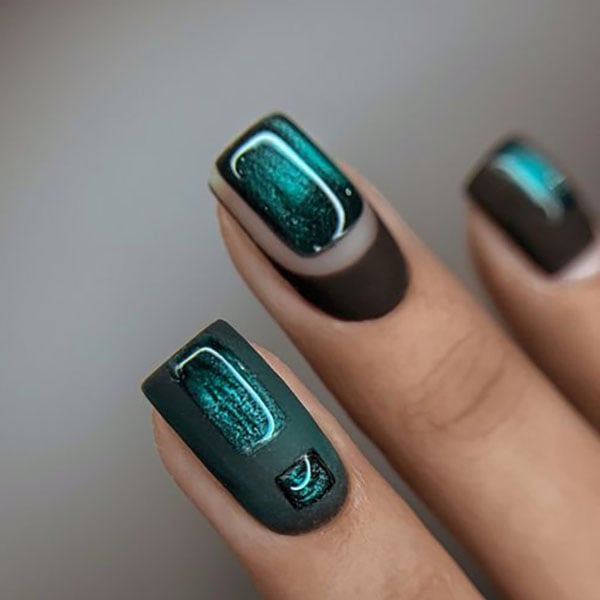 8. Cat Eye French Tip
The French tip nail design is a timeless choice for a manicure. It is simple, elegant, and can be worn anywhere, but for a modern approach to this classic, you can try out the cat eye technique on the tips. This look can be complicated to achieve in such a small space, but very stylish.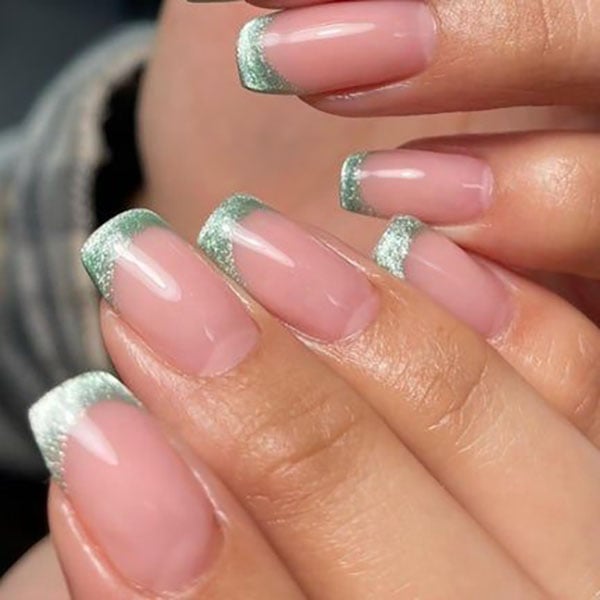 9. Cat Eye Galaxy Nails
If you are a dreamer or deep-thinker, let this reflect in your manicure and opt for galaxy nails. The shimmering line of the cat eye nail designs makes it a striking choice and works well with a space theme. This is perfect for anyone who wants a manicure that stands out.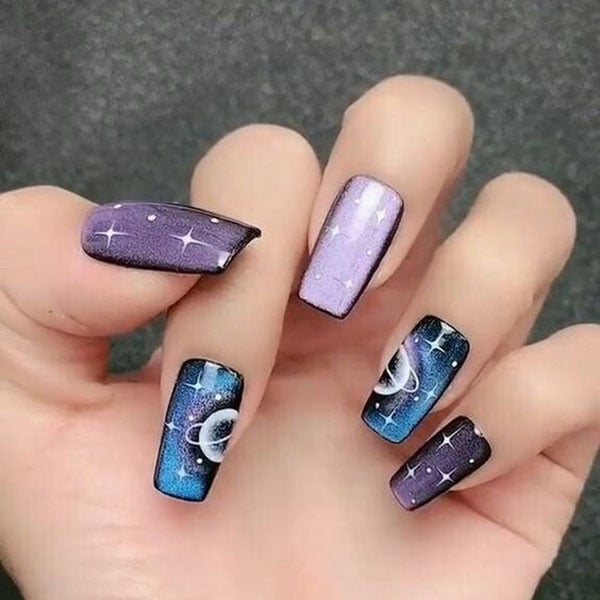 10. Cat Eye Nails with Cat Art Tips
Show the world your witty side by combining the cat eye nails with cat art. The trend features a thin line of shimmering polish down the middle of the nail, and you can focus the nail art at the tips. Choose a nail shape that will complement the design, like a square tip.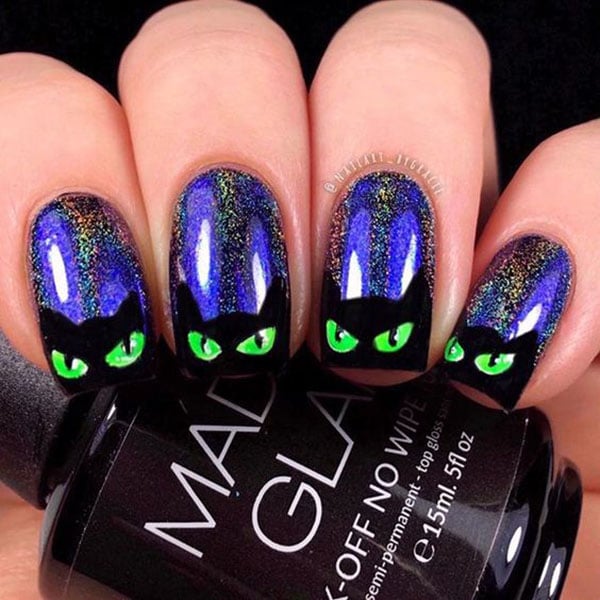 11. Cat Eye Nails with Rhinestones
You need a special polish with iron powder fragments to achieve the brilliant shimmer for the cat eye nail trend, but you can add to this sparkle by gluing rhinestones to the nail. You can experiment with the size and placement of the gems for a unique finish.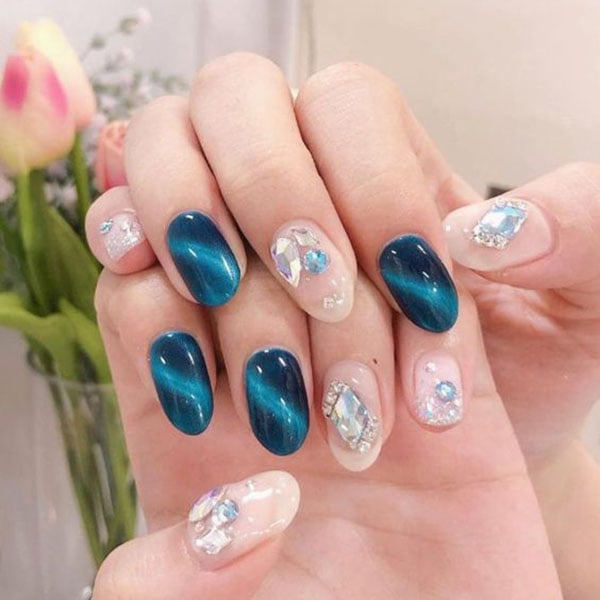 12. Cat Eye Nails with Stars
Stars are symbolic of guidance and hope and can represent your dreams and ambitions. Why not add star designs to your fingernails for a cute and meaningful manicure? You also want to embrace the sparkle with the shimmery cat eye trend, which complements this design.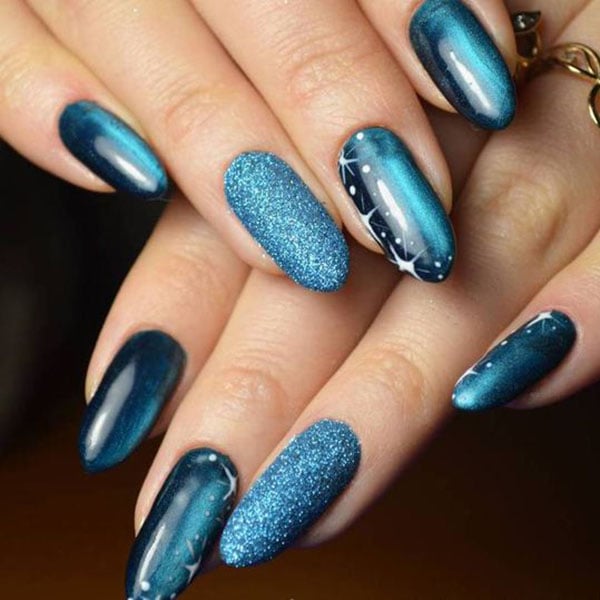 13. Cat Eye Rainbow Nails
Rainbow nails are symbolic and cute, and for a fresh approach to this multicolored look, you can combine them with the cat eye trend. You can add a line in this polish directly in the center of the nail or angle it slightly for an arched effect.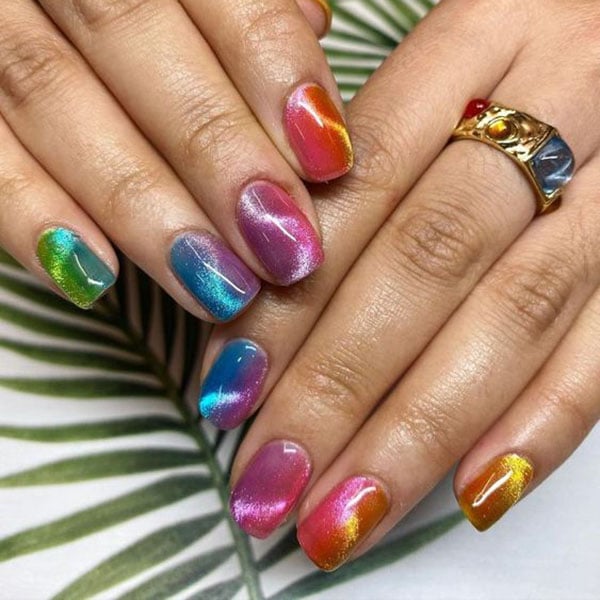 14. Cat Eye Toenails
The cat eye trend is not reserved for your fingers and is also great for toe nail designs. This is a brilliant, sparkly way to ensure they're looking their best for special occasions or if you plan to show off your feet during summer. Experiment with different colors to find the option that suits you best.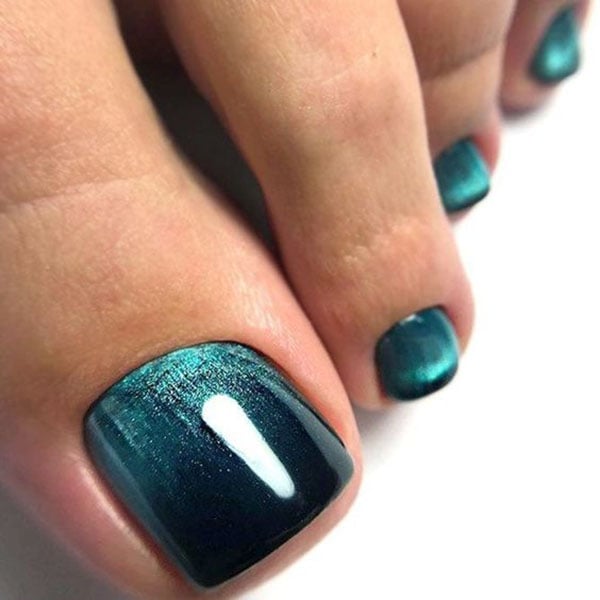 15. Cat Eye with Black Hole Effect
Space is beautiful and intimidating at the same time, and your nail art can reflect this with a black hole-inspired design. Adding the cat eye trend is a great choice to add shimmer to your nail art and works well with space themes, giving it a magical finish.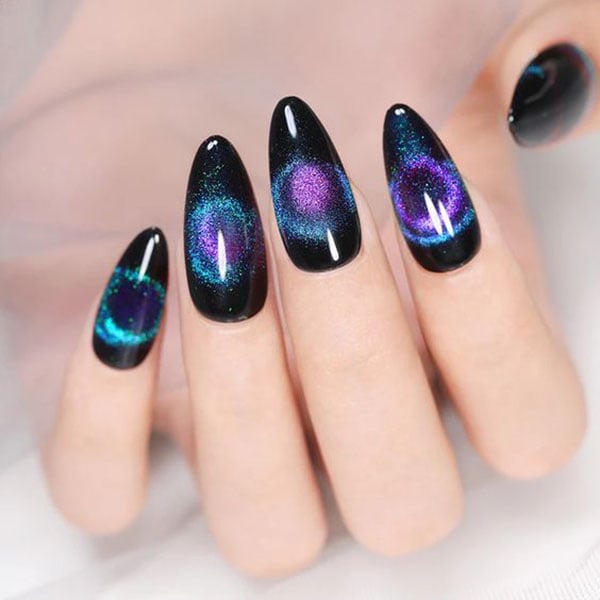 16. Cat Eye with Criss Cross Design
Criss Cross designs are simple to create but produce a brilliant visual. Adding the pattern to your nails will help achieve contrast with the base coat. You can add the pattern to all the nails or focus on one for a feature nail effect that can draw attention to a special piece of jewelry.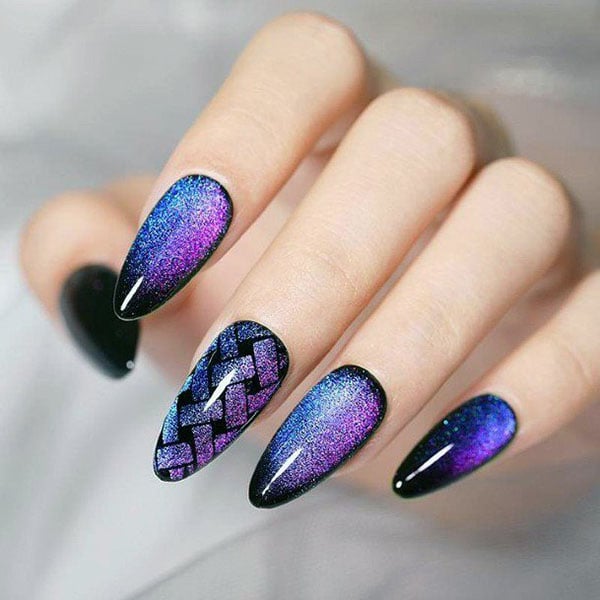 17. Creative Cat Eye Nail Design
The beauty of the cat eye nail design is that no two looks are quite the same, with the line in the center of your nail differing in size or appearing at different angles. This allows you to make your nail art your own and reflect your preference. So get as creative as you want!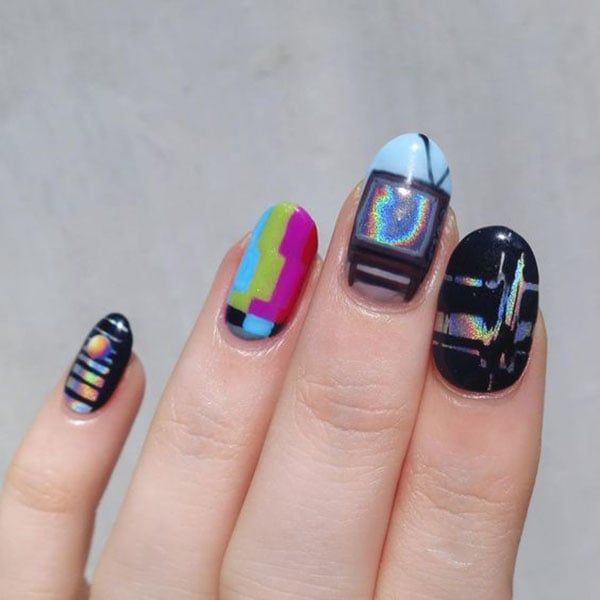 18. Grey Cat Eye Nails
Grey nails are incredibly versatile and are fantastic on women of all ages, and will complement every skin tone. For nail art that is stylish and can be worn everywhere, try the cat eye nail trend with grey. The simplicity of this design is its beauty.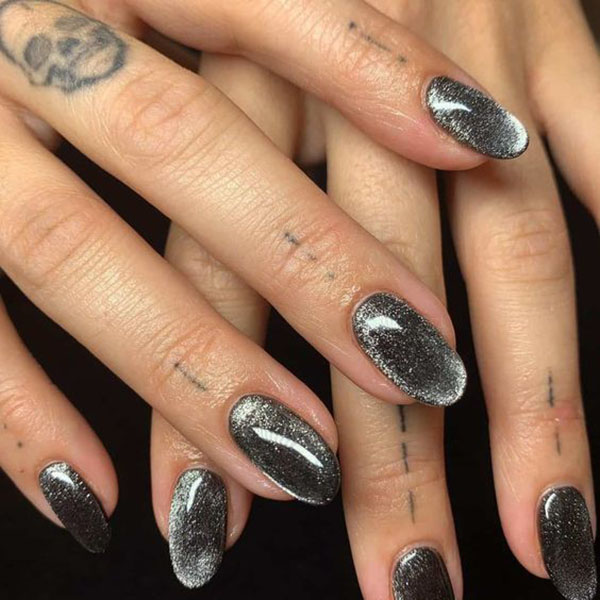 19. Gunmetal Blue Cat Eye Nails
Gunmetal is a dark grey color with a blue tone and is a hue that looks great on everyone. It also has a futuristic appearance, which is complemented by the shimmering line of the cat eye trend, giving you a fashion-forward manicure.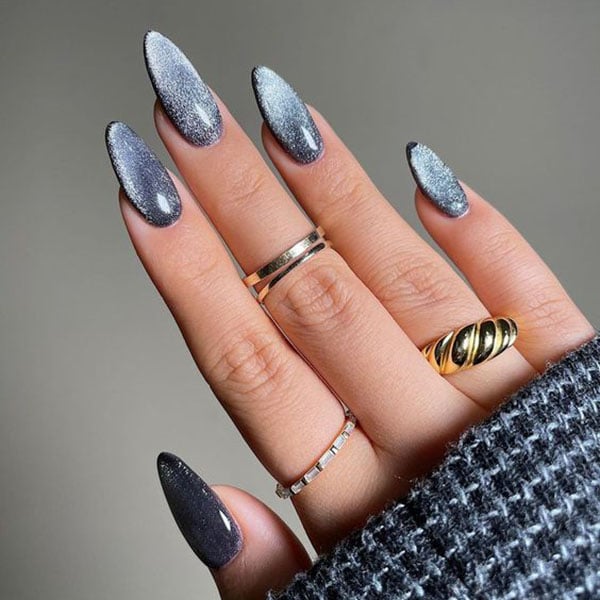 20. Mint and Nude Cat Eye Nails
There are few color combinations as beautiful and wearable as mint and nude. These hues look great together and will complement all nail shapes. You can also wear the cat eye nail trend with these colors and experiment with the placement and angles, creating a unique finish on each fingernail.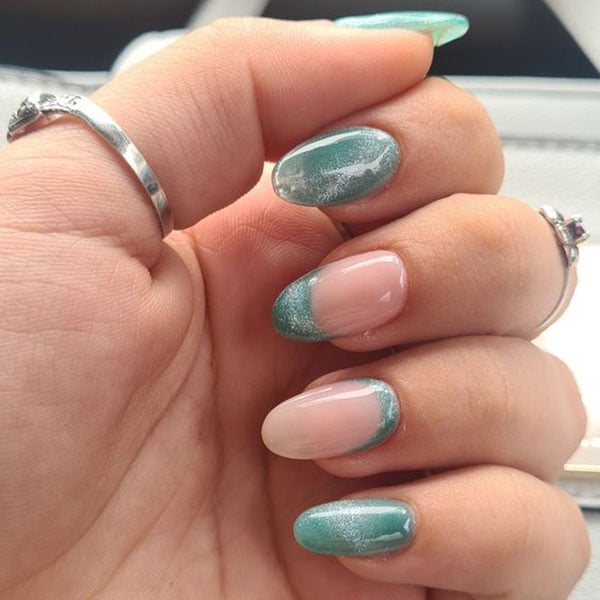 21. Mix and Match Cat Eye Nails
Why stick to one color or pattern when you can wear multiple? The mix and match design is expressive and fun and lets you experiment with different nail art, colors, and techniques. Your cat eye trend will look great when paired with other prints and patterns, or opt for bold, clashing colors.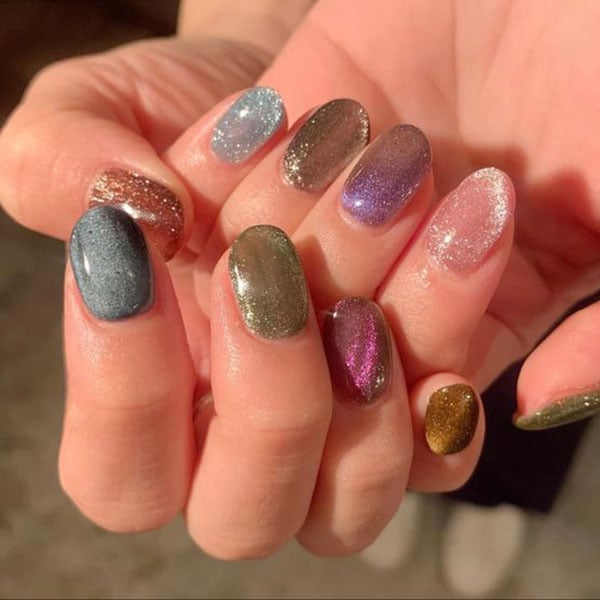 22. Natural Cat Eye Nails
The beauty of the cat eye nail trend is its versatility. It is a design that can be adapted to suit your preference and works well with all colors and other nail art. For a simple but romantic finish, paint the nails with a nude polish, creating a natural look with a bit of shimmer.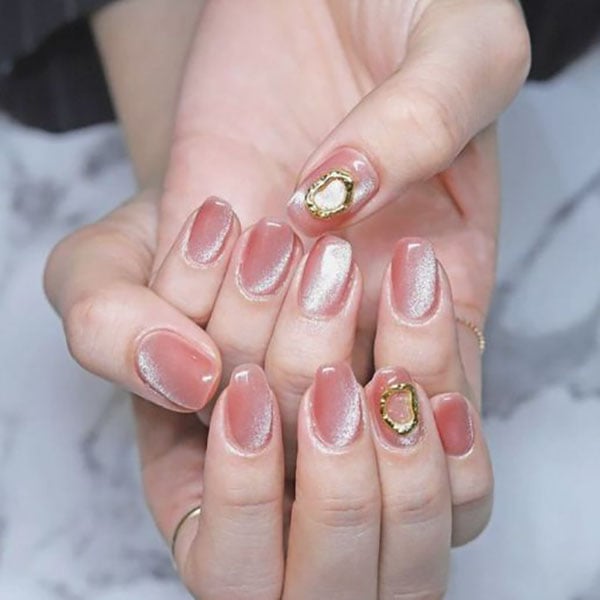 23. Pastel Cat Eye Nails
Pastels are a favorite for nail art because the soft, muted hues are universally flattering and easy to wear. If you love the idea of pastels but want to try them out in a modern and fun way, use your favorite shades for the cat eye trend.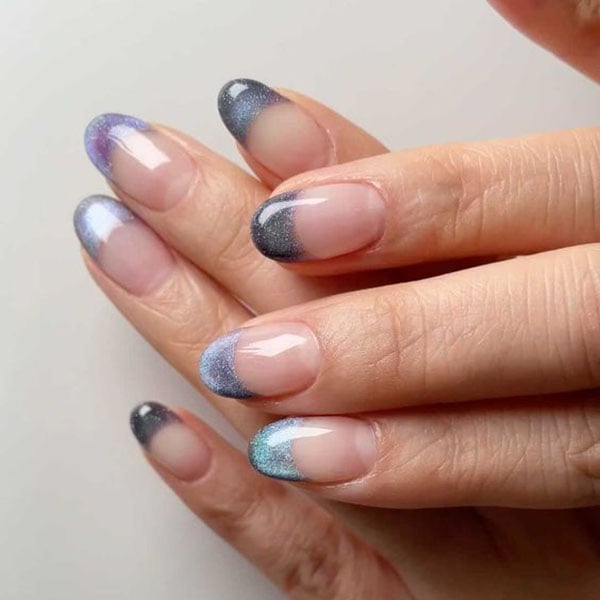 24. Pearly Cat Eye Nails
Pearls are associated with beauty and luxury, and opting for a pearly, iridescent manicure is a wonderful way to draw attention to your hands. The cat eye trend makes it even more interesting to look at, giving you the ultimate girly manicure.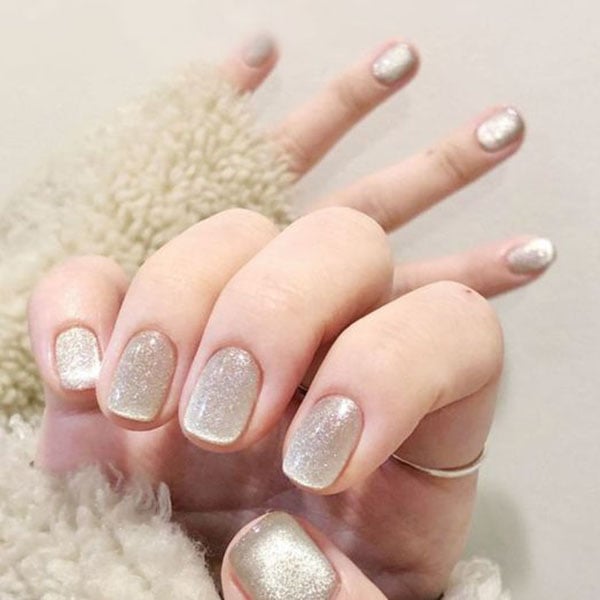 25. Pink and Yellow Cat Eye Nails
Pink and yellow is an unusual color combination but one that creates a brilliant contrast. Try this pairing with the cat eye technique for nail art that is made to be seen. For the best results, choose a nail shape that is long and pointy, giving you a feminine and high-drama finish.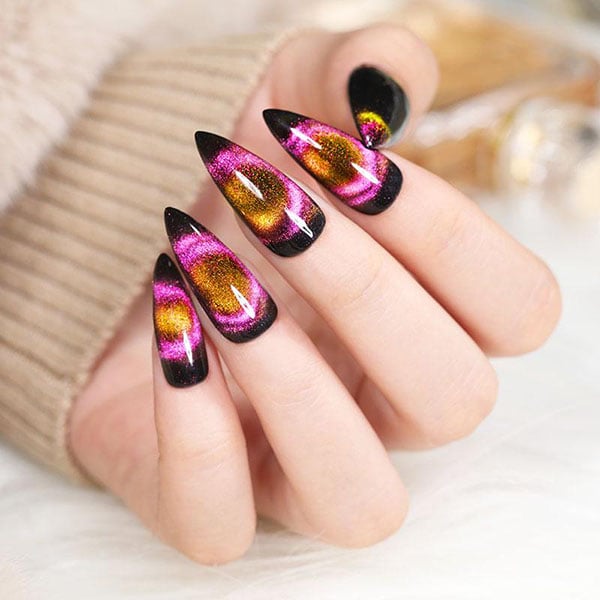 26. Pink Cat Eye Nails
Pink is a universally flattering color and a favorite for nail art because it looks good on everyone. There are multiple shades to choose from, so pick your favorite and combine it with the gorgeous shimmer of the cat eye trend to update your pink nails from classic to ultra-chic.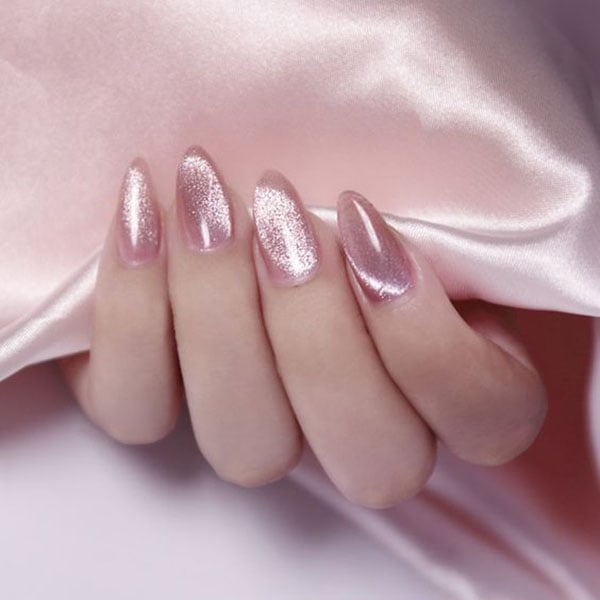 27. Purple Cat Eye Nails
The narrow line of shimmering polish in the middle of your manicure makes it interesting to look at and is a super pretty effect that works with all colors, including purple. Purple nails are a beautiful alternative to classics like pink, and it's a hue associated with royalty and wealth, letting you unleash your inner princess with your nail art.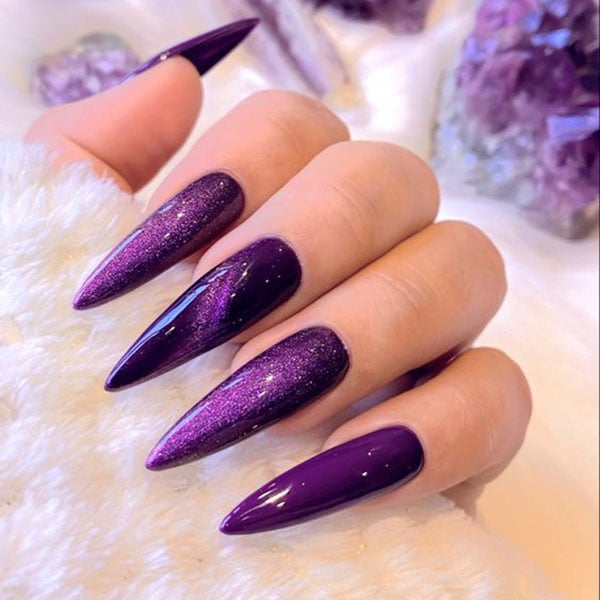 28. Rich Red Cat Eye Nails
Red nails will draw attention to your hands and make a statement. The rich red color is a bold, bright, feminine, and unmissable option. The cat eye effect will make the color even more noticeable with the shimmering effect, giving you a unique approach to a classic red manicure.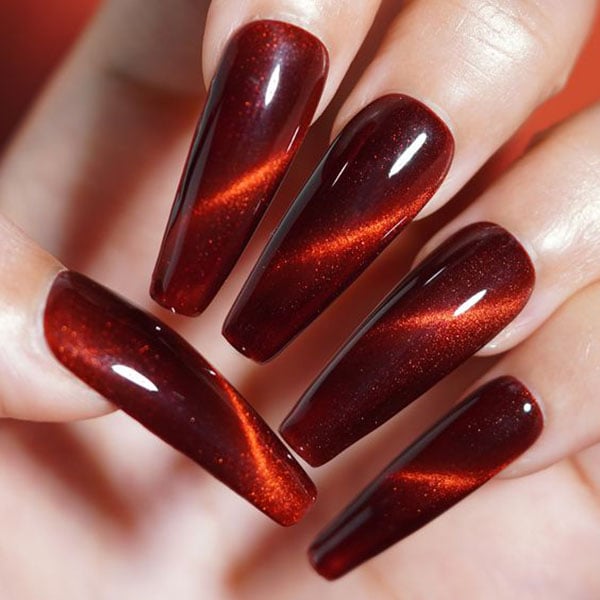 29. Teal Cat Eye Nails
Teal is a bluish-green color that will get your hands noticed. It is an attractive alternative to more classic colors and can be expressive and fun. When paired with the shimmery line, which runs horizontally along with the nail, it will give you a manicure that looks sophisticated and luxurious.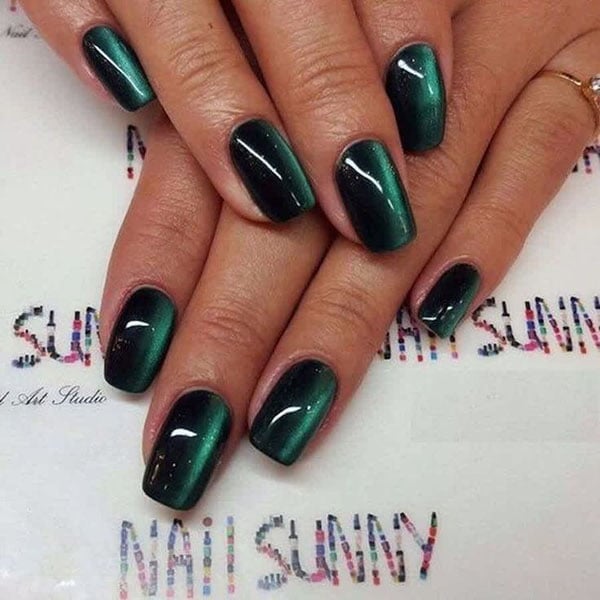 30. Green Cat Eye Nails
Green nails are a great choice as there is a shade to compliment every skin tone. The color looks gorgeous on all nail shapes and lengths, and when combined with the shimmery effect of the cat eye trend, it makes the color pop, giving you ultra-feminine and cool nail art.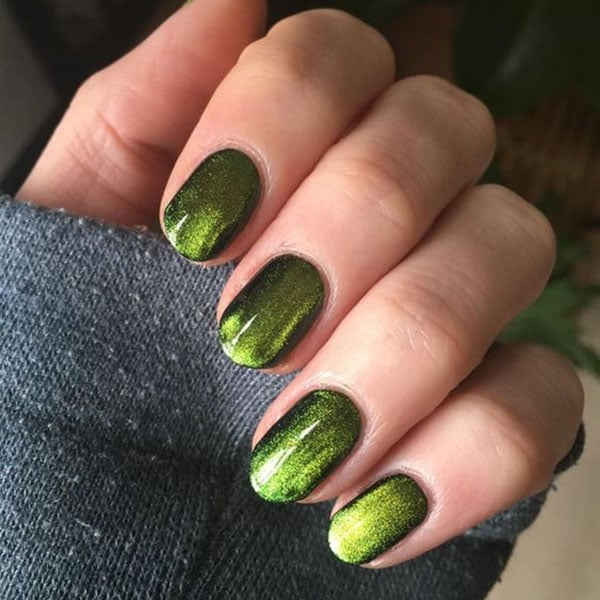 Cat Eye Nails FAQs
Why is it called cat eye nails?
Cat eye nails get their name because of the thin horizontal line that runs through the nail, which looks similar to a cat's eye. This nail art is created to have a shimmering effect which can be achieved using an iron fragment powder lacquer and a magnet. The magnet creates the direction and size of the line on your nails.
Are cat eye nails popular?
Cat eye nails are popular because they are beautiful and versatile. The shimmering effect creates a visually striking manicure that will draw attention to your hands. You can experiment with the size of the line and use different colors, finding a manicure to suit your preference and nail shape. You can also mix and match the effect with other nail designs, like a space design, rainbows, or even add rhinestones or gold flakes. The versatility of this nail art lets you get creative which is another reason for its popularity.
How are cat eye nails done?
The cat eye nail is created to replicate the appearance of a cat's eye. It is achieved by painting your chosen hue of metallic polish, which includes iron powder fragments. You will use a small magnet to manipulate the direction of the polish and create the cat eye effect. The goal is to have the line running horizontally along with the nail, but it can be in varying thicknesses and shapes, depending on your preference and interpretation of the trend.
What do you need for cat eye nails?
Cat nails are created using a nail polish that contains iron powder fragments and a magnet to give them a shimmery appearance. A small magnet is used to create the line on your nails, and how you move the magnet will determine its shape. As beautiful as this look is, it is relatively complicated to replicate.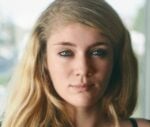 Cailyn Cox holds a degree in journalism and has been working with The Trend Spotter as a writer for over ten years. She has worked with some of the most prestigious women's and men's lifestyle publications. For her, writing is not just a job; it's a passion, which is why each article she writes is approached with such enthusiasm and dedication. She has extensive knowledge of hairstyles, tattoos, and beauty and has made a career out of creating informative articles that appeal to women and men of all ages.
SUBSCRIBE TO OUR NEWSLETTER
Subscribe to our mailing list and get interesting stuff and updates to your email inbox.