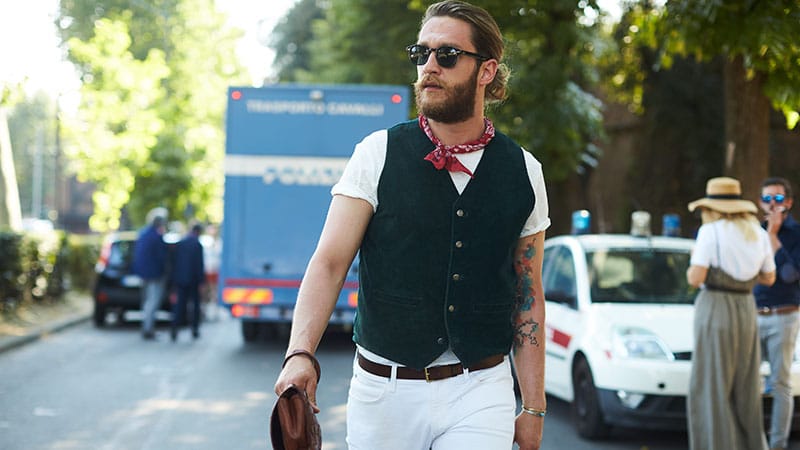 When it comes to accessories for men, the bandana is a classic and timeless choice. This simple yet versatile item can be worn in many ways and is perfect for adding a stylish edge to any look. Far from just a piece for bikers and pirates, the bandana can suit any gent when worn the right way. So, whether you're attending a festival, meeting up with friends on the weekend, or heading to a smart casual event, a bandana can make an excellent addition to your outfit. In this guide, we look at the many ways that these fabric accessories can be worn and styled by gents.
What is a Bandana?
Also known as a kerchief, a bandana is a large triangular or square piece of cloth. Bandanas are traditionally worn around the neck or head for protective or decorative purposes. However, today, both men and women wear them in a variety of ways, including around the wrist, from the waist, and even as a pocket square. Classic bandanas are colored and generally feature a white paisley print, but there are many more options available today. As such, when shopping for a bandana, you'll be able to choose from a wide range of colors, patterns, fabrics, and sizes.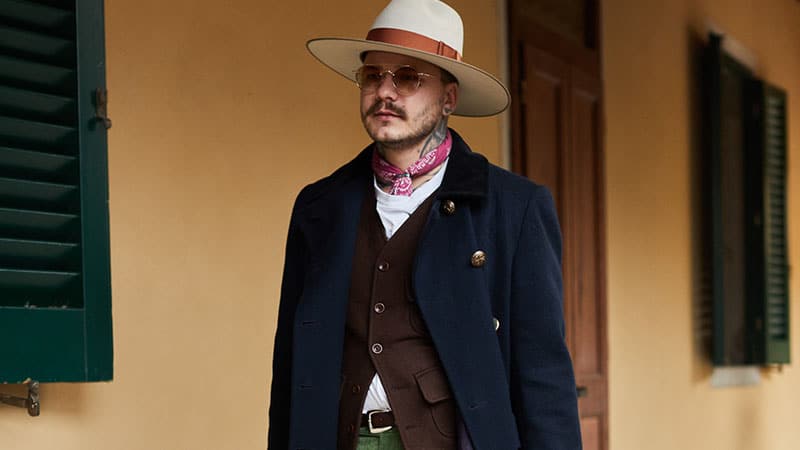 How to Wear a Bandana
Around the Neck
Around the neck is one of the easiest ways to wear a bandana. The look can suit just about any gent and can work for both casual and smart casual occasions. To keep the appearance subtle, opt for a small bandana. Twist it, place it around your neck and tie a knot at the front. Alternatively, for a bolder look, you can try knotting it at the back of your neck with a corner left loose at the front. Or, if your bandana is large enough, you may even be able to wear it as a scarf. But, no matter how you wear it, be mindful of your bandana's color. Choose bold hues like red to add excitement to otherwise neutral ensembles and softer tones for outfits that already contain color.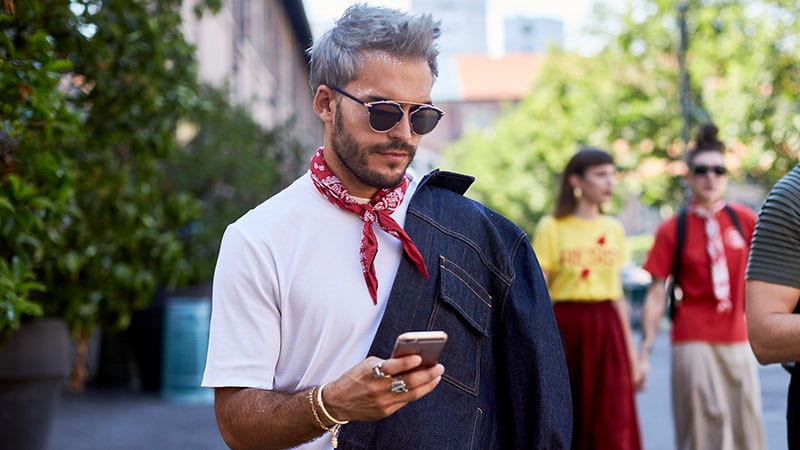 Around the Head
For a bolder and more rock-and-roll look, you can try tying your bandana around your head. This look is a favorite of musicians and perfect for achieving a statement style. It's also an excellent choice for gents with long locks. Try it for yourself when attending your next festival or gig. To achieve the look, start by choosing the perfect bandana. You can either keep your appearance subtle with a neutral color like black or go bold with a vibrant hue. Once selected, lay your bandana flat. Then, fold it lengthways multiple times into a long rectangle. Finally, tuck in any loose corners and tie it around your head. To complete your look, pair your bandana with a casual and cool streetwear outfit.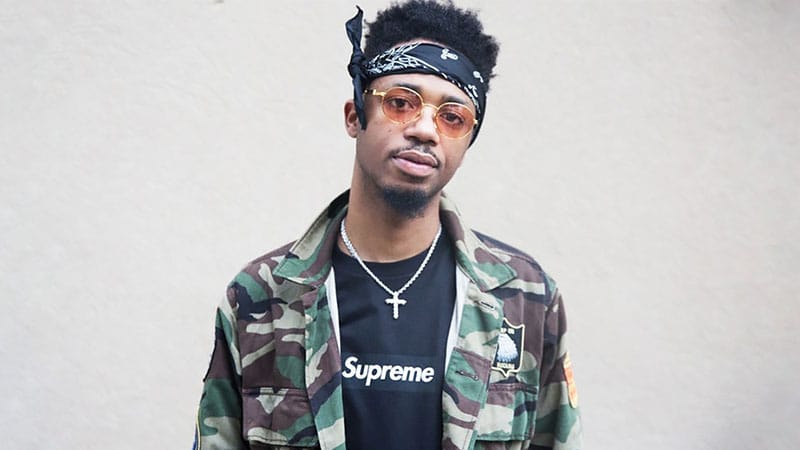 Around the Wrist
Another simple yet stylish way to wear a bandana is to wrap and tie it around your wrist. Doing so will add a subtle dose of attitude to any outfit. Perfect for edgy casual looks, wearing a bandana around the wrist projects an instant rockstar vibe. As such, this look works best with darker bandanas and striking prints. For instance, a black bandana with white skulls will appear much more appropriate than a traditional red style with a paisley design. Also, remember that a bandana around the wrist looks best when worn a little messy, so don't get caught with yours perfectly folded and tied.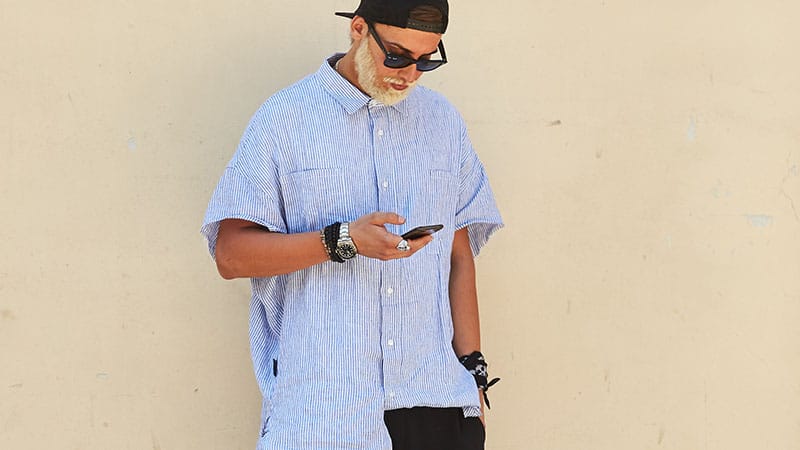 From the Waist
If you're looking for a subtle way to incorporate a bandana into a casual outfit, wearing it from your waist makes an excellent option. When you wear a bandana near your face, such as on your head or around your neck, it instantly becomes a statement accessory. But, when worn low from your waist, it can gently accent your outfit and provide it with a pop of color without appearing overly bold. Additionally, you may also find wearing it from your waist much more comfortable and easy. After all, all you need to do is tuck it into a pocket, your belt, or waistband or tie it to a belt loop to attach it.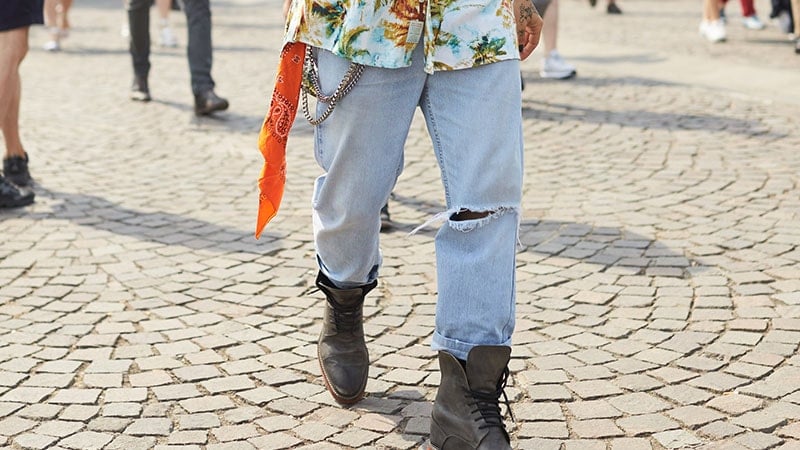 As a Pocket Square
A simple bandana can be incredibly versatile. You can even use it as a backup pocket square in a pinch. Perfect for smart casual occasions, a bandana can easily be folded and placed in your jacket pocket for a quick and easy dapper touch. To rock the look, select a bandana that matches your outfit. One with a pattern or bright hue will stand out while subtle designs will blend in. Also, note the size and fabric weight of the bandana. Ideally, you want the bandana to be thick enough to poke out of your pocket stylishly but small enough to avoid adding too much bulk. It's also essential to iron your bandana before using it as a pocket square to ensure a neat appearance.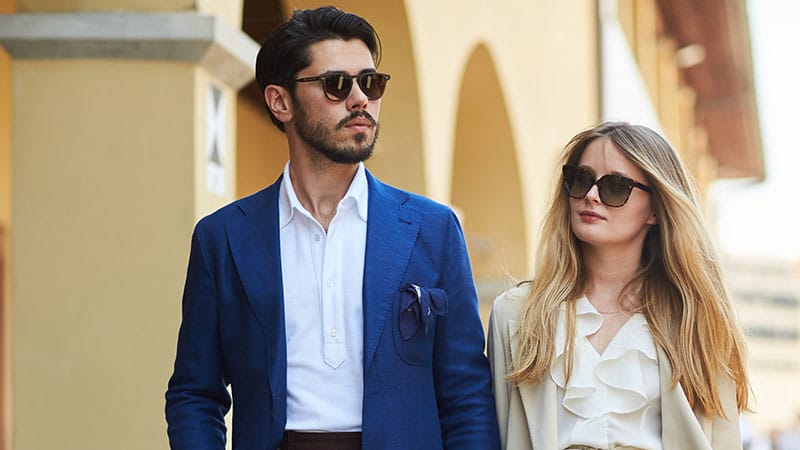 When to Wear a Bandana
Casual Occasions
Bandanas are a fantastic accessory when attending casual events. They can work for any season and can complement a variety of outfits. For a laidback look, select a lightweight cotton bandana in a classic color, such as blue or red, or pattern, like paisley or camo. Wear it around your neck, head, or wrist, or from your waist. Then, you can style your bandana with jeans, sneakers, and a T-shirt for a stylish and straightforward appearance or add your own unique spin. Just remember to keep the overall vibe relaxed and confident.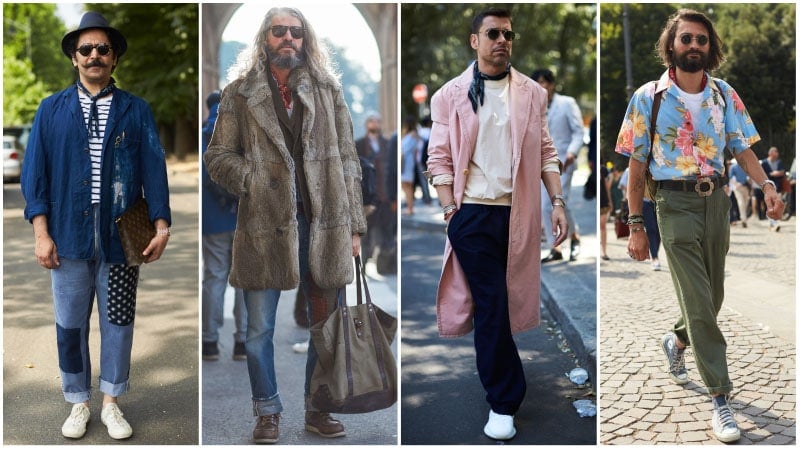 SHOP THE LOOK
Smart Casual Occasions
A bandana can make a surprisingly stylish accessory for smart casual occasions. It can be a charming addition to a white shirt and chinos outfit or create a playful yet polished appearance when worn with a relaxed suit and T-shirt. To ensure you don't look underdressed, choose a smart bandana, and wear it neatly tied around your neck or as a pocket square. Opting for a silk or satin style will help keep your look sophisticated and sleek. Also, if your bandana is a bold color, be sure to keep the rest of your outfit neutral for a balanced and stylish appearance.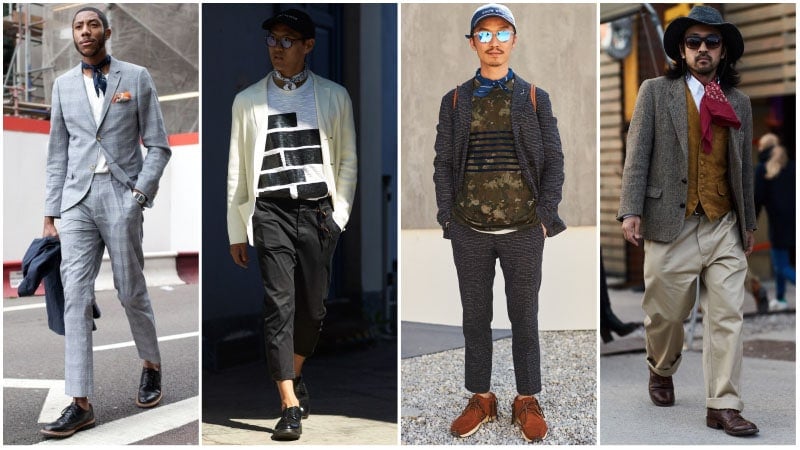 SHOP THE LOOK
How to Tie a Bandana
FAQs
What do bandanas symbolize?
There are many associations tied to bandanas, including gang culture and the latest fashion trends. Traditionally, bandanas were used to keep the dust and sweat away from your face, with the Hindi name of the scarf initially meaning 'to tie.' Now, you can see these funky pieces of fabric across the heads, necks, and wrists of fashionable people around the world.
Is it bad to wear a bandana on your head?
While there were once associations with bandanas to gang culture, this common meaning has started to disappear. These days, it is a trendy piece of fabric that adds a rock-and-roll effect to your overall look. To achieve a laidback feel to the kerchief, lay it flat and fold it lengthways, wrapping the length of it across your forehead. It's a statement piece that ties the whole outfit together.
How do guys wear bandanas?
There are plenty of ways for guys to wear a bandana. You can tie the fabric around your wrist or tie it loosely around your neck. For a festival or concert, try it across the forehead or hang it from your waist. In smart-casual and semi-formal occasions, you can fold it into a pocket square for your suit jacket - it will instantly add a unique flair to your ensemble.
SUBSCRIBE TO OUR NEWSLETTER
Subscribe to our mailing list and get interesting stuff and updates to your email inbox.