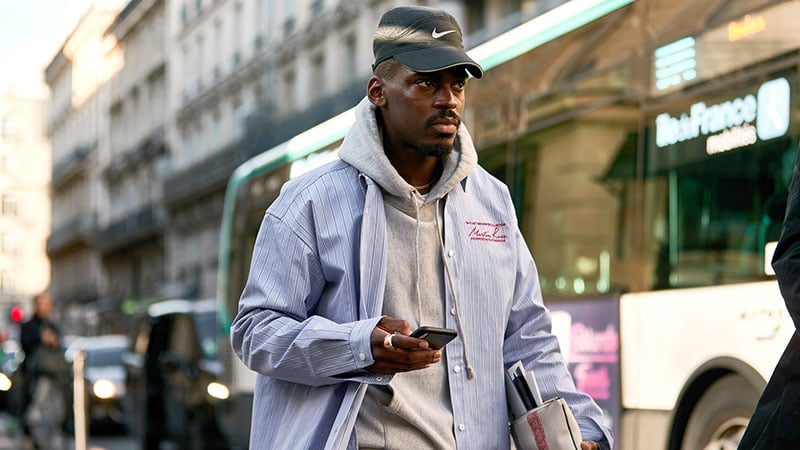 The snapback is back. Yes, you read that right. Your favorite hat from the '90s is in style once again and ready for another go-around. While the hip-hop staple may no longer look great with baggy jeans and an oversized T-shirt, it does appear stylish and edgy with contemporary clothing. All you need to know is how to wear it right and, thanks to this handy guide, you will. From how to style a snapback right to fashion faux pas to avoid, here's how to pull off the statement-making cap without looking outdated.
What is a Snapback?
The history of the snapback lies in baseball, but the hat is not to be confused with a baseball cap. Although the two are similar in nature, they do have differences. The snapback gets its name from an adjustable strap or "snap" at its back, which makes it a one-size-fits-all style. Baseball caps, on the other hand, are fitted and cannot be adjusted. Snapbacks also feature a wide, flat brim and six, rigid sections that form the cap and result in a high dome toward the front. This shape provides the snapback with its distinctive appearance and a larger space at the front for text or prints.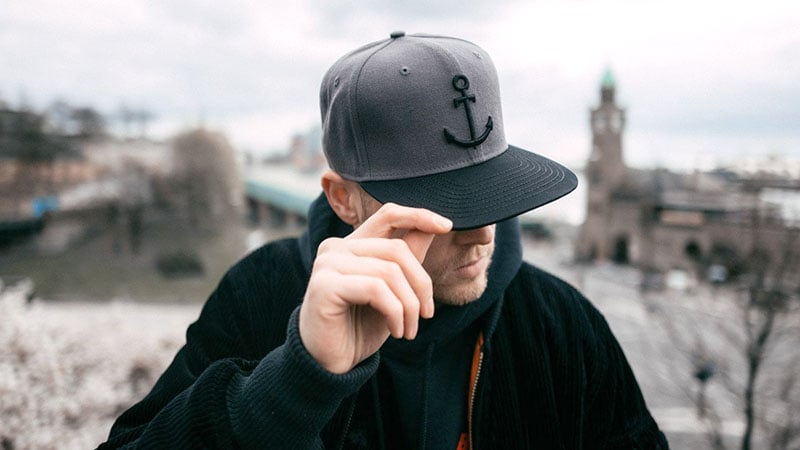 How to Choose a Snapback
Selecting a snapback is a personal endeavor with no wrong answers. Although the cap now comes in a variety of designs, you can always find the right one for you by picking one that suits your personality and style. If you're still stumped on what to choose, think about your desired look and go from there. If you're interested in sports, you can choose one with a team logo or if you prefer a minimal aesthetic, try an unadorned design. For those who are still finding their style or new to snapbacks, stick to a simple and classic design in a dark color, such as black. Doing so will ensure that your cap matches whatever outfit you pair it with.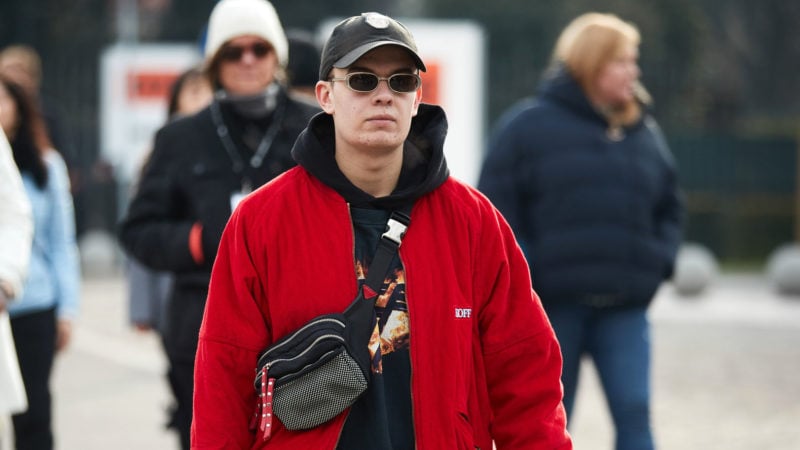 Snapback Outfits
Smart Casual Look
Although snapbacks pair naturally well with casual looks, they can also work great as part of a smart casual outfit. To ensure you nail it, choose a minimal style snapback in a dark hue and avoid overly bold logos or prints. Wear your cap facing forwards with the brim pointed upwards slightly to reveal more of your face and hair. Pair your snapback with chinos and a casual button-up in neutral or muted tones for the perfect smart casual style. Finish things off with a pair of clean and unscuffed sneakers.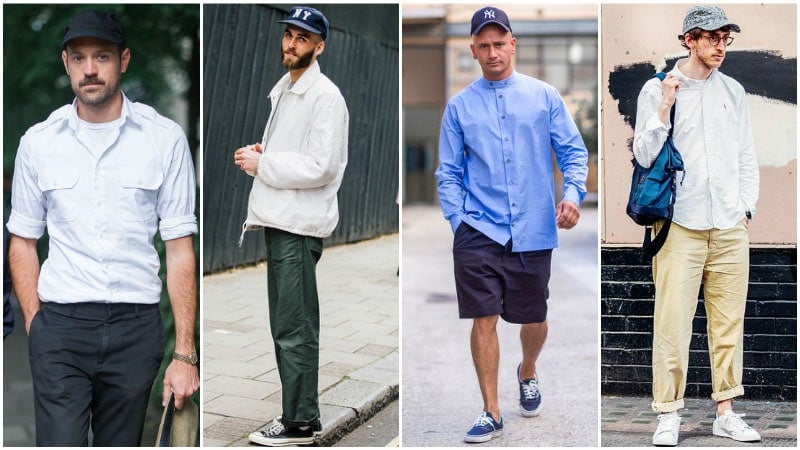 GET THE LOOK
Hip-Hop
Hip-hop outfits and snapbacks often go well together and have a history of teaming up. The edgy attitude that snapbacks project mixes perfectly with hip-hop styles, making them the ideal accessory. Choose a snapback that makes a sleek and bold statement, such as a black style with white embroidery. Wear it with the brim facing forward and complete your outfit with an oversized, graphic tee, ripped black jeans, and sneakers.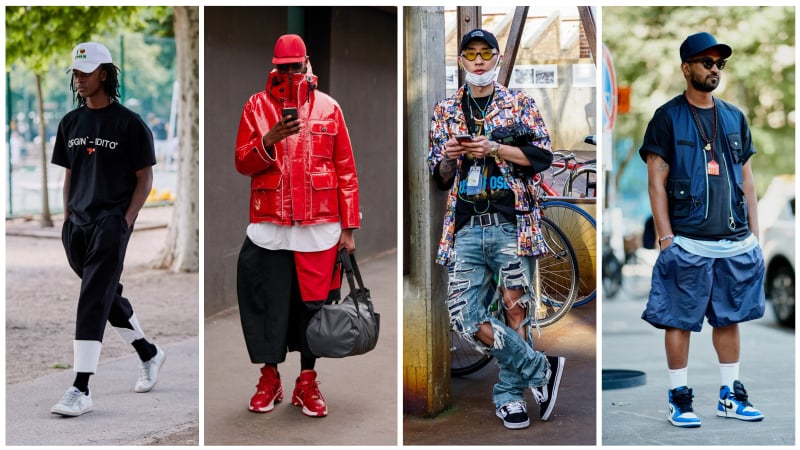 GET THE LOOK
How to Wear a Snapback Forwards
Having the brim facing forwards is the most classic way to wear a snapback. Although the look is still casual, it does present a cleaner appearance than wearing it backward. Of course, this doesn't mean that a forward-facing snapback can't make a stylish fashion statement. By pairing your forwards snapback with smart casual and hip-hop outfits, you'll be sure to create a standout style.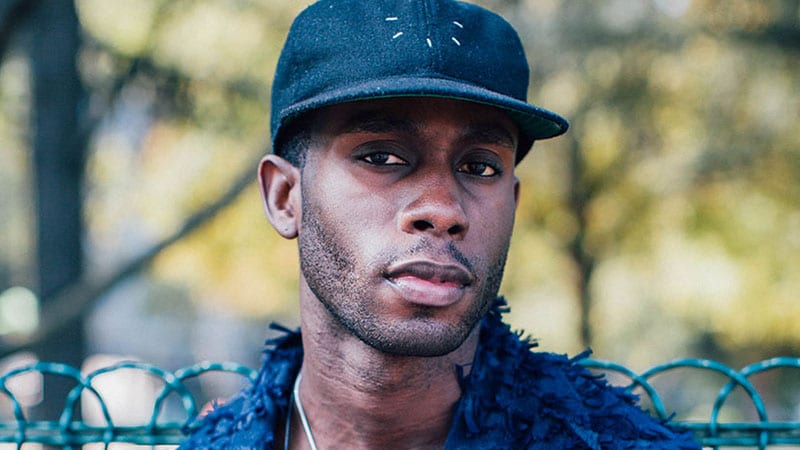 How to Wear a Snapback Backwards
While donning a snapback forwards is the general option, a confident gent can also wear one backwards. Be careful, though. The look can appear outdated and awkward if worn in the wrong way or with the wrong outfit. To pull off wearing a snapback backwards, pair it with modern and contemporary styles and designs. Also, remember to keep your outfit casual as the look projects a relaxed and carefree vibe. Aim for an urban style with streetwear and be sure to wear the cap high on your head on a downwards slant backwards.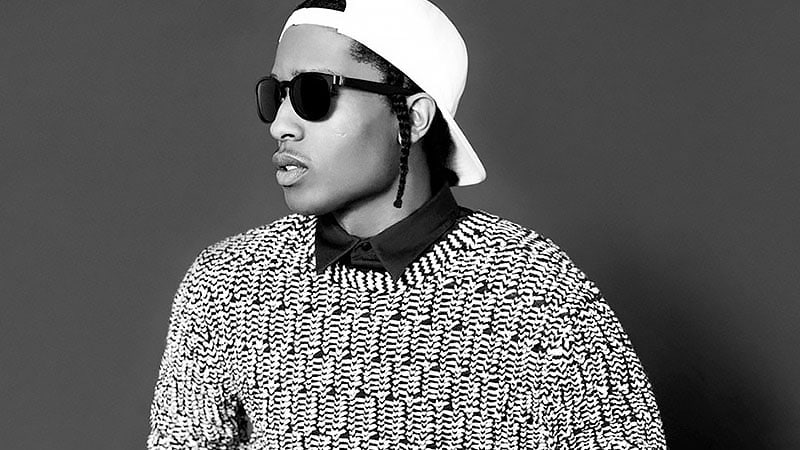 How Not to Wear a Snapback
When it comes to wearing a snapback, there are a few rules to follow. Snapbacks look best with casual outfits, so not pairing them with formal or business wear is something to remember. Whether or not a snapback is right for you and how you should wear it are also things you need to know. Although you may have rocked the look in the '90s, the rules aren't the same as they were back then, so it's time to brush up on how your snapback style can go wrong.
Don't Bend the Peak
While it may have been popular in the past to bend the peak of your snapback, it isn't anymore, so don't do it. Snapbacks were made with a flat brim for a reason and can appear wrong or awkward if bent. If you want to bend the peak of a cap, you can opt for a curved visor hat instead.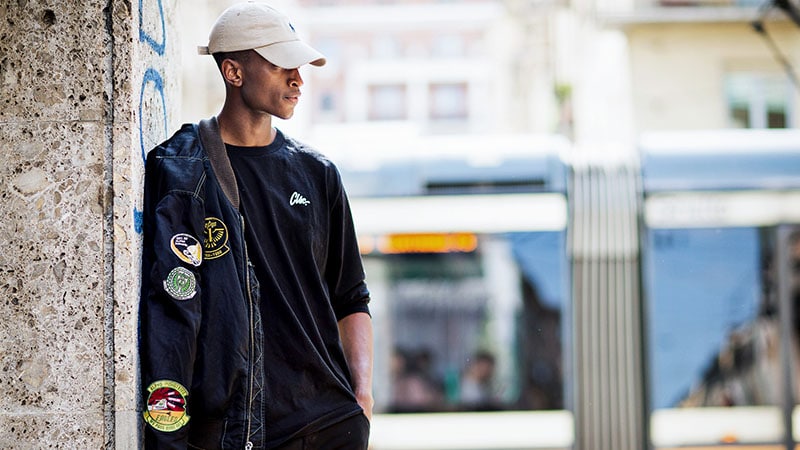 No Ponytails
If you have long hair, avoid pulling it through the back of your snapback into a ponytail. Instead, if you have a lengthy main, simply let it hang loose for an urban-meets-bohemian appearance that's much more modern than a ponytail.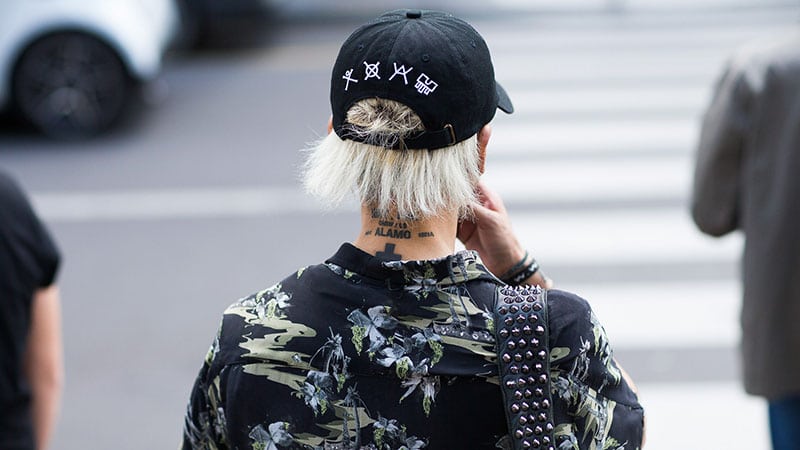 No Sideways Caps
Wearing a snapback sideways may have been cool once upon a time, but now it just seems silly. Trust us when we say that you don't want to wear your cap sidewards. Even if you think it may look cool, don't go there. The appearance is both outdated and a bit dorky. Straight forwards or backwards are the only ways that a modern gent should be wearing his cap.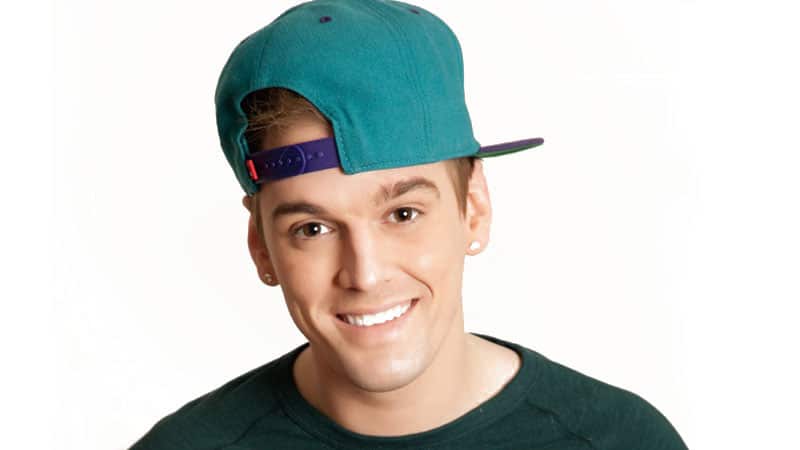 Remember Your Age
Unfortunately, snapbacks don't tend to suit all ages. Older gents often require a more sophisticated style, meaning that the snapbacks are best left to those in their 20s and 30s. If you do try wearing a snapback at an older age, it may appear like you're attempting to dress younger than what you are. Of course, if you want to wear one, you shouldn't let anyone stop you, particularly if your usual style is attitude-heavy or unique. Alternatively, you can choose from a wide range of hats that tend to suit your age group better.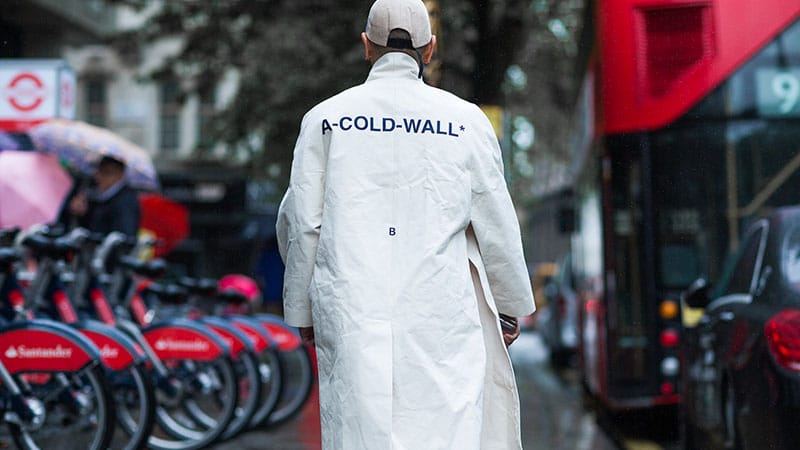 Consider the Outing
Snapbacks are great accessories, but only for the right occasions. While they look perfect for relaxed outings and general weekend activities, they can appear underdressed and improper for formal and business settings. Before you throw on your snapback, always think of where you're going and who will be there to ensure an appropriate outfit.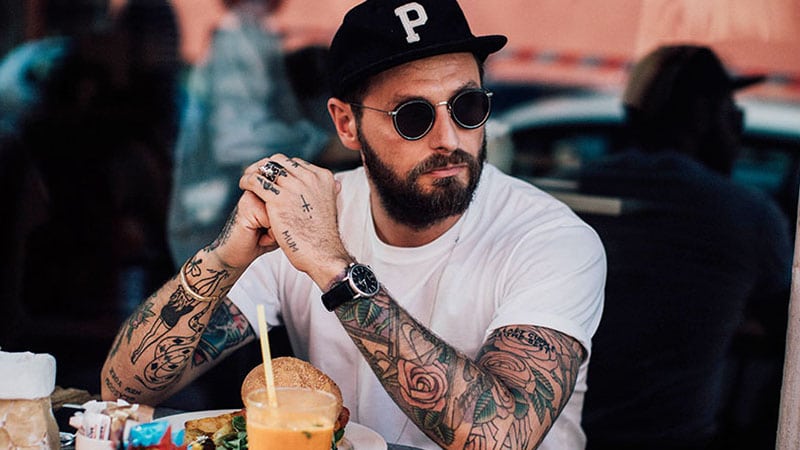 Does it Fit Your Style?
Before donning a snapback, be sure it suits your style. The cap takes confidence to pull off, so you don't want to be feeling unsure when rocking one. If your personality is shy or you think of yourself as a more sophisticated gent, it may be better to opt for other hats instead. If you know a snapback's for you, find one that suits your personality and personal tastes. Also, avoid wearing caps emblazoned with the logos of brands or teams if they mean nothing to you.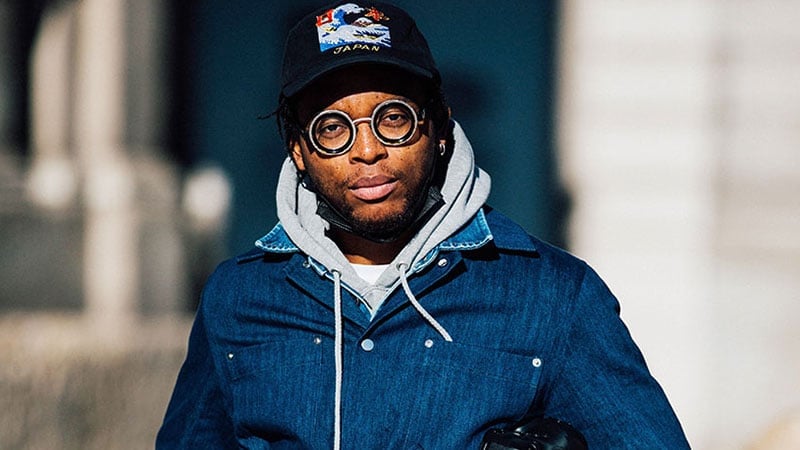 How to Wear a Snapback Tips
Choose which color and style of snapback cap to wear based on your style/outfit and personality.
Only wear bold snapbacks with subdued outfits.
Wear a snapback forwards for a classic and sharp casual look or backwards for an informal and edgy style.
Don't ever wear your snapback sidewards.
Always consider where you're going and who will be there before deciding whether or not to wear a snapback.
Don't wear a snapback to a formal or business occasion.
FAQs
Do you leave the sticker on a snapback?
There are a few general guidelines for how not to wear a snapback. Firstly, don't bend the peak; that's not how the hat was designed. Secondly, don't wear long hair pulled through the back as a ponytail, or try rocking it sideways — it never works. Of course, like any part of your outfit, you need to consider the occasion, as snapbacks are best suited for casual wear. Other things to consider also include your overall style and age. Snapbacks don't always suit an older demographic or every wardrobe.
Do you leave the sticker on a snapback?
The stickers on caps are designed to be removed before you wear them. There was a time that leaving the sticker on a hat, especially New Era baseball caps, was considered cool, but that time has mostly passed. However, it comes down to personal preference — leave it on, take it off — whatever tickles your fancy.
Do you tuck your ears into snapback?
Commonly, you don't tuck your ears into a snapback. Ideally, the fit of the hat should be snug, so there's no room for your ears, and the correct size will generally sit higher than ear level. Once again, however, it comes down to personal preference. If you want to protect the tips of your ears from sun damage, tucking them into the hat will help (but still wear sunscreen). It also comes down to the shape of your ears. Some people can be self-conscious about ears that stick out too much, and tucking them in can help hide them.
SUBSCRIBE TO OUR NEWSLETTER
Subscribe to our mailing list and get interesting stuff and updates to your email inbox.