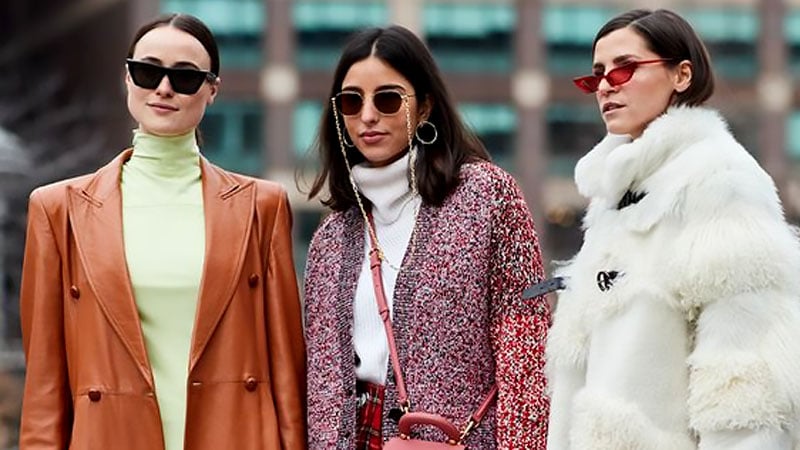 Winter is upon us, and that can only mean one thing – layers in the fashion world. Biting the cold is worth it for the undeniably fantastic fashion trends that come with winter. Pull your favorite boots from the back of your closet that have been sitting there for the past six months and go shopping for that perfect staple coat that you'll no doubt live in. Winter is the best time to experiment with your style. It calls for wearing endless amounts of clothing that you can learn to mix and match, creating winter outfits for all occasions. Though just in case you need some inspiration, we've got you covered with these winter outfits for women.
Winter Outfits for Women
1. Casual Winter Outfits
Winter is the perfect season to experiment with your casual wardrobe. With so many layering options, the possibilities for creating stylish outfits are practically endless! Pull on a pair of thigh-high boots with a midi skirt or over your favorite pair of jeans to keep your legs warm and looking cute. Layering long-sleeve shirts under sweaters and jackets is a great way to stay cozy and stylish. Winter outfits are all about finding the perfect layers to suit your individual style, so don't be afraid to mix and match until you find the perfect combination!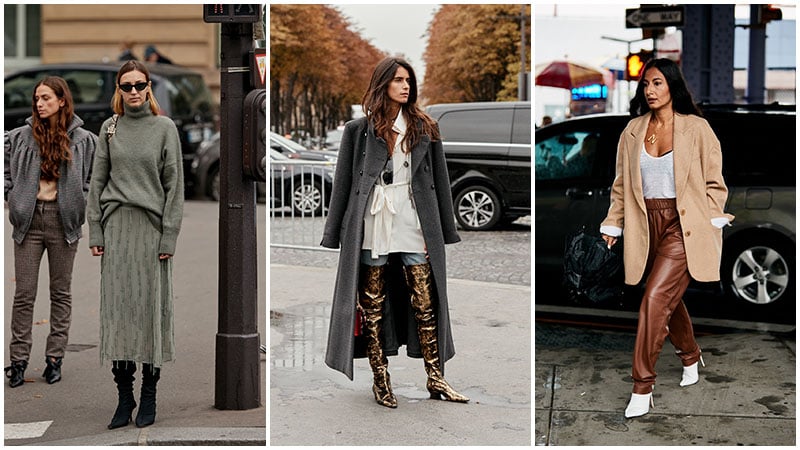 Shop the Look
2. Winter Work Outfits
It's easy to dress work appropriately during the winter months. Usually, the more skin that's covered, the better. The old as time, classic office outfit is a matching pantsuit; it never seems to go out of style. Otherwise, pair a jumpsuit with a trench coat and killer heels for a more casual work look. If you're feeling a little more girly, you can't go wrong with stockings and a pencil skirt. Finish the winter outfit with a white blouse, a check coat, and a pair of boots.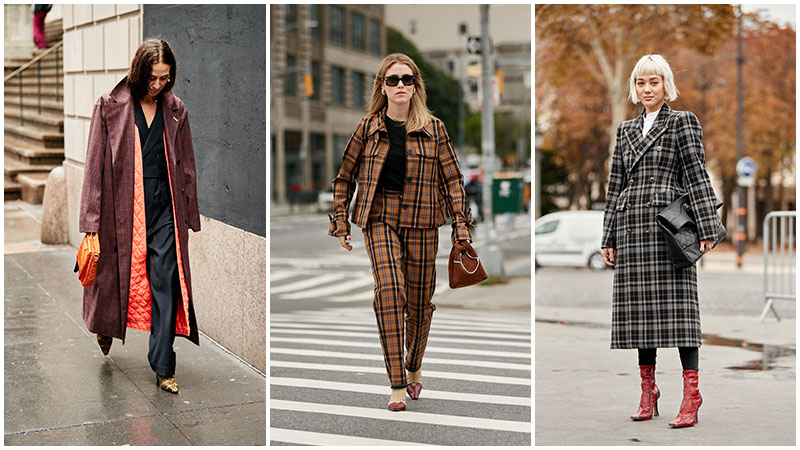 Shop the Look
3. Cute Winter Outfits
In the colder months, we generally want to cover as much skin as possible; we sacrifice this sometimes in exchange for a cute outfit. This look is still achievable with a dress and knee high boots. Yes, you might have some bare skin on display that feels the chill, but at least you'll look fabulous. The best thing to do is to hide bike shorts under your dress so that your thighs aren't exposed to the elements, just your knees. If you're feeling a little more adventurous, opt for a mini skirt, a matching full-length coat, and a pair of cute kicks. You will surely get a few glances at this winter outfit while walking down the street.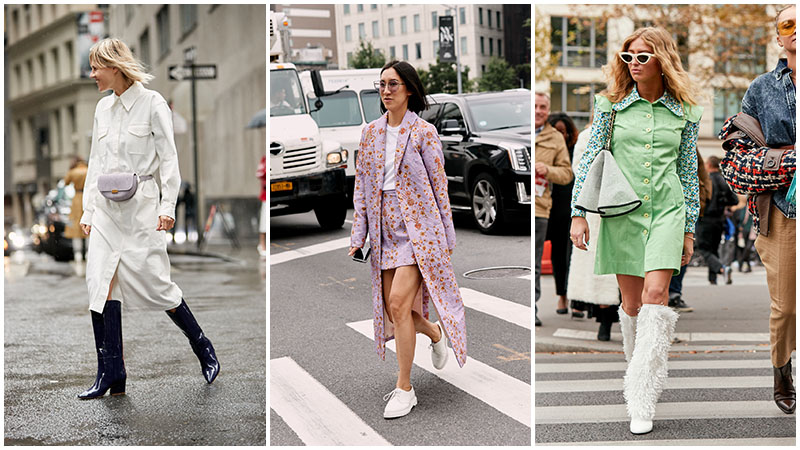 Shop the Look
4. Winter Club Outfits
In winter, we generally tend to sacrifice the feeling in our fingers and toes to look cute when hitting the club. Besides, once you're inside, all that body heat in the room will warm you right up. Therefore, you can still wear your slip or little black dress underneath your coat, then send it to the cloakroom once you get inside. Remember, knee or thigh-high boots are a sexy staple when hitting the town on crisp evenings. Otherwise, you can still wear your strappy heels if you'd prefer to.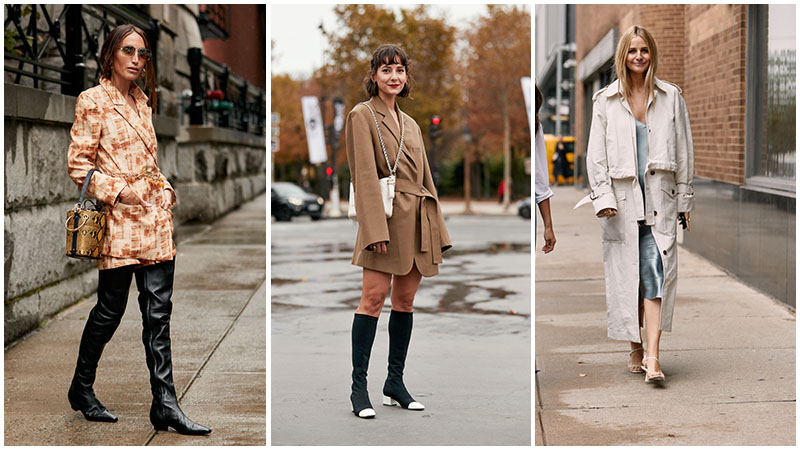 Shop the Look
5. Sexy Winter Outfits
Winter outfits don't have to be boring or frumpy. If you want to add some sex appeal to cold weather dressing, a trench coat with a cinched waist is the perfect piece to create a silhouette that screams sexy sophistication. Not only does it leave a little bit to the imagination, but it also keeps you warm and cozy without sacrificing style. For ultimate impact, pair with patent leather or snakeskin boots to up the temperature even further. And if you're feeling extra daring, throw on a little black dress to take your outfit to a whole new level of hotness.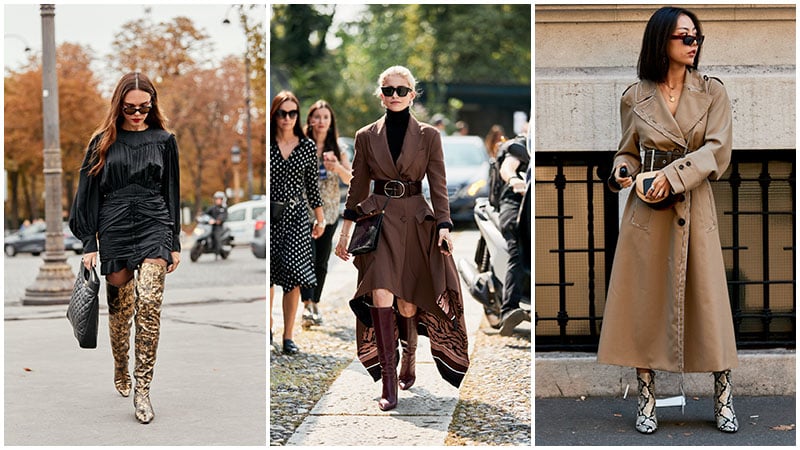 Shop the Look
6. Formal Winter Outfits
As the temperatures drop, finding the perfect winter outfits for formal events can be a challenge. If you're looking for a way to stay warm and stylish at the same time, longer hemlines are a must. But this winter, don't be afraid to mix things up and opt for long sleeves as well. Sure, showing a little skin can be fun, but if you're sensitive to the cooler air or know that the event will be held inside, a coat might be the way to go. Just make sure it's formal enough to wear for the duration of the evening. And don't forget to accessorize! With the right jewelry and accessories, you can elevate your winter outfit and turn heads no matter what the thermometer says.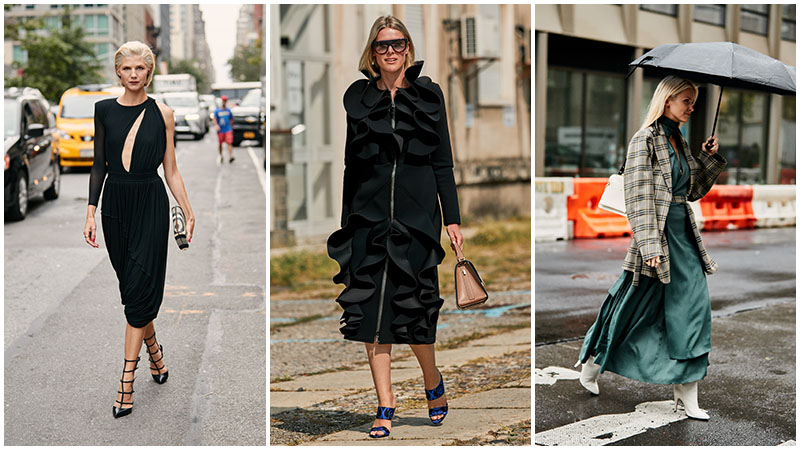 Shop the Look
7. Concert Outfits for Winter
If you plan to attend a concert, you want to leave your trench coat at home. Boots are a must if you wish to keep your toes attached to your feet, being surrounded by the stomping crowd. You also want to choose your outfit accordingly, depending on the type of music and the artist's vibe. You'll want to dress the part, whether that's grungy, old school, alternative, or anything else. Wear flared corduroy pants, a matching jacket, or a white jumpsuit with lace-up boots. Or match both your jacket and shorts with your shoes. With an outfit like this, you're sure to stand out from the crowd, even if it is filled with a few thousand other people.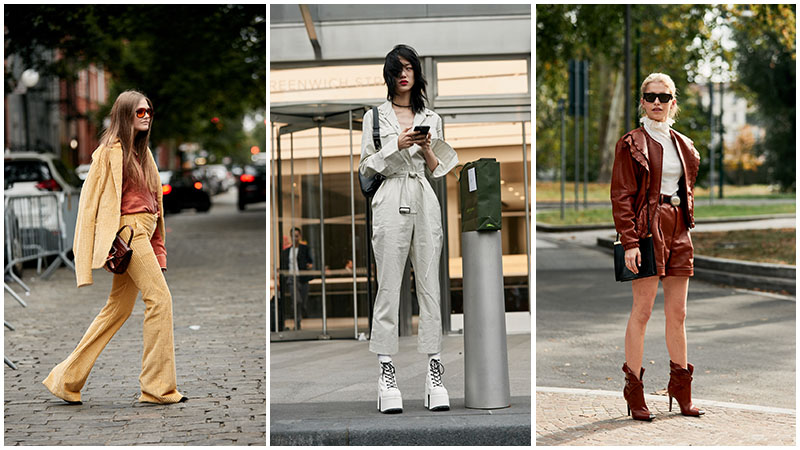 Shop the Look
8. Winter Date Outfits
Date nights require a look that is both easy-going and presentable while also being feminine and flirty. Wear a feminine knitted dress, then downplay it with a pair of sneakers for the daytime. If you're more of a pants kind of girl, opt for jeans. Then add heels and a cute coat over a simple blouse for that girl-next-door look. If you are going out to dinner at night somewhere quite nice, wear an appropriate length skirt with a long sleeve top and a pair of heels. You're probably wondering whether you would ruin your winter outfit with your coat; the answer is no if you choose a style to match.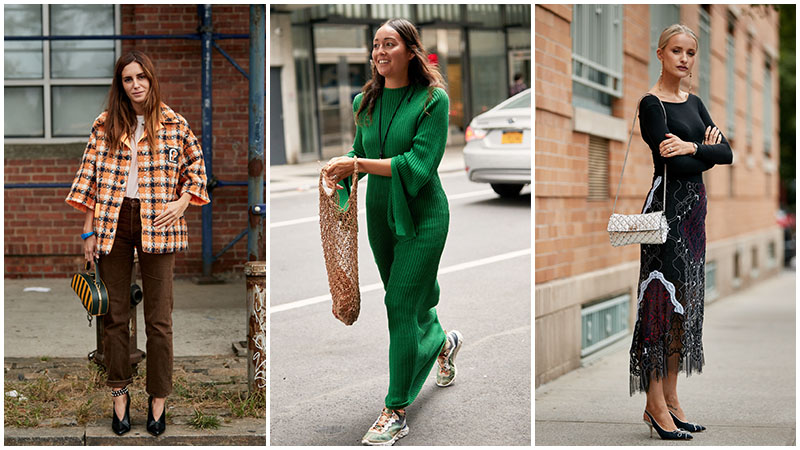 Shop the Look
9. Winter Wedding Outfits
Winter weddings are all about staying warm while looking chic, and luckily, there are plenty of options for stunning winter outfits. If you want to achieve a classy look, try starting with a coat that cinches at the waist, and then add accessories such as chunky earrings, a large clutch, and statement shoes. For those who prefer dresses, choose something with intricate details or select a top-quality pair of wide-leg pants paired with fancy heels. With either look, you're guaranteed to look elegant and sophisticated. And don't forget, the bride will appreciate your effort to look your best on her special day!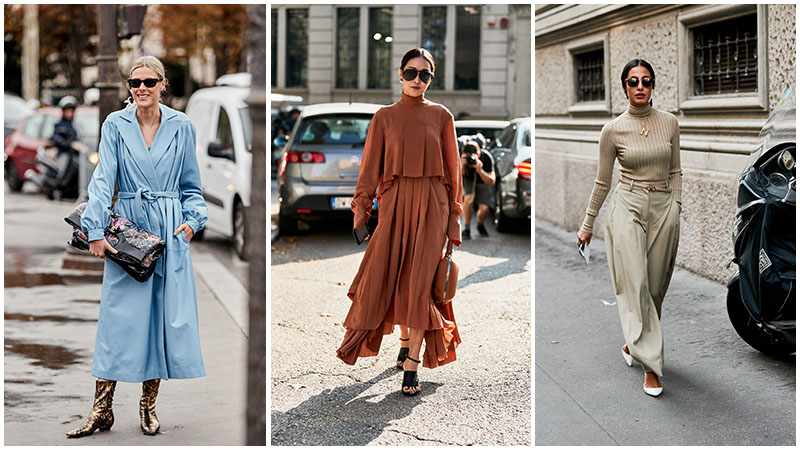 Shop the Look
10. Winter Interview Outfits
We all spend too much time thinking about how to look the most presentable for an interview. Don't worry, though; this is super easy to pull off in Winter. The most basic winter outfits are a matching pantsuit. It doesn't have to be traditional, either. Find a unique fabric or interesting design. Pair it with cute heels or boots and a top that adds to the look. Otherwise, you can't go wrong with a white blouse, black pants, and your favorite heels and jewelry if you want to stand out and dress similarly to your style.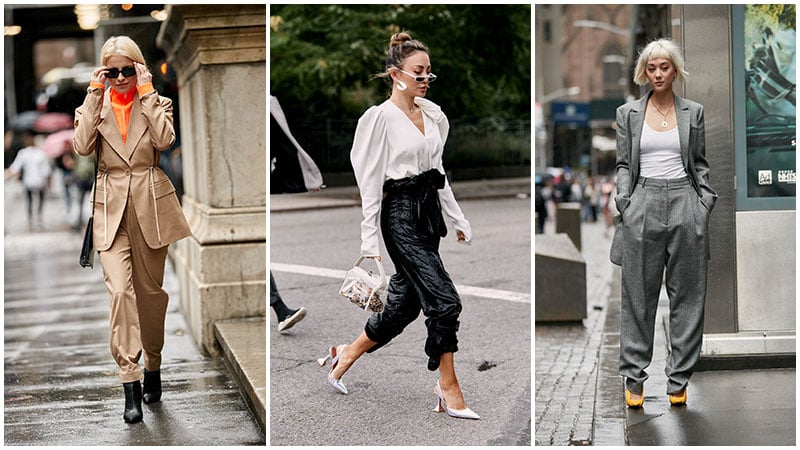 Winter Outfits for Women
Layers keep you warm, and each one adds an element to your winter outfit, making it stylish.
Always accessorize to complete the look.
Make sure your winter outfit is occasion appropriate.
Invest in a really good trench coat or a cozy jacket.
Have fun with your wardrobe. Winter is the best time to mix and match, creating new and exciting looks.
Winter Outfits for Women FAQs
How do you dress cute in the winter?
There are many ways to look cute in the winter, but if you learn to mix and match and focus on a few key pieces, then you are guaranteed to always be stylish. Thigh-high boots and ankle boots are a wonderful footwear choice in the cooler months and can be paired with everything from jeans to midi skirts. A good coat, such as a trench, can be thrown over any outfit and complemented by a large belt to cinch in the waist. The outfit possibilities are endless.
Are bare legs OK in winter?
If you're willing to brave a little bit of cold, then knee high or thigh-high boots are wonderful choices in the winter months and look great when worn with dresses and skirts. To make the look a bit warmer, you can wear chunky knits on top or complete the winter outfit with a coat. You may feel the chill on your bare skin, but only a small amount is exposed to the elements, so you shouldn't be too cold.
What shoes do I wear with a winter dress?
Winter dresses are a lovely feminine option for the cooler months and look incredibly stylish when paired with thigh-high, knee high, or ankle booties. If the temperature is not too cool, you can also wear mules, ballet flats and oxford shoes.
What shoes do you wear with skinny jeans in the winter?
The great thing about winter outfits is that you can embrace boots. Ankle boots look great on just about everything you own, including skinny jeans. For an edgier appearance, consider chunky boots or combat boots. If you want a particularly feminine and sexy look, then over-the-knee boots look fantastic when paired with skinny jeans.
What boots look best with dresses?
When it comes to choosing boots that look great with dresses, this is, for the most part, personal preference. That said, ankle boots tend to look good with everything and can be easily worn with dresses of all lengths. They also have a more sophisticated and elegant appearance than chunky boots.
Are jeans warmer than leggings?
Jeans are thicker than leggings and can therefore offer more protection against the elements. That said, some leggings are designed for cold temperatures; for example, a good pair of merino wool leggings will keep you warm.
Can I wear sneakers in snow?
If you're going to be in the snow, it is best to ditch the sneakers. They do not offer the same grip on ice as they do on pavements, and they are not as warm as snow boots. When it comes to walking in the snow, you need comfortable and practical shoes because you can get seriously injured if you happen to slip and fall.
SUBSCRIBE TO OUR NEWSLETTER
Subscribe to our mailing list and get interesting stuff and updates to your email inbox.