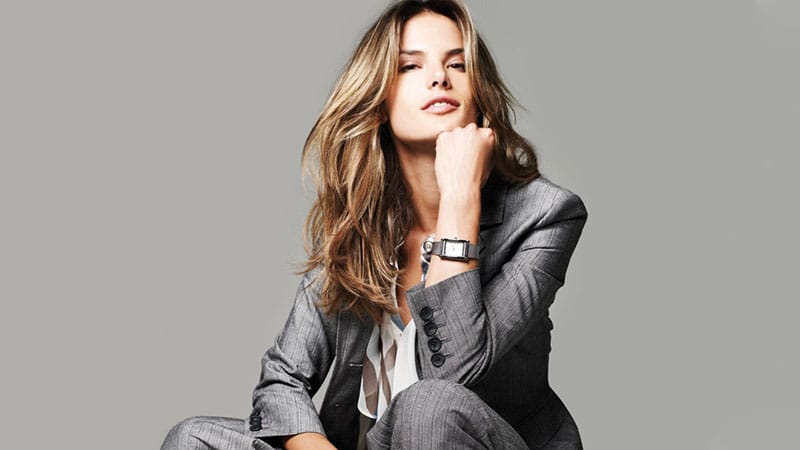 Getting dressed can be a stressful task, especially when there's an interview involved. Not only do you want to appear professional, but you also want to look like a good fit for the company and its culture. Unfortunately, there's no wonder outfit to suit all scenarios. Instead, you need to tailor your clothing choices to the type of interview and the business type. Below we have a few important styling tips that will help you decide on what to wear to your next job interview.
RELATED: How to Wear Business Attire for Women
RELATED: How to Dress Business Casual for Women
What to Wear to an Internship Interview
Internships are an important part of developing your career, and you should treat them as such. So, if you want to nab the position that'll set you on the right path, you need to dress the part. What you wear to your internship interview will largely depend on the type of company to which you're applying to work for. If the business is formal, a white shirt and black pants will make an excellent option. If the company is a start-up, on the other hand, you can be more creative and casual. In most cases, an outfit that appears professional and smart without seeming stuffy will be perfect.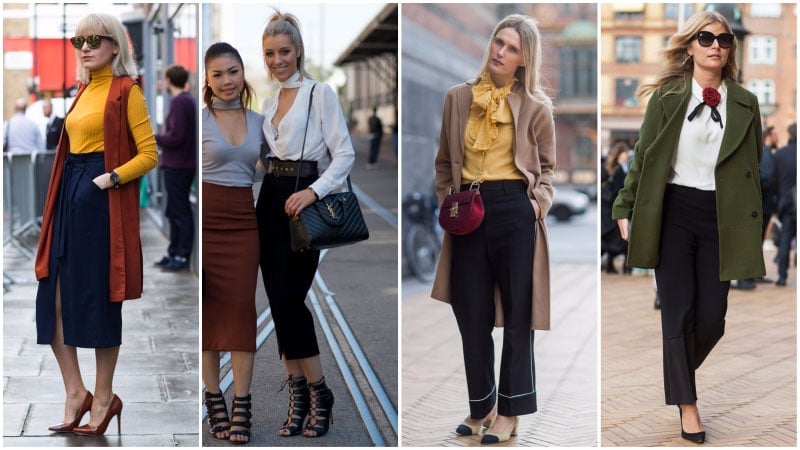 SHOP THE LOOK
What to Wear to a Casual/Informal Interview
Don't make the mistake of heading to an interview with a casual dress code in your loungewear or gym clothes. To make a good impression at any job, you still need to appear polished and neat. As such, dressing up just a little will ensure you don't look sloppy and may help you get the position. While there's no need for a suit, wearing a blouse with a pair of pants or a pencil skirt is an excellent idea.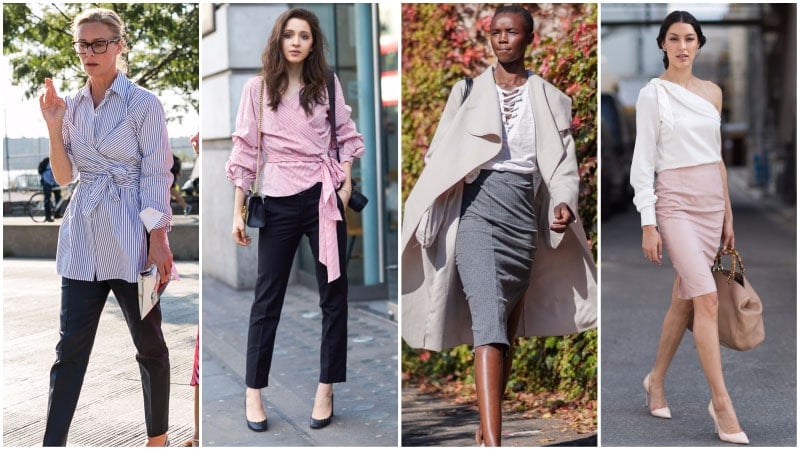 SHOP THE LOOK
What to Wear to a Business Interview
For a business dress code, it's best to keep your look basic and conservative. Save your new favourite fashion trends for the weekend and wear something a little more office-appropriate instead. Tailored pants or a pencil skirt paired with a shirt and blazer makes an excellent choice. Alternatively, a structured dress can also look good, as long as it's suitable for the office. When it comes to colours, navy and dark grey both make excellent choices and appear a little more approachable than black.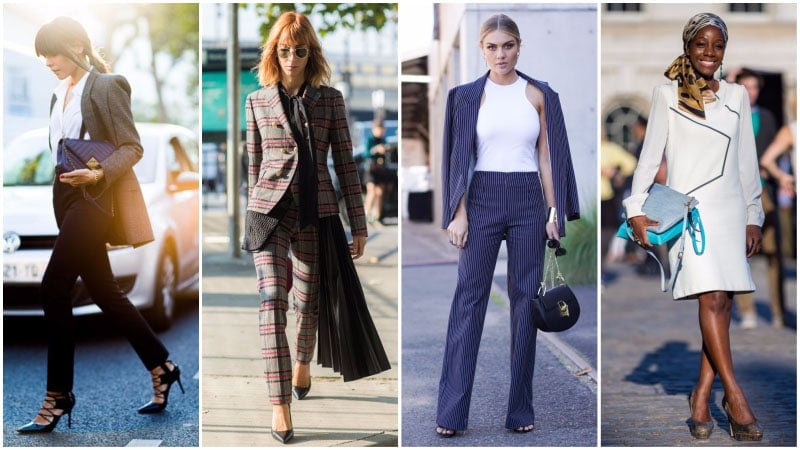 SHOP THE LOOK
What to Wear to a Formal Interview
An interview with a formal dress code requires a dressed-up version of your best office wear. In other words, a pantsuit is a perfect choice. Partner it with high heels and a collared shirt for an outfit that'll leave you looking professional and powerful. To keep the overall aesthetic sharp and sophisticated, stick to a neutral colour palette. Black, white, and grey all make excellent choices for formal interviews and can be worn as block hues or as part of a traditional check or stripe pattern.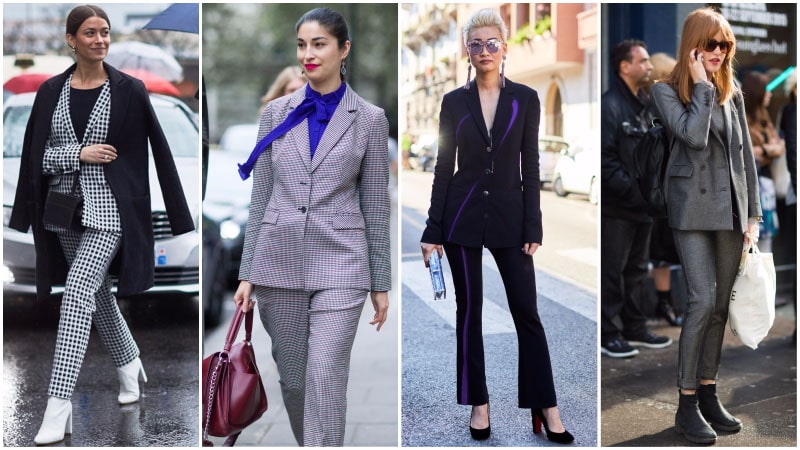 SHOP THE LOOK
What to Wear for a Skype/Video Interview
The rule "dress to impress" doesn't go out the window just because your interview will be via Skype rather than in person. You still want to impress, so a sophisticated look is a must. Don't think that you can get away with sweat pants either. If your interviewer gets a glimpse of them, your chances of getting the job will be ruined. Also, be mindful not to choose any distracting clothes. Patterns, large jewellery, and low-cut tops can all appear a little too much when only seen from the waist up. Likewise, vibrant shades, such as red and magenta, can seem too bright on video but cool colours, such as navy and sky blue, will look fantastic.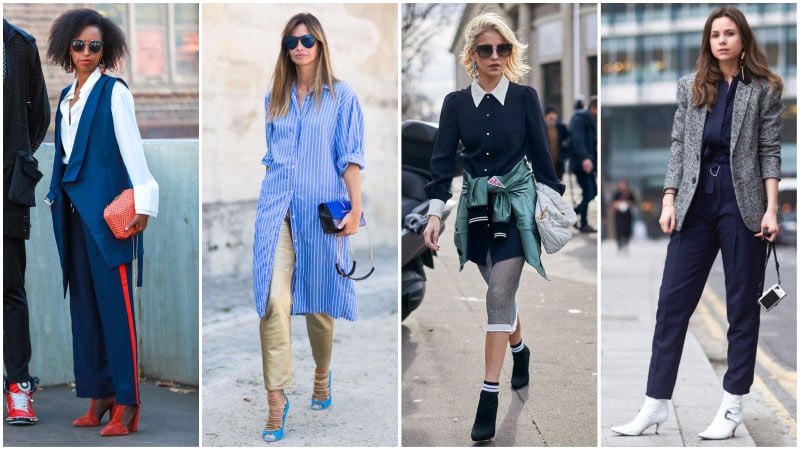 SHOP THE LOOK
What to Wear to a Job Interview in the Summer
Dressing for a job interview in summer requires balance. You need to pick an outfit that will appear polished while allowing you to stay cool and sweat-free. As such, it's best to choose garments made from lightweight fabrics. Selecting a skirt or dress will also help you beat the heat while looking sophisticated. Just remember not to show too much skin, or you may risk appearing unprofessional. Also, consider opting for light colours over dark shades to give your look a nice summery feel.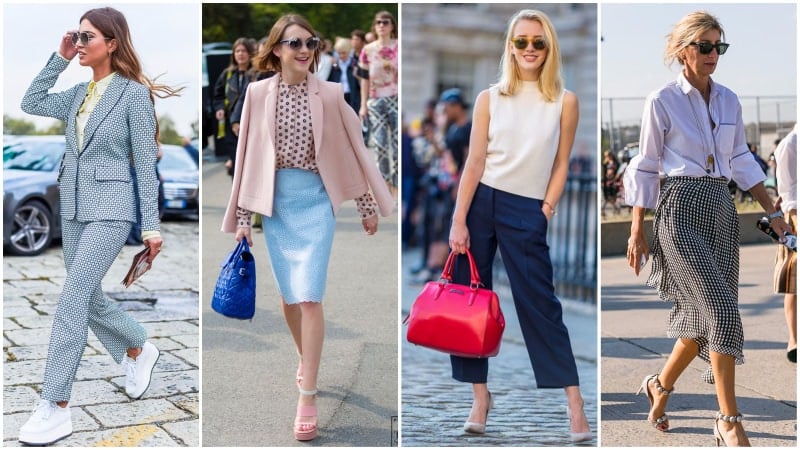 SHOP THE LOOK
What Colours Should You Wear to an Interview?
The right colours can convey your confidence and professionalism, so it's important to know which are the best to wear. Navy, grey, and black tend to be the top choices for suits and dresses while white works well for shirts. Brown and other neutral hues, like beige, can also work well for office environments and are preferable over bright colours. Bright hues, such as red, convey authority and should be avoided unless you're interviewing for a managerial position. If you do want to add colour to your look, stick to pale shades like light blue.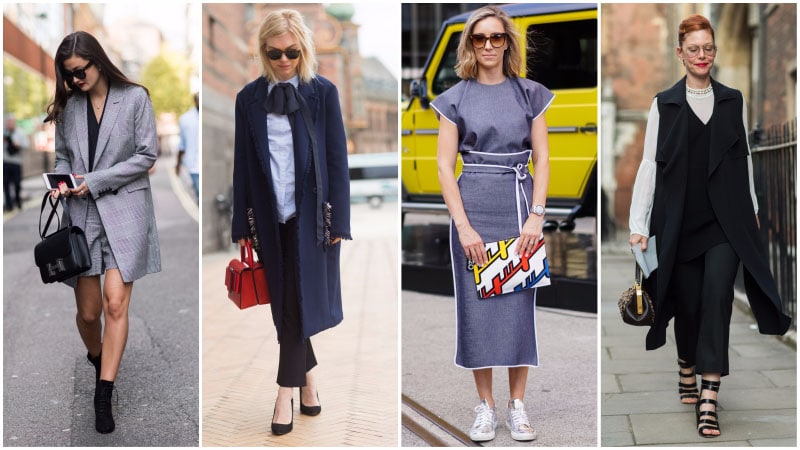 SHOP THE LOOK
Can I Wear Jeans to a Job Interview?
In general, it's best to avoid wearing jeans to a job interview. Jeans can easily appear underdressed, especially when worn in a business or formal setting. The only time you should wear jeans to an interview is if you know the company culture is highly casual. Even then, be sure to choose a dark wash in a slim cut without any rips and pair it with more formal pieces, such as a blouse, blazer, and heels.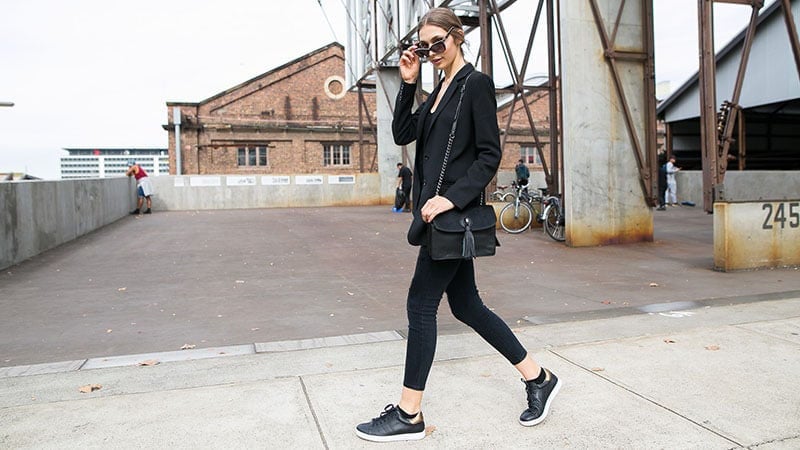 Can I Wear a Dress to a Job Interview?
For most interviews, a dress can make an appropriate outfit choice. You just need to be careful to select a style that's right for the office. Most importantly, the length needs to be suitable and not too short. A tailored dress that finishes at the knees is always a good choice and will project an appropriate appearance. Just be sure to stick to neutral colours for formal settings and consider covering bare arms with a blazer.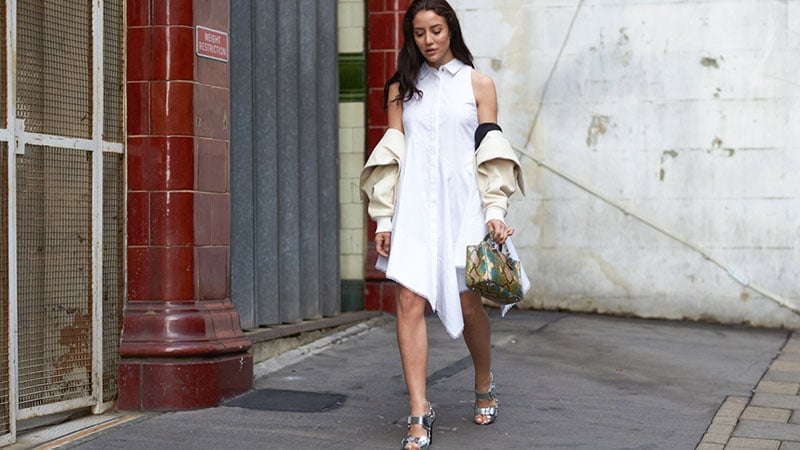 How to Wear Your Hair for a Job Interview
Like your outfit, it's important to pick a professional hairstyle that suits the job for which you're applying. Luckily, there are plenty of options that can work for all lengths of hair. No matter what style you choose, just make sure that it is simple and neat. Doing so will ensure that your interviewer's attention is on your answers and not your locks.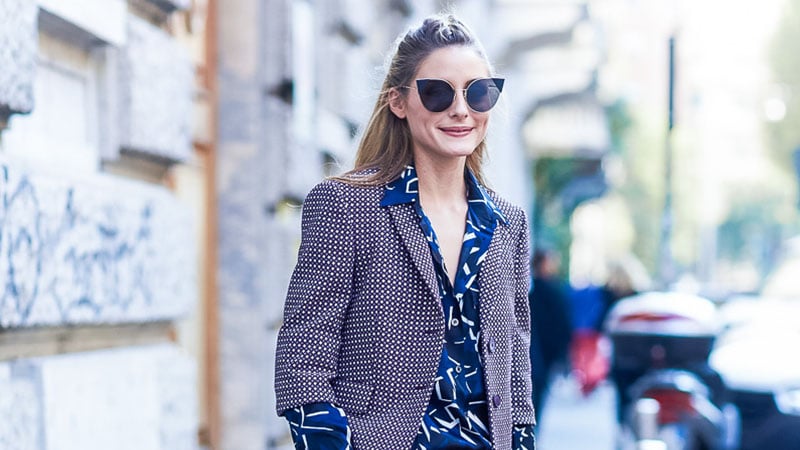 What to Wear to an Interview
Before an interview, research the dress code and the culture of the company.
Don't forget that casual and informal interviews still require a sophisticated and smart outfit, such as a pencil skirt and blouse.
For a formal or business interview, a suit or pants and a blazer is always a good option.
If your interview is via video, avoid wearing patterns, bold jewellery, and low-cut tops.
Stick to colours that convey professionalism, such as navy, grey, and black.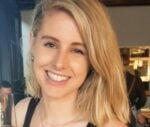 Taylah Brewer holds a bachelor's degree in fashion and business and is a skilled writer with several years of experience in the world of online content creation and copywriting. She is passionate about fashion, beauty, and all things lifestyle-related and has been writing for The Trend Spotter since 2016. She currently works as the Head of Digital & Ecommerce at White & Co.
SUBSCRIBE TO OUR NEWSLETTER
Subscribe to our mailing list and get interesting stuff and updates to your email inbox.