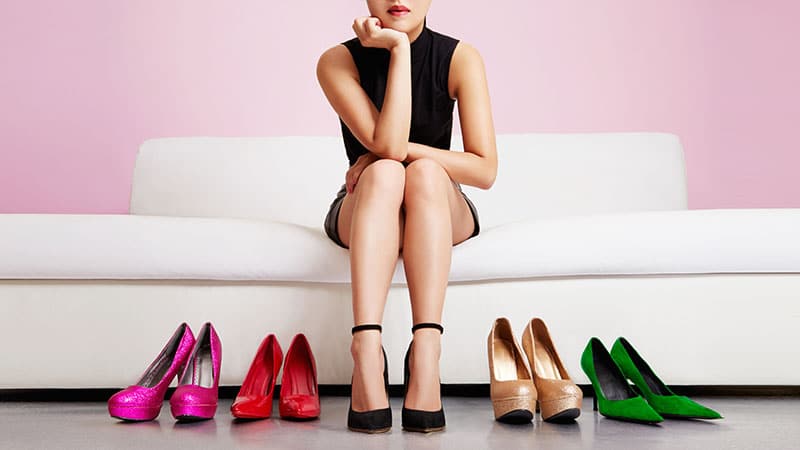 Regardless of what Marilyn Monroe said; heels are a woman's best friend! The right kind of shoe can boost your confidence, transform your look and make heads turn as soon as you enter the room. The only question is: which ones are best for you? When it comes to heels, the shopping aisles are broader than one might think. Whether you're after extravagant stilettos, elegant pumps, or stylish boots, you can be sure the word of fashion will have you covered. When choosing your next pair of shoes, these are the different types of heels you should know.
RELATED: Most Comfortable Heels You'll Wear All Year Round
Types of Heels
Most of us can probably only differentiate between two or three different types of heels. However, there are in fact, a great number more. Without realizing, most of them have probably crossed your path already. To get your fashion A-B-C up to speed, we have listed the most common types of heels below.
Block Heel
Block heels don't just look super stylish, but a solid heel also tends to distribute your body's weight differently, compared to thinner heels. Thus, they take a little pressure off the front of your foot, which results in a more comfortable stand.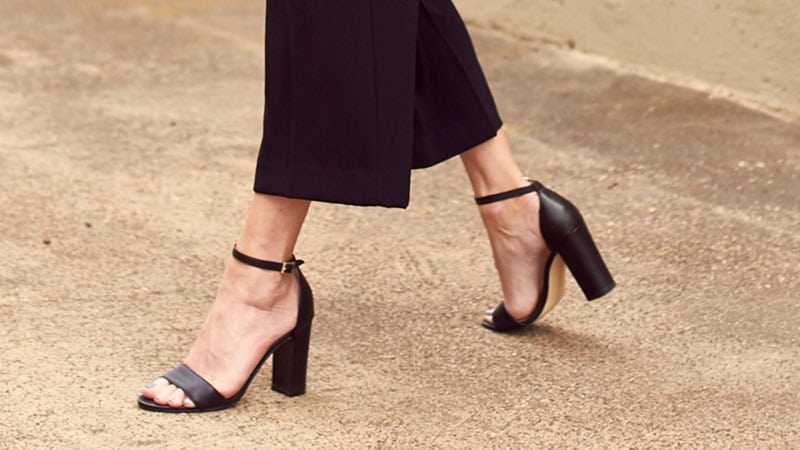 Cuban Heel
The Cuban heel is taking a cue from the boys. They are typically short to medium in height and found on ankle boots, Oxfords, loafers, and other closed shoes. While the heel is very solid in appearance, it can feature a slight taper from top to bottom.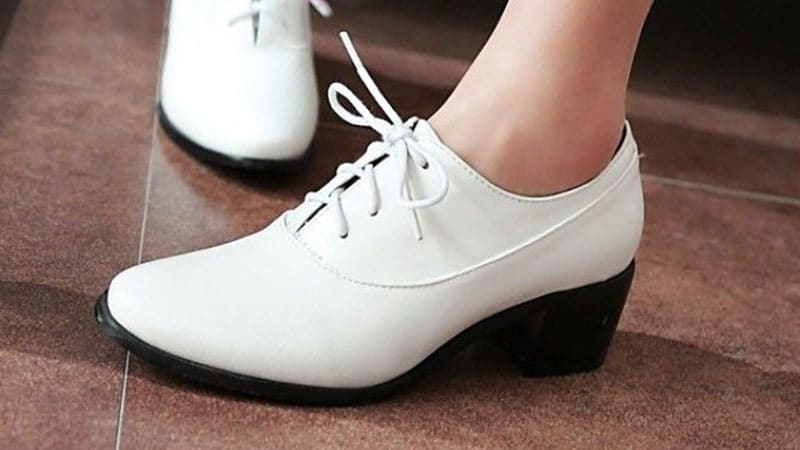 Comma Heels
This fashionable heel is, as the name reveals, shaped like a comma. Its unusual crescent form is a fashionable statement and it is incredibly eye-catching.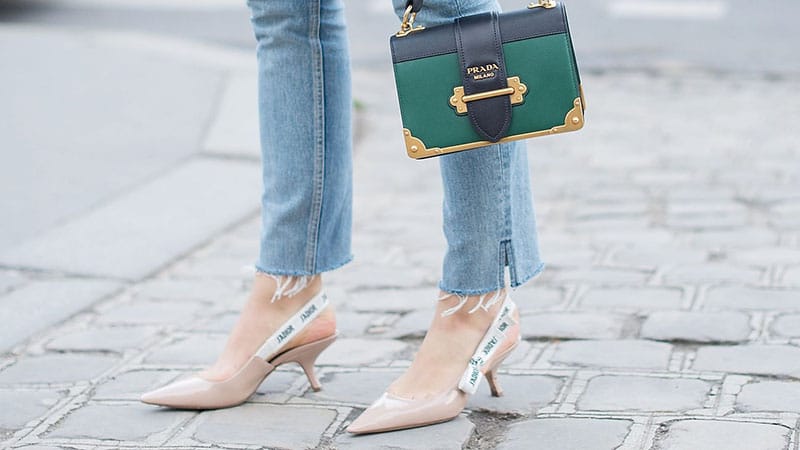 Cone Heel
The cone heel is defined by a thick, sturdy base for a secure stand and a narrow, delicate tip. Cone heels can be used for all kinds of heeled shoes and can come in various heights. This heel style is versatile and timeless.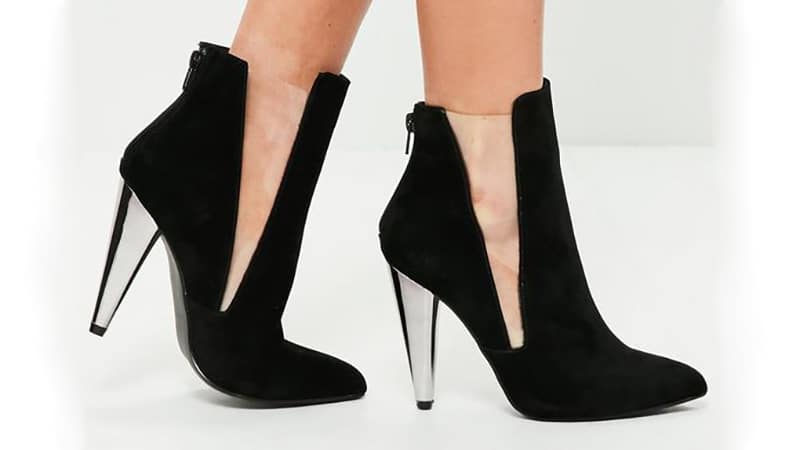 Decorative Heel
Is there anything more dreamy than a beautifully decorated heel? It's amazing what happens when shoe designers let their imagination run wild. If only we could wear pretty little things like this every day of the week.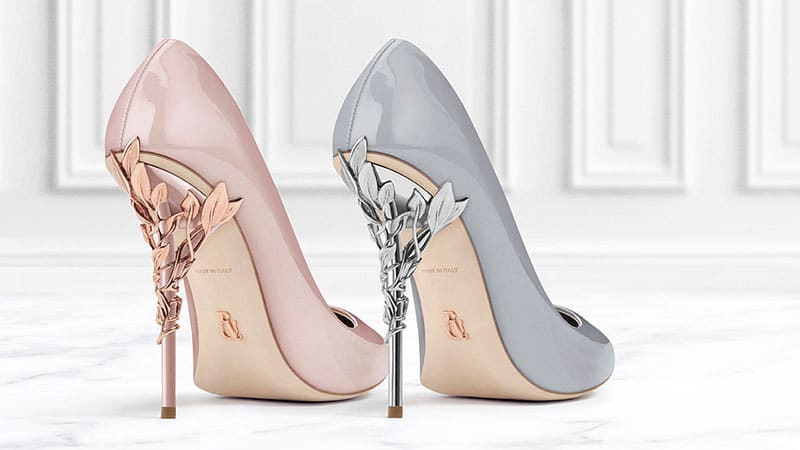 Flare Heel
Just like flared jeans, this heel gained popularity during our favorite flower power period, the '70s. Flare heels are characterized by a slimmer base that gradually widens towards the bottom.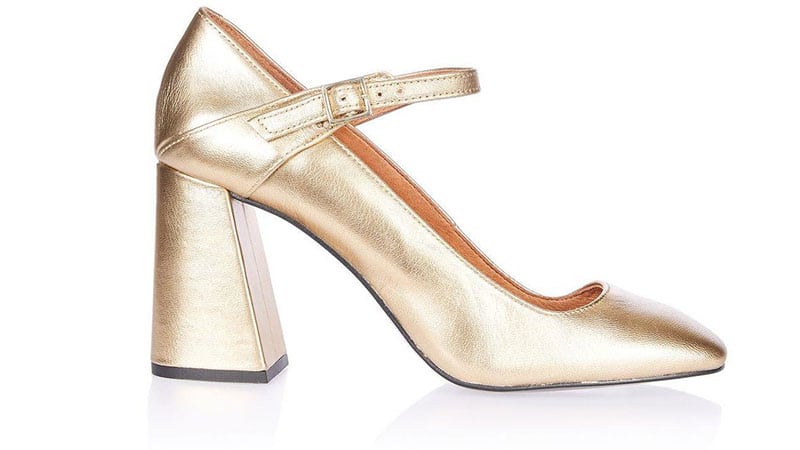 French Heel
The French heel, also known as the Louis heel or pompadour heel, is a variation of the spool heel. Just like the latter, the French heel features a wide top, a thin middle, and a rapidly curved bottom part. Furthermore, they are typically on the shorter side.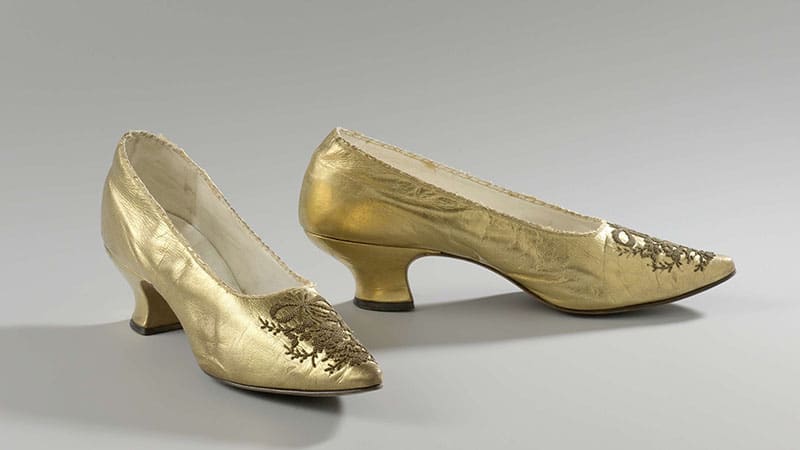 High Heel
High heels come in all kinds of shapes and heights. Every heel of at least four inches or more can fall into this category. The most common types of shoes worn with a taller heel are pumps, stilettos, and heeled sandals.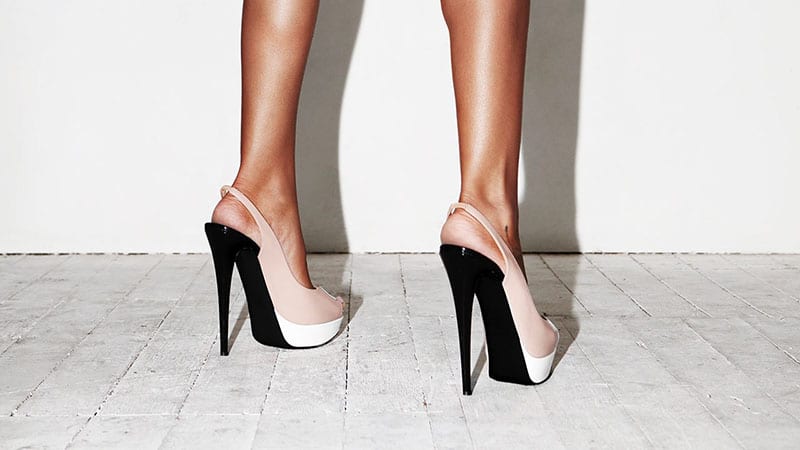 Kitten Heel
Kitten heels are great if you're uncomfortable walking in higher heels, or if you're on the taller side but don't want to abstain from wearing pretty heels because of it. This type of heel is typically thin and always below three inches.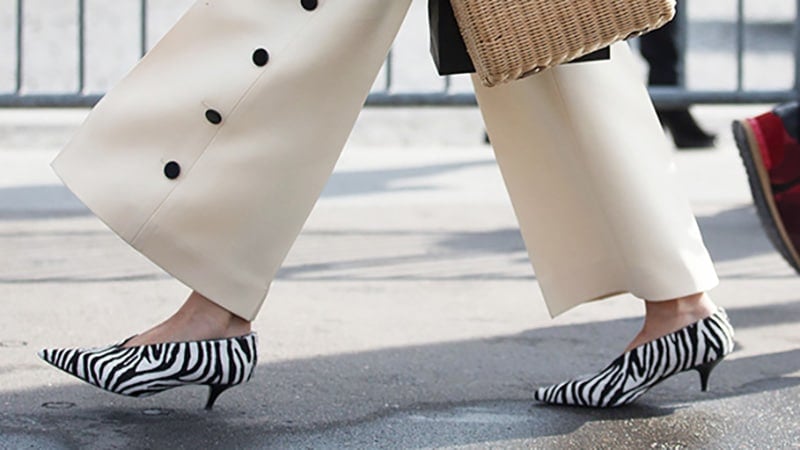 Medium Heel
Medium heels have the perfect office and everyday height. They are between three and four inches tall, which makes them ideal work shoes as they improve your posture without putting too much strain on the balls of your feet.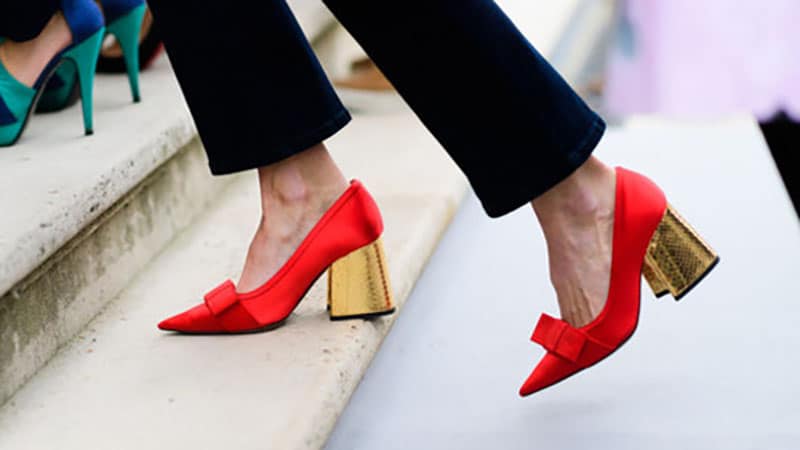 Slim Heel
Slim heels are a sexy pick for a night on the town or a dressy occasion. The thin, tall heel adds visual length to your legs and some spring to your step.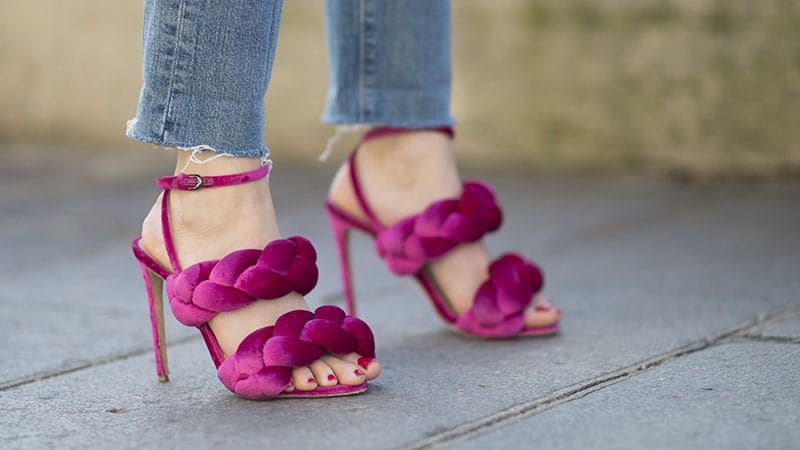 Spool Heels
This decorative type of heel originates from Europe during the Baroque and Rococo periods. Its hourglass shape resembles the spool of an old spinning machine, which is where this heel got its name.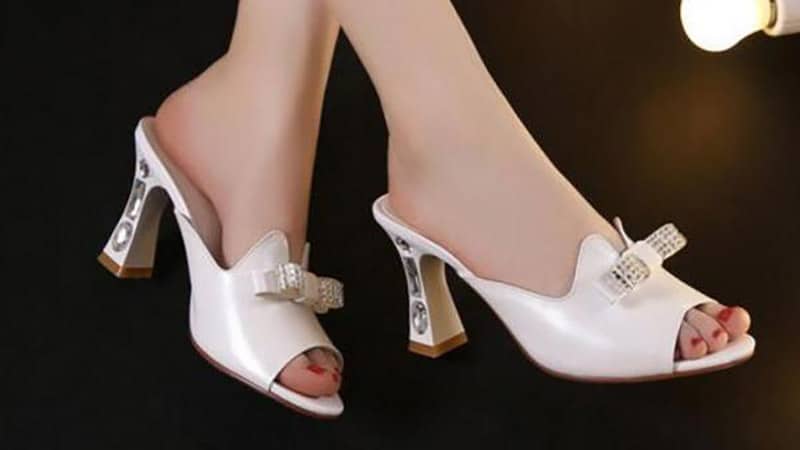 Square Heel
Square heels, similar to the block heels, are typically on the thicker side and rectangular in shape. This style looks extra chic in combination with a pointy pair of pumps but is also often found on booties and other shoe models.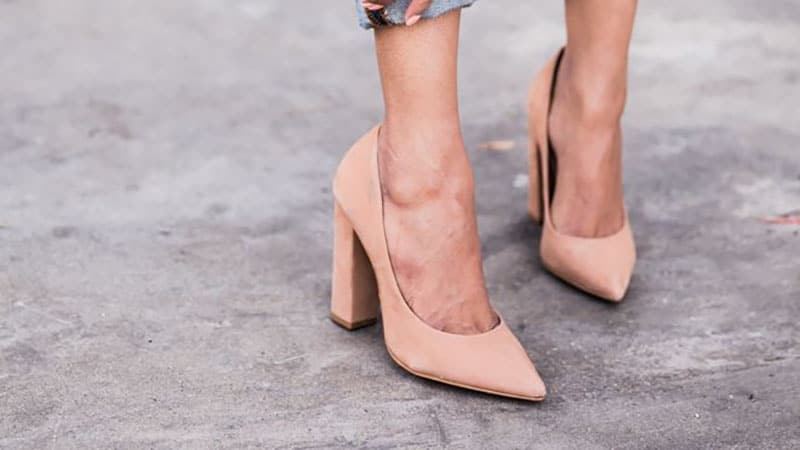 Thick Cuban Heel
The thick Cuban heel is a chunkier variation of the Cuban heel. They are commonly used for tall boots, ankle boots, and other sturdy types of footwear.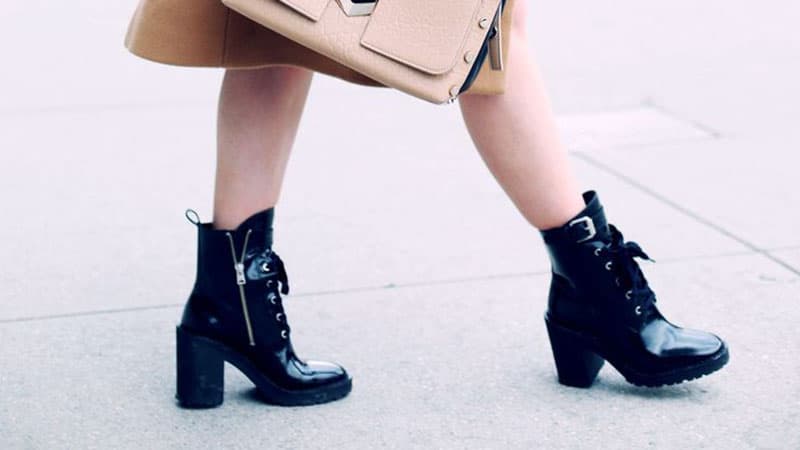 Very High Heel
Very high heels can reach heights of up to eight inches or more. Really, the sky is the limit. These shoes are usually equipped with a platform in the front in order not to overstretch the foot and make the walking experience more comfortable.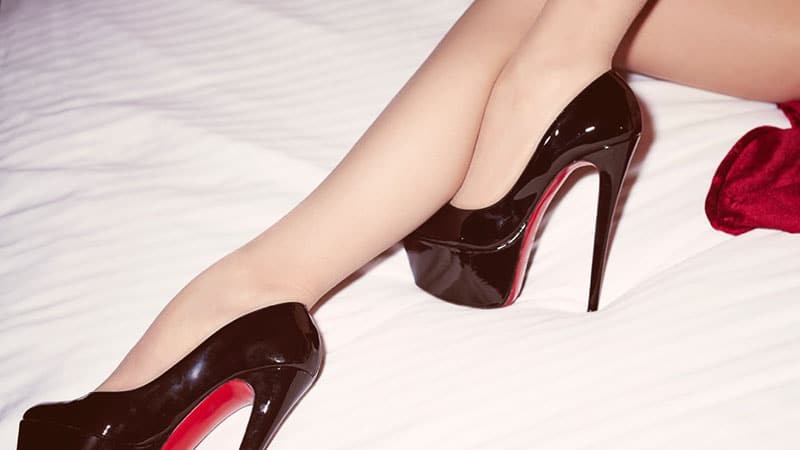 Different Types of Heeled Shoes
When it comes to heels, there are no rules as to which types go with what kind of shoe. So it's not surprising you'll find all sorts of combinations starring back at you from the shelves of the shoe aisle. Whether you're after chunky pumps or thin-heeled ankle boots, there is something for every taste.
Ankle Booties
A cool pair of ankle boots belong in the wardrobe staple of every woman. They're the perfect in-betweener for cross-season dressing. With a chunky, medium heel your feet will last you all day long.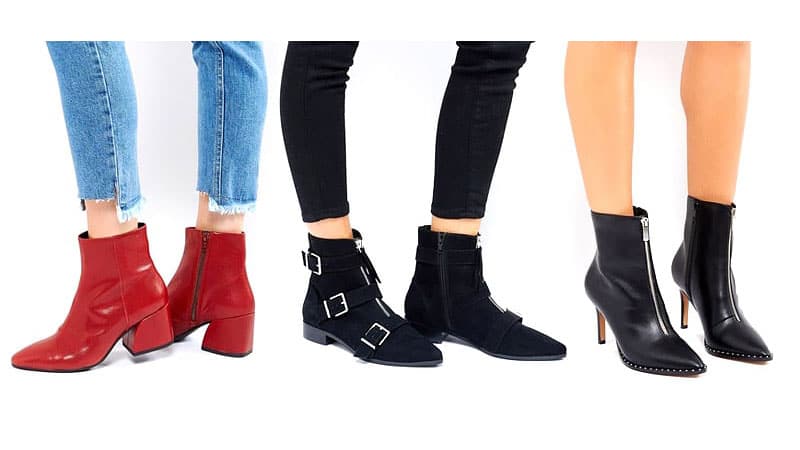 Pumps
Pumps are another classic, and every girl should own at least one pair. You'll see how a timeless set of black or nude pumps will quickly become your go-to allrounder: they are perfect for your weekly nine-to-five but can also be effortlessly combined with a pair of jeans or a cocktail dress for social engagements.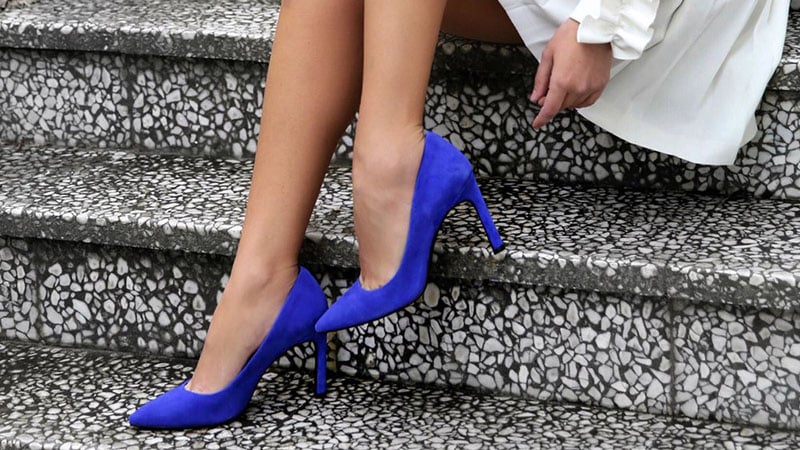 Heeled Boots
A good pair of heeled boots will keep you fashionably warm and dry on colder days. Styling tip: a smaller heel will dress your outfit down, while a tall heel will achieve the opposite effect.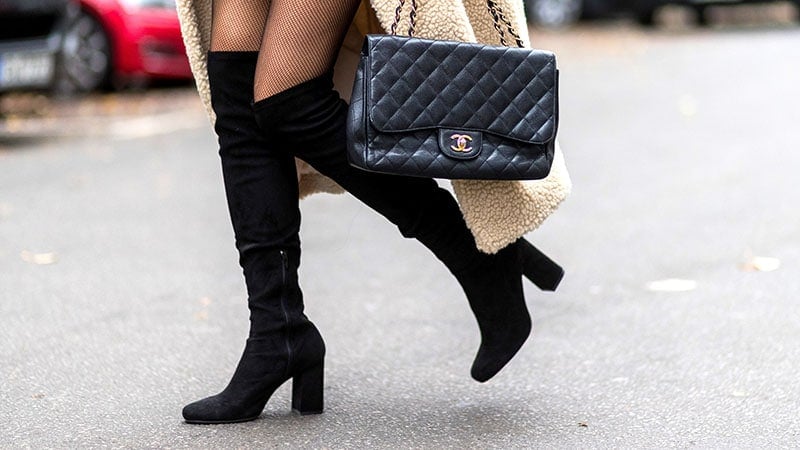 Platform Heels
Platform heels feature an additional plateau in the front of the shoe. This adds comfort and also a few more inches to the height of your heel. Platform heels are best worn for nights-out and other off-the-clock occasions.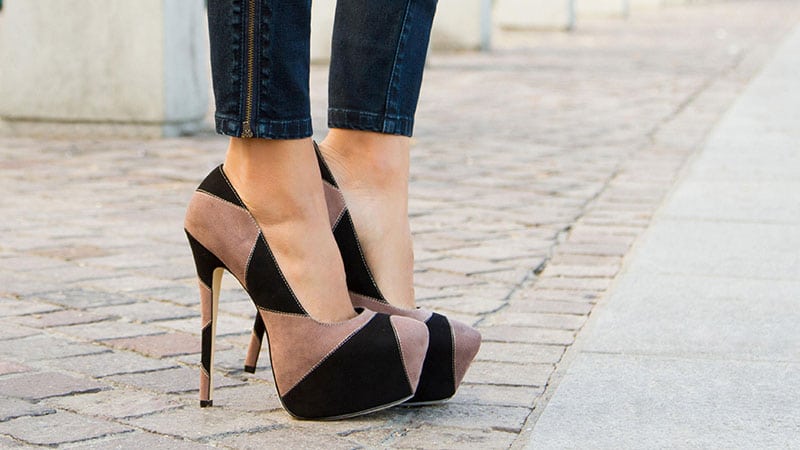 Wedge Heels
We'll admit that the words comfort and heels usually don't go very well together, but as far as tall shoes go, wedge heels are champions in that category. The wedged sole distributed weight evenly for a pleasant walking experience and a fashionable look.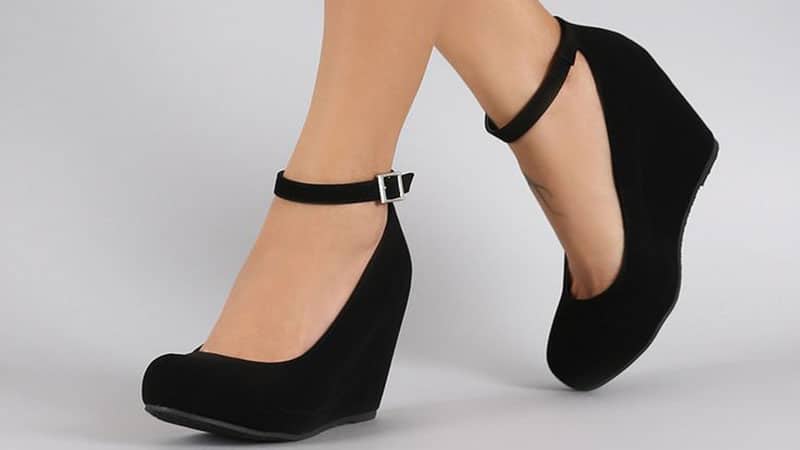 Wedge Sandals
If you're looking for an everyday sandal with a little extra height, a wedge sandal will be your friend. The flat wedged heel will keep you comfortable without looking too chunky, they also look super cute when paired with a light summer dress.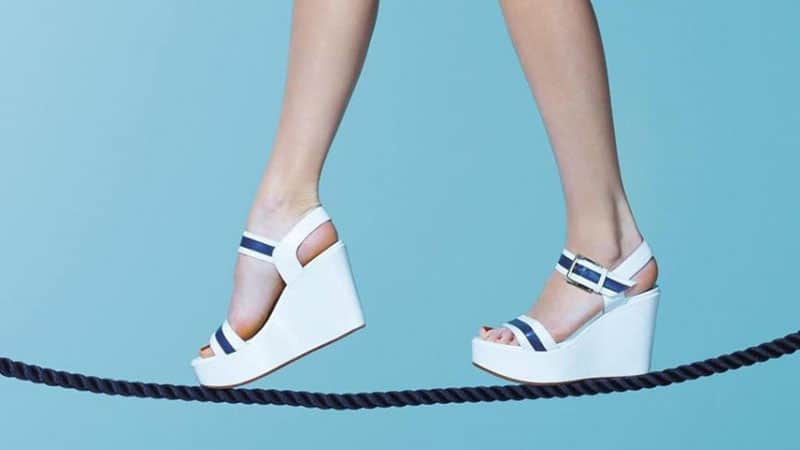 Stilettos
It doesn't get much sexier in the shoe department than a stiletto heel. However, with a height of three to four inches and an ultra-slim heel, these babies are not for inexperienced walkers.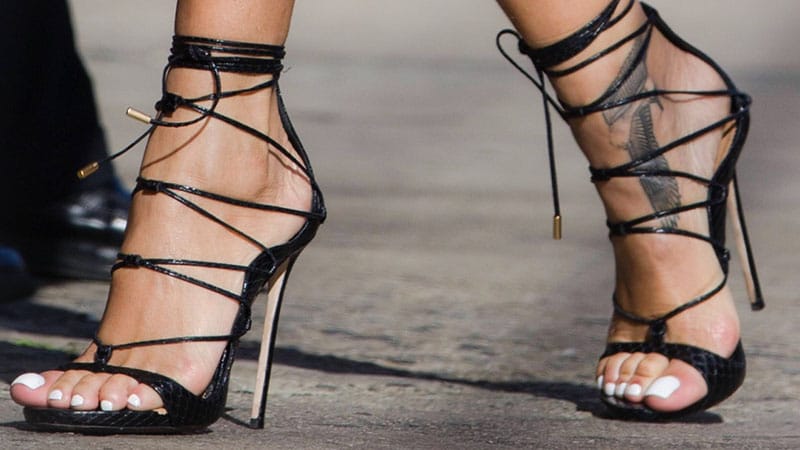 High/Mid/Low Heel Sandals
Nothing complements a summer outfit like a cute pair of heeled sandals. To keep your feet nicely wrapped and aerated during the warmer months of the year, we'd like to introduce you to the whole variety of sandals at your disposal.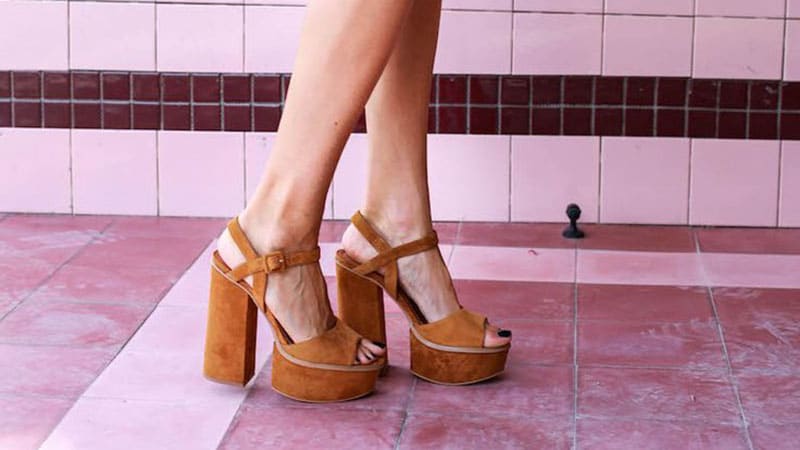 Slingback Heels
Slingbacks are defined by a thin strap around the heel, which secures the foot on the shoe. The absence of straps on the bridge of your feet visually elongates and slims your leg.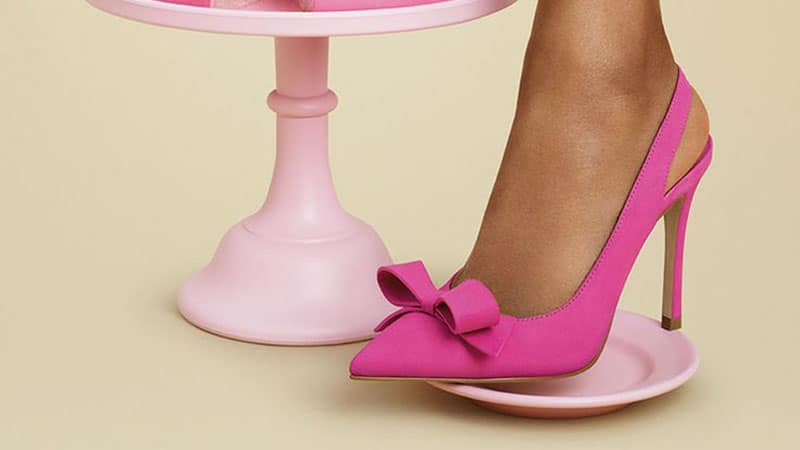 Ankle Strap Heels
Like the name already suggests, ankle strap heels are fastened via a strap around the ankle, which is often, but not always, combined with a slingback strap for added security.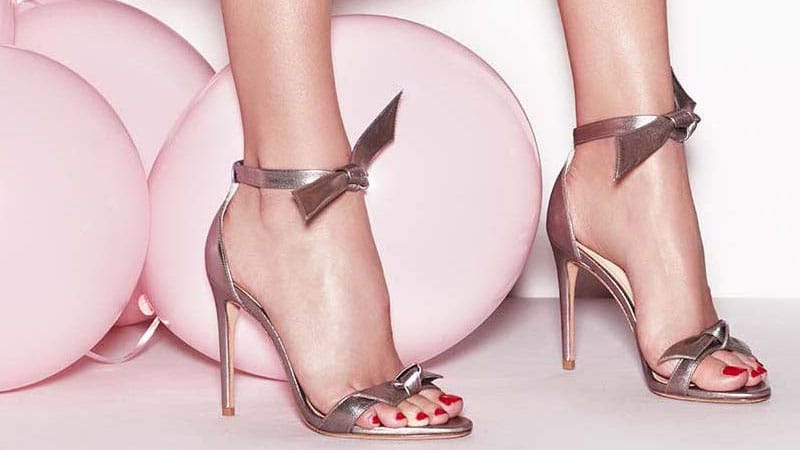 Peep Toe Heels
Peep toe heels are shoes, with a peephole in the front. These summery shoes add elegance to any outfit and a bit of vintage charm to A-line summer dresses.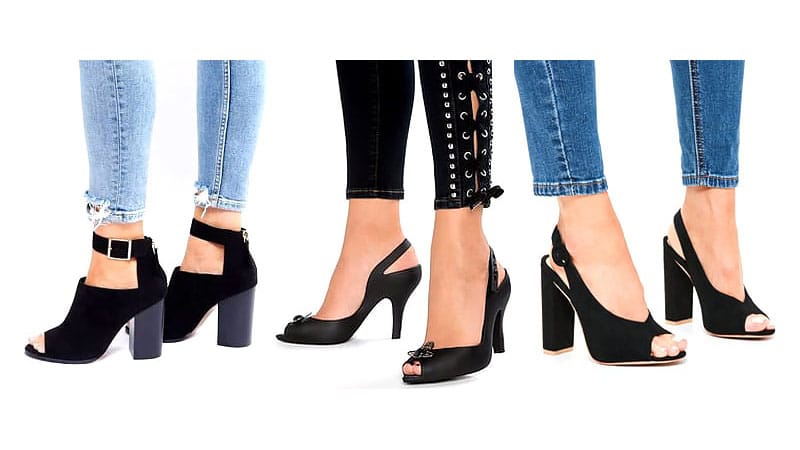 Mules
If you prefer to slip in and out of your shoes rather easily, mules will be your thing. The 90s trend has recently been making a big comeback and looks especially fabulous in velvety textiles like suede.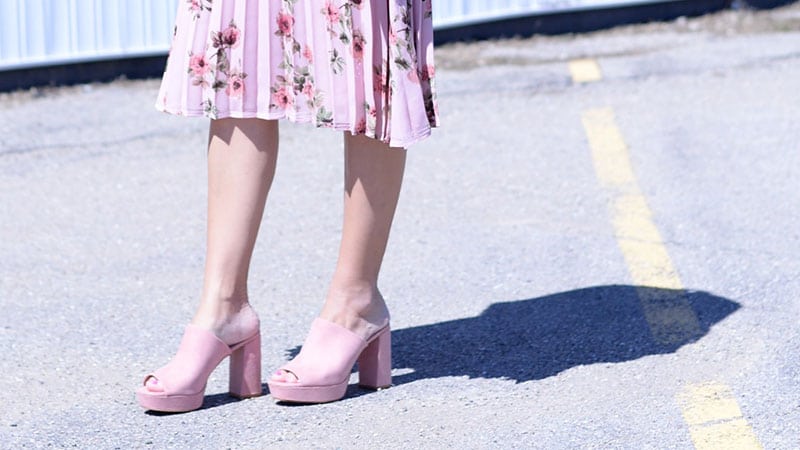 Lace-Up Heels
Lace-up heels typically originate from two different sources of inspiration: the classic ballerina shoe or the Roman gladiator sandal. While the former carries more of an elegant, feminine vibe, the other reinforces a strong and sexy tone.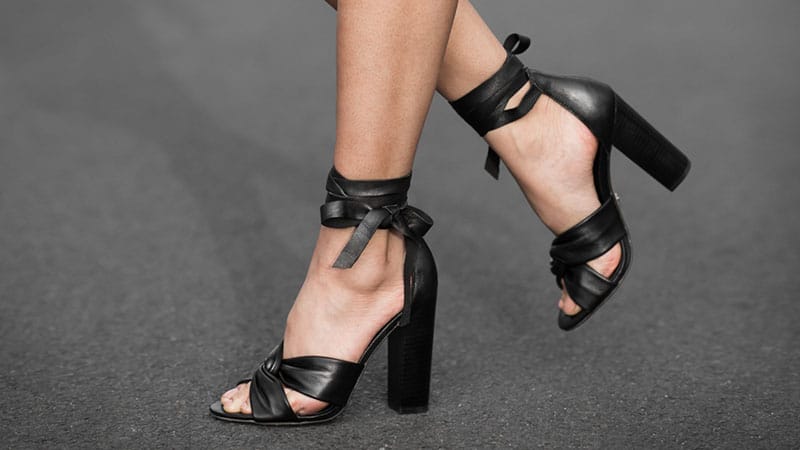 Cut-Out Heels
Cut-out heels feature creative patterns along the shoe, which pretty much turn your foot into a fashionable piece of art.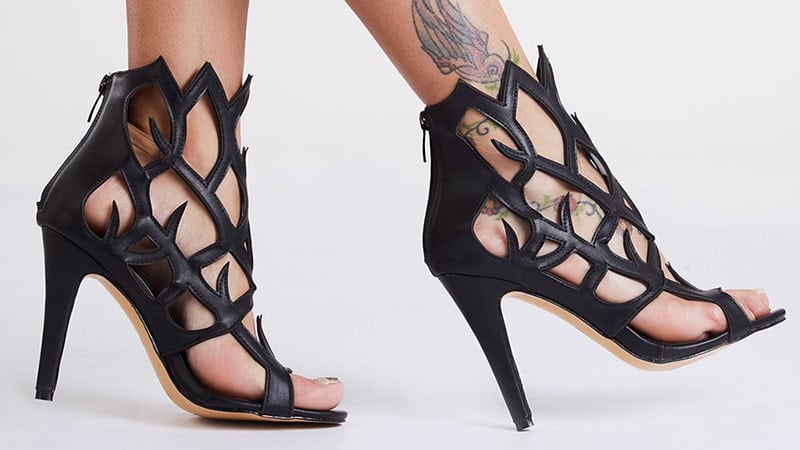 Oxfords
The Oxford sandal has found inspiration from men's lace-up footwear and traditional school uniforms. These sharp-looking shoes are the perfect addition to casual and smart dressing.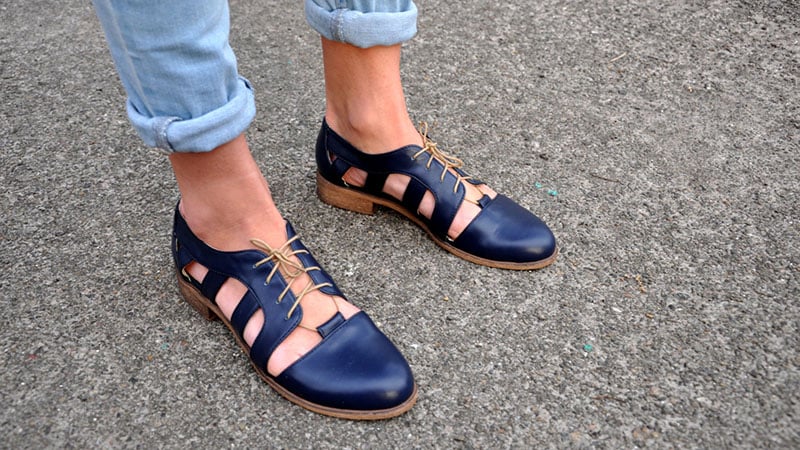 Espadrille Heels
Espadrille heels originate from the traditional Spanish sandal. The shoe features either canvas or cotton fabric and a flexible sole made from woven esparto rope.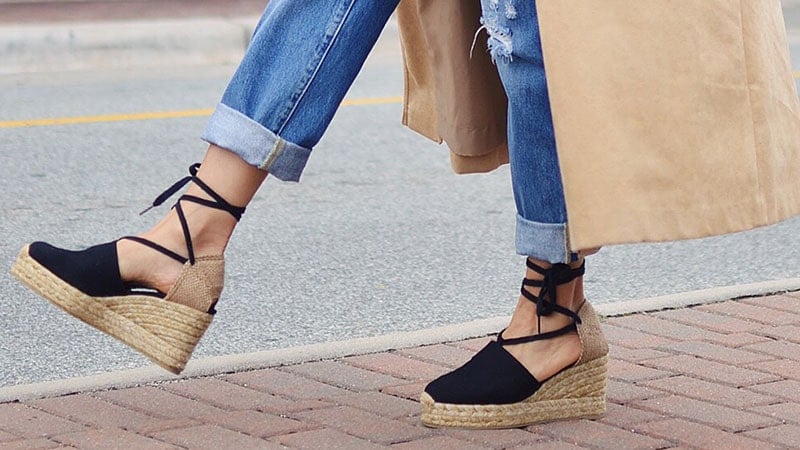 Types of Heels FAQs
What are the types of heels?
The different types of heels include block, Cuban, comma, cone, decorative, flare, French, high, kitten, medium, slim, spool, square, thick Cubans, and very very high.
Which type of heel is most comfortable?
Generally, the lower and thicker your heels are, the more comfortable they will be. It places less pressure on the balls of your feet and doesn't require compensation from your leg and foot muscles to stay balanced. The ideal height, according to podiatrists, is between one and two inches.
How do I choose comfortable heels?
The best way to choose comfortable heels is to try them on. Consider when you'll be wearing them, for how long, how much walking or standing you need to do, what surfaces you'll be on, and how often you already wear heels. Heels that are comfortable for wearing to a dinner date will be different from heels that are comfortable for work or attending a cocktail event. If you never wear high shoes, it's a good idea to work your way up to stilettos, as heels can not only be uncomfortable, they change the way you walk, which can take getting used to.
What type of heels should I wear?
The heels you wear should suit both the occasion and your style. A lovely pair of stilettos are great for dinner dates, while Cuban heeled boots are brilliant for exploring the city. If you're off to a wedding, something lower is a good idea so you can dance the night away, while square heels look amazing paired with tailored slacks in a corporate environment. 
Can high heels be comfortable?
High heels can be *relatively* comfortable, but you need to get used to them. If you only wear flats or joggers, you're going to have to build up some stamina. Heels change the way you walk, how you stand, and the shape of your foot. Choose styles with extra padding or a platform under the ball of the foot and thicker heels to help keep you balanced. Straps can also add comfort and stability, and always wear your shoes in to avoid nasty blisters.
Are 2 inch heels high?
No, two-inch heels are considered a low heel.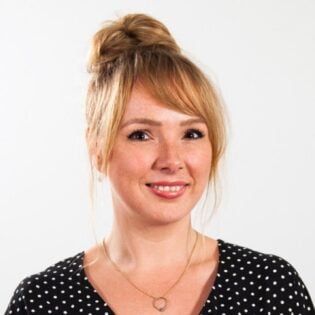 Rose Schleicher is an experienced content and communications professional who has worked across three different continents over the past nine years. She has completed a master's degree from the renowned London College of Fashion with extensive involvement in the cultural scene of Europe. As a creative, she loves writing about all things fashion, beauty, and lifestyle topics.
SUBSCRIBE TO OUR NEWSLETTER
Subscribe to our mailing list and get interesting stuff and updates to your email inbox.