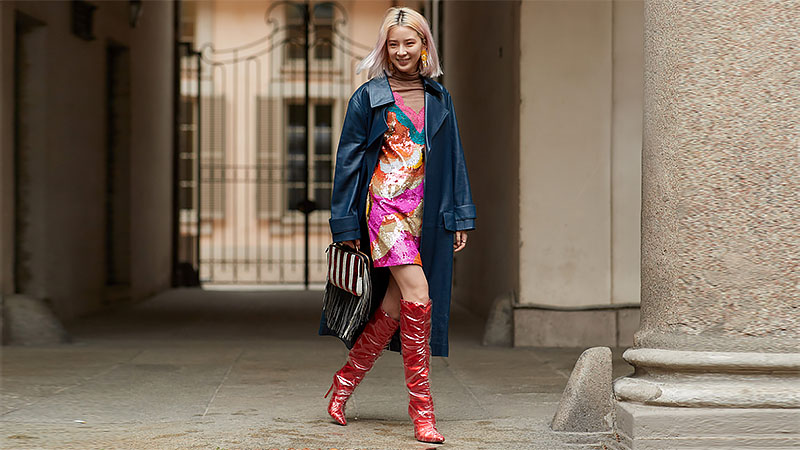 While footwear trends come and go, the popularity of knee-high boots has stood the test of time. Of course, it's easy to understand why. These classic boots certainly have a lot to offer women. As well as providing warmth in the colder months, these shoes are also seriously chic and surprisingly versatile. Perfect for work, the weekend, nights out and beyond, knee-high boots can look fantastic with a variety of outfits. All you need to know is how to style them right, which is where we step in. Here's our guide on how to wear knee-high boots for a gorgeous look.
Knee High Boot Key Items
Black Knee High Boots
You can't go wrong with black boots in winter, and even more so, black knee high boots. These are great staples to have in your wardrobe, ensuring that they'll match any outfit you decide on. If you're feeling adventurous, opt for a patent black boot or if you're new to the trend, try black suede for effortless style. The great thing with black boots is that you can take them from daytime to nighttime, meaning you're ready for whatever is thrown your way.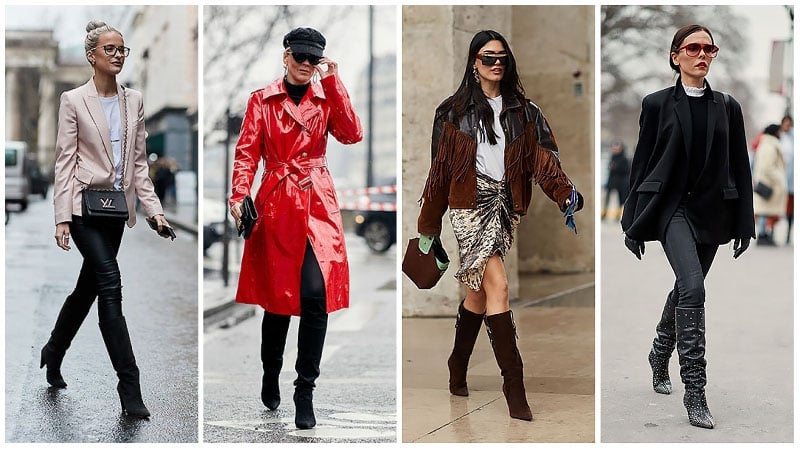 Shop the Look
Brown Knee High Boots
The brown knee high boots are extremely versatile – although they're mainly associated with winter, don't be so quick to put them on the top shelf when the weather warms up. For the colder months, wear your brown knee high boots with jeans for a casual look. Dress them up with a winter coat in a matching neutral tone. As it heats up, opt for a floral dress or denim mini skirt to rock the look all year round.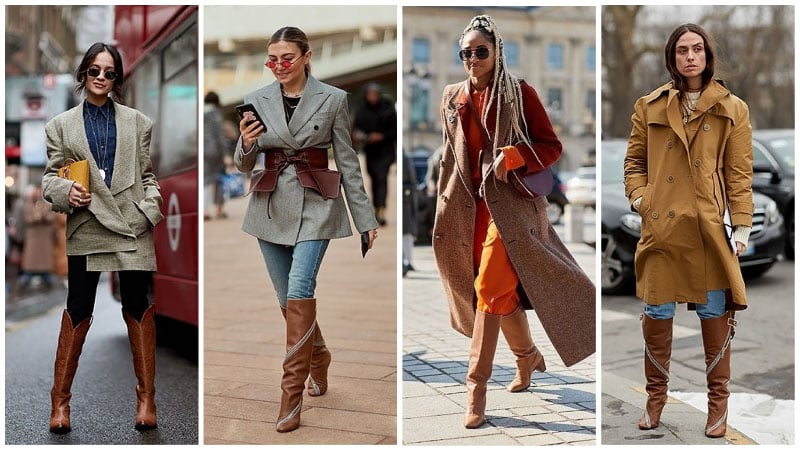 Shop the Look
Suede Knee High Boots
You can never go wrong with a suede boot, let alone a suede knee high boot. The must-have shoe for any winter outfit, you can style it in endless ways that cater to different occasions or style preference. Wear them with a knitted dress for a casual vibe, or edge them up with a black mini skirt. A pop of bare skin goes well with suede, just make sure to get the right tone so it won't wash you out.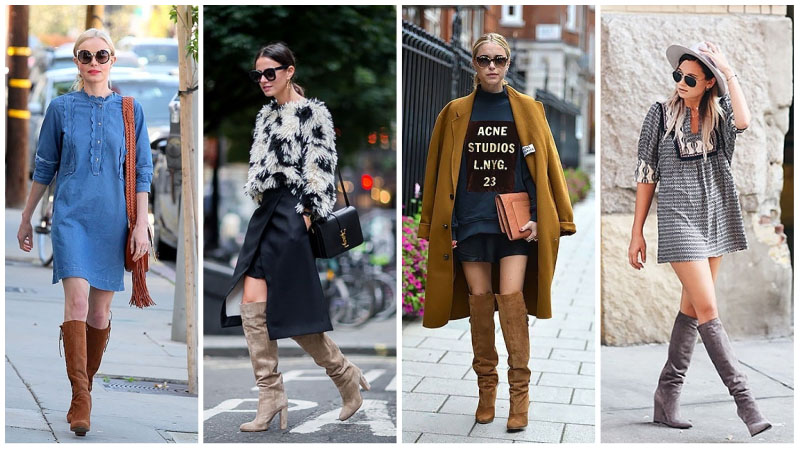 Shop the Look
Leather Knee High Boots
There are so many different ways to play with leathers to mix up your outfit. If you're wanting to make a statement with your outfit, ditch the standard black option and try boots in coloured or textured leathers. Alternatively, opt for unique stitching or lace-up details in knee high leather boots to take your outfit to the next level.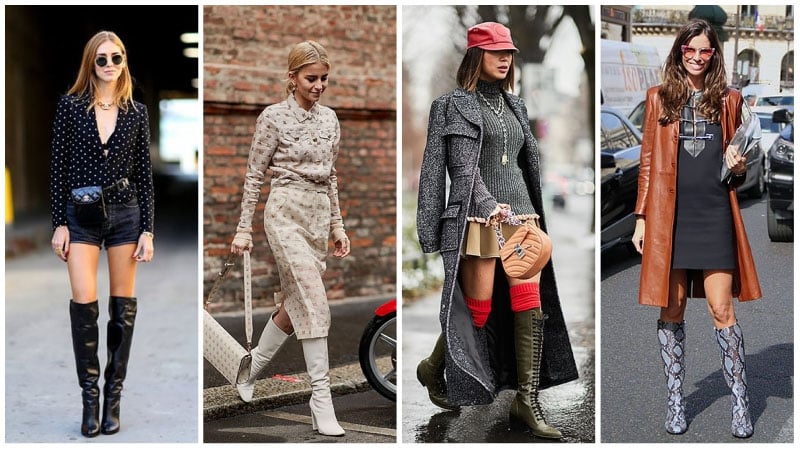 Shop the Look
Flat Knee High Boots
Heels may not be everyone's idea of a good time, and quite frankly, they're painful. Luckily, the knee high boot has a statement of its own, making a heel optional. Play with different textures to make a statement, such as snakeskin or leather. Pair them with jeans, a white tee and a leather jacket for a chic, relaxed outfit. Alternatively, throw on a knitted khaki dress with grey suede knee highs, and you're ready.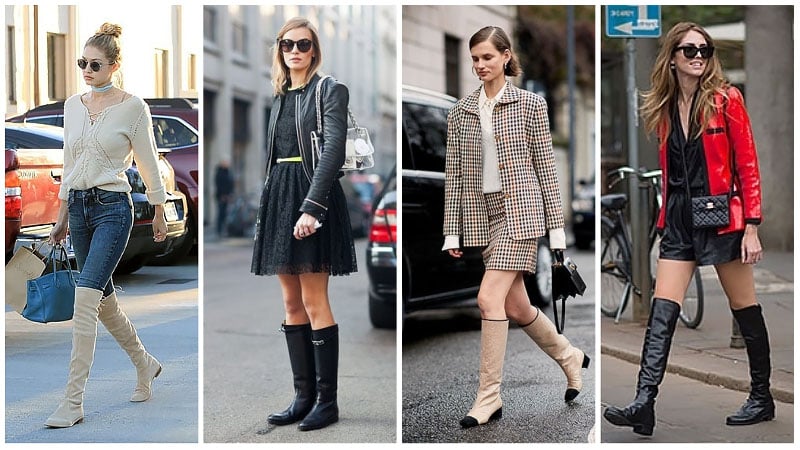 Shop the Look
Heeled Knee High Boots
There are some hot knee high boot styles out there at the moment, with metallic details, red patent leather and bright colours making waves in the industry. This move away from blacks and greys toward colour means a chance for playful expression in your outfit, with fun boots to match. Different heel heights and shapes for women means you can still ooze sophistication without hurting your feet in a high heel. Even better, you're still playing with the traditional winter boot. Opt for a chunky heel for a modern look or a stiletto for a more glamorous vibe.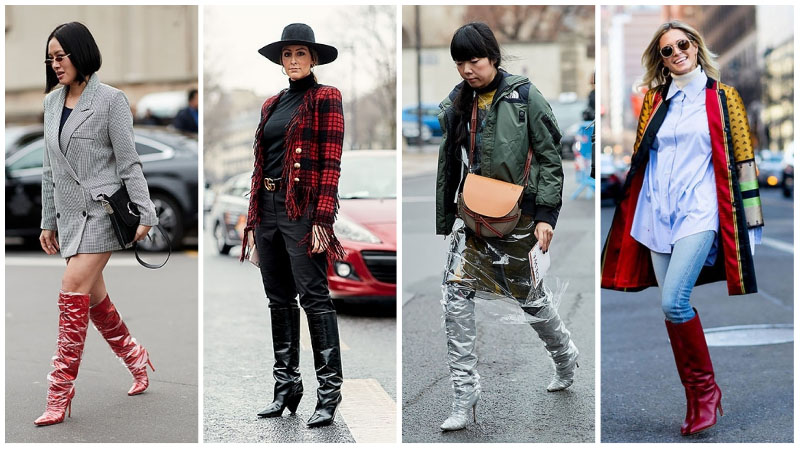 Shop the Look
Knee High Boot Outfits
Knee High Boots with Jeans
Wearing your favourite knee highs with jeans is so simple yet elegant, creating the "I just threw this on" look. So versatile, you can pair any jeans with your boots, whether it's your favourite denim or other tones that you love. To keep it all flowing, try opting for skinny jeans as the baggier the pant, the less shape it will give your figure. To elongate the body, try tucking your shirt or jumper in at the front, and the slim jean will ensure you're not lost in the fabric.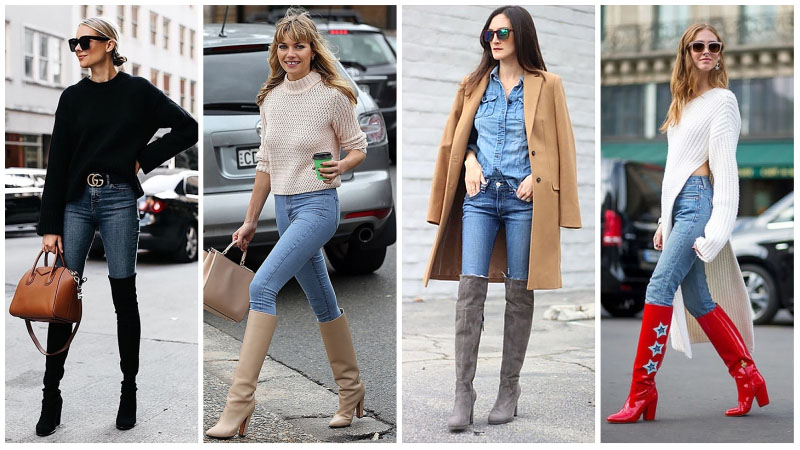 Shop the Look
Knee High Boots with a Dress
Pairing knee high boots with a dress creates the ultimate feminine outfit. Stylish and sophisticated, you can easily throw on a dress with your boots and still look well put together. For a sexy modern outfit, try a mini dress, with a flash of leg giving off the most stylish and on-trend look. The wide range of knee high boot styles allows for you to make a statement of your own, whether it's the lace-up trend or simply a burgundy leather, meaning you can throw on a simple black dress and still stand out.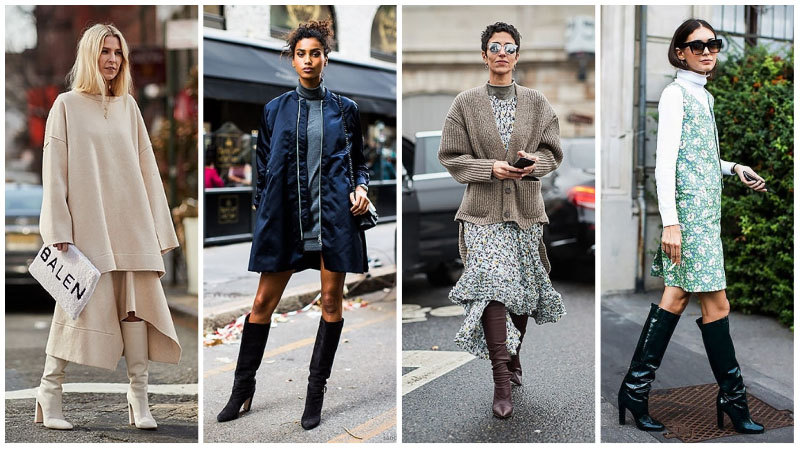 Shop the Look
Knee High Boots with a Skirt
The different lengths of skirts make it so much fun mixing up the different outfit you're going for. Again, try a mini skirt with a bare leg to break up the outfit, or pair your skirt with tights for the ultimate winter look. It doesn't matter what length of skirt you decide on – a midi or maxi skirt also works, as the boot will pop underneath. If you're finding yourself playing it a bit safe, why not try a leather skirt, giving your outfit a hint of biker style – you will be seriously on-trend.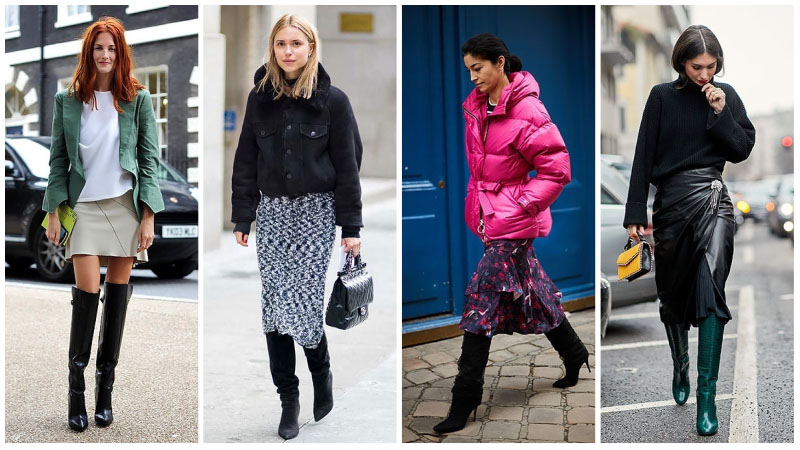 Shop the Look
Knee High Boots with Leggings
When chosen and worn right, leggings can be an ideal addition to your wardrobe. You can still look fashionable and well-dressed while being comfortable at the same time. Instead of opting for blacks, try cream leggings with beige suede knee high boots, teamed with a long grey knitted jumper. When layering over the leggings, the length in the back will ensure extra comfort and style.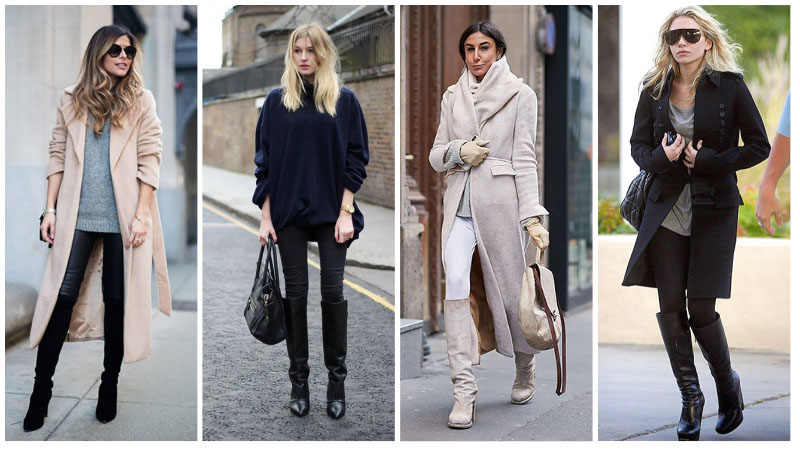 Shop the Look
FAQs
How do you wear knee high boots?
Knee high boots are stylish and versatile and can be worn with many different outfits and in a variety of settings, whether that's a night out or a weekend brunch. You can wear them with mini skirts, midi skirts, shorts, dresses, and even over skinny jeans for added warmth. There are also various colors and textures to choose from, including black, brown, white, and leather and suede. If you want a pair of boots that can go with everything, black is an easy way to update your outfits and become effortless chic.
What do you wear knee high boots with?
Knee high boots lend themselves well to a variety of different looks and settings. You can pair them with skinny jeans and a blazer for a riding look, or for a sophisticated and elegant outfit, you can wear pointy-toe heeled boots with a little black dress and a matching coat. There are so many outfit combinations that the choice is yours and don't be afraid to experiment with various options.
Are knee high boots Still in Style?
Knee high boots are still in style, and they will be around for a long time because they have cemented themselves as a fashion staple. They have also enjoyed a resurgence of popularity in the last year.
Do you wear socks with knee high boots?
You can and should wear socks when wearing knee high boots, not just for comfort but also to prevent them from smelling after multiple uses. Instead of short socks, look for something that reaches just below the knee. You can also wear black or sheer stockings with black knee-high boots for more coverage, a more sophisticated look, and as a way to protect your skin from the elements.
Are knee high boots OK for work?
Knee high boots should not be part of your workplace outfits. Although they can look particularly stylish and feminine, they don't go with formal wear. If you have a business casual dress code and pair them with an appropriate lengthed classic dress, this could work.
Are knee high boots supposed to be tight?
When purchasing knee-high boots, you will want to pay attention to the fit. They are meant to be snug around your calves, but certainly not so tight that it is uncomfortable or causes your skin to bulge. Don't squeeze your legs into them. The zip should be able to go up all the way to the top.
SUBSCRIBE TO OUR NEWSLETTER
Subscribe to our mailing list and get interesting stuff and updates to your email inbox.