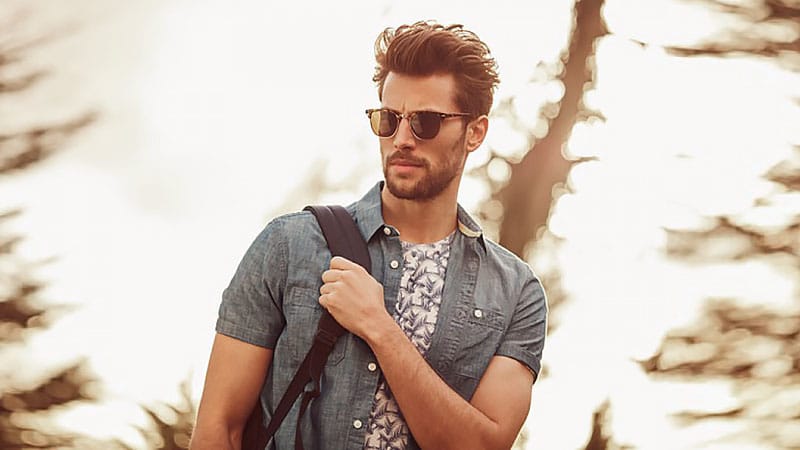 Music is art and so is clothing. So it's no surprise that festivals across the globe that integrate these two aspects of society have been popular since the days of Woodstock. Great clothing and great tunes. What more could a man want? Festivals are appreciations of celebrated musical talent on a grand scale, but in many ways, these gatherings, much like all events in human history, are just as much about the clothing of the attendees. While there may be no strict attire guidelines, we have compiled some helpful tips on what to wear to a festival.
Mirrored Sunglasses
There is something celebratory about a pair of mirrored sunglasses. They're a brighter choice for eyewear, and a festival is a perfect venue to experiment with colour. Worn with a basic tee, a pair of mirrored sunnies can distinguish your aesthetic. They will also be a lifesaver when you've been out in the sun all day. There are a bunch of different styles that work well with mirrored lenses. Wayfarers and aviators typically are the most obvious choices, but our recommendation is to opt for a great pair of round mirrored sunglasses. Round sunnies will lend a little classicism to your festival get-up, not to mention they are a flattering choice for most face shapes.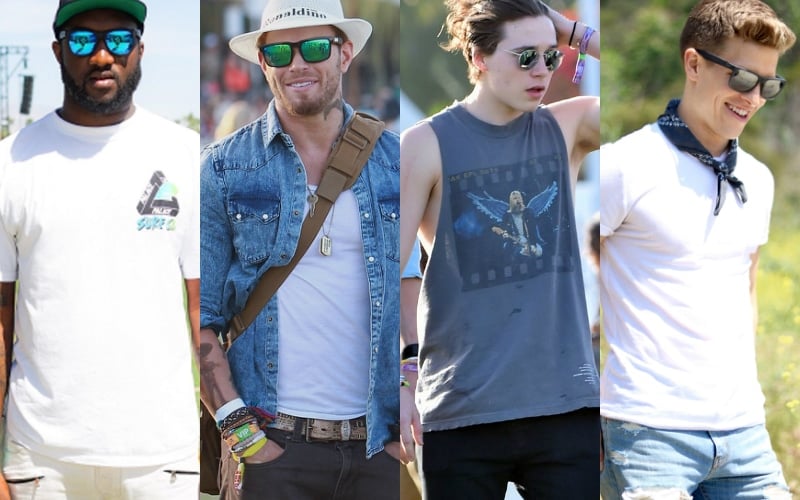 SHOP THE LOOK
Hat
Much like sunglasses, hats are accessories that are at the intersection of practicality and style. They are excellent focal points for outfits and create a statement if you're after something simple yet bold. The obvious choice is a cap. Novel caps are boyish and work well for keeping your hair (especially if it is long) out of your way. A cap in a washed out denim is a great choice as it's versatile and classic. Brighter caps can also inject a bit of colour to monochrome clothing choices. After something a little different? A fedora can also work, but ensure it is in a neutral colour and possesses masculine proportions. For references, think Indiana Jones.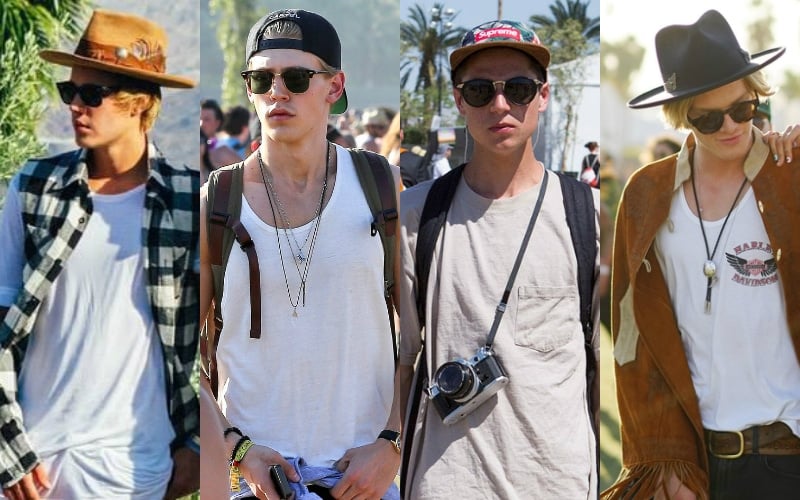 SHOP THE LOOK
Shoes
Don't misconstrue the word 'comfortable' for 'dowdy'. Festival or not, shoes always need to be stylish so be conscious of what you are wearing on your feet for the long day ahead. White sneakers have emerged as the quintessential casual shoe and are perfect for versatility and comfort alike. Festivals can get messy so if it's a pair you love, buy another in case they get super dirty. Boots can also be great, and work well in rusty browns and black colours. Boots are also the perfect accompaniment to an outfit that may be slightly more bohemian-inspired or not period specific. All in all, ensure you have a pair that is comfortable and will withstand all your festival expeditions.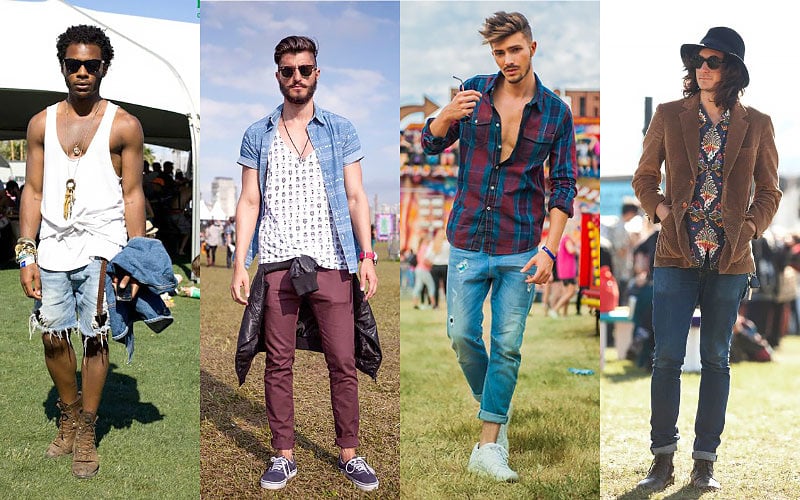 SHOP THE LOOK
Accessories
Let's get one thing straight; you don't want your accessories to look too cliché, so its best to interpret boho-inspired accessories more subtly for your festival wear. Pitti Uomo recently showed us a revival of the boho accessory trend for menswear, particularly in the form of beaded bracelets and folk-revived pieces. A single bracelet or minimalist necklace works perfectly, particularly with denim or loose chambray shirts. The key here is to opt for an inspired look that takes elements of bohemian style but reworks it for a modern aesthetic.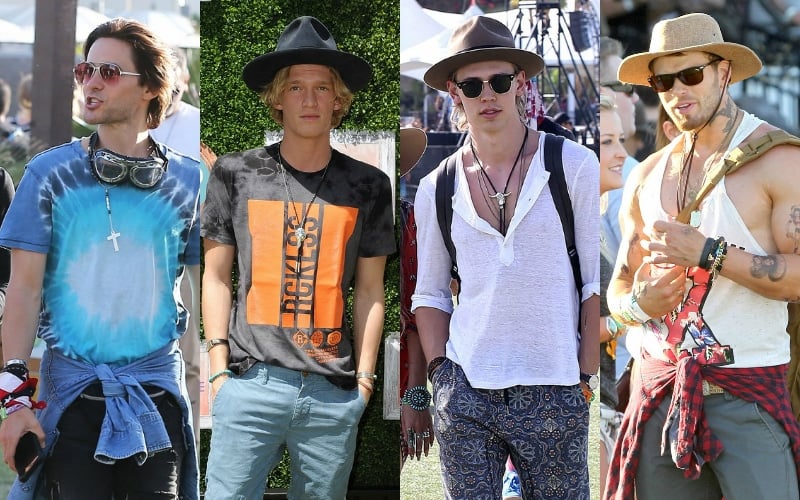 SHOP THE LOOK
Backpack
A trusty backpack is a necessity for festival endeavours. You will want light styles, with an appropriate amount of room for your supplies. You also want to sling it conveniently over your shoulders without fear of losing any of your contents. If you are bringing a camera, ensure that you have a durable case that you can put it into even when it is in your backpack. As for bag colours, opt for classic tones to ensure that they can be worn again and again with your everyday personal style.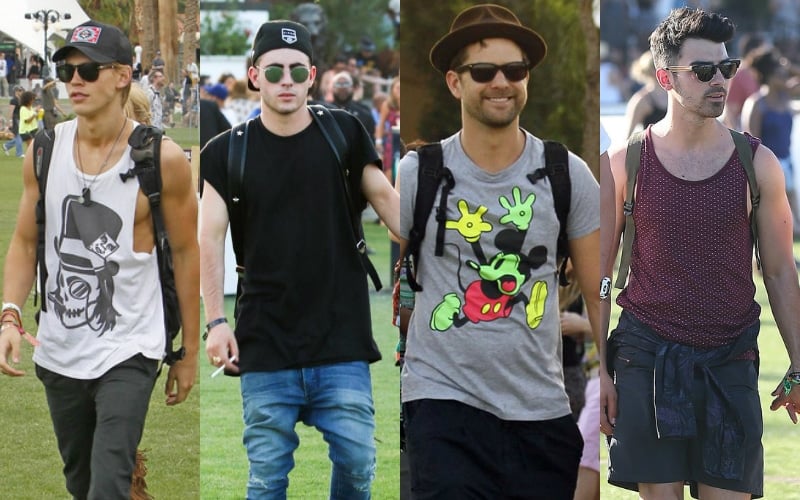 SHOP THE LOOK
Printed Shirt
The best print shirts for festivals are versions done in lightweight materials and decorated with bold, vivid graphics. Loosely buttoned, these shirts are super comfortable which you will be thankful for after a long day. Our top pick for prints? Floral print shirts, but you will need to pick florals in more grown-up styles. You will want the florals to register more mature and reinvented as opposed to reminding everyone in your vicinity of kiddie Hawaiian print shirts. Recent street style has also seen florals as one of the most prominent trends for fashion weeks.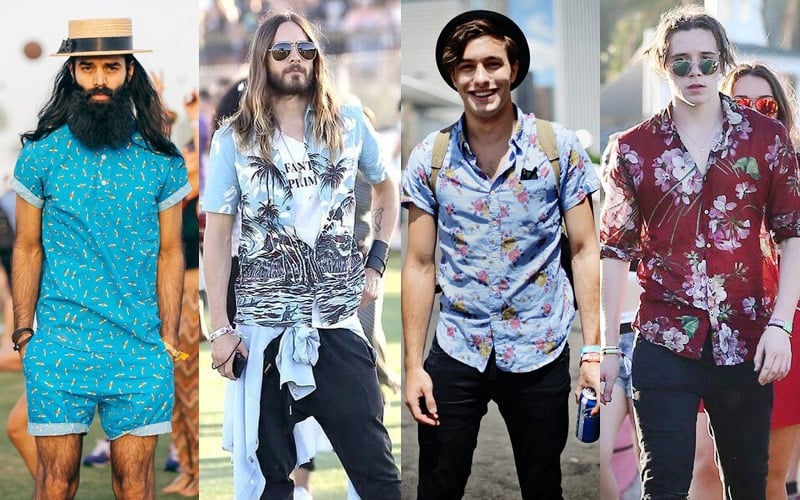 SHOP THE LOOK
Denim
The ultimate for youthful, edgy looks, denim is a quintessential festival staple. Don't feel hesitant about investing in great denim pieces; they can be worn countlessly particularly for your everyday casual wear. If you are unsure about what kind of wash you should go for, a mid-toned blue is universally flattering, not to mention a great accompaniment with most colours. Light wash denim is also stylish, and you will find abundant inspiration for it in recent street style. Black denim is also an obvious choice and works phenomenally with white and other bright and neutral colours. If you want something attention-grabbing, opt for pieces like overalls, ripped denim and reinvented denim shirts and jackets.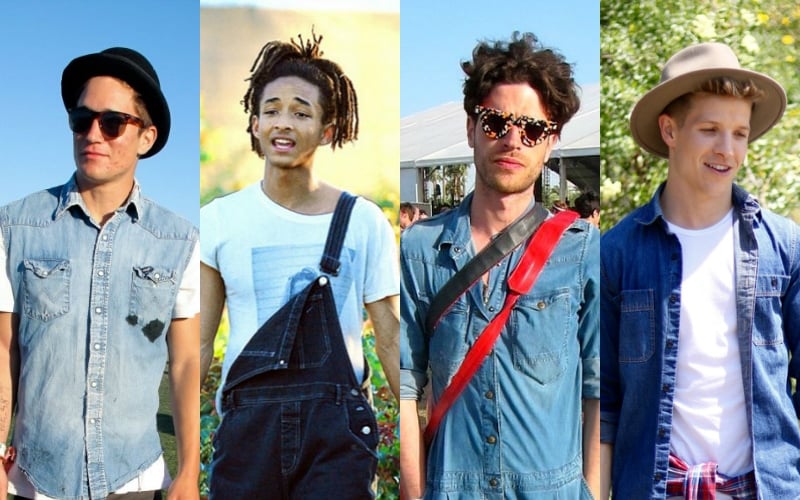 SHOP THE LOOK
T-Shirt
Obviously, you can never go wrong with a classic t-shirt, particularly in white, grey or black tones. A faded stripe tee can also work, but keep in mind that you want to put a bit of your personal style into your festival wear, so keep a lookout for unique accessories that can liven up a simplistic tee. Clothing with bold statements and slogans have also been trending in our street style reports, making them a recently popularised trend you can adapt for festivals. Find interesting pieces that will complement your other clothing choices adequately.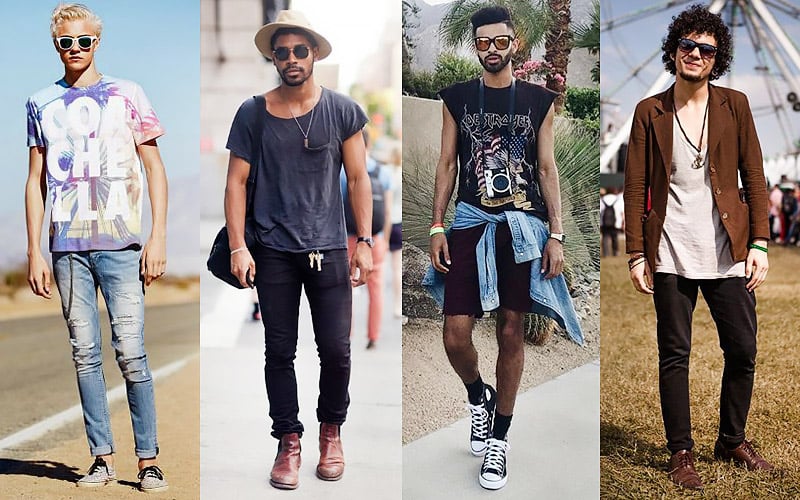 SHOP THE LOOK
If it Rains
Don't let the rain ruin your festival season. It's best to plan ahead and know what kind of weather you are in for. Check the weather forecast and plot your clothing choices accordingly. A lightweight windbreaker is always handy to have and will ensure that you are not lugging a heavy jacket around the festival grounds. Investing in Wellington gumboots may be on the cards for some men, but if they aren't your thing, opt for a pair of rubber trainers for practicality and comfort. Keep in mind that conservative colours like black, navy and a great khaki will always be a good idea and will work with many of your clothing choices.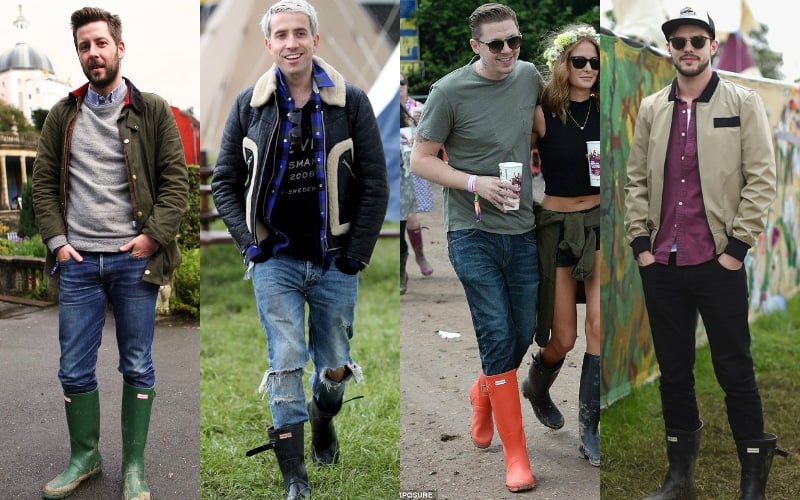 SHOP THE LOOK
SUBSCRIBE TO OUR NEWSLETTER
Subscribe to our mailing list and get interesting stuff and updates to your email inbox.