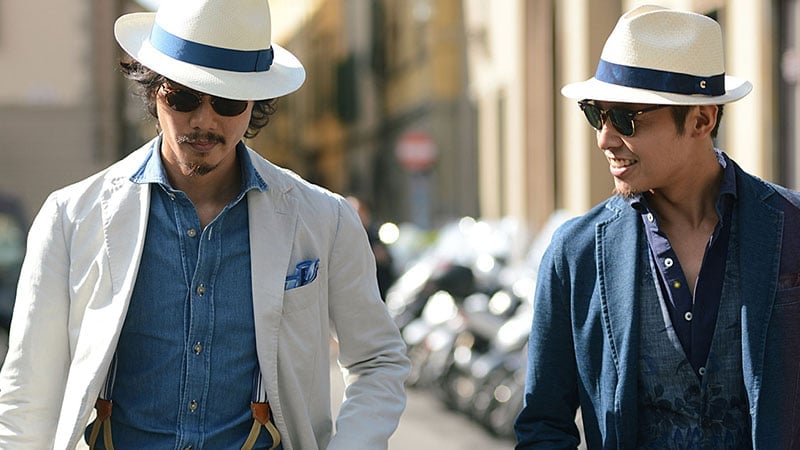 Wearing a hat is a fashionable way to complete an outfit. Of course, not all hats are created equal. While some are casual and athletic, others are smart and sophisticated. For a stylish and sleek appearance, you can't go past traditional trilby and fedora styles. Both of these options will infuse your look with a classical touch and dapper edge. But, as they are similar, choosing between the two can be difficult. Luckily, we can help you find the perfect brimmed hat for your head with this handy guide to trilby and fedora hats and how to wear them with style.
Differences Between Fedora and Trilby
Due to their similarities, fedora and trilby hats have been known to confuse many gents. However, these two styles do have their differences. In particular, the brims of fedoras and trilbies are typically different. While fedoras feature wide brims that are relatively flat, trilbies boast short edges that are turned slightly upwards at the back. Another significant difference between the two is the way that they are worn. A trilby is typically worn further back on the head while a fedora is worn more forward to help shade the eyes.
What is a Trilby?
A trilby is a type of hat that features a short brim that is angled down at the front and turned up slightly at the back. The style first debuted during a stage adaptation of George du Maurier's 1894 novel Trilby, and soon grew in popularity under the book's name. Although trilbies were traditionally made from rabbit felt, they now often feature a tweed, wool or straw design.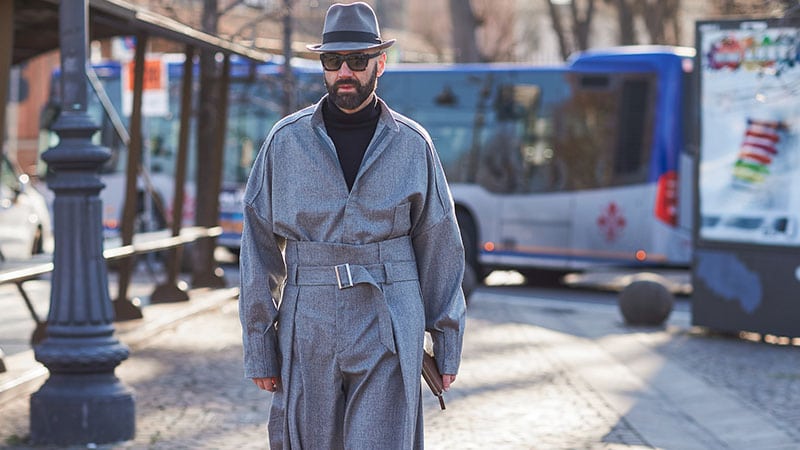 How to Wear a Trilby
To wear a trilby, try embracing the hat's youthful feel by styling it with modern designs and styles. Aim for a smart casual or semi-formal look and pair the hat with slim trousers, a fitted shirt, loafers and unique accessories. If you're wearing your trilby in summer, choose a straw style in a light cream, white or beige colour. If you plan to wear a trilby in winter, you should select a felt design instead.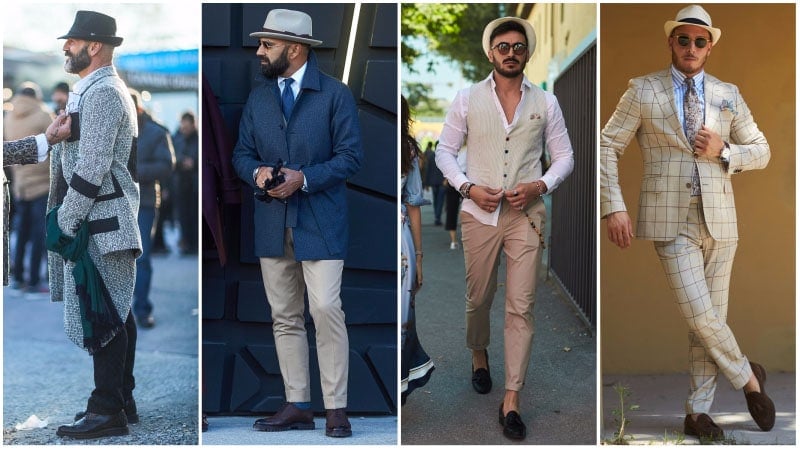 What is a Fedora?
A fedora is a style of hat that features a pinch near the front and a shallow indented crown. It also has a round brim that is typically wider than that of a trilby hat. The fedora originated in 1891 after the stage play of the same name and has since grown into a beloved accessory for both women and men. The timeless hat is typically made from durable felt or cotton fabric and is ideal for most weather conditions. It is usually worn forward on the head to shield the wearer's eyes from the sun.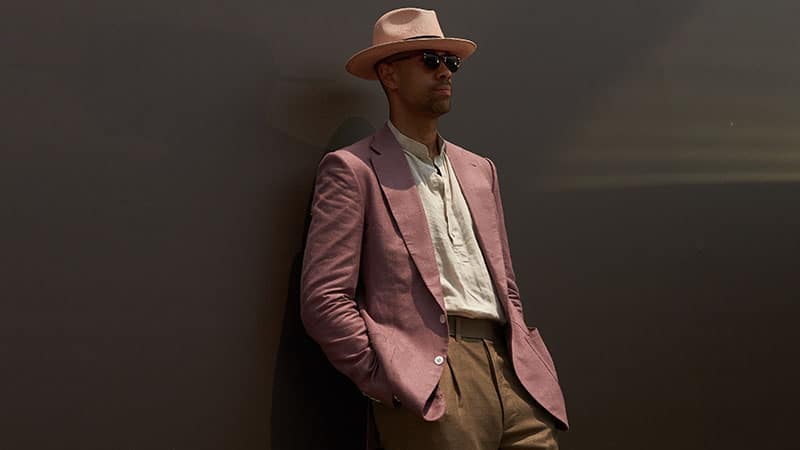 How to Wear a Fedora
Fedoras are one of the most fashionable hats around and can look great with a variety of outfits. However, they tend to look best when worn with smart and sleek ensembles. Therefore, these hats make the ideal accessory option to wear to a semi-formal or formal event or occasion. To complete your look, just team your fedora with a sophisticated suit or pair of smart trousers with a fitted shirt and blazer, vest or coat.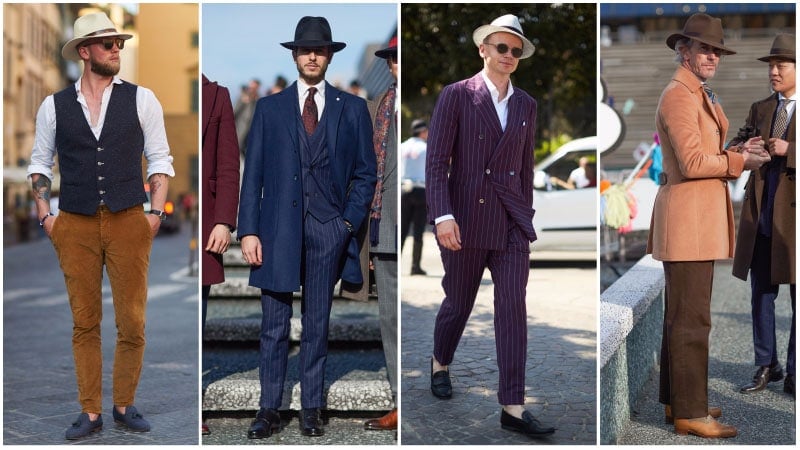 Types of Fedoras
As with most fashion items, fedoras come in a variety of styles and designs. As such, finding the perfect one to suit your needs is relatively easy. From straw fedoras to pork pies, this classic accessory has an option for everyone.
Straw Fedoras
While fedoras are traditionally made of felt, straw fedoras are a popular choice today. Not only are they stylish, but they're also lightweight and comfortable. As such, straw fedoras are perfect for sophisticated summer outfits and can suit a range of smart social events, including the polo, races and beach weddings.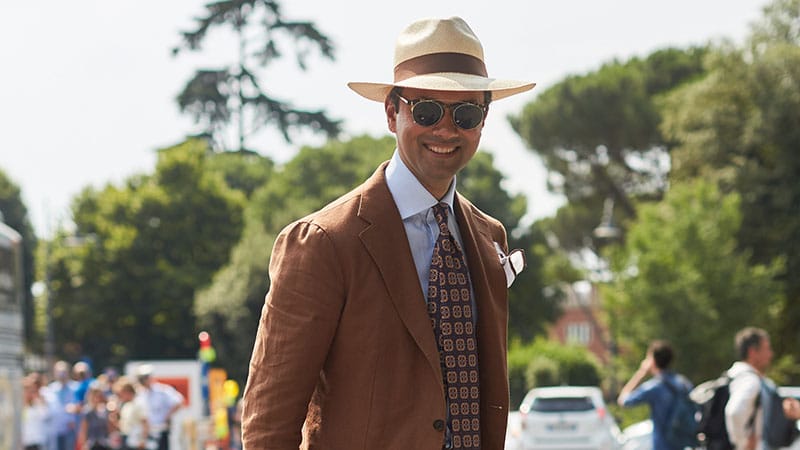 SHOP THE LOOK
Safari Fedoras
Safari fedoras are similar to straw fedoras, except the style is slightly different. Many safari fedoras boast a Panama straw construction, but others feature a felt design, such as the iconic Indiana Jones style. Safari fedoras can also include a thin leather band and are often designed in shades of brown, beige and green.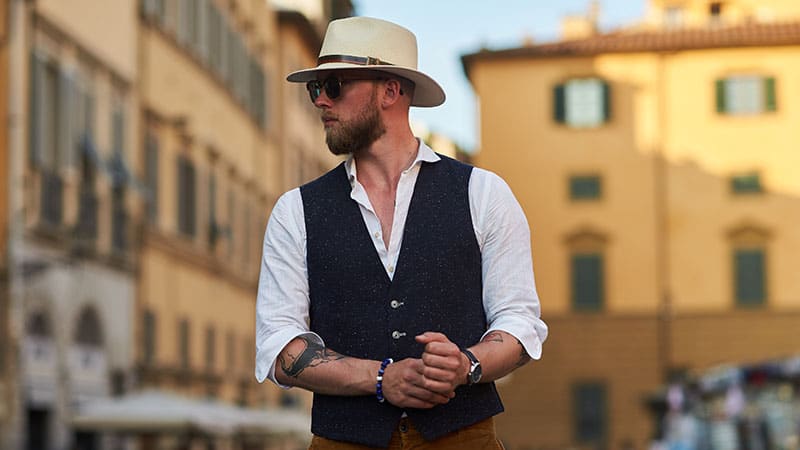 SHOP THE LOOK
Pork Pie Fedoras
A pork pie, which is also known as a stingy, is a style of hat that stems from the fedora. Thanks to their unique appearance, pork pies can be simple to identify. One of the most noticeable differences of a pork pie fedora is the brim, which is short and turned up the whole way around. These styles can be made from a variety of materials, including straw, cotton, felt and canvas.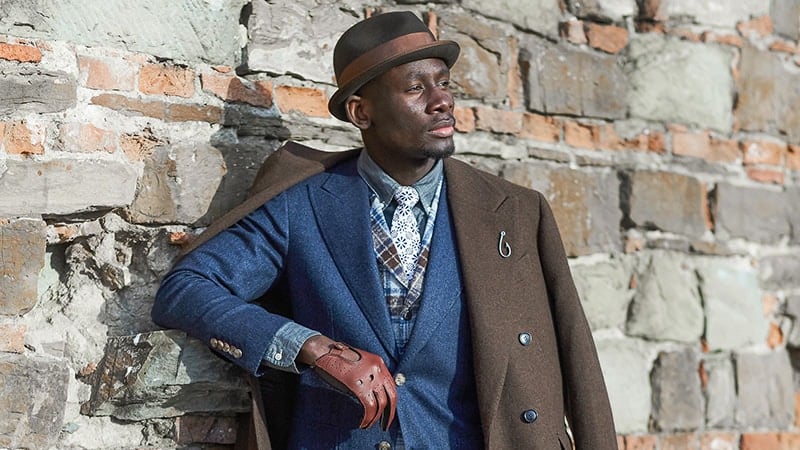 SHOP THE LOOK
Wide Brim Fedora
Most traditional fedoras have a brim measuring approximately 6.4cm wide. However, this length can be made even wider for a more dramatic and eye-catching appearance. As well as looking stylishly bold, a wide brim can also offer more protection from the sun and other elements.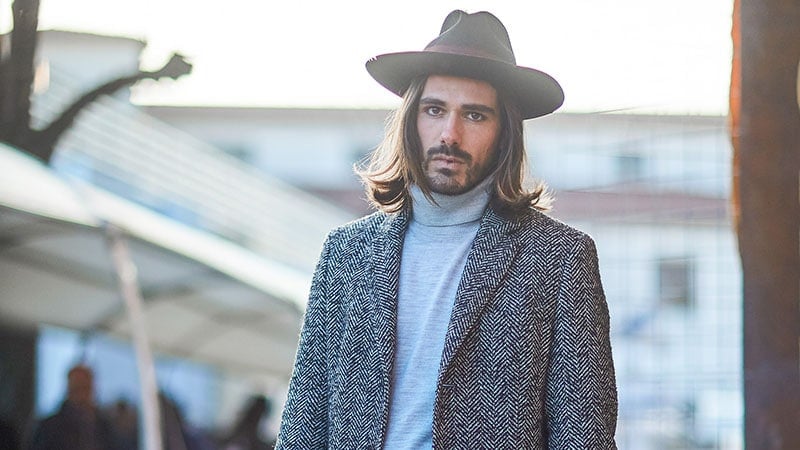 SHOP THE LOOK
Small Brim Fedora
Although fedoras typically have a wide brim, it is possible to get a small-brimmed fedora. These styles appear the same as a traditional fedora except the brim is somewhat shorter. Due to their short brim, these are one of the most likely types of fedoras to be confused with a trilby.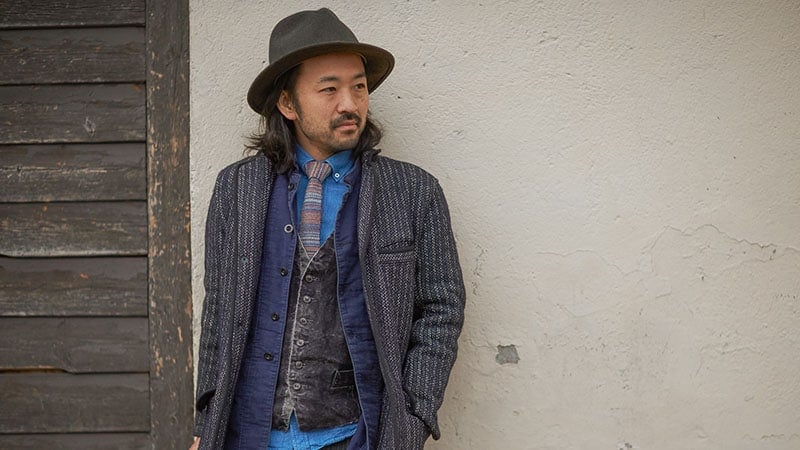 SHOP THE LOOK
Celebrities Who Love Fedoras
Over the years, fedoras have often been favoured by celebrities. As they project style and sophistication, these hats make the perfect choice for high-profile stars. So, if you're looking for inspiration on how to wear a fedora, look no further than the sleek celebs of today and yesteryear, including Johnny Depp, Harrison Ford and Frank Sinatra.
Johnny Depp Fedora
Johnny Depp is known and admired for his impeccable bohemian style. From ripped t-shirts to beaded jewellery, the actor has a rugged yet chic sense of fashion that provides an excellent source of outfit inspiration for gents. One of his favourite accessories, which you can rock too, is the fedora. The timeless hat adds a stylish edge to his look and pairs perfectly with his chin-length hair.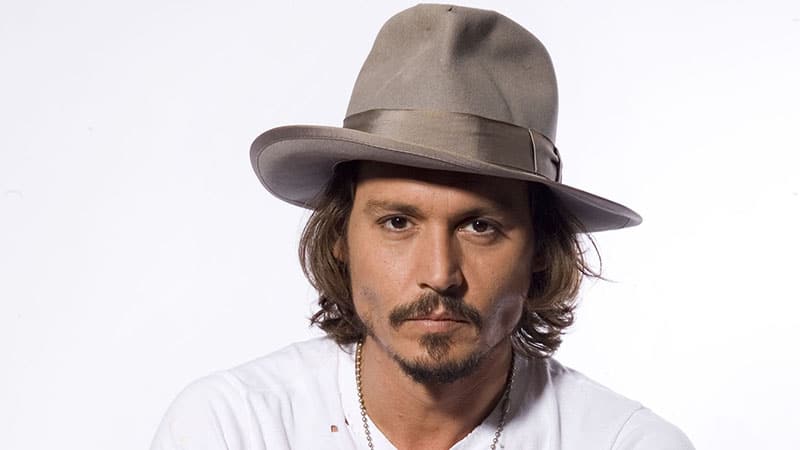 Harrison Ford Fedora
When it comes to famous fedora wearing gents, Harrison Ford cannot be forgotten. The actor donned a high-crowned, safari fedora for his role as the adventurous Indiana Jones and instantly inspired many to copy his look. Today, that hat is just as iconic as the character who wore it and still provides fantastic inspiration for a stylish yet rugged look.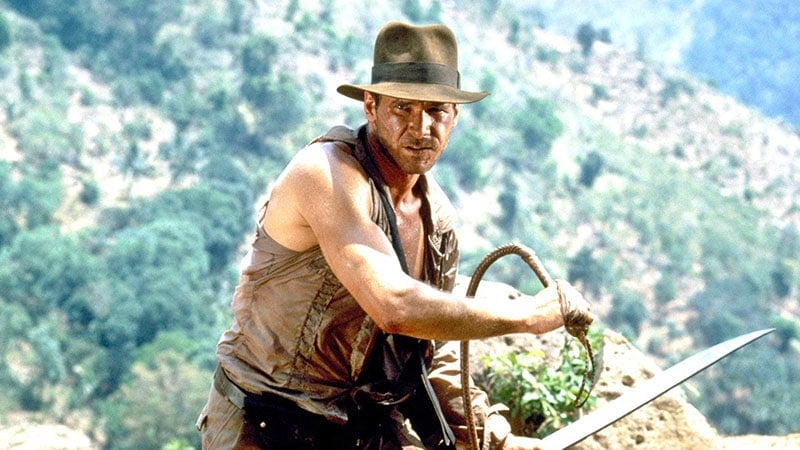 Frank Sinatra Fedora
Frank Sinatra was one of the most iconic fedora wearers of all time. The music legend and Rat Pack member was consistently spotted donning one of these stylish hats throughout his time, as were many other members of this infamous group. His fedora of choice was typically a dark felt short-brimmed style, which gave his look a smart aesthetic with a slight gangster edge.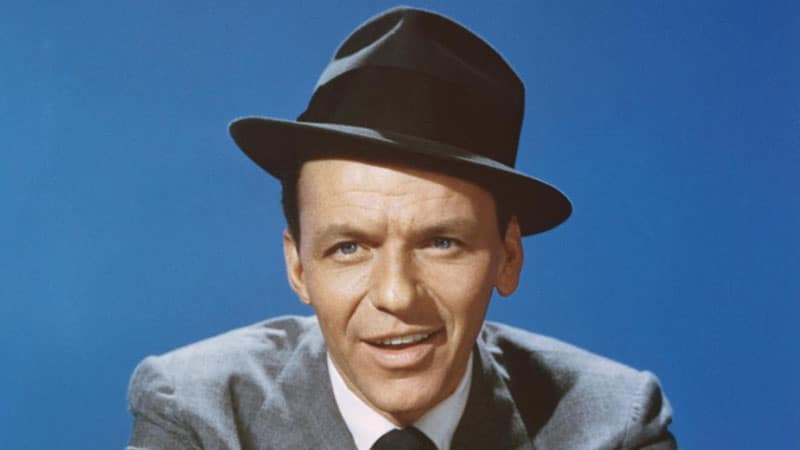 SUBSCRIBE TO OUR NEWSLETTER
Subscribe to our mailing list and get interesting stuff and updates to your email inbox.