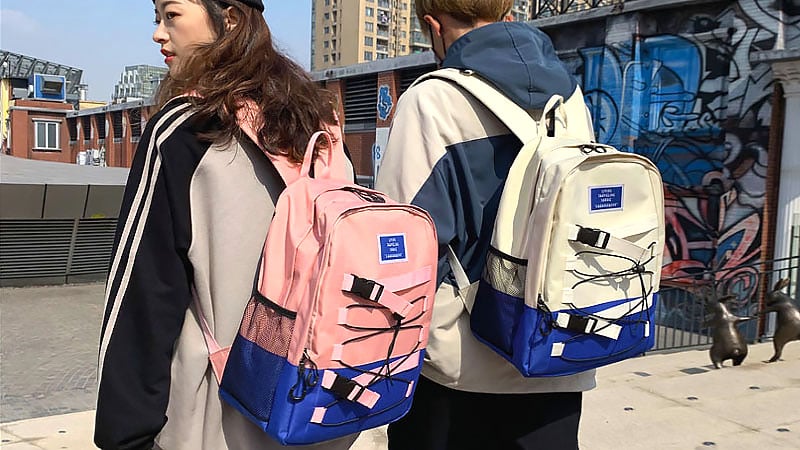 Backpacks are an excellent choice to carry your essential belongings around conveniently. Not only are they stylish, but they are also incredibly practical. Separate pockets, such as laptop compartments, internal pockets, bottle holders, and RFID protection, allow you to organize your items easily. Plus, having two adjustable straps are far more ergonomic and better for your back, shoulders, and posture than alternatives such as satchels, briefcases, or handbags. Whether you're looking for a backpack for work, school, the gym, or traveling, there's a perfect option available.
RELATED: 50 Best Backpack Brands You Need to Know
1. Tropicfeel Nest Backpack
The Tropicfeel Nest backpack is sleek, modern, practical, lightweight, and 100% sustainable. This makes it a perfect backpack if you want to use it as an everyday bag. The Nest had different pockets and organizer add-ons that you can customize. It also comes in different color options: black, desert green, blueberry, and brown.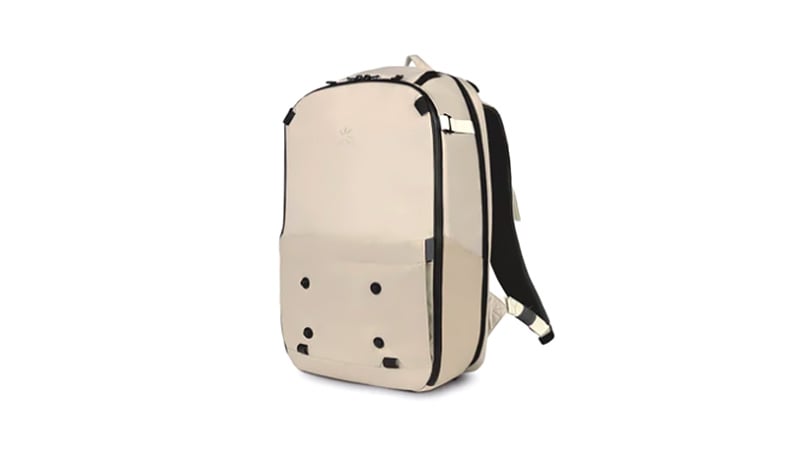 2. Carl Friedrik Day-to-Day Backpack
The Everyday Backpack is designed for urban dwellers who must stay organized and efficient on the go. This compact bag collapses or expands depending on the number of items you carry, with sophisticated leather detailing that makes it comfortable to wear all day long. It boasts several compartments for laptops up to 16" and an array of interior and exterior pockets that ensure easy access while its dimensions (30cm x 42cm x 19 cm) keep bulkiness down even when full.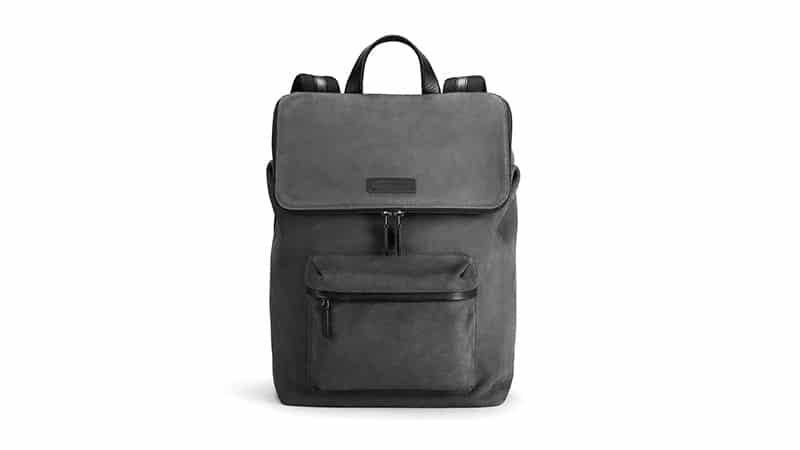 3. Roderer Award Backpack
Crafted from soft-grained Italian leather, the backpack is simple and elegant. It features the Roderer crown in polished steel at the front and an embossed logo at the back. It is ideal for a range of occasions. The design is functional, with a two-way zip closure and adjustable webbing shoulder straps. It also features a large front zipped pocket and an interior padded pocket for a 13″ laptop. It is packaged in a dust bag and comes with a two-year warranty.
4. STEELE & BOROUGH Backpack
The Backpack Forrest goes casual elegance featuring soft cotton canvas shoulder straps that meet robust shiny nylon and our smart magnetic lid closing mechanism. The backpack is made of lightweight, water-resistant nylon with refined details in vegan leather. Dressed up or in jeans and t-shirt this bag will fit you wherever you go.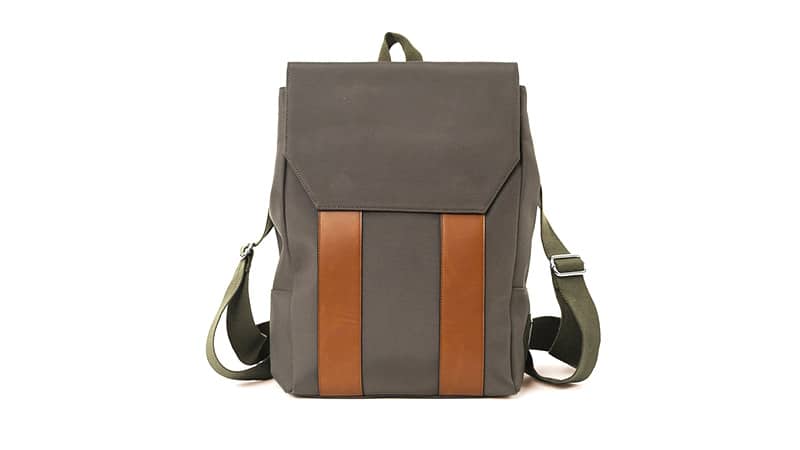 5. Nixon Mode Pack
With its impeccable design and rugged build quality, the Nixon Mode Backpack is ready for whatever each day brings. Its 20L capacity boasts a large panel-load main entry along with a padded media pocket to keep those delicate accessories safe. Tackling any task with ease, it provides plenty of storage for all your necessities while keeping them secure in their designated place.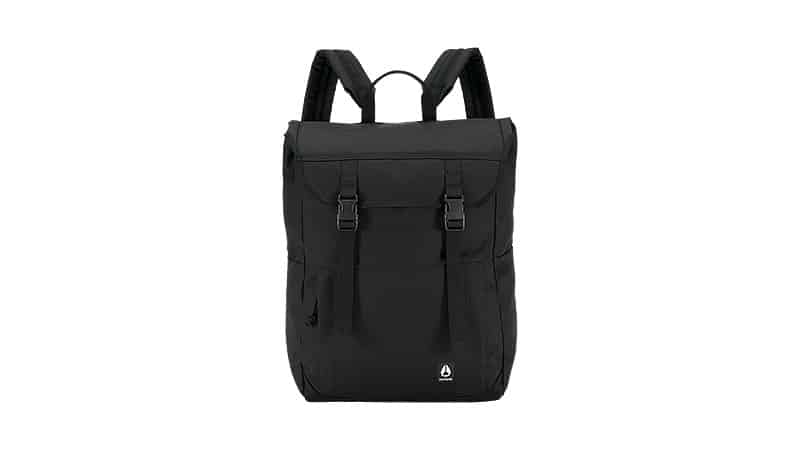 6. AmazonBasics Premium Backpack
Practicality meets value with this backpack from Amazon Basics. The design is functional, with multiple roomy compartments, including a padded laptop section that fits most 15-inch devices. You can use the front pocket to organize small items like keys, pens, or your phone. Additionally, there are two Velcro side pockets, which are perfect for holding water bottles, as well as an externally attached carabiner and sunglasses strap. As such, it's practical for outdoor activities, as well a school, work, or travel. Finally, there's no need to worry about shoulder or back pain. This backpack also has a padded back panel, and broad, padded shoulder straps, which are adjustable for the ultimate comfort.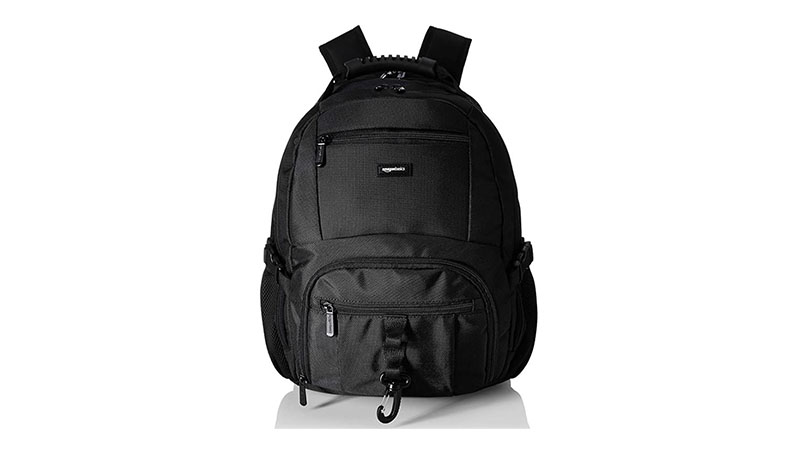 7. Nike Unisex Hoops Elite Pro Basketball Backpack
This backpack is for sports lovers. Nike lead with sportswear innovation and their bags are no exception. The Nike Hoops Elite Pro Basketball backpack is designed for both men and women. It's large and spacious, so there's plenty of room for all your sports gear as you head to training. Plus, a ventilated shoe compartment keeps your foot sweat separated from the rest of your clothes and belongings. Additionally, the shoe compartment fits up to a size 15 shoe, making it perfect for even the largest-footed people. Lastly, enjoy a comfortable journey as the Nike Pro Adapt shoulder straps are broad and adjustable for a pleasant fit.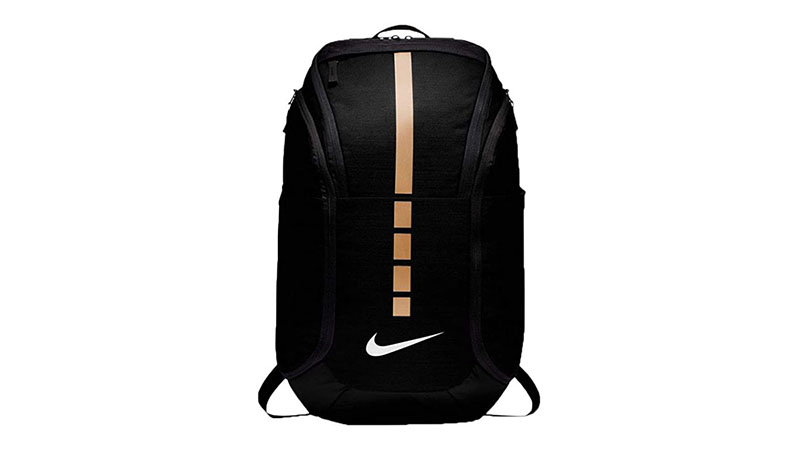 8. Herschel Supply Co. Dawson
Based in Canada, the Herschel Supply Co. brings classic Rockies mountaineering style to their Dawson backpack. The bag is made from lightweight fabric, with faux leather straps acting as the closures for the top flap, as well as side pockets. The main compartment is spacious and also features a drawstring close for extra safety and security. Plus, the poly-nylon webbing straps are fully adjustable for increased comfort. Meanwhile, the inside lining is Herschel Supply Co.'s signature striped fabric. Finally, choose from five attractive color combinations: black and tan, teal and tan, navy and tan, crosshatch grey, or black.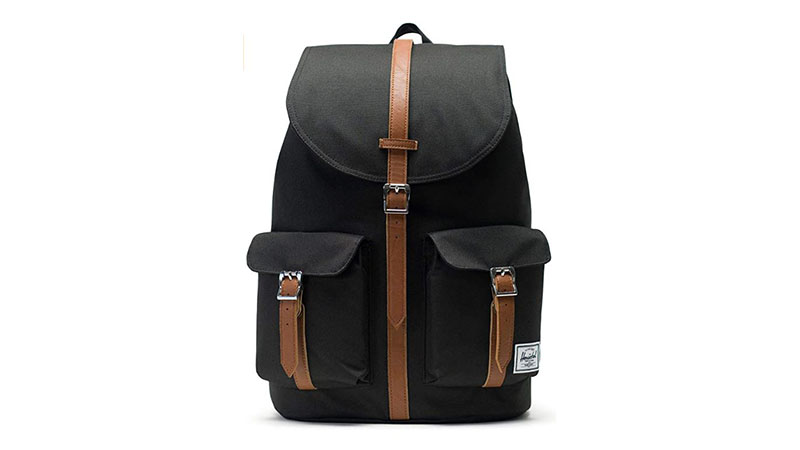 9. Dolce & Gabbana Logo Patch Backpack
Both men and women with a sense of fashion and style will appreciate this Dolce and Gabbana backpack. This simple design is understated and elegant. The branded patch, with black lettering and white trim, is accompanied by calf leather accents throughout the bag. Additionally, it boasts a full zip the whole way around and zipped side pockets for smaller items. Finally, the top handle and adjustable straps add practicality and function.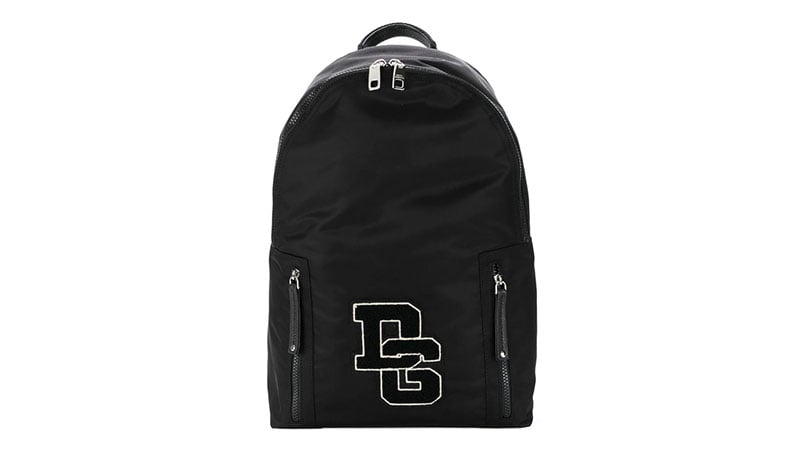 10. Alexander McQueen Logo Backpack
Keep your belongings contained stylishly with this Alexander McQueen backpack. This contemporary bag features a main section and a laptop compartment for keeping your computer safe. The main part of the bag closes with a drawstring, while the top flap stays secure with a stylish carabiner clasp. Meanwhile, the front pocket is adorned with the Alexander McQueen logo and is perfect for keeping small essentials, such as your phone and keys, from getting lost. Finally, the shoulder straps are adjustable so the backpack can fit everyone, no matter your height or size.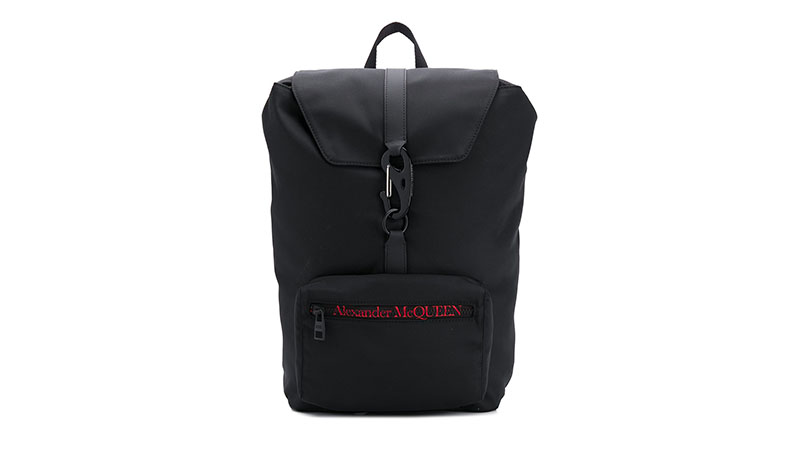 11. Prada Logo Plaque Backpack
This stylish black backpack is both sleek and practical. Prada is known for its luxury Italian style and leading designs. This bag is made from nylon with leather trim and boasts the signature enameled triangle logo plaque on the front. The main compartment has a two-way zip and internal slip pockets for separating your gear. Next, the front section also fastens with a zip and is perfect for storing things for which you need quick access. Two padded adjustable straps make carrying your belongings effortless and comfortable. This backpack is the ultimate meeting of style and substance and is perfect for everyday use.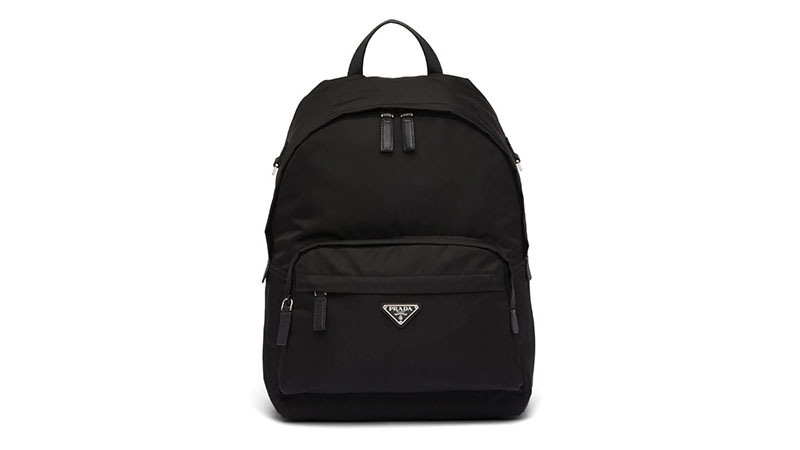 12. Briggs & Riley @ Work-Cargo Backpack
Whether you're heading to work or off traveling, this large cargo backpack from Briggs & Riley is the ultimate choice. Everything about this backpack is functional and stylish. Firstly, the fabric, which is nylon twill, is sleek, durable, and lightweight. Secondly, the zippers are all self-repairing YKK RC zips, so you never have to worry about them breaking. Next, storage is plentiful and practical. The main compartment is large and spacious, while the laptop section stores up to 17 inches of computers. There are two front pockets, both of which have additional internal storage pockets to organize small items. Plus, one of them has RFID blocking for your passport and credit card safety. Finally, the back panel is made of breathable mesh, and the straps are also adjustable. For daily use or traveling, this backpack is an excellent choice.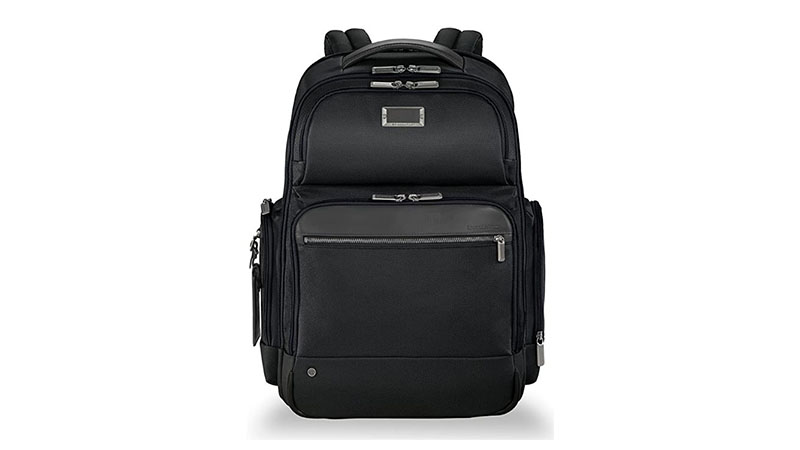 13. Gucci Monogram Pattern Backpack
Join the Gucci gang with this stylish backpack. This bag features classic Gucci styling and is excellent for discerning men and women. The monogram pattern, combined with the three-stripe detail and gold plaque, makes this bag easily recognizable as one from this luxury Italian brand. The spacious interior easily fits all your belongings, while the laptop compartment keeps your digital device safe. Additionally, extra internal and side pockets provide storage for small items and for things you need to access quickly. The straps are fully adjustable, and a drawstring and additional top flap featuring buckled fastenings secure the bag.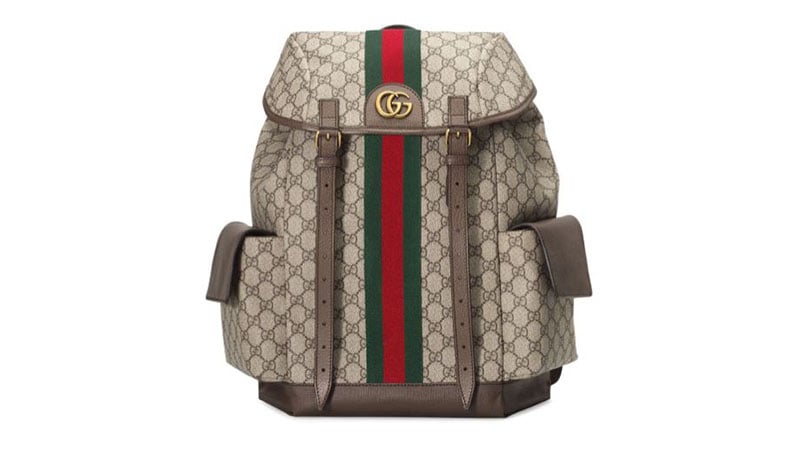 14. Samsonite Modern Utility Double Shot Laptop Backpack
Samsonite is one of the leading luggage brands. This modern backpack is made from ripstop polyester, making it exceptionally durable. Multiple compartments and pockets ensure storing and accessing all your items is a breeze. Firstly, there's a laptop compartment with built-in padding and a separate tablet pocket, so all your tech is safe and secure. Then, in addition to the sizeable main section, there are extra quick-stash pockets with zippered closures and storage assistance. Next, the bottom of the backpack is waterproof, so if there's a spill or you accidentally place it down in a puddle, your property will be protected. Finally, choose from the stylish charcoal heather color or a more vibrant true navy.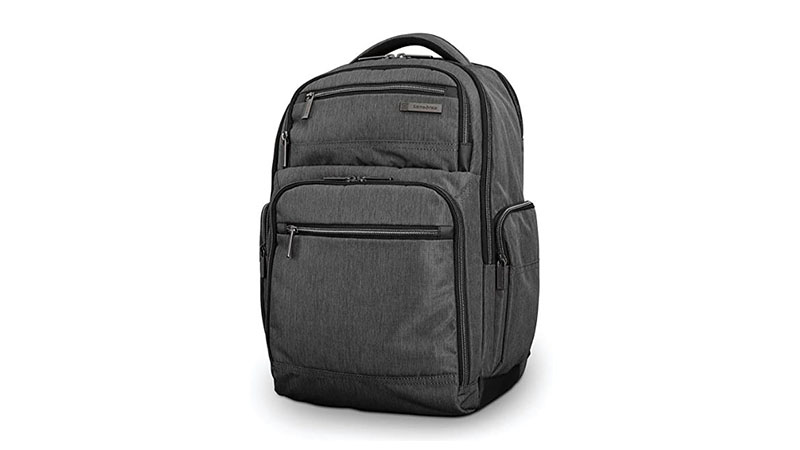 15. Bally Striped Detail Backpack
Lovers of luxury will enjoy this Bally striped detail backpack. The Swiss company specializes in luxury fashion, and this bag is no exception. The understated style features a simple silver-tone logo plaque and a striped patch on the front pocket. Storage is plentiful, with a large main compartment, multi-part front pocket, and two side pockets. Each of these sections is securely closed with zippers featuring leather accented tabs. Finally, the top handle and adjustable straps allow you to carry the bag in multiple ways.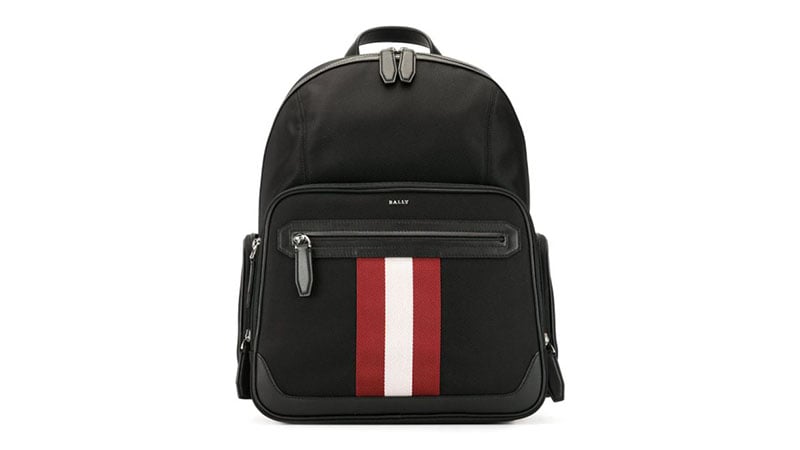 16. Emporio Armani Monogram Print Backpack
This dusty navy blue backpack from Emporio Armani is stylishly understated. The simple design is functional, yet keeps the look pared back. As such, it's perfect for both men and women. The large main compartment fits all your most important equipment and closes with a zipper. Then, the compact front pocket is perfect for smaller bits and pieces that would typically get lost in the main section. The shoulder straps are adjustable, while the top handle makes it easy to grab your backpack and dash out the door. Finally, the Emporio Armani brand shines through with the monogrammed detail that adorns the lower half of the bag.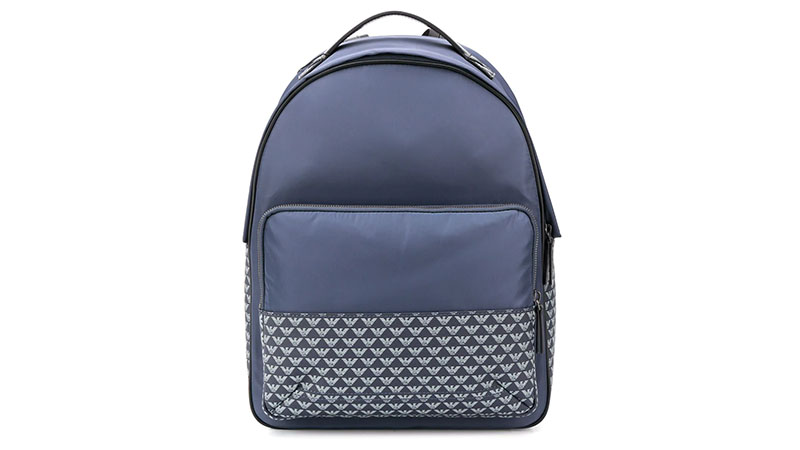 17. Samsonite Tectonic Lifestyle Sweetwater Business Backpack
The Samsonite Tectonic Lifestyle Sweetwater Business Backpack is perfect for both men and women on the go. Whether you're heading into the office or away on holiday, this backpack is an excellent choice for functionality and convenience. The bag features a main compartment with internal sections for organization and a laptop compartment that fits most 17-inch laptops. Stay charged on the run with a built-in USB port for charging as you go. Additionally, the multiple front pockets create just the right space for small items and arrange quick access for your most important things. Finally, you can also choose between ever-classic black or iron grey for something different.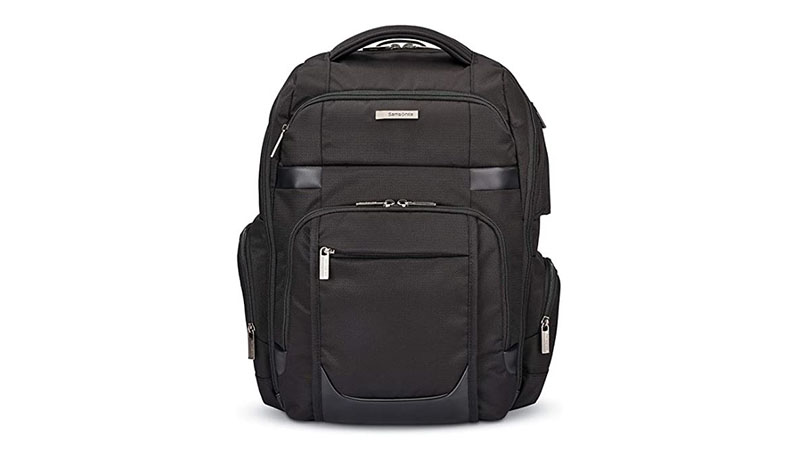 18. Dsquared2 Multi-pocket Logo Backpack
Coming from Canadian designers Dean and Dan Caten, Dsquared2 mixes contemporary high fashion with a street-savvy feel. This white nylon backpack makes a bold statement. The multiple pockets make it exceptionally practical, as there's a space for everything from your largest items down to your smallest. Plus, adjustable shoulder straps ensure the fit is comfortable. Meanwhile, the bold black Dsquared2 lettering makes the brand unmistakable. However, remember that because white is more prone to marks and staining, you should invest in a good waterproofer and give the bag a few coats before use.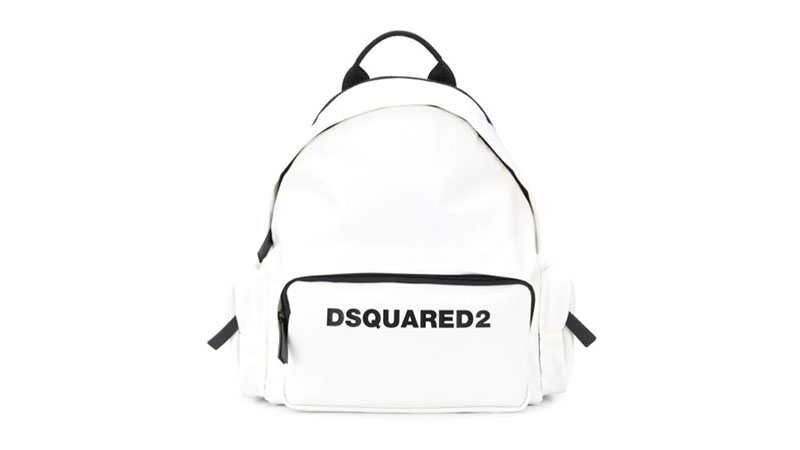 19. Burberry Vintage Check Nylon Backpack
Any ladies or gents who are brand-loyal to Burberry will love the iconic check pattern on this backpack. The design is kept minimalist, with clean lines that don't compete with the pattern. The main compartment is lined with Burberry's bright red fabric and features internal branding across the interior zippered pocket. The adjustable straps also have Burberry lettering on them in a subtle black. Finally, the front pocket is ideal for smaller items.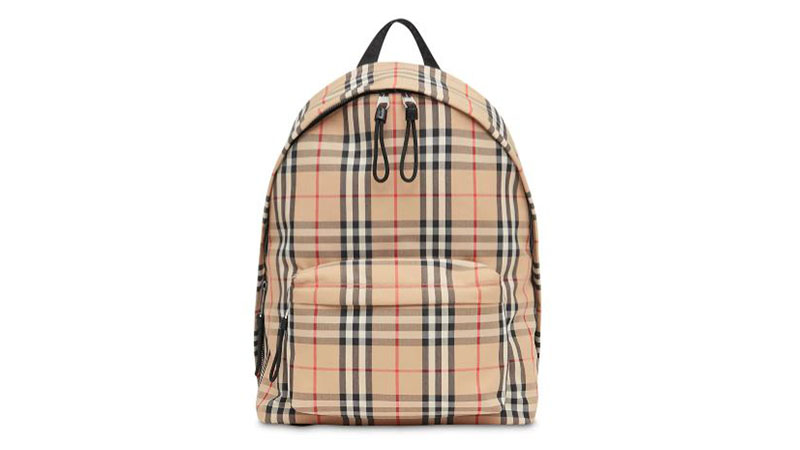 20. JanSport Huntington Backpack
With over 50 years in the industry, JanSport is one of the most trusted names in backpacks and bags. Their Huntington backpack is a great allrounder with a classic style. Plus, it comes in 11 different colors, so no matter your aesthetic preferences, there's an option you'll love. The backpack features two main compartments and also has a laptop sleeve for 15-inch laptops. Next, the S-curve shoulder straps are ergonomically designed, and the back panel is padded for extra cushioning. Plus, the bottom of the bag is made with faux leather, meaning it's both waterproof and durable. Finally, this backpack comes with a lifetime warranty, so you can confidently use this backpack for years to come.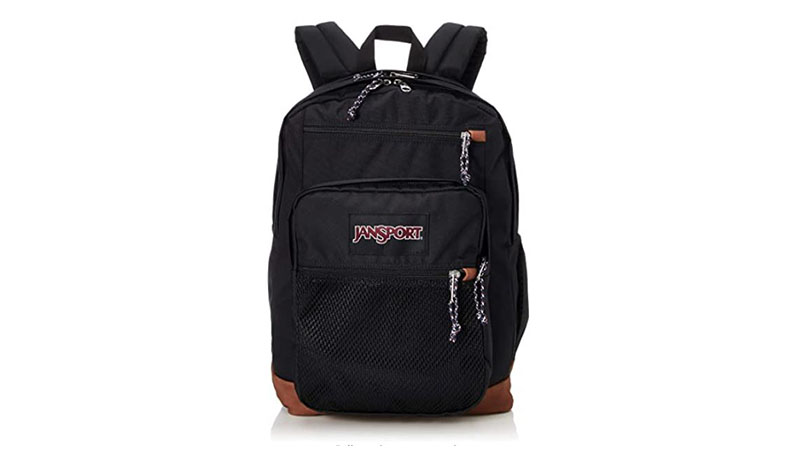 21. Balmain Logo Print Backpack
This stylish release from Balmain looks great on both guys and girls. The bold B logo makes a statement without being extravagant. Additional details include metal accent buttons and large zipper tabs in dark chrome metal. The exterior is nylon, so it's strong and durable, which will last for even the toughest wearer. Like most backpacks, the straps are adjustable, with a convenient handle at the top. The main compartment is roomy and easily accessed from the two-way zip. Meanwhile, the front zip pocket keeps your small items separate and easy to access. Enjoy both style and function with this designer backpack.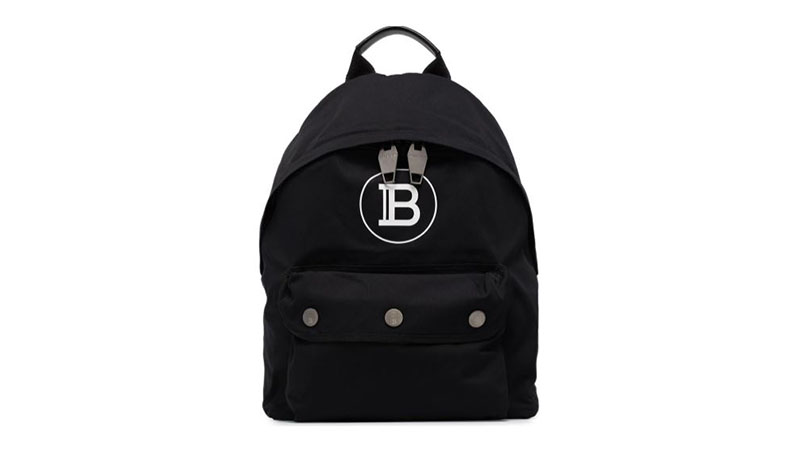 22. Jimmy Choo Wixon Backpack
Jimmy Choo has created a luxury backpack made from a combination of durable nylon and soft lambskin. From the statement brand plaque to the unique shape, this Wixon backpack is distinctive. The top handle and adjustable shoulder straps make carrying the bag easily. Other functional aspects include a large main compartment that's accessed by a zippered top, which is also secured with additional clips. The front and two side pockets store items such as water bottles, stationery, and snacks. Consequently, this backpack is excellent for office, uni, or hiking trips.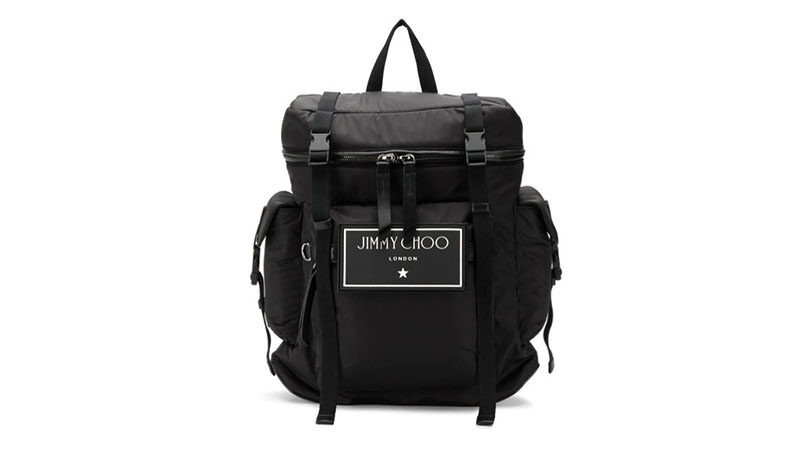 23. AmazonBasics Sports Backpack
Get ready to hit the gym or the field in style with the Amazon Basics Sports Backpack. This bag has all the features needed to ensure you're prepped for your next game or hike. There are two mesh pockets, perfect for water bottles or umbrellas. The spacious main compartment has a soft-line laptop sleeve, while the bottom of the bag has separate shoe storage. Next, the front section has extra storage pockets, specifically for pens, phones, and sunglasses. Finally, this sports backpack comes in an array of color choices. Opt for lime green, hot pink, vibrant red, and bright blue, or more subdued colors like grey, graphite, black, and navy.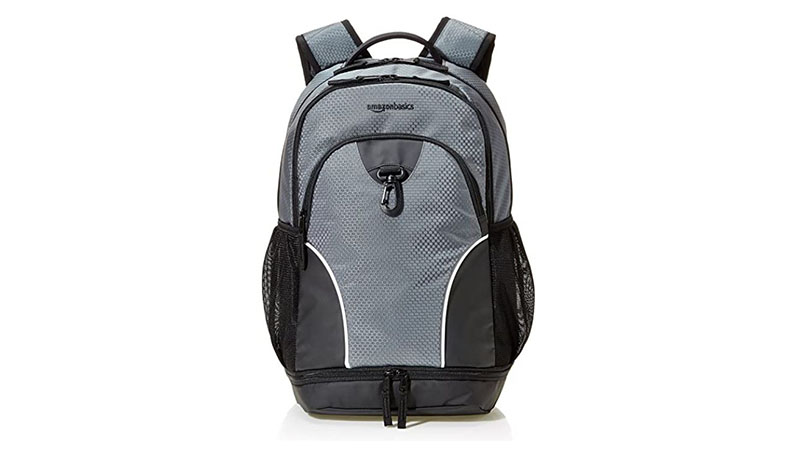 24. Kenzo Paris Logo-print Backpack
Headed by Japanese designer Kenzo Takada, this Paris fashion house is known for its daring designs and bold use of color and patterns. This backpack is no exception to that aesthetic. While the design is simple, the focus is on the vibrant Kenzo Paris logo that takes up most of the front surface. In terms of functionality, the bag has two compartments. There's a large one for most of your gear, which is closed with a zip fastening. Then, there's also a smaller front pocket designed for items such as tablets, phones, and knick-knacks. Finally, while common to most backpacks, adjustable straps add to the wearer's comfort.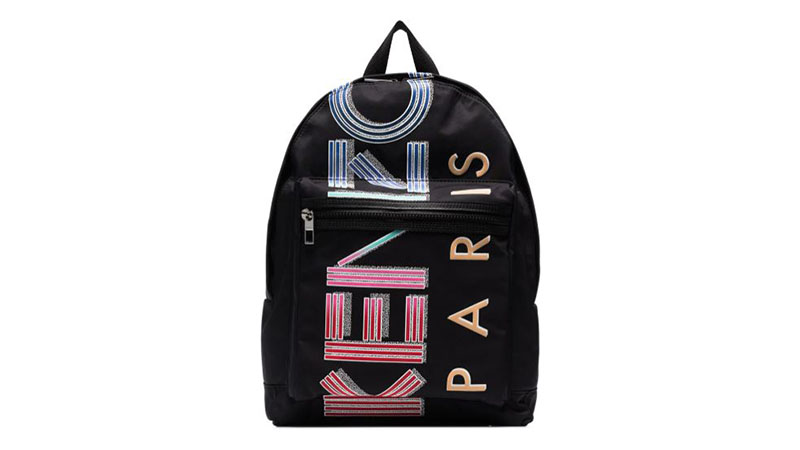 25. Herschel Supply Co. Dawson Denim Backpack
Discover a world of denim with this version of the Dawson backpack from Canadian company Herschel Supply Co. The mid-blue denim fabric and tan straps are a stylish and more fashionable alternative to the classic mountaineering look of other bags. As such, it's perfect for daily use, taking you effortlessly from school or the office to the beach or mall. The double front pockets are the ideal size for a phone or notebook, while the main compartment is open and spacious. Plus, it closes with both a drawstring and an additional buckle-fasted flap for extra security.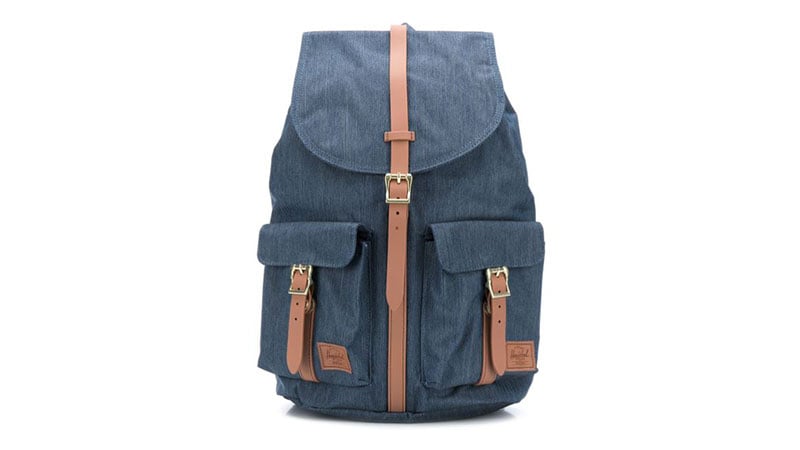 26. Adidas Foundation Backpack
Take yourself and your gear from the office or school to the gym or track effortlessly with this Foundation backpack from sportswear leaders like Adidas. Featuring four outside zippered pockets, as well as internal pockets and a laptop sleeve, organizing and accessing your belongings is a breeze. There are two water bottle holders to ensure you stay hydrated throughout the day. Plus, padded straps and a back panel make you stay comfortable and injury-free. The large size is perfect for fitting a change of clothes, shoes, and other necessary daily items. Choose from over a dozen colors, including cool grey, ice-green, patterned pink, or muted blue.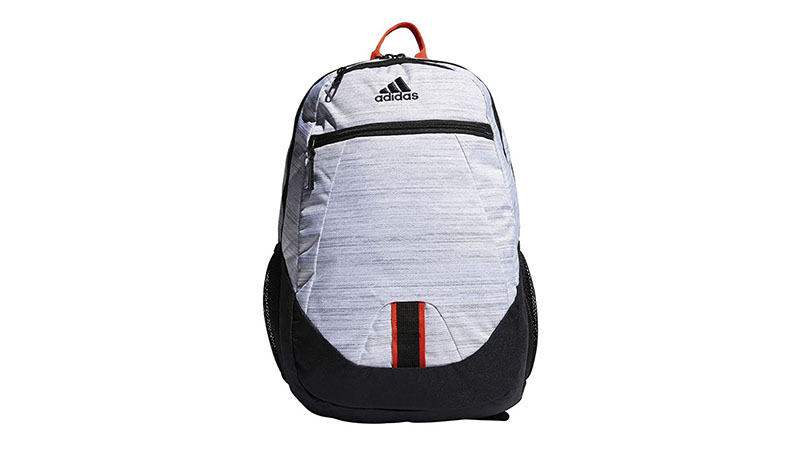 27. Saint Laurent Star-embossed Backpack
You'll be the star of the show with this incredible star-embossed backpack from Saint Laurent. This bag is made of butter-soft leather and is the perfect option for anyone looking for a more fashion-forward backpack. Not only is it attractive, but it's functional as well. It has adjustable shoulder straps, a fabric back panel for breathability, and a handy top handle. The large main compartment has plenty of room for all your gear and gadgets, while the front zippered pocket is excellent for smaller items such as passports and phones. The silver hardware also ties in nicely with the printed silver star motifs covering black leather. This bag is the ideal fashion accessory for both men and women.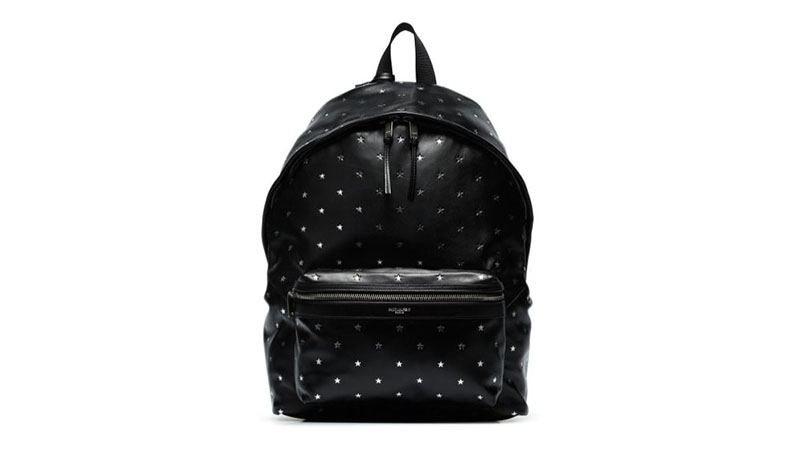 28. Targus Spruce EcoSmart Travel and TSA Checkpoint-Friendly Backpack
This sleek backpack from Targus is a superb choice for anyone who regularly travels for work. It's stylish and functional, with easy access to your items, making clearing airport security efficient and straightforward. Internal storage is optimized for effective organization. There's a business card holder, key carabiner, pen holders, and even a pocket designed to thread your earphones through. Additionally, there's a laptop compartment, the main section, and three additional accessory pockets. Plus, there's a water bottle holder to stay well hydrated on the go. Best of all, you can feel good about this purchase because most of the material is made of recycled plastic bottles.
29. Fendi FF Motif Multi-pocket Nylon Backpack
This Fendi backpack's unique and elegant silhouette makes it stand out from the crowd. This backpack is both durable and practical because it's made from a combination of soft calf leather and polyester. In addition to the main compartment, which is spacious enough for your daily essentials, there are two distinct front pockets and two side sections. One front pocket has a zippered close, while the other has stunning striped contrast straps. Both also feature the FF jacquard motif. The muted, neutral tones are versatile and stylish, making this an excellent accessory for the most discerning woman or gent.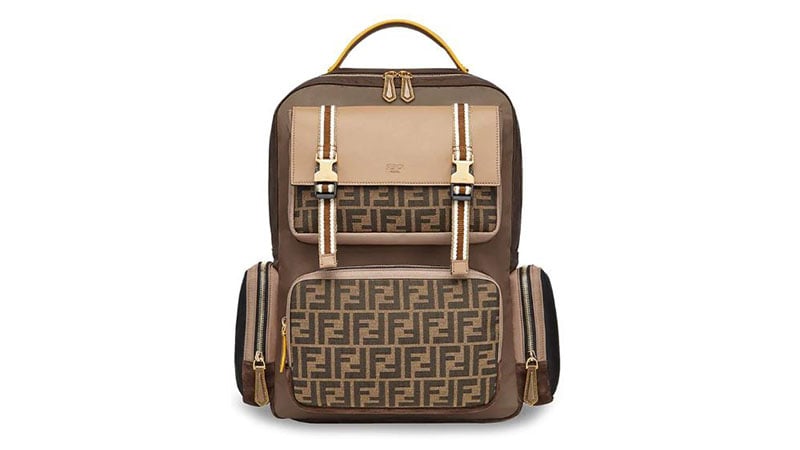 30. Alienware 17″ Vindicator 2.0 Gaming Laptop Backpack
Leading gaming accessory company Alienware has created this backpack, which is perfect for gamers on the go. You'll feel safe knowing that all your technology and equipment will be secure. It starts with a high-density nylon case providing exceptional armor. Then, there are internal defenses, which include padded pockets, a power adapter, and plenty of room, so you don't need to jam everything together. Additionally, the water-resistant non-slip base adds extra reassurance and provides a sturdy platform when setting the bag down. Last but not least, keeping in mind that tech can get heavy, the back panel is padded and breathable, as are the adjustable straps. As such, you'll be comfortable while your gear is protected.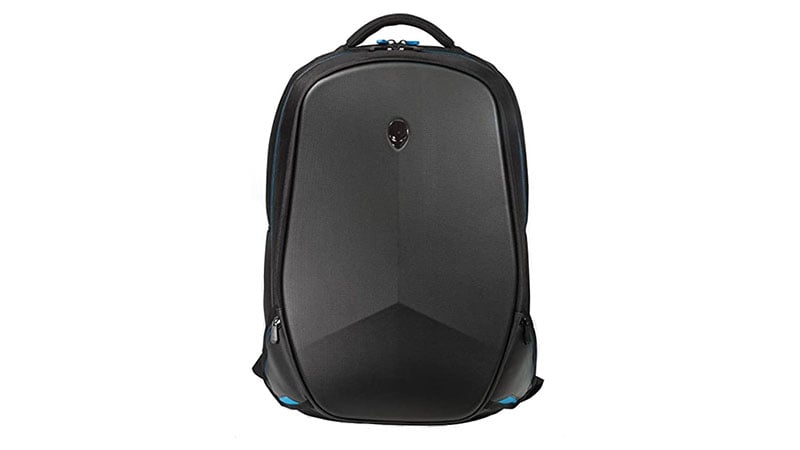 31. Tommy Hilfiger Sky Captain Flap Backpack
The attention to detail sets the Tommy Hilfiger Sky Captain Flap Backpack apart from the rest. From the red stitching detail on the adjustable shoulder straps to the iconic Hilfiger stripes on the lining, the finest details make this an excellent choice for a daily backpack. The bag is made from cotton and leather and boasts a double-zippered opening on the main compartment. The contrast between the navy and the red and white stripes and tan leather accents is striking, yet not over the top.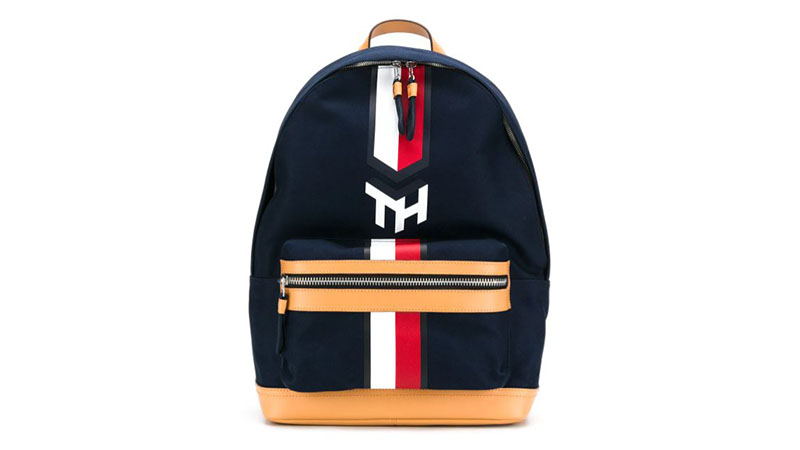 32. Balenciaga Everyday Backpack
Keep it simple with this black calf leather backpack from the Spanish fashion house Balenciaga. Leather is known for its durability and style. The uncomplicated design has a large main compartment and front pocket, which feature leather-tabbed zippers. Plus, an internal pocket keeps small items separated and easily accessible. Lastly, the simple Balenciaga logo across the center is understated and stylish. This backpack is, without a doubt, an excellent choice for your everyday companion.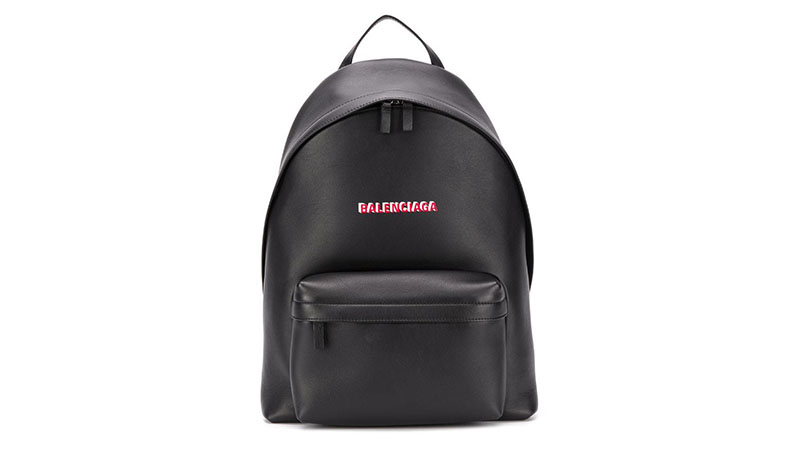 33. Givenchy Drawstring Detailed Backpack
Givenchy's classic French elegance meets contemporary silhouettes inspired by street style in this backpack. The vibrating yellow of the drawstring accents contrasts with the deep black. Fit everything you need in the spacious main compartment; anything extra can go in the front zippered pocket. There are also adjustable straps, so you avoid shoulder pain, and there's a convenient top handle. Leather details combine with the silver hardware to give this backpack an edge of luxury. Not only is this bag great for carrying your daily essentials, but it also looks fantastic at the same time.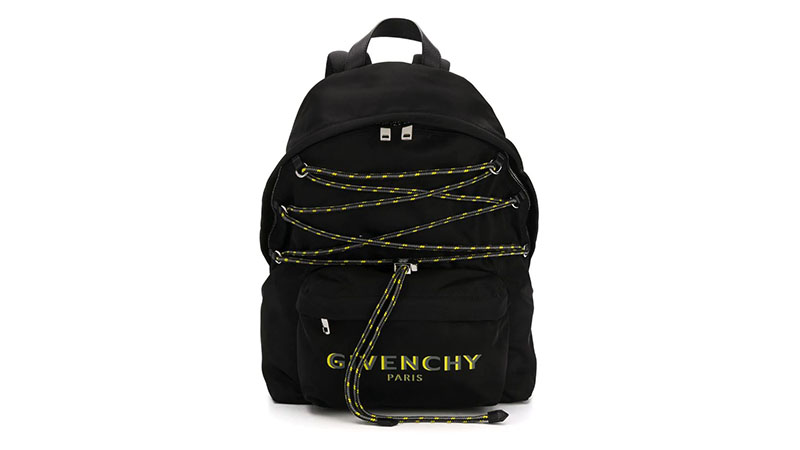 34. Versace Bondage Print Backpack
Enter the world of Versace's glamour and decadence with their Bondage Print Backpack. The contemporary detailing includes black and gold printed designs on a muted charcoal background. Additionally, the signature Medusa head motif sits prominently at the front. In terms of practical features, there's plenty that makes this bag a must-buy. Firstly, there's a round top handle and adjustable straps. Secondly, the main compartment closes with a leather-tabbed double zip, while the front pocket has gold-tone fastenings. Finally, the carefully placed leather trims and accents add to the luxurious feel of this backpack.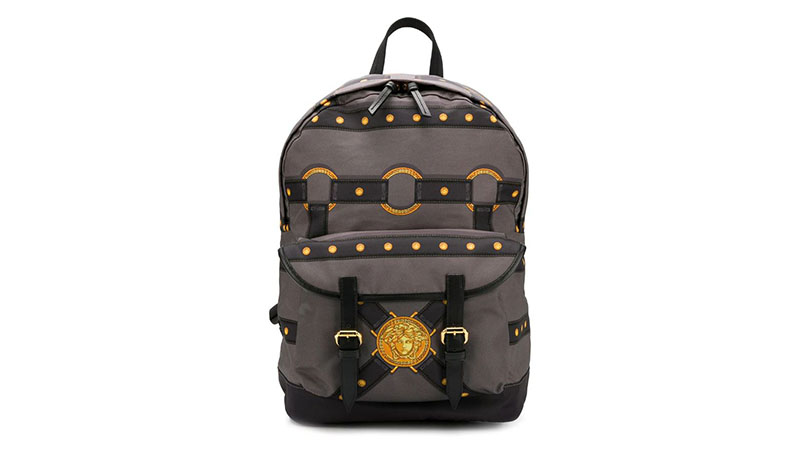 35. Valentino Garavani Camouflage Mesh Backpack
There's no hiding with this statement backpack! Valentino Garavani's camouflage mesh blends fashion with a military-inspired theme. While you won't need to complete a 50-pound pack march with this backpack, you can still fit a lot in this spacious bag. The main internal compartment has a separate zippered section for small items, while the front pocket is useful for quick access. The drawstring closure and top flap make sure no one can sneak into your bag. Lastly, extra details like the leather tabbed zip, a metal logo plaque, and eyelet studded straps add a touch of luxury.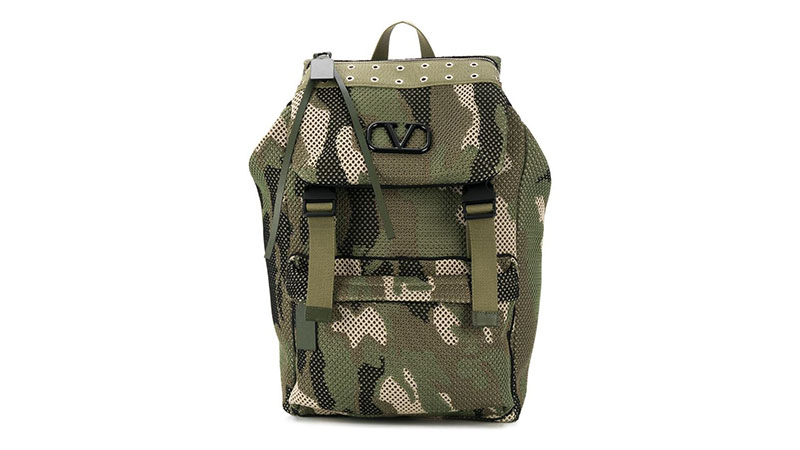 Best Backpacks FAQs
What are popular backpack brands?
Some of the most popular backpack brands include Herschel Supply Co, Nike, Samsonite, Alienware, and JanSport.
What is the most durable backpack brand?
There are a few brands that manufacture incredibly durable backpacks for even the roughest lifestyles and adventures. These include Osprey, Mystery Ranch, Patagonia, and 5.11.
How much is a good backpack?
A good quality, durable backpack will cost around $100-$150. Of course, good designer bags can run into thousands of dollars, depending on the brand and construction.
What is the most expensive backpack?
The Christopher PM backpack in Crocodilian Mat leather from Louis Vuitton is the most expensive backpack at $84,000. It's made from crocodile skin, an exotic material that increases the cost.  
SUBSCRIBE TO OUR NEWSLETTER
Subscribe to our mailing list and get interesting stuff and updates to your email inbox.