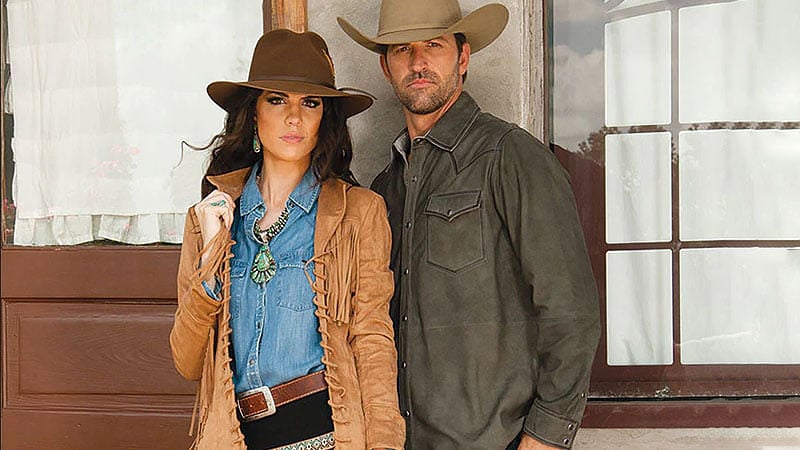 It's time to get down at the throwdown and enjoy some true Country & Western music. Whether you are a regular to hoedowns or this is your first foray into the genre, we have your entire outfit covered. Get ready to belt out some of your favorite songs and look fantastic while you're doing it. From cowboy boots to double denim, here is your guide on the best country concert outfit ideas.

Country Concert Outfit Ideas for Men
Double Denim
If you find yourself attending a country concert and don't know where to start, you can't go wrong with a pair of blue jeans. This is likely the most popular choice among other attendees, so to stand out, add a matching shirt or jacket. Double denim can look great with a white T-shirt or flannel between and a pair of Chelsea, Western or lace-up boots. You will feel comfortable enough to dance all night and look great in photos.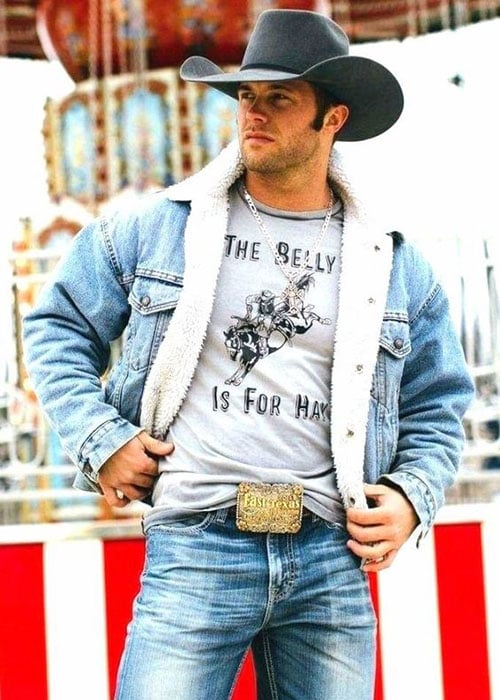 Get the Look
City Western Style
For those who don't live in the country anymore but want to pay homage to their roots, this is the perfect style to try. A combination of modern pieces and classic Western elements, it is easy to create with your own closet. Start with a pair of blue jeans and add a black or white T-shirt. Throw on a brown or black leather jacket and a pair of cowboy boots. You don't need any other accessories, but be sure to bring your favorite sunglasses to tie everything together.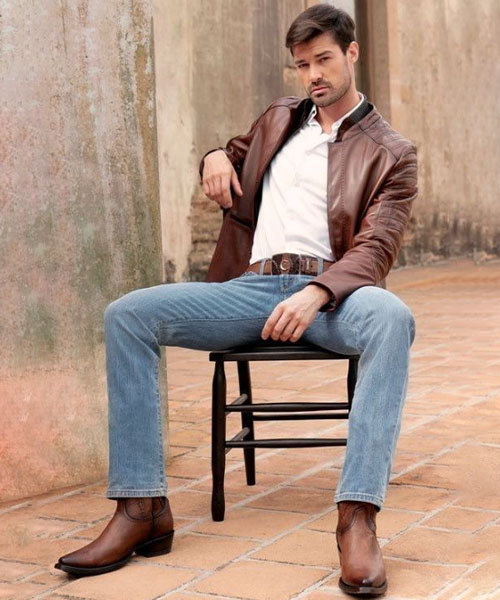 Get the Look
Classic White Top
The humble white top has provided endless assistance to an outfit and is a staple you should implement when heading to a country concert. The flattering and timeless style works with anything and instantly adds an element of cool. Wear it with your favorite jeans and a large belt with a big buckle. If you need to add anything over the top, let it be a denim or leather jacket. Add another layer of flannel or a puffer if it's a more casual event. This is an easy and stylish look to try so you can focus on enjoying the country concert instead of what you're wearing.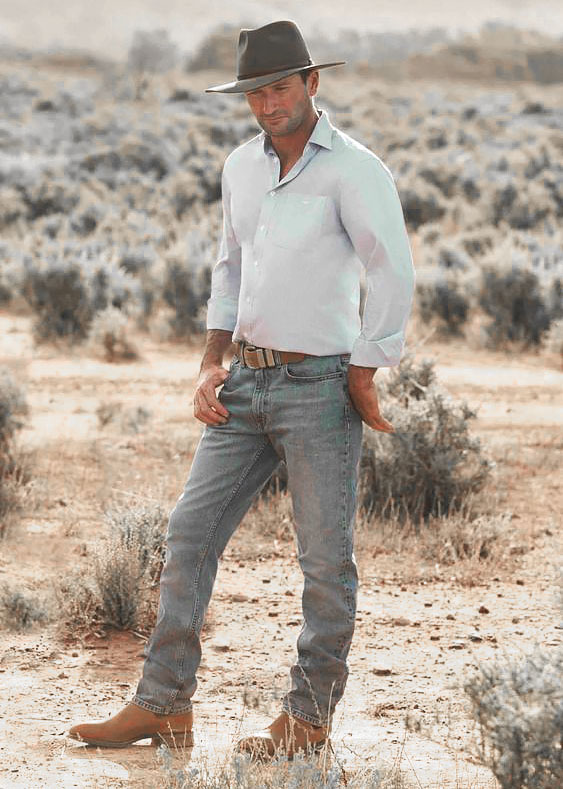 Get the Look
Timeless Blue Jeans
If there is a single staple that belongs in every country boy's closet, it's timeless blue jeans. This iconic piece of clothing has long been intertwined with Western dressing and remains one of the most popular garments for everyday wear. Style this however you want, such as a check shirt or relaxed button-down – a plain T-shirt and a shear-lined jacket also work well. The tight-fitting designs look great but can be difficult to dance and move in, so a looser fit will likely serve you better.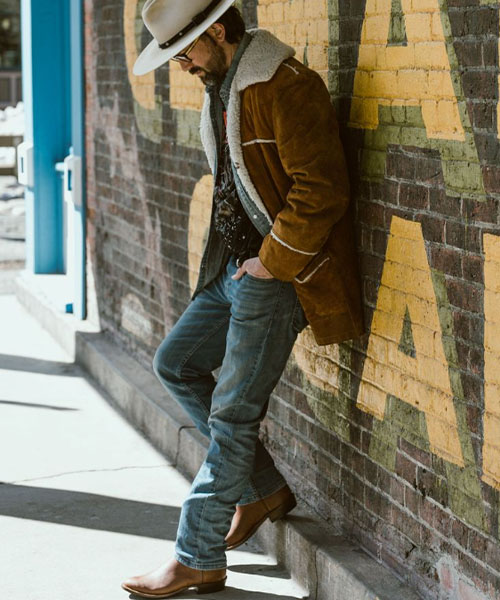 Get the Look
Western Shirts
So you've got a great pair of jeans to wear, but what about on top? Sure, you can try a T-shirt, but a more classic choice would be a Western design. The style has become instantly recognizable, and when worn correctly, it can look sharp and slick. Wear the vintage style in a dark shade, such as charcoal, black, or navy blue – make sure the thread is something complementary, such as gold, another shade of blue, or gray. This will help the pattern stand out without making it overwhelming.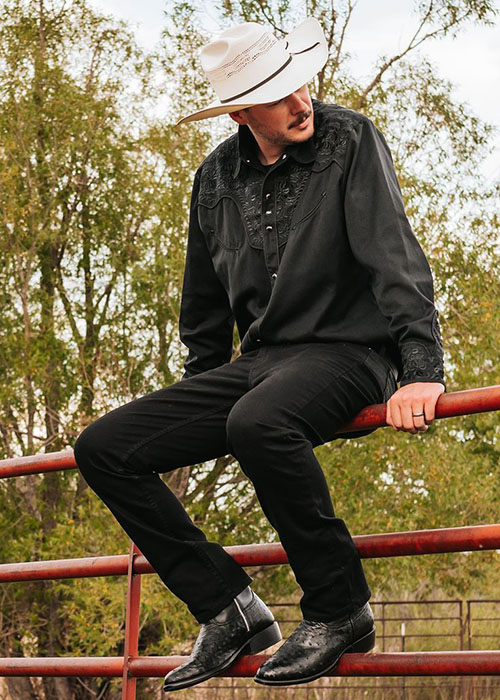 Get the Look
Casual Country Concert Outfits
When you don't want to dress too much like a classic country guy but want to evoke the essence, look no further than this casual getup. Start with the building blocks – a pair of basic jeans and a T-shirt. Then add your layers – if the weather calls for it, add a flannel shirt in either red, gray, or blue and throw a denim or leather jacket over the top. For comfort, find a pair of desert boots or lace-up boots – a lighter color will keep the overall look laid back and isn't too dressy. Throw a trucker cap and top for the ultimate nod to Western dressing.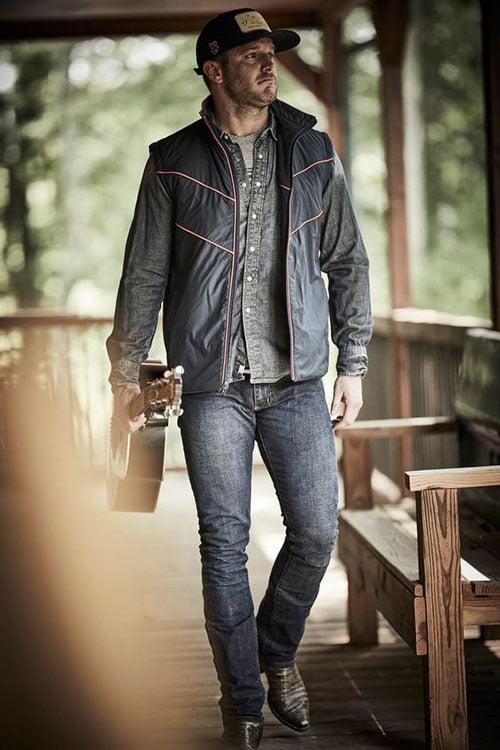 Get the Look
Spaghetti Western Style
For many, the first style reference they think of is the Spaghetti Western. A classic in Hollywood history, the clothing choices remain as iconic today as they did in the '60s. Think of references such as Clint Eastwood in A Fistful of Dollars or Franco Nero in Django – a button-down shirt and dark jeans, a wide-brimmed hat, and a poncho or shawl thrown around the shoulders in either blue or cream and brown. Add a sheepskin vest and a smoldering look, and a furrowed brow to complete the country concert outfit.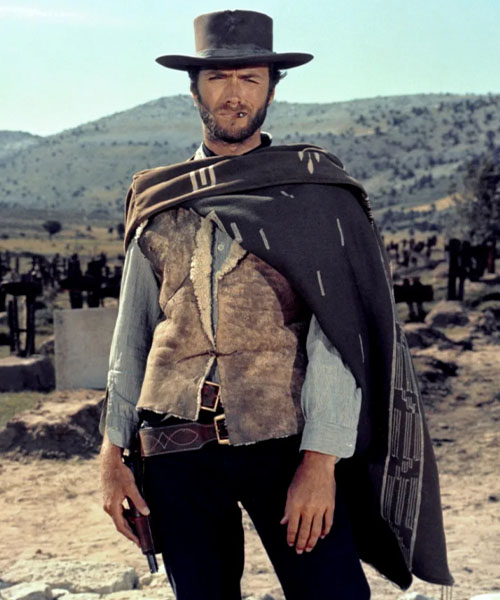 Flannel Shirt
The humble flannel shirt is one of the most iconic garments in country concert outfits. The iconic checked patterns and warm fabric make it a great choice for outdoor events or a concert inside. No matter the temperature, you can work it into your outfit. Add a flannel over a white or black T-shirt and a pair of jeans for cooler days. You can leave it as is or wear another jacket over the top. Alternatively, you can wear the shirt on its own, without anything layered underneath – it will give you a stylish and authentic touch to the look.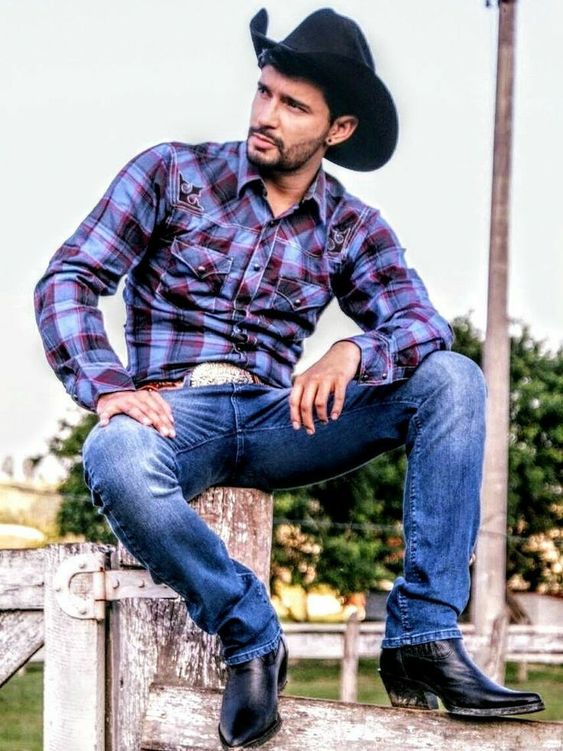 Get the Look
Western Accessories
If you wear a pair of jeans and a T-shirt without any accessories, you may as well be anywhere. These classic items are the best way to elevate your country concert outfit, whether in the city or at a local concert hall. The cowboy hat is a must, especially for outdoor day events. However, if the event doesn't call for a hat, why not try a leather belt with an oversized buckle in either silver or bronze? Other great elements to add include a pair of Aviator sunglasses, a Bolo tie, a few leather bracelets, and of course, your cowboy boots!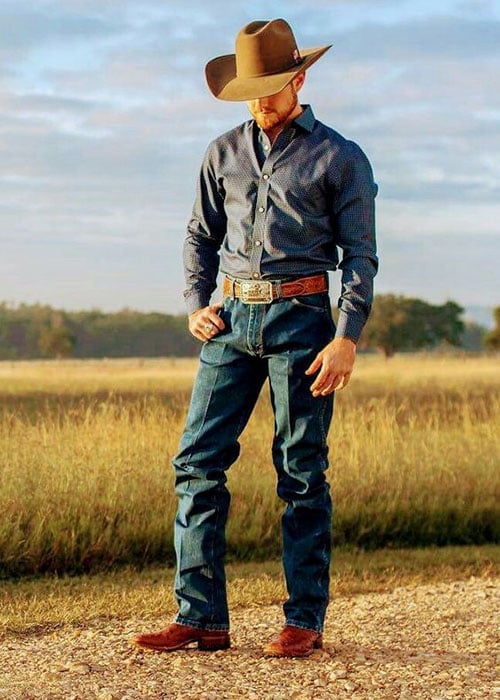 Get the Look
Country Concert Outfit Ideas for Women
Fringe Benefits
Fringe is one of the most adventurous and fun Western styles to wear to a country concert. The wild and free movement of the fabric is perfect for dancing, and it looks fantastic with pretty much anything. Opt for a suede skirt with a beaded hem, or swap it out for a jacket that has fringe along the back and arms. This style works well in a wide range of colors, but the most popular are brown, white, and black. Combine it with other shades like turquoise, baby pink, or cherry red for a classic style – and it never hurts to add a bit of extra fringe to your footwear.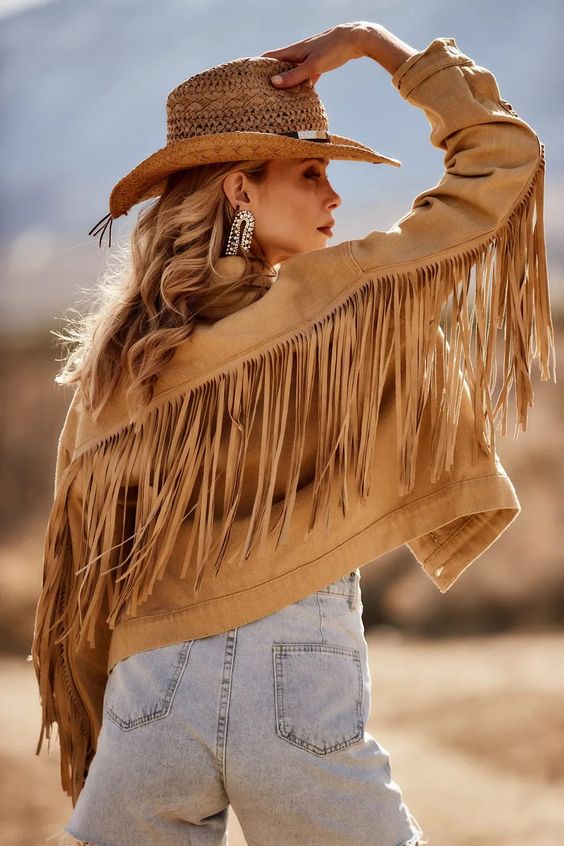 Get the Look
Denim Cutoffs
When summer calls, show off your pins in a pair of denim cutoffs. These skin-bearing shorts will keep you feeling fresh all day or night and gives you the country concert aesthetic without feeling underdressed. A light and medium wash will give you maximum impact, and you rock them with a T-shirt and suede vest to give them an authentic look. To keep the theme going, a pair of cowboy boots in brown or black will tie everything together and give it a fashionable spin.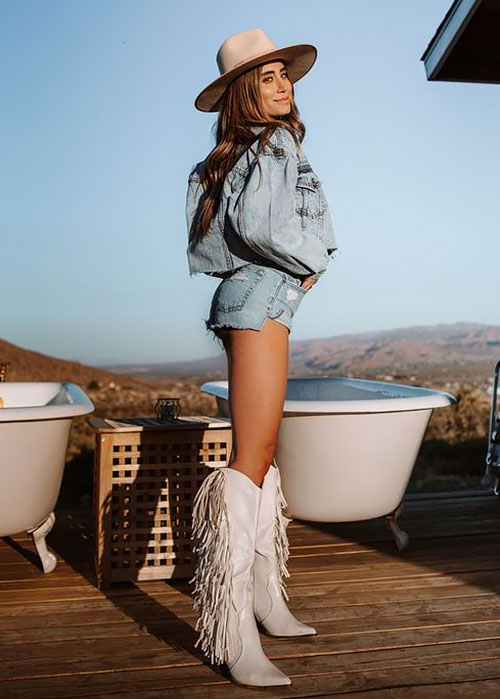 Get the Look
Sparkle Galore
So, you're heading to a TS concert and want to pay homage to Fearless? The era was filled with a blend of pop star and country belle aesthetics, with sparkle galore and a pair of humble cowboy boots. Begin with a dress or skirt covered in something shiny – it can be metallic, fringe, or sequins. Add a cute t-shirt in neutral or bright colors, finish the look with a pair of thigh-high or knee-high cowboy boots, and leave your hair out and loose.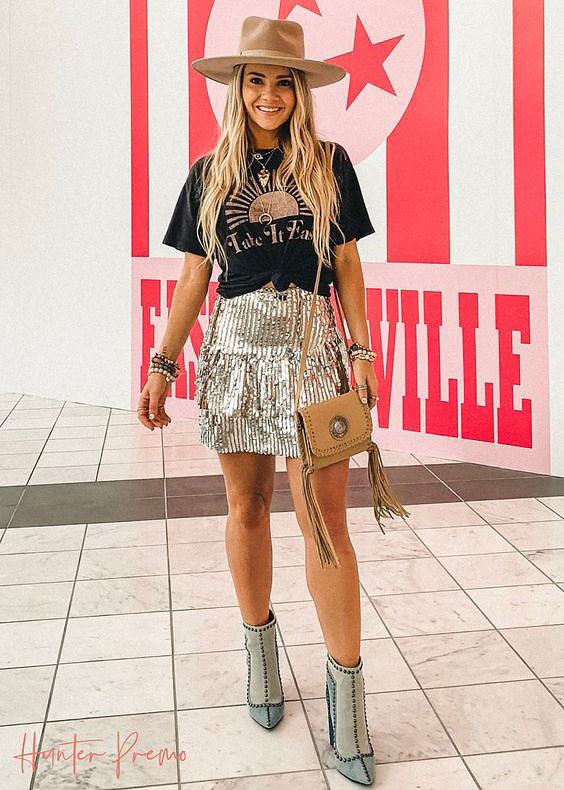 Get the Look
Double Denim
The Canadian Tuxedo isn't just for guys – it's also a stylish option for women at a country concert. When done correctly, double denim can look beautiful and sleek and be recreated easily. Start with a pair of bootleg jeans and a matching button-down – tuck the fabric into your pants for a seamless touch. A denim jumpsuit also looks fantastic, and it creates a clean silhouette. Add some Western elements over the top, such as cowboy boots, a Western hat, and a large belt buckle.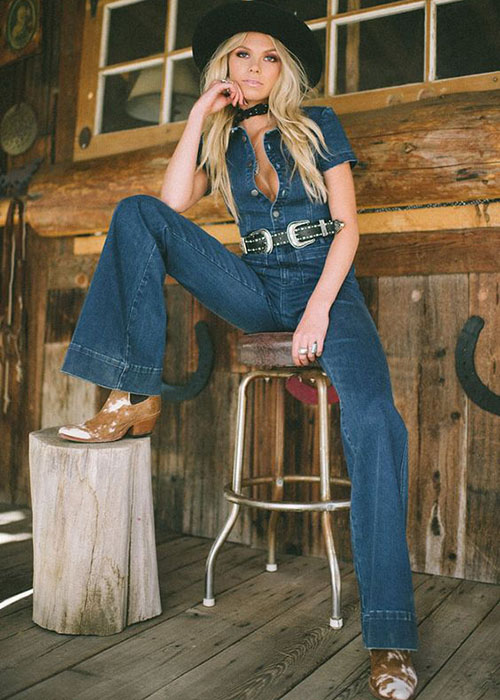 Get the Look
Flared Pants
The Y2K fashion is back and has infiltrated the country aesthetic. While the bootleg cut is the most popular silhouette for this style, an exaggerated flare is a perfect way to put a fashion spin on it. Wear these in any fabric or color, such as orange, blue, black or gray. Denim is also a great country concert outfit choice if you want to keep the look a little more subtle. For maximum effect, make sure your trousers sit close to the skin everywhere above the knee – the fabric should jet outwards in a dramatic fashion which will elongate your limbs. Plus, it's great for dancing.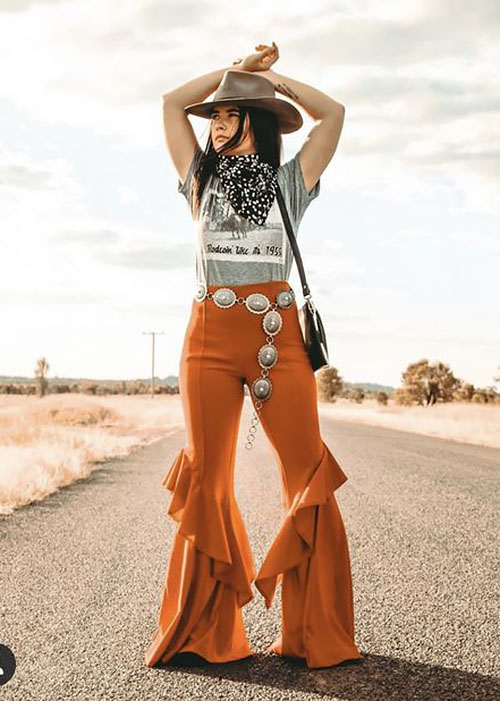 Get the Look
Cowgirl Leather Outfit
Whether you love faux suede or brushed calfskin, leather is a staple piece to wear to a country concert. Be it leather trousers with a band T-shirt or a brown leather jacket with jeans; there are endless ways to style this look. Find a pair of hip-hugging leather pants with a subtle flare for a Y2K throwback, or try a leather skirt with fringe for a quirky twist. Finish the look with a pair of boots in the same material, and you'll be the most show-stopping person in the venue.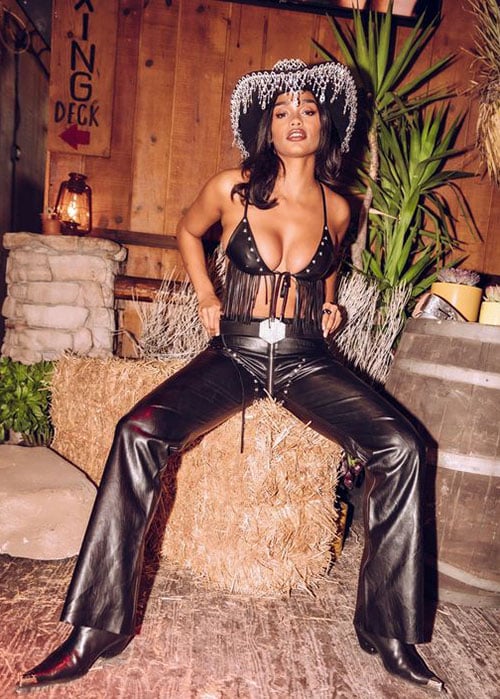 Get the Look
Oversized Jackets and Shackets
When temperatures start to dip, and you need to layer your clothes, try your luck with a shacket or oversized jacket. These versatile and stylish pieces look great on all body types and are available in endless color combinations, patterns, and fabrics. For an authentic feel, we recommend checks or plaid – its thickness will provide warmth and a bit of country concert flare. Alternatively, you can wear one in a denim chambray or light color like cream or gray. Combine it with a pair of jeans and a plain T-shirt for an effortlessly stylish look.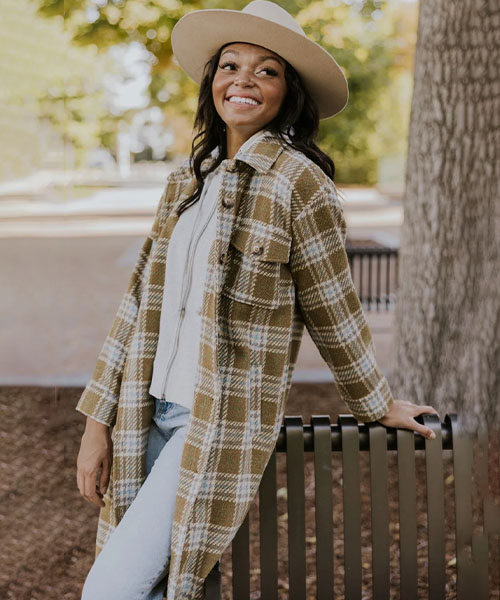 Get the Look
Ripped Jeans
If you like the idea of distressed clothing for a country concert outfit, you can't go past a pair of ripped jeans. These closet staples look great for a gig, thanks to its laidback aesthetic, but it's also edgy enough to rock with a band T-shirt or a classic leather jacket. If you want to make the look a little more subtle, stick to having rips only at the knee. However, if you want something a bit out of the ordinary, add a few extra tears on the thighs and below the knee – it will give off a rougher and butt-kicking feel that is sure to look fantastic.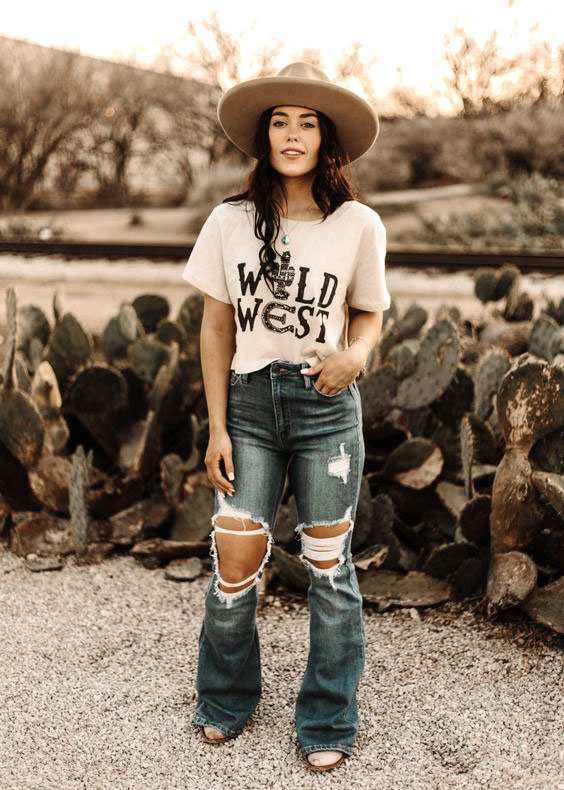 Get the Look
Barbiecore Cowgirl
If you were head-over-heels in love with Margot Robbie's viral pink cowgirl outfit on the set of Barbie, you weren't alone. This Barbiecore-infused country concert outfit is stylish and sleek, and absolutely perfect for a concert. Channel the bombshell's look with a pair of hot pink denim jeans with an exaggerated flare from the knee, and paint a cluster of stars at the bottom in white and burgundy for maximum effect. You will also require a matching waistcoat, but a one-shoulder top in a similar shade will do the trick. Finish the look with a cowboy hat and Western boots – make sure the headwear and footwear are the same color.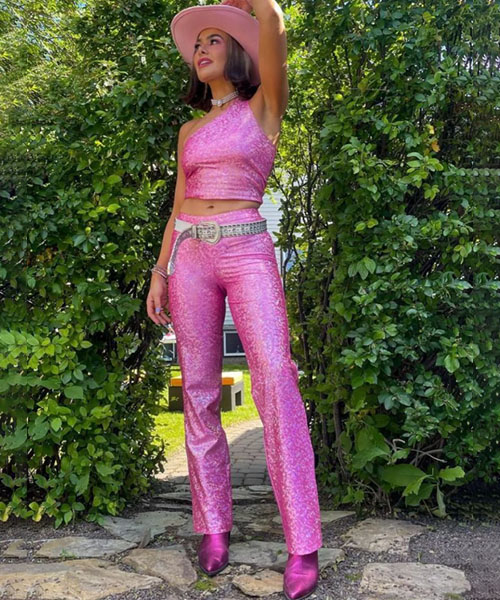 Get the Look
Western Print T-Shirts
You can't go past a printed T-shirt if you want to keep your country concert outfit relatively casual and laid back. If you are attending a band's gig, it's best if you rock their merchandise to support the act. However, if you are attending a different musical event, you can wear anything from your favorite beverage, band, or print of your choice. Style it with a pair of classic jeans and boots for an authentic feel, or switch it up and tuck the shirt into a leather skirt with ankle Western boots. Opt for neutral shades like charcoal, white, brown, or black to maintain an edge to your outfit.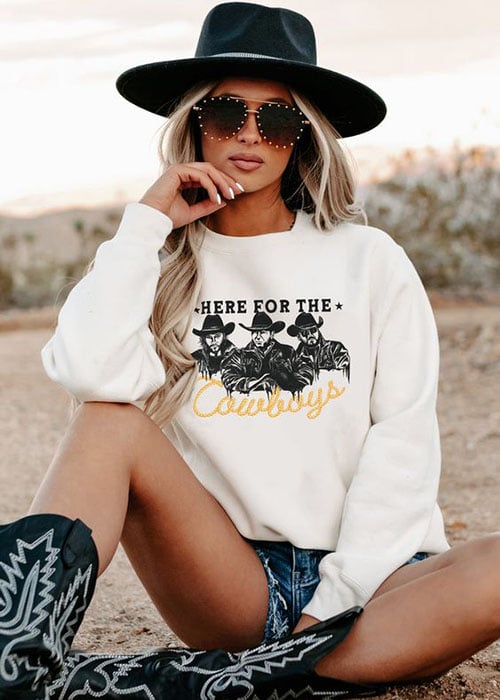 Get the Look
Cowgirl Accessories
If you want to take the cowgirl look seriously at your next country concert, you have to invest in some staple accessories. Of course, you couldn't go past a classic cowboy hat – be it felt, sequin, or straw. Choose any color you prefer, although the most adaptable shades are brown, cream, and black. Other key items include a bandana to wrap around your neck – either in a paisley or another repetitive pattern- and a leather belt with an oversized buckle. Wear them all together for maximum impact, or keep it to one or two at a time for subtlety.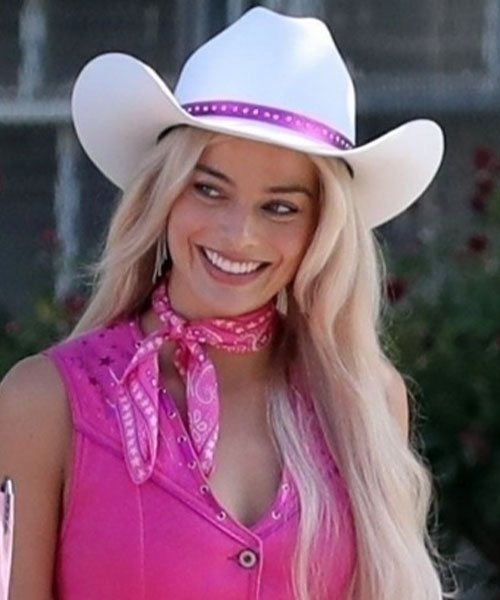 Get the Look