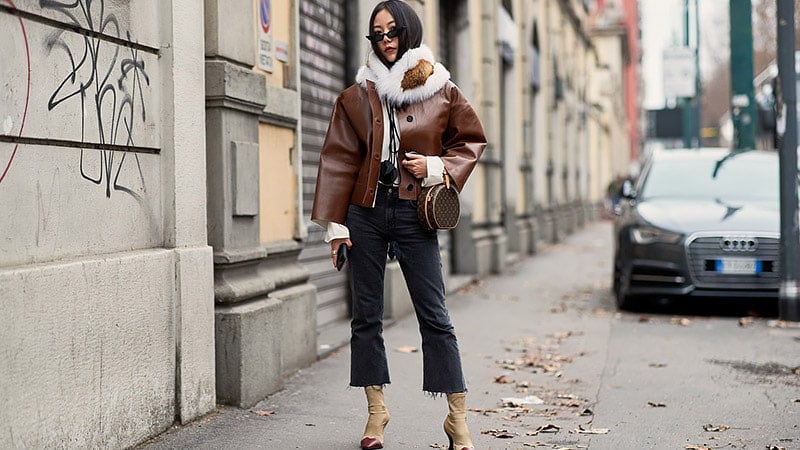 There's no denying that black jeans are some of the most versatile pants around. Thanks to their flattering appearance and neutral hue, these pants can suit anyone and work for almost any occasion. However, as versatile as they are, black jeans can often be tricky to style, especially if you're used to wearing standard blue denim. Thankfully though, we can help you rock these must-have pants like a street style star. Whether dressing for brunch with friends or a night out on the town, we've got plenty of inspirational looks that you'll love. Here's our selection of gorgeous black jeans outfit ideas for stylish ladies.
What Colour Shirt to Wear with Black Jeans?
Black jeans can work with shirts and tops of many colours. In particular, a white shirt makes an excellent choice as it creates a stylish monochromatic appearance. Likewise, grey can also be an attractive option and will provide a softer contrast than white. However, white and grey aren't the only hues you can wear with black jeans. Black and brown can work well for the winter months, as can other rich shades, such as burgundy or khaki. Cream can also look great in winter while denim and chambray shirts appear stylish all year round.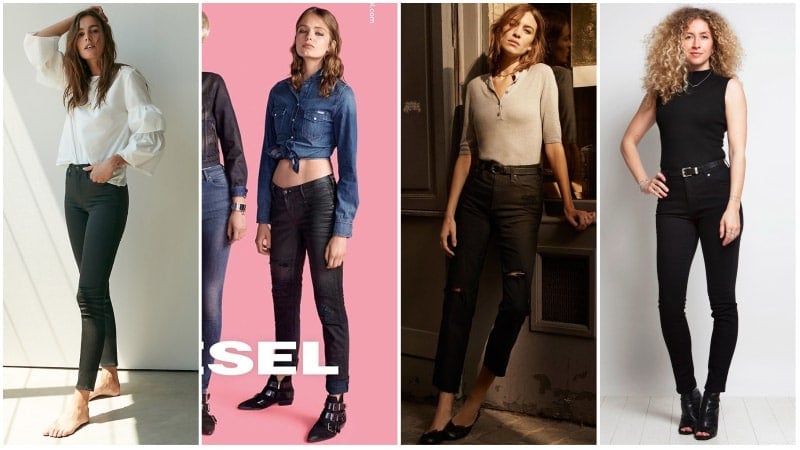 What Shoes to Wear with Black Jeans?
Black jeans can look stylish with a variety of shoes, depending on their style and the occasion. Boots make an exceptional choice and can work with a range of outfits. Just try heeled boots for dressy outfits, flat boots for a casual look or over-the-knee boots for a cute winter style. If you want to wear footwear other than boots, consider sneakers for a relaxed aesthetic or pointed toe pumps for sophisticated occasions. During summer, you can also try partnering your black jeans with slides or closed-toe flats.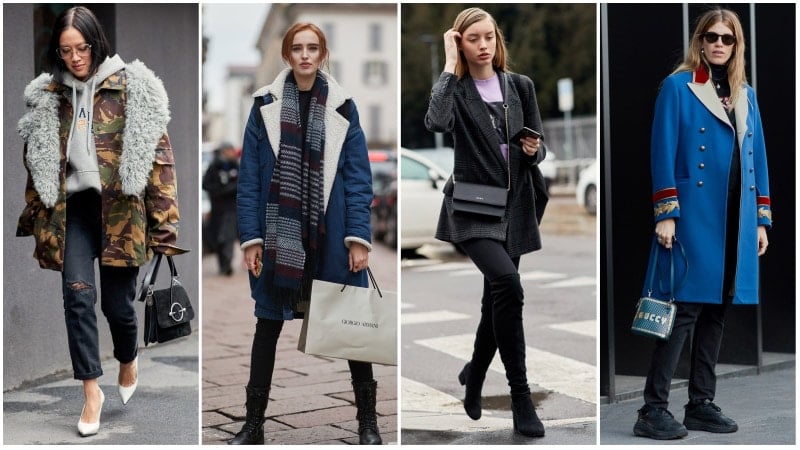 Black Jeans Outfits
Outfits with Black Jeans for Summer
Black jeans don't need to be reserved for winter. They can also look fantastic in summer. To nail the look, aim for a casual and breezy aesthetic. To do so, select a pair of skinny black jeans and pair them with a t-shirt, and a lightweight denim or cotton jacket. Choosing one in a light hue, such as nude or baby blue, will ensure your style appears summery. To complete your ensemble, just add comfortable yet chic shoes, such as a pair of flat mules or white sneakers.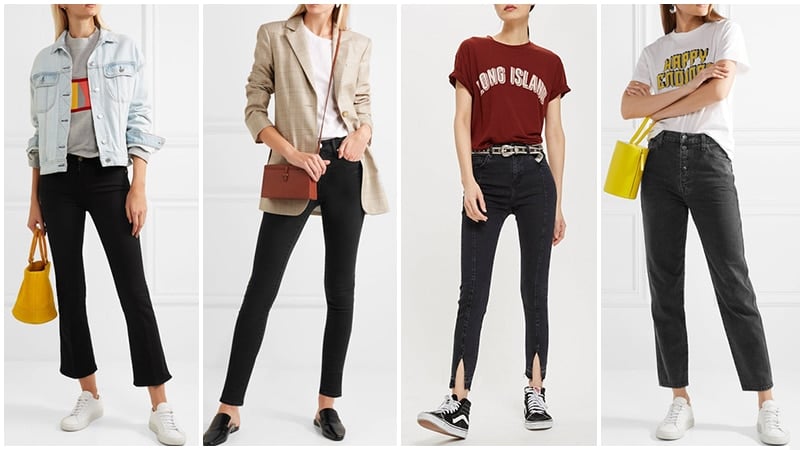 SHOP THE LOOK
Outfits with Black Jeans for Winter
Due to their dark colour and thick fabrication, black jeans make an excellent choice for winter. They appear especially stylish when paired with black leather boots and something chunky on top. Whether worn with a thick cable-knit sweater or an oversized puffer coat, black jeans appear chic and stylish. So, you should feel free to experiment with different looks and have fun adding layers on top.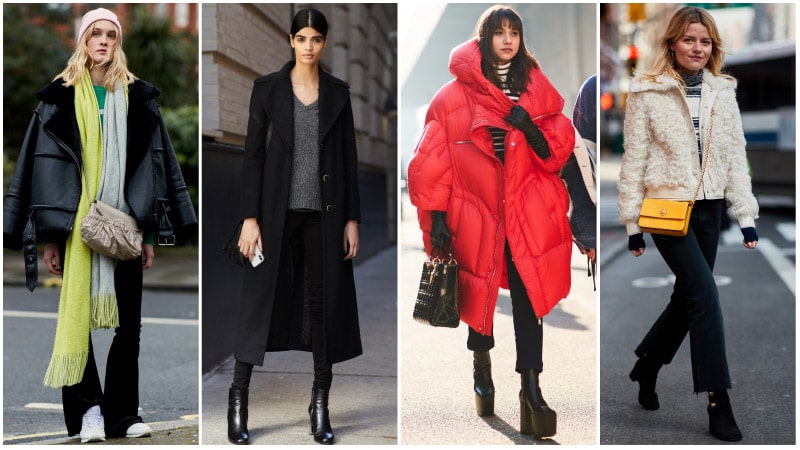 SHOP THE LOOK
Black Ripped Jeans Outfits
Black jeans naturally appear edgy. But, add a few rips and tears, and they seriously look rock and roll. Perfect for tough ladies, ripped black jeans add a rough-around-the-edges kind of cool to any outfit. To wear the look, choose between subtle styles, such slim jeans with torn hems or bolder designs, like slouchy cuts with large open holes. Then, complete the look with a mixture of rugged and chic items, such as a shearling-trimmed pilot jacket and a slogan tee.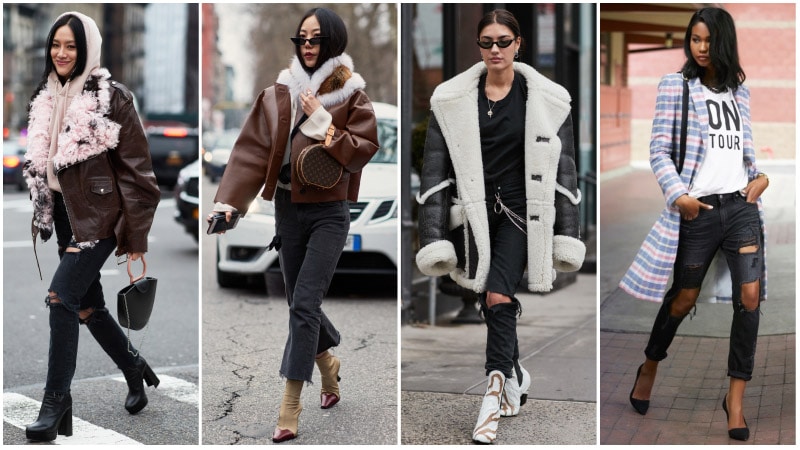 SHOP THE LOOK
Black Skinny Jeans Outfits
Although black jeans come in many styles, skinny designs are some of the most versatile. So, if you're new to the world of dark denim, they're your best option. Thanks to their sleek and straightforward appearance, black, skinny jeans can be easily dressed up or down. As such, they can work for both casual outfits and more dressy looks. Additionally, black, skinny jeans are also highly flattering, creating the appearance of long, slim legs. To further that effect, you can also add heeled black boots.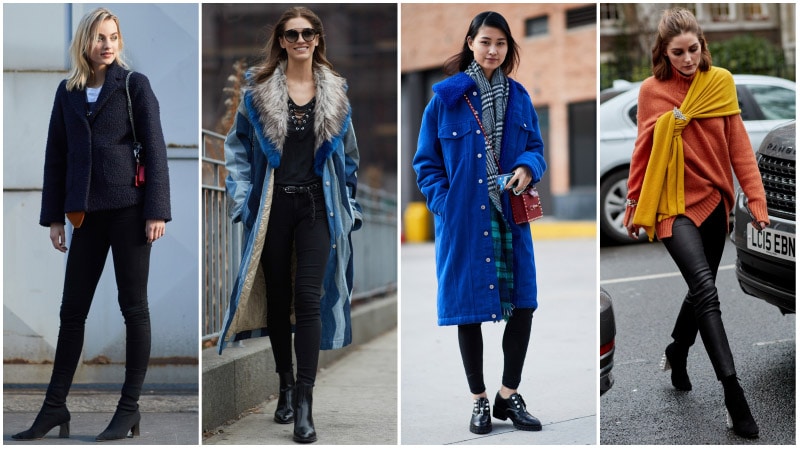 SHOP THE LOOK
Black High Waisted Jeans Outfits
Another excellent way to lengthen the appearance of your legs is to opt for a pair of high-waisted black jeans. These flattering jeans sit at or above your navel, shortening your torso and lengthening your legs. To make the most of their flattering style, be sure to show off your waist. To do so, opt for a cropped top or tuck a longer top into your pants. Adding heeled boots will also make your legs look longer while a loose jacket will achieve a lovely balance.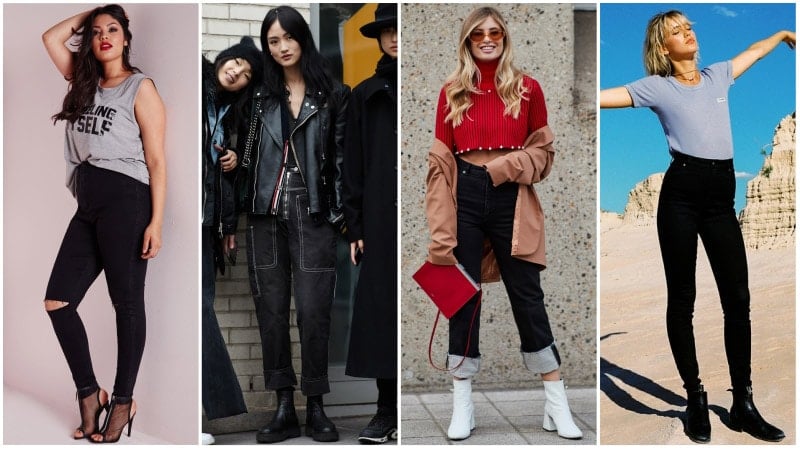 SHOP THE LOOK
Black Jeans Casual Outfits
While black jeans can suit a variety of occasions, they're most easily worn casually. When wearing black jeans for a casual look, just remember to keep things relaxed and minimal. Whether worn with a denim jacket and sneakers or a cosy sweater and boots, black jeans can look fantastic. So, there's no need to add too much colour or embellishment to nail this style.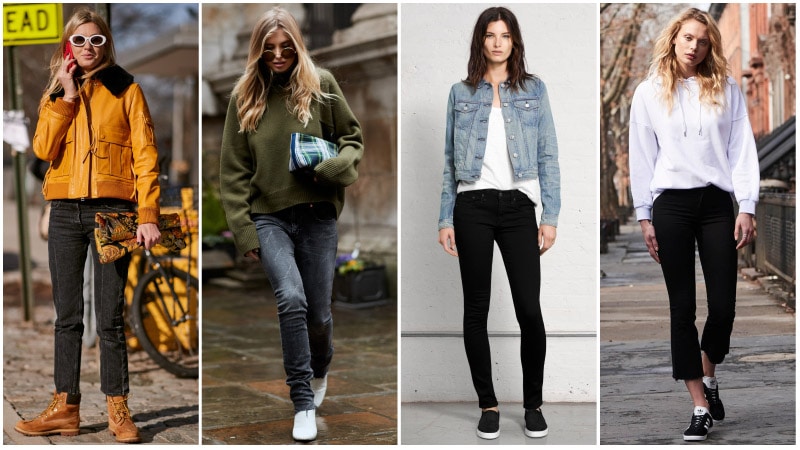 SHOP THE LOOK
Black Jeans Party Outfits
When day turns to night, you can make your black jeans party-ready in a few simple ways. Firstly, swap boots or flats for stilettos. Then, find a chic top that will take your look to the next level. An embellished black design makes a particularly excellent choice for night-time events. Finally, add some fun accessories, such as statement earrings, and apply a bold swipe of lipstick or eyeliner.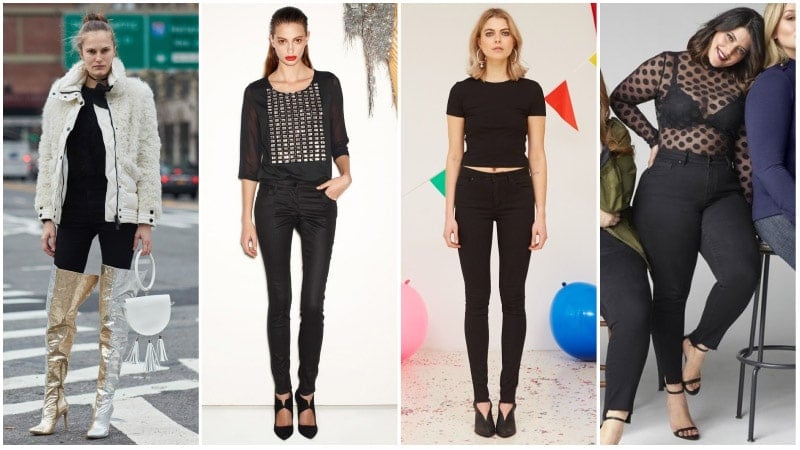 SHOP THE LOOK
Cute Outfits with Black Jeans
Blue jeans aren't the only denim that can look cute. Black jeans can also appear lovely when worn in a youthful and feminine manner. To nail the look, all you need to do is have fun with things. To do so, try choosing a less common cut, such as a wide-leg style. Then, add on-trend statement pieces, such as ruffle top, faux fur jacket, and baker boy hat.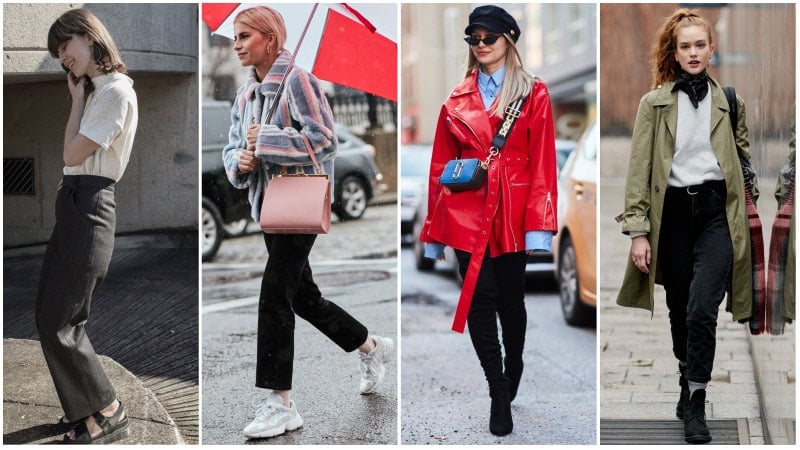 SHOP THE LOOK
Black Jeans with a Blazer
In recent seasons, blazers have become one of the hottest items to own and, it just so happens, they look fantastic with black jeans. Perfect for achieving a sleek, smart casual look, this combination combines timeless tailoring with down-to-earth denim. Simply add block heels or boots and a T-shirt or turtleneck sweater to complete the stylish outfit.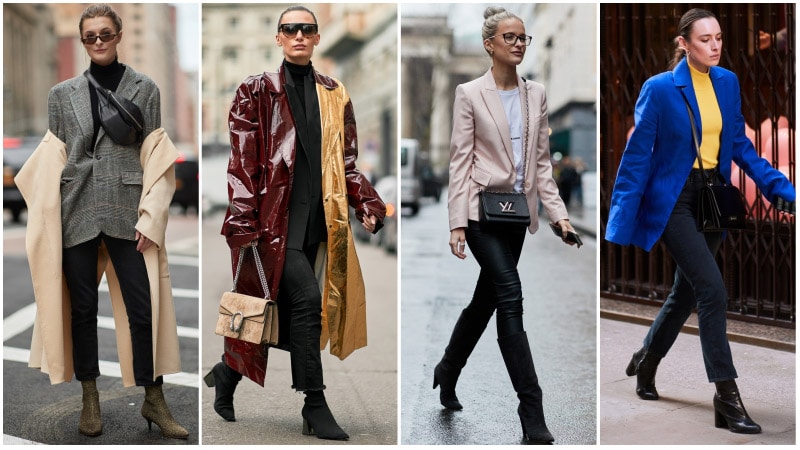 SHOP THE LOOK
All Black Jeans Outfits
Black jeans are ideal for creating a stylish all-black look. The outfit is perfect for achieving an edgy style and can work for both polished and casual aesthetics. To nail the look, consider opting for a pair of washed black jeans, which will help break up the outfit. Also, try mixing textures. Even something as simple as black jeans with a leather jacket, knit top and suede boots can look fantastic due to the blend of materials.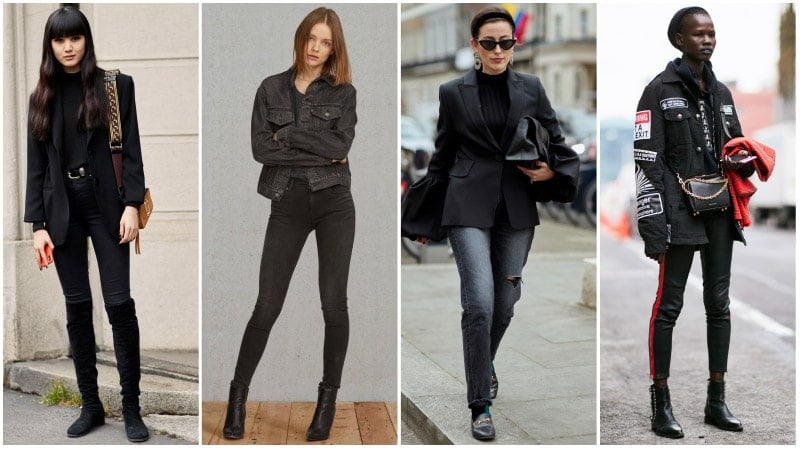 SHOP THE LOOK
How to Wear Black Jeans
Partner black jeans with tops in neutral colours, such as white, grey and black, or rich wintery hues like burgundy or khaki.
When it comes to footwear, boots work for a variety of looks while sneakers suit casual outfits and heels look great with polished ensembles.
To wear black jeans in winter, opt for layers and chunky styles on top, such as cable-knit sweaters and puffer jackets.
To wear black jeans in summer, partner them with a lightweight t-shirt and blazer or denim jacket and add slides or white sneakers.
Choose skinny black jeans for a flattering look that can work for almost any occasion.
SUBSCRIBE TO OUR NEWSLETTER
Subscribe to our mailing list and get interesting stuff and updates to your email inbox.