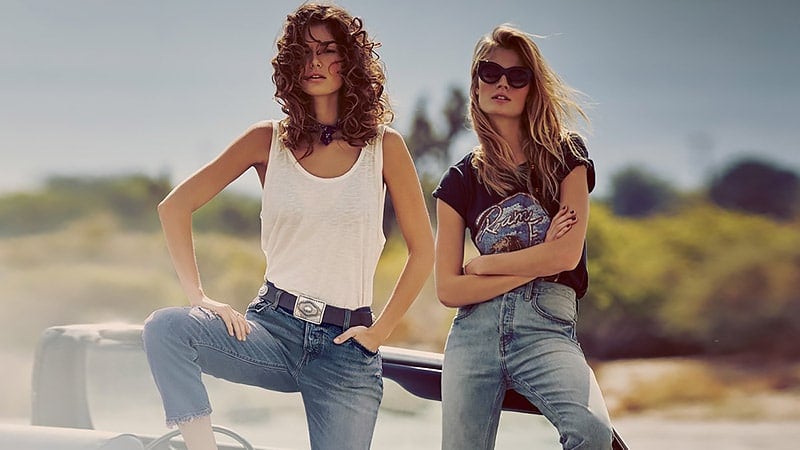 Everyone has their favourite jeans, be it your best pair of skinnies or your most comfortable boyfriends. Whatever your style, it's more than likely that you've had your favourite jeans for a while. After all, they're durable and they stay stylish season after season, year after year. After wearing the same jeans for so long, though, you may have slipped into a styling rut, always pairing them with the same old items. Well, not anymore! Give the boring t-shirt and flip-flops a miss this season and show your favourite jeans some love with a styling makeover.
RELATED: What To Wear With Your Favourite jeans
What is My Body Type?
Jeans are one of the best fashion investments to make. You can keep them for years and, although they may fade or rip, they're still totally wearable. Never mind if your favourite pair is out of style at the moment, they'll be back before you know it. Just make sure that they still flatter your figure before adding them back into your clothing rotation. To find the styles that best suit you, use your body type as a guide.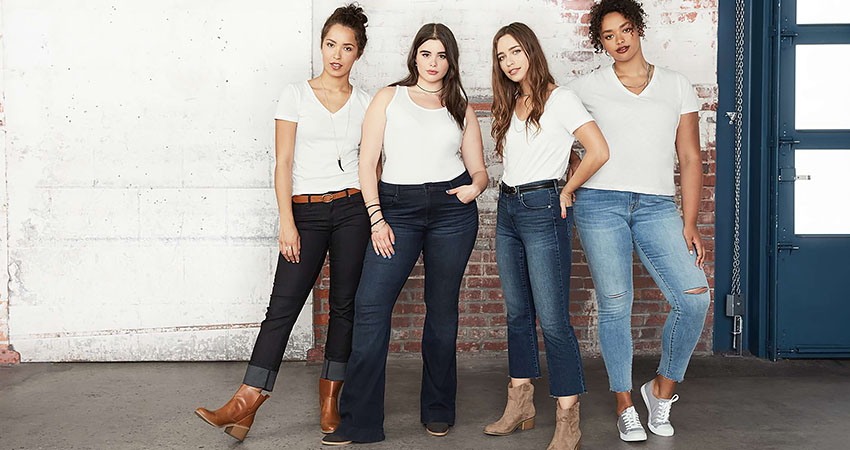 Pear Figure
Women with pear figures tend to have a smaller bust and larger hips/thighs, so it's important to create balance with shapes. If you have a pear figure, avoid high-waisted jeans as they will be unflattering to your figure. Instead, opt for low to mid-rise jeans in styles such as boyfriend and cropped. These jeans will help balance your bottom half and make you look great.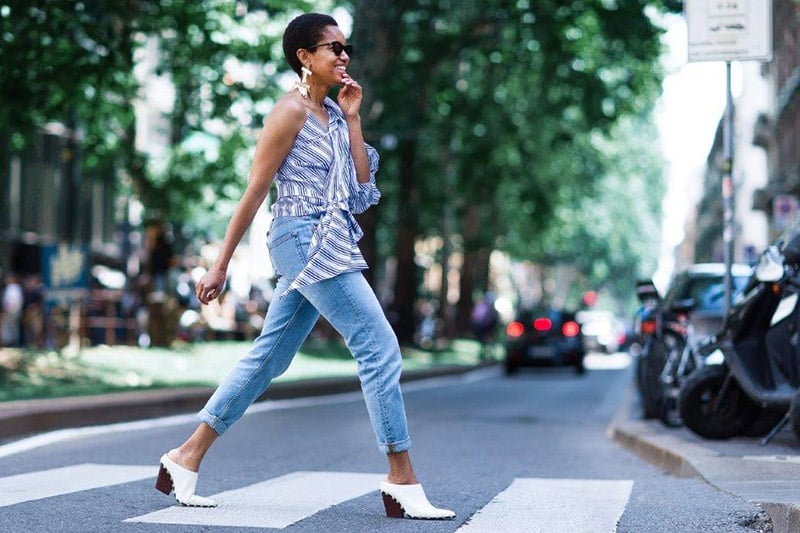 Tall Figure
Long legs are made for wearing jeans, so embrace your tall figure and rock them all season long! In general, long length jeans will look best on your long legs, so avoid cropped styles and opt for ones that finish at or past your ankles. Try mom jeans, ripped denim or flared styles to flatter your figure and show off your lean shape.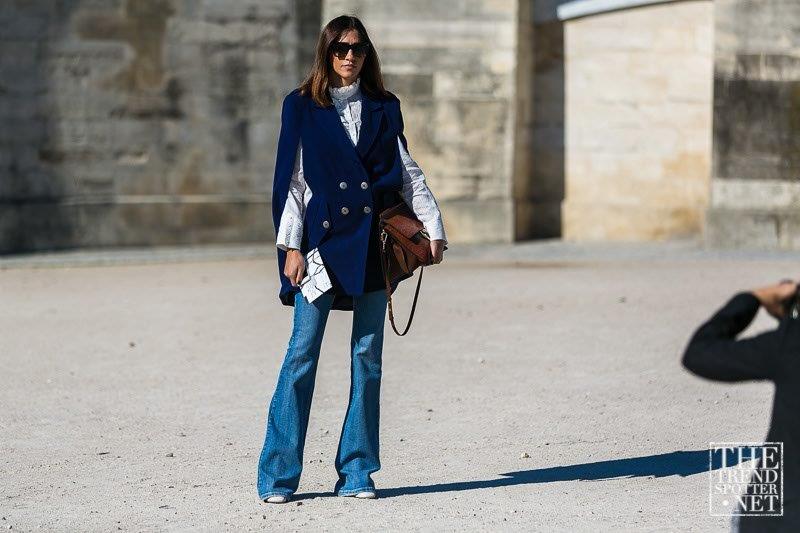 Hourglass Figure
If you're lucky enough to have an hourglass figure, you'll find that most styles of jeans look good on you. If you want to really flatter your figure, however, high-waisted mom jeans or skinny jeans are best. Skinny jeans will cling to the curves of your legs, highlighting your feminine shape. Mom jeans, on the other hand, will draw eyes to your defined waist.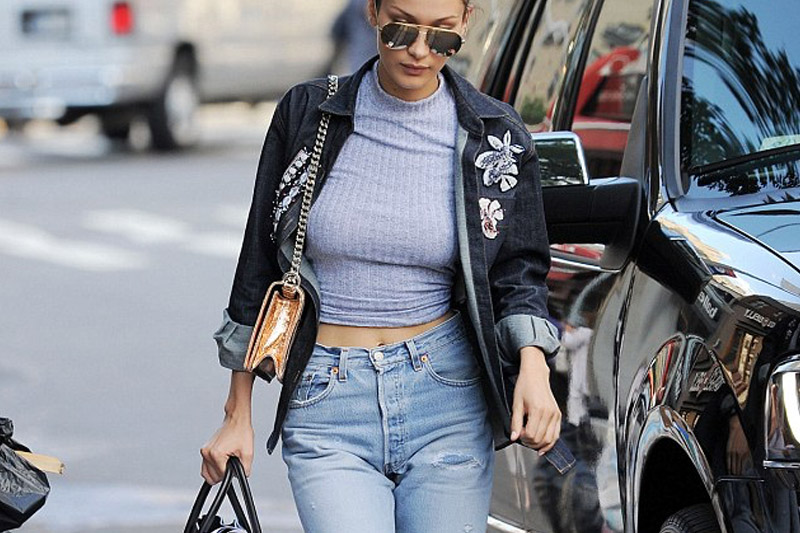 Column Figure
Column figures have an athletic appeal but can look a little masculine if not dressed correctly. To flatter your column figure, choose styles that will create shape and curves for you. Try skinny and mom styles that feature a mid to high-rise to create waist definition. The slim fit of these styles will also help highlight the curves of your thighs, accentuating the feminine aspects of your shape.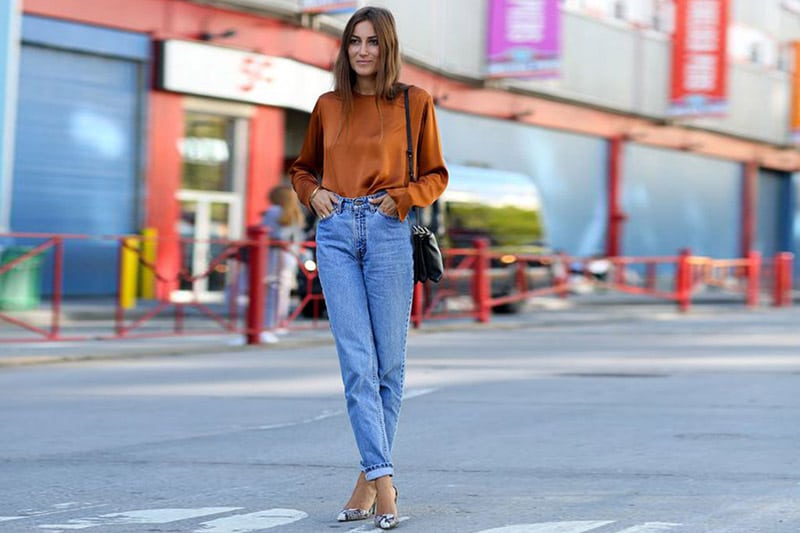 Petite Figure
Petite figures and slender frames can often look swamped when wearing heavy-weight denim. To avoid looking like you're drowning in jeans, opt for cropped, straight leg and skinny jeans. As they are shorter and tighter fitting than other styles of jeans, they will be better suited to flatter your figure. Also, look out for low and mid-rise styles, as high waisted styles may look awkward.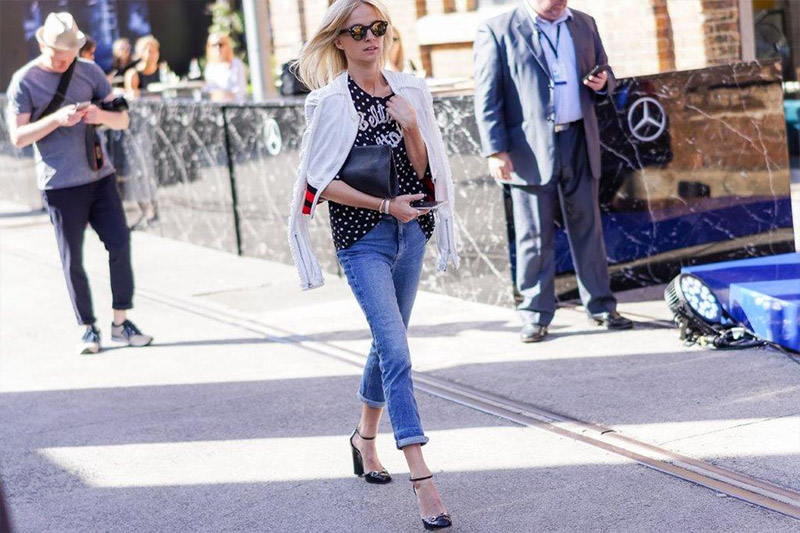 Curvy Figure
If you have a curvy figure, the best way to flatter your shape is to show it off. Don't try to hide your curves behind loose styles, such as boyfriend jeans. The excess fabric will only serve to make you look larger than you are. Highlight your feminine shape with jeans such as skinnies and lightly flared shapes. For the most flattering look choose dark-wash denim with a mid to high-rise.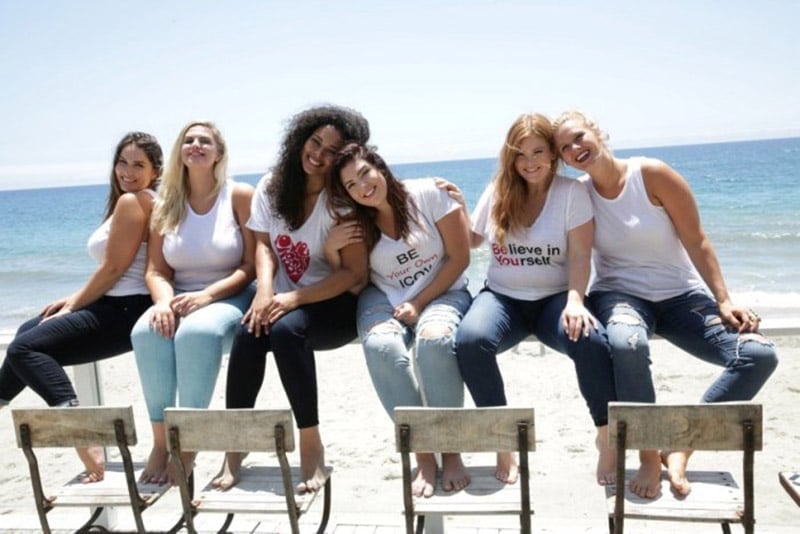 Outfits with jeans
How to Wear Skinny Jeans
Skinny leg jeans have long been a wardrobe staple for every fashion-loving woman. The snugly-fitted style is easy to wear and can have an incredible slimming effect on your legs while still highlighting your great curves. This season is all about finding the right balance for your skinny jeans. As most skinnies come in a dark blue wash or black (these are the most flattering colours), find balance by pairing them with light coloured tops and shoes. White tops, in particular, look fantastic when paired with denim. Choose a loose, flowing style, such as this season's off-the-shoulder top, to balance out the extreme slim look of your pants.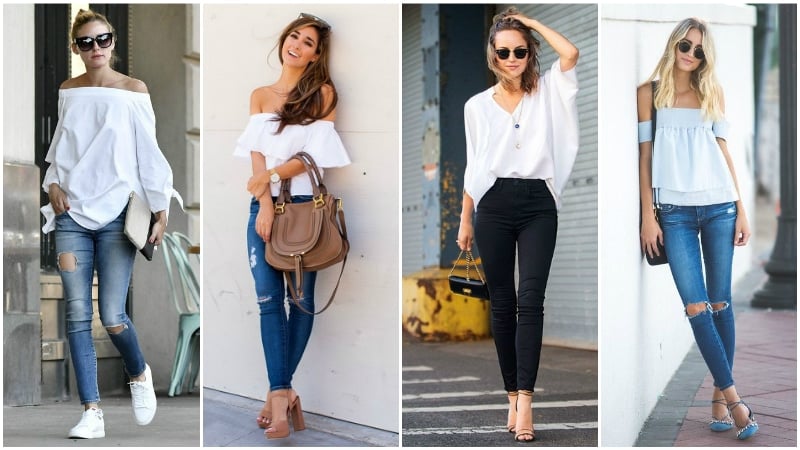 SHOP THE LOOK
How to Wear Ripped Jeans
Ripped jeans are a style that everyone has tried at one point in their lives. The deliberately distressed style of denim is available in a range of cuts but always offers a similar feel. The tears, holes, and frayed edges create a messy, undone look with a dose of grunge. This season, tame your ripped jeans by pairing them with decidedly done-up pieces. The balance of polish will tone done the grunge feeling of your jeans and create an edgy fashion look. Wear pieces that are sleek and that offer coverage to offset the flashes of skin from your legs. A turtleneck sweater and blazer is an easy way to achieve the desired look. Finish your outfit with chic accessories, such as high heels, a clutch, and sunglasses.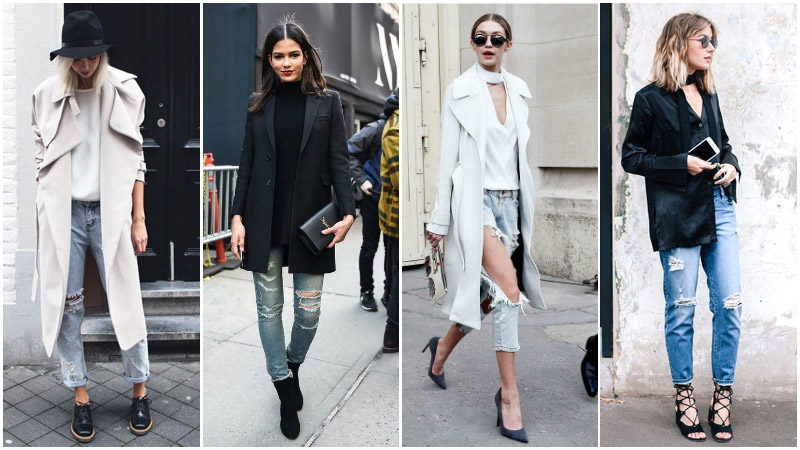 SHOP THE LOOK
How to Wear Boyfriend Jeans
Boyfriend jeans make for a cute and relaxed weekend look that is comfortable and fun to wear. This season, pair your boyfriend jeans with a loose, knit jumper (worn half-tucked) for cooler weather and a crop top or loose shirt (worn tucked-in) for warmer weather. Whatever you choose, make sure you keep your waist defined to help balance out the weight of these slouchy, oversized pants. When it comes to footwear, boyfriend jeans can be dressed up or down this season. Pair them with some open-toe heels to add polish or wear them with this year's must-have casual shoe, the white sneaker. Just remember to roll the cuffs of your boyfriend jeans up at the bottom. Doing so will provide a flash of skin at the ankles that will stop your body from looking overwhelmed in fabric.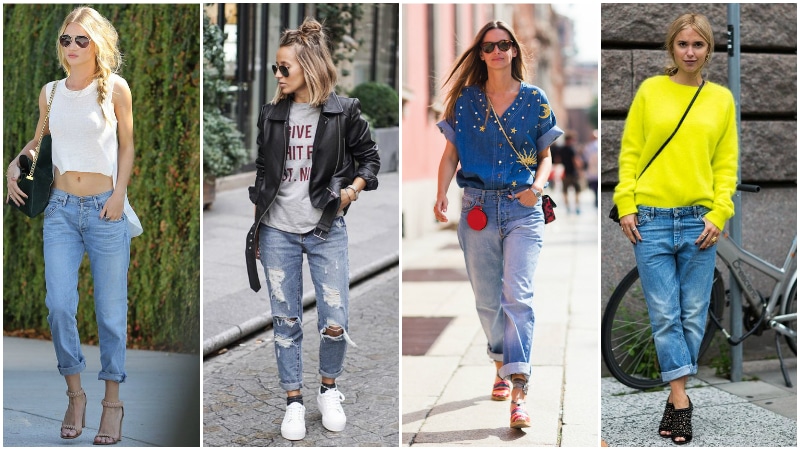 SHOP THE LOOK
How to Wear Cropped Jeans
Cropped jeans are one of the hottest styles this season, no matter if they're bought this way or DIY chopped from a longer pair. The simple cut is most commonly seen on straight and skinny-leg styles of jeans that sit on the hips. Wear your cropped jeans this season with the hems finishing approximately one to two inches above your ankles. This small flash of skin will create a perfect balance when worn with flat, closed-toe shoes, such as sneakers and brogues. If you want to wear heels, choose low, chunky styles with closed toes to maintain the look. Finish off this perfect weekend outfit with a relaxed top to keep things casual and let the length of your jeans be the focus.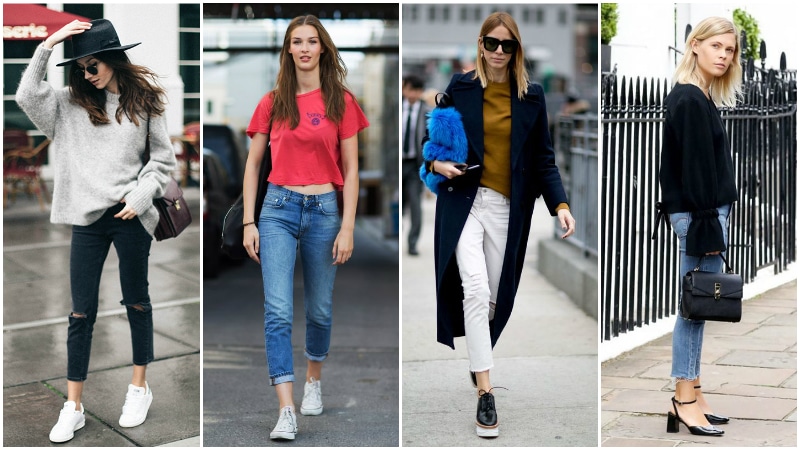 SHOP THE LOOK
How to Wear High Waisted and Mom Jeans
High waisted and mom jeans are just so wrong that they're right. We don't know what exactly it is, but there's just something so stylish about those mid-blue, straight leg styles. Perhaps it's the way they perfectly cinch the waist, creating that coveted hourglass silhouette. Or perhaps it's the way that they elongate your legs. Whatever it is, we love them. If you love them too, wear them proudly this season. Just remember to leave the rest of your mom's old wardrobe at home and choose stylish pieces instead. Try feminine blouses and tops in lightweight cotton and satin to add a modern and chic touch. If you're still worried about the look being not quite right, add high heels for an instant boost of youthful style.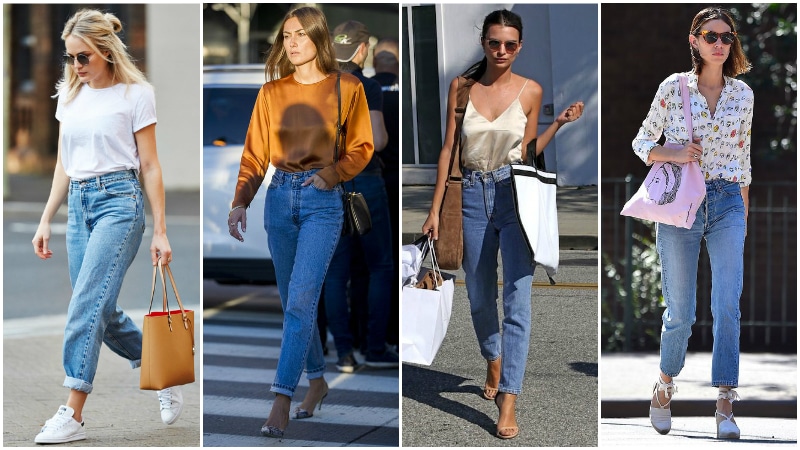 SHOP THE LOOK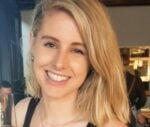 Taylah Brewer holds a bachelor's degree in fashion and business and is a skilled writer with several years of experience in the world of online content creation and copywriting. She is passionate about fashion, beauty, and all things lifestyle-related and has been writing for The Trend Spotter since 2016. She currently works as the Head of Digital & Ecommerce at White & Co.
SUBSCRIBE TO OUR NEWSLETTER
Subscribe to our mailing list and get interesting stuff and updates to your email inbox.