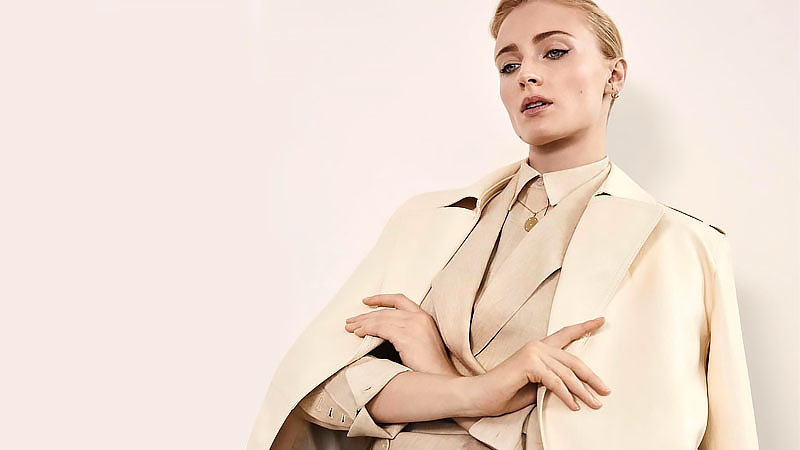 Being one of the biggest stars of Game of Thrones, the Queen of the North has made a name for herself in the style department. Whether she's on the face of a magazine or walking down the street, her bubbly personality and effortless beauty create outfits that are worth taking notes from. If you're after a bit of inspiration or you need to update your wardrobe, here are Sophie Turner's signature looks that you'll want to copy.
Sophie Turner's Style
Cream and White All Over
Nothing says chic quite like cream and white clothing. Sophie Turner's elegant styling is complete with these subtle tones and is easy to replicate. Opt for an ochre-colored and slightly oversized pantsuit and heels, or take sophistication to the next level in a pearl gown. This hue can be tricky to pull off, but it's worth the try!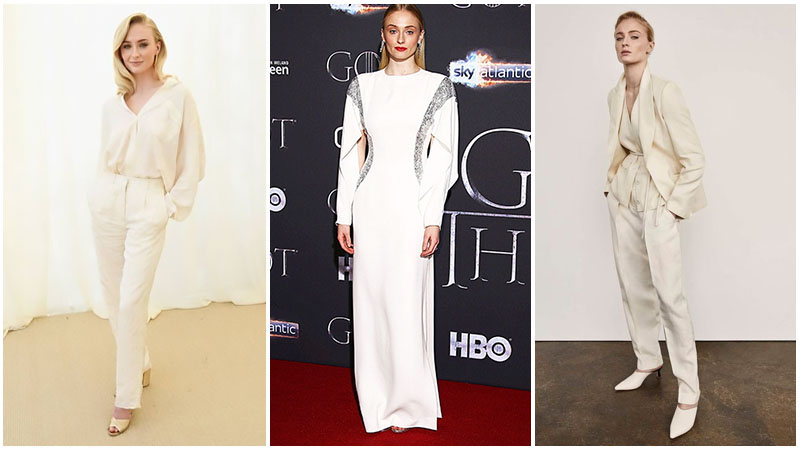 Get the Look
Band T-Shirts
Showcase your love for the '60s and '70s rock music in a band T-shirt. Sophie Turner often sports these funky shirts because they're so easy to style. For a timeless feel, opt for a classic silhouette and complete it with a pair of jeans and sneakers. If you'd like to put a spin on a work-appropriate outfit, why not try this tee with a suit or pencil skirt? There are so many options with this ensemble, and you'll look instantly cooler as soon as you put one on.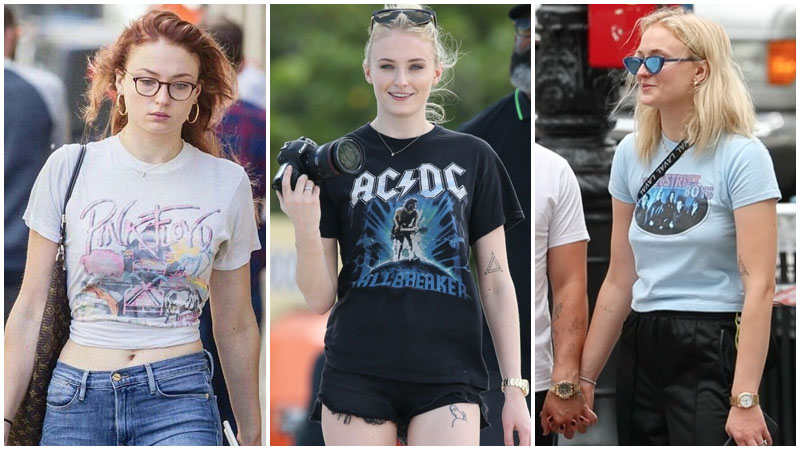 Get the Look
Gingham Trousers
For the day where you're feeling a little bit punk, slip on a pair of plaid pants. This bold design is sure to capture attention, and it's easy to work into any occasion. Take a leaf out of Sophie Turner's book by rocking them with a plain black top and sneakers – it's a casual and timeless combination. If you're heading to the office, put a chic spin on casual Fridays in a checked suit. Shades like black, green and red are traditional, but you can always up the ante in a canary-colored gingham or bright hues like pink, orange or blue.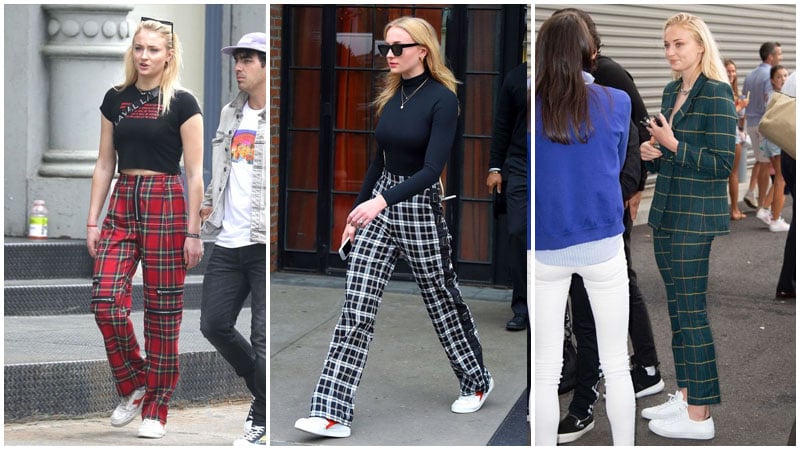 Get the Look
Cropped Tops
When you're as stunning as Sophie Turner, who wouldn't want to show a little skin? These cropped T-shirts offer a bit of fun to a traditional outfit and are chic enough to wear almost anywhere. Rock the tiny top with a pair of high-waisted jeans and heels – this will cinch in your waist and make your legs look miles in length. For the days where you want to be comfy, a cropped T-shirt and trousers look great with sneakers or flats. It's a versatile option that you can wear all year round.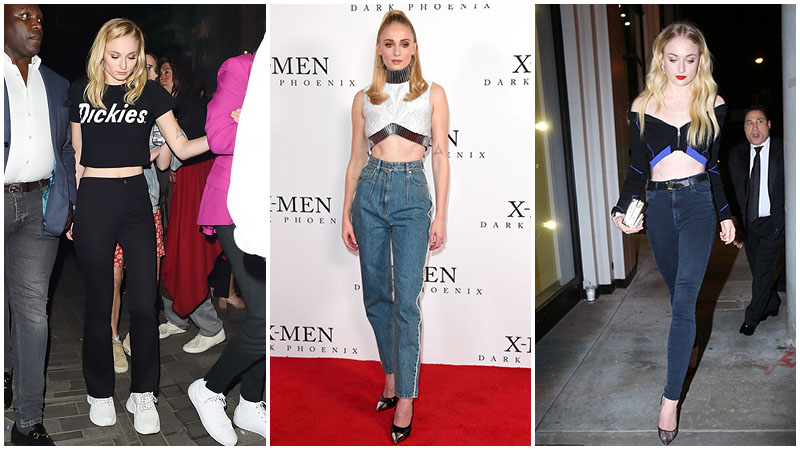 Get the Look
Double Denim
Whoever said you can't wear double denim hasn't seen the way Sophie Turner rocks it. Go for the different shades of fabric, it's easy to wear this tricky trend. Whether you choose a dark pair of jeans on the bottom and a light jacket or a traditional shade with a funky top half, you're going to look like a rockstar no matter where you are. Finish the look with sneakers, a bold sweatshirt or band T-shirt, and you'll be set for the day.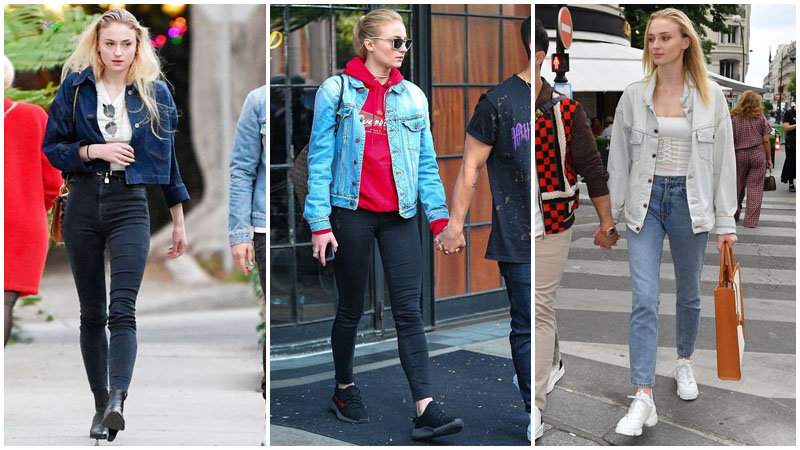 Get the Look
Little Black Dress
Every woman needs a little black dress, so be sure to take some tips from Sansa herself. From an A-line silhouette to pleats, there are so many ways you can style this sexy look. Take it back to the '60s with a pair of white thigh-high boots, or create a modern classic in barely-there heels. Wear your hair up to showcase your beautiful shoulders, or lay it sleek behind you for a high fashion feel.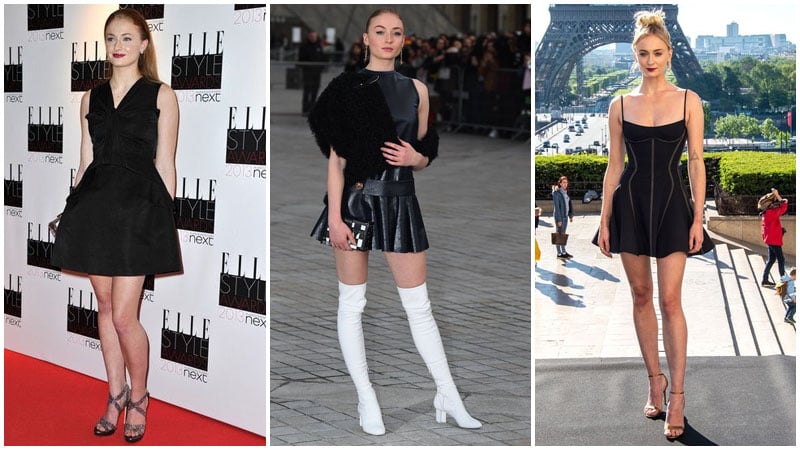 Get the Look
Red and Black
Stand out from the crowd in a red and black combination. This bold choice looks fantastic on Sophie Turner, and it works for a vast range of occasions. A bright shirt with dark bottoms is the perfect way to color block an outfit and is ideal for casual and semi-formal occasions. Mix and match textures for the ultimate cool-girl aesthetic, and watch as the paparazzi follow you down the street.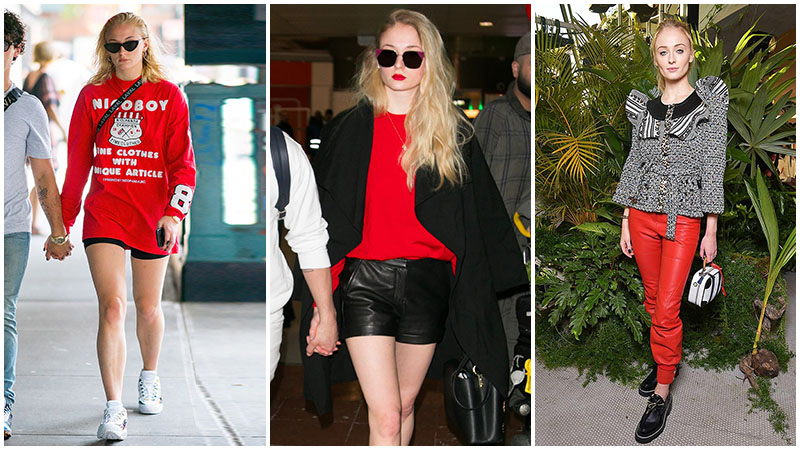 Get the Look
Sequin Dress
Nothing says style quite like a sequin dress. Whether it's a small sparkle or Paco Rabanne inspired, these effervescent gowns look stunning on everyone. Get inspired by Sophie Turner by wearing a duo-toned frock with a side split and barely-there heels, or showcase your pins differently in a cute but stylish T-shirt dress. These ensembles look amazing under bright lights and are perfect for a night out on the town or to a film premiere.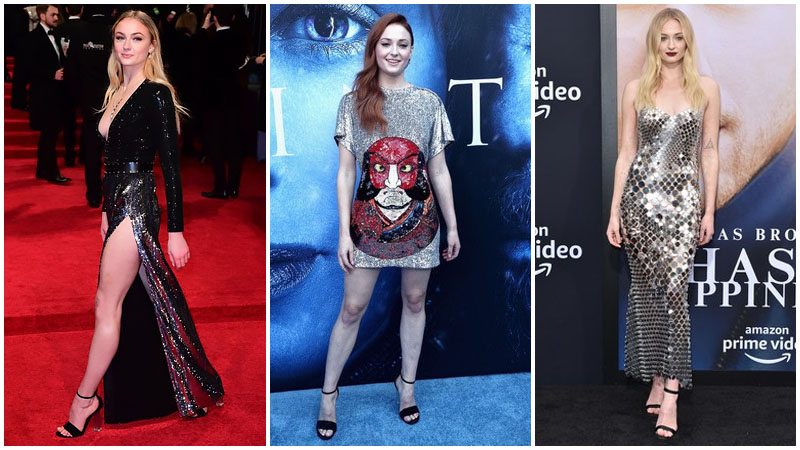 Get the Look
Cool Bomber Jacket
Take casual up a notch like Sophie Turner in one of these cool bomber jackets. Laid-back but oh-so-stylish, you can wear them pretty much anywhere and still look like a superstar. Choose a style with block-colored sleeves, or mix up the textures for a retro and sleek ensemble. Pair them with jeans and a T-shirt to complete the look, and put your hair up in a loose bun for an effortlessly chic feel. No matter how you style this, you'll look cool.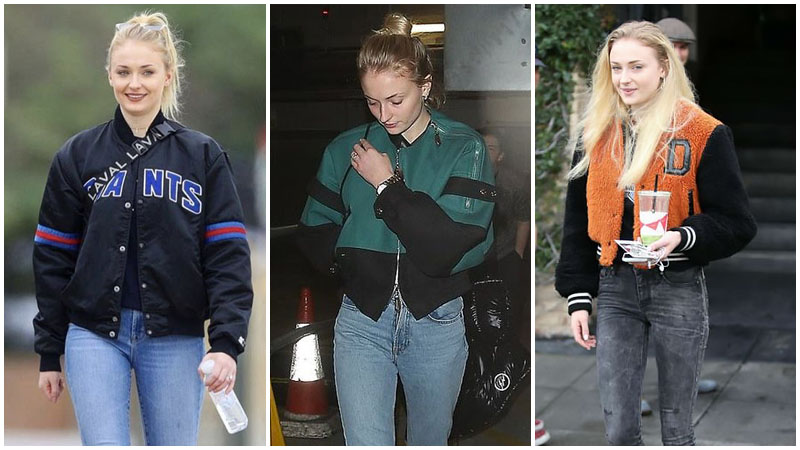 Get the Look
Statement Jumpsuit
When you don't feel like wearing a dress, why not rock a statement jumpsuit? Creating an outfit with a single piece of clothing, this is an ensemble that you can wear any time of the year, to almost any event. Sophie Turner is a big fan of bright colors, such as red, blue, and green – opting for these shades are an easy way to stand out in style. Cinch in your waist with an oversized belt and lengthen your legs with a pair of heels. You'll be unstoppable in these killer outfits!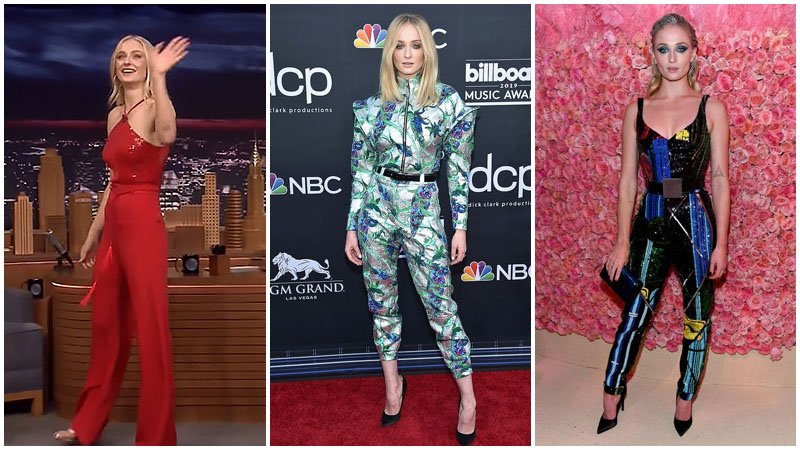 Get the Look
SUBSCRIBE TO OUR NEWSLETTER
Subscribe to our mailing list and get interesting stuff and updates to your email inbox.